Sony Xperia 1 V and 10 V: Pushing the Camera Envelope Again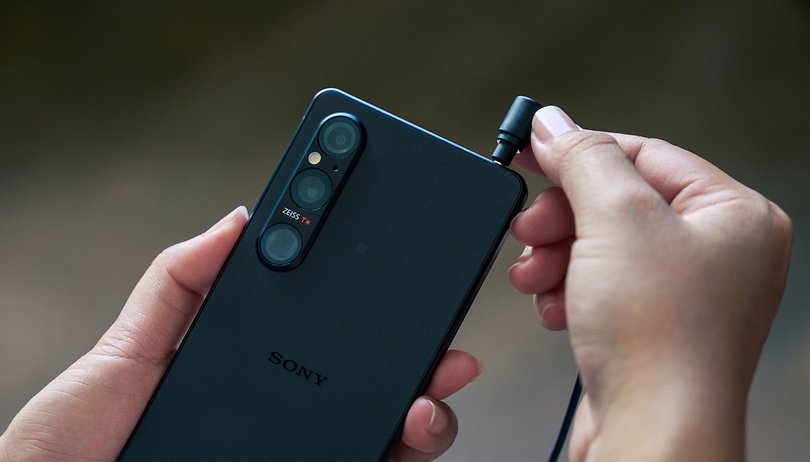 Sony announced today its first 2023 smartphones, the flagship Xperia 1 V and the intermediate Xperia 10 V. Even though both phones are interesting and capable phones on their own, the focus (sorry) was on a component, more specifically the new Sony Exmor camera sensor. Sony claims it can steal customers from DSLR/MILC cameras, but can it?
Xperia 1 V
As in previous years, Sony waited for all major players in the smartphone market to announce their flagship devices before presenting its own. The Xperia 1 V brings not only a familiar design and features to its predecessors: a 6.5'' 120 Hz OLED display with a 21:9 aspect ratio, triple camera setup, expandable memory, and headphone jack, with the standard 2023 flagship recipe using the powerful Snapdragon 8 Gen 2 processor.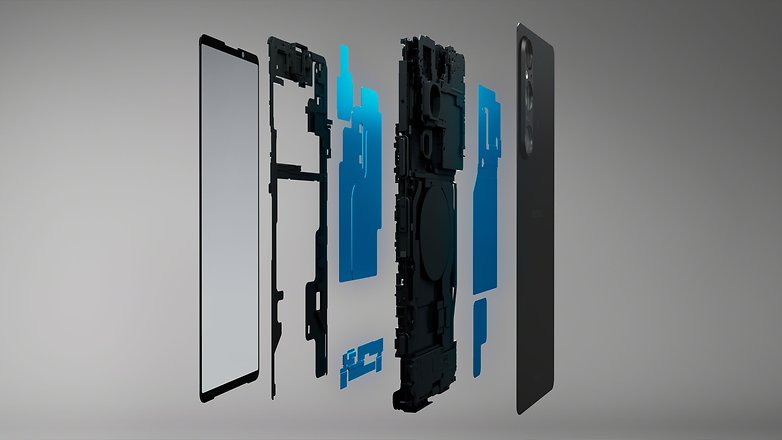 After two seasons of overheating phones, including the Xperia 1 III and Xperia 1 IV during NextPit's reviews, Sony highlighted not only Qualcomm's only claims of 40% better efficiency on the TSMC-fabbed Snapdragon chip but also better heat management with 60% more heat dissipation material inside the phone.
Sony diehards in the audience will be pleased to see that the now traditional Xperia 1 design is back, with its tall and thin proportion, the triple camera setup on a pill-shaped island on the back, a fingerprint sensor on the centered power button, and the dual-stage camera shutter button, which, in true 2023 fashion, now doubles as a screenshot shortcut during gaming sessions.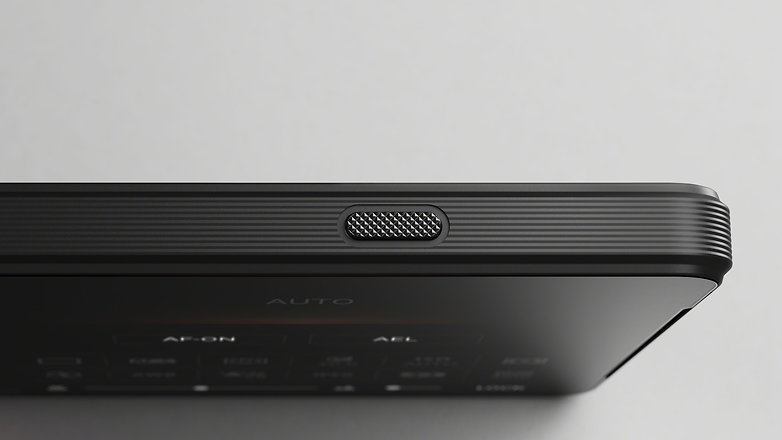 The battery was another proud point for Sony, with a promised 80% capacity for the 5000 mAh battery after three years. Battery life was estimated (at a rather ambitious) 20 hours of continuous video playback on the 4k display (for an upscaled 720p content using Bluetooth audio nonetheless). Charging duties are left to an optional power adapter, for up to 30 W of wired charging and 15 W of wireless charging.
An ecosystem of its own
Sony was also quick to highlight all the integration between its different subsidiaries on the Xperia 1 V, first on the list are the audio standards and certifications. Besides the dual front-facing stereo speakers, the Xperia flagship supports 360-degree spatial audio, using compatible Hi-Res audio headphones or earbuds. And of course, it is compatible with Sony's own Bluetooth codec LDAC besides the vanilla BT standards.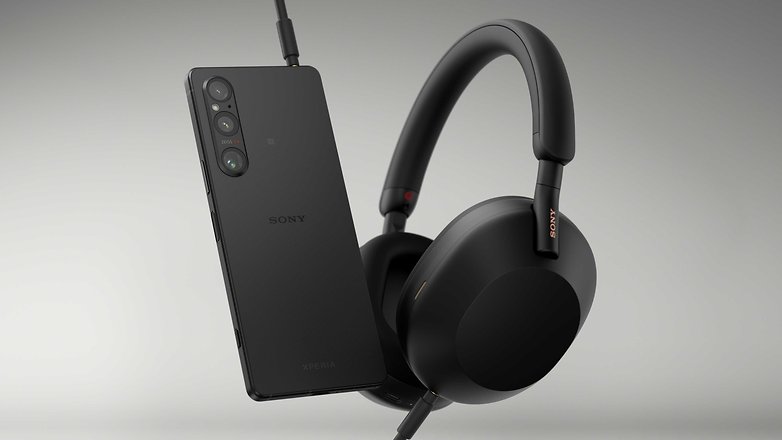 With the current race to pack bigger and bigger camera sensors on phones, Sony brought a rather modest 1/1.35'' component for the main camera, but more on that later. Both the 12 MP ultra-wide-angle and variable telephoto lenses are paired with Exmor RS sensors, the first one with a 16 mm-equivalent focal length (0.6x), while the telephoto covers between 85 and 125 mm (3.5x - 5.2x zoom).
The Xperia leverages Sony's investment in the vlogging sector—with its ZV cameras*. By not only integrating features like live chatting during streaming sessions, focus peaking (that adds a highlight preview around subjects in focus), and product showcase mode (that detects when to change focus when presenting a product to the camera) but also allowing Sony Alpha camera owners to record footage directly into the Xperia's internal storage, or previewing recording footage on the phone.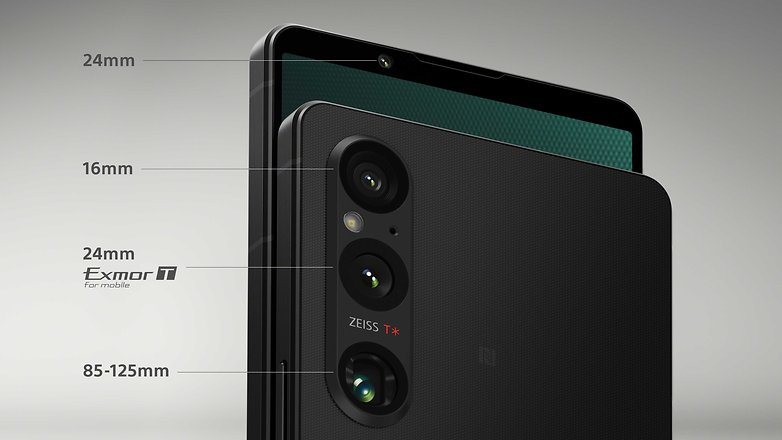 Exmor T
The star of the presentation was undoubtedly the new Exmor T CMOS image sensor. While other brands are touting using the Sony IMX-this, or IMX-that sensors, Sony is proudly declaring its exclusivity over the new component. Although not a 1-inch sized sensor, Sony claims that it is twice as good in low-light scenarios in comparison to the main camera on the Xperia 1 IV, not only thanks to being 1.7x larger, but especially due to new tech.
The new Exmor T sensor uses a 2-layer technique with a larger photodiode and transistor in separate layers, promising better light capturing with less noise. Paired with some computational photography techniques, Sony says that the Xperia 1 V's performance in denoising and dynamic range for low light shoots is equivalent to a full-frame camera, a claim that will be tested by NextPit after a quick deathmatch to decide who gets to test it...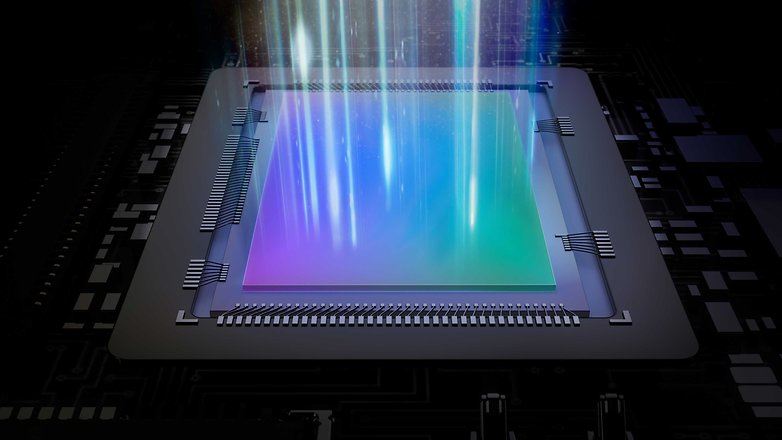 As it is now a tradition for Sony Mobile, the Xperia 1 V won't be available immediately for purchase, interested buyers will have until late June to save their pennies to buy the flagship phone, with an MSRP of €1,399 for the European market, pre-orders are already online and will net a WH-1000XM5 as a sweet bonus for diehard fans. US pricing and deals will be added as soon as we hear from Sony.
One more thing: Xperia 10 V
For users with more modest budgets photographic aspirations, the Japanese brand also announced its entry-level Xperia 10 V smartphone. Sony presented the 5th generation Xperia 10 as the "lightest 5G smartphone with a 5000 mAh battery", which at 159 grams we agree to the best of our knowledge—a title probably held previously by the 4th gen model and its 161 g weight.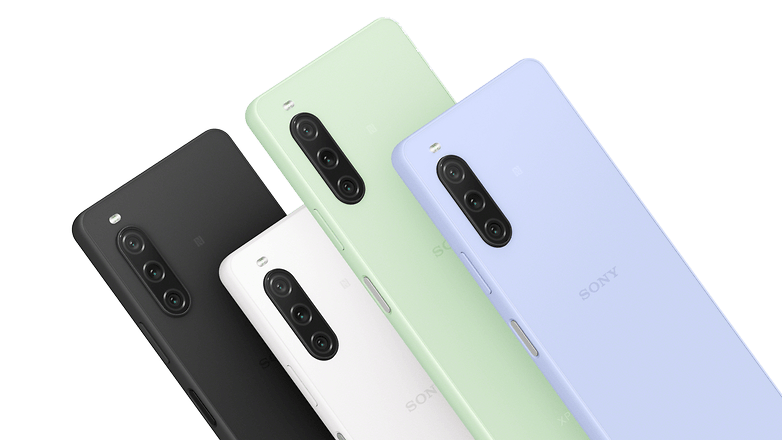 The Xperia 10 V is unsurprisingly very similar to its predecessors, with a tall and thin 6.1'' OLED display in the 21:9 ratio protected by Gorilla Glass Victus. Also back are the headphone jack and microSD support, IP65/68 certification, and front-facing dual stereo speakers placed in the relatively thin top and bottom bezels. Even the Snapdragon 695 chip returned for processing duties, which should be more than enough even for light gaming.
Sony's budget camera phone is once again powered by a reasonably strong triple camera configuration, with undisclosed (as of press time) resolutions for the ultra-wide (0.6x), main, and 2x zoom telephoto cameras. Sony was quick to point out, however, that the Xperia 10 V uses a 1.6x larger sensor—1/2'' size-—for the main camera compared to the previous model, which once again promises better low-light photography.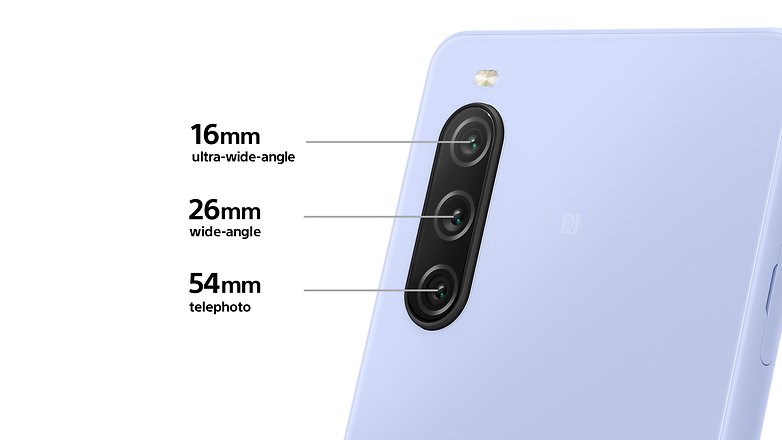 The Sony Xperia 10 V will reach store shelves by mid-June, with pre-orders starting on the 1st of June. The phone will have a suggested price of 449€.
2023 Flagship
2023 Mid-ranger
Product
Picture

Screen
6.5'' OLED
6.1'' OLED
1644 x 3840 - 4K resolution
1080 x 2520 - Full HD+ resolution
120 Hz refresh rate
60 Hz refresh rate
SoC
Qualcomm Snapdragon 8 Gen 2
Qualcomm Snapdragon 695
RAM
12 GB RAM
6 GB RAM
Storage
256 GB ROM
128 GB ROM
Expandable storage
✔️
OS
Android 13
Camera
Main: 48 MP, f/1.9 OIS
Ultra-wide angle: 12 MP, f/2.2
3.5-5.2x telephoto: 12 MP, f/2.3-2.8 OIS
Main: f/1.8
Ultra-wide angle: f/2.2
Telephoto: f/2.2
Selfie
12 MP
8 MP
Battery
5000 mAh
5000 mAh
30 W wired charging
15 W wireless charging
wired charging

Connectivity
5G / LTE / Wi-Fi 6 / Wi-Fi Direct / Bluetooth 5.3 / NFC
Audio
Stereo speakers
3.5 mm headphone jack
IP Certification
IP68
Colors
Black, green, silver
Black, blue, green, white
Dimensions and weight
165 x 71 x 8.3 mm, 187 g
155 x 68 x 8.3 mm, 159 g
All in all, Sony managed at the same time to repeat its previous iterative launches while also surprising with a new camera sensor announcement. With the renewed attention given to mobile photography and more capable lenses and sensors, we will hold judgment on the new Xperia 1 V for a full NextPit review, the question is, who will get to test the phone?
Are you one of the few that gets excited about new Xperia launches, or only remembers the Japanese brand soldiers on during its 2 or 3 yearly launch events? Do you think Sony can leverage its imaging sensor momentum into the smartphone arena? Share your opinions in the comments below!