Sony WF-SP700N review: true wireless noise canceling for sporty souls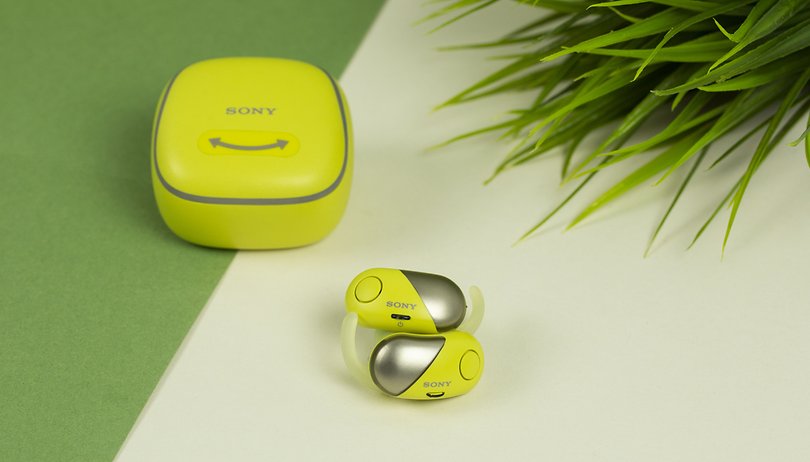 Active noise canceling has been a bit of a revelation in headphone technology and 2018 feels like the year it went mainstream. Look at how many people you see on your daily commute wearing Bose Quiet Comforts or Sony WH-1000XM2's and M3s, for example. Now, active noise canceling is available in sporty true wireless buds, but it comes with a few drawbacks.
Good
Noise canceling is great

Rock solid fit for sports

IPX4 splash-proof

Easy to connect via the app
Bad
Battery life

Connectivity issues (in bulky clothing)
True wireless noise canceling for less than $150
The Japanese manufacturer launched these WF-SP700Ns, which are essentially the sports version of its WF-1000X true wireless headphones with active noise canceling, earlier this year. The official MSRP is still $179.99, but you can pick up a pair on Amazon today for $148. Shop around for Christmas deals and you may be able to get them even cheaper. They come in four colors; black, white, pink, and the most garish of all and the ones I tested, yellow.
At home in the gym, but not on the subway
In terms of design, Sony has chalked up both wins and loses with these WF-SP700N headphones. The buds themselves are quite large when you compare them to the slick design of the Divacore NoMad+ and the tiny stuff that Earin makes. Of course, the digital noise canceling could be a factor in that. They are less bulky than Sony's Xperia Ear Duo, but I'm chalking the size down as a loss.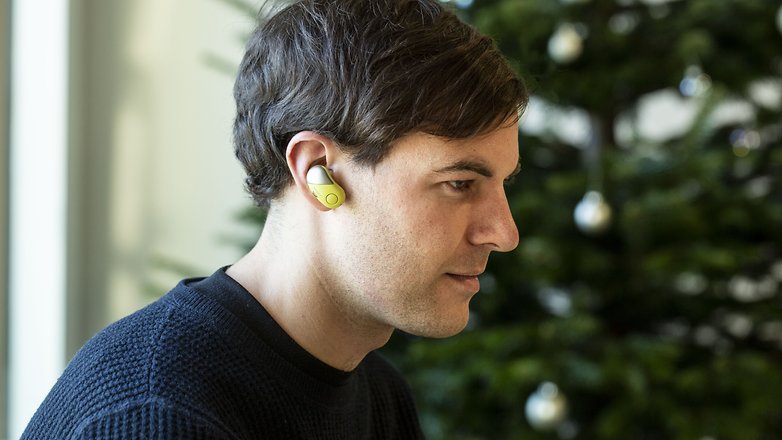 Despite the large size, the headphones are extremely comfortable. Sony has made these with fitness fanatics in mind, and as a set of sports headphones, they are way less intrusive than wireless sets which feature a cable that sits on the back of your neck. The in-ear rubber fittings combined with the rubber wings mean that even when doing vigorous exercise, these things are not going anywhere. I wore them whilst running and at the gym, dangling from a cross-training frame, and never felt even the slightest slip. They are also IPX4 splash-proof in case the heavens open while you are exercising outdoors. Big win for me.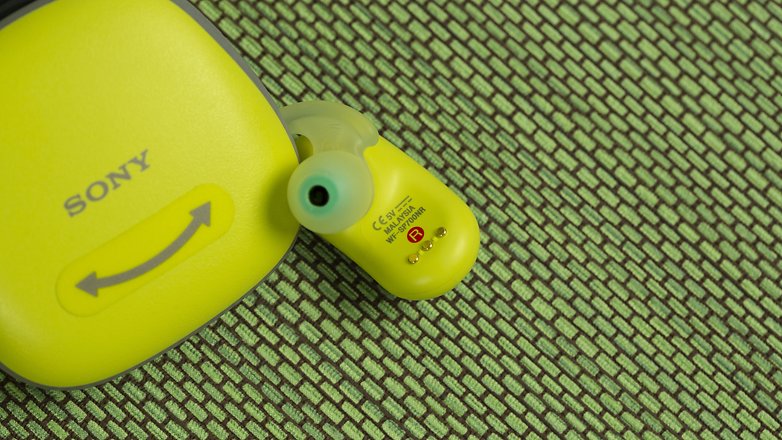 Then there's the included charging case. It's compact and easily pocketable in a jacket or hoody, and the sliding lid is a smart design choice. I would have preferred the resistance on the lid to have been a little stronger, as I could often feel it moving when I brushed my hand against it in my jacket pocket. For the case, Sony will have to settle for a draw.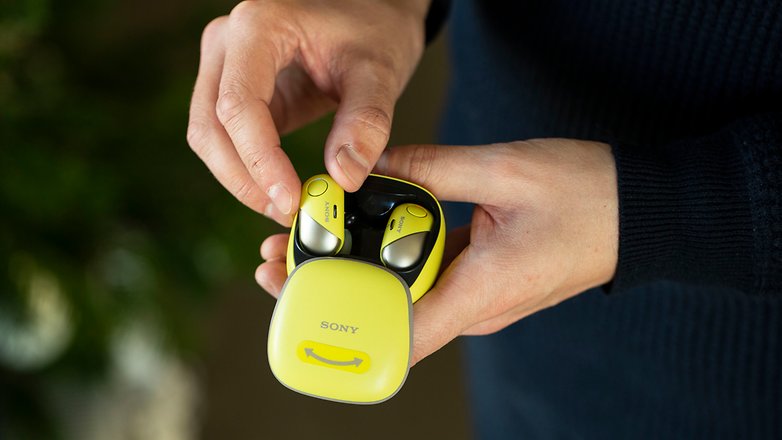 Performance is a game of two halves
In terms of audio, the WF-SP700N deliver good quality sound that is more or less what you would expect from a pair of headphones that cost $150. Don't expect anything close to full, over-ear headphones like the much more expensive WH-1000XM3 though. They do, however, support AAC and SBC Bluetooth codecs.
By downloading Sony's Headphones Connect app, you get access to a simpler pairing system, quick sound settings and a basic equalizer. It is from the app that you will also be able to access the Ambient Sound Control, or noise-canceling options. There are three levels to choose from. Aside from full noise canceling and normal mode (no noise canceling), there is a middle ground option which allows voices through but blocks out everything else. It works well, and is useful if you are wearing the headphones in an office where someone might need to grab your attention.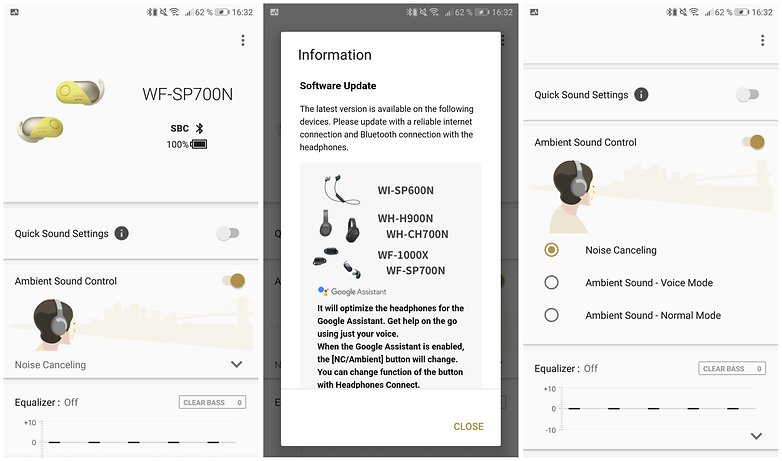 The downside to the audio experience is a mixture of lag and connectivity issues. From within the Headphones Connect app, you can choose to prioritize sound quality over connection stability, and this does make a noticeable difference, but I found the connection to be too unstable to make this a viable option. I admit, a lot of the connection issues I had was when my phone was in the pocket of my wool coat on the way to and from work, and these are designed for lighter clothing worn for sports and not everyone lives in a city that gets as cold as Berlin at this time of year, but it's still something you should be aware of. I also experienced quite a bit of lag when adjusting the volume and playing and pausing from Spotify or Pocket Casts.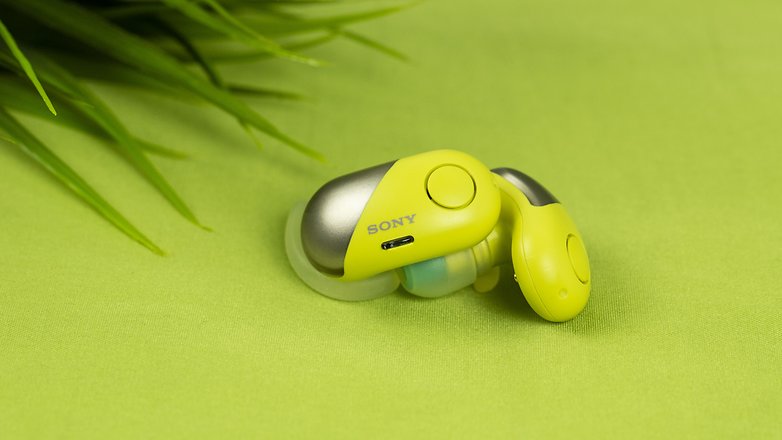 Mic quality was fine, but nothing special. The headphones also support Google Assistant, which can be useful when exercising if you don't want to stop to grab your smartphone.
Short of elite athlete stamina
Sony advertises battery life of 'up to 9 hours of playback', but it should be noted that this includes two additional charges from the carry case. Once you have the headphones in your ears, you can expect to around 3 hours of playback time. I found the WF-SP700N consistently dying before hitting that number, but I do listen at almost exclusively loud volumes and I had the noise canceling on its most active setting 80% of the time I was using them.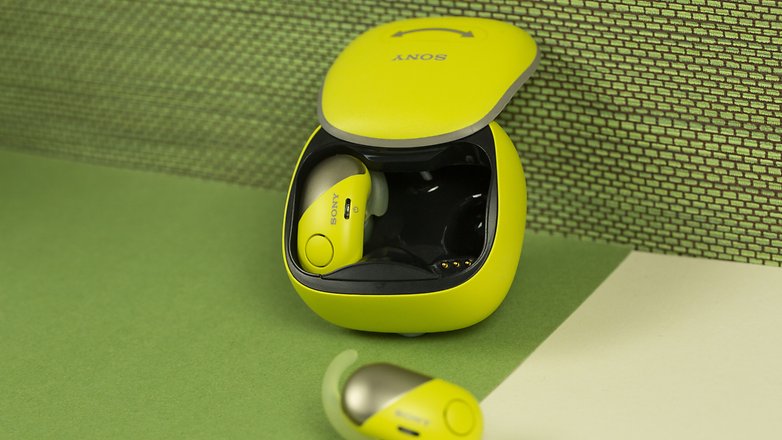 Compared to something like the Jabra Elite 65T, which will run you around the same price as the Sony's, battery life is an area where you really feel the compromise of having that noise canceling technology in a set of truly wireless earbuds.
Solid for sports, but can't compete on the street
For active people who want a set of truly wireless earbuds with noise canceling, the Sony WF-SP700N headphones are an excellent choice. With a rock solid fit and good sound quality, plus impressive noise canceling, you won't be disappointed. Just remember to charge them in between workouts! For those looking for a sporty pair of true wireless buds that can also do a job on your daily commute, sitting at work or pottering around the city, you might want to look elsewhere.