Samsung's device maintenance feature: is it useful?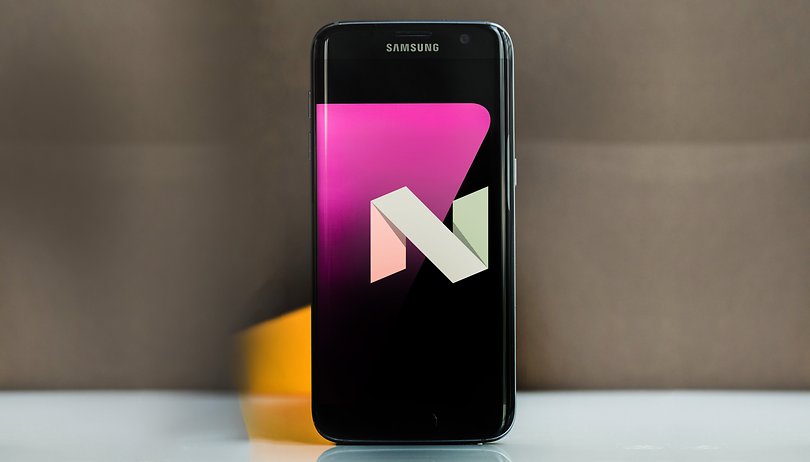 This comes directly from the Galaxy S7 user manual: "device maintenance provides an overview of the status for your device's battery, storage, RAM and security system. You can also automatically optimize your device with a tap of your finger." But does this feature, which was added to Android Nougat as part of an update, really work?
From the moment I first installed Android 7.0 Nougat on my Galaxy S7 Edge, and before, on the Galaxy S7, I've been using the "Device Maintenance" feature. For those who don't remember, Samsung tried something similar on the Galaxy S6 with an app called "Smart Manager". In fact, we were quite critical of this feature:
With the launch of the Galaxy S7, the South Korean manufacturer included the feature into the actual system and optimized it in the Experience UX interface on the Galaxy Note 7. Now, with the update to Nougat, the Galaxy S7 also carries a similar feature integrated into TouchWiz. I must confess, despite a few downsides, the overall view is that the "Device Maintenance" is a welcome addition for everyday users. The only problem is the need to use it on a premium device from the moment you buy it.
What can you do with Device Maintenance?
Using the optimization feature, which can be found in the settings, click on the quick optimization option. This will enable you to improve the performance of your Galaxy S7 with the following steps:
Clearing some memory
Deleting unnecessary files and closing apps running in the background
Managing unusual battery use
Scanning for malware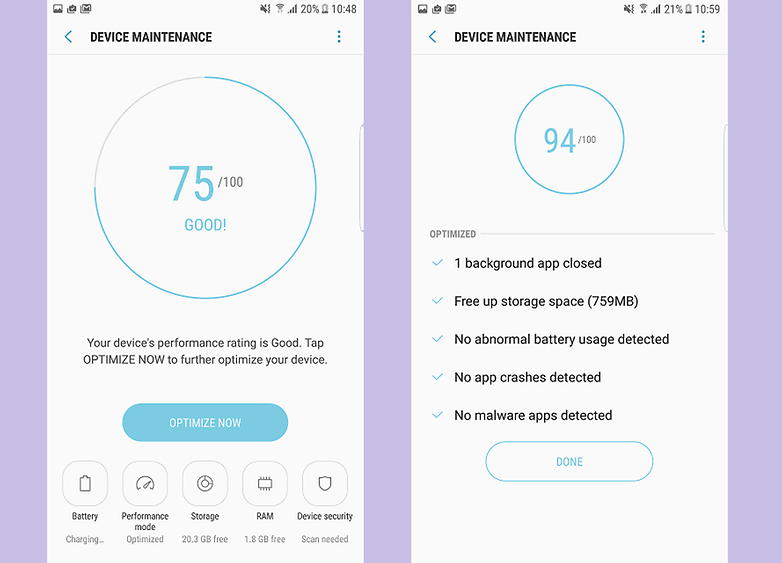 Next, we've got specific actions for each tool included in the feature.
Battery
Check the remaining battery power and usage time for the device. When your battery life is low, the system will conserve energy by activating power saving features. This will limit your device's usage though, such as not being able to receive app notifications.
In order to do this, background apps will be monitored so they won't eat up all your battery.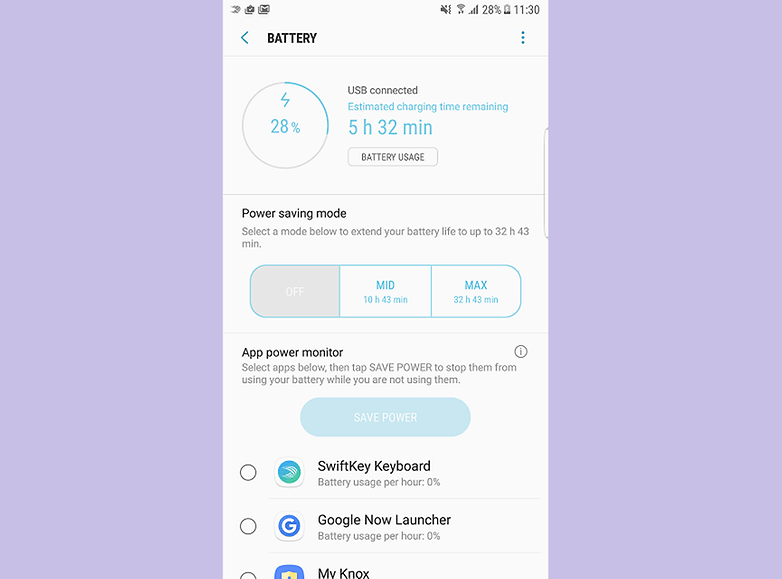 You can also use this feature to set your device to charge more quickly and show the battery percentage on the status bar. Both these features should be activated by default, but it wouldn't hurt to make sure by going to "Advanced Settings" (the three dots on the top of the display "Battery").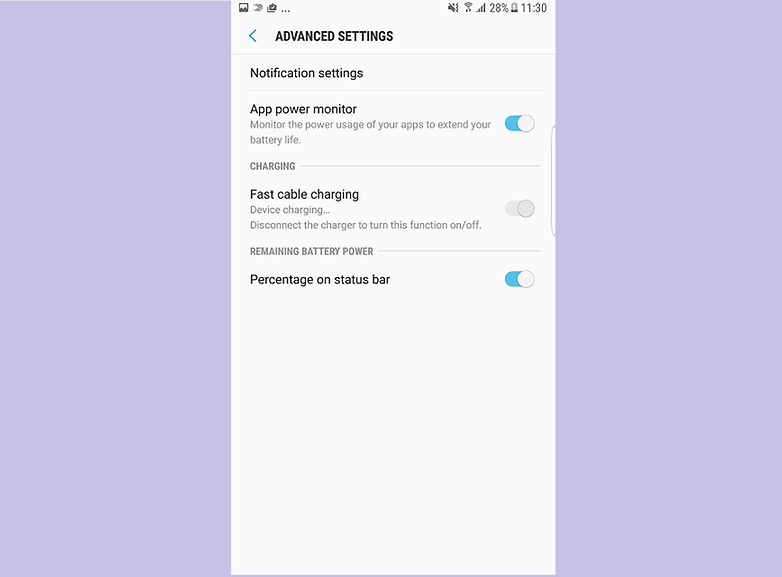 Performance Mode
As the name says, this option changes the device's performance according to the user's actions. So, whether you're using your device to play games or listen to music, your device can offer better performance for each action, saving or using energy, accordingly. The aim of this feature is to improve performance for each specific action.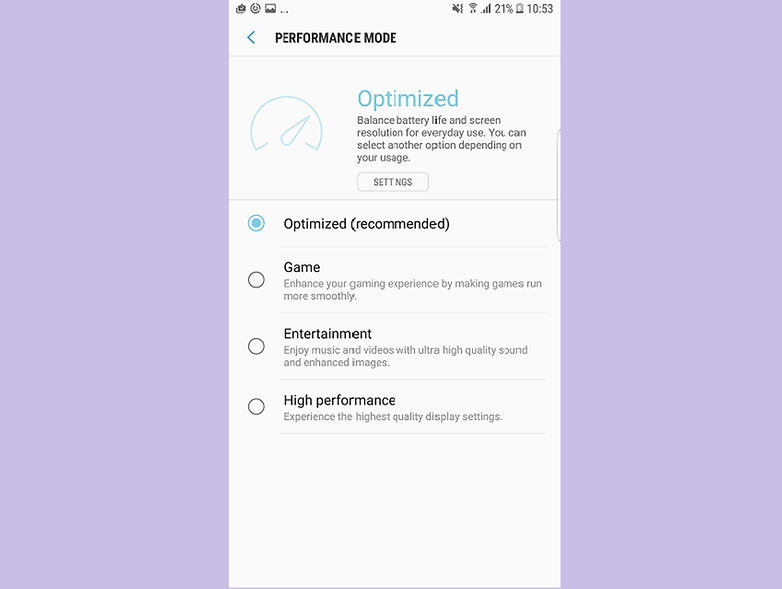 Storage
Here, it's possible to check the status of both the used and available memory. As we all know, storage capacity and what's actually available are never the same since stock apps and the system itself take up internal storage space.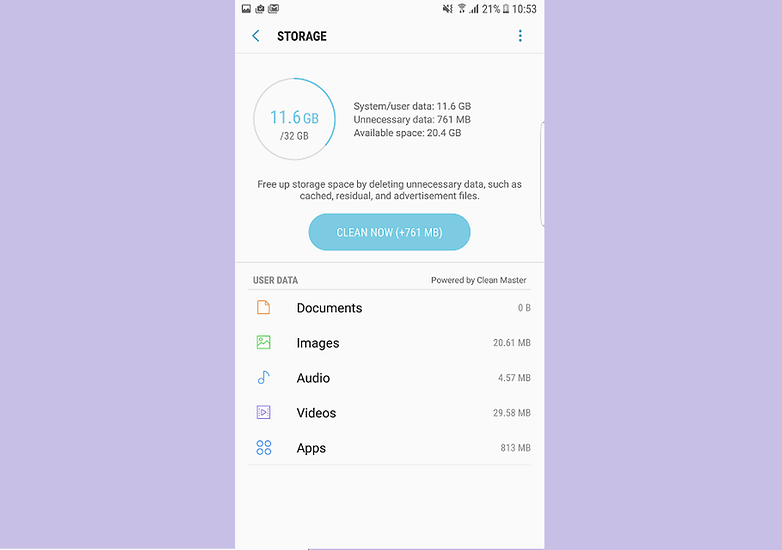 With the "Storage" option, you can free up space by deleting residual files like your device's cache and ads that pop up on different sites, apps and games. Through this option, you also have access to the storage on your SD card. This feature was developed in conjunction with Clean Master.
RAM
The purpose of this feature is to speed up your device by reducing the amount of RAM you are using. It does this by letting you choose which apps you'd like to stop in order to conserve RAM.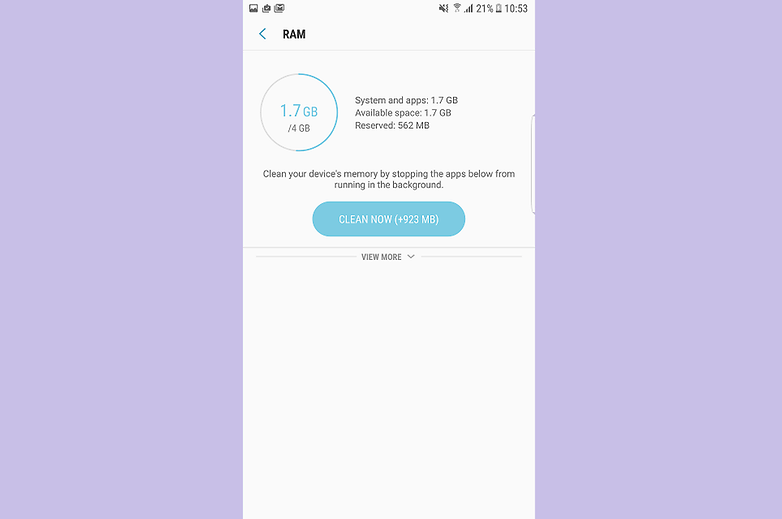 Protection
Check the device's security status. This feature scans your device for malware. It's carried out together with Intel Security.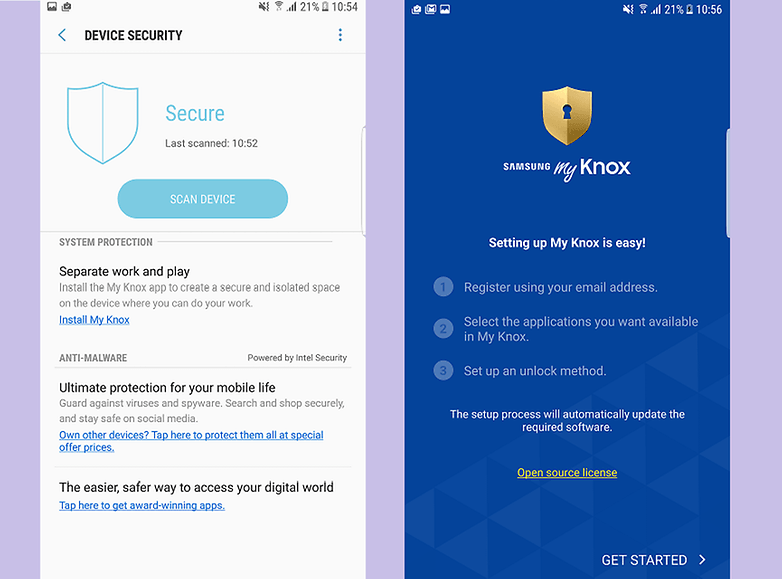 The pros of using Device Maintenance
Before the arrival of the current service, Samsung did quite a lot of experimenting with this type of device performance optimization tool. After many updates, we've finally arrived at what we have today and, quite frankly, it's much easier to use for everyday users - even for those who don't know what RAM on their smartphone actually means. Nowadays, I believe these make up the majority of Samsung's clients or any other smartphone manufacturer for that matter.
One day one of my bosses asked me what percentage of memory all the features on my computer currently uses. Honestly, and even still to this day, it's probably a bit more than half. The main consideration here is that I use a Mac, where everything is optimized to the max so I don't need to think about it too much.
So, the best thing about this feature is that it brings together all the essential information about your device's performance and security into one place. Through this feature, for example, if a user didn't first activate Knox in the device settings, they'd be directed to do so through this menu. In fact, if you're not too lazy to read all the details provided about the system, you could learn quite a bit about the true potential of your Galaxy S7.
Finally, as this service comes stock on the system, those users who want to use all of their smartphone's potential can optimize the features in the "Device Maintenance" and there won't be any need to download third party apps to clean their system every now and then. They've got a stock service for that now.
The cons of using Device Maintenance
On the other hand, easy access to the "Device Maintenance" could make some users believe that their performance level should always be at 100%. Which just isn't true since you have to take into consideration that there are apps running in the background which need to use RAM. Simply closing them is shortsighted and it could cause performance problems in the long run.
Many smartphone cleaning apps promise to improve your device's memory and performance. This does happen, but many times it's at the expense of cleaning the device's cache. The cache is basically a storage area where data and frequently used processes are saved for faster access in the future. This saves both time and unnecessary use of your smartphone's hardware.
So, using a cleaning service every time your phone is a bit slow or low on memory may seem like the best option in the short term but this could cause you major problems in the future.
Additionally new Samsung devices, like the Galaxy S7 which was launched almost a year ago, have state-of-the-art hardware that is capable of handling TouchWiz without a problem. Everyday users shouldn't have to worry about performance in the first six months of use.
Final thoughts
You could say that moving from "Smart Manager" to "Device Maintenance" is a good development. Usually, I'm not really that fond of task killers on high-end smartphones. I have to say, though, that the way Samsung has reduced the connection between optimizing the battery through system settings and device security mechanisms, if used wisely, could optimize your smartphone's performance and enhance your own knowledge about it.
If you ask me how many times I've optimized my Galaxy S7 through this system feature since receiving the Nougat update, I'd say at least three times. I did this mainly just to try it out, and I didn't really notice a huge amount of difference. However, if you asked again me in another six months or maybe a year, the answer would surely be different.
My suggestion is to use this system feature in order to have an overview of your device's organic performance more than to optimize it.
Have you used Device Maintenance since you received the latest Nougat update for your Galaxy S7 or S7 Edge? Do you think it helped to improve your device's performance. Let us know in the comments below.