Samsung Portable SSD T5 review: TB memory for your phone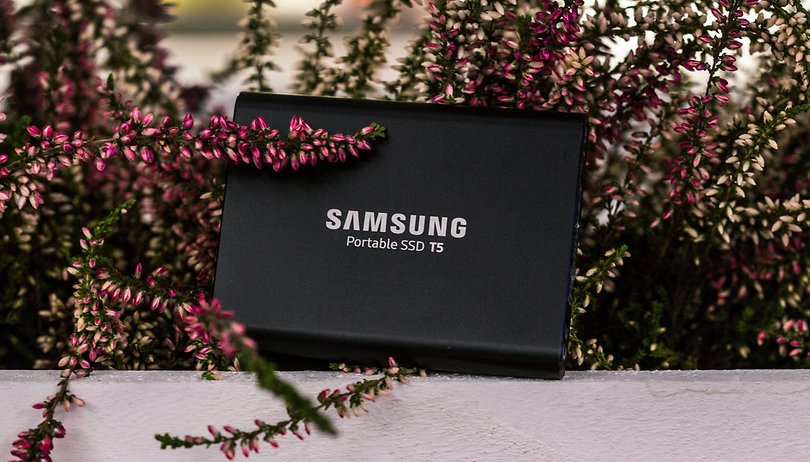 It's more convenient than SD cards and faster than the cloud. The Samsung Portable SSD T5 holds up to 2 TB of information and can connect to computers, smart TVs, smartphones and more. But don't read on if your wallet is already cowering in anticipation of Christmas.
The Samsung Portable SSD T5 is a gadget that I didn't know I needed. In the age of HD video content, this disk is a godsend thanks to its high transfer speeds and large memory. But this gift isn't free. At a price of up to $800 for its 51 grams, Samsung's device is almost worth its weight in gold.
Compatibility
If you're interested in the SSD, you should first look at Samsung's list of compatible devices. The Huawei Mate 10 Pro connects without issue, but was likely released too recently to be included in the list. However, the OnePlus 5 won't connect with the SSD T5 at all.
Design
After recovering from the shock of its price, the first thing you may notice about the Portable SSD T5 is its size. The aluminium housing is only slightly taller and narrower than a credit card. With a width of a centimetre, the disk is barely noticeable in your trouser or jacket pocket. The gently rounded edges are also a nice touch.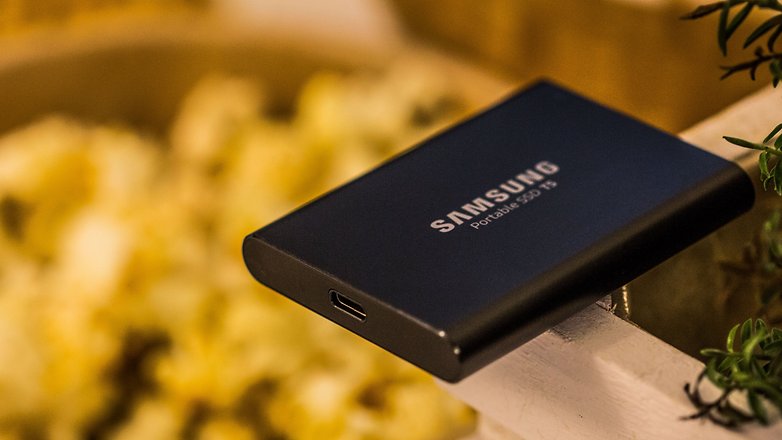 Thanks to the metal housing and fixed parts, the ultra-light storage device is said to have survived falls of up to two metres. We'll have to leave this untested, as we need to return these $400 devices to Samsung.
Performance
In the past few weeks, the SSD has been passed around the editorial team and met with the same reaction - 'sh**, this thing is fast'. Even if SSD benchmarks are a science in their own right, we performed a few tests with quantifiable results.
Samsung itself promises a maximum speed of 540MB. On a 2015 MacBook Pro, the BlackMagics disk test spat out a reading speed of 426.25MB/second and a writing speed of 411.65 MB/second. At least the SSD T5 is about 6% faster at writing than the integrated 256GB SSD found in every MacBook Pro. This did however, need to grapple with the operating system during the test. In any case, there was no noticeable difference when editing with Adobe's Premiere pro, on whose SSD the raw material was saved.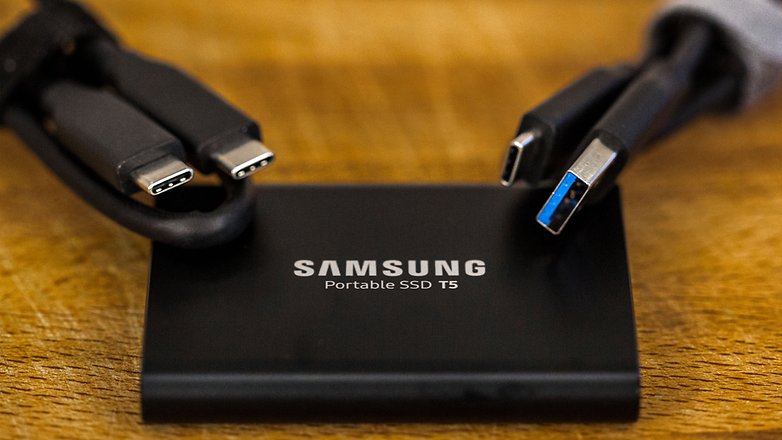 On the Huawei Mate 10 Pro we get an average reading rate of 177.7MB/s and writing rate of 171.23MB/s. But sometimes it's faster and sometimes slower. Nevertheless, a 2.18GB video file is reliably transferred to the SSD in under a minute - and that's fun.
But there's a little damper on this fun: it takes a good 30 seconds before the smartphone has successfully mounted the disk.
App and Software
Finally, the Samsung also offers an Android App as well as Mac and Windows software for its Portable SSD T5. This software is also used to help encrypt data on the disk. Samsung relies upon a hardware-based 256-bit-AES encryption. You definitely don't want to lose your password for this one.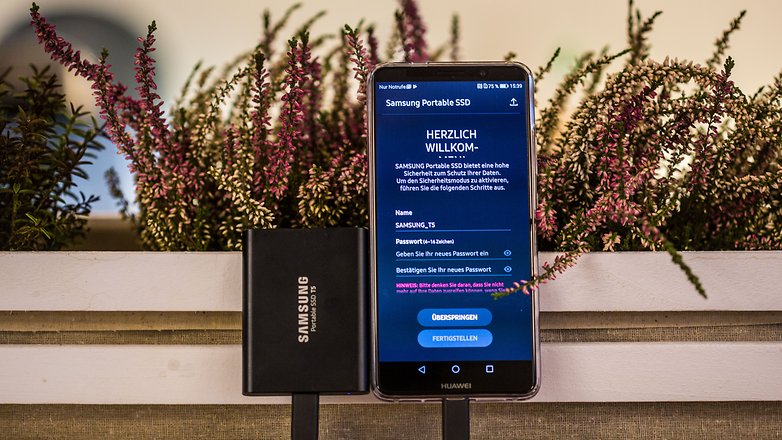 The app doesn't come with any tools for moving files around. For this, you must use a trusted file manager.
Conclusion
Anyone who regularly juggles large volumes of data across different systems will find this disk indispensable. The Portable SSD T5 is compact, robust, secure, fast and unbelievably practical.
The only issue is the price. Our 1 TB test device costs a steep $400. And this price can double or halve based on storage capacity. A 500 GB version, for example, costs $200, whereas a 2 TB disk costs $800.