Samsung Gear Fit2 Pro review: Smart and swim-proof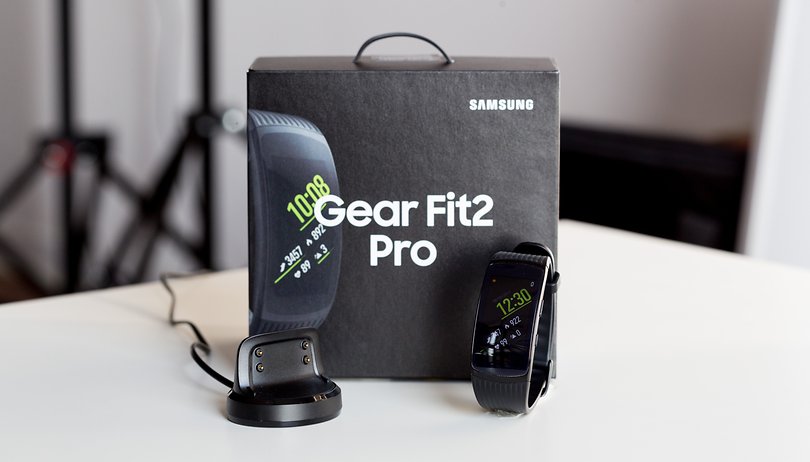 The Gear Fit2 Pro is Samsung's latest smart fitness band. It made its debut at IFA 2017 and is the successor to the Gear Fit2. It's an iterative improvement, which may be why Samsung opted to keep the same number for it. Though it doesn't represent a major evolution of the first generation, there may be some new features which warrant a closer look, especially for swimmers.
Good
Design

Excellent AMOLED display

Well-suited to swimmers
Bad
Higher price

Annoyingly complicated configuration

Heart rate measurement sometimes unreliable
Samsung Gear Fit2 Pro: All deals
Samsung Gear Fit2 Pro release date and price
The Gear Fit2 Pro is available now on Samsung's website for $199 or for just $143 on Amazon. It comes in two colors: black and black with red accents on the strap. The black model is more discreet, but the sporty among us may prefer the two color version with the geometric pattern on the strap. The Gear Fit2 Pro is aimed at both men and women, and it's compatible with Android phones (Android 4.4 and up), Samsung Galaxy phones (Android 4.3 and up) iPhones (iPhone 5 with iOS 9 and up).
The previous model, the Gear Fit2, is still being sold, but at a reduced price of just $122 on Amazon.
Samsung Gear Fit2 Pro design and build quality
Compared to the previous model, there weren't any major changes here. The Gear Fit2 Pro has the same basic shape as its predecessor, as the strap and display are seemingly formed of one piece. The Pro version adopts a slightly irregular design with either stripes or a geometric pattern on the strap, depending on which color you choose.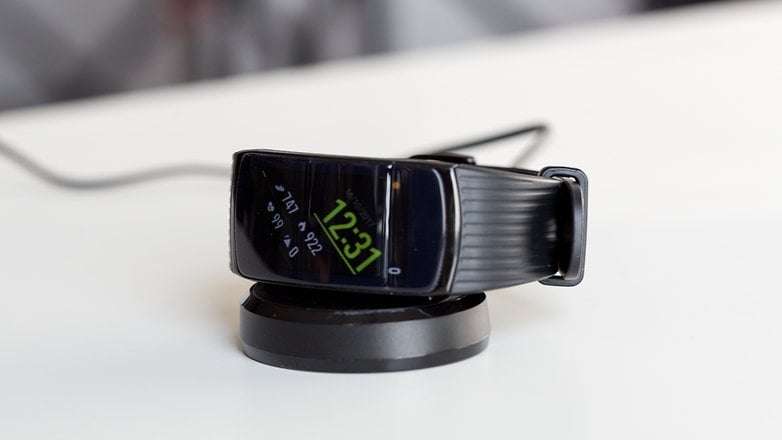 The strap has also evolved. The clasp on last year's model carried the risk of detachment, but this year's silicone buckle is a bit more practical during everyday life and physical activity. The new strap isn't as nice to look at, but if you have a strap from the Gear Fit2, it will work on this device.
The strap itself has been adapted to better withstand wetness since the Gear Fit2 Pro is able to go underwater now.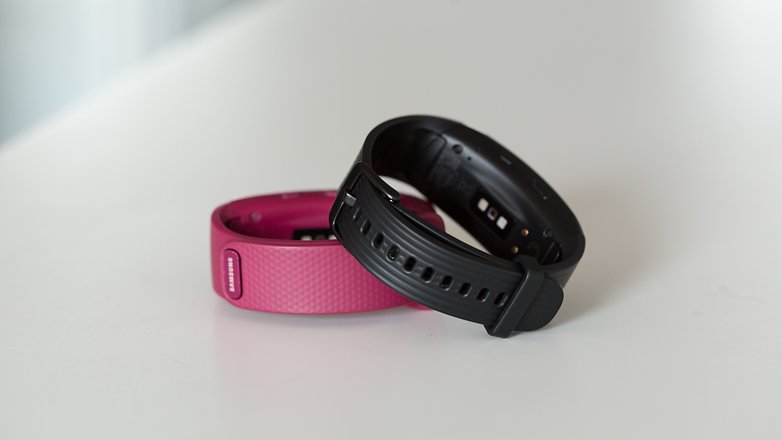 In the middle of the band, you of course find the central module with a lovely 1.5" curved display. There are two navigation buttons on the side, and as with the Gear Sport, one allows you to go back (top) and the other goes to the home screen (bottom).
On the back of the Gear Fit 2 Pro is an optical heart rate sensor, which now records your heart rate each second. I'll remark on its effectiveness later.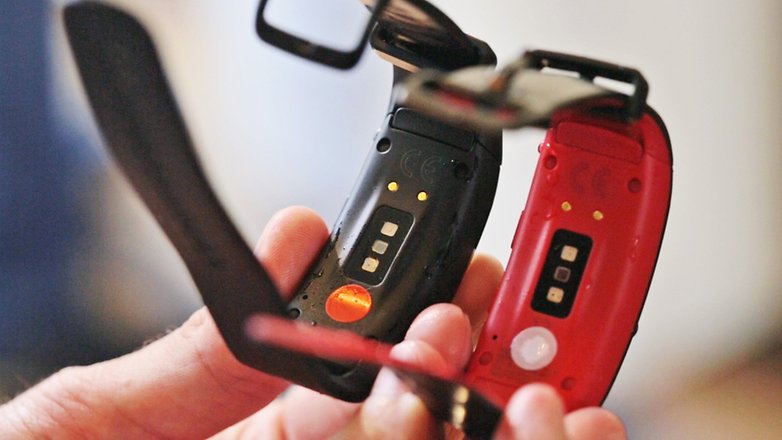 The fitness tracker is very pleasant to wear. The wavy texture inside the silicone bracelet is comfortable. Its weight (33 grams) and its small size make the Gear Fit2 Pro a perfect companion to sports activities. The black model we tested is relatively unobtrusive on a daily basis. Finally, the finish and build quality are as good as you would expect from Samsung.
Samsung Gear Fit2 Pro display
Like the Gear Fit 2, the Gear Fit 2 Pro comes with a 1.5" curved Super AMOLED screen with a resolution of 216 x 432 pixels (310 pixels per inch). Samsung had the good idea to cover the screen with Gorilla Glass 3 to offer more resistance in case you drop the watch.
The screen still offers the same level of comfort with excellent contrast. The readability is excellent, even in full light, adapting perfectly to any sporting activity. The vertical display makes it easy to read and the screen's responsiveness has proven to be flawless, including underwater.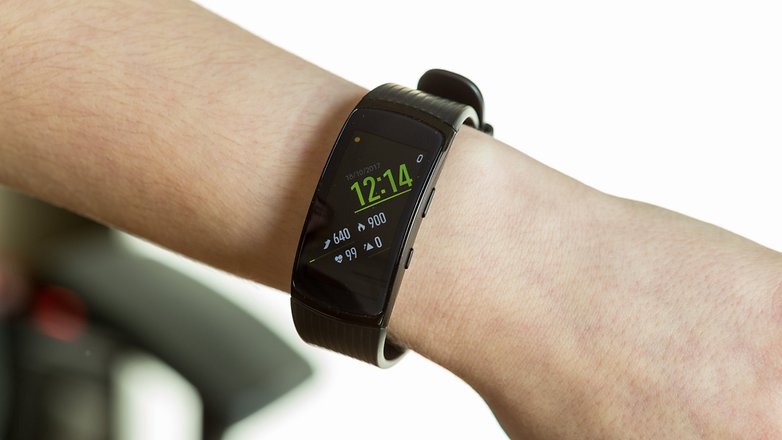 In the end, I don't notice any difference in the display compared to last year's model, though it's certainly not a disappointment. The Gear Fit2 Pro has the best screen of any smart fitness band, Samsung proving once again its mastery in the field.
Samsung Gear Fit2 Pro special features
Ready for swimming
With this Pro model, Samsung has fixed one of the main defects from the first generation of this wearable: although the Gear Fit 2 had the IP68 certification, you couldn't swim with it. Samsung has addressed this issue with the Gear Fit 2 Pro as it now comes with a pressure resistance of 5 ATM. You can now go for it with your Gear Fit 2 Pro strapped to your wrist in the swimming pool.
Though I had some trepidation initially, during my swimming sessions, the Gear Fit2 Pro didn't take on any water. To mark this new feature, Samsung has teamed up with Speedo to integrate a Speedo app that's capable of tracking the user's movements while swimming. On this point, I'm a bit critical, since the app does seem to 'forget' to count some laps leaving you with a bit of a distorted distance result, though not by much. It also had trouble recognizing different types of strokes.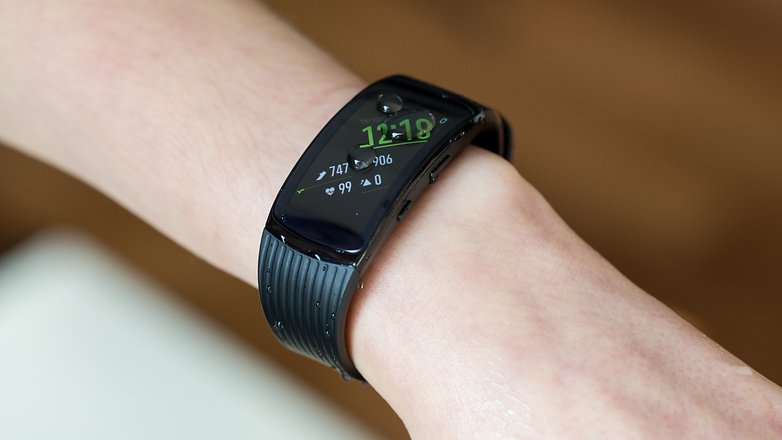 In addition to its aquatic capabilities, the Gear Fit 2 Pro has built-in GPS so you can use it during your activities without a smartphone. The connected bracelet is also able to automatically detect when you start a sports session and should also be able to detect the type of activity you are doing. GPS functionality worked perfectly in my many running sessions. Samsung perfectly fulfills its mission here, just as with the Gear Fit2.
Samsung Gear Fit2 Pro software
Samsung's configuration
The Apple Watch is successful in large part because of its simple configuration. And on this point, Samsung still has a lot to learn from the California giant. Indeed, the pairing and configuration of the Gear Fit2 Pro is still a huge hassle. No improvement has been made compared to last year, and that's a shame.
First, you have to install the Samsung Gear app to connect the bracelet to your smartphone via Bluetooth (4.2). Then you have to log in to your account (if you do not have one then you have to create one) and download a new plugin. Finally, you will need to download the Samsung Health app (where you still need to log in) to make use of the data collected by the smart fitness band. In short, you need two apps to use the Gear Fit2 Pro. We've seen simpler solutions before.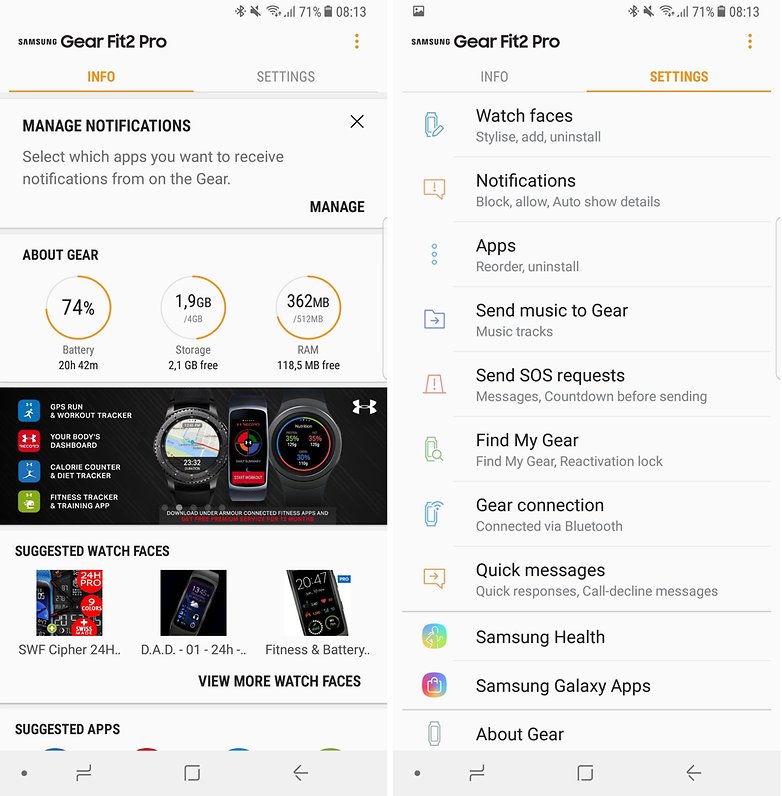 Tizen 3.0
Like the Gear Sport, the Gear Fit 2 Pro has the new Tizen 3.0 operating system. However, the developments on this bracelet aren't obvious. Despite this, the fluidity of the Gear Fit 2 Pro is still good, and I never encountered any bugs during my review. It's easy to navigate, the information displays correctly, and by swiping left you can access all the features (heart rate, calories burned, exercise in progress, number of steps, number of steps climbed, number of coffees ingested, etc.). In total, there are eight widgets you can have on the home screen.
By swiping right, you find notifications from smartphone apps. Of course, you can customize the face of the watch as you please.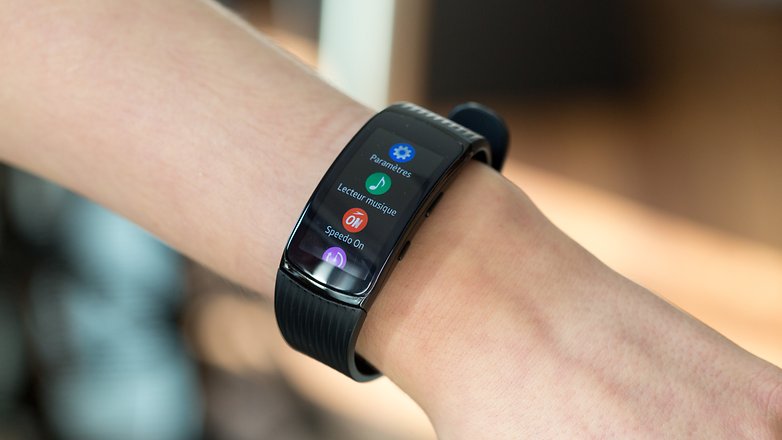 Apps
Samsung has made some progress in the realm of apps. When you press the lower button, the home screen is pulled up on the screen. From there, you have the classic apps (for running, exercise, weather, etc.), but Samsung also has an app store, Galaxy apps, to enrich the experience with the Gear Fit2 Pro. For example, there's Spotify offline mode compatibility, so you can enjoy your playlists during your workouts. The app isn't preinstalled by default, so you'll have to download it from Galaxy Apps. If you're a Spotify Premium subscriber, you can download your favorite songs and go for a run without your smartphone. All you need is your band and a Bluetooth headset. If you don't use Spotify, it's also possible to listen to music offline if you transfer music to the device. It has 4 GB of internal storage, 2 GB of which are actually available for use as the rest is taken up by the system.
On the partnership side, the Gear Fit 2 Pro also offers the app and services of Under Armor for free to its users for one year. Many training programs are available. Be wary, however, as poorly executed movements can cause you more harm than good. Finally, the fitness tracker can also take advantage of services such as MapMyRun, MyFitnessPal and Endomondo to track your routes, your calories and share your performance with friends. Personally, I really liked the Speedo ON application for swimming, despite the few critiques I explained above.
Daily use
Samsung Health is the one you will use the most each day to keep track of your activity. The app is inspired a bit by Fitbit's app, using blocks to display and organize the information you want to see. On the home screen, you'll find all the collected data at a glance, and a clicking on a block will give you more details. Samsung offers voice coaching during your sessions, but only works with its smartphones.
Overall, the app's design is modern easy to read. I still prefer the Fitbit app, which is similar but more simple and intuitive. For example, there's aren't calendar summaries with the Samsung app.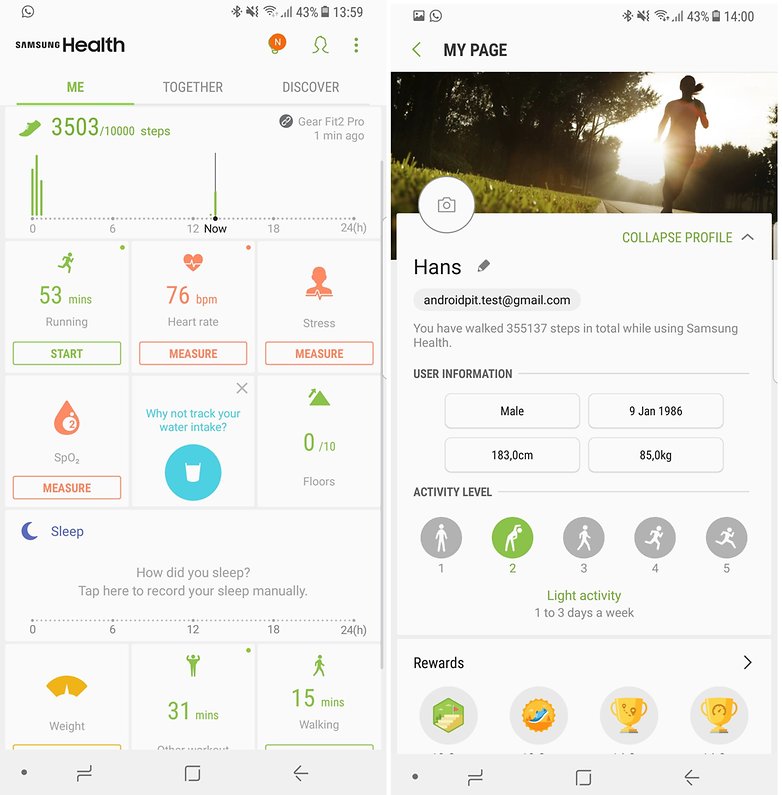 Samsung Gear Fit2 Pro performance
Under the hood of Gear Fit 2 Pro, there is a dual-core 1 GHz processor with 512MB of RAM and 4GB of internal memory. As with the Gear Fit 2, the new version also features an optical heart rate monitor, GPS, gyroscope, barometer and accelerometer to measure all your physical activities.
Like for other fitness trackers, my testing showed that you should take this information with a pinch of salt. These are often estimates. During the research for my review, I also carried my smartphone and it came up with different numbers than the tracker. The differences weren't massive, but still surprisingly different estimates. The Alta HR band from Fitbit seemed better to me. I would also encourage you to read my colleague Stefan's article on the accuracy of optical heart rate sensors by my colleague Stefan.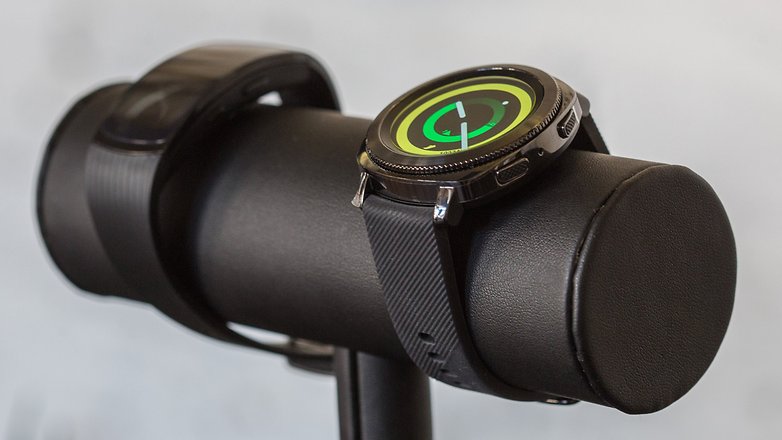 Samsung Gear Fit2 Pro battery
The Gear Fit2 Pro has a battery of 200 mAh, as did its predecessor. Samsung has held onto the same proprietary pin charging system, and the band takes around two hours to charge fully.
The results was battery life equivalent to that of the Gear Fit2, which means about two days of intensive use, especially of the audio features. There's a power saving mode that makes use of the sensors only sporadically, turns the screen to grayscale and completely disables the HR sensor, but even with that, I only managed to reach three days maximum.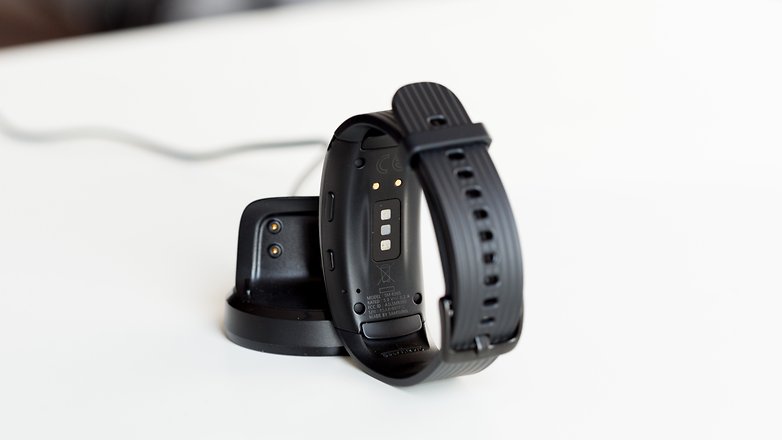 Samsung Gear Fit2 Pro technical specifications
Final verdict
Without presenting us with any major innovations, the Gear Fit2 still manages to be a welcome update of the Gear Fit2. Samsung has corrected the one major flaw of its smart fitness band by making it swim-proof, which will delight those who engage in the sport. Some partnerships have been added to make the most of its tracker capabilities, notably a partnership with Spotify for a better audio experience. Its display and ergonomics are top notch, holding on to all the merits of its predecessor, which means it's sure to attract those looking for a luxury fitness tracker.
On the other hand, if you aren't interested in swimming, last year's Gear Fit2 is more than sufficient and available for a lower price. If you want an even better experience for your sporting activities, I'd advise you to consider other, more expensive options from Polar or Garmin as well.