Samsung Galaxy S5 review: still good, still ugly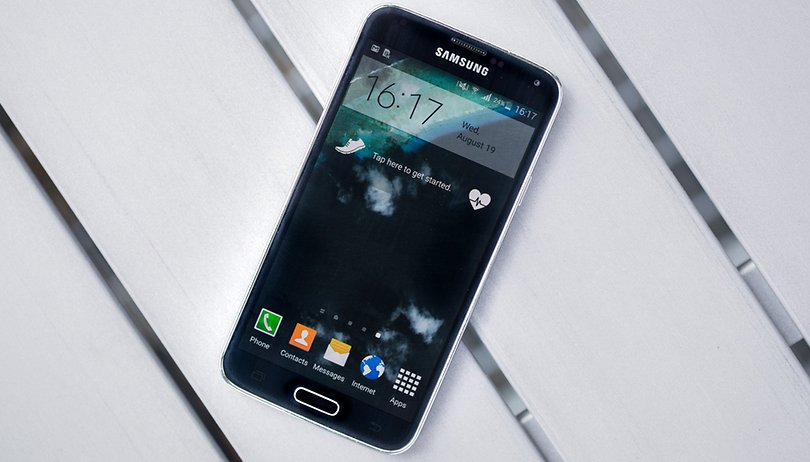 The Samsung Galaxy S5 is more than a year old now. In our original review, we commended its display, fantastic battery life and high-end camera. We didn't think it improved much on the Galaxy S4 though – particularly not with its design, or lack thereof, with Samsung opting for that disappointingly dimpled plastic chassis.
A year on, and with a lower price, is it still a worthy purchase? Read our updated Samsung Galaxy S5 review to find out.
Good
Great display

Good camera

Excellent battery life

Water-resistant
Bad
Slow and uneven interface

Lots of pre-installed apps
Samsung Galaxy S5: All deals
Samsung Galaxy S5 release date and price
The Samsung Galaxy S5 release date was way back in April 2014 in the US and UK. Its price has dropped considerably since then, and you can now buy it for around £320 in the UK, while the US Galaxy S5 price is as low as $400 with some online retailers. We think that's a great deal for what is still a powerful phone.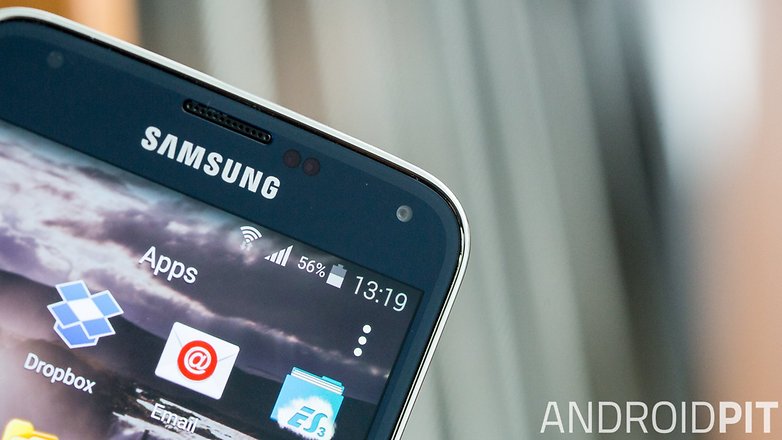 Don't forget to check out our initial Galaxy S5 review video below.
Samsung Galaxy S5 design and build quality
The Galaxy S5 copped a lot of flak at launch for being the 'band-aid' Samsung and some of this criticism is deserved. The device itself is not much of a departure from the design recipe that Samsung had been using for years, until it got a refresh with the Samsung Galaxy S6.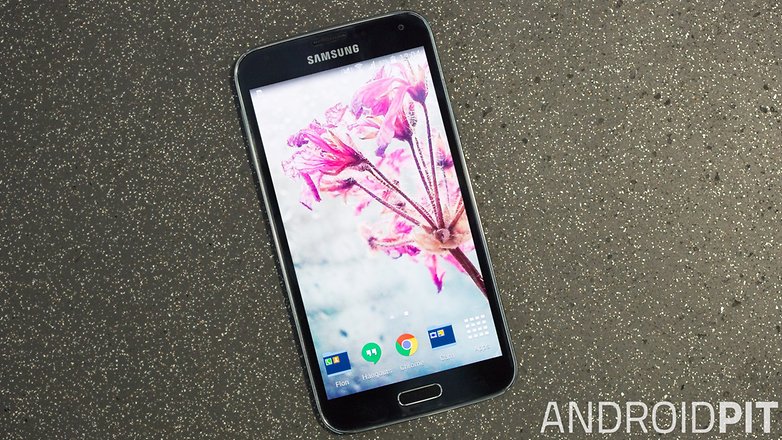 The build quality is excellent though and it's mostly well-considered. The dimpled plastic on the back feels much better than previous Galaxy devices – even if it looks ugly – and the built-in finger scanner on the home button is a useful, if not currently essential, feature.
Fingerprint scanning is set to play a much larger part in the future of Android though, thanks to further support for them in Android Marshmallow – read more about that at the link.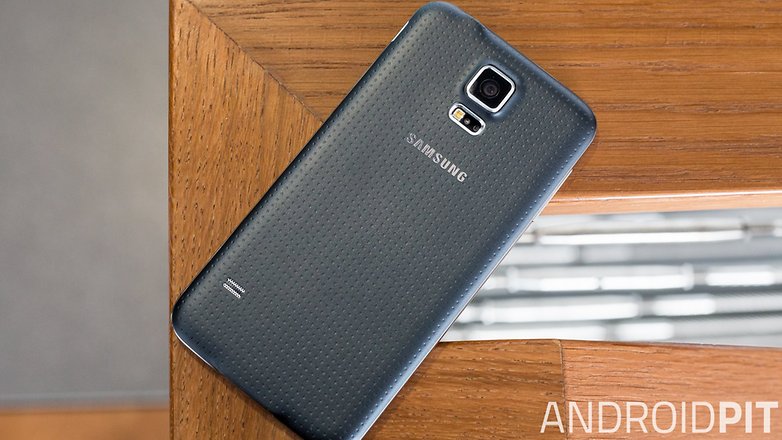 Samsung stuck with plastic on the S5, but the benefit is that the IP67-rated water-resistant and dustproof rear panel is removable, providing access to a microSD card slot and replaceable battery. There's also a heart rate monitor embedded alongside the LED flash, an IR blaster and LED notification.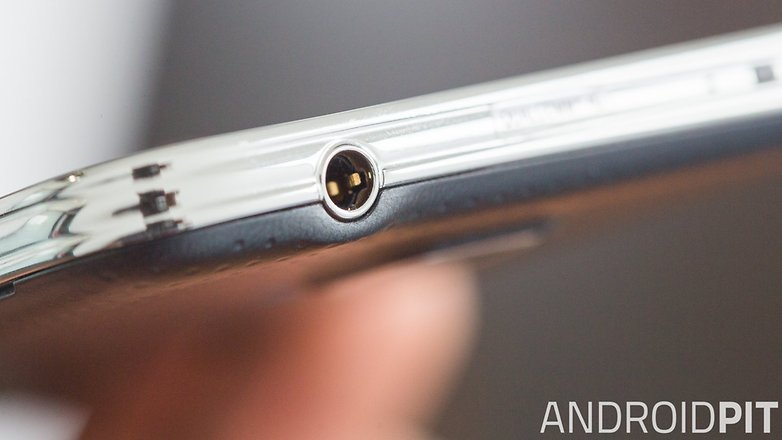 It's amazing how quickly design philosophy changes in the smartphone world. A year ago, the Galaxy S5 was an OK – if not exactly spectacular – phone in the looks department, but in 2015 it'd be unacceptable to have such a plastic chassis on your flagship. Many will be swayed by the removable back cover rather than the looks though, which is where the S5 holds an advantage over its successor.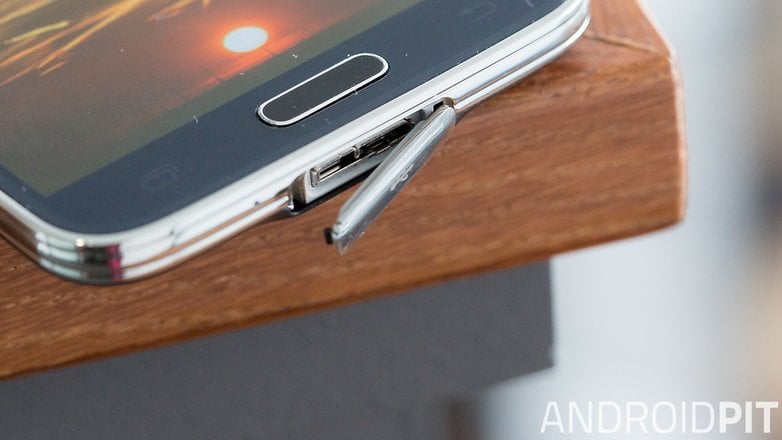 Samsung Galaxy S5 display
The Galaxy S5 has a Full HD (1,920 x 1,080 pixels) 5.1-inch Super AMOLED display that won't pop your eyes with pixel density but will with its colors and saturation. As usual, Samsung has opted for a super rich, high contrast display that is wonderful to look at even if it is not exactly lifelike. The AMOLED technology means the device shows pitch blacks and good contrast, but it won't do so well outdoors because it lacks backlighting.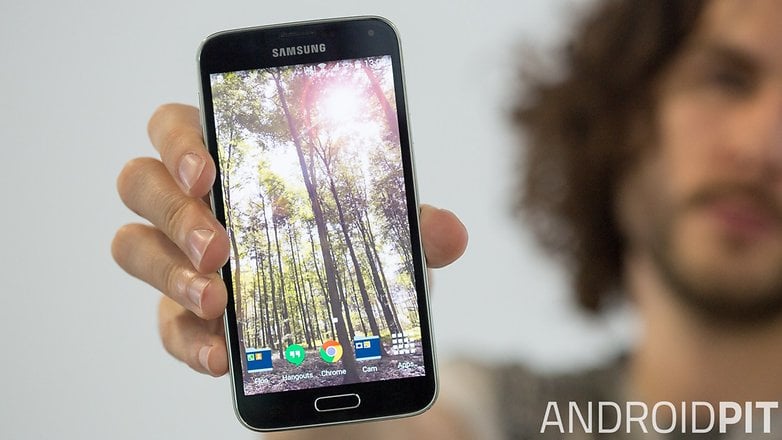 QHD is one of the smartphone buzzwords of 2015, but it's telling that many major phones - such as the HTC One M9 and Huawei P8 - have opted to stick with Full HD. QHD is a technical feat on a smartphone screen, but its benefit to the naked human eye is debated. It may be a while yet before QHD becomes the norm, so in the meantime the Galaxy S5 display still looks great, even by today's high standards.
Samsung Galaxy S5 special features
As mentioned above, the S5 has a few special features tacked on that may not be essential for everyone, but do make the S5 stand out.
The heart-rate monitor on the back below the camera lens is linked to the S Health app, so you can track your activity and keep an eye on your heart rate on the go. The physical home button doubles as a finger scanner — it isn't always reliable, but has been improved with some software updates.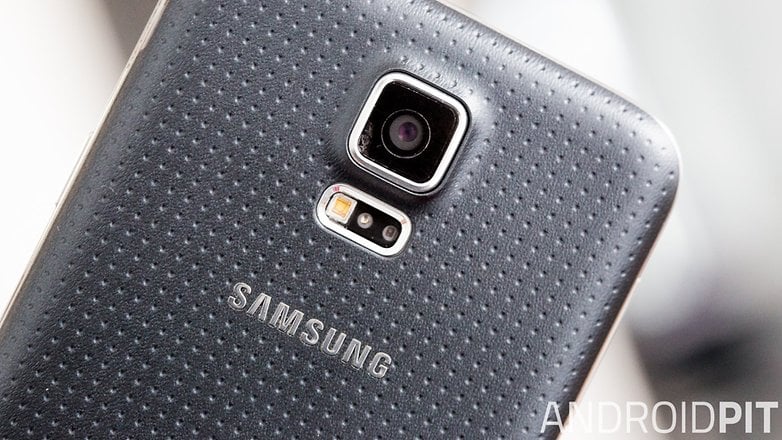 These Galaxy S5 features have been widely criticized as useless gimmicks, but I disagree. Samsung has made an effort to focus on core components such as security, health, camera and battery in the S5 and, while not perfect, it's a step in the right direction compared to some of the more blatant Samsung gimmicks over the years.
The S5 is also IP67 certified water-resistant and dustproof. All these things mean that the Galaxy S5 is still one of the best phones around for those who like to experiment with an assortment of gadgets and gizmos on their phones.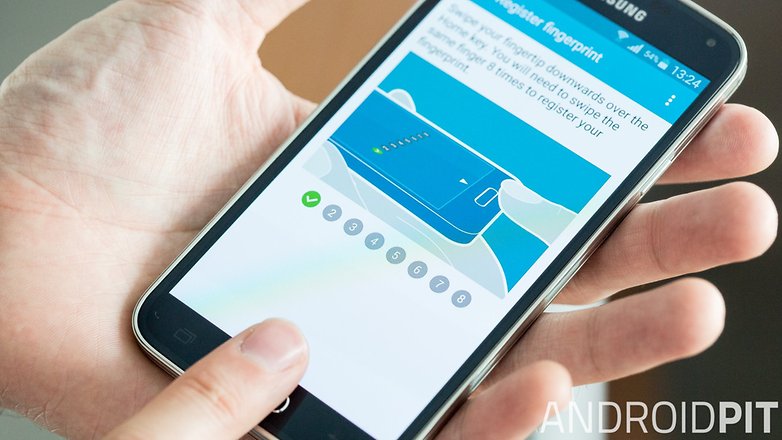 After all the time we've spent with the Galaxy S5, we just can't recommend using the finger-scanner as the main method for unlocking your device. It's far too unpredictable and it's not worth the thought and effort to make sure your finger/thumb is positioned correctly to make it work. Just stick with a pin-code instead.
Samsung Galaxy S5 software
The Galaxy S5 saw a bit of a reworking of Samsung's heavy TouchWiz user interface, and while it is lighter and flatter than previous versions, it seems a little unfinished. Some parts are quite nicely done but the experience is not consistent throughout.
The Settings menu has a few viewing options, including a large round colorful icon based view, a tabulated view and a list view. The notifications shade and Quick Settings take on another look that is less colorful but nicely put together.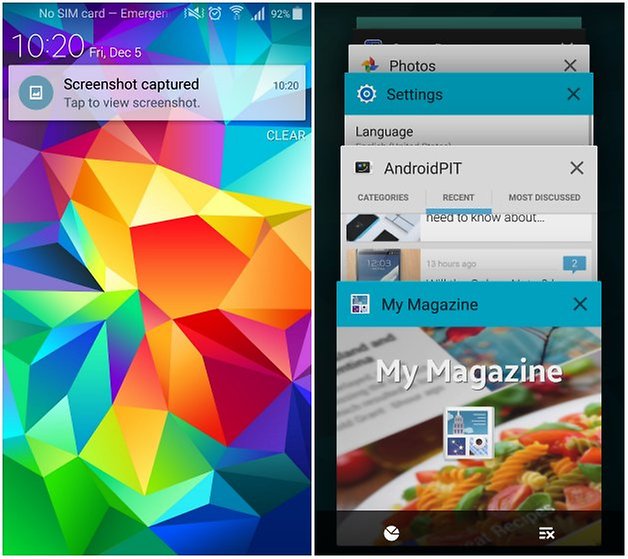 The S5 ran Android 4.4.2 KitKat at launch, but has now received the long-awaited Android Lollipop update. Lollipop runs well on the S5, and adds handy Material Design features such as the pull-down Settings menu, lock screen notifications, and a recent apps list. There are also welcome flourishes of color in areas of the phone such as the dialer, Settings menu and texting app.
Rounding off the features are cloud printing, Chromecast support, immersive mode (the S5 is a great device for reading or playing games on), screen mirroring, NFC and Google Now integration. While Samsung reproduces a lot of Google's core apps, Google's offerings all work fine on the S5 too and you can disable the Samsung apps you don't like. TouchWiz and pre-installed apps do take up a significant amount of the internal storage though.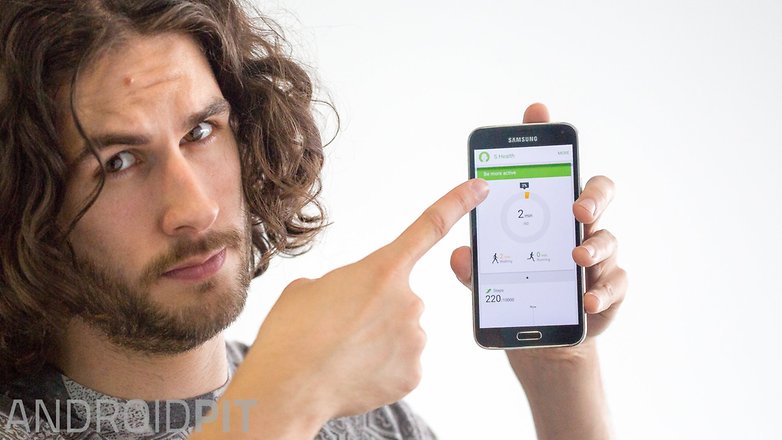 The Galaxy S5 features the Samsung Knox security platform, which sandboxes apps for personal and business use. There's a nice little floating menu called Toolbox too, where you can keep a shortcut list for your most frequently used apps, and Samsung has introduced the Magazine dedicated home screen, which is a mixture of Flipboard and HTC's BlinkFeed. It's not all that interesting, but thankfully can be easily disabled.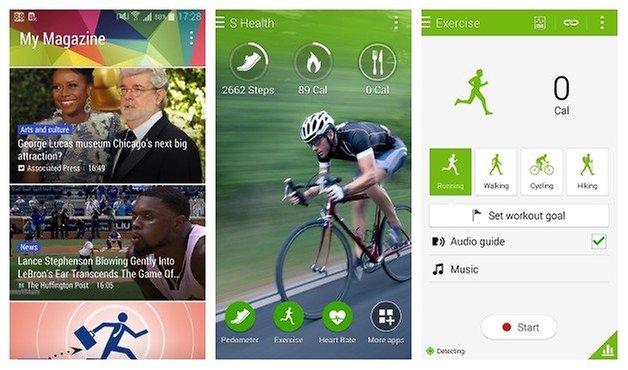 The usual array of Samsung Smart features is present, with Air View (hovering content preview like on a PC mouse), gesture-based controls, cloud backup, blocking and private mode, Easy Mode and S Voice adding value where you may or may not want it.
Other useful features include Multi-Window, one-handed operation and a fantastic Download Booster that utilizes both your Wi-Fi and data connection to download large files quickly. Sadly, the availability of this feature is carrier-dependent.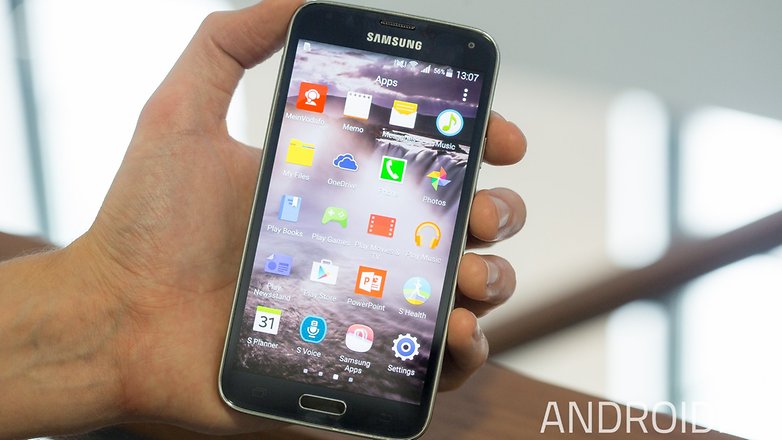 Samsung Galaxy S5 performance
The Galaxy S5 specs sheet is a little bit flattering about the actual performance you can expect to get from this phone, though many of the lag and slowdown issues when the device was first released have been ironed out now.
The S5 has some solid processing power and sufficient RAM to power you through your everyday Android needs, but even compared to last year's major devices such as the HTC One M8 and OnePlus One, it hasn't got world-beating performance, even after an upgrade to Android 5.0 Lollipop.
It's not that it's slow, there are just a few instances, like opening some Settings menus, such as Wi-Fi, when it hasn't already been cached, which seem a little sticky. If you're a power fiend who likes pushing their device to the limit, there are better options available.
Alternatively, try this one trick to make your smartphone faster.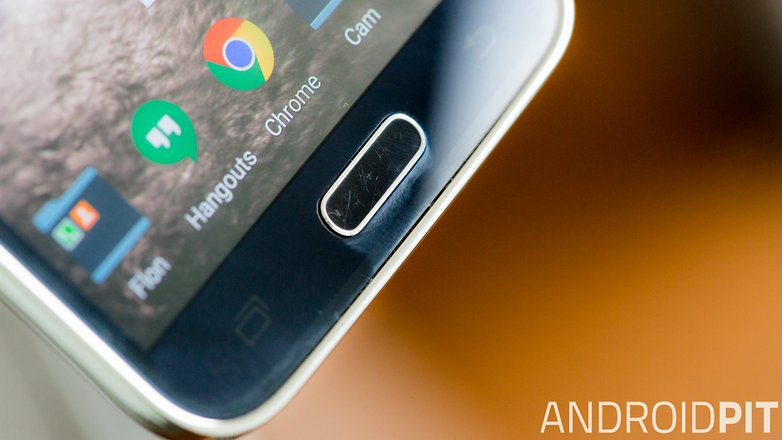 Samsung Galaxy S5 audio
Samsung's Galaxy S5 audio features aren't great, and with a single speaker for audio output on the back, it doesn't sound great either.
The problem with rear mounted speakers is that they project away from your ears, and are blocked by the phone's body when you're holding it. It's also quite easy to cover a rear speaker. The Galaxy S5 was never billed as an all-round multi-media device like, say, the HTC One M9, though, and the audio experience is very different.
Thankfully, it's not the most important aspect of the device, and I wouldn't like to listen to music on any smartphone. As far as handling calls goes, it's just fine, and the rear speaker is sufficient for video playback, providing your finger isn't held over it.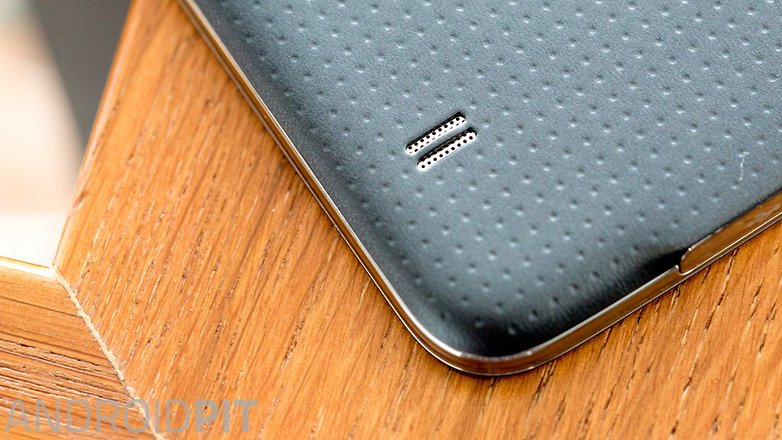 Samsung Galaxy S5 camera
The Galaxy S5's main camera is a 16 MP ISOCELL sensor which offers real-time HDR and 4K video capture, while on the back there is a 2 MP camera capable of 1,080p recording at 30 fps. Some of the less popular preset modes on the Galaxy S4 have been scrapped from the camera software on the S5, but these can be downloaded from the Play Store if you really want them.
The S5 camera is still jam-packed with options, settings and modes so you won't be lacking in choice. There's image stabilization (digital), burst-shooting, Beauty Face, dual-camera, panorama, some limited manual settings and a selective focus option.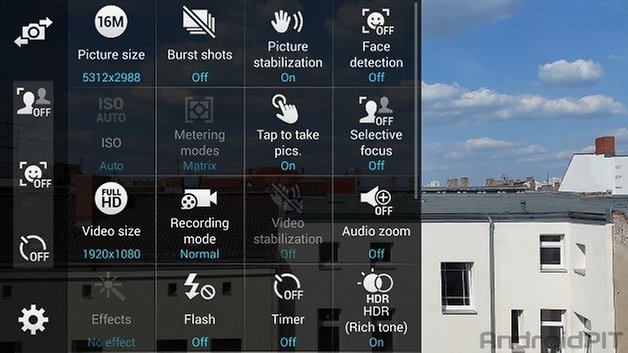 The camera may be a bit bloated but the basics are covered and you're unlikely to be let down by it in most circumstances. Outdoor scenes are consistently strong — it's perhaps the easiest photo setting to make look sharp, but the Galaxy S5 presents a clarity and a vibrance to its images taken outside which still holds up in 2015.
Effective image processing combined with a 16 MP camera, providing images at a maximum of 5,312 x 2,988 pixel resolution, delivers photos which are rich and detailed. Contrast is also handled carefully by the Galaxy S5, the best example of this being in the pictures of oranges in the gallery below.
There are some exceptions to the S5's standout camera performance, however. Firstly, it struggles in low light, especially where the front camera is concerned: the pictures are grainy and often out of focus, though admittedly that's a problem many smartphones suffer from.
Galaxy S5 vs LG G3 camera comparison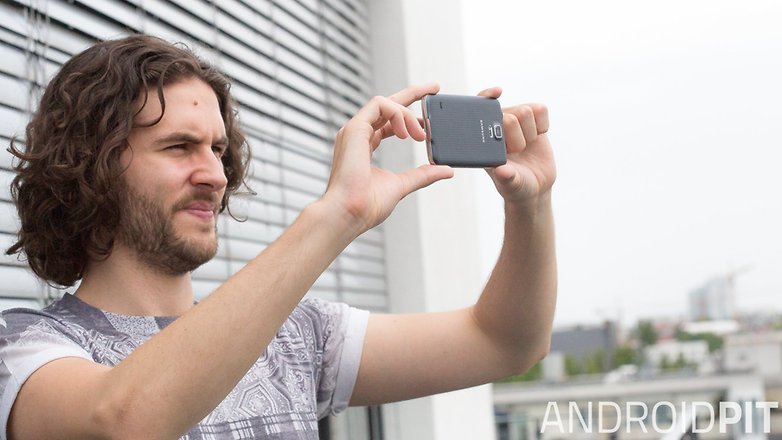 Then there's the main camera's focus itself. While it's possible to get some high-quality snaps, with background and foreground images distinctly separated, the autofocus can be twitchy, and often will necessitate repeated attempts to focus/de-focus the correct object.
The lack of optical image stabilization is also disappointing. On devices that are rarely, if ever, placed in a stationary position to take a photo, OIS is something of a necessity. Even with a seemingly steady grip, photos can arrive in a blurry state on the S5. The digital image stabilization offered is okay, but makes taking photos frustratingly slow.
Overall, the Galaxy S5 provides an above average camera performance in many circumstances, but is let down by a couple of minor gripes. View the gallery below for a better look at the S5's camera capabilities.
Samsung Galaxy S5 battery
The Galaxy S5 battery is a star performer. Samsung integrated Lucid Logix technology into the S5 to manage battery performance at optimum levels. Add to this the fact that the S5 also has not only the regular power saving mode we've seen on other Samsung devices, but also the fantastic Ultra Power Saving Mode, and you've got an impressive device as far as battery goes.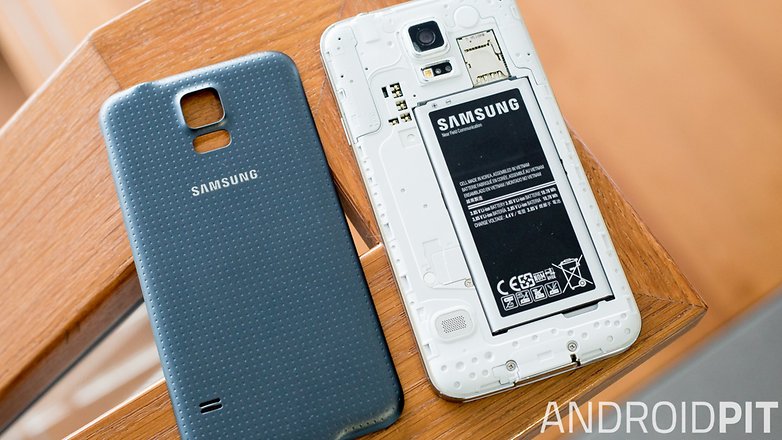 Activating UPSM will implement a limited grayscale user interface and restrict functionality to 'essential' apps, but you can specify some of your own essential apps, including WhatsApp, Facebook and Google+, as well as browse the web in grayscale.
While Samsung's advertising shows it is possible to do a seven-day road trip from coast to coast on a single charge that's not exactly how you're likely to use it. It's more of an in-a-pinch battery extension than something you should completely rely on as a daily driver, but is easily the best power saving mode I've seen.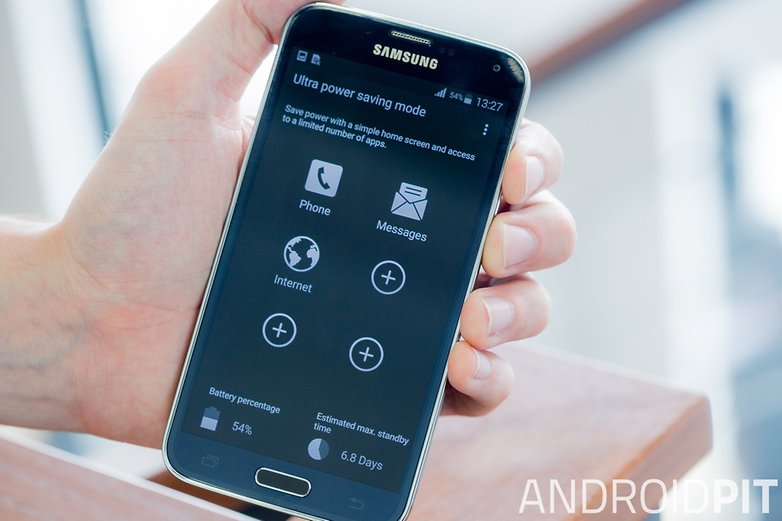 As for the Galaxy S5's post-Lollipop battery performance, it's something of a mixed bag. There have been many user-reports of battery drain, freezes and crashes, but this hasn't been my experience. These might have been ironed out by now and though I can't attest to a "10 percent battery life increase" (as Google originally touted for Android Lollipop) it doesn't seem to be any worse.
If you are experiencing Samsung Galaxy S5 problems, hit the link for a list of solutions.
Samsung Galaxy S5 technical specifications
Final verdict
The Galaxy S5 never quite lived up to expectations, but it was still a top-end 2014 phone, and is a decent mid-ranger now. It's the kind of phone where every software angle is covered. Some choices may not be for everyone, such as the design, interface, the heart-rate monitor and finger scanner, but the holy trinity of camera, battery and screen are highly polished.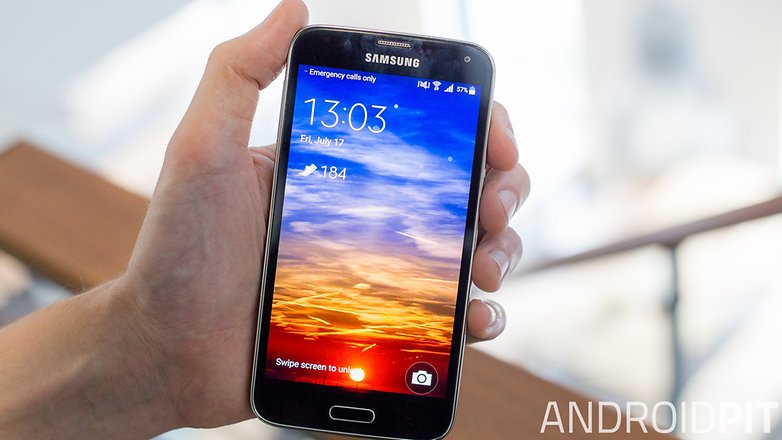 If you're not a Samsung fan it's unlikely the S5 is going to win you over, and if you are a Samsung fan then you've probably already got a Galaxy S6 or S6 Edge and are only reading this article out of casual curiosity. There are plenty of better phones out there for the S5's asking price, but if you do take the plunge on the Galaxy S5 you will still be getting a solid phone, with specs which will remain good for another year or so.
Do you agree with our updated Galaxy S5 review? Is this phone doomed to be quickly forgotten in light of recent flagships, or might you take the plunge given its reasonable price? Let us know in the comments.
Samsung Galaxy S5 - where to buy?
Please note: only the lowest tariffs and main networks are shown. Cheaper deals may be found with resellers.
UK
BEST DEAL: EE, £29.99 per-month (£29.99 upfront) with 500 minutes, unlimited texts, 1 GB data
O2, £28.50 per-month (£9.99 upfront) with 500 minutes, unlimited texts, 500 MB data
Vodafone, £34 per-month (no upfront fee) with 500 minutes, unlimited texts, 500 MB data
You can also pick up the Galaxy S5 off-contract and carrier unlocked for around £280 on Amazon UK.
US
BEST DEAL: T-Mobile, $20.00 per-month (+$15.00 for SIM Starter Kit), or $479.99 prepaid.
U.S. Cellular, $24,95 per-month as the installment price (no upfront fee), or $99 on a two-year contract, or $499 prepaid.
All Galaxy S5 prices are for the 16 GB on a 24-month contract unless otherwise stated. All information correct at the time of publishing.