Samsung Galaxy S5 Mini review: a mini worthy of the flagship name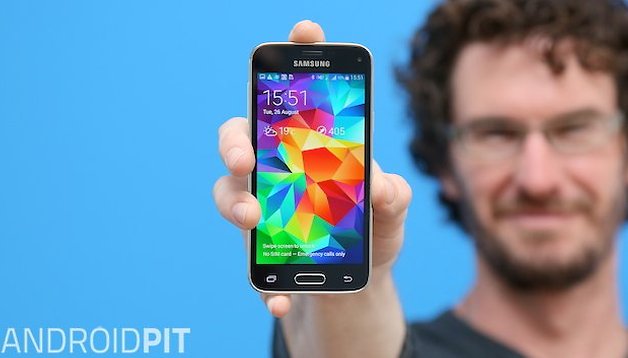 Lets be honest: Samsung's historical attempts at mini flagship devices have been pretty miserable. In our Galaxy S5 Mini review, we'll show you how Samsung has improved upon the instantly forgettable Galaxy S3 Mini and S4 Mini to produce a slimmed down version of the Galaxy S5 that produces an altogether different result than its miniature predecessors. For the first time, a Samsung Mini demands that you pay attention. How does S5 Mini achieve this? Read on to find out. NEXTPITTV
Good
Same look and feel as the S5

Same flagship software features and experience

Great display

Solid camera and battery
Bad
Slower performance than S5

Relatively high price
Samsung Galaxy S5 Mini design and build quality
As far as looks go, the Galaxy S5 Mini is pretty much just a smaller version of the Galaxy S5. The proportions may be a little different, but the Galaxy S5 Mini is very similar in look and feel to the S5. You've got the same matte, rubberized plastic backing on the rear, the same metallic silver trim around the edges and a front end that simply looks like an S5 that went through a clothes dryer cycle.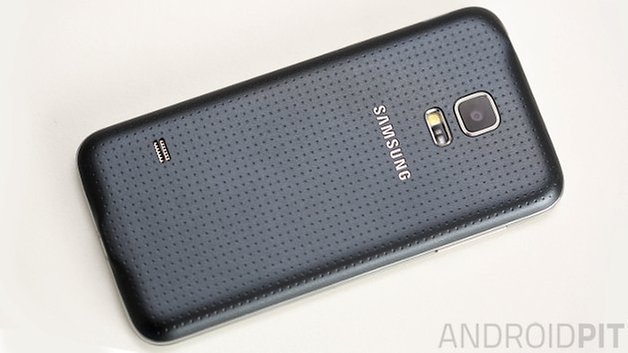 The only visible difference is that the S5 has a water-resistant flap over its USB 3.0 port and the S5 Mini's USB 2.0 port is open to the elements. There's another minor change on the back too: the S5 camera lens protrudes a little from the surface of the battery cover, whereas on the S5 Mini this has been absorbed back into the main body. Both water-resistant back panels are removable, uncovering a removable battery and SIM and microSD card slots. The S5 stacks the two cards and the S5 Mini puts them side by side.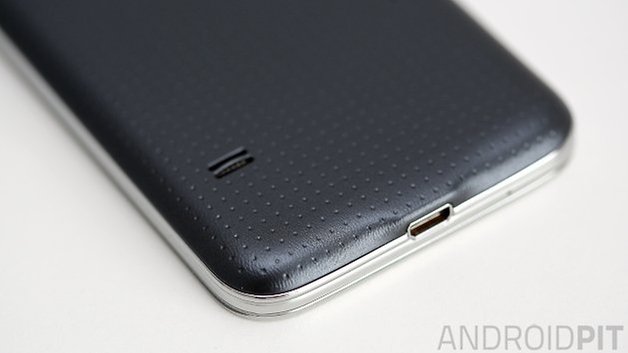 Samsung Galaxy S5 Mini display
The S5 Mini has a Super AMOLED display measuring 4.5 inches (for comparison, the S5 has a 5.1-inch screen). It's Full HD, meaning 1,280 x 720 pixels, which is perfectly acceptable for a device of this size. The pixel density comes in at a healthy 326 ppi. As with all Samsung displays, it's bright, contrasty, heavy on the saturation and a joy to look upon.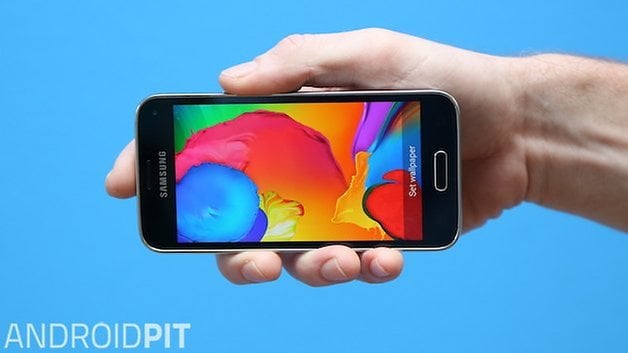 On the downside though, you've got the same wide bezels surrounding the display and when placed side by side with the S5, the colors seem a little less vibrant, especially were warmer colors are concerned. In general I actually prefer a slightly toned down display, so this suits me fine. Whites also appear a little greenish compared to the warmer tone of whites on the S5. This could come down to individual device displays though. Unless you're particularly hung up on pixel density, there's very little difference between the S5 Mini and S5 display in terms of quality.
Samsung Galaxy S5 Mini special features
This is where Samsung has made some great choices: the S5 Mini has the same extra features as the S5. While some of these were not received particularly well on the flagship, they are distinctly flagship features, and it's a great move to include them on the S5 Mini: the finger scanner is built into the home button and you've got the heart rate monitor, infrared sensor and IP67 water and dust resistance found on the flagship. If you want a flagship feel in a smaller body, the S5 Mini delivers.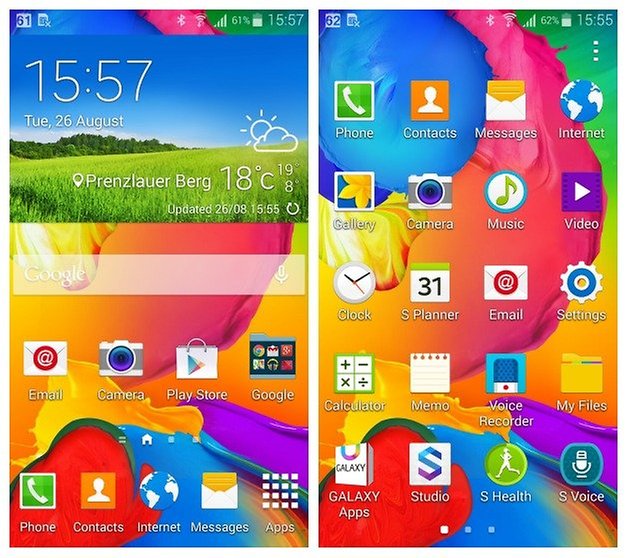 Samsung Galaxy S5 Mini software
If you know the TouchWiz user interface found on the Galaxy S5, then you know the S5 Mini. Samsung has put the exact same interface on the Mini version, so TouchWiz fans don't need to to worry about missing out on the latest interface look. The only software feature which isn't on the S5 Mini is Download Booster. Multi Window and One-Handed Operation are also absent, but don't make any sense on a smaller screened device. Air Browse, the ability to scroll through pages using a side palm gesture, is also mysteriously absent.
What the S5 Mini does have is the same bright, round icons, generally darker interface to capitalize on the power saving qualities of AMOLED screens, and almost the entire software feature set of the S5: Ultra Power Saving Mode, Air View, gesture controls, Toolbox (a floating quick access app bubble), Private Mode, Easy Mode, Smart Remote, S Health, S Voice and the full suite of Samsung applications. Apart from the minor omissions mentioned above, you're getting the S5 experience on the software front too.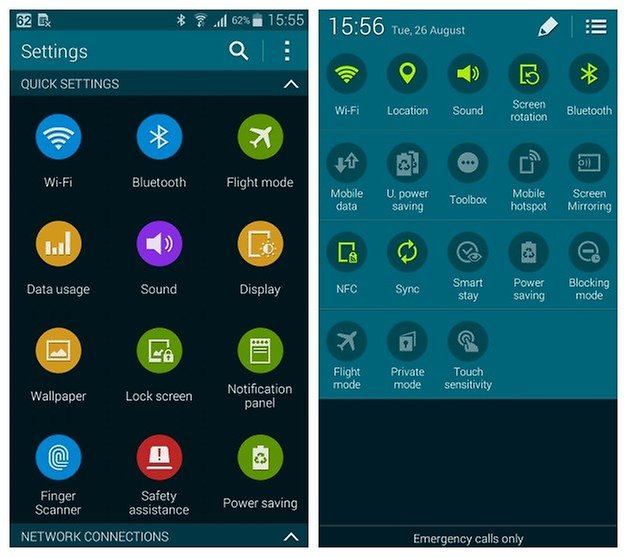 Regarding software, or perhaps it is a hardware issue, the fingerprint scanner on the S5 Mini demonstrates the same weaknesses as the S5 finger scanner: it works great...sometimes. And not so great most of the time. Compared to Apple's fingerprint scanner Android has repeatedly shown it still has a way to go. On the plus side, you can register up to three fingerprints and use them to verify your Samsung account or make payments with PayPal.
The heart rate monitor on the back provides reliably unreliable measurements. The sensor works fine enough, but it should not be considered a trusted source of biometric information. Sweat causes the same issues as the heart rate sensor on the various Gear devices: which doesn't bode well for using it to measure exercise data. It's a nice enough gimmick, but while it may be useful to some, for most of us it is likely to be forgotten as soon as the honeymoon period is over.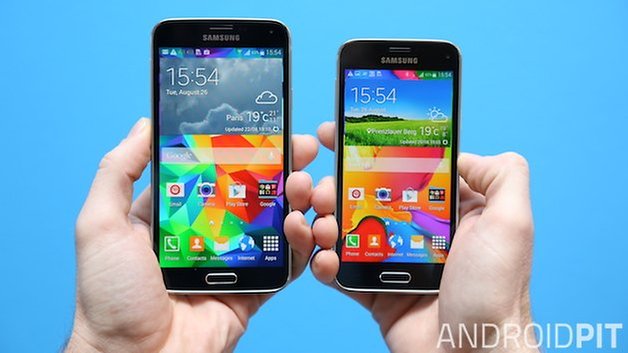 Samsung Galaxy S5 Mini performance
This is where things start to take a turn for the expected. The S5 Mini naturally comes with less powerful components than its flagship inspiration but it doesn't actually feel terribly slow. Again, a Mini version of a flagship tends to appeal to those either with small hands or those that like the look and features of the flagship but don't want to pay the full price. In the latter case at least, the exact clock speed of the processor is irrelevant. And for the small-handed there's not much you can do if you don't like the internals of the Mini version, except perhaps buy a Sony Xperia Z1 Compact instead.
In general, the performance of the S5 Mini was entirely okay, with minimal stuttering in Real Racing 3, slightly slower app launches when compared to the S5, and slower responsiveness from the camera app, for both focusing and shooting. As long as you're not expecting flagship performance from the S5 Mini, you won't be disappointed. If you're in search of the latest specs though, then as usual, you'll have to look elsewhere. The internal speaker is also problematic, causing a weird full body shake when acoustic feedback occurs (the signature blup sound Samsung devices make).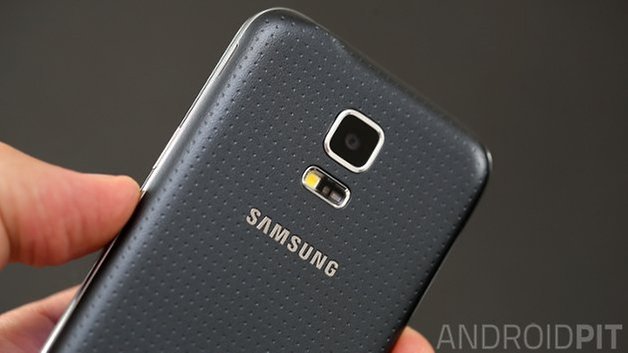 Samsung Galaxy S5 Mini camera
Again, the S5 Mini steps things down a notch in the camera department as well. The auto-focus and shooting speeds are not on par with the flagship but hold up very well against other devices in the same class. At the full image resolution of 8 MP, you can only shoot in 4:3 format and if you want 16:9 specifically you'll have to drop the resolution down to 6 MP. The quality of the images produced is exceptional though with good performance on macro subjects, in full daylight and typically rich color reproduction.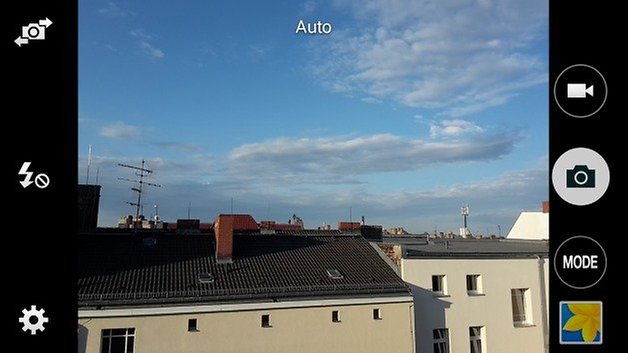 HDR mode brings solid results to otherwise problematic high contrast settings, and image noise is handled well. There's a typical tendency to heavy post-processing in ambient light settings, but we see this a lot with low-light shooting on almost all Android smartphones. A manual shooting mode would be nice, but again, you can't have everything on a Mini. Regardless, the S5 Mini is still a good performer.
Samsung Galaxy S5 Mini battery
After a week of testing the S5 Mini battery held up to our initial observations. To give you an idea, over nearly 3 hours of initial usage the battery lost about 20 percent. During this time the display was turned on at full brightness for about an hour, test photos were taken, a Google account was set up, apps downloaded and synced and some graphically intensive games were played. There was also a bit of browser and Google Maps work done with GPS on. In standby mode, consumption is minimal, even with auto-syncing Wi-Fi connected, after several hours there was almost no battery discharge.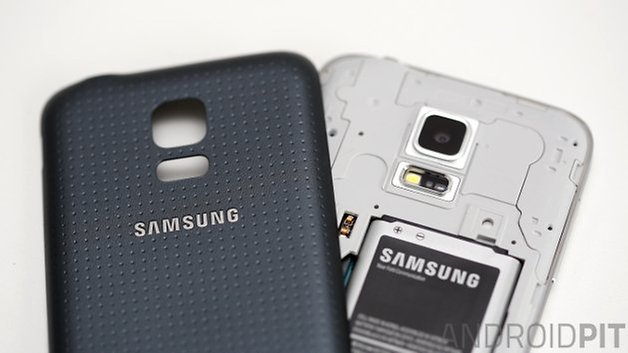 The battery, though it only has a capacity of 2,100 mAh, is pretty good value for a smartphone of this size. When tested for all-day use with occasional switching between Wi-Fi and mobile internet, we achieved running times of around 15 hours with a screen-on time of about 4 hours. With mobile data switched off we came up with a good two-day battery life. Of course, you also have Ultra Power Saving Mode and the possibility to switch out the battery if necessary.
Samsung Galaxy S5 Mini technical specifications
| | |
| --- | --- |
| Dimensions: | 131.1 x 64.8 x 9.1 mm |
| Weight: | 120 g |
| Battery size: | 2100 mAh |
| Screen size: | 4.5 in |
| Display technology: | AMOLED |
| Screen: | 1280 x 720 pixels (326 ppi) |
| Front camera: | 2.1 megapixels |
| Rear camera: | 8 megapixels |
| Flashlight: | LED |
| Android version: | 4.4 - KitKat |
| User interface: | TouchWiz |
| RAM: | 1.5 GB |
| Internal storage: | 16 GB |
| Removable storage: | microSD |
| Chipset: | Samsung Exynos 3 Single |
| Number of cores: | 4 |
| Max. clock speed: | 1.4 GHz |
| Connectivity: | HSPA, LTE, NFC, Bluetooth 4.0 |
Final verdict
The Galaxy S5 Mini manages to achieve something its predecessors could not: it stands up as being worthy of the flagship name. Of course, you won't get the same top-shelf specs or camera resolution as the Galaxy S5, but as far as styling, experience and software features its all there. Bringing the added extras from the flagship also helps smooth over the missing parts where processor or camera speeds are concerned. Even the battery holds up remarkably well despite getting the shrink ray treatment.
However, some of the same flaws as those found in the full-sized Galaxy S5 are also present in the S5 Mini: uneven interface, high price, perhaps gimmicky features. But the S5 Mini manages to fulfill all the important promises of the flagship and it rightfully earns its place under the Galaxy S5 brand. As mentioned above, the S5 Mini will clearly appeal to Samsung fans with small hands or those looking for a premium experience on a smaller, cheaper device.