Samsung Galaxy Note 5 vs iPhone 6 Plus comparison: huge competition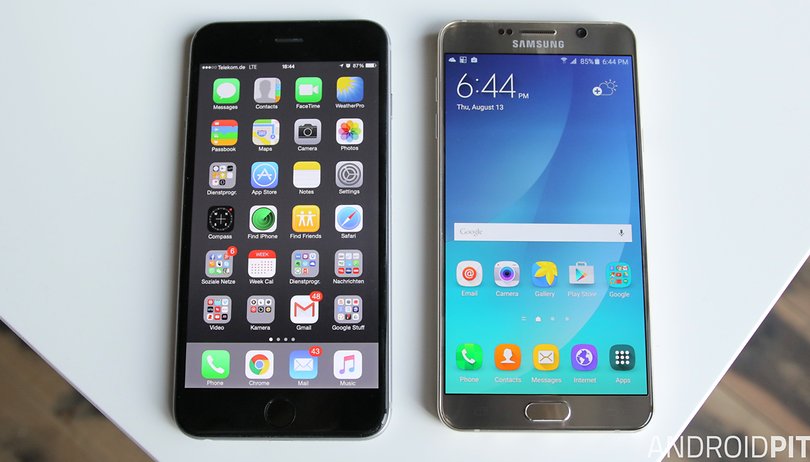 The new Samsung Galaxy Note 5 is pretty nifty, but it's going up against Apple's biggest and best iPhone, the iPhone 6 Plus, and a successor to that could be unveiled as soon as next month. How does the Note 5 fare against Apple's current big beast? Let's find out in our Galaxy Note 5 vs iPhone 6 Plus comparison. NEXTPITTV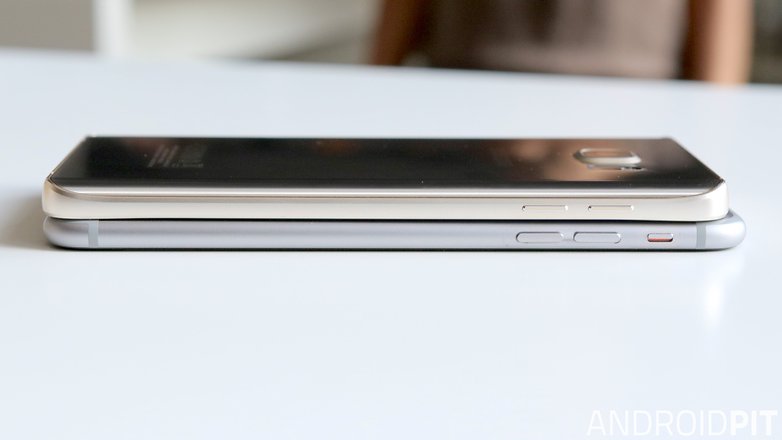 Galaxy Note 5 vs iPhone 6 Plus: design and build quality
Let's face it. The new Note really looks like the iPhone 6 Plus, albeit without the attention to detail that Apple lavishes on its hardware. The Note 5 measures in at 153.2 x 76.1 x 7.6 mm and weighs 171 g.
The 172 g Plus is Apple's biggest phone, at 158.1 mm tall and 77.8 mm wide, but it may be a little too thin - early reports suggested it was a little bendy, something that's been addressed with the imminent 6S, but it's still a work of engineering art. Nobody makes phones quite like Apple does.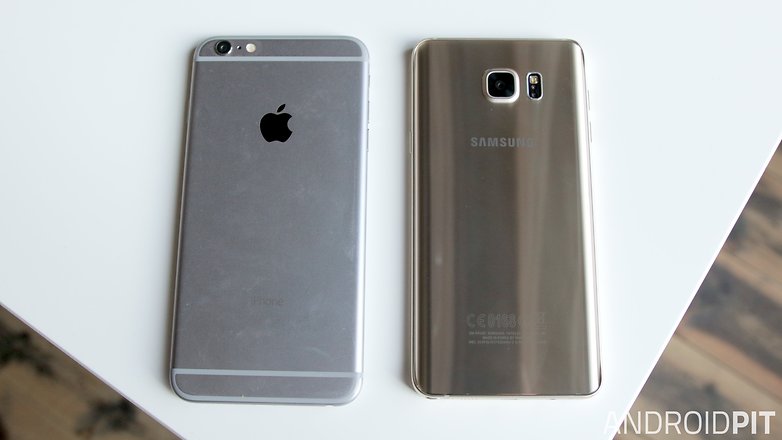 Galaxy Note 5 vs iPhone 6 Plus: display
The Galaxy Note 5 has a 5.7-inch QHD Super AMOLED display delivering 2,560 x 1,440 pixels at 518 ppi, and it's absolutely superb: pin sharp with excellent color reproduction and good viewing angles. As with any AMOLED the display can be a little bright for some tastes, but that's easy to adjust in each device's Settings panel. The display is protected with the latest generation of Gorilla Glass, which comes with claims of 80 percent better durability than the glass on some lesser smartphones.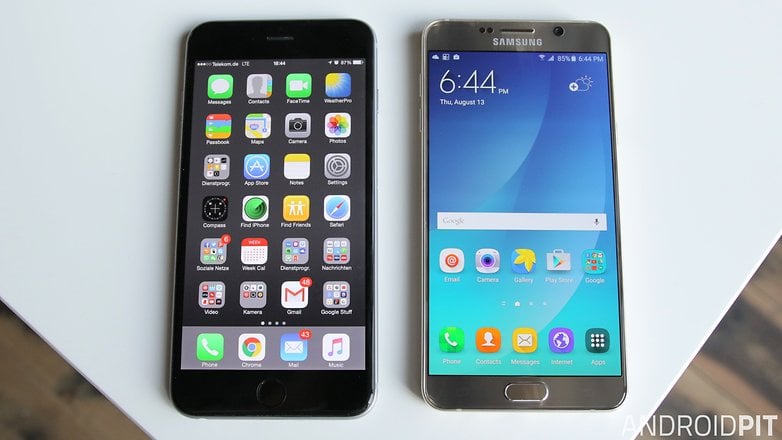 Apple's screen is smaller and less dense: it's a 5.5-inch backlit IPS LCD with 1,920 x 1,080 pixels at 401 ppi. The viewing angles are superb and color reproduction is excellent, but the Note has the more impressive display.
Galaxy Note 5 vs iPhone 6 Plus: processor and storage
The Note 5 comes packing an eight-core Exynos 7420 processor with 4 GB of RAM, and it's backed up with either 32 GB or 64 GB of internal storage, but no microSD card slot. Samsung hasn't announced clock speeds yet but the same processor in the Galaxy S6 is clocked with four cores at 2.1 GHz and four at 1.5 GHz.
The iPhone has Apple's A8 processor, which is a dual-core 1.4 GHz ARM-based system of Apple's own making. On paper it's rubbish compared to the octa-core Exynos, but Apple's total control of hardware and OS means it can optimize its devices really well. The Note is by far the faster device, but iOS is smoother than even Lollipop, which is likely to cancel out the spec advantage here. There's just 1 GB of on-board RAM and the choice of non-upgradeable storage is 16, 64 or 128 GB.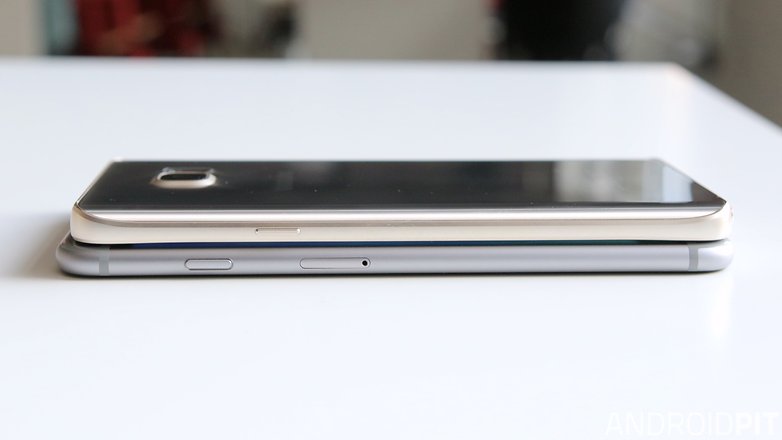 Galaxy Note 5 vs iPhone 6 Plus: camera
The Note 5 has a 5 MP front-facing selfie snapper and a 16 MP rear camera with optical image stabilisation. It's the same as the current Galaxy S6 camera and sensor, which we've previously found to be really good.
It's another on-paper defeat for Apple here: its main camera may have optical stabilization and a dual LED flash, but it's just 8 MP. However, it's backed by one of the best sensors in the business, so don't let that number make you think iPhone 6 Plus photos aren't good. They are, and rumors suggest the next model will be getting Sony's latest sensor and a mystery next-gen camera system. How exciting.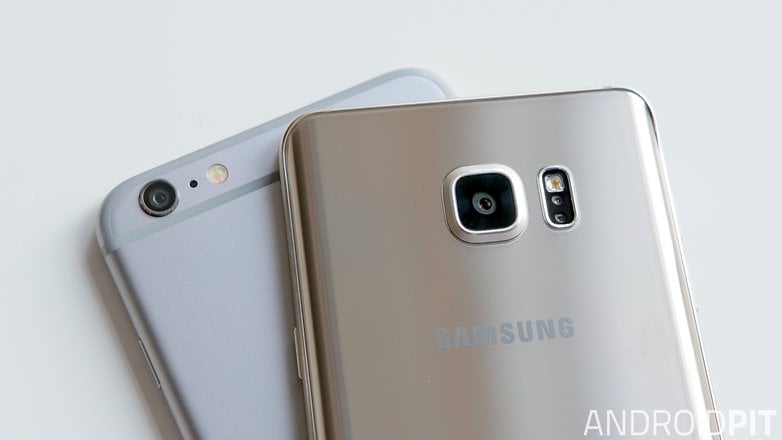 Galaxy Note 5 vs iPhone 6 Plus: software
The Note 5 runs Android 5.1.1 Lollipop with Samsung's recently slimmed down TouchWiz, and will get Android M when the operating system is finished.
iPhones, of course, run iOS. The current version is iOS 8 and the Plus will get iOS 9 when it's launched in the fall. You either like iOS or you don't; but the similarities between iOS and Android grow with each release.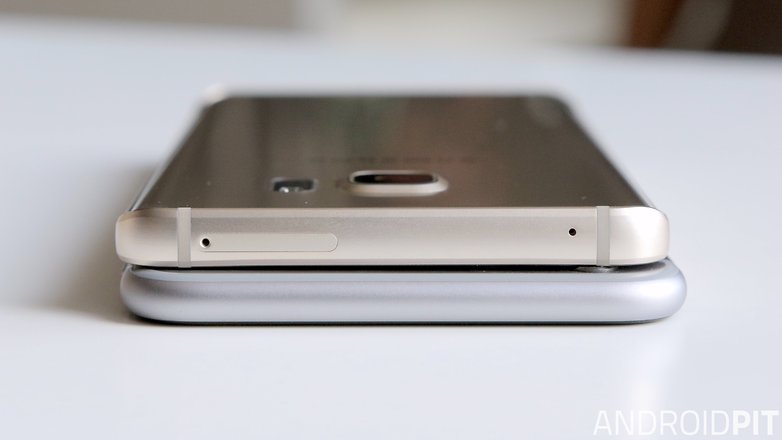 Galaxy Note 5 vs iPhone 6 Plus: battery
The Galaxy Note 5 comes with a 3,000 mAh battery, which is significantly larger than the 2,550 mAh unit you'll find inside the Galaxy S6. It also gets the same power saving and power management features we saw in the S6, so hopefully that means all-day battery life – something the Galaxy S6 doesn't always manage. The Note 5 also supports fast charging, which tops the battery up by around a third in 15 minutes. Full charging takes two hours using wireless charging or 90 minutes with a cabled charger.
Apple doesn't offer wireless charging or fast charging, and its 2,915 mAh battery is slightly smaller than the Note 5's. However, Apple did a good job with battery optimization in iOS 8 and the iPhone's difficulties in going all day are largely gone.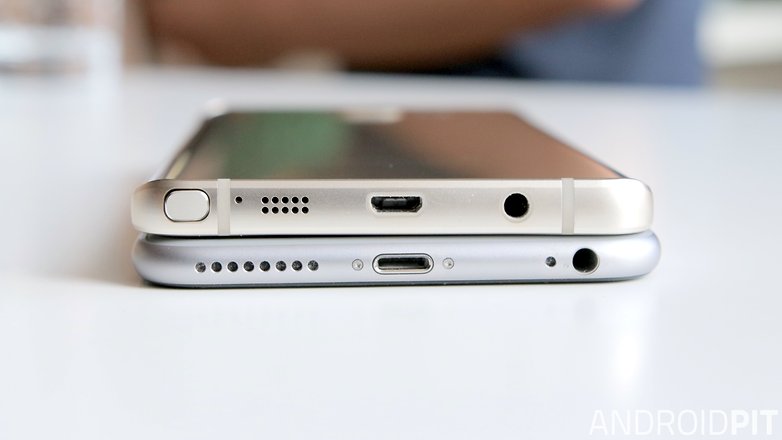 Galaxy Note 5 vs iPhone 6 Plus: early verdict
The Note 5 is a superb phone, and on paper at least it deals blow after blow to Apple's biggest iPhone: it's got a bigger, better screen, much faster processing, more RAM and more megapixels. Apple's control of hardware and software means it can narrow the gap somewhat by optimizing like crazy, but there's been a year of tech improvements between last year's iPhone and this year's Note.
For now the Note is arguably the better phone, but that's likely to change in September when Apple is expected to unveil its 2015/2016 models. The Note may have caught up and perhaps zoomed past Apple, but Apple isn't going to take that lying down.
What do you think? If money were no object, which one would you go for?