Galaxy Note 5 vs Galaxy Note 4 comparison: notably different?
Update:

Performance comparison updated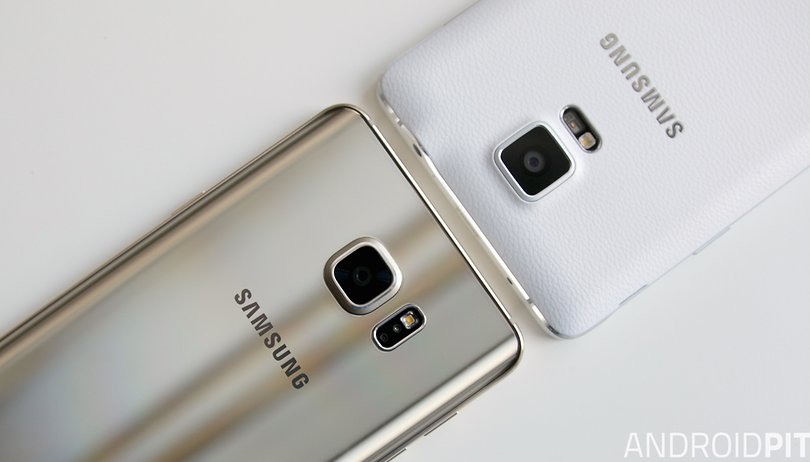 The Samsung Galaxy Note 4 was our best smartphone in the world for almost six months until the Galaxy S6 and Galaxy S6 Edge usurped it. Now there's a new kid on the block, the Galaxy Note 5, and we've put it through its paces against the previous generation device. How does the Note 4 hold up? Find out in our Samsung Galaxy Note 5 vs Galaxy Note 4 comparison.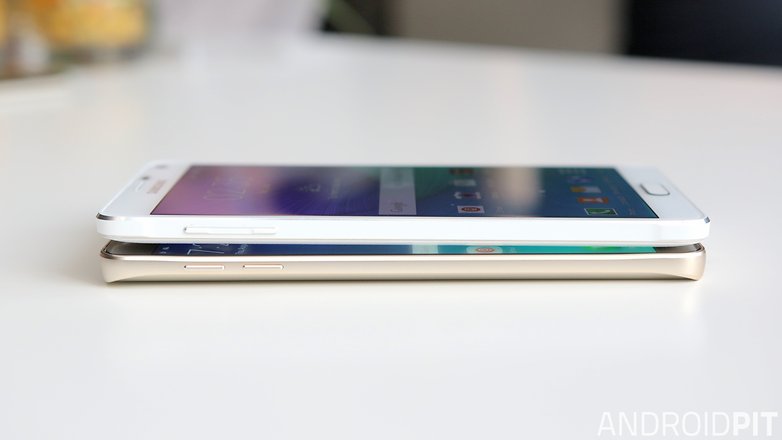 Galaxy Note 4 vs Galaxy Note 5 comparison: Design and build quality
The Galaxy Note 4 design appeared to have been informed by the lackluster response to the Samsung Galaxy S5's looks. Instead of the plastic chrome-effect body with dimpled rear, as seen on the S5, Samsung gave the Note 4 metallic edges and a faux-leather back. The result was a phablet that looked sharp and felt comfortable from all angles.
Yes, it's big, at 153.5 x 78.6 x 8.5 mm, and weighty, at 176 g, but the combination of the black metal sides, the silver trim, and the soft, textured rear gave it an air of importance. Moreover, the display took up about 75 percent of the body, so it doesn't feel too big, as phablets sometimes can (hello, Nexus 6). This is also partly thanks to the convenient button placement and the grip provided by the rubbery rear.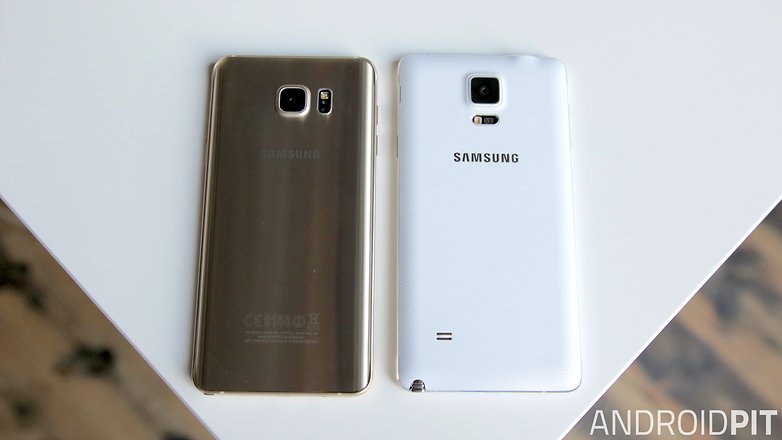 Nonetheless, I'm pleased that the Note 5 is both slimmer and lighter (albeit by a small margin) than the Note 4. It's also even more attractive.
The new phablet has a sultry glass and metal body, which weighs 171 g. Its dimensions are 153.2 x 76.1 x 7.6 mm. It's soft and smooth, the gently curved rear edges make it even more comfortable to hold than its predecessor (albeit more slippery), and the S Pen now ejects automatically, rather than having to be pulled out.
This subtle change to the S-Pen doesn't affect its functionality, just the process of retrieving it, yet it gives the impression that the Galaxy Note 5 is better. It's a similar story with the metal edges of the Note 5. The actual difference in width between the Note 4 and Note 5 is tiny, but the slimmer metal band around the Note 5 makes the newer phablet appear much thinner.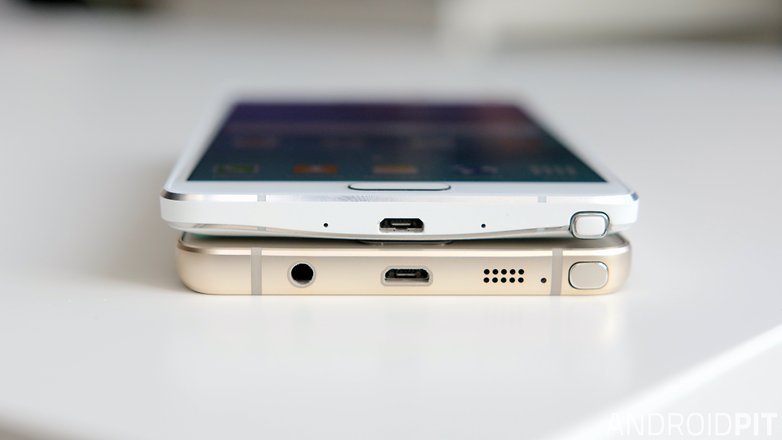 It could be argued that this is merely Samsung's way of convincing potential buyers that the Note 5 has made more significant improvements than it really has. Maybe that's true, but regardless of the intent, the outcome I cannot deny: the Galaxy Note 5 is simply better to hold and interact with than the Note 4.
What is disappointing is that the Galaxy Note 5 lacks a removable battery and expandable storage, both of which are present in the Note 4. This isn't a huge surprise given that these were omitted from the other major Samsung phones this year, the Galaxy S6 and Galaxy S6 Edge.
That being said, an interest in phablets tends to imply a higher interest in 'consumption' too, as media tends to look better on the larger display of a phablet than a smartphone. With phablets primed for watching movies and videos, which often require high storage capacity and always require a lot of power, the notion of being limited in these areas may put some people off the Note 5.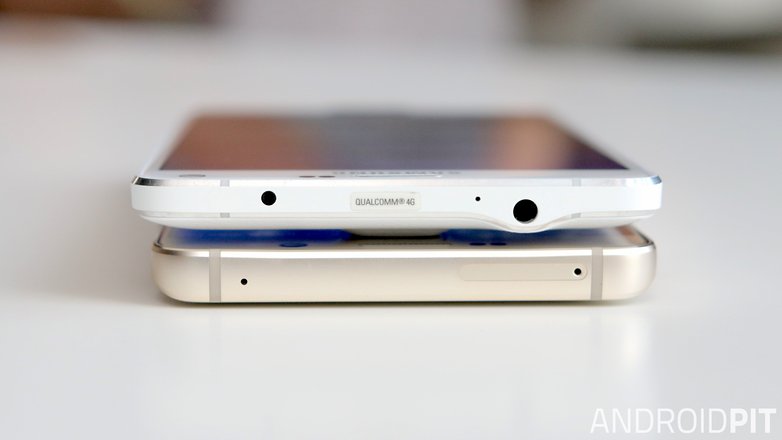 Galaxy Note 4 vs Galaxy Note 5 comparison: Display
The Galaxy Note 4 has a 5.7-inch QHD screen. It's super bright, highly detailed (around 515 pixels per inch), responsive and provides excellent viewing angles.
In almost every circumstance, the Note 4's screen exceeds its competition. Like many of Samsung's displays, it is a fraction over-saturated and not 100 percent true-to-life, but I welcome its vibrant tones. There are few smartphones with a display as sharp and clear as the Note 4's.
And somehow the Galaxy Note 5 display is superior. Though it hasn't been bumped up to 4K, the Galaxy Note 5's 5.7-inch QHD offering (518 ppi) has even stronger contrast and definition. At full brightness, even simple webpages appear to jump off the Note 5's screen – it may be the finest display on the platform.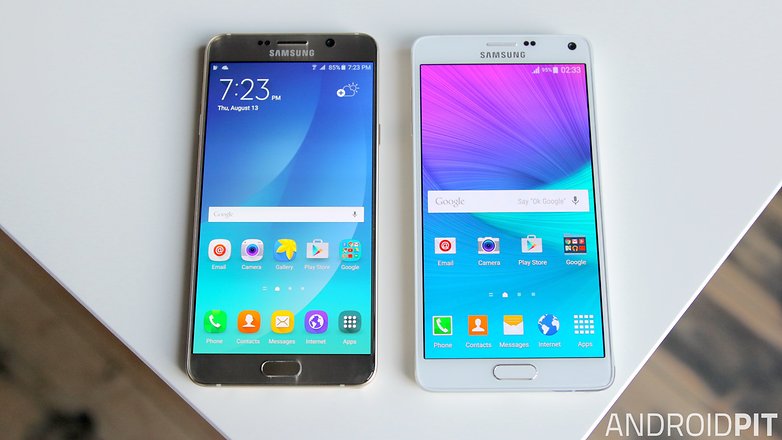 Those who were disappointed that the Note 5's display didn't make the leap to UHD resolution needn't be. Though the resolution and size don't really differ between these two devices, the quality definitely does.
With all of this in mind, Samsung has employed a very clever 'trick' that makes the Galaxy Note 5 look sharper, and as though it has a larger display – it has shrunk the TouchWiz font and icon size. Both handsets are set to 'small' font by default, but this standard on the Note 5 is smaller. Think of it like viewing a low-resolution picture up close and at a distance: the further away it is the smoother it tends to look.
Like the thinner edges, Samsung has created only an illusion of superiority here. But it's undeniably effective.
Galaxy Note 4 vs Galaxy Note 5 comparison: Software
What separates the Galaxy Note 4 from most other phablets is its stylus, the S Pen. With its own set of largely useful functions, the S Pen is one of the major reasons to pick up the Note 4. You can read more about what it does in our Samsung Galaxy Note 4 review.
Samsung has continuously improved the Air Command menu, which works in conjunction with the S Pen in each iteration of the Note series, and has done so again with the Galaxy Note 5. We didn't have time to test the new features in our hands-on Note 5 review, but we can confirm that Action Memo, Smart Select, Screen Write and S Note make a return, plus you can now add your own shortcuts to the menu.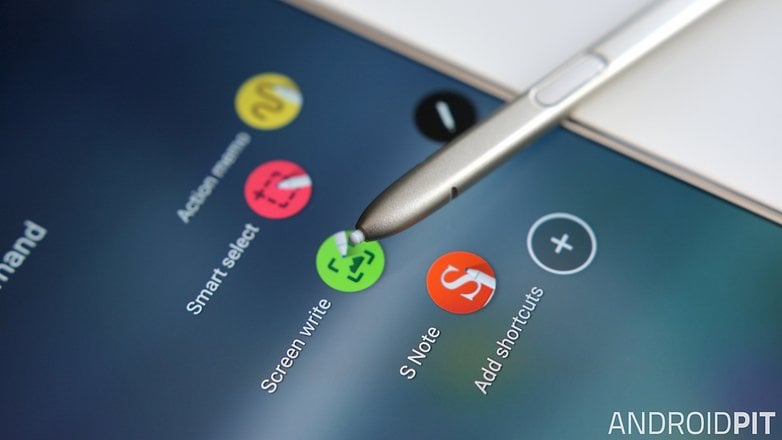 The Galaxy Note 5 also comes with Samsung Pay thanks to its MST (magnetic secure transmission) integration. Unlike NFC payments, which require compatible terminals, MST works with existing credit card terminals that are already in most stores.
Galaxy Note 4 vs Galaxy Note 5 comparison: Performance
The Note 4 houses a quad-core Qualcomm Snapdragon 805 processor or Exynos 5433 (depending on the region where it's sold) and 3 GB of RAM. The Note 5 comes with Samsung's own Exynos 7420, an octa-core (2.1GHz Quad + 1.5GHz Quad), 64-bit processor, in addition to 4 GB of LPDDR4 RAM.
The outcome is that the Galaxy Note 5 is the faster device, but it's only just noticeable. The specs and benchmarks suggest a significant difference, but in reality, it's very subtle when performing takes such as opening and closing apps or general navigation.
You will notice the difference when pressing the home button – the Galaxy Note 5 jumps to the home screen noticeably quicker than the Galaxy Note 4. It's also fastest when first launching an app, but once the apps have been cached, the time taken to open them on both phones is similar.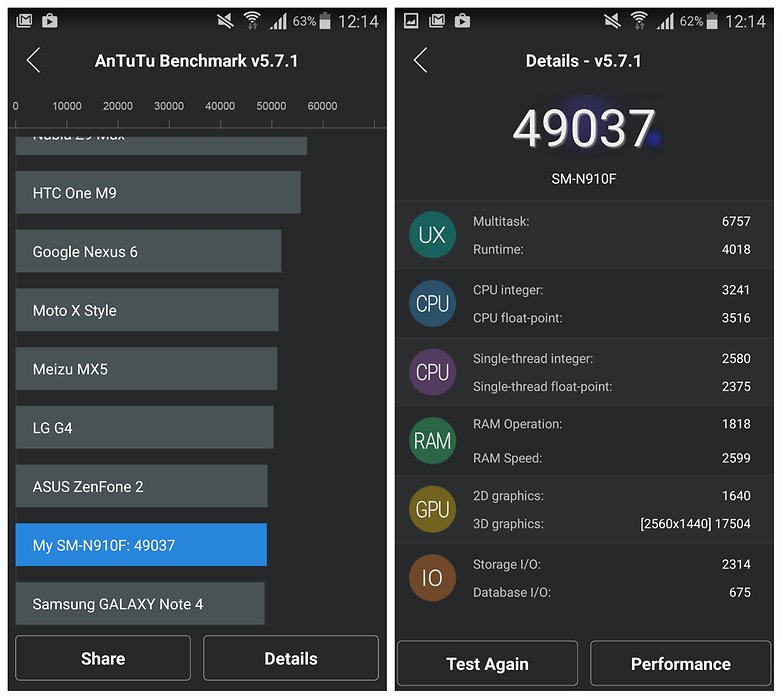 High-end gaming performance was most stable on the Galaxy Note 5, as observed when playing Implosion – Never Lose Hope (one of our best Android games). It was a little faster to load on the Note 5 and less susceptible to frame-rate dips, but once again, the difference was small.
The Note 5's average score in our AnTuTu benchmarks suggests it's around 33 percent faster than the Note 4. It clocked in at 65,440, compared with the Note 4's 49,102 average score. But as we have argued time and again, performance on high-end devices is often comparable, and more RAM may even lead to slower speeds in some circumstances. You can read more about this in our fastest Android phones article.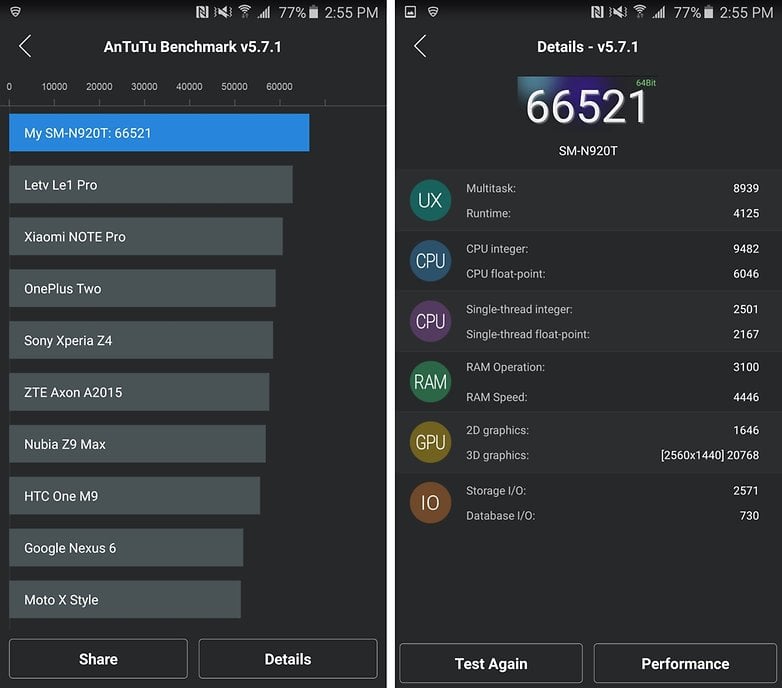 When the Galaxy Note 5 first arrived it suffered from some stability and performance issues. Thankfully this seems to have been corrected, but it's still only marginally faster to use than its predecessor. Unless performance is your most important purchasing factor, the difference isn't critical at this point.
Once Android Marshmallow lands on both devices, this distinction may become clearer. We'll have to wait and see.
Galaxy Note 4 vs Galaxy Note 5 comparison: Camera
The Galaxy Note 4 camera is another standout feature of the handset. The 16 MP main snapper comes with OIS, autofocus, LED flash, and 2160p video-recording at 30 fps. The Galaxy Note 5's camera megapixel count remains the same on the back, but the front camera has been upgraded to 5 MP from 3.7 MP.
The Note 5 software and processing has received a big upgrade though, and it's more comparable to the excellent Galaxy S6 camera. The Note 5's camera launches faster and focuses a little more smoothly. It's not a faster focus, in my experience, it just requires a little less maintenance than the Note 4.
Check out the comparison photos below – the Galaxy Note 5 is always on top, the Note 4, underneath.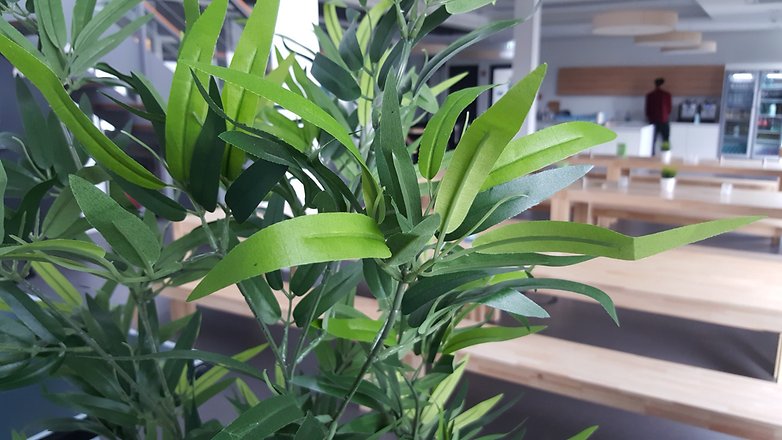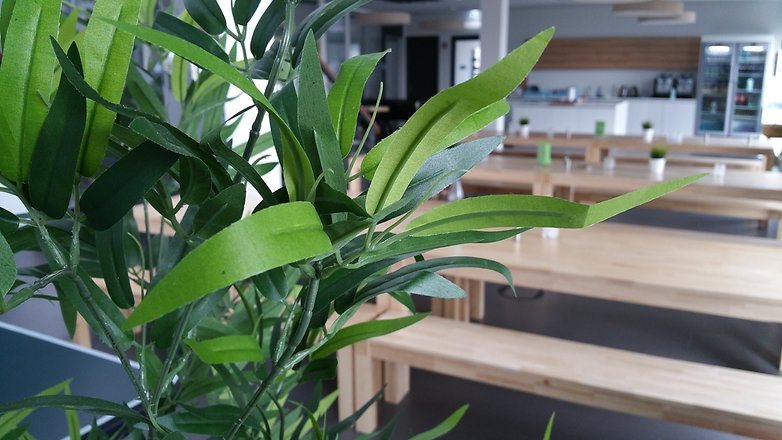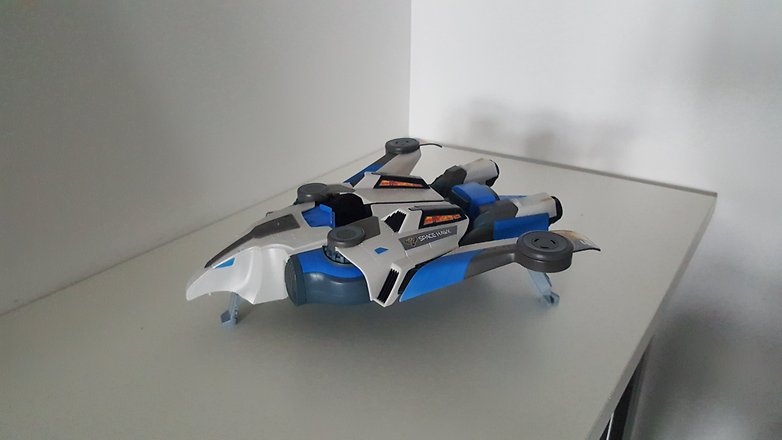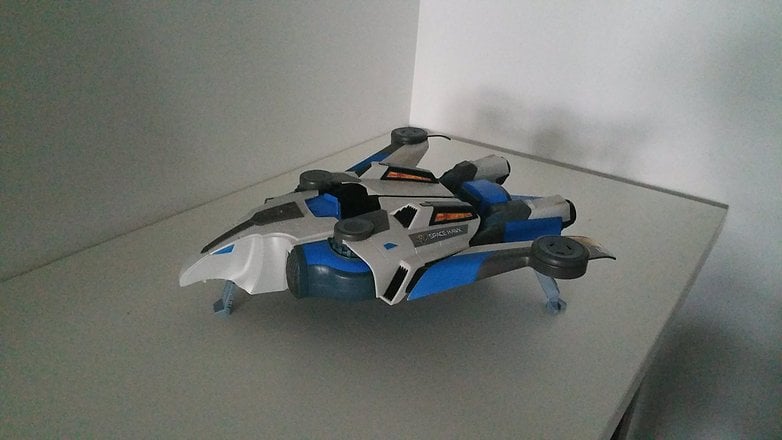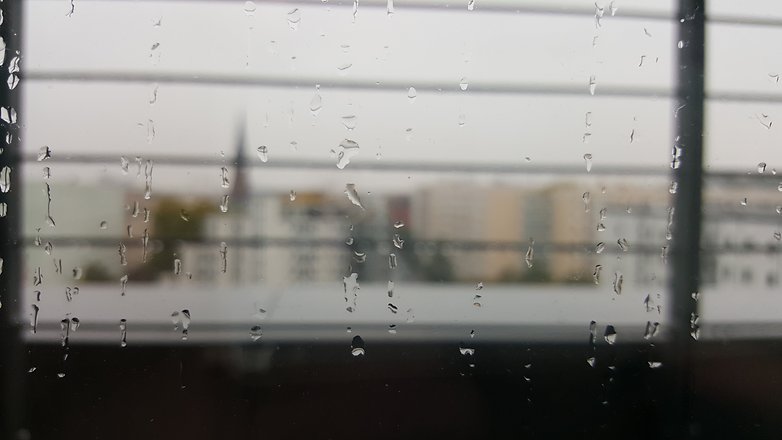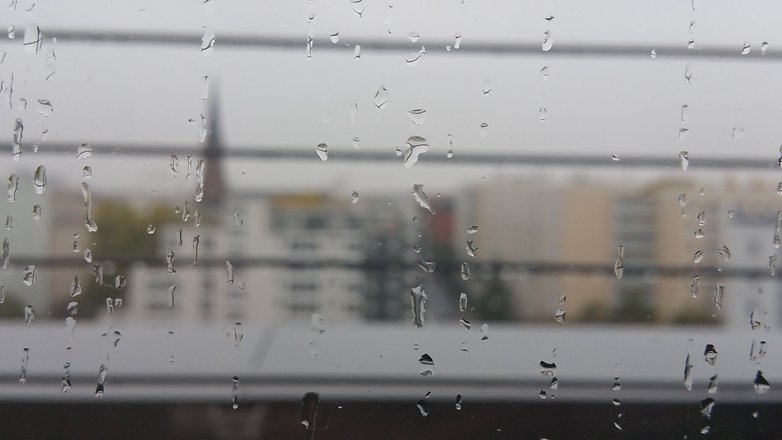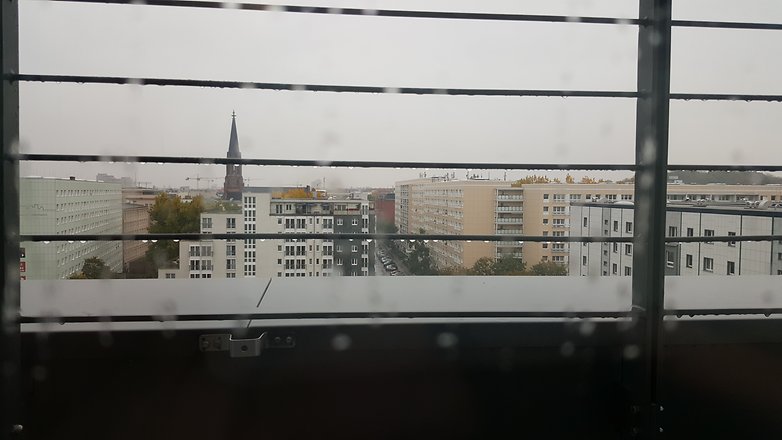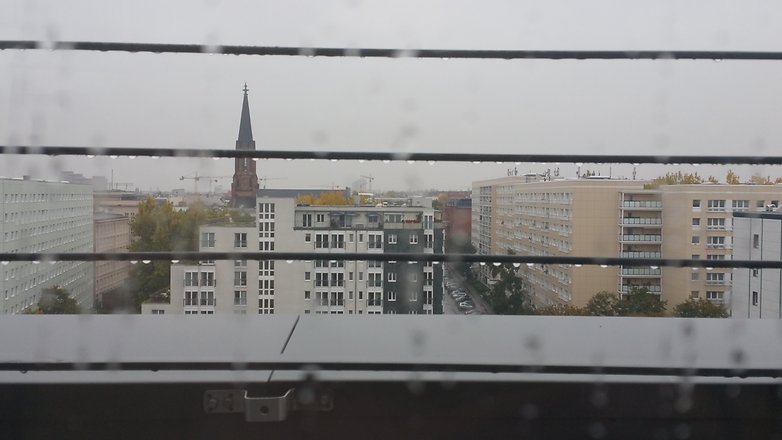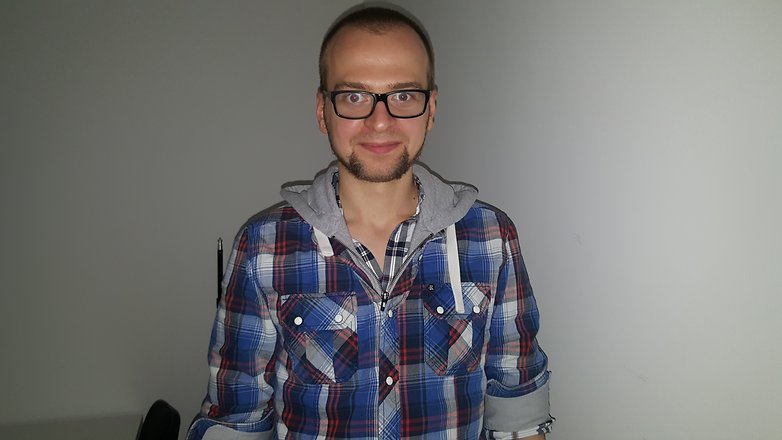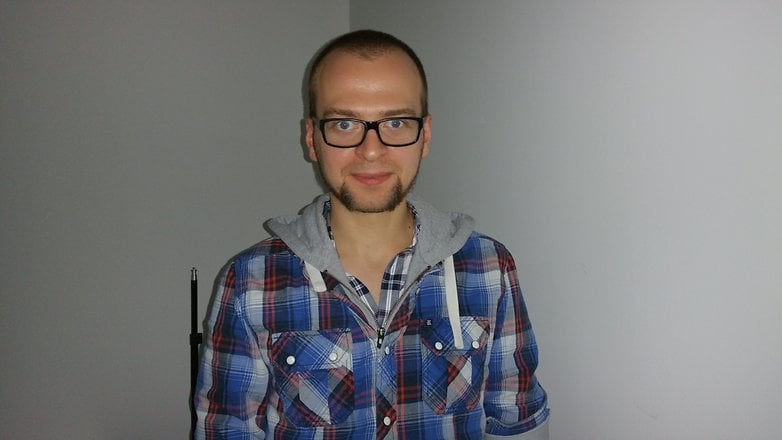 Both cameras produce high-quality pictures in most circumstances. The Note 5 has clearly superior low-light capabilities, but in other scenarios there isn't much between them. Moreover, some of the less common features on both devices can be employed to produce some really clever shots.
You can almost fake a DSLR effect with the use of Samsung's selective autofocus mode and though it's not perfect, it's far better than what is offered by most other phone manufacturers.
For the full Galaxy Note 5 gallery go here
For the full Galaxy Note 4 gallery go here
Galaxy Note 4 vs Galaxy Note 5 comparison: Battery
The Note 4's battery has a 3,220 mAh capacity which ensures its lifespan is good, especially with a QHD display gobbling it up. It has significantly stronger battery performance than the 2,550 mAh battery of the Galaxy S6, which also houses a QHD display.
Moreover, the Galaxy Note 4 offers quick-charging, providing around 50 percent battery life in a 30-minute charge, as well as wireless charging – though it requires a separate battery cover. So, has the Galaxy Note 5 introduced a big improvement?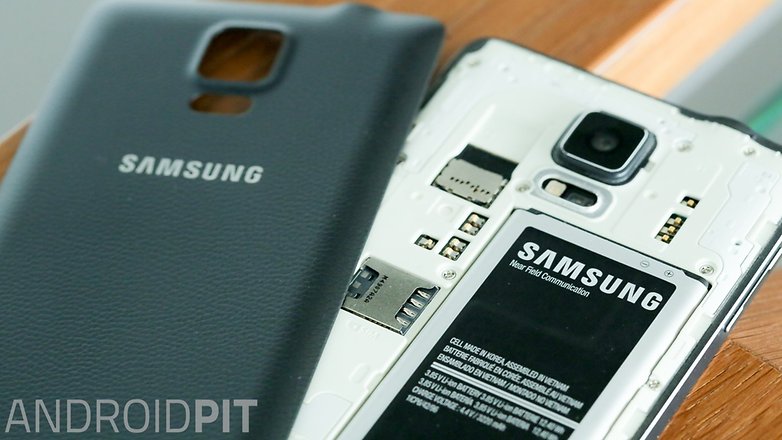 The Galaxy Note 5 houses a 3,000 mAh battery, down 220 mAh from its predecessor. This was expected, as the same thing happened between the Galaxy S5 and Galaxy S6, but it's still somewhat disappointing. As both handsets feature a QHD display, battery life gets chewed up quickly.
The Galaxy Note 5 does offer the option for wireless quick-charging, which the Note 4 does not, but it requires a separate wireless charging station. Though we haven't had a chance to put the battery under strain yet, even with improved hardware/software optimization, we aren't convinced that the Galaxy Note 5 will deliver better battery life than its predecessor.
Galaxy Note 4 vs Galaxy Note 5 comparison: Price and availability
The Galaxy Note 4 is available worldwide, currently at a price of around US$540 for a carrier unlocked model with 32 GB of internal storage space. The Galaxy Note 5 can be found for US$700 for the 32 GB version and US$800 for the 64 GB version off-contract.
The Note 5 represents the best hardware that Samsung can currently muster, and its steep asking price is reflective of this. If you reside within Europe, however, it will likely cost even more to get hold of the Galaxy Note 5 — you'll actually have to import one.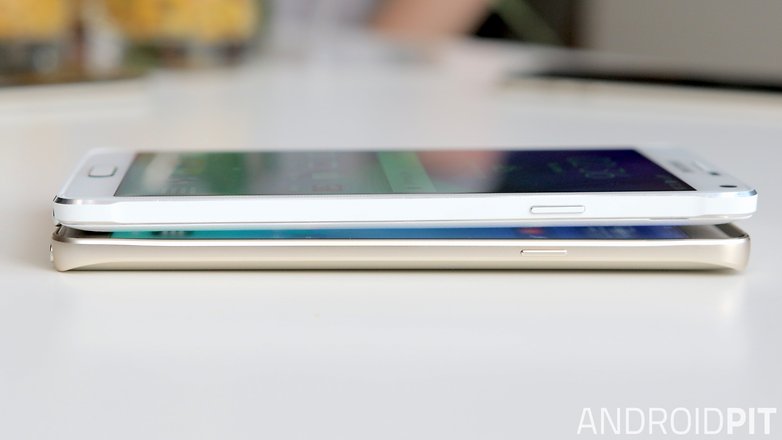 Samsung said that it has identified two distinct user groups: casual media consumers and multi-taskers/business users. It seems that Samsung no longer sees a market demand for its phablet with a stylus in Europe, so only the Note 5's sister phone, the Galaxy S6 Edge+, will be released there.
In this category, as the cheaper more easily attainable handset, the Galaxy Note 4 clinches it.
Galaxy Note 5 vs Galaxy Note 4: Specs
Samsung
Galaxy Note 5
Samsung
Galaxy Note 4
System
Android 5.1.1 Lollipop (with Touchwiz UI)
Android 4.4 KitKat (with TouchWiz UI)
Screen
Super AMOLED 5.66-inch
Quad-HD 1,440 x 2,560 pixels,
~ 519 pixels per inch
Gorilla Glass 4
~ 76 percent screen-to-body ratio
Super AMOLED: 5.7-inch
Quad-HD 1,440 x 2,560 pixels,
~ 515 pixels per inch
Gorilla Glass 4
~ 74.2 percent screen-to-body ratio
Processor
Octa core (2.1GHz Quad + 1.5GHz Quad), 64 bit, 14 nm process
Qualcomm Snapdragon 805 (SM-N910S)
Samsung Exynos 5 Octa (SM-N910C)
RAM
4 GB (LPDDR4)
3 GB
Internal memory
32/64 GB
(no microSD support)
32 GB
(plus microSD support)
Battery
3,000 mAh non-removable
3,220 mAh, removable
Camera
Rear: 16 MP
front: 5 MP
Rear: 16 MP
front: 3.7 MP
Connectivity

Wi-Fi 802.11 a/b/g/n/ac, MIMO(2x2),

Bluetooth v 4.2 LE, ANT+, USB 2.0, NFC

Wi-Fi 802.11 a/b/g/n/ac, dual-band, Wi-Fi Direct,

Bluetooth v4.1, A2DP, EDR, LE, USB 2.0, NFC

Dimensions
153.2 x 76.1 x 7.6 mm
153.5 x 78.6 x 8.5 mm
Weight
171 g
176 g
Special features

- S Pen Stylus
- Fingerprint Scanner
- Fast charging
- Wireless charging (native)

- S Pen Stylus
- Fingerprint Scanner
- Fast charging
- Wireless charging (with separate battery cover)
Galaxy Note 4 vs Galaxy Note 5 comparison: Conclusion
The Galaxy Note 5 display is almost the same as its predecessor, the battery is smaller (and isn't removable) and it lacks microSD card support: these are big disappointments. The performance and camera specs are stronger, and the sleek design is undoubtedly more impressive, but the degree to which these aspects matter, in the grand scheme of things, may be negligible.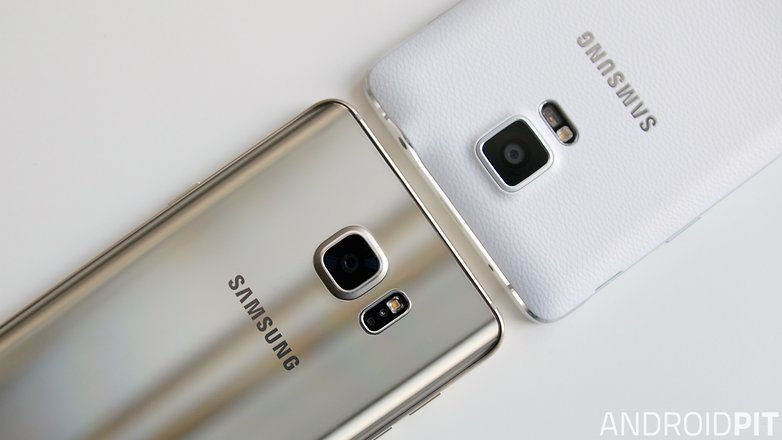 Samsung has definitely favored design over functionality with the new Note. If you want the latest, high-performance, attractive smartphone, the Note 5 will certainly please. If the looks don't sway you, maybe you'll prefer last year's lower-priced Note 4.
The Note 5 refines many of the smaller details of the Note 4. But as with white flour, you may find that Samsung has removed too much of the previous goodness in its attempt to create an overall more palatable product.
What's your take on the Galaxy Note 5? Let me know in the comments below.