Samsung Galaxy Fit 2 review: Chic alternative to the Mi Band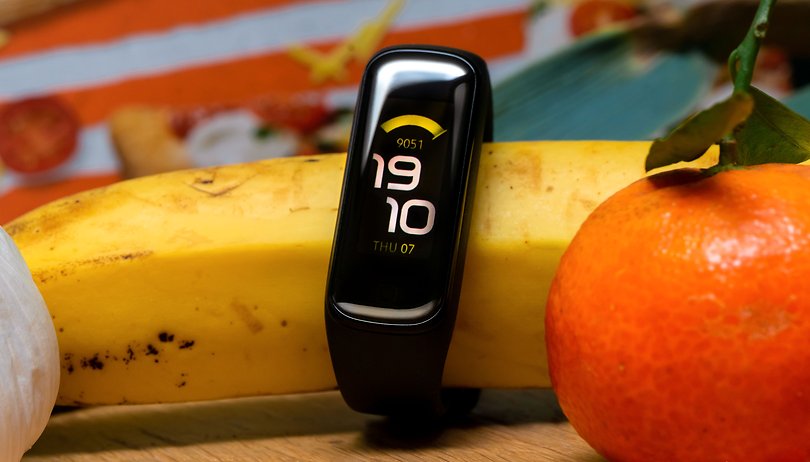 AMOLED display, a seemingly never-ending battery life, and a feeling as though it is barely there when you sleep - did Samsung accidentally send me the Xiaomi Mi Band 5 as a review unit? Of course not! However, at first glance, Samsung seems to have taken aim at Xiaomi's hugely popular fitness tracker with the Galaxy Fit 2. This review also points to how Samsung's heart rate monitor has improved when it comes to (more) accurate pulse taking.
Good
Impressive battery life of up to 3 weeks

Lightweight and discreet

Fantastic operating system

Reliable autostart feature for workouts
Bad
No GPS

No magnetic charging clip

Rather loose clasp on the wristband

Unable to record route
Who should buy the Samsung Galaxy Fit 2?
In my opinion, Samsung offers a very good everyday tracker with the Galaxy Fit 2. Thanks to the compact form factor and the very long battery life of up to 21 days (according to the manufacturer's specifications, more on that later), it is very comfortable to wear. So the Fit 2 remains firmly on your wrist while jogging, sleeping, walking, and even in the shower, if you wish.
However, you will not find features such as GPS or an ECG. That is not a problem at all, because with a current online price of only €30 to €40, Samsung should and have concentrated on the basic features and do it right. If you're interested, you can purchase the tracker using the link below.
If you purchase the tracker from Samsung via the link above, NextPit will not receive any profit or commission. In January 2021, I scoured around and picked out the cheapest price for you, and it was available directly from the manufacturer. If anything has changed in the meantime, please let me know in the comments.
Where the Samsung Galaxy Fit 2 scores
Exceptional battery life
As I already mentioned in my recommended list of best fitness trackers, these smart wearable devices must fulfil the following criteria in my opinion: To keep track of all the vital statistics and fitness activities of the wearer as completely and conveniently as possible. And here, rarely has a fitness tracker convinced me as much as the Galaxy Fit 2.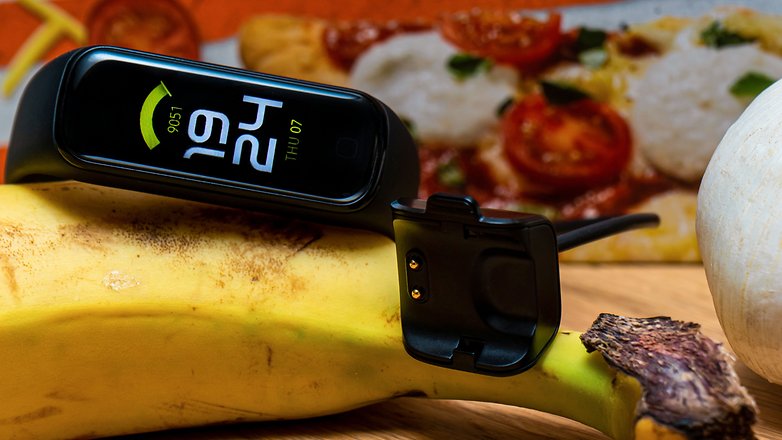 Concerning its battery life which Samsung stated on its homepage as 21 days, it actually lived up to its reputation in real-life. Throughout the entire month that I wore the fitness tracker around my wrist, I had to charge it exactly once. At the end of this review, the remaining battery level still stood at 53 percent and at times I even suspected that the tracker was drawing its energy from kinetic movement or my body heat.
So the longer you use it, the more you forget that you need to charge the Fit 2. The operative keyword here being "forgotten": Thanks to its lightweight nature of just 21 grams and slim form factor, this fitness tracker literally disappears on your wrist. At its thickest point, the thing measures around an inch wide, and on my brute, impossibly massive and blatantly masculine wrists, the immovable part of the tracker fits perfectly with its rather short length of a mere six inches.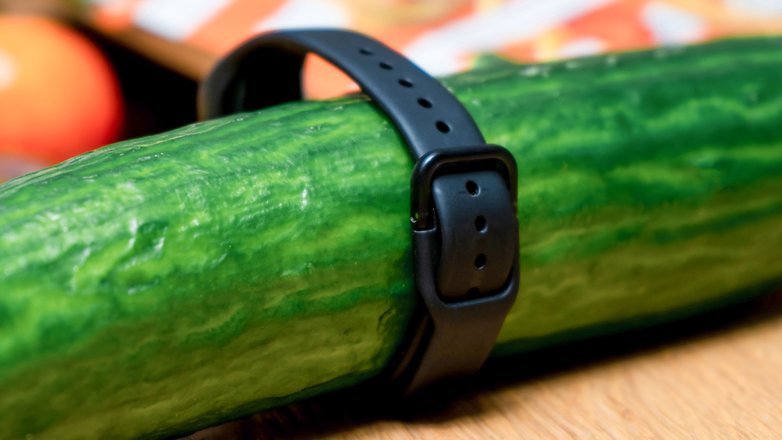 Only the clasp on the wristband ruins an otherwise perfect picture. Personally, I prefer closing mechanisms that work like a classic wristwatch. With the Galaxy Fit 2 however, the clasp is clipped on and then slid under each other. While this holds it in place very well, it is much more cumbersome when (no matter how rarely) removed. On top of that, you're constantly pricking your thumb with the retaining pin.
Aesthetics and UI design
Beauty is in the eye of the beholder, but I'd still like to briefly note that I like the Fit 2's aesthetics. The sleek fitness tracker does not make any bold statements on your wrist and basically goes well with any outfit. When the high-quality AMOLED display with all of its 16 million colours light up, the entire shebang looks even better. The only drawback to the display is this: the device lacks an ambient light sensor and so you have to manually adjust the brightness via a swipe and a tap or via the app on your phone. I do have to inform you that it is bright enough for use under strong sunlight.
Samsung's beautiful operating system that is based on FreeRTOS also contributes to this, conjuring up beautiful and easily recognizable animations and icons on the 1.1-inch display. Using it is easy: all you need to do is to perform swipe gestures and make use of a capacitive button which is located below the display to get around. There are also 70 different watch faces to choose from for a more personal touch, but I'm not really interested in those for fitness trackers most of the time anyway.
Overall, I was mostly happy to scroll through the menus on the responsive display, which is a small, but clear advantage. The fact that Samsung uses 20 percent recycled plastic in the charger and produces packaging and user manual from recycled paper is also pleasing to vegan hipsters like me! Environmental protection must surely begin with the conscience, don't you think so?
Automatic tracking detection
Another obvious advantage in my opinion is the way the Galaxy Fit 2 automatically keeps track of your workouts. It's certainly not an innovative feature when you look at the spec-sheets of other models, but it's definitely something worth crowing about for a device in its price range.
The Galaxy Fit 2 is also able to keep track of when you're rushing to the bakery and understands when you're relaxed and strolling home with a roll in your mouth. Samsung's threshold between workout and normal wear is well calibrated and ensured, among other things, that the accidental workout stops, which are my big criticism, were at least recorded by the auto-tracking algorithm.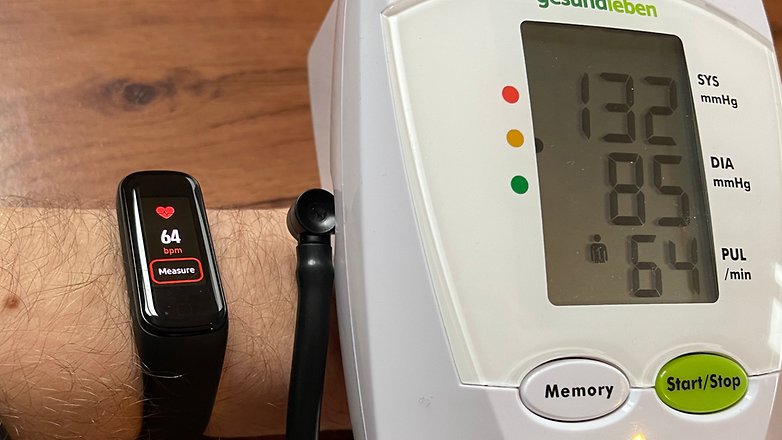 The precision in its pulse rate measurement ranks pretty well, especially when I compared it to my reliable blood pressure monitor. As you can see in the photo, the result is exactly the same during my attempts to begin the measurements as close to each other as possible. However, measuring one's heart beat rate while remaining still is usually less of an issue with fitness trackers. As to how accurate the sensor is during workouts, I am unable to say. However, I could not find any particular discrepancies throughout my time with it.
Keeping track of time
There is one interesting function where everyone would most probably thumb their nose at in early 2019 would be this: the built-in timer for hand washing. The Samsung Galaxy Fit 2 counts down exactly 25 seconds while you wash your hands. However, since the tracker also records how often you washed your hands, one would be able to enjoy a little bit of additional motivational boost. What's more, there is also a reminder in the app so that you will not miss the next hand washing session.
With the feature, Samsung proves not only that they are responsive and adaptable to current circumstances, but also how far-reaching help from fitness trackers can be. I always welcome it when manufacturers try to implement unconventional features. While the handwashing function is not a must-have criterion when making a purchase, it is a decidedly welcome plus point.
The Fit 2 runs out of breath here
Doesn't work well with wet jackets
Looking back at my review notes from the past few weeks, there is one major shortcoming that I need to talk about. D uring several of my jogging routines, and especially during my longer runs, the Fit 2 seems to have problems with clammy jackets . The moisture, which also accumulates in the jacket due to my sweaty body, triggers the capacitive button of the fitness tracker.
The result is annoying vibrations that interrupt me while running. When I checked later, it cancelled my run! With the Fitbit Charge 4, for example, this did not happen to me with the same jacket, while a confirmation via a swipe gesture to cancel the run would have also provided me with an additional layer of protection. With the Galaxy Fit 2, however, a button to cancel appears directly right after pressing the capacitive button.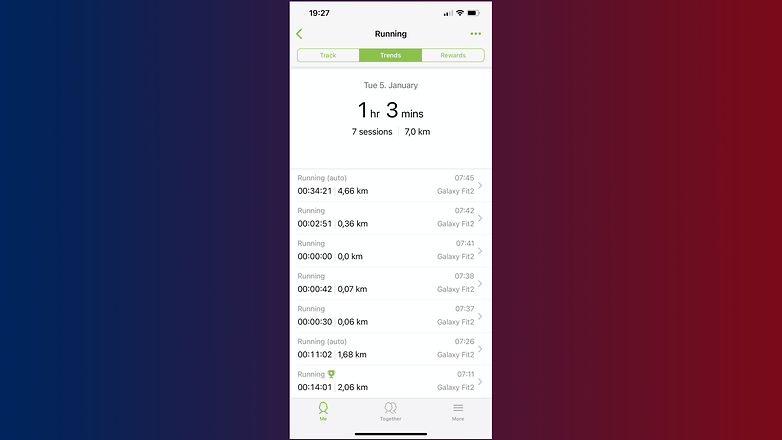 As noted, however, after cancelling the run, the fitness tracker at least recognized that I was actually still running and automatically kept track of that. In theory, the data isn't completely lost, but manually compiling it afterwards is obviously a tedious affair.
I cannot predict exactly whether you will have similar problems after your purchase. After all, not everyone runs using the same jacket like mine. Its inner lining is made of 100 percent polyester and we may have found the culprit here.
To prevent any unwanted input from wet surfaces, Samsung also offers a water mode that you can activate via the notification bar even when tracking is active. You will then have to drag an icon with water drops twice across the screen to unlock the screen. When doing so, it obviously means that you should be in a swimming pool, as the Fit 2 is also suitable for swimming thanks to ATM 5 water resistance. That might just help you with this niggling issue.
Capacitive button difficult to see
The capacitive button caused a few teething problems for me, being so inconspicuous that I didn't recognize it until halfway through my review. Before that, I found it very difficult to stop tracking. Doing so was far more intuitive after discovering the button, but the visibility of the button remains a problem.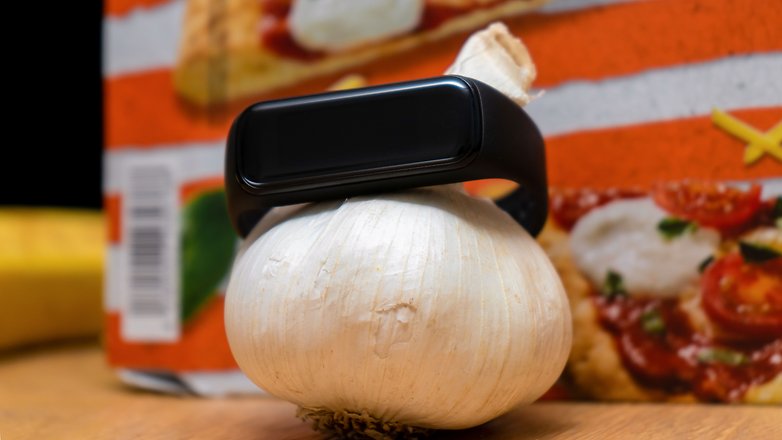 What happened to me, of course, can happen to all other users. As a small point of criticism, which will not affect the final rating much, I must therefore list this circumstance in the review. However, those who are more patient and follow the instructions through the entire setup will certainly not notice anything strange about it since they would definitely be aware of the capacitive button's presence.
Two apps to use
For me, what was clearly more annoying than the extremely inconspicuous button was Samsung's app location. On both Android and Apple iOS, you'll need to install both the Galaxy Wear app to connect your smartphone to the wearable, and then install the Samsung Health app again if you want to access all of your vital signs and other information.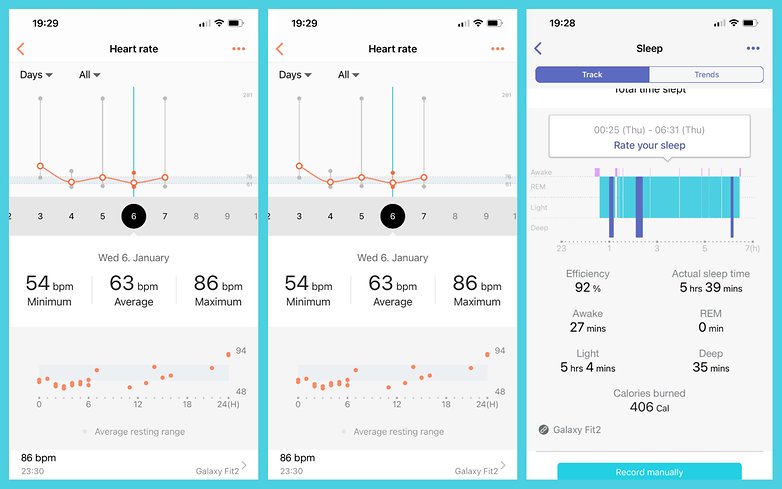 The Galaxy Wear app will be used to manage the functions and settings of the fitness tracker. The smartphone as a remote control has a surprising amount to say on what can be done on the Galaxy Fit 2, even allowing you to set alarms, which are then noticeable as a vibration alarm on your wrist. The "Find my Band" function, which vibrates the Galaxy Fit 2, is also another practical feature, and Galaxy Wear directs you to the Samsung Health app for everything else.

This is where it gets down to the nitty-gritty, allowing you to track your running routes, set step goals and record your nutrition intake. Don't get me wrong, these are all handy apps in their own right. But it would be more convenient for the user to find everything in one app and free up some of the smartphone's memory.
No GPS
While I've mostly discussed minor shortcomings so far, the lack of GPS could very well be a reason against using the Galaxy Fit 2. That's because an integrated GPS receiver is missing, and you can't use your smartphone to check out your running distance afterwards in the app either.
So if you want to track your jogging distance afterwards, you'll have to look for another fitness tracker or even a smartwatch. Alternatively, your handset can record your route via another app simultaneously, as I didn't want to lose my progress in the Adidas running app in my case, leading me to do so.
Given the low entry price point, I don't think the lack of GPS is a big negative point. If you want to save money, you will naturally have to do without some functions, and since you need your smartphone to listen to music anyway, many will not mind using the smartphone to play an additional role by keeping track of your location.
Other things to take note of...
While so far it was either good or bad features, I will briefly touch on a few other things that I noticed during the review and figured out that you simply must know about before buying . Since you probably want to arrive at a conclusion quickly, here are a few key points:
The charging clip works via a small plastic pin and is not magnetic in nature. The integrated USB cable is unfortunately short at only approximately 10 centimetres long
Sport modes include walking, jogging, cycling, swimming and "other workouts", in which the heart rate monitor and pedometer work independently
You can react to notifications via quick-reply, but you can't set them yourself
For calendar, music control, displaying sleep data on the tracker, steps taken, and recording your water intake, you'll have to find more widgets in the app
The Fit 2 also offers stress detection, but you'll always have to activate it manually. There is no warning for too much stress
All of these points do not affect the overall result in a negative or positive manner, but they can help provide you with a better idea on what you can expect from this fitness tracker right out of the box.
Samsung Galaxy Fit 2 technical specifications
Connectivity: Bluetooth v5.1
Display: 1.1-inch AMOLED display (2.78 cm)
Display resolution: 126 x 294
Memory: 2 MB
Device memory: 32 MB
Dimensions (HxWxD): 46.6 x 18.6 x 11.1 mm
Weight: 21 grams
Battery capacity: 159 mAh
Battery life: Up to 21 days
Sensors: Accelerometer, position sensor, pulse sensor
Operating system: FreeRTOS
Final verdict
With the Galaxy Fit 2, Samsung has set their sights on exactly what fitness trackers were once supposed to be: Inexpensive wearable devices that are hardly noticeable while recording one's vital statistics. While many manufacturers seemed to have lost this focus in the competition for introducing ever new features, prices have also increased in the process. However, the popularity of the Xiaomi Mi Band shows that there is definitely a demand for such an affordable device, and with the Galaxy Fit 2, those interested in fitness bands now have a great alternative.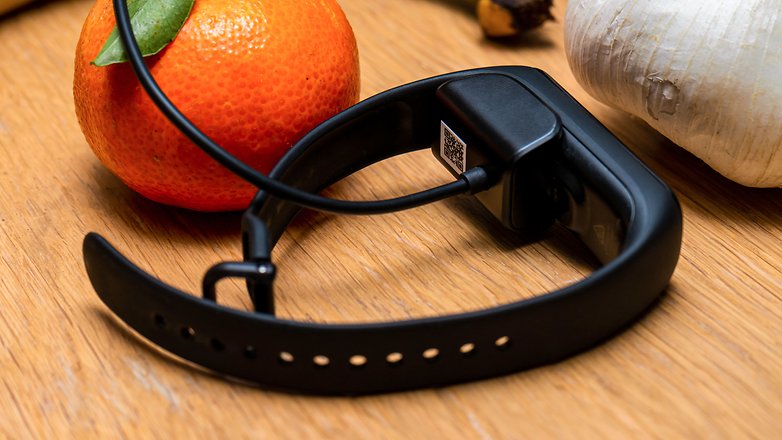 In terms of looks and usage, there is very little to complain about the Samsung Galaxy Fit 2. And thanks to its exceptional battery life, I can fully forgive small slip-ups such as the incorrect entries due to my wet jacket and the requirement of two mandatory apps to get it up and running. For the same reason, from me, this is a highly recommended purchase if you're looking for a fitness tracker!
Still not convinced? You can read our fitness tracker comparison here.