Samsung Galaxy A6+ review: middle class pretender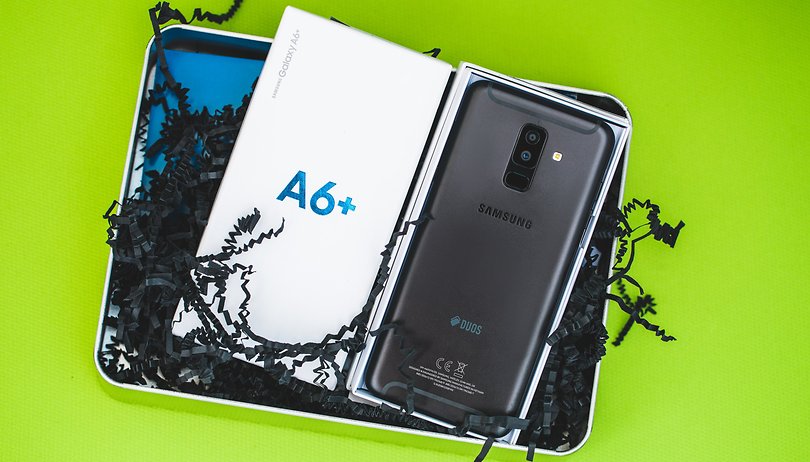 It's no secret that Samsung aims to flood store shelves with a device for every conceivable point along the entry-level to high-end spectrum. The Galaxy A6+ is the upper-mid-range of the A-series, which in turn is the mid-range of the Galaxy series. Confused yet? Find out all about the A6+ in this review, and decide whether it has a place in your hands.
Good
FullHD Super AMOLED display

Decent selfie cam

Dual SIM and microSD
Bad
Weak chipset

MicroUSB port

No fast charging
Samsung Galaxy A6+ release date and price
Samsung introduced the new Galaxy A6+ with its smaller counterpart on May 2. Both models are available in four color versions: Black, Gold, Blue and Lavender. EU pricing has been confirmed at €369 (roughly £325/$434) but in the US you can find the A6+ online for around $300. For those of you on a budget, this might be pushing it for a mid-range phone. But you also get a smartphone that can hold both two SIM cards and a microSD card.
The soul of the A-class in the J-class body
With the Galaxy A6+, Samsung attempts to stand out in the mid-range by sprinkling choice elements from the high class S-series into the mix, but the traditionally flat screen is the first thing that betrays the phone's middle class station. At first glance, you would even be forgiven for mistaking the A6+ for a J-series relative. Samsung reserves its more distinctive designs for the top-end.
Even if it lacks an identifying style, there's a lot to like about the A6+ . The rigid aluminum metal unibody makes the phone feel reassuringly robust. Practicality might be the watchword here. The competition from Honor and Xiaomi is trying to wow us with graded or transparent color schemes, making the metal A6+ with visible antennae lines and engraved 'SAMSUNG' on the back look plain, almost industrial by comparison. We also find the fingerprint sensor located rather awkwardly underneath the camera.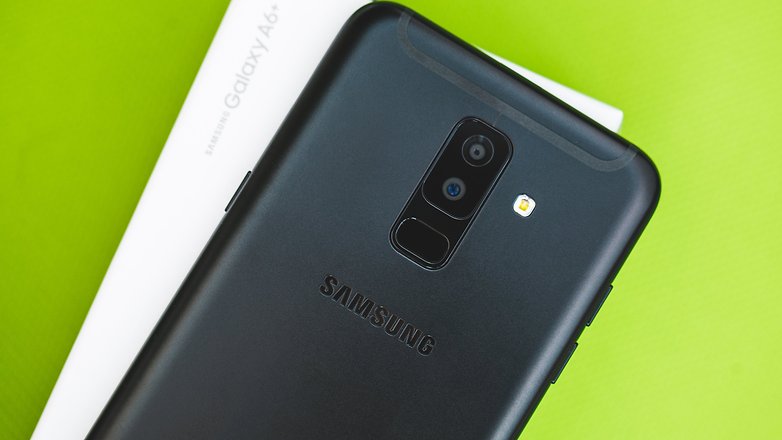 With dimensions of 160.2 x 75.7 x 7.9 mm, the larger A6 version still manages to handle really well and always felt good in my grip. It's well-balanced with curved edges and large enough to give you plenty of screen real estate without becoming unwieldy.
Display real estate is important here, as that's the phone's best feature (but more on that later). The screen is capped by what are by now rather unfashionably thick bezels, with the sensor array on top reminiscent of an awkward face. At least the side bezels have shrank to hug the edges of the devices.
Speaking of the edges, it's great to spot the headphone jack. While this is more than welcome, the volume buttons on the left hand side look and feel cheap, and I can't help but dread the possibility of one getting stuck and locking the phone in safe mode. Another disappointment is the lack of USB type-C. Instead, we find a micro USB slot for charging.
Samsung has very practically equipped the Galaxy A6 + two SIM card slots, with the first slot for a microSD card for memory expansion. The second SIM card can be placed in a separate slot.
A finite Infinity Display
On the front, the Galaxy A6+ boasts a 6-inch Super AMOLED display, Samsung's hallmark technology. Full disclosure, before adopting the A6+ as my daily driver, I fell in love with the curved bezel-less Infinity Display of the Galaxy S9+. Obviously, that's not what we're getting here, but the display of the A6+ still glows with some of the glamor of its high-class relatives and I consider it one of the main highlights of the device .
Bezels or not, the built-in 18.5:9 Super AMOLED panel with 1,080 x 2,220 pixels (Full HD+) shines with bright colors, good brightness and high contrast. Whether in low light or bright daylight, the display was consistently readable in my experience with having to fiddle with the settings.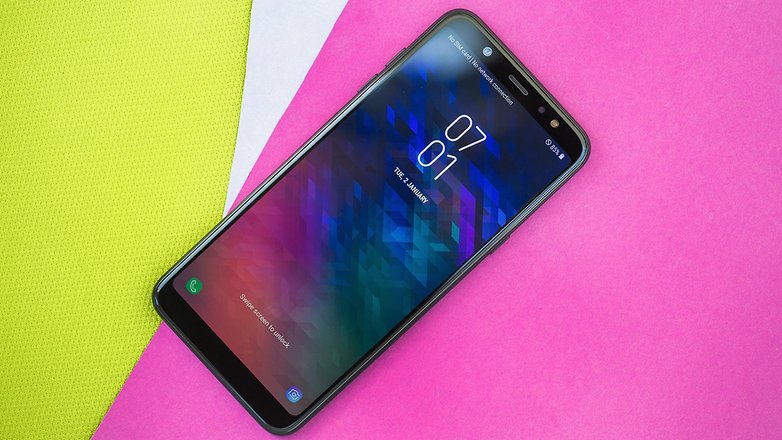 But should you feel you need some adjustment, then the display is also highly configurable, with several screen modes optimized for video or photo. The adaptive display, which automatically optimizes colors, saturation and sharpness, can be configured to favor warm or cold colors, and the balance of Red/Green/Blue can also be customized to your preference. Always-on mode is also an option.
During our display test, we confirmed the limitations of the Galaxy A6+ when it came to deep reds (even before testing there was a noticeable orange tinge).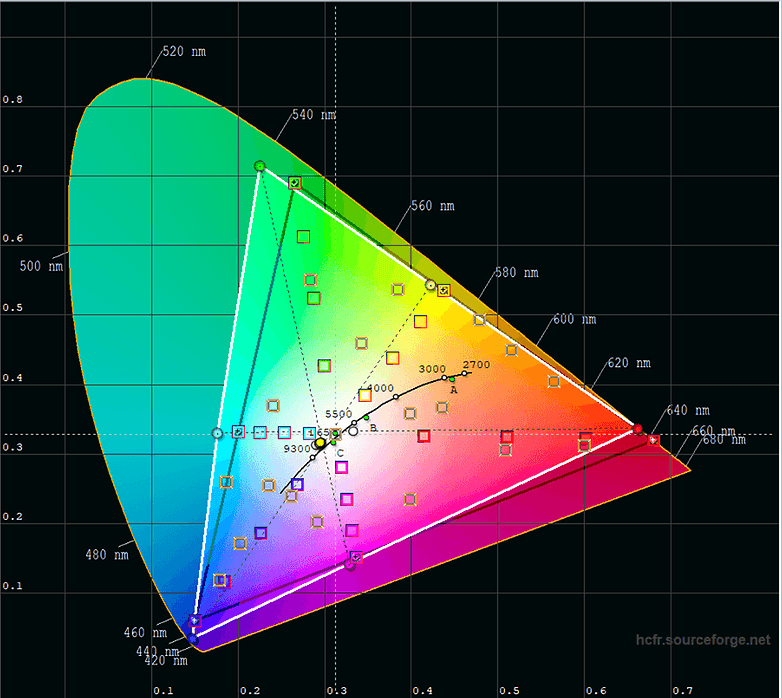 All in all, the larger size and resolution make the A6+ a better choice than the smaller A6 for multimedia viewing. Sure, there are better displays out there, but for the mid-range segment, the A6+ doesn't disappoint when it comes to eye candy.
Samsung Experience, for better or worse
On the software side we find Android 8.0 Oreo with the latest version of Samsung's own interface: Samsung Experience 9.0. It may seem obvious, but don't forget that Samsung released the Galaxy A8 with with Android Nougat earlier this year.
Practically, this means that as well as the ubiquitous Google Apps, we've also got mandatory Samsung apps, Microsoft Office apps (Word, Excel, Powerpoint), and Facebook.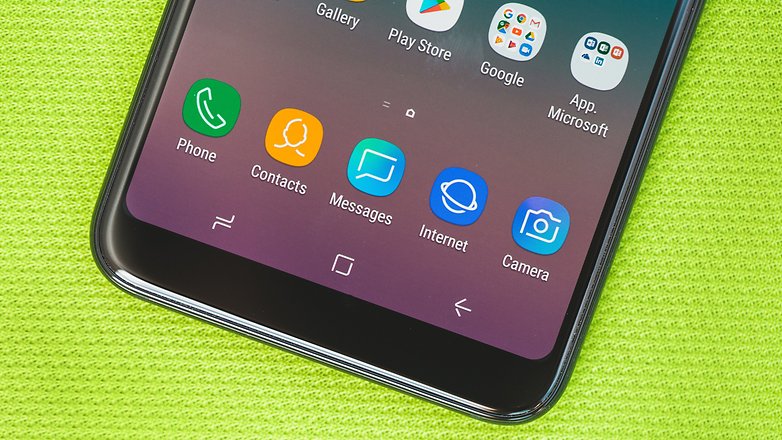 Your feelings on whether this is a bloatware bundle or useful extra features depends on your use. Frankly, it's annoying Facebook, for example, cannot be uninstalled, especially if you prefer to use a more lightweight wrapper for the social network instead. Same goes for Microsoft apps. Sure, they are useful, but if you prefer alternative office apps, MS Word and friends (including LinkedIn, of all things) are stuck taking up space on your device regardless.
Bloatware aside, Samsung Experience is attractive and intuitive, and I've always appreciated Samsung's default File Explorer, Gallery and Secure Folder apps, at least. There are also some neat tricks for specific use cases, such as being able to have multiple messaging app accounts with Dual Messenger.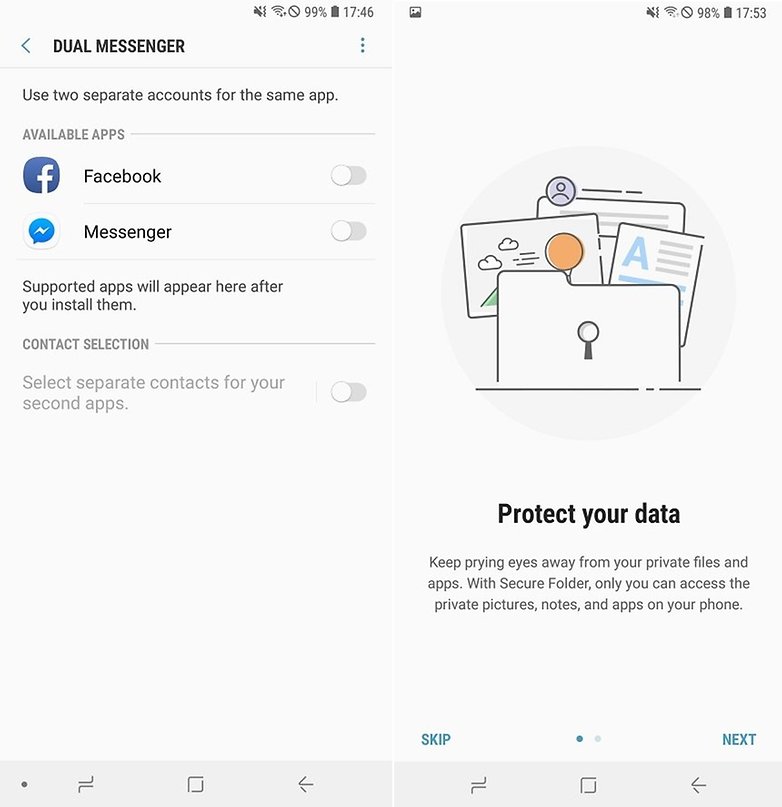 When it comes to Samsung and software, bear in mind that when you choose a Samsung, you can expect updates according to Samsung's somewhat leisurely schedule. And even then, flagships are prioritized for updates over the mid-range so don't expect speedy patches.
Underwhelming performance
You might expect a device that lacks in beauty to make up for brains, but that's sadly not the case here. Samsung has opted for a Snapdragon 450 SoC in this model, probably to cut down on production costs. Curiously, this is different from it's closest sibling, the A6, which comes with Samsung's in-house Exynos 7870. The model reviewed here accompanied this with 3 GB RAM and 32 GB storage, which, if I seriously considered the A6+ as my personal device, I would have to expand.
The costs are instead passed on to the user in terms of seconds of their time, as the A6+ is noticeably slow. Sure, a fraction of a second here and there, but it adds up over time. Try anything remotely demanding and you'll see the Galaxy A6+ test your patience . Web browsing and social media use is fine, but as a gamer and someone who sometimes has several utility apps running at once, I'm a more demanding taskmaster for my phone and the apparent laziness of the A6+ got on my nerves more than once.
The decent display may tempt you to go for some graphically complex games, but make no mistake, the Galaxy A6+ is no flagship, so set your expectations accordingly. If you're planning on losing yourself in competitive high-graphics games like PUBG, Tekken Mobile, or Shadowgun Legends, the the A6+ will leave you gnashing your teeth.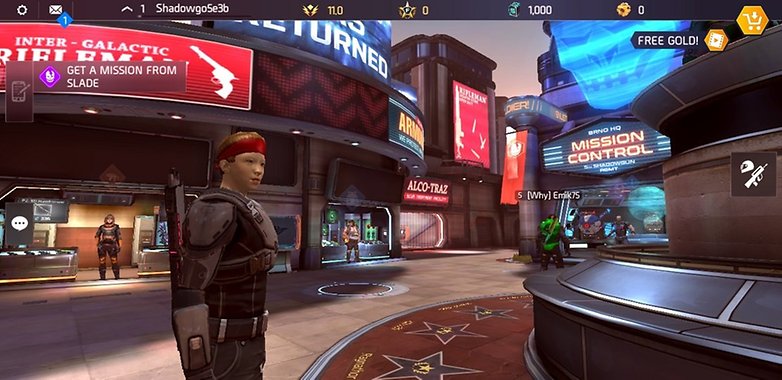 With the A6+ as my daily companion, I had to content myself with lighter offerings such as Sneak In and Pixel Dungeon, and for games without flashy graphics, performance isn't really an issue.
Benchmark testing the Galaxy A6+ with the Galaxy A devices immediately under and over it reveal its limitations, especially compared to the similarly priced Nokia 7 Plus.
Galaxy A6+: benchmark comparison
| Smartphone | 3D Mark Sling Shot Extreme ES 3.1 | 3D Mark Sling Shot ES 3.0 | 3D Mark Ice Storm Unlimited ES 2.0 | Geekbench 4 - single core | Geekbench 4 - multi core |
| --- | --- | --- | --- | --- | --- |
| Galaxy A6 (Exynos 7870) | 257 | 318 | 8498 | 711 | 2588 |
| Galaxy A6+ (Snapdragon 450) | 439 | 393 | 12724 | 754 | 3893 |
| Galaxy A8 2018 (Exynos 7885) | 730 | 1038 | 14544 | 1524 | 4426 |
| Nokia 7 Plus (Snapdragon 660) | 1330 | 2018 | 26385 | 1634 | 5865 |
Audio: not bad when it's not loud
The Galaxy A6+ comes with Dolby Atmos support, which boosts volume when you use headphones or play audio via a Bluetooth connection. Samsung has bundled low-cost earphones with the phone, but if you listen to music or podcasts on your phone every day, you're going to want to invest in your own, because the packaged headphones just aren't much good and easily get drowned out by background noise.
The main speaker is placed above the power button but somewhat lacks in both bass and depth when playing multimedia, especially at the highest volume . Call quality on both ends is good, I never had trouble hearing or being heard.
Megapixels only tell half the story
The Galaxy A6+ can boast impressive camera equipment for a mid-range device, at least on paper. The dual main camera on the back is a 16MP and 5MP combo, both of which have a large f/1.7 aperture. This is an ideal combination to provide good portraits with bokeh effect.
The front camera consists of an image sensor with 24MP and a f/1.9 aperture and a separate front flash. Samsung also uses the front camera to unlock the phone with face recognition. You can use AR stickers, adding cartoonish details to selfies and portraits, but AR emoji remains an exclusive Galaxy S feature.
The megapixel count only tells half the story , especially on the front camera of a phone, but I was still impressed by the selfie camera on the A6+, which is generally reliable and captures good detail in good light conditions. In dim lighting or harsh electric light, pictures can come out pretty grainy, however.
It also tends to want to soften and smooth details out more than I prefer. The Selfie Focus mode can be good if you're serious about selfies for social media and the like, it adds background blur but you need to hold the phone for a little longer.
You can also use the front camera to unlock the phone via face recognition, but I found it to be less than reliable...sometimes fast and easy, sometimes leaving me staring at the phone for a few seconds. Faced with the alternative of contorting the finger around to the back camera housing, I preferred to give biometrics a pass on this Samsung.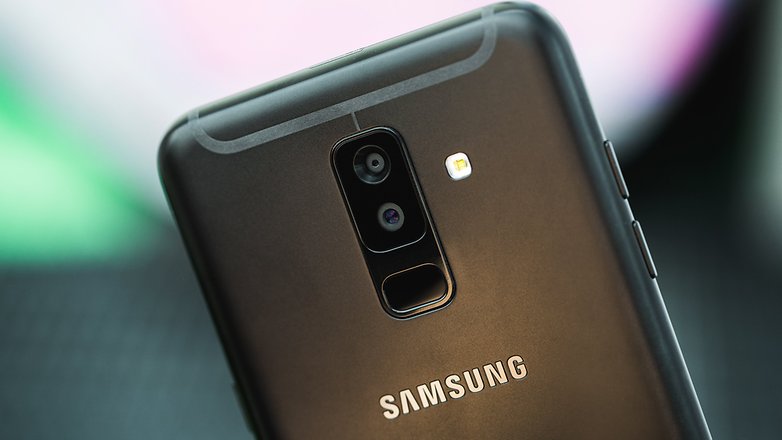 The 16MP primary rear camera on the A6+ is also good and has an advantage over the A6 thanks to Auto HDR. You can get some really nice shots in decent lighting, and it's also fine for indoor snaps. Color saturation is also decent. Once again, however graininess creeps in under low-light conditions. 4K video recording is not supported.
A particular point of frustration for the camera is that it can be kind of slow, often taking a few seconds to focus on a subject. More than that, it's indecisive, with a tendency to refocus on the subject unnecessarily when the shutter button is pressed.
Battery: long lasting but slow-charging
Another strong point in favor of the A6+ is its 3,500mAh battery. In casual use (display on auto settings, calls, web browsing, social media, the occasional photo) I could spend two days without reaching for the charger. The Galaxy A6+ lasted 10 hours and 14 minutes under the PCMark Battery Work 2.0 benchmark, a very respectable score.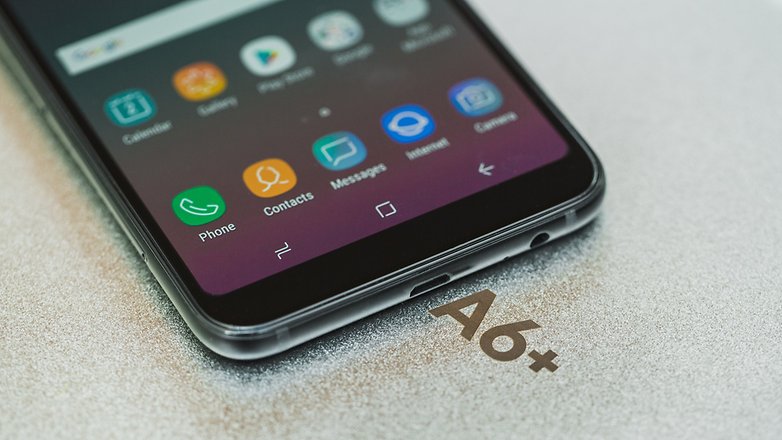 But when the time comes to reach for the charger, that's when disappointment sets in . The Galaxy A6+ comes with a MicroUSB port, and it doesn't have fast charging. Hard luck if you need to top up your phone in a hurry, and a glaring omission when you consider that the Galaxy A5 has fast charging. You'd expect the '6' to be better, if at least not actually lack the features of the lower number.
Samsung Galaxy A6+ technical specifications
An awkward fit in the middle class
The Samsung Galaxy A6+ is a decent all-rounder, but for the asking price of $300 (and that's without warranty), I find it difficult to recommend over the competition. It's an awkward mix of upper- and lower-end features at an equally awkward price point.
At the moment, the A6+ isn't officially offered in the US, but if you're shopping for one, I'd advise to check out the alternatives. For price-performance ratio, the Honor 7X offers better bang for the buck at $200, and if you're already shopping for an international handset for around $300, the Nokia 7 Plus is a more impressive device in almost every respect.
Thanks to the hybrid microSD/dual SIM slots and Infinity Display, this mid-range misfit may find a place in your heart, but I can't help but feel that the A6+ is a pretender, a social climber from the entry-level with airs above its station.