Samsung Galaxy A3 (2017) review: the mid-range phone that thinks it's a flagship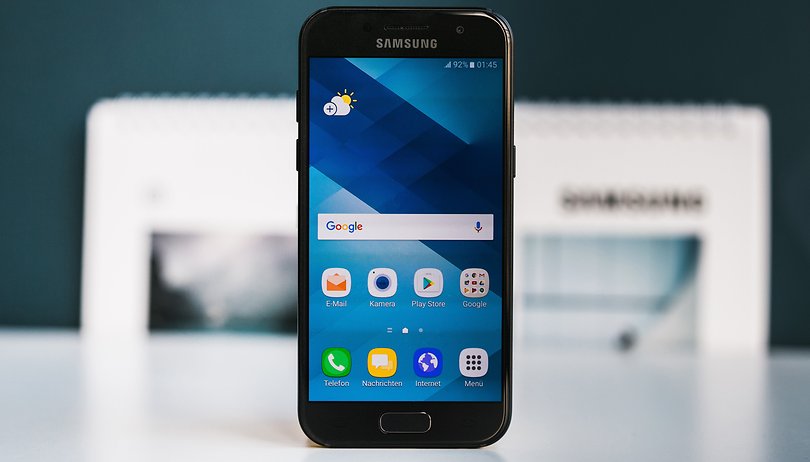 Aside from a few downsides, the Galaxy A3 (2016) managed to put in such a convincing performance last year it easily became a signature mid-range device. Samsung is hoping to repeat the experience, and so is looking again to release a new version of its Galaxy A3. Will the Korean manufacturer be able to impress the public enough so they'll overlook the recent scandals that have beleaguered the company? Here are our first impressions.
Samsung Galaxy A3 (2017) release date and price
It didn't come as a huge surprise to see Samsung introduce its new A3 and A5 devices at CES in Las Vegas. These two mid-range staples are very popular within Samsung's fanbase, so to keep the people happy the company had to provide a new version of the peoples' favorite.
For the moment there hasn't been any word on when we should expect to see the Galaxy A3 (2017) released, but given how universally popular the device has been we shouldn't be kept waiting too long. We'll keep an eye on the situation and keep you posted.
Samsung Galaxy A3 (2017) design and build quality
In terms of design, the Galaxy A3 (and its close associate, the A5) is without doubt an important member of the Samsung family. On paper, this version of the A3 (2017) looks almost identical to its predecessor: its dimensions (135.4 x 66.2 x 7.9 mm) are quite similar and its weight (135 grams) is only 3 grams more than the 2016 edition.
The mainstays of classic Samsung design (Home button at the bottom, logo on top below the speaker) are still present, and the resemblance to the Galaxy S7 - despite the difference in size - is striking, there are still a few changes to A3 that stand out. Since the fiery demise of the Galaxy Note 7, Samsung has been out to win back its customers, so Samsung needs to be innovative and offer something different.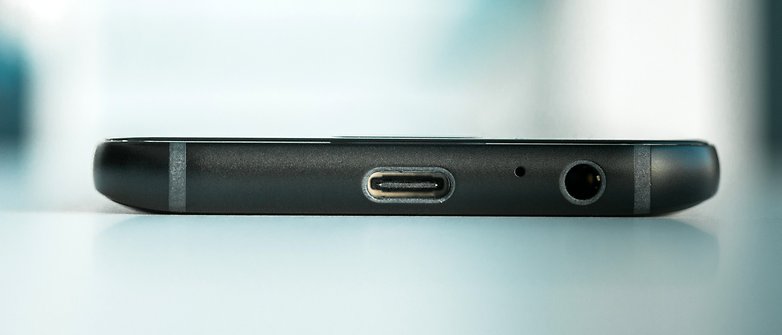 The loudspeaker that was located on the bottom edge of the phone has now moved to the right-hand side (which is really convenient as you can now avoids covering them with your hands), and can now be charged with a new USB Type-C interface.
It's interesting to note that the SIM card location can also now accommodate a microSD card, which is now located on the top end of the device. On the back, the lens of the camera sits discreetly within the casing. The great novelty that will delight all the fans out there is the introduction of a new fingerprint sensor.
There is nothing at all wrong with the finish on the device and its 3D glass clearly gives it high-end appearance. While we're not at a flagship level here, like what we would expect to see on the Galaxy S7 or S7 Edge, you get a really strong impression that when you are holding a quality device when you're using it. This is thanks to the glass back and rounded edges, so again taking a few more of the S7's signature design features.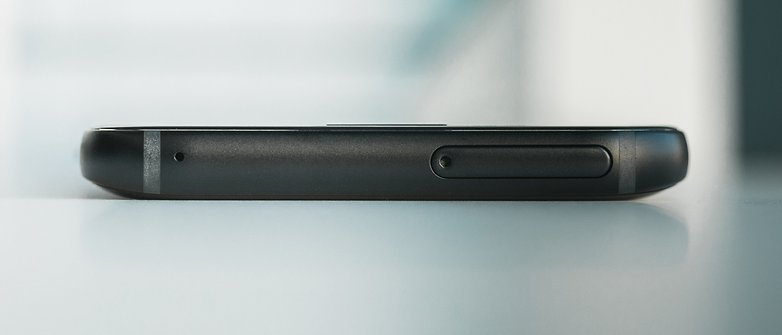 Equally interesting: thanks to its IP68 certification the smartphone is now waterproof, just like the S7. Placing a fingerprint sensor and waterproofing on a dual-SIM device that has been developed for the mid-range smartphone market is a big step on the part of Samsung.
The device itself is relatively small, at least when compared to most other smartphones that are currently available, and I have to admit it is great to handle. I readily admit that it is a little on the slippery side, but not to the point where you loose your grip (unless you're really clumsy), and you can easily use it with only one hand.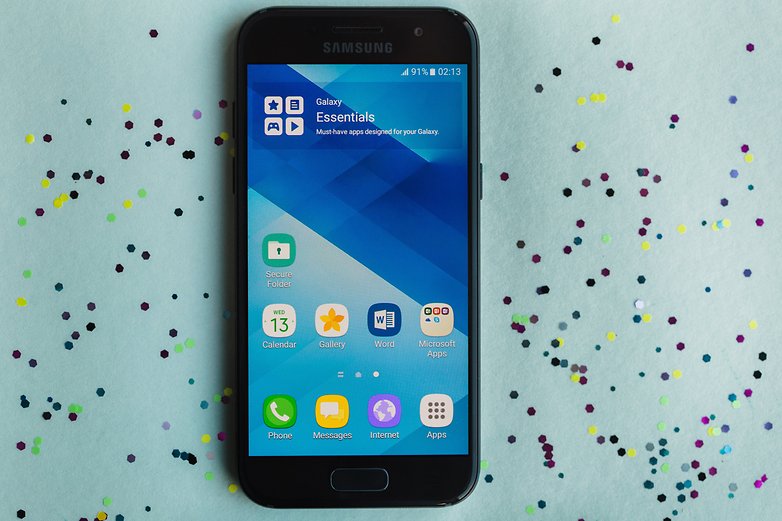 Samsung Galaxy A3 (2017) display
Overall, the screen has the same technical configuration as its predecessor. As usual, we find a 4.71-inch (11.95 cm) wide Super AMOLED HD (1,280 x 720 pixels) screen and a pixel density of 331 ppi. The version of Gorilla Glass is also the same: GG4.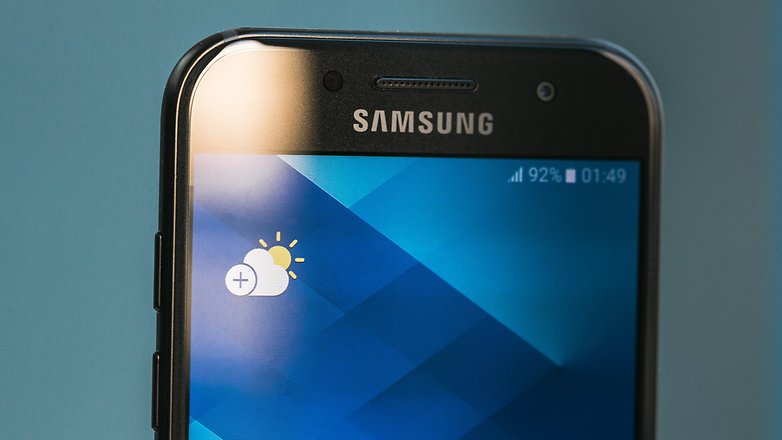 What may be surprising, however, is the inclusion of the Always-On-Display mode. Here the device will continually display information (clock, calendar or picture) and you can also choose to show your notifications.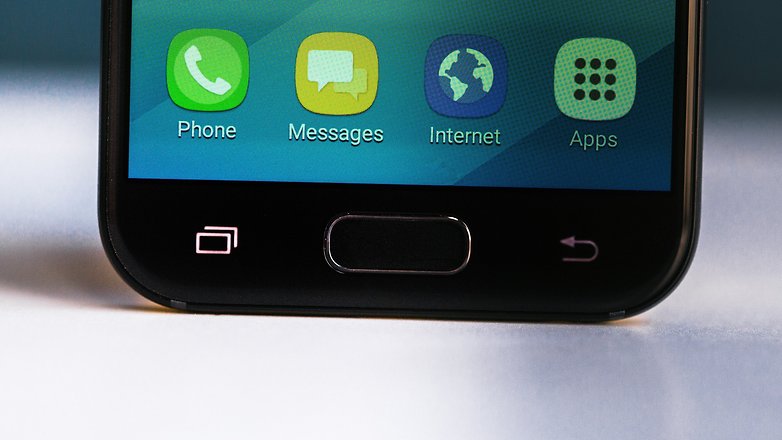 One small insignificant detail: by default the screen goes out in the middle (similar to what you find with old televisions), which has a nice visual effect. Certainly, this does necessarily enhance your overall experience, but it's always nice to watch.
Samsung Galaxy A3 (2017) software
The Galaxy A3 runs with Android 6.0.1 and includes Samsung's TouchWiz interface, so it functions quite similarly to to the S7 Edge with Nougat. I must admit I have never been a very big fan of Samsung, especially since the older versions (especially the Galaxy S5) were weighed down with a poor software interface. Since introducing the Galaxy S6, Samsung has clearly gone out of their way to improve things and the interface is now nice and functional.
The same can be said for the A3, but it will be necessary for us to carry out a complete test to see how the different functionalities work in action. A good example here will be the blue light filter. One small funny detail: Small funny detail: when you scroll through the notifications bar it occupies three-quarters of the screen, and you can't swipe to access the other shortcuts. Naturally, there is still a lot of bloatware. These include Microsoft apps (Excel, OneNote, PowerPoint, OneDrive, Skype and Word), Google apps, Samsung apps and Facebook, which cannot be uninstalled.
Samsung Galaxy A3 (2017) performance
Under the hood we find the Exynos 7870 processor built on a 14 nm process. This is a mid-range chip, as you can imagine: the eight Cortex-A53 cores are clocked at a frequency of 1.6 GHz. To support all of this, the Mali-T830 MP2 GPU has been included and paired with a relatively conservative 2 GB of RAM. This should be more than enough for a standard user who doesn't spend too much time on their phone, i.e. the sort of person Samsung is targeting in the mid-range market.
In reality, this is a little disappointing since the device offers only 9.8 GB of available internal memory and 481 MB of RAM (without installing any apps!). Another small disappointment Small disappointment concerns the SAR: at the top we find 0.349 W / kg, which is okay, but in the body it's relatively high with 1.38 W / kg (European data).
Samsung Galaxy A3 (2017) camera
Again, just like its predecessor, it's a 13 MP sensor behind a f / 1.9 lens. There has been something in the way of a change, as the selfie camera has gone up from 5 MP to 8 MP resolution. That said, they've kept the f / 1.9 lens.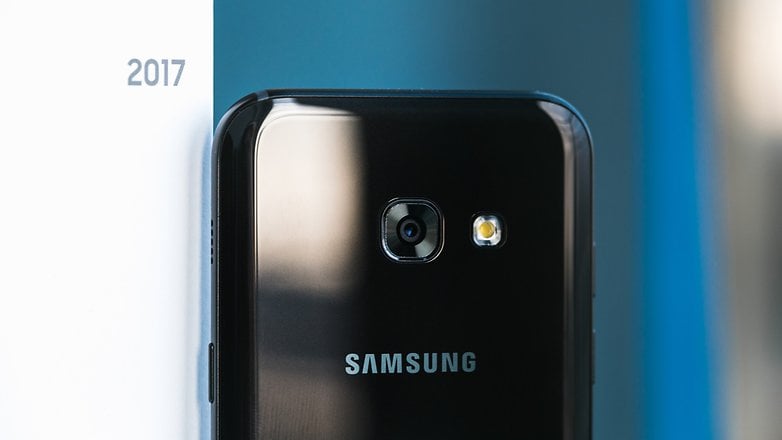 The camera app is more or less identical to that on Galaxy S7, but with fewer features (like fewer filters, in particular), but many staples for the Samsung brand have made their way in. It will take a more complete test of the camera to see what it's made of, so we'll do our best to fill in that information gap.
Samsung Galaxy A3 (2017) battery
On paper, we noticed that there's only a small increase in battery capacity: we go from 2,300 to 2,350 mAh. We haven't had the opportunity to test the smartphone over an extended period of time, so we're not yet sure how well it will support regular use, but with a bigger capacity and (hopefully!) a good optimization, it should be even better than its predecessor (and that was really good!).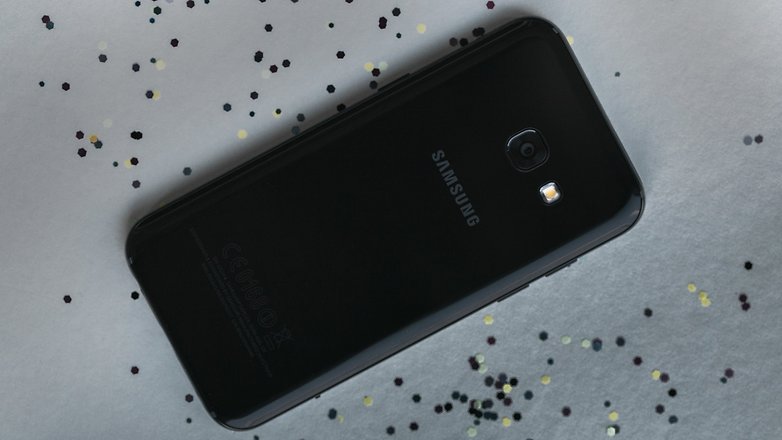 Charging is via USB Type-C cable. Don't immediately assume that this will charge the device with lightening speed, as this will depend on which USB version Samsung decides to include and this information has yet to be communicated by the company. We'll focus more on how well the battery performs in our final review.
Samsung Galaxy A3 (2017) technical specifications
Early Verdict
Samsung wants to (re)conquer the hearts of users and still win the favor of the masses. By offering a waterproof smartphone with fingerprint sensor, a very elegant design and a SIM + microSD for a competitive price, it's definitely going to attract a lot of positive attention. Their intention is clear: it wants to offer the mid-range user a well-rounded a device as possible, though not quite reaching the high-end of the market.
The software interface seems to have matured a lot and the performance has potential. In our full test, we will look at all these points in more detail and will focus on whether the autonomy is as good as on its predecessor.
Are you a fan of the Galaxy A series? Are you planning on upgrading to the new Galaxy A3 (2017) when it is released? Let us know in the comments below.