Realme GT 2 Pro review: The classiest flagship of 2022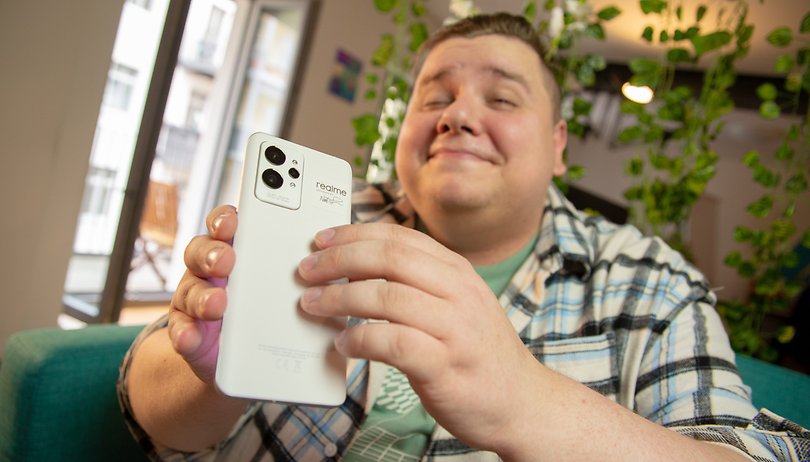 The Realme GT 2 Pro is the latest flagship from Realme and without a doubt, the classiest high-end smartphone of the year with an eco-friendly design in collaboration with the artist known as Naoto Fukasawa. But how does it hold up against the rest of the competition or even the Realme GT Neo 3 and its 150W fast charging? I will share my opinion on this matter in this complete review.
Good
Thoughtful and classy design

Well-calibrated 120 Hz AMOLED screen

Solid 5,000 mAh battery performance

Good performance without overheating issues

Efficient main camera lens

3 major Android updates and 4 years of security updates
Bad
Not the best cameras in this price range

No microSD port, 3.5mm jack, or IP rating

No wireless charging support
The Realme GT 2 Pro in a nutshell
The Realme GT 2 Pro will be available on March 11, 2022, and is available in two versions: 8 GB RAM/128 GB and 12 GB RAM/256 GB, respectively, where they are priced from €749 to €849 depending on which configuration you settle for (approximately $840 to $950). Realme marks the Realme GT 2 Pro as its first real flagship, citing this as a fully-fledged high-end smartphone that does not make any compromises this time around based on its technical specifications that we would normally expect from a device of its stature.
As usual for the many Chinese smartphone brands, Realme currently doesn't have plans on selling the GT 2 Pro in North America.
I was able to play with it for about an hour and the first thing I noticed is how Realme has started ticking off a long list of checkboxes. AMOLED LTPO 2.0 screen with a 120 Hz refresh rate and with a maximum brightness of 1,400 nits? Check. A triple camera module with a 50 MP Sony IMX766 sensor and OIS? Check. Minimalist and eco-friendly design made in collaboration with a renowned designer? Check. Snapdragon 8 Gen1 SoC? Check. Massive 5,000 mAh battery with 65 watts fast charging support? Check. Huh, what? An upgrade policy that has been extended to 4 years? The more the merrier!
In short, Realme's goal is not to release yet another flagship killer. The Realme GT 2 Pro was designed from the ground up to compete in the big league. And after this review, I wonder if Realme will succeed where OnePlus failed?
Design: Looks fragile but is actually solid
The Realme GT 2 Pro adopts a paper-like coating made in collaboration with a Japanese industrial designer, Naoto Fukasawa, from bio-sourced and sustainable materials.
---
What I liked:
The textured, paper effect is very successful and original.
Effort to integrate eco-friendly materials.
Very good grip.
What I disliked:
---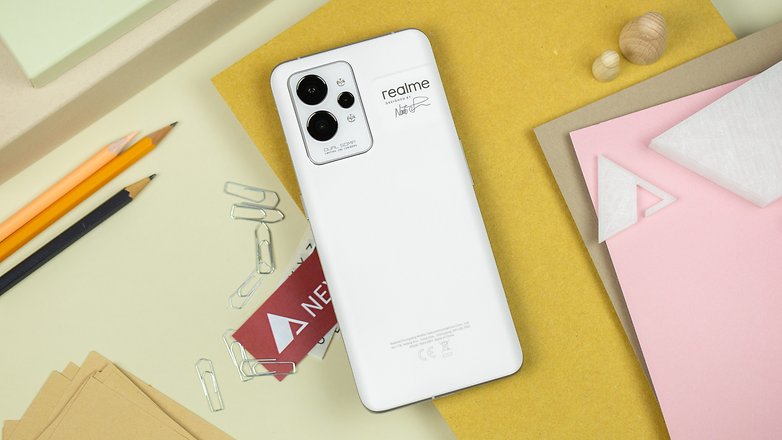 When you mention a high-end product, you would inevitably use the word 'collaboration' with an artist who is more or less well-known in selected circles. I think everyone understands the principle of the hype economy. But for the time being, I really like the idea of the Realme GT 2 Pro.
The back is made of an organic polymer material that is lighter than the plastic or the 'glasstic' backs found in other manufacturers. The design is known as "Paper Tech Master" which mimics the grain on a sheet of paper, and it's quite nice to feel the rough texture, which is reminiscent of a somewhat luxurious piece of stationery. These roughnesses of the coating also allow a good grip when holding the smartphone even with sweaty palms. The Realme GT 2 Pro does not slip from the hands and is certainly not a fingerprint magnet.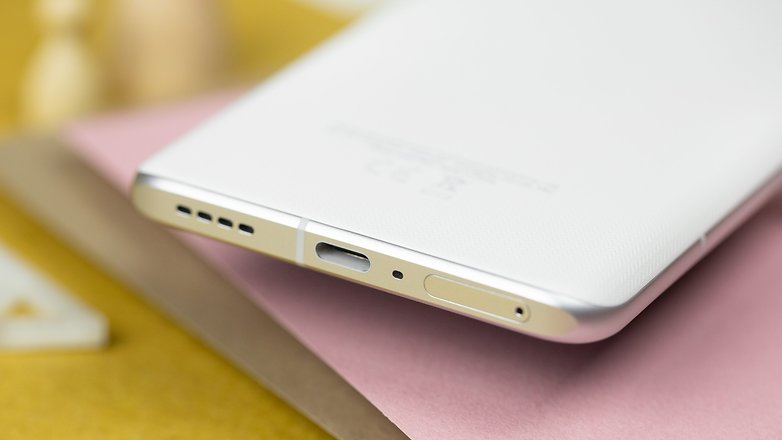 The smartphone comes in three colors: Paper White, Paper Green, and Titanium Blue. The first two, off-white and sage green, really have a Google Pixel vibe that I like. The last one, a black shade with bluish reflections and a shiny glittery texture, proved to be less appealing.
The camera module at the back is rather classic in its styling but I find it nice that Naoto Fukusawa's signature style is silk-screened like an artist would do on a pair of Nike or other fashion industry collabs. On the other hand, there is no IP rating for water and dust resistance Whether you like it (or need it) or not, IP68 is a must for any Android flagship.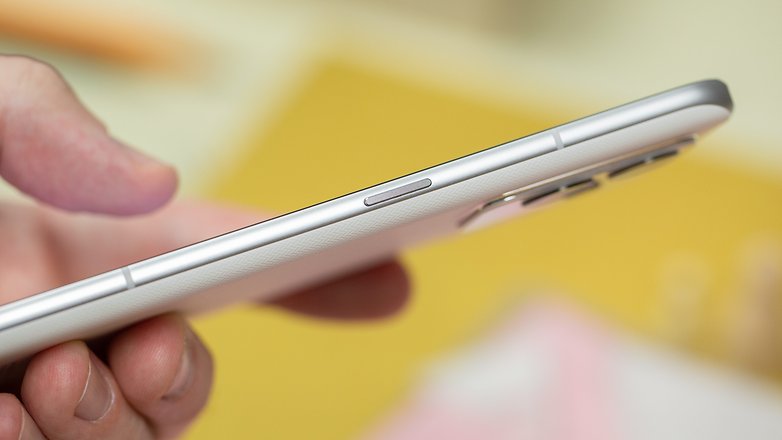 Screen: AMOLED LTPO 2.0 panel in 120 Hz
The Realme GT 2 Pro relies heavily on its new Super Reality display technology with a 6.7-inch LTPO 2.0 AMOLED panel that features an adaptive refresh rate from 1 to 120 Hz, touch sampling rate up to 1000 Hz, 10-bit color, and max brightness of 1400 nits.
---
What I liked:
Very bright screen.
The 120 Hz adaptive refresh rate.
1,000 Hz touch sampling rate.
Accurate colorimetry with the Pro mode.
WQHD+ resolution.
What I disliked:
Colorimetry was too cold without any adjustments.
Not the brightest screen in this price range.
---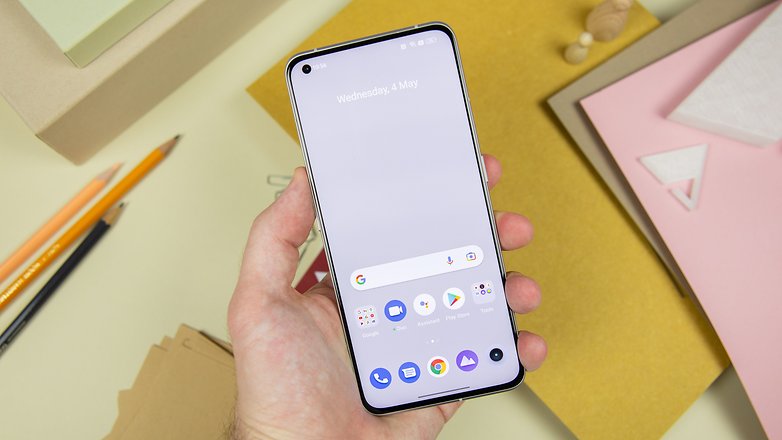 To apply the name 2K is somewhat strange since we are looking at a WQHD+ resolution of 3216 x 1440 pixels. But we are clearly looking at a high-end AMOLED screen. The colorimetry is very fair once you set it to the Pro/Cinema mode which displays the P3 color space. Colors are less vivid than with the default mode, but they are also more accurate, at least to the naked eye.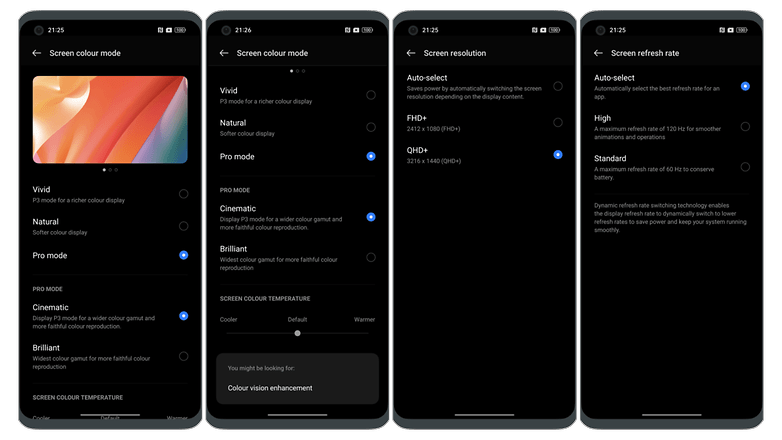 I still have issues trying to come to terms with the variable refresh rate. Although we are assured that the LTPO 2.0 technology allows us to go down to 1 Hz, I have never yet been able to see such a variation in the many test scenarios I have been able to perform.
When I sit idly in the interface, the refresh rate drops to 5 Hz. When I'm browsing or opening an application, it goes up to 120 Hz. On YouTube, I oscillated between 30 and 60 Hz, depending on the framerate (30 or 60 FPS) of the video concerned. But I admit that the variation is highly responsive. With the Android FPS counter (which can be activated in the developer options), I could see that as soon as I started scrolling through the comments of a video, for example, the refresh rate immediately dropped from 30 to 120 Hz.
But in any case, I tend to lock the refresh rate at 120 Hz. Everything was smooth in terms of navigation, but some games remained stuck at 60 Hz even when activating GT 3 mode (which boosts performance and forces 120 Hz across the board).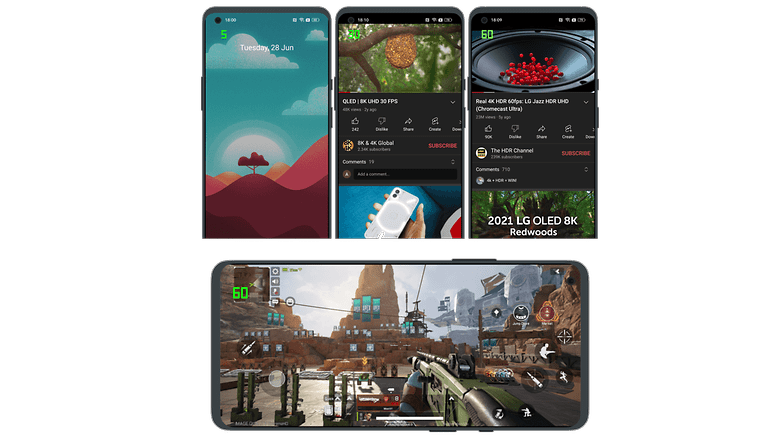 A word also about the sampling rate, where Oppo or OnePlus handsets can go up to 1,000 Hz. When it comes to mobile games, this is a really handy feature since the touch controls are more responsive and, above all, your aim is more precise.
The screen is also flat and borderless, without any prominent chin or forehead. As for the brightness, Realme claims 1,400 nits but this measure can obviously be achieved only at its peak. In other words, it can only be obtained with the high brightness mode (HBM) and only on a part of the screen.
In a typical setting, the screen tends to hover around 480 nits and in HBM mode we can push to the level to 778 nits. This is a very respectable score, but slightly below some high-end competitors in this price range.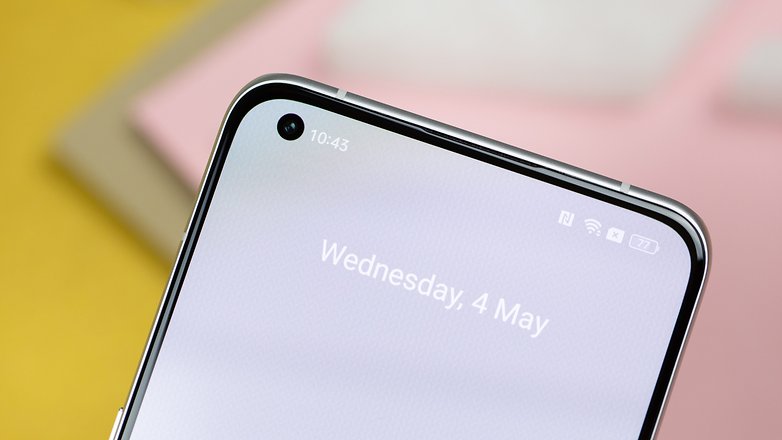 Interface: Realme UI 3.0 on Android 12 and 4 years of updates
The Realme GT 2 Pro runs on the Android 12-based skin known as Realme UI 3.0 interface, with the manufacturer also promising a longer software update policy.
---
What I like:
Lightweight and customizable interface.
Android 12 features are well implemented.
3 major Android updates and 4 years of guaranteed security updates.
What I dislike:
Presence of some bloatware.
---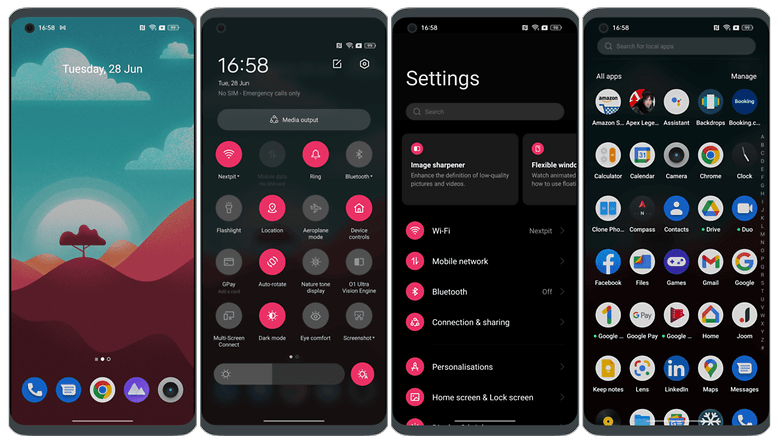 Despite the presence of some bloatware (Amazon, Booking, TikTok, Joom), Realme UI 3 is a pretty light Android skin, with several nice customization options thrown into the mix. Realme has even made the effort to implement, more or less, the dynamic themes found in Android 12, which allow you to apply the dominant color of your wallpaper to the entire interface. The Privacy Dashboard of Android 12 is also part of the package, of course.
Then there are the multitasking features inherited from ColorOS 12 with floating windows and the Smart Slidebar, which lets you access shortcuts simply by swiping from the edge of your screen. Realme also offers more gimmicky but fun features in Realme Lab, a menu that lets you test features in development like heart rate measurement via the under-screen fingerprint reader.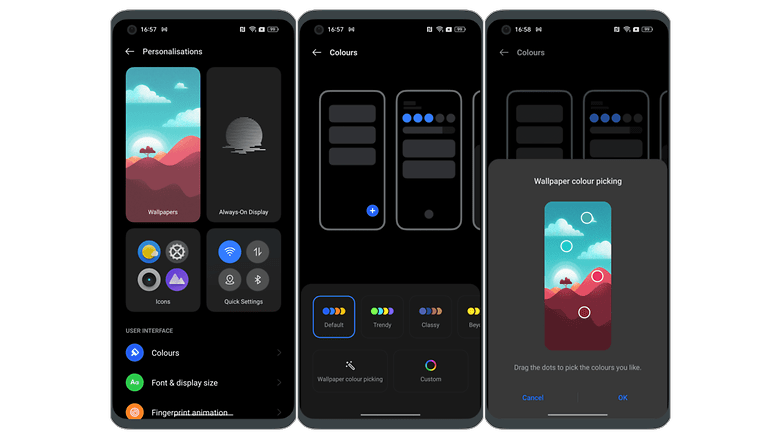 Last positive, Realme has decided to extend its update policy and offer 3 major Android versions and four years of security updates for its Realme GT 2 Pro. This is pretty good news considering that the manufacturer usually sticks to the bare minimum of what is offered on Android One handsets - namely 2 Android versions and 3 years of security patches.
It's really interesting to see manufacturers like Realme, known for mainly targeting the value-for-money market, starting to change their approach when it comes to offering longer software updates for their smartphones.
Performance: Aggressive thermal throttling
The Realme GT 2 Pro packs Qualcomm's Snapdragon 8 Gen 1 SoC, manufactured using the 4nm process, mated to an Adreno 730 GPU with a choice of either 128 GB or 256 GB of UFS 3.1 storage and 8 GB or 12 GB of LPDDR5 RAM.
---
What I like:
Raw performance of the Snapdragon 8 Gen 1.
No overheating issues.
What I dislike:
The impact of GT 3 mode is not visible in benchmarks.
Thermal throttling occurs too early.
---
In our various benchmarks, the Realme GT 2 Pro performs quite well in terms of raw power, so there is no surprise here. I think it's a shame that the GT 3 mode, which is supposed to boost performance, had no visible impact on the benchmark results. But when you talk about Snapdragon chipsets, you also cannot avoid the topic of overheating. In order to remedy this, the Realme GT 2 Pro has a steam cooling chamber made of 9 layers of stainless steel to lower the temperature by up to 3°C.
Realme GT 2 Pro
Snapdragon 8 Gen 1
Xiaomi 12
Snapdragon 8 Gen 1
Samsung Galaxy S22
Exynos 2200
OnePlus 10 Pro
Snapdragon 8 Gen 1
3DMark Wild Life
8939
9926
7035
9541
3DMark Wild Life Stress Test

Best loop: 9118
Worst loop: 6048

Overheated

Best loop: 5581
Worst loop: 3537

Best loop: 9845
Worst loop: 6069

Geekbench 5
And after 20 minutes of intensive gaming use simulated by 3DMark's Wild Life Stress Test benchmark, the Realme GT 2 Pro did not exceed 50 °C, remaining confined to 47 °C at most. On the other hand, this temperature control was necessarily at the expense of stability. It's logical, I know, but I find Realme's temperature control to be not too aggressive, but too sudden.
As you can see below, from the 200th second of the test, that is, a little more than 3 minutes (out of a 20 minutes test in total), we go from 60 to 30-40 FPS. 3DMark indicates an average stability rate of 66.3%, which is not good.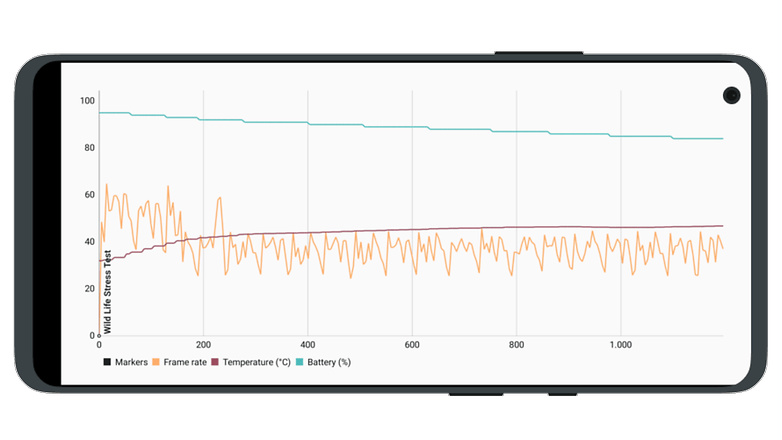 As always, in real-world use, these subtleties are less noticeable, if at all. I was able to run my game of the moment, Apex Legends Mobile, with the graphics and frame rate set to the second highest settings.
In fact, I was able to run the game at 60 FPS without any problems and without feeling the smartphone heating up too much. You can see this in the gameplay clip below, recorded in 2K resolution (32 Mbps) at 60 FPS.
Camera: 150° FOV and microscope mode
The Realme GT 2 Pro features a triple camera module on the back with a 50 MP Sony IMX766 wide-angle main lens, a 50 MP Samsung JN1 ultra-wide-angle lens with a 150° field of view and a 40x micro lens.
What I like:
50 MP main lens with its Sony IMX766 + OIS sensor.
50 MP ultra wide-angle lens with its 150° FOV.
Night photos and the night mode work well.
Interesting microscope lens.
8K video capability.
What I dislike:
The Fish Eye function of the ultra wide-angle is a bit gimmicky.
No telephoto lens.
Digital zoom is rather limited.
---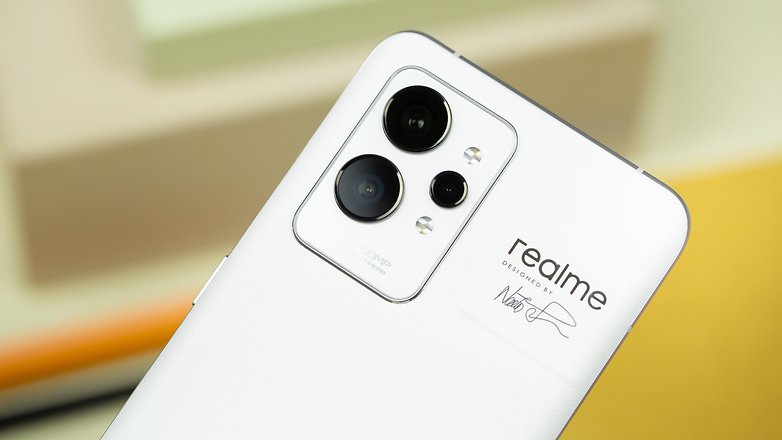 The main lens of the Realme GT 2 Pro has a Sony IMX766 sensor that we know well by now. Hence, there is no surprise in terms of rendering. We have a very good level of detail, the sharpness is there and the colorimetry remains correct, although I find it leans a little too much on the natural/neutral side. But if you want to accentuate the colors a little more, the AI mode (scene recognition) is available for that.
There is no telephoto lens in this camera module and the digital zoom proves to be rather average in the 2x to 5x magnification levels, where it is really irrelevant beyond that (it goes up to 20x).
We then find an ultra wide-angle lens with a very large FOV of 150 ° when other manufacturers are normally satisfied with 120 °. The sensor used is a big Samsung Iscocel JN1. We retain a good level of details but the pictures are noticeably smoother than with the main wide-angle lens.
Check out a video of the Realme GT 2 Pro in 8K at 24 FPS:
Finally, the Realme GT 2 Pro embeds a microscope lens like on the Oppo Find X3 Pro. The focus is very temperamental and the photos are not always 100% sharp. But this gadget is quite fun to use and allows you to take nice pictures with a default 20x zoom level that can go up to 40x. However, you have to really stick the lens to the subject you want to photograph in order to obtain such results.
Video of the Realme GT 2 Pro in 4K at 60 FPS with the main lens:
At night, the Realme GT 2 Pro does very well with the wide-angle and ultra wide-angle lens. The dedicated night mode tends to push the colorimetry a bit too much towards the warm tones. Still, it remains rather correct.
Here is a video of the Realme GT 2 Pro in 1080p at 60 FPS with the ultra wide-angle lens:
When it comes to the video, the Realme GT 2 Pro can shoot up to 8K at 30 FPS with the main lens and up to 4K at 30 FPS with the ultra wide-angle lens. The selfie camera allows you to film in 1080p at most.
Here is a video of the Realme GT 2 Pro in 1080p shot using the selfie lens:
Battery life: 5,000 mAh battery and 65-watts fast charging
The Realme packs a 5,000 mAh battery that accepts 65-watt SuperDart Charge wired fast charging. A 5,000 mAh battery for an Android flagship in 2022, is very good. It remains to be seen how much the 2K display and Snapdragon 8 Gen1 affect battery life.
---
What I like:
Decent battery life.
Massive 5,000 mAh battery.
Charger included.
Efficient 65-watt fast charging.
What I dislike:
No Ultradart Charge at 150 watts.
No wireless charging.
---
With its 5,000 mAh battery capacity, I expected a monstrous battery life for the Realme GT 2 Pro. In reality, it is good but far from my expectations. Running the PC Mark benchmark with the screen in Full HD+, having adaptive refresh rate enabled, and brightness set to 200 nits, the smartphone took 13 hours and 16 minutes before it dropped below 20% battery life.
This score is honorable. But to classify the battery life as very good or even excellent, the Realme GT 2 Pro would have had to last 15 to 16 hours minimum. In everyday use, I was able to use it on average for a day and a half before having to plug it into the mains.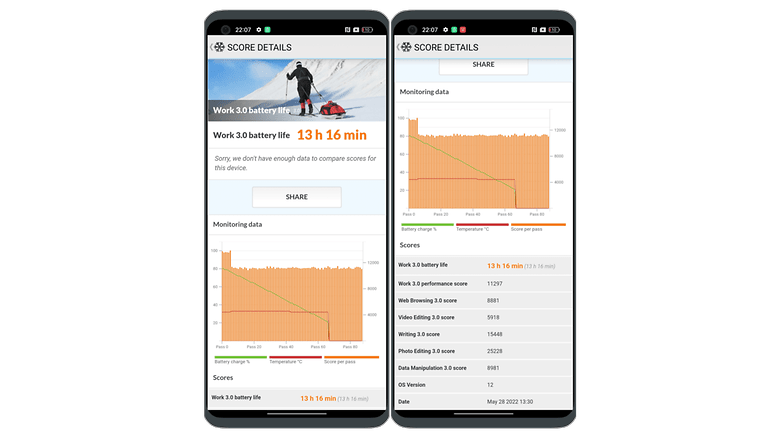 As for fast charging, Realme's proposal is pretty standard. 65 watts in wired mode is more than enough for 99% of users. However, the manufacturer could have done a little more to have wireless charging, which is normally present on a flagship.
I was also quite disappointed that the Realme GT 2 Pro did not debut Realme's new charging technology. Known as UltraDart Charge, it delivers 150 watts of power and charges your smartphone from 0 to 50% in 5 minutes. Realme has reserved this technology for the Realme GT 3 Neo, which is the manufacturer's mid-range flagship. I would have found it more logical if Realme had deployed it on its most premium model first.
Technical specifications
Technical specifications
Product
Image
Colors
Paper White, Paper Green, Titanium Blue
Dimensions & Weight

74.7 x 163 x 8.18 mm | 189 g

Screen
AMOLED LTPO 2.0 | 6.7 inch WQHD+ 3216 x 1440 pixels | refresh rate 1-120 Hz | max brightness 1400 nits | touch sampling rate 1000 Hz
Memory
8/128 GB | 12/256 GB
CPU & GPU
Qualcomm Snapdragon 8 Gen1 | Adreno 730
OS
RealmeUI 3.0 based on Android 12 | 3 major updates + 4 years of security patches
Camera Module

Wide-angle main lens: 50 MP | f/1.8 aperture | OIS | Multidirectional PDAF
Ultra wide-angle lens: 50 MP | f/2.2 aperture | 150° FOV
Microlens: 40 MP | f/3.0 aperture | AF | 40x magnification
Selfie: 32 MP | f/2.4 aperture

Video

Back: 8K and 4K at 30/60 FPS | 1080p at 30/60/240 FPS | gyro-EIS
Selfie: 1080p at 30 FPS

Battery
5000 mAh | SuperDart 65W wired fast charging | no wireless charging
Audio
Dual stereo speakers | No 3.5mm jack
Price
€749 | €849 ($840 ~ $950)
Unavailable in the US
Conclusion
The Realme GT 2 Pro is a great smartphone, but I think that missing out on an IP rating, telephoto lens, and wireless charging support should be included in the specifications sheet of an Android flagship. Apart from that, we have a very nice AMOLED 120 Hz screen, a massive 5,000 mAh battery, 65 watts fast charging, a versatile and original camera module.
This is typically the kind of smartphone I would give a 4 out of 5 rating to. Not perfect, but very good. However, Realme went further by extending its update guarantee with 3 versions of Android and 4 years of security patches and by offering a classy, sober, and sophisticated design.
I give it 4.5 out of 5 stars. True, the Realme GT 2 Pro is the most expensive smartphone ever sold by Realme. But it is in line with the competition from Samsung and Xiaomi. Only the Google Pixel 6, which is sold a bit cheaper and fares much better in its camera performance, would I consider as an alternative.
However, with this price increase comes a real move upmarket. The Realme GT 2 Pro is definitely a flagship handset. A very good flagship even, and a good looking one at that.