Realme 8 5G review: Cheaper does not necessarily mean better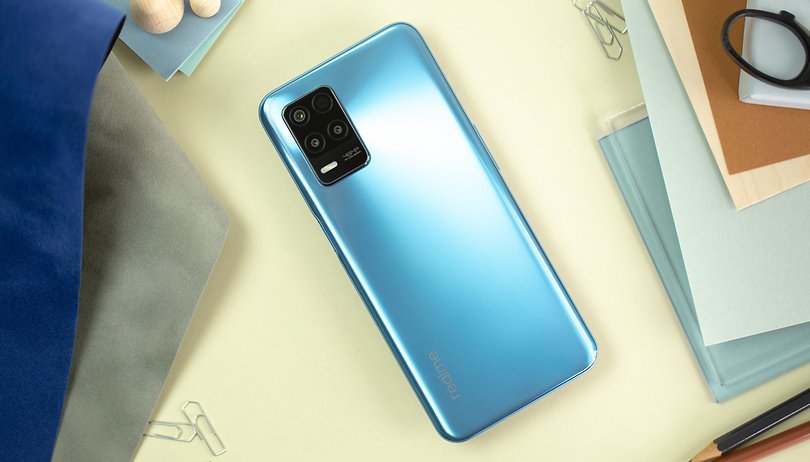 Realme really wanted to shake up the market with their new sub-$200 Realme 8 5G smartphone. Compared to its predecessor, there were some significant hardware compromises that made the overall experience a disappointing one. In our review, check out whether picking up this cheap 5G smartphone is still worth your while, or whether you should simply look out for its predecessor.
Good
5G network support

Beautiful IPS panel with a 90 Hz refresh rate

Good battery life
Bad
Triple camera has no ultra wide-angle lens

Camera bump is unsightly

Fast charging maxes out at 18 watts

Plenty of pre-installed bloatware
Realme 8 5G in a nutshell
Realme certainly pushes the boundaries with the Realme 8 5G by reducing costs by a drastic amount. Both the recommended retail price of $199 and 5G network support happen to be its main selling points. If you are on the market for the cheapest smartphone with 5G network support, then the Realme 8 5G should be right up your alley.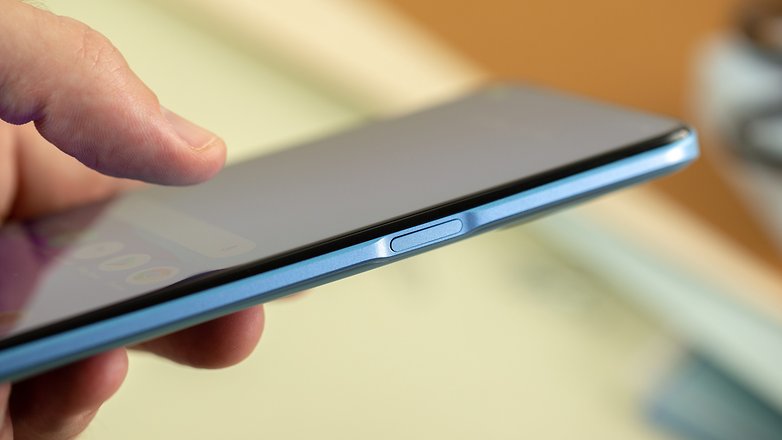 However, the Realme 8 5G had to experience a lot of hardware compromises in order to hit the sub-$200 price point, making it close to $80 cheaper compared to its predecessor, the Realme 7 5G. The ultra wide-angle camera is missing, you end up with a less capable SoC, while the LCD display offers a mere 90 Hz refresh rate instead of the smoother 120 Hz refresh rate. This is a shame because it seems as though that Realme has decided to slap a cheaper price tag while forgoing value in the overall equation.
Design & Display
The Realme 8 5G measures 162.5 x 74.8 x 8.5 millimeters and tips the scales at 185 grams. Realme has thrown in a 6.5-inch LCD display with a decent 2,400 x 1,080 pixels resolution while offering a 90 Hz refresh rate. While the front is all glass, one should expect a polycarbonate back on the Realme 8 5G, of which Realme duly obliged.
I liked the:
Slim and thin form factor.
Very bright LCD display.
90 Hz refresh rate is always welcome.
I did not like the:
Missing 120 Hz refresh rate that is found on its predecessor (Realme 7 5G).
Quad-cam camera bump design is ostentatious.
Fingerprint sensor located on the side.
At first glance, the Realme 8 5G's panel caught my attention. This is because it performs impressively in daily use as opposed to just seeing the details on the specifications sheet. LCD displays are often seen as a significantly inferior alternative to OLED, but that's by no means given. The 6.5-inch panel in the Realme 8 5G has an exceptional degree of brightness as it offers a high contrast ratio.
At first glance, I even suspected that Realme was using an OLED panel. I only became skeptical about it when I realized the refresh rate stood at 90 Hz, because this is one feature that can be found on LCD displays in smartphones that do not pass the €200 price point. 90 Hz is good enough for this Realme handset, especially when you are busy scrolling through lists.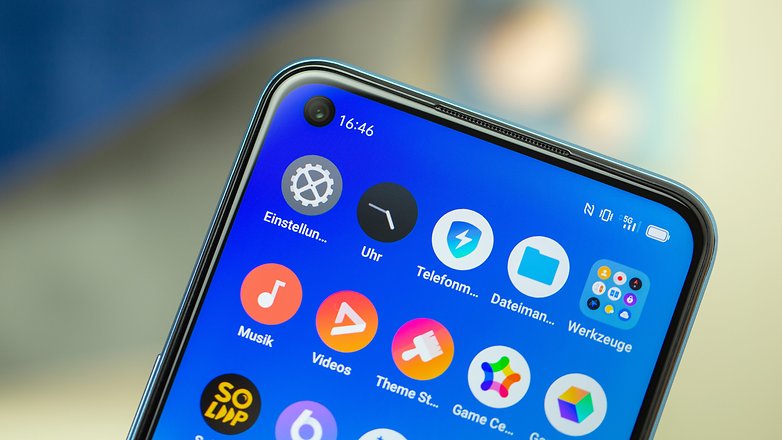 Overall, the workmanship of this smartphone is decent. As with the Realme 7, the manufacturer relies mainly on plastic as the material of choice for both the sides and backplate. It is not that bad in execution, and it is nice to note that Realme has also spared us the huge "Dare to Leap" words emblazoned on the Pro model. Now that's gaudy if anything!
Compared to the previous model, I find it a bit of a shame that Realme only offers a 90 Hz refresh rate instead of 120 Hz. However, since the Realme 7 5G was also a bit more expensive, this is a sensible cost-cutting measure that won't affect most of our readers. The camera bump could have been better executed though. By including the letters "AI" in a circle, it does fool some of the less observant folk that there is a fourth camera in place when in reality, only three cameras are available. Check it out for yourself!
As a daily driver, the Realme 8 5G has proven itself to be a handy and solid companion. The bright LCD display is always a delight to use, even when you are enjoying the outdoors under bright sunlight! If you can't figure out how to reduce the refresh rate, fret not - chances are you might not notice the difference. However, I do have my gripes about the overall camera design and performance which I will talk about below.
Decent performance and technology
The 5G version of the Realme 8 is powered by a MediaTek Dimensity 700 chipset which provides you with access to 5G networks. Apart from that, it is an entry-level processor, so do not expect too much performance from it. In addition, the SoC supports Wi-Fi 5 and Bluetooth 5.1 connectivity.
I liked the:
5G network support (speeds of up to 600/Mbits in Berlin)
Solid gaming performance
I did not like the:
Slower processor as its predecessor carried the faster Dimensity 800 SoC
Plenty of annoying and unwanted bloatware in the operating system
The exception that I will have to make for the Realme 8 5G is of course, its support for 5G networks! The MediaTek 700U that powers the handset supports the new cellular standard, which can already be used in large cities like Berlin. You can find out just how prevalent 5G connectivity is in the German capital via my 5G test with the Redmi Note 9T.
With the Realme 8 5G, I was able to achieve a fast 605 megabits per second at the NextPit headquarters that is located in Berlin. My apartment that is located in Friedrichshain allowed me to connect to a network that is almost as fast, providing me with the feeling that I am connected to a Wi-Fi network at all times.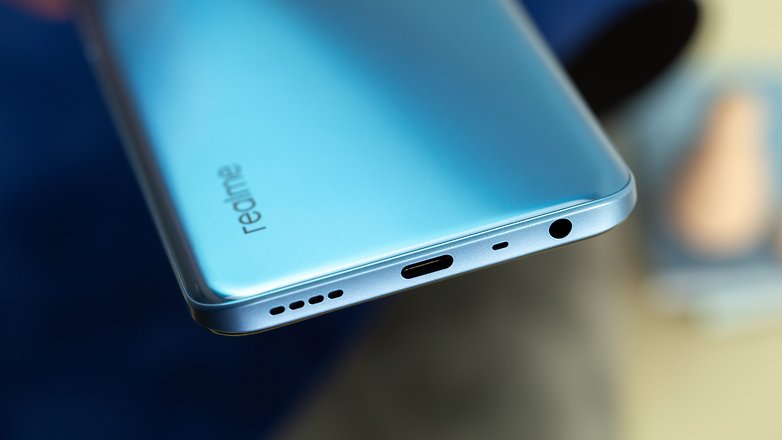 The SoC's performance is less impressive, however. It is a mid-range SoC which translates to longer load times when launching apps while experiencing frame rate drops in selected mobile games. When enjoying a session of PUBG Mobile, I selected High Definition under the graphics settings, and it ran decently - not too shabby for a mid-range device.
In order to gain a better idea, it is always good to draw up a comparison. I ran the usual slew of benchmarks and also included the results of its predecessor and other handsets.
Realme 8 5G benchmark comparison
| Benchmark | Geekbench 5 CPU (Single / Multi) | 3D Mark Slingshot | 3D Mark WildLife | 3D Mark Wildlife stress test |
| --- | --- | --- | --- | --- |
| Realme 8 5G | 573 / 1769 | 3.321 | 1.100 | 1.109 / 1.090 |
| Realme 7 5G | 581 / 1801 | 4.271 | 1.585 | 1.594 / 1.583 |
| Realme 8 Pro | 568 / 1.685 | 3.671 | 1.050 | 1.050 / 1.045 |
The performance of the 5G model is roughly on par with the Realme 8 Pro which was also released in 2021. However, the processor downgrade from its predecessor proved to be very obvious when seeing the benchmark results. Across all benchmarks, the Realme 8 5G performed worse than the Realme 7 5G with its Dimensity 800U chipset.
Technically, you should be happy with any mid-range smartphone in 2021. There's Wi-Fi 5 and Bluetooth 5.1 connectivity in addition to NFC capability that supports mobile payments. However, there is one thing that stood out for me regarding the performance.
Realme packs really a lot of bloatware into its operating system, which is based on Oppo's ColorOS 11. Programs like "HeyFun", "TikTok" or shortcuts for app stores like "Hot Games" and "Hot Apps" can thankfully be uninstalled. If you want to read more about removing bloatware, check out our article here!
Overall, the Realme 8 5G's performance is satisfactory if you just focus on the handset itself. Mobile games performed well enough during the review duration and everything ran at an acceptable rate. It was only the bloatware that proved to be annoying, and its predecessor's performance is obvious when you compare the two.
Camera: Fool me once, shame on you!
At first glance, the Realme 8 5G actually impressed me a lot through a visual deception. I say so because Realme's design points to a quad-camera setup when you look at the back when in reality there are only three cameras. This design in no way makes the 48-megapixel triple camera setup look any better, with functionally useless 2-megapixel macro and depth cameras accompanying it.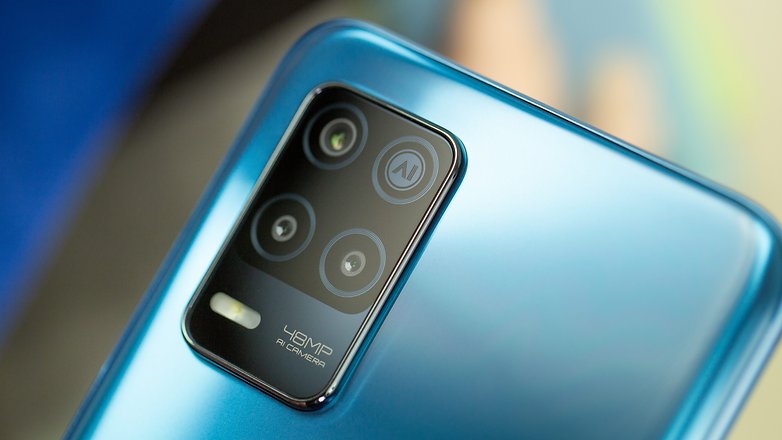 I liked the:
Decent photos captured during the day
Good HDR performance
I did not like the:
Triple camera configuration has no additional focal length
2-megapixel macro camera
Does not capture details well
Night shots have plenty of noise
Throughout my hands-on experience, I was blessed to be in Berlin as summer arrived, enabling the Realme 8 5G to capture photos under optimal lighting conditions. Below are some samples taken with the 48MP triple camera, of which I will include a few comments for additional context.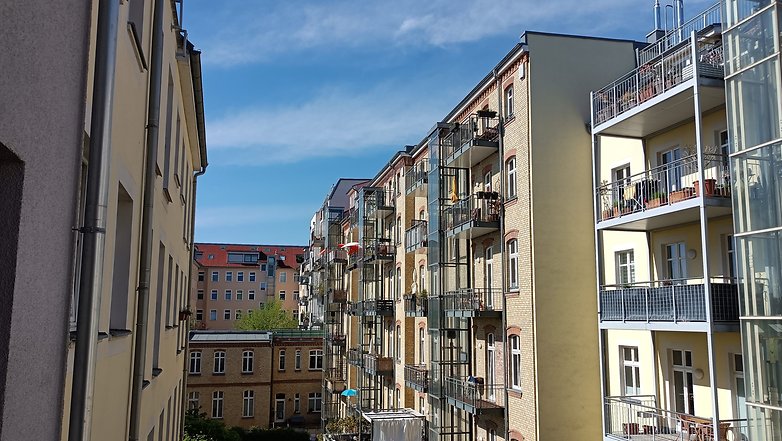 Let's begin with a 48-megapixel image from the main camera. I cropped this to the 16:9 format for upload and presented it in 4K resolution. What I liked were the nice colors and the good level of exposure which offered pleasant contrast levels. However, upon zooming in, you will be able to notice a bit of a watercolor effect, resulting in some details being blurred out.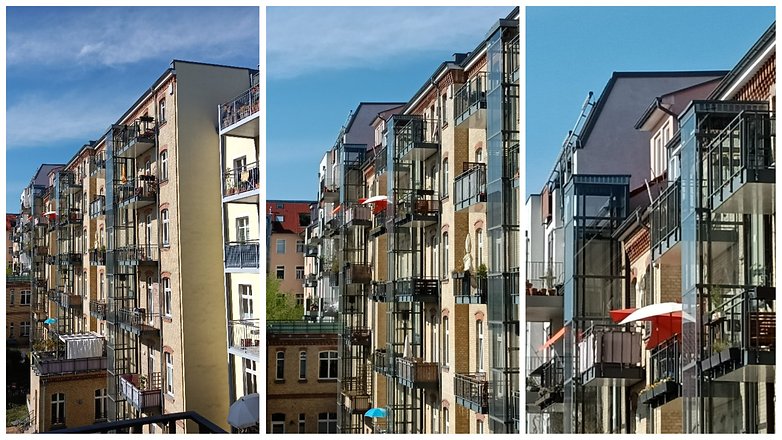 Instead of using the zoom function in Photoshop, let's try the zoom function on the smartphone itself. Everything is purely digital, of which you can view the results for yourself. Even at 2x magnification, the level of detail decreased drastically. I would highly recommend you to simply get closer to your subject!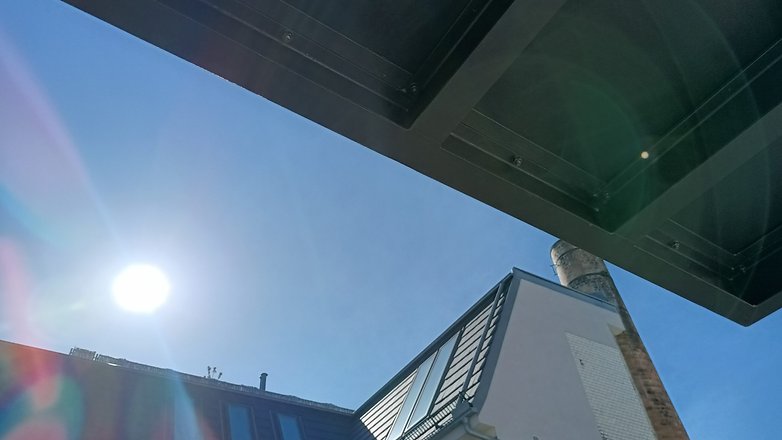 I do not mean to gripe and moan, but the HDR mode surprised me personally. Even under such extreme situations including having a very bright backlight, details on the balcony above me can be seen. The result doesn't look very natural, but it does showcase the efficiency of Realme's software and its sensor's dynamic range.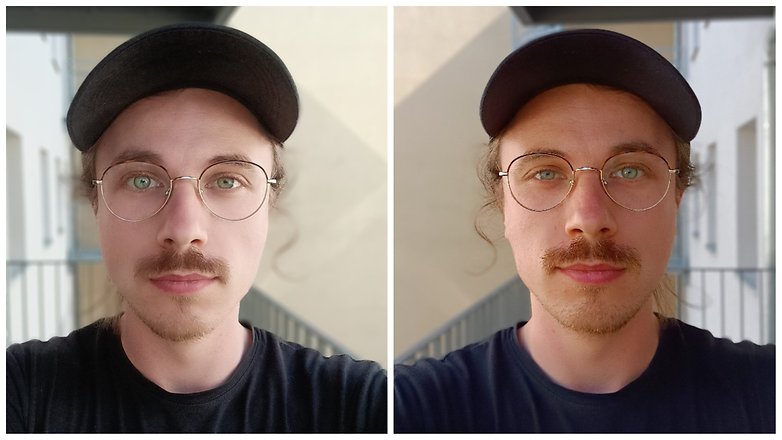 During the hands-on, I also took two selfies. On the left, you can see the front camera in portrait mode and on the right, the main camera. What is immediately noticeable are the different skin tones, where Realme's software probably found my skin to be way too wrinkled. This beauty filter can be disabled, but somehow shaving a few years off my face is a good thing, isn't it?
Portrait mode for objects is not convincing enough
If you want to see a bokeh effect on objects as well, you should take this handset's performance with a grain of salt. Theoretically, it is possible to take pictures that carry the DSLR look with the Realme 8 5G, but the result is not all that convincing. This is because the blurring involved removed a lot of the beauty in the background, as you can see in the photo below.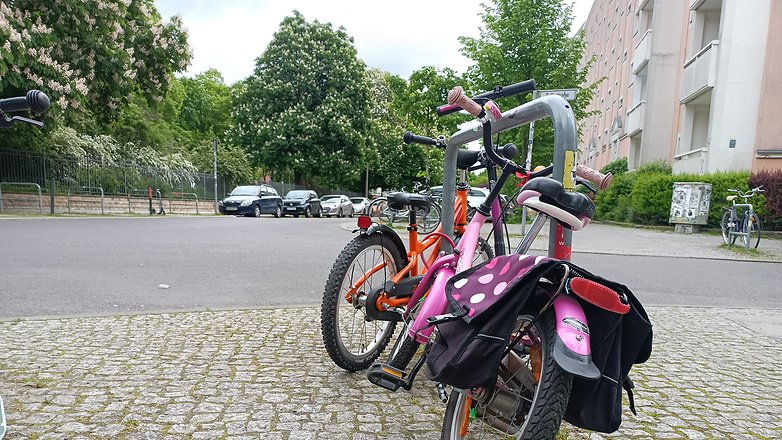 There are two aspects I'd like to talk about when it comes to the Realme 8 5G's images. Namely, the night mode and the macro camera, which doesn't look that promising on paper at a mere 2-megapixel resolution.
Night mode causes a lot of detail loss
For my low light photo test, I once tried a scenario where I had more control over the amount of light: My living room. I first took a photo during the day, then closed one window, before closing both windows. Below, you can see a shot with night mode disabled on the right and with it enabled on the left.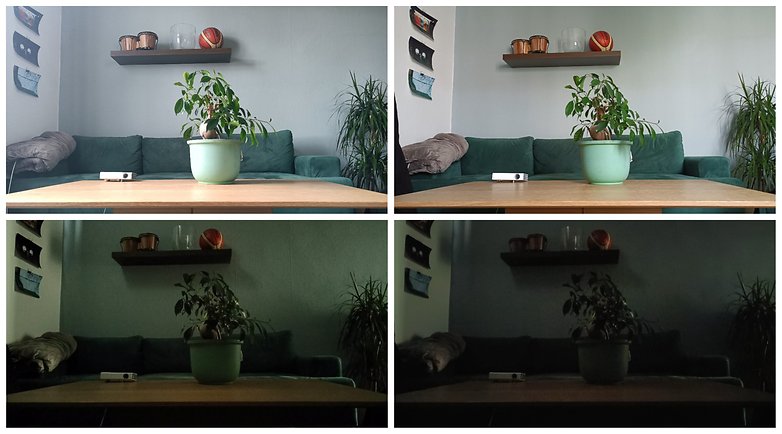 The Realme 8 5G doesn't handle bright sunlight from the left very well. Some details get lost a bit in the glaring light. I personally like the top right image best. The night mode minimally brightens the dark areas, especially details on my fancy bonsai tree became a little bit more visible. Unfortunately, both night photos contain plenty of noise.
Macro camera shot
At 2-megapixels, Realme also decided to throw in a macro camera. This is the only additional camera that you can control besides the main camera. Thus, it should deliver usable results at the very least so as not to be classified as a mere gimmick or unwanted add-on.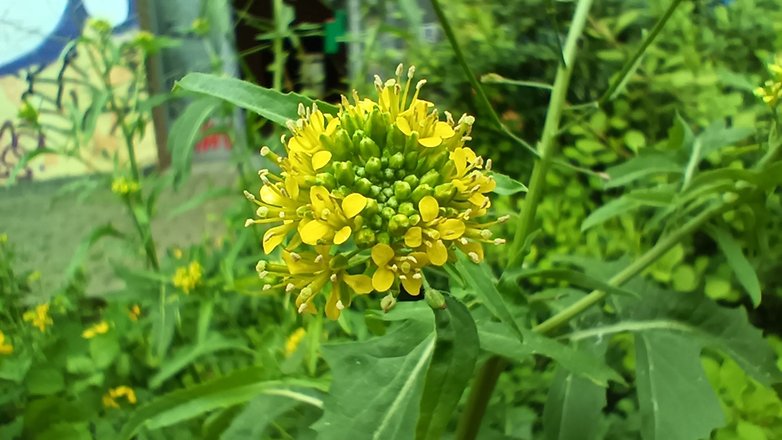 And thus, the Realme 8 5G completely fails in the claim of having a triple camera. While the closest focus is definitely closer than the main camera, the results are simply unforgettable. Forget about the quad-camera hump: it is safe to say that the Realme 8 5G contains only a single usable camera!
Realme itself offers smartphones that have significantly more quality cameras in them. For 5G support at a low price, the manufacturer has thus sacrificed a feature that unfortunately has proven to be very important to many users. If you want better quality photos, you should probably aim for the 8 Pro. The Realme 7 5G has at least an ultra-wide-angle camera, something which the new model lacks.
Battery: 5,000 mAh with lame Fast Charging
Realme has included a large battery capacity of 5,000 mAh within the Realme 8 5G that measures just 8.5 mm thin. While the Realme 8 Pro excelled with its 50-watt Fast Charge capability, this 5G model only offers 18 watts of Fast Charging. In other words, expect significantly longer charging times.
What I liked:
What I disliked:
Fast charging at only 18 watts
No wireless charging support
Batteries that have a 5,000 mAh capacity are now the gold standard for mid-range smartphones. Xiaomi offers that, Oppo with their Oppo A74, happen to be pretty much identical handsets. We also know of other smartphones with large capacity batteries from Realme. From my experience, I suspected that the Realme 8 5G only needs to be plugged into the power outlet once every two days if you are an average user.
My suspicions were confirmed in the review. Unfortunately, ColorOS doesn't offer any useful statistics on battery consumption, but I estimated that most users will survive for two days with the Realme 8 5G. I am assuming that the average user would carry their handset with them all day long.
I usually start using my smartphone in the morning when I wake up, before listening to music on it when working and keeping myself entertained with YouTube videos or a Netflix movie on my Chromecast in the evenings. When reviewing this unit, I still had a 5G SIM in my smartphone all the while, of which the battery performed admirably. I usually refrain from battery benchmarks because, in my opinion, they do not provide any actual information on the real-life usage time of smartphones.
However, I was able to test the fast charging capability in the review. With a remaining battery life of 13 percent, I plugged the Realme 8 5G into the nearest power outlet. The battery was half full within 35 minutes and hit 100 percent after 1 hour and 20 minutes. This was rather slow compared to the rest of the competition and also with Realme's very own dart charging. The Realme 8 Pro, for instance, charges its battery with a 50-watt charger.
In terms of battery technology, Realme will position the Realme 8 5G alongside other mid-rangers released in 2021. You will benefit from a large 5,000 mAh battery, although there are compromises that you have to live with when it comes to fast charging. When compared to other Realme devices, 18-watts is considered slow today.
Hardware specifcations
Realme 8 5G specifications
Technical Specifications
Specs
Realme 8 5G
Processor
MediaTek Dimensity 700
Memory
Expandable memory
Yes
Screen

6.5-inch LCD display
90 Hertz
1,080 x 2,400 pixels

Camera module

48-megapixels | f/ 1.8 | 26mm
Macro: 2MP | f/ 2.4
Depth: 2MP | f/ 2.4
Selfies: 16MP | f/2.1

Video
Battery

5,000 mAh
18-watt fast charging

OS
RealmeUI based on ColorOS
Audio
Connectivity
Wi-Fi 5 | Bluetooth 5.1 | NFC | 5G
IP certification
-
Dimensions & Weight

162.5 x 74.8 x 8.5mm
185 grams

Price
$199
Conclusion: Get this only if you want 5G on the cheap!
In summary, I have to advise most users against buying the Realme 8 5G. This is because Realme has positioned 5G support at such a low price point, prioritizing it over everything else so much so that the bright LCD display with its 90 Hz refresh rate is the only thing that really stood out. Its workmanship and battery life are also positives in my book.
However, do take note that the very capable Realme 7 5G that Realme introduced last year still outshines the Realme 8 5G. This is because you get a better camera configuration, a 120 Hz refresh rate, a faster processor, and 5G support for $80 more. Considering how the price has already dropped to $220, I would advise everyone to fork out slightly more that will provide you with far more satisfaction.
There are already quite a few 5G-capable smartphones that retail for approximately $200. These include the Redmi Note 10 5G and the Poco M3 Pro, both of which were released in between our hands-on and full review period. Their presence would make it very difficult to justify the existence of the Realme 8 5G.