Realme 11 Pro+ Review: This Old Dog Can Learn New Tricks!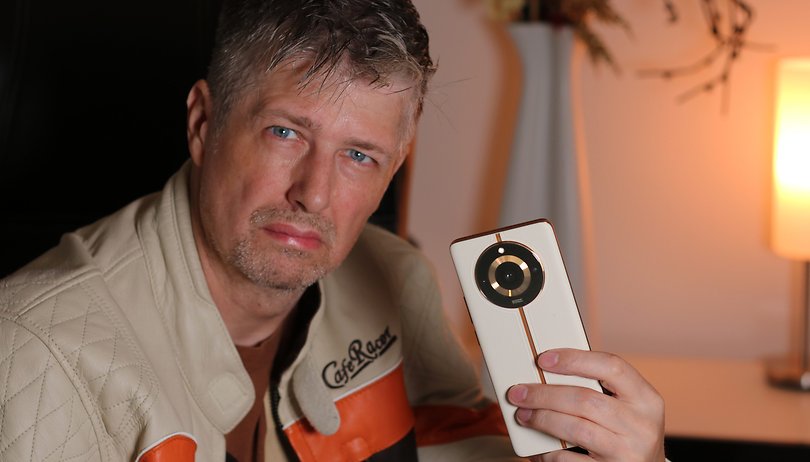 Contrary to earlier statements, the Realme 11 Pro (review) and the Realme 11 Pro+ are now available in Europe. Luckily for us, the nextpit editors were able to review both Android smartphones for you. Find out here whether it is worth buying the 200 MP flagship with an extraordinary processor for $500.
Good
High-quality workmanship

Impressive display

100 W SuperVOOC charging

Solid performance

Nice to hold in the hand
Bad
Bloatware included

No LTPO

No 3.5 mm jack

No wireless charging supported

No IP certification

No microSD card support
Realme 11 Pro Plus: All deals
The Realme 11 Pro+ in a nutshell
The Realme 11 Pro+ is not really a flagship per se, but neither is it a standard mid-range smartphone. It has its advantages in different ways, such as the 200 MP main camera, the display, and of course, the battery runtime with 100 W fast charging thrown into the mix. However, this trio of features lacks matching additional cameras or a fast processor. Nevertheless, the Chinese company has included 12 GB of RAM and 512 GB of internal storage for an unbeatable price of $500.
Bloatware on the one hand and a lot of useful features on the other. It almost seems as if the 11 Pro+ was once a real flagship that was artificially cut in places to keep the price as low as possible. But can we really criticize that? After all, people demand inexpensive smartphones! You just have to be able to come to terms with the losses.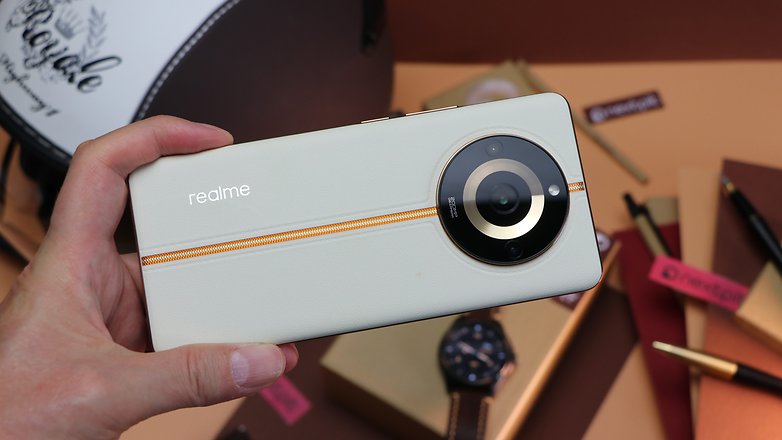 Realme 11 Pro Plus: Buy it!
Those who regularly read nextpit will have already come across the wild prequel to the Realme 11 Pro and the Realme 11 Pro Plus. Actually, the company has already bid goodbye to the German market just like its parent and sister companies, Oppo and OnePlus, respectively. However, as we all know, there is life in the old dog yet, and the two latest Android devices are available in Astral Black and Sunrise Beige (our review unit) colors for $500 a pop via Amazon.
The color Oasis Green, which I discovered in France for example, is not available in my home Germany. There are also no different memory configurations, such as 8 or 12 GB of RAM and 128, 256, or 512 GB of storage. In Germany, you'll have to settle for the "full hut" - i.e. 12 GB RAM and 512 GB storage - until further notice.
Design
The 161.6 mm Realme 11 Pro+ arrived at nextpit's editorial office in a beige-colored imitation leather back and suggests flagship-level quality while tipping the scales at 189 grams. The large and centrally positioned circular camera array is located in the upper area. The 6.7-inch AMOLED display is rounded at the sides with a thickness of just 8.7 mm (the Astral Black model is thinner at 8.2 mm/183 g), contributing to the feeling that we are holding a smartphone that costs somewhere in the $1,000 region. However, that is far removed from the truth as we know it.
---
Pros:
Curved display.
High-quality workmanship.
Artificial leather back has a good grip.
Cons:
No 3.5 mm jack.
No IP certification.
---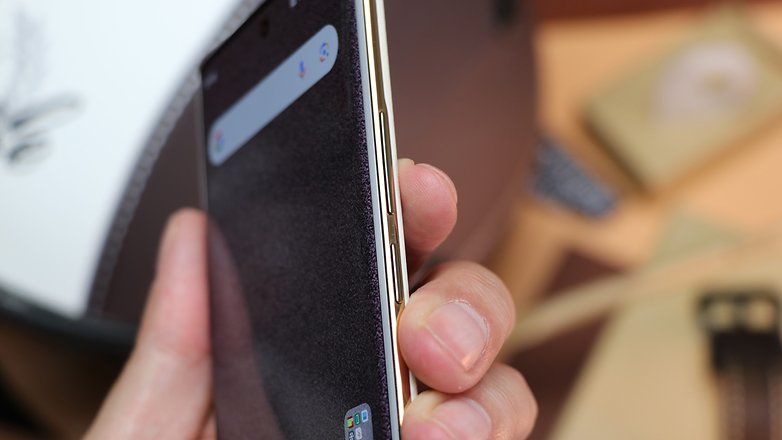 However, it is precisely this visually dominant triple camera configuration that features a 200 MP main camera disappointed simply because it is accompanied by a mere 8 MP ultra wide-angle camera and a pointless MP macro camera. We will talk more about this matter in the corresponding segment.
The Android smartphone feels secure to hold in the hand, thanks to the imitation leather and the relatively slim form factor of 73.9 mm, leaving a very high-quality impression. The power and standby buttons in addition to the volume rocker above them on the right are easily accessible, offering adequate haptic feedback when pressed. This is a commendable feat as you are basically holding a slightly modified Oppo smartphone in your hands.
The Realme 11 Pro+ offers stereo sound (24-bit /192 kHz) with Dolby Atmos, which I do not necessarily want to praise due to its lack of bass. It is simply functional and nothing more, without any 3.5 mm jack to boot. We also probably have to slowly accept the fact that having an analog audio input and output is becoming increasingly rare in a smartphone.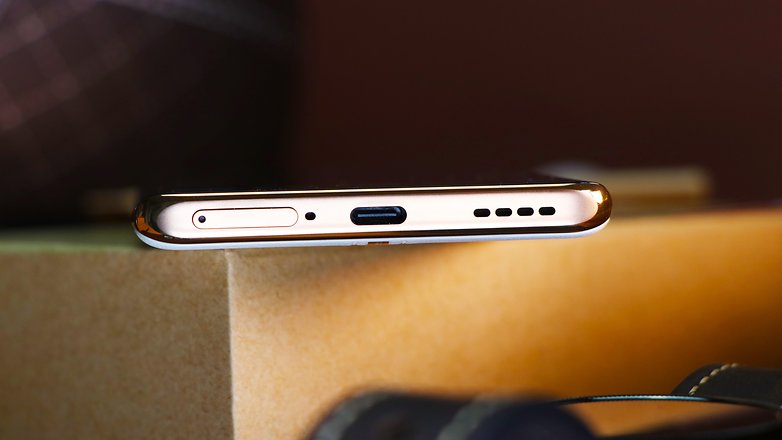 However, I would have expected a faster Type-C port than the built-in 2.0 version, which automatically hurls the Realme 11 Pro+ smartphone back into the mid-range category. I also miss having some sort of IP certification for protection against dust and water. We do know from our many conversations with its sister company, OnePlus, that the smartphone was manufactured to survive showers of rain unscathed. However, Realme might have decided to save on the expensive certification and also shy away from possible warranty claims that would presumably accompany such a claim. Do take note that this is pure speculation on my part.
Display
The Realme 11 Pro+ comes with a 6.7-inch AMOLED display that is rounded on both the left and right, featuring a screen-to-body ratio of 93.65 percent. The resolution count stands at 2,412 x 1,080 pixels (FHD+) with a maximum of 120 frames per second. The touch sampling rate is 360 Hz and, with a color depth of 1.07 billion colors, it is 100 percent compliant with the DCI-P3 color space and the HDR 10+ video standard.
---
Pros:
HDR10+ and DCI-P3 color space.
Very good display.
Maximum 120 Hz refresh rate.
Sufficiently bright for everyday use.
Cons:
Some people don't like a curved display.
No LTPO technology.
---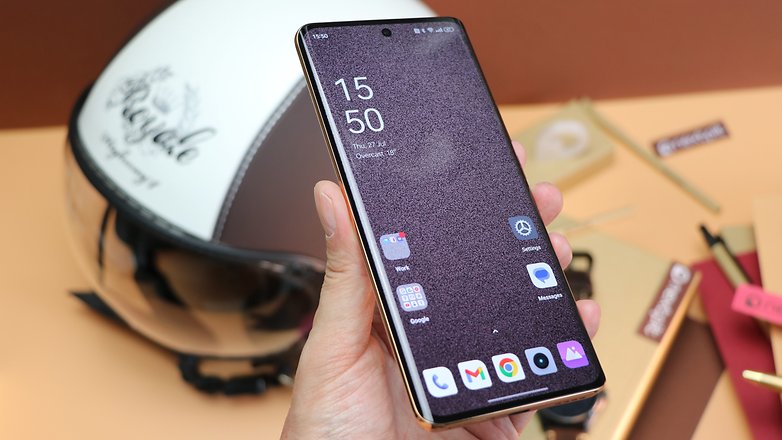 If you were to take a look at the screen of the Realme 11 Pro+, you'll be impressed by the high-quality display, which has a maximum brightness of 800 nits on a day-to-day basis and 950 nits under direct sunlight. Viewing stability, contrast, and dynamics all impressed us. Some people are tired of the curved display at the edges. This design language was supposed to suggest thinner edges and prevent incorrect input not in the least due to the fourth generation of the so-called "X-touch anti-mistouch" algorithm. According to Realme, this can recognize up to eleven types of grip techniques.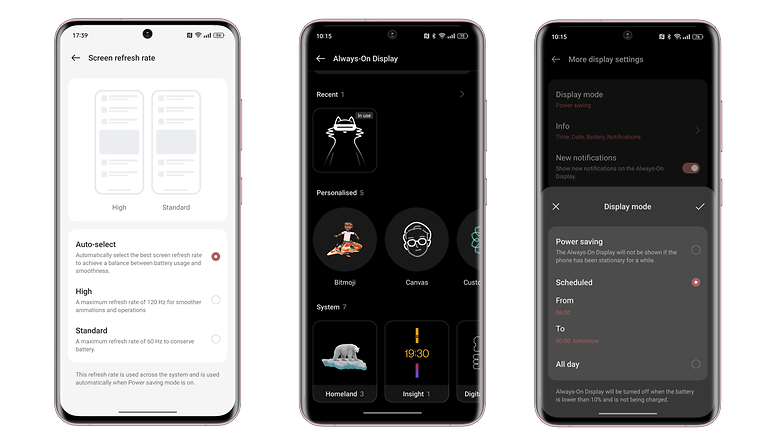 In terms of the refresh rate, Realme does without the well-known LTPO technology, but can automatically adjust the refresh rate based on the content being viewed. However, you can also settle for a fixed refresh rate of either 120 Hz or 60 Hz. There is even a special "bedtime" mode that dims the display accordingly and displays everything in black and white. The Realme 11 Pro Plus also offers an Always-on Display, which provides a few themes to choose from and also allows for a time limit.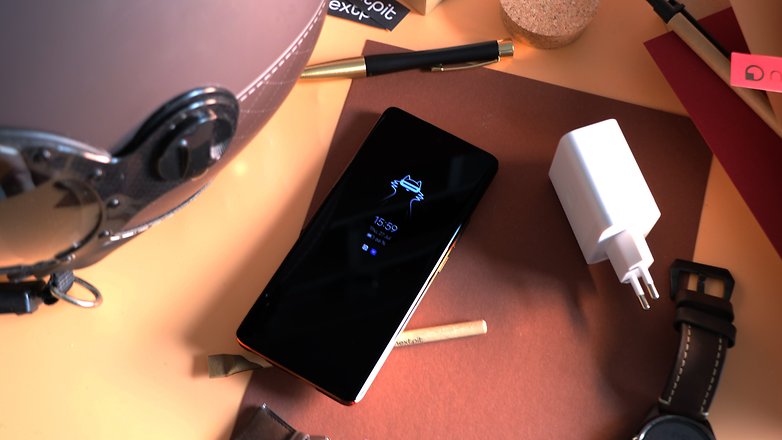 Realme does not equip the Realme 11 Pro+ with glass from the well-known manufacturer Corning, but relies on a 0.65 mm thin and unknown "double-reinforced" glass.
Software
The Realme 11 Pro+ arrives with ColorOS 13 right out of the box which is based on Android 13. The in-house RealmeUI 4.0 skin carries a strong visual resemblance with the rest of the BBK Electronics consortium. Realme confirmed two major Android updates system and three years of Google security updates when asked.
---
Pros:
Very good user interface.
Double-tap to lock/unlock.
Cons:
Endless bloatware.
Update policy could be improved.
---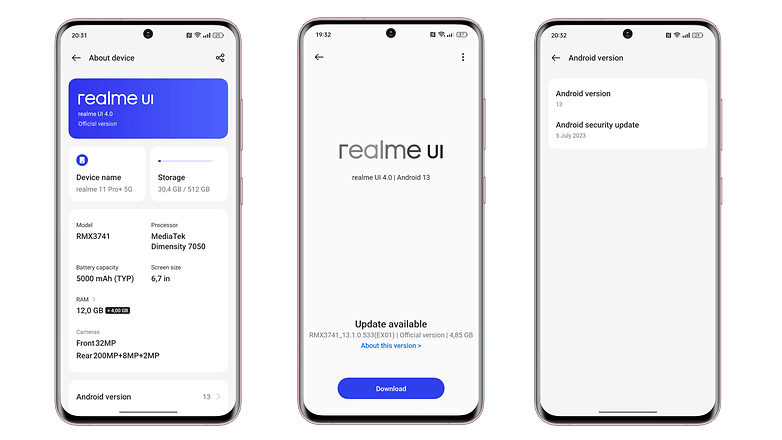 There is no question about it, Realme's update policy is anything but exemplary. The OnePlus sister company proved that long-term updates are also a purchase criterion for the consumer. With Android 15 in hand, it is certainly not a negative, but it could definitely be better.
In return, the user interface impressed us with many useful extras, such as the lateral app menu, the installation of third-party icons, many window options, and turning the display on and off via a double-tap.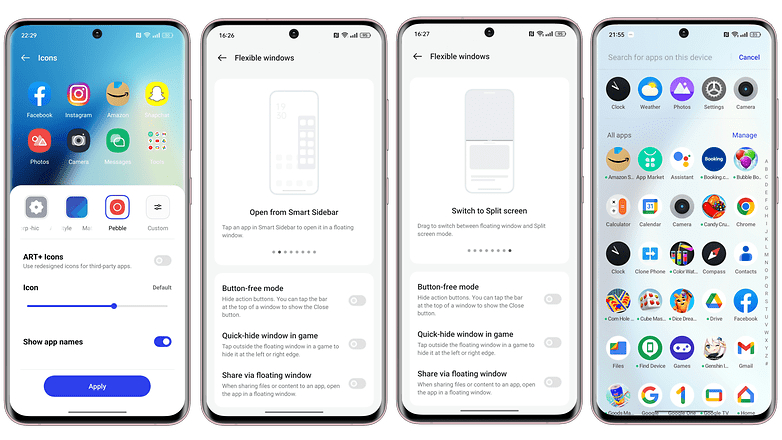 Realme also lived out the topic of bloatware in a straightforwardly ecstatic manner. They must be proud to have 94 pre-installed apps in there, apparently as part of the effort to subsidize the purchase price for the consumer. Thankfully, all the bloatware can be uninstalled. This makes it bearable, even though it is unattractive.
Performance
The Realme 11 Pro and Pro+ are equipped with a Dimensity 7050 SoC from MediaTek, which was manufactured using the 6 nm process. The octa-core processor with the designation MT6877V has a Mali G68 MC4 GPU to accompany it, which gives it the ability to play graphically complex games smoothly.
---
Pros:
Processor is completely adequate.
No unusual heat development.
Cons:
---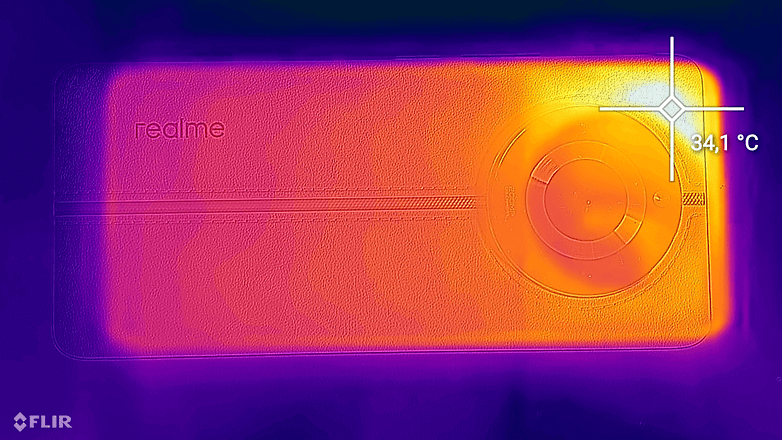 While the six Cortex-A55 cores with a maximum clock rate of 2 GHz are responsible for the energy-efficient performance, there is a maximum clock rate of 2.6 GHz in the performance area due to two Cortex-A78 cores. Realme has managed the cooling of the MediaTek SoC very well despite the rather thin build. We also did not notice any software intervention that would lead to throttling the performance.
The chipset of the Realme 11 Pro Plus also impressed in the Geekbench 5 and 3DMark benchmark tests. However, we have to admit that we only compared the processor among the other mid-range devices. Thus, the Dimensity 7050 is by no means a flagship processor.
Realme 11 Pro+
Motorola Razr 40
Nothing Phone (1)
Samsung Galaxy A53
Google Pixel 7
MediaTek Dimensity 7050
Snapdragon 7 Gen 1
Snapdragon 778G+
Exynos 1280
Tensor G2
3D Mark Wild Life
2293
2042
2809
2,319
6,656
3D Mark Wild Life Stress Test
Best Loop: 2,301
Worst Loop: 2,291
Best Loop: 2,078
Worst Loop: 2,038
Best Loop: 2,832
Worst Loop: 2,816
Best Loop: 2,324
Worst Loop: 2,312
Best Loop: 6,651
Worst Loop: 4,902
Geekbench 5
Single: 837
Multiple: 2,360
Single: 793
Multiple: 2,807
Single: 796
Multiple: 2,889
Single: 958
Multiple: 2,014
Single: 1454
Multiple: 3,794
In terms of storage, the Oppo subsidiary offers 8/128 GB, 8/256 GB, or 12/512 GB configurations, depending on the region. The Chinese manufacturer does not provide for optional expansion via a microSD memory card. However, the large version in particular should be more than adequate for everyday use without running into space issues.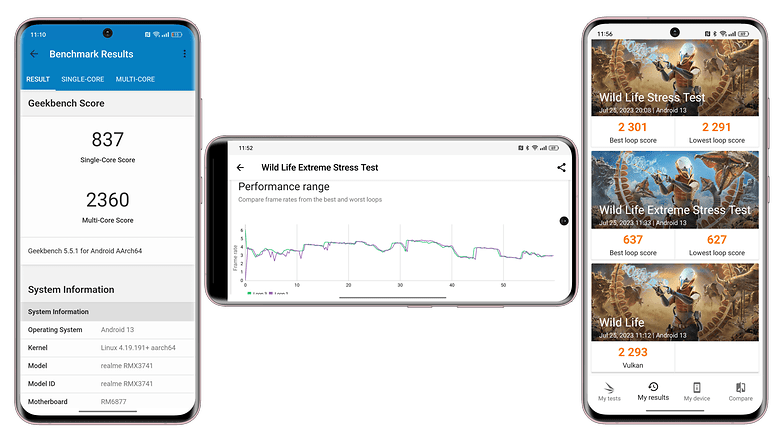 Camera
With its very large and circular camera array, the triple camera configuration looks very high-end from a purely visual point of view. At least the 200 MP main camera with its ISOCELL HP3 image sensor from Samsung also fulfilled this impression. The 8 MP ultra wide-angle and 2 MP macro camera are pretty much pointless at this rate.
---
Pros:
Very good main camera.
Daytime shots are as good as ever.
Night shots are okay.
Cons:
Ultra wide-angle camera at only 8 MP resolution.
Pointless macro camera.
---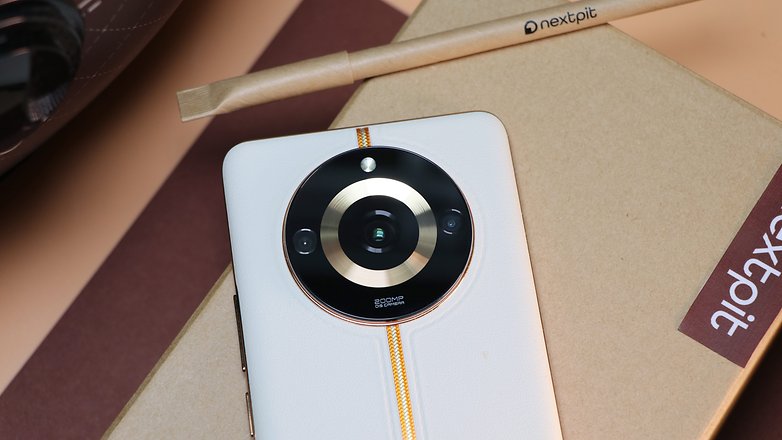 It was foreseeable based on the facts that the photo results of the 200 MP ISOCELL HP3 image sensor will be impressive. You get outstanding, sharp daytime shots, which, however, rarely fail in our reviews in general. The 200 MP Samsung sensor creates its images in pixel binning mode with 12.5 MP and an equivalent pixel size of 2.24 µm by default. Only in Hi-Res mode can the 1/1.4 inch image sensor with a pixel size of 0.56 µm create photos using the full 200 MP, or 50 MP at 1.12 µm.
Night shots also turned out quite well for us. Of course, the HP3 cannot perform miracles here—zooming into the shot revealed leaves that are rendered quite coarsely. However, I cannot really remember any test shots where I liked the night photos without any 'ifs' and 'buts'.
In contrast to the 200 MP main camera, the 8 MP ultra wide-angle camera came with a poor field of view of a mere 112 degrees, instead of the typical 120 degrees. This seemed to be a rather bizarre decision to me. As can be clearly seen in the photo of the Red City Hall, the colors are not the same as in a standard shot. In addition, the colors have been disproportionately adjusted.
In my opinion, Realme takes the cake for an exercise in pointlessness with the 2 MP macro camera. Making do without it and using a better wide-angle camera instead would have been the better choice in my opinion. Although the close-ups on the smartphone display are still pleasing, you can only do so much with 2 MP, not to mention having missing bokeh.
Last but not least, we have the 32 MP front camera, which is positioned at the top center of the display (in a punch-hole design) and captures images using a Sony IMX615 image sensor. It also comes with features that are commonly found in other Oppo and OnePlus smartphones.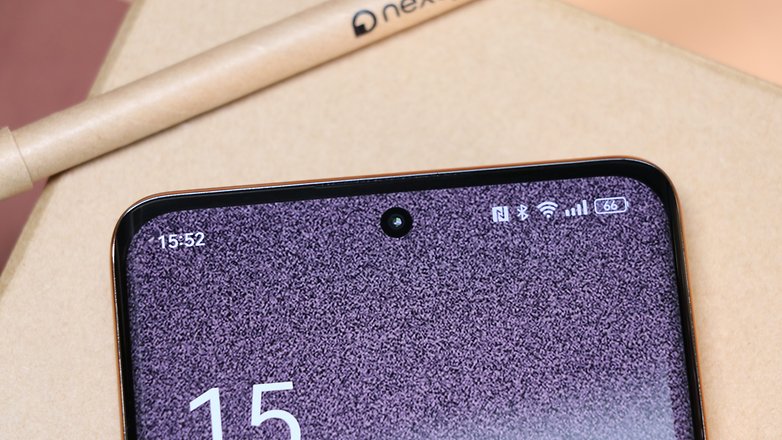 What's good to know is how the Realme 11 Pro+ can record slow-motion video at up to 960 fps. Realme also packed an extensive range of filters and modes on top of that, something other manufacturers have begun to enjoy more and more recently. A prominent note here would be the street mode, which intends to provide a special look with equivalent focal lengths of 16, 25, 46, and 92 mm.
Overall, I would rate photos taken by the Realme 11 Pro+ to be in the upper mid-range despite the disappointing presence of additional cameras. At least it was not as disappointing as in the Realme 11 Pro review.
Battery
The Realme 11 Pro+ has a 5,000 mAh battery underneath the hood. That alone is impressive considering its slim build. However, the Android device is only really fun when charging via the 100-watt SuperVOOC power adapter that is included as it takes such a short time to be fulltime.
---
Pros:
Charges in 30 minutes.
100 W charger included.
Battery life is sufficient.
Cons:
Wireless charging is not supported.
---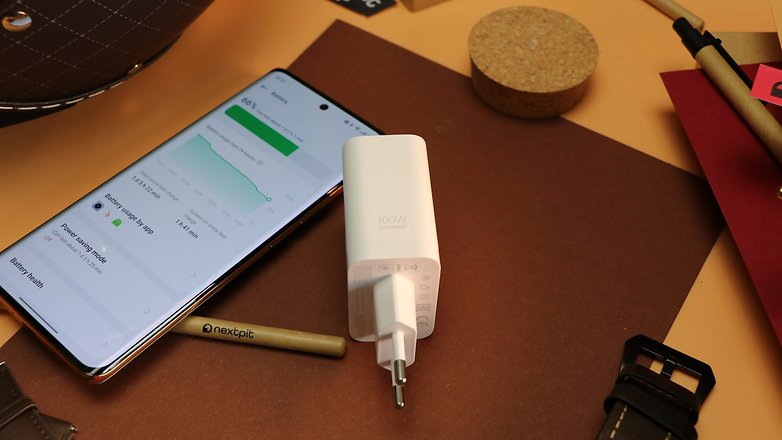 You heard me correctly! SuperVOOC is Oppo's fast charging standard, which once again can be found in other BBK Electronics devices. Even though they don't like to advertise this and even deny it, depending on whom you ask, personally, I regularly stream tears of joy from my eyes when it comes to fast charging. After just 5 minutes with the 100 W charger plugged in, the Realme 11 Pro+ regained 24 percent battery capacity from zero. At 20 minutes, it is already at 76 percent, and before half an hour has passed, the battery is already charged to 100 percent!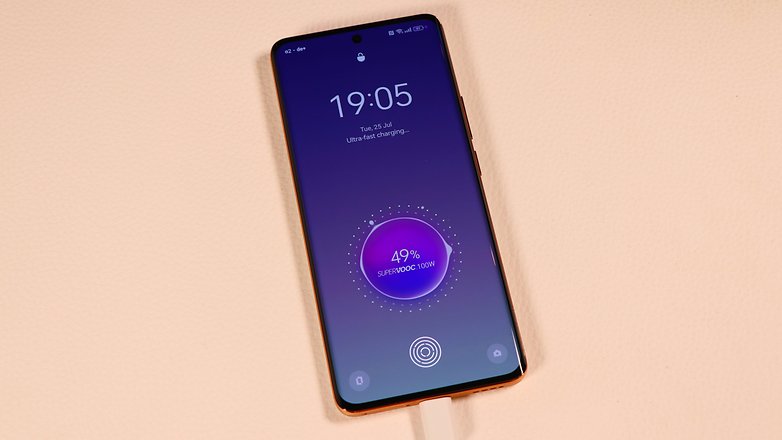 I can't provide you with wireless charging values, because the Realme smartphone simply does not supportthat. This is not a big deal, although it would have been a nice extra feature, but I do not want to dock any points for this shortcoming. If you disagree with me, feel free to write it in the comments.
And how does the 5,000 mAh battery fare, you ask? Well, the "PC Mark Work 3.0" battery test certified a full 14 hours and 17 minutes with a display brightness of 200 nits, flight mode enabled, and an automatic refresh rate of 120 Hz. If you were limit the refresh rate to 60 Hz, the battery can even last 16 hours and 30 minutes. That makes it easy enough to get by without a power outlet for two days.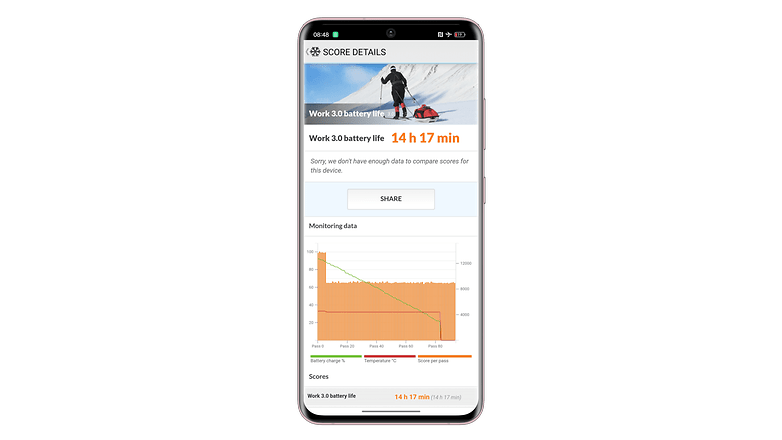 Realme 11 Pro Plus technical specifications
Technical specifications
Device
Image
Display
6.7 inch AMOLED, FHD+
2,412 × 1,080 px (394 ppi)
120 Hz refresh rate
360 Hz touch sampling rate
2,160 Hz PWM ultra high-frequency dimming
max. 800 nits | 950 nits (peak)
HDR10+
Dimensions
161.6 x 73.9 x 8.2 (8.7) mm (H x W x D)
Weight
183 g (Astral Black)
189 g (Sunrise Beige)
Colors
Astral Black, Sunrise Beige
SoC
MediaTek Dimensity 7050 (MT6877V)
6 nm process
Memory
12 GB RAM
512 GB ROM
Software
Android 13 | Realme UI 4.0
Expandable memory
None
Main Camera
200 MP | f1.69 aperture | 1/1.4 inch | 0.56 µm pixel size | OIS
Pixel binning 50 MP 1.12 µm Pixel Size
Pixel binning 12.5 MP 2.24 µm Pixel Size
Samsung ISOCELL HP3
Ultra Wide Angle Camera
8 MP | f/2.2 aperture | equivalent focal length 16 mm | 112° angle of view |
Macro camera
2 MP | f/2.4 aperture |
Selfie
32 MP | f/2.5 | equivalent focal length 22 mm | 90° viewing angle |
Sony IMX615
Video
4K at 30 fps | 1080p 30 / 60 / 120 / 480 fps | 720p 960 fps
Audio
Stereo speaker | Dolby Atmos
Battery
5,000 mAh
Charging via cable
Max. 100 W SuperVOOC
Wireless charging (Qi)
No
UWB
No
Other
USB Type C (2.0)
NFC 360, BT 5.2, Dual-SIM (5G),
WLAN 2.4, 5 and 6 GHz
Leatherette back (beige and green)
Conclusion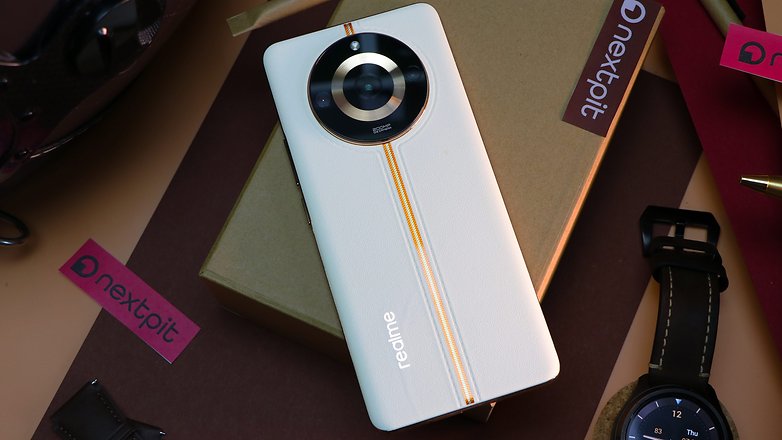 The Realme 11 Pro+, on its own, is quite an interesting Android smartphone with an outstanding configuration for $500 a pop. We include the 200 MP Samsung camera, which takes quite impressive pictures during the day and at night. In return, the rest of the triple-camera setup failed miserably.
The processor is also not on par with flagships, but it can still handle all everyday processes and even more demanding games. On the other hand, you get 12 GB of working memory and 512 GB of storage space. The 5,000 mAh battery can last for two days and can even be fully recharged within 30 minutes.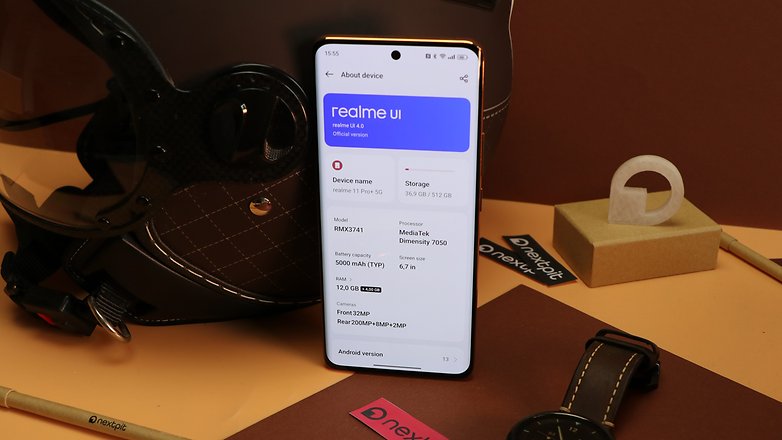 The abundant bloatware can be uninstalled but is apparently necessary to achieve the modest price of $500. The same applies to the rather mediocre update policy and the lack of IP certification. In the end, the Realme 11 Pro+ with its outstanding display is a good deal if you can live with the shortcomings.