Realme 10 hands-on: Chic design with its flaws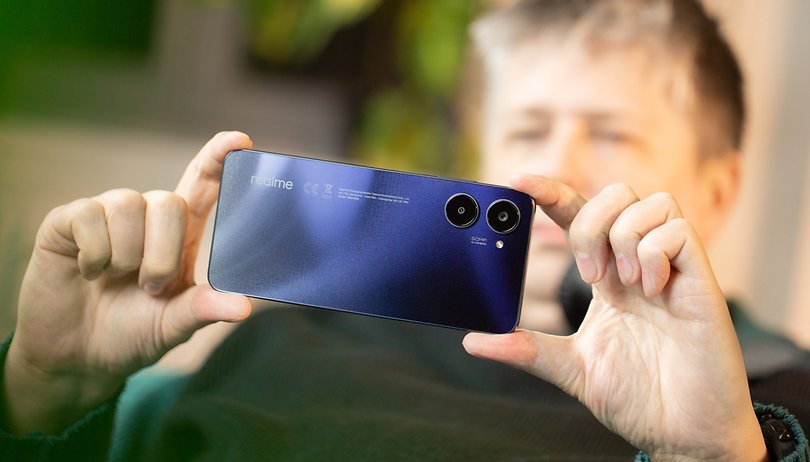 The Realme 10 is the latest member of Realme's popular and affordable mid-range smartphones, although some might even lump it under the entry-level segment. The asking price of around $279 (it remains unavailable Stateside), you get an Android smartphone that tends to reside in the lower mid-range segment. We took a closer look at what was offered at that price in our first hands-on.
Good
Great and convincing design

More to come in the review!
Bad
Sound quality is a joke

More to come in the review!
The Realme 10 in a nutshell
The Realme 10 was unveiled on November 11, making it close to one month now with a recommended retail price of €279 (around $279) for the 8/128 GB model. Available colors for the Realme 10 were Clash White and Rush Black, giving you not much to choose from between the two. Those living in the U.S. do seem to have to rely on grey imports once again, as the European launch itself felt botched somewhat with a postponed launch date to fall somewhere in the first quarter of 2023.
Perhaps all the uncertainty surrounding the Realme 10's release in Europe could be blamed on the current Covid situation in China, where only two countries in Europe (Italy and Poland) have been allowed to sell the Realme 10 since November 9. We look forward to see wider availability of this handset in time to come.
Realme 10 design and build quality
The Realme 10 immediately appeals with its particularly flat design. I know the comparison is lame, but the angular frame inevitably reminds me of an iPhone. And what can I say? I am usually not a fan of the products from Cupertino, but I do happen to like their design. Tipping the scales at 178 grams and measuring 159.9 x 73.3 x 7.95 millimeters, it fit in my hand perfectly while offering very good build quality.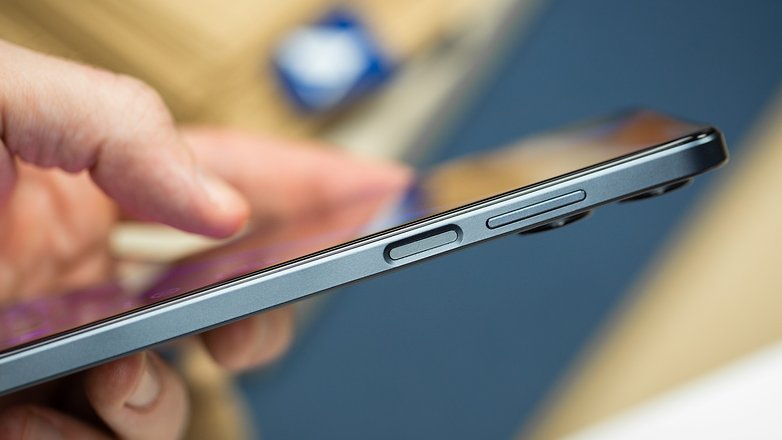 There are two buttons on the right: one for the volume and a power/standby button. While the elongated button protrudes minimally from the case, the second button is almost flat and aligned with the frame. Since the fingerprint sensor is also located in this button, it is not always easy to find it with the left hand. However, I think that is more my handicap than a design flaw. If you hold the Realme 10 in your right hand, the thumb fits here perfectly.
The left side holds a SIM tray that caters for two nano-SIMs, plus a microSD memory card. At the bottom, there is a speaker and microphone opening, a USB Type-C port, and to my surprise, an analog audio jack. The back also sports a small highlight. I do not mean the two cameras that are far too large and placed on top of each other on the left, but rather, the color. We received the Rush Black model, which showed a tiny color gradient from black to gray in a metal look, depending on the angle of the light. Unfortunately, fingerprints continue to remain visible on the back.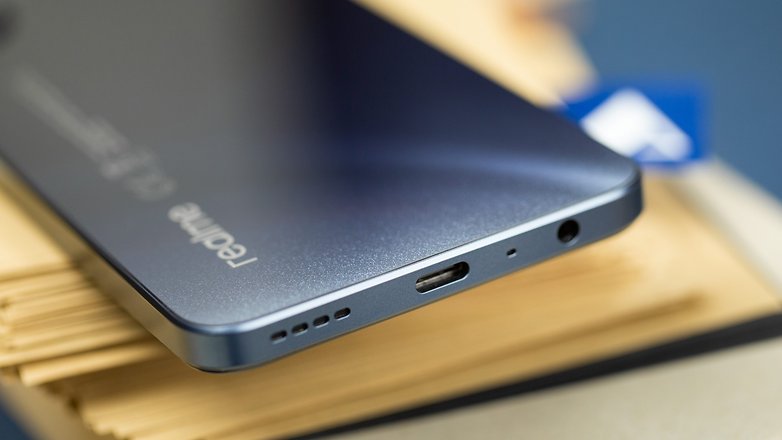 Realme 10 display
The Realme 10 features a 6.4-inch AMOLED display that offers a 2400 x 1080 pixels resolution at a maximum refresh rate of 90 hertz. The peak brightness specified by Realme was 1,000 nits. Our measuring device shows a maximum of 578 nits when we were indoors.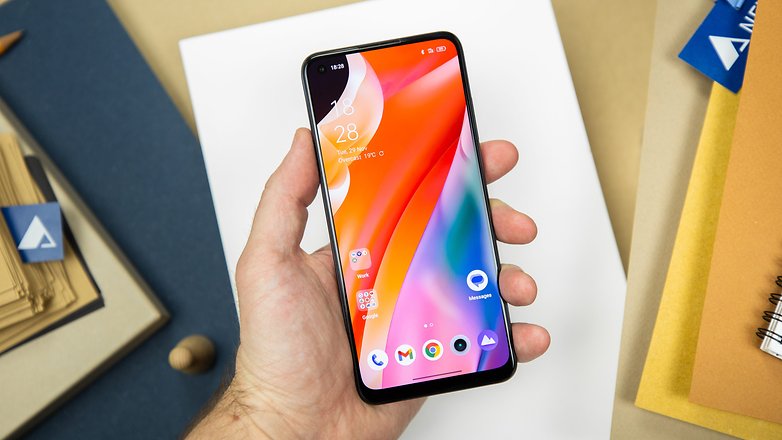 The viewing angle stability, contrast, and color dynamics are pleasing and can also be adjusted to individual preferences if desired. Speaking of settings: There are three options for the refresh rate. With "Auto Select", the artificial intelligence decides for itself just how many frames are best for the current application. Under "Standard", you get a standard 60 hertz refresh rate, and when you select "High", you can enjoy the maximum 90 hertz refresh rate which works great to deliver buttery smooth animation when scrolling.
The difference between 60 and 90 hertz is already obvious when scrolling text. My recommendation would be to let the smartphone decide for itself, as it always gave me a satisfactory result regardless of the situation.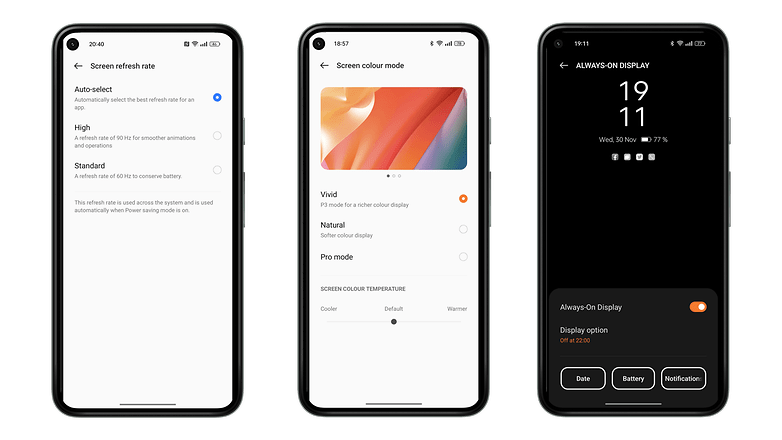 An Always-on Display is also available for the Realme 10, though not with different designs, but with interval switching instead. Furthermore, the user can choose whether to view the date, battery capacity, and notifications.
Realme 10 software
The Realme 10 arrived at the NextPit editorial office with Android 12 in tow alongside the custom Realme UI 3.0 skin. The Google security patch was dated September 5, 2022, and today is already December 2, which points to a sorely needed update.
Realme promises an update guarantee for two years of system updates and three years of security updates. That is simply average, but was not unexpected either, for a lower mid-range smartphone.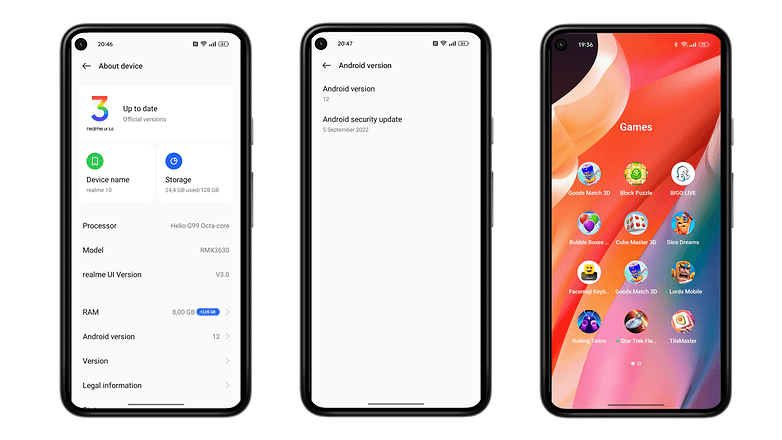 A smartphone with an asking price of €279 still has to subsidize itself even in 2022. What is the easiest way to do that? The answer is obvious - through applications like the Amazon Store, Booking.com, Joom, LinkedIn, and TikTok. It isn't all work though, as Realme did not skimp on games either, preloading more than ten for you. Unfortunately, I have never heard of any of them before.
Fret not, everything can be uninstalled but it is still annoying, especially when you only have 128 GB of storage space to begin with. However, there's something else that got my goat...
Realme 10 performance
Yup, you heard me right: The Realme 10 comes with "only" 8 GB of LPDDR4X RAM and 128 GB of internal UFS 2.2 program storage , but this can be expanded further via a microSD card. You can use a 1 TB microSD card, which I would like to recommend to you right now with the 1 TB SanDisk Ultra microSDXC for $116.
Realme advertised this handset to feature 16 GB of working memory, which is of course a marketing gimmick that should not be taken seriously. The additional 8 GB will be "virtually" deducted from the NAND memory, or stored as a swap file.
A MediaTek Helio G99 is installed as the main SoC. The processor relies on a 6nm manufacturing process, sports eight cores. Two of them are 2.2 GHz A76 performance cores and six 2.0 GHz A55 energy-saving cores. Graphics support is provided by an ARM G57 GPU.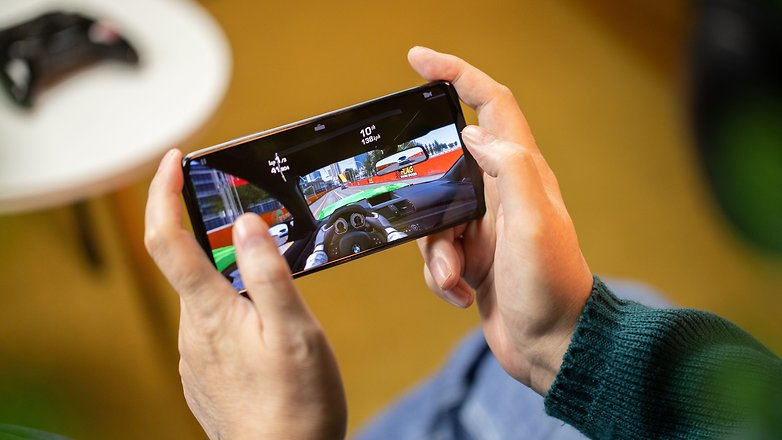 Even in demanding games like "Real Racing 3" there are no frame drops and just a little bit of heat development. This naturally made me curious, so despite this being a hands-on story, I already ran a Geekbench 5 benchmark test before the detailed review. The result stood at 585 points in the single score and 1,748 points in the multi-score. Okay - that brings me back down to earth. But those who do not care about numbers will get along well with the MT8781 in everyday use.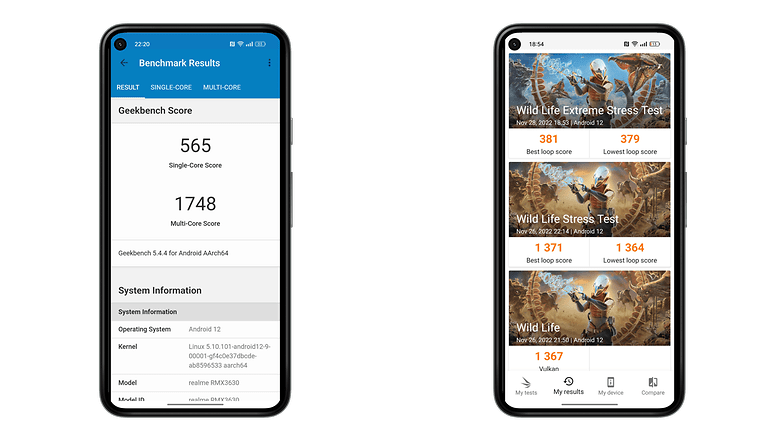 Realme 10 audio
The Realme 10 comes with only a mono speaker - but the Oppo subsidiary advertised it as a "200% UltraBoom" speaker. What exactly does the company mean by that? I wanted to know that, too: You can practically increase the maximum volume to 200%!
Do not be fooled though, to have the volume increased by another 100 percent is, of course, total nonsense. Only the trebles get louder, which doesn't even sound particularly good to me. In my opinion, this is a total marketing gimmick and unnecessary. Generally, the sound quality does not win any plus points, as it is average at best.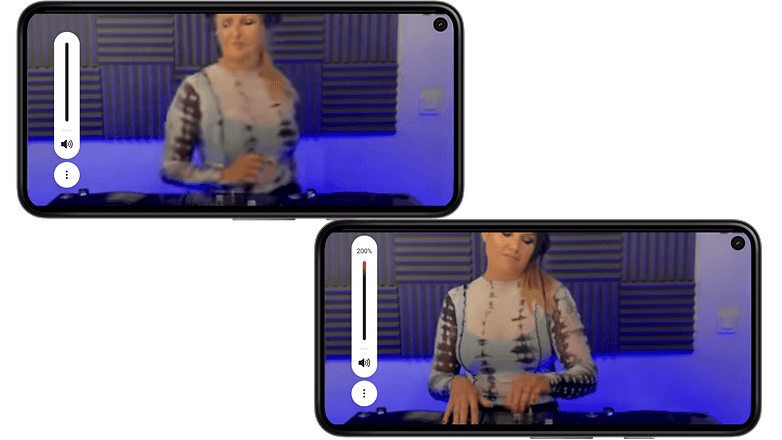 On the other hand, the analog jack on the bottom looks different with the presence of a 3.5mm audio jack. There are still people who will decide on their next smartphone purchase based on this hardware feature. So if you don't want a Sony smartphone, the Realme 10 might be an alternative candidate.
Realme 10 camera
Let's look at the cameras of the Realme 10: a 16 MP front-facing camera at the top left of the display (punch hole) and a vertically positioned dual camera at the back. That's right - there is no triple camera like in its predecessor, the Realme 9, but "only" two sensors . Well, some will now breathe a sigh of relief and say: Gone are the useless 2 MP cameras, but next to the 50 MP main camera, the second sensor is such a sensor.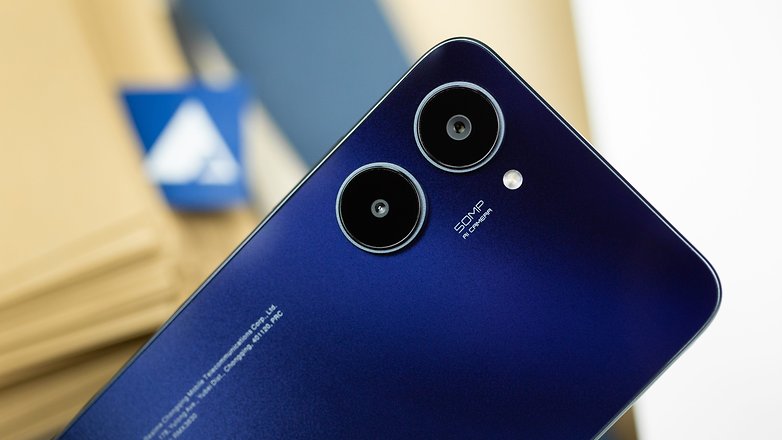 The secondary camera is a 2 MP portrait depth camera that is usually responsible for the "blur" effect, making this somewhat more tolerable than a macro lens, which is probably better realized using any 13 MP wide-angle camera.
The 50 MP main camera is equipped with an ISOCELL JN1 image sensor from Samsung. This is also found in the Xiaomi 12 Pro, for example, but not as the primary shooter, but as an ultra-wide angle camera. The Motorola Edge 30 Ultra that we reviewed also relied on the JN1 for the wide-angle lens. By default, photos are taken at 12.5 megapixels, i.e. having 4:1 pixel binning in action. However, 50 MP photos can also be digitally taken, and this also applies to night shots as the picture gallery proves. Interestingly, the focus actually didn't really know what it should "focus" on: which should not be that bad, right?
At first glance, this also sounds like a step backward compared to the 108 MP camera in its predecessor. However, the initial results are quite encouraging. Of course, you will also get a few comparison photos of the Realme 9 in the detailed review, but both day and night pictures are quite impressive for a smartphone that costs less than €300.
I found the camera mode known as "Street Photography 2.0" quite interesting, but I will only get to that in the detailed review. This much is already known: The equivalent focal lengths of 24 and 50 millimeters play a role.
Realme 10 battery
This is actually the most exciting part of our little hands-on of the Relame 10, which can definitely be labeled as affordable: the battery. The technical specifications listed a total capacity of 5,000 mAh. That is almost unattainable for some flagship smartphones, but it is quite normal in the mid-range segment.
Due to the short test phase in our hands-on, I cannot yet say much about the typical runtime with only one battery charge. I already installed a few apps, but typical energy guzzlers like Gmail, WhatsApp, Slack, and Plume are still missing. Thus, a "PC Mark Work 3.0" battery test was needed at first, which spat a somewhat decent rate. And that proved to be surprising: With the brightness set to 200 nits, flight mode enabled, and an automatic refresh rate, the battery lasted for 17 hours and 6 minutes until it only had 20 percent.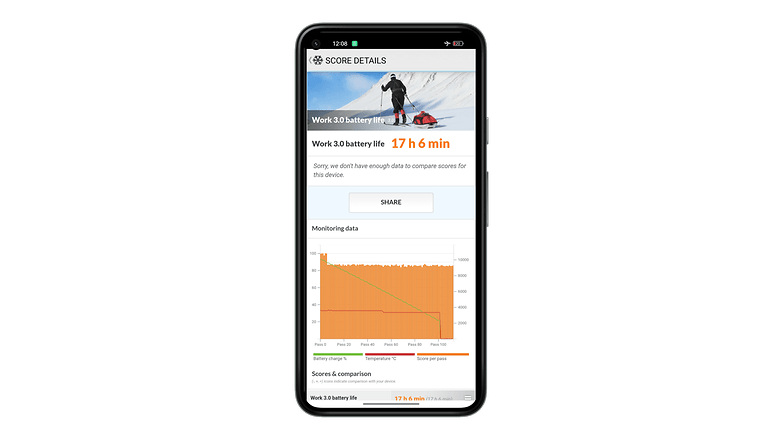 Charging was rather mediocre despite the 33-watt SuperVooc power supply (Voltage Open Loop Multi-step Constant-Current Charging). The first five minutes gave just 7 percent out of the expected 100 percent. After half an hour, the battery was only half full, and since the charging performance decreased a bit towards the end, it took 74 minutes to hit 100 percent. The bottom line is, this is faster than some other smartphones with a 30-watt power supply, but once you have had a taste of a 120-watt charger, you will not get rid of the HyperCharge that quickly.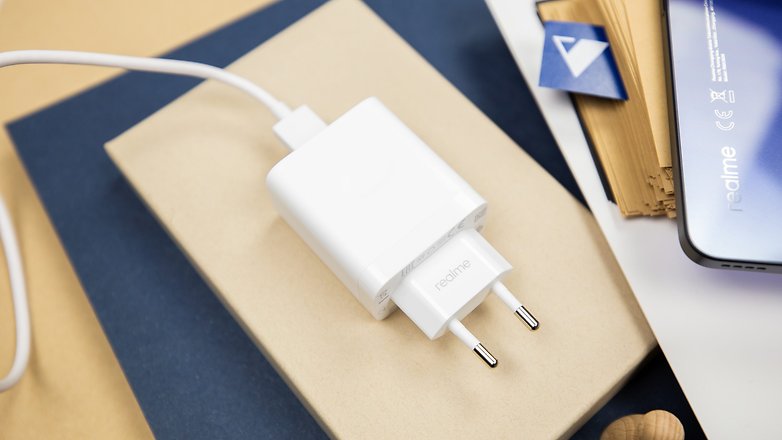 Realme 10 technical specifications
Technical data
Device
Image

Screen
6.4-inch AMOLED, 2,400 x 1,080 pixel resolution (FHD+),
90 hertz refresh rate, Corning Gorilla Glass 5
Dimensions
159.9 x 73.3 x 5.95 mm (H x W x D)
Weight
179 g (incl. battery)
SoC
MediaTek Helio G99 (MT8781)
Memory
(in Germany)
8 GB LPDDR4X RAM (+8 GB virtual)
128 GB UFS 2.2 ROM
Software
Android 12 | Realme UI 3.0
Expandable memory
up to 1 TB
Main camera
50 MP | f1.8 aperture | 1/2.76 inch image sensor | 0.64 µm pixel size | PDAF
Portrait camera
2 MP | f/2.2 aperture | depth camera
Selfie
16 MP | f/2.45 | 27 mm equivalent focal length
Video
1080p | 60 fpd
Audio
Mono speaker with 200% UltraBoom
3.5 mm jack
Battery
5,000 mAh
Charging by cable
33 W SuperVOOC
Wireless charging (Qi)
No
UWB
No
Early Verdict
The Realme 10 does not have it easy despite its apparently affordable price of around $279. The competition is fierce, as you have the Redmi Note 11 Pro which also appeared a few times in the our Cyber Monday week deals, should be mentioned here. The Samsung Galaxy A53 also falls into this category, but it is much more expensive.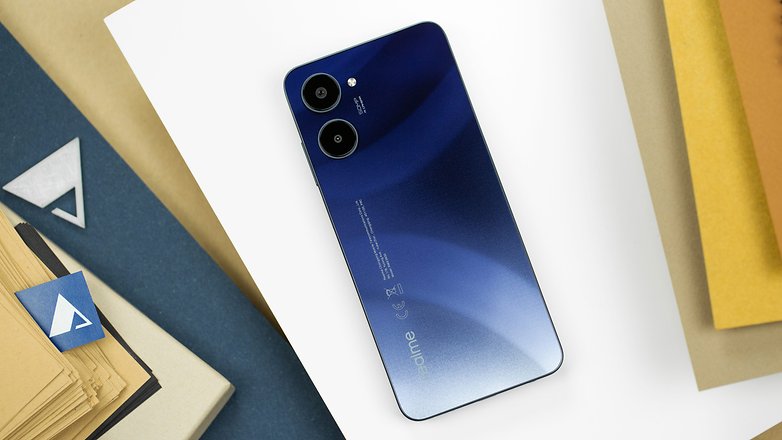 What I brazenly withheld from you in this hands-on is the fact that the Helio G99 does not support 5G at all. In view of the fact that a Realme 10 5G was presented on the same day in the home country, this is somewhat incomprehensible. Since our 5G is only 4G in large parts from the transmission tower onwards anyway, it is not a major sore point with us.
The Realme 10 feels good in the hand, not the least because of the slim and light casing. The 5,000 mAh battery delivers sensationally. The display and its features are convincing in view of the price. The camera also proved to be convincing so far, although some will have a screaming fit in view of the 2 MP depth camera. Even the performance is reasonable enough. In this respect, it would be a recommendation from us if the smartphone was also available in the United States.