Poll of the week: Is it time smartphones stop getting bigger?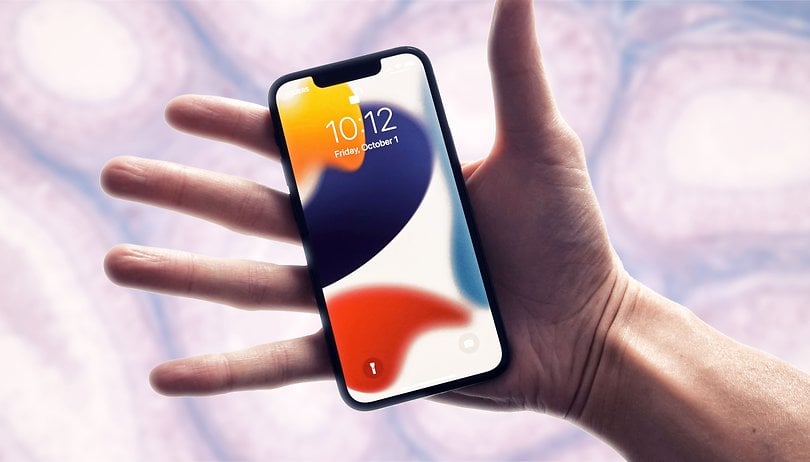 Future smartphones may be smaller, and not just because companies have trouble finding components to fill them up, but because people appreciate smaller form factors. This point was vividly represented in our weekly poll, with the majority of you wishing for an ideal size of 5.5 to 6 inches! But let us take a more careful look at the numbers and try to discern what they mean for the future of smartphone sizes.
If you are catching up on this topic, let me get you up to speed. In 2021 there has been a series of devices being announced with smaller form factors. Devices like the Xiaomi 12, Galaxy S21 FE, and the Asus ZenFone 8, among others, feature smaller bodies and display sizes.
And this trend may continue throughout 2022 since users seem to want form factors of 5.5-6 inches (screen size) that can comfortably fit in a pocket. But 2022 is a crossroad; the dawn of foldable devices brings compact bodies that do not come at the expense of screen size. The flexible solutions may not constitute the cut that will once and for all solve the Gordian knot yet - they are still too expensive and unwieldy, but the trend is here to stay.
Compact devices are back, and we love them!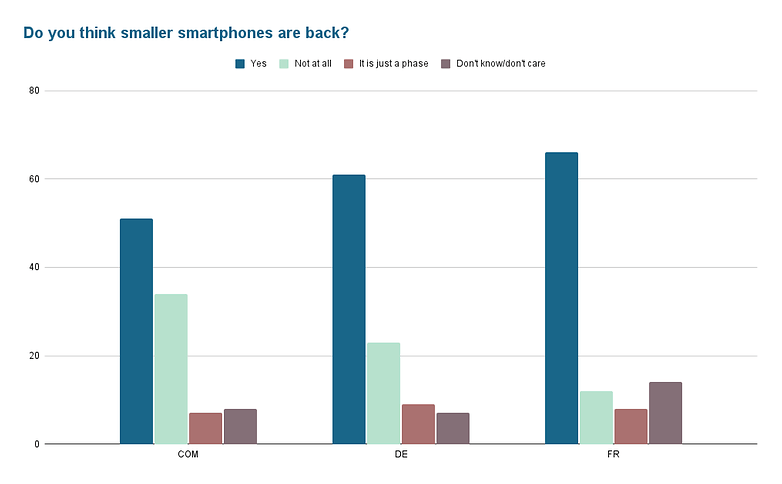 In the question asking if you believe that smaller smartphones are back, we had a uniform and clear yes across all domains. In the international COM domain, 51% of you believe that smaller smartphones are here to stay now. This sentiment was even more magnified in Germany and France, 61% and 66%, respectively.
This somewhat surprised me. I believe that it is just a phase and that companies will return to flirting with tablet-sized devices soon. Conclusions like mine seem to be drawn if you look at how companies treat their larger devices with stronger cameras, better displays and other premium features.
People prefer smaller devices, but companies treat larger devices with better features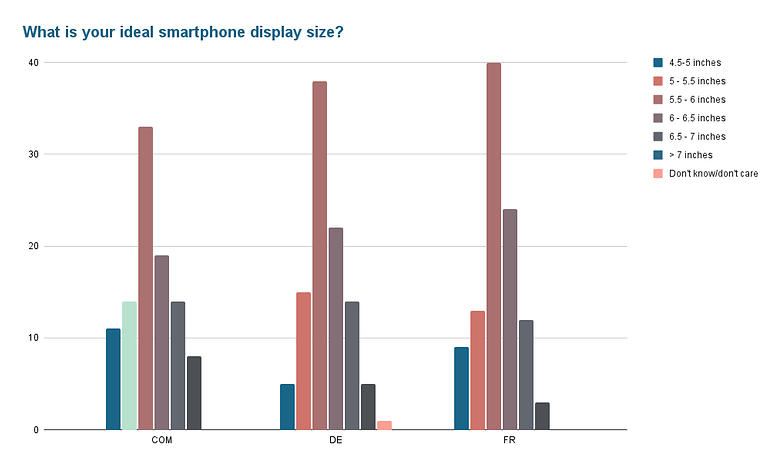 Most companies are very conscious about the screen sizes they choose to use. Our community too: 33% in COM, 38% in Germany, and 40% in France find that 5.5-6 inches are the perfect size for smartphone screens. If we take the 6 inches as an average, it becomes evident that people appreciate smaller sizes.
In our international domain, 11% want 4.5 to 5 inches and 14% 5 to 5.5 inches phones. On the larger display side, 19% would like an average of 6 - 6.5 inches, while 14% and 8% would desire a screen larger than 6.5 inches. The results are similar, with minor differentiation in the other domains, showing a clear preference towards the average to small screen sizes.
I have trouble calling 6 inches compact. Things like that are proportionate to hand sizes, and anything above 5.5 inches feels unwieldy to me. This is a sacrifice I am willing to make on the altar of content consumption and gaming.
The results also demonstrate a slight change in the trend since our last poll from 2019. Back then, around 27% of readers wanted a 6-6.5 inches screen, a 10% difference from today's numbers.
But apparently, what pushes people to larger devices is often the better specs that come with them. As Olaf Gutrun, from our German Community, pointed out in the comments:
I would have gotten a small s21 too if it had the Ultra cam, 120hz qhd+, and a glass back. Unfortunately, it is currently the other way around at Samsung that the small s devices are always slimmed down.
Foldable smartphones are not the solution consumers want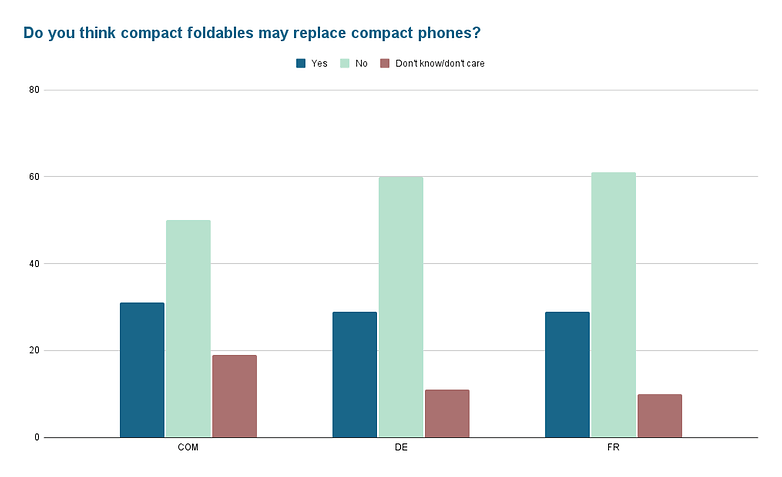 When it comes to foldable phones, people like Pirlo01 from the French Communit agree that this category of devices has the opportunity in the future to break the direct relationship between body and screen size, as expressed below:
Yes, the future will be foldable smartphones when the prices are more competitive and the smartphones more solid, but it's very close. In South Korea, the Samsung Z flip 3 has been a hit, and I think this trend will soon be global.
But as demonstrated by the answers, this remains in the realm of fantasy for now. Readers across all domains (49% in COM, 60% in DE, and 61% in FR) agree that foldable smartphones do not substitute a replacement for compact form factors. It is not just the ability of the device to be compact when you store it, but also when you use it.
I think Tim from the German Community expresses it best:
When closed, they are useless and only then are they 'compact.' In usable form, they are even bulkier and longer than the largest smartphones today...
It makes clear sense to me now: if people are satisfied with a screen size of up to 6 inches, then there is no need for an unwieldier replacement that also features a higher price tag, crevices, and weird aspect ratios. It simply comes down to overall all-around practicality and not just features.
Thank you all for taking part in our survey! What do you think of the results? Let me know in the comments!
---
Original text
Some of the biggest smartphone announcements recently showed a curious thing in common, they were either smaller than the previous version, or smaller than their main rivals. Are compact smartphones coming back? Have you joined the big phone crowd or do you miss smaller models? Join us in our latest poll of the week!
Although some brands never stopped releasing compact models — like Sony and their Xperia 5 range — the overall trend in the smartphone market was to increase screen sizes, with some models with screens close to 7 inches big.
Trend or coincidence?
2021 saw some outliers like the Asus ZenFone 8 with a compact 5.9'' AMOLED screen and small bezels in a 148 x 68.5 x 8.9 mm body. Later in the year, Oppo announced its first foldable, the Find N, with flagship specs, but reasonably smaller than other "passport" foldables like the Galaxy Z Fold 3, Huawei Mate X, or the Xiaomi Mi Fold.
As 2022 arrived, Xiaomi unveiled its new 12 flagship, with the Xiaomi 12 bringing a screen reasonably smaller than the Xiaomi Mi 11 — 6.28-inches versus 6.81'' — the shrinking ray also affected the Pro model, which went slightly down from 6.81'' to 6.73''.
Not to be left behind, Samsung announced one of the first big releases in 2022, with the Galaxy S21 FE using a screen just a tiny bit smaller (0.1'', but still...) than the S20 FE in a body almost 9% more compact in volume.
This leads us to ask:
In these past years, one of the key advancements to keep increasing screens were ever more compact bezels. But with almost nothing else to cut away, as well as an increasing number of people preferring flat screens over curved ones, we seem to be reaching the strategy limits.
The result is smartphones not going beyond the "7-inch barrier", outside some niche models. This status quo makes it a good time to revive an old poll and ask you whether do you have any particular preference regarding screen sizes.
What about small foldables?
Finally, another trend that may catch regarding compact smartphones are the foldable models. After the positive review for the Samsung Galaxy Z Flip 3, and the European launch for the Huawei P50 Pocket rumored for the next few days, there is always the expectation regarding a new Moto Razr phone.
That is it for this week. Thanks in advance to everyone who votes on the poll and also share their views in the comments. Also, feel free to discuss other topics that impact screen size. Next Monday we will analyze the answers with an update to this page, see ya!