Poll of the week: What are you listening to?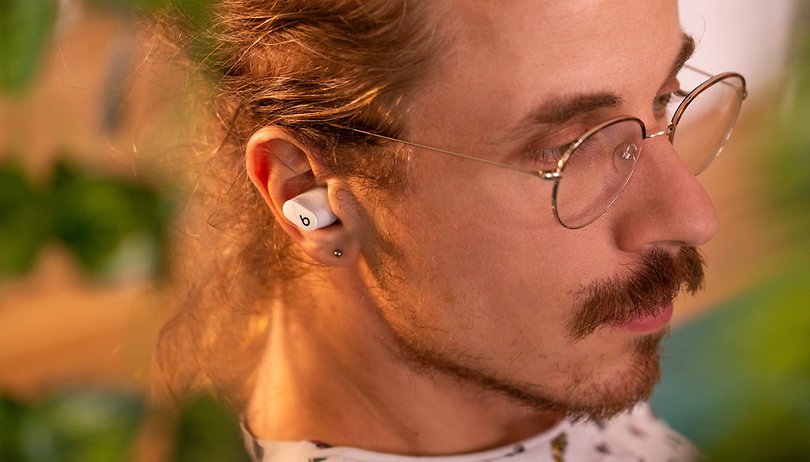 We asked our community about their content preferences for entertainment while commuting from home to work or school. Unsurprisingly, most of you choose music as your companion. However, podcasts, YouTube and audiobooks are climbing!
Below, you can see the results of our poll of the week on NextPit's four main domains.
Music non-stop!
In the international domain, which includes English speakers from the USA, India and England, as well as other communities, music is the preference for 84% of the people who voted in the poll. Then, podcasts come in second with 22% and, a tie between radio and YouTube with 12% each.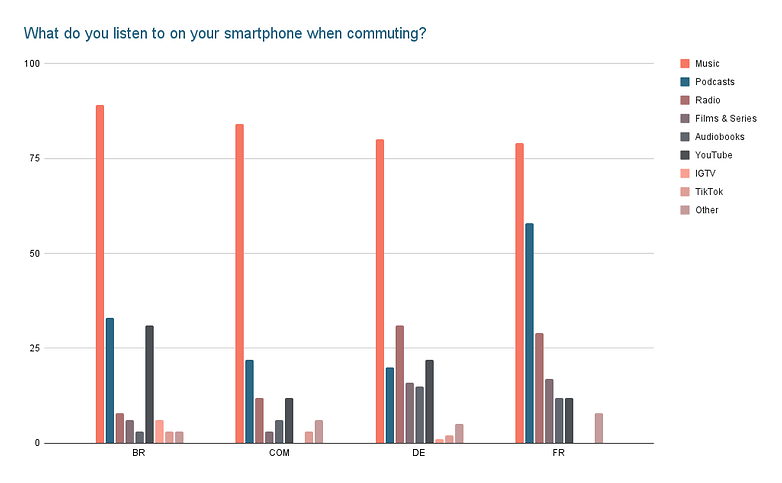 For 89% of the people who participated in our survey in Brazil, music is the ideal company for the commute from home to work. The consumption of podcasts came in second, followed closely by YouTube, which appear with 33% and 31%, respectively, which shows that information and entertainment are also important options for our audience in the country.
What is striking is that radio appears with only 8% of the votes, and services such as IGTV and TikTok are not among the platforms used by our Brazilian community.
I listen to music whenever possible. There is no better company on public transport. [...] I used to use PowerAmp a lot that I consider until today the best offline music player because of the equalizer. As they launched a separate app to use in other players, including streaming services, I adopted YouTube Music since it combines my music, those offered on the platform and even videos.

Soterio Salles, NextPit Brazil
Among all the NextPit domains, the community that proved to be most attached to radio was the German one. For 31% of the people, radio continues to be a good option for content consumption. Music came in first place, with 80% of the votes, and YouTube came third, with 22%.
In addition, 20% said they consume podcasts, while 16% use movies and series for entertainment during their commute to work or school, and 15% opt for audiobooks - the highest average among the NextPit domains.
Do you really want my comment? Well, I like listening to music. But completely different, than "normal" people. Classical, Middle Ages, melodies, from foreign countries, preferably with Chinese instruments, for example. Podcast? Go away! I want to read, not listen, I sleep. Radio? Usually not, because people talk about things that don't interest me. And what they call "music" there is worse than chilblains. Exceptions are made for web radio, for example, old hits from the 50s and 60s, wind instruments, Latin American rhythms, REAL folk music and melodies. Movies and series: yes, but not much. Documentaries and science reports gladly. Audiobooks? Not yet. I have to read those, so the plot happens in my head. Otherwise I end up sleeping while listening to it. Youtube? Very rare. IGTV? Can you get rid of it with penicillin? I don't know. TikTok? That's the game with the little plastic ball... oh no, never mind, I won't try everything.

Lapidarius, NextPit Germany
The French community, on the other hand, stood out for its interest in podcasts, which appear as the preference for 58% of the participants. Music comes in first, with 79% of the votes and, in third, we have the good traditional radio, with 29%.
It is also worth mentioning here the interest in YouTube (21%), movies and series (17%) and audiobooks (12%).
My job is, among other things, to travel by car and I consume the radio without moderation, 5h/5 6 days a week.
It is the most practical and least dangerous way to "consume content", in fact, in the evening is mainly devoted to networks on the radio stations of the Radio-France group.


Louis Hory, NextPit France
Conclusion
Whether through radio or streaming, music is the best entertainment option according to our community. However, platforms such as podcasts and streaming video already appear as relevant options for consumption, and they have become more popular in recent years.
The fact that we have significant radio consumption among our audience, often indicated in the comments as an option for those who use the car as a means of transportation, shows that people still prefer to use a service that uses the radio antenna instead of cellular data.
What is striking is that tools like TikTok, which recently reached the number of 1 billion installations, are not among our audience's favorite platforms to pass the time. Apparently, you guys really like the traditional stuff.
As always, thank you to everyone who participated in our survey this week! It's always great to see the differences and similarities between the preferences of people around the world. See you again in Friday, when a new poll will be published by my colleague Benjamin Lucks!
Original article
From my first walkman to my smartphone, going from one point in the city to another has always involved music. However, things have changed a bit in the last few years. Podcast episodes and audiobooks now duel for my attention when I'm on the road.
This week, we want to know what kind of content you're consuming on your way to work or school.
First of all, I need to confess that in writing this week's survey, I was once again confronted with the reality of living in a bubble. That's because after many years of consuming music via streaming and subscribing to a number of Podcasts, when researching the revenue in the Music, Radio and Podcast segment, I discovered that the biggest segment is still traditional radio, with a market volume of $35.5 million in 2021 (Statista).
Although, this is not surprising given that in many regions this is still a free media consumption option.
However, few mobile phone models still offer a built-in radio antenna - which was quite common five years ago. Today, apps like TuneIn (Android; iOS) are FM radio, but they often require Internet access to work.
Plus, we have a lot more choice than we did in 1994, when my Sony walkman only allowed me to load my K7 tapes and switch from time to time which album I was listening. Yes, I am a Millennial with many stories to tell... I won't even comment on my beloved Casio Discman!
Today, for our attention compete a) audiobooks, b) short, creative, and hilarious videos on TikTok or Reels, c) content creators on YouTube and IGTV, d) video streaming services and, with luck, maybe we can still stick to the scenery once in a while or read a good book (ok, Kindle)!
For this reason, I'm really interested to hear from the NextPit Community what kind of content is being consumed while commuting from home to work, school or university. Whether it's by bike, scooter, bus, subway, car or using your own legs! Tell us:
As always, thank you very much for participating in our poll of the week! Remember, checking out the results of the poll is always fun, but the insights you provide via the comments section make the debate even richer. So please don't hesitate to share your opinion on the topic.
On Monday, we will share the poll results across NextPit's four main domains. Counting down the hours here. Have a great weekend!