Xiaomi vs Lithuania: Will you get rid of your Chinese smartphone?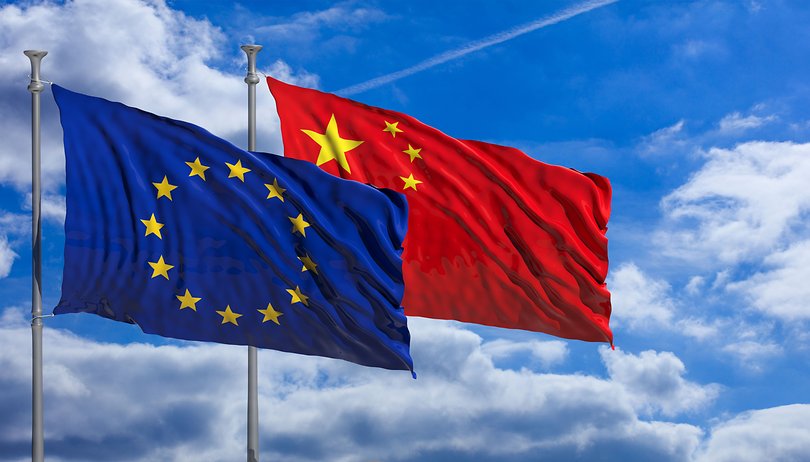 Which smartphone brands do you trust the most? Are you wary of Chinese manufacturers? Last week, we launched the first survey of our trust barometer. And we have to admit that your relationship with Chinese manufacturers is surprisingly healthy.
The Xiaomi vs. Lithuania case didn't change your relationship with the brand too much
Before submitting the generic questions that will be used for our barometer, we used the case opposing Lithuania to China and therefore Xiaomi, which has become a diplomatic buffer despite itself.
Despite the revelations of risks of censorship and leaks of personal data - which the manufacturer has denied in block - you do not plan to get rid of your smartphone Xiaomi in the future. On average, less than 10% of respondents said they intend to get rid of their current Xiaomi and never buy one again. In France, however, 14% of you responded that you want to keep your current Xiaomi but not buy another one in the future.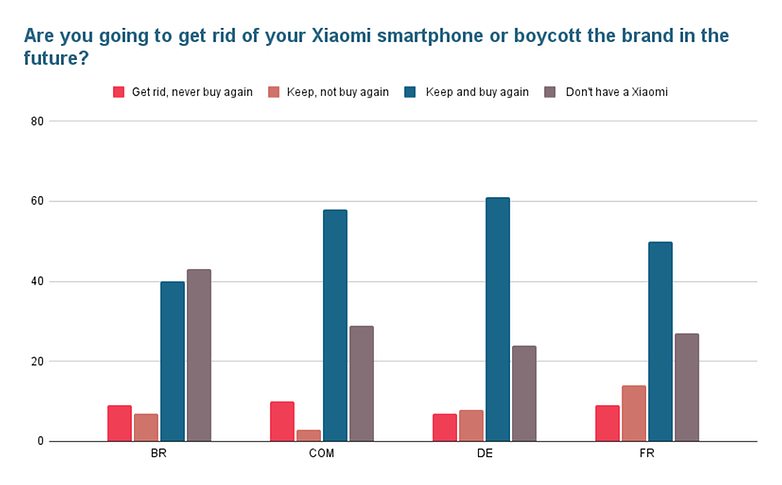 The vast majority, absolute everywhere except Brazil, agreed that they would keep their current Xiaomi and buy one in the future. A significant portion of respondents (43% in Brazil, 29% in the US&India and 24% and 27% in Germany and France) simply said they don't have a Xiaomi smartphone.
In any case, it is certain that the Lithuanian scaremongering last week did not lead to an epidermal reaction, but it is difficult in these cases for the consumer to sort the true from the false, as a French reader Ali Gator pointed out:
In recent years, we've heard a lot about suspicions of spying, technology theft, government collaboration, etc., from Huawei, Xiaomi, and virtually every Chinese brand, mostly without substantiated evidence. In return, the Chinese manufacturers cry lie and retaliate with denials, without providing any real evidence on their good faith either.

In the midst of all this, the consumer does not always know where to stand. Are these accusations true and should they be taken very seriously? Or is it a way to destabilize Chinese brands in the face of their insolent rise? Or just China in general, just to make diplomatic tensions even worse? Or maybe all of these at once? It's hard to know
Xiaomi remains a trusted brand but very, very far from Samsung
We finally come to our barometer. It is clear that in the 4 areas where NextPit is published, Xiaomi is only in the top 5 in France and Germany. This result is quite logical since the brand is much less established in Brazil and the US. However, I'm very surprised that the Indian readership of our COM site didn't bump Xiaomi up higher (although diplomatic relations between India and China are also very tense).
But all our domains, without exception, have in common that they rank Samsung as the brand readers trust the most, by far. On our COM site, the South Korean manufacturer gets 64% of the votes, compared to 60% among our Brazilian readers and 56% in France. In Germany, the votes are much closer and Samsung is certainly in the lead with 37% but closely followed by ... Xiaomi (35%).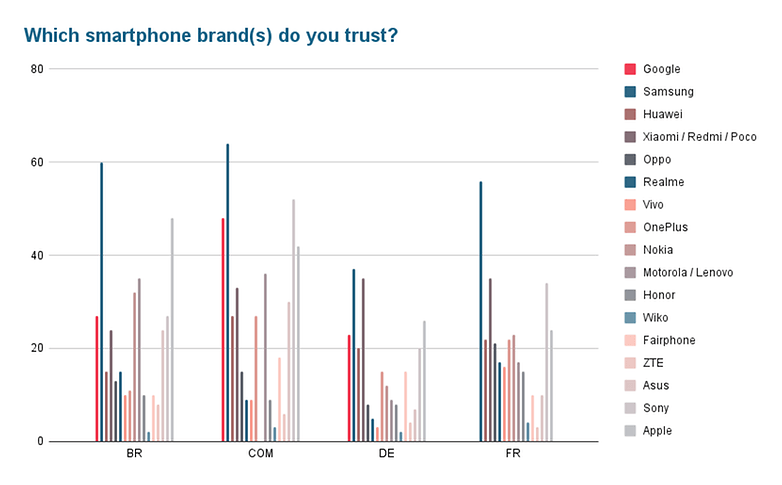 So here I fall from the sky. The comment section of NextPit.de is, in my opinion, the most hostile to Chinese products and services. I really didn't expect Xiaomi to get this score. Especially since the Chinese manufacturer is ahead of Apple (26%). Here, German readers were among the most attached to Apple, at the opposite of the French readership for example.
Let's note that Apple is still in the top 5 of trusted brands, and that Motorola/Lenovo continues to exist in North and South America, while they have been somewhat forgotten in Europe.
There are reasons why I avoid mainly Chinese brands. I use Motorola which is made in China by Lenovo. I think that when these brands are more foreign oriented, they are less likely to have Chinese state controlled software. What they might have for foreign collection is a separate issue. That's one of the reasons I like root and ROM.
You don't distrust Chinese manufacturers that much
In France and Germany, the relative majority of readers say they are not suspicious of Chinese manufacturers (45 and 50%, respectively). On our COM site, we get a perfect 50/50. Only our Brazilian readers are suspicious of Chinese smartphone manufacturers, with 53% not suspicious and 22% indifferent. Here again, my majority is quite relative, after all. A Brazilian reader, Paulo Ricardo, pointed out:
'There is no escape from the current information war. If things get worse, personalized roms are an alternative, although the material may be "contaminated". But right now, these problems are more notorious in devices for the Chinese market.
In the end, we will always be spied on, whether by China or the US.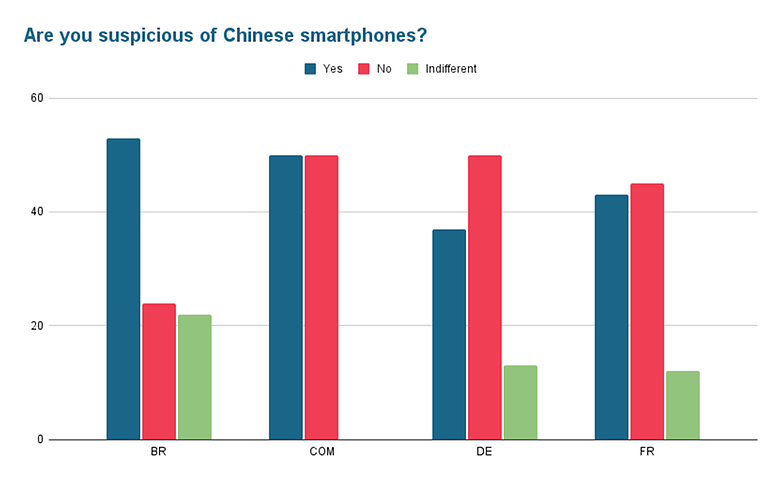 So we can say that the rate of distrust towards Xiaomi and consorts is very relative and by no means a majority in Europe. Again, I find these results surprising, especially when it comes to our German readers. But one of them, Costwalker13, pointed out a flaw in our survey and an ultimately very interesting detail:
In your surveys, the answer "I don't trust any smartphone manufacturer" is missing.

In fact, am I the only one who finds it very striking that they wanted to destroy Huawei first and now that Xaomi has practically taken Huawei's place, it's next on the list without any solid evidence being provided?

Does anyone seriously believe that other companies, especially those in the US, should be trusted more?
Why should Google, whose entire business model (company-wide) is based on collecting personal data and selling advertising space based on that data, be more trusted? After all, soft power can come from any end of the diplomatic spectrum.
---
Original article
Do you plan to get rid of your Chinese smartphone as recommended by the Lithuanian Deputy Minister of Defense, Margiris Abukevicius?
If you haven't been following this soap opera, Xiaomi and Huawei were under the spotlight on Wednesday, September 22, based on a report from Lithuanian authorities. The report accused some of the manufacturers' 5G smartphones of posing as a cybersecurity risk, in addition to threatening data protection and freedom of expression of users in Europe.
Xiaomi and Huawei reacted very quickly by rejecting these as unfounded accusations while reiterating their commitments in terms of data protection of their users as well as their compliance, right down to the letter, of the RGPD.
Has the Lithuanian report changed your perspective of Xiaomi?
In any case, every smartphone manufacturer is subject to a scandal at some point. And at NextPit, we'd like to launch some sort of trust barometer for the various brands. Do you remember that a few months back, we already asked you in a survey which particular smartphone brand you trust the most and whether your trust level in Chinese brands have dipped?
Based on the same structure below, the idea would be to ask you the two questions below on a regular basis - perhaps monthly or quarterly (we'll see) and then compare the possible differences in your answers. (Let me know in the comments whether you prefer a monthly or quarterly format).
Which smartphone brand(s) do you trust?
Do you distrust Chinese smartphones?
I would like to remind you that you can still have a preference for Xiaomi without being a sleeper agent of Beijing and you can question the data protection and cybersecurity of Chinese products without being prejudiced in any way. "Fanboyism" in tech, just like ideology in politics, cuts both ways in a constructive debate. If you're going to be a champion of anything, don't do it for free, and especially not in our comments section! But I trust you to enrich the discussion and not hijack it!
Thank you in advance to all those who will participate in the survey. I would also like to invite you to explain or argue for your choices in the comments section. I'll see you on Monday to discuss the results.