Poll of the week: How often do you change your phone's wallpaper?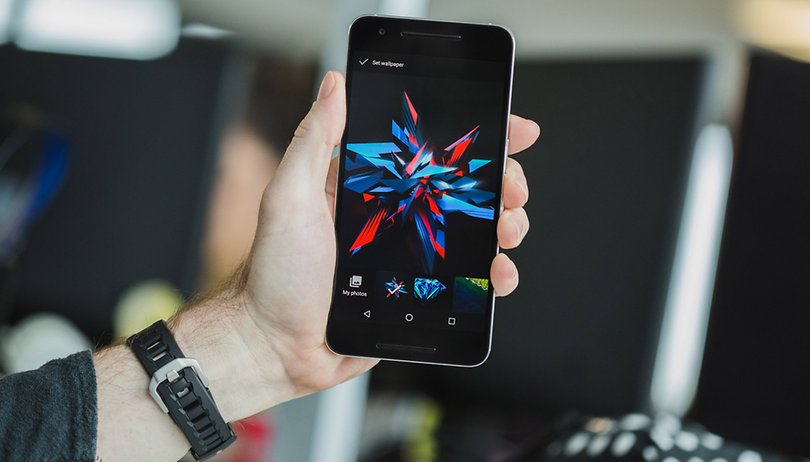 Yes, dear NextPit community, you change your phone wallpaper! In some countries more often, in others less, but customization seems to be something relevant for most of you.
As always, the result of our poll considers the votes from the four main NextPit domains: Brazil, Germany, France and our International Community (.COM).
At least twice a year!
I change my phone's wallpaper at least once a week. From time to time, I even return to some images that I've used in the past, but I always like to vary the look of the background screen. The same seems to happen for most people in our Brazilian community, as 33% of survey participants said they do it every week. On NextPit.com, 17% of you said they change their wallpaper at least every 15 days.
In the German and French communities, most say they choose to change the smartphone background image at least twice a year. This option appeared for 24 percent of poll participants in Germany and 21 percent in France.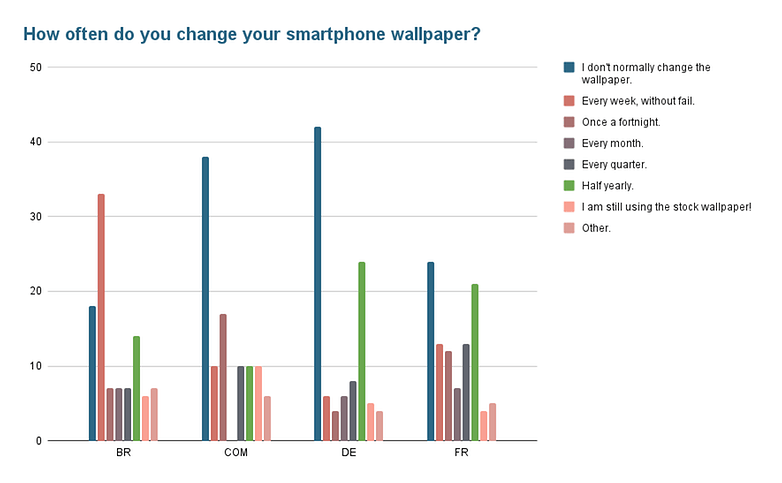 The German community also stands out when the subject is the opposite, for instance, keeping the wallpaper, given that 48% says they don't change the wallpaper. The same goes for the international community, which comes right after with 38%. In the same question, Brazil got 18% of the votes and France 24%.
I change my wallpaper every day, I download images from Walli, Pinterest, Google, etc, and I set them to change randomly every day configured by Casualis.

Emerson Morais, Brazilian community
I change my wallpaper when I change my phone (about every 5 years up to a few months).

Vince, French community
I personally am satisfied with the graphical appearance of the phone screen, and the main reason why I did not change the appearance is because I just want to use the applications, the appearance of the screen interests me too little and also would only confuse me.

Sorin, international community
My wallpapers change automatically every 24 hours, I chose all of them to match black themes and night mode. Adjusted the rest with Samsung goodies. Everything feels quite natural and the possibilities exceed the old ways dreams.

Olaf Gutrun, German community
I have an iPhone 12 Pro and use the shortcuts to set the current day image from Bing as background every night. You won't get tired of it so quickly :-)

lu-mia, German community
Third party applications and images are welcome!
When it comes to wallpapers, I confess that I almost always opt for two categories on my phone: "Living Universe" and "Earth" - sometimes "Landscapes". When I'm quite inspired, I use images from a photographer friend, but always with permission. I notice that in my family environment, many people opt for photos on trips, of my nephews and even pets. What I see as a very personal touch.
In our second poll, those who usually change their wallpaper say they download specific apps from the Play Store or App Store, as well as use options offered on the Internet. The Brazilian and French communities stand out here, with 64% and 57% of the majority of votes, respectively. For 45% of respondents from the international community and 46% of the German community, third-party applications and images are also an option.
I only change the background when I first set it up with my favorite family photo. What I can change several times until I'm satisfied are the icons.

Xaradozz, German community
I usually set a one- or two-tone wallpaper with a continuous central frame. I like the original Sony wallpapers best, also on the iPhone. Icons and widgets are easy to see on them. On Android devices, I always have Nova Launcher with a Sony live wallpaper and a MiUI icon pack from the Play Store.

C++, German community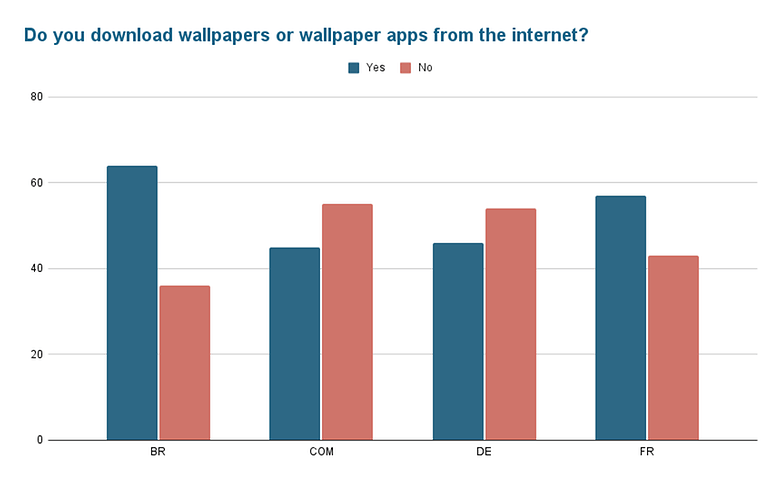 Customizing icons is not such a common action
Many of you should not miss the advanced theme customization option we have today in Android 11, which allows you to manually customize the style of system icons, the outline of the app icons and fonts. That's because most said they don't customize the app icons on their phone.
The numbers were expressive in all domains: Brazil (62%), Germany (65%), France (56%) and COM (52%).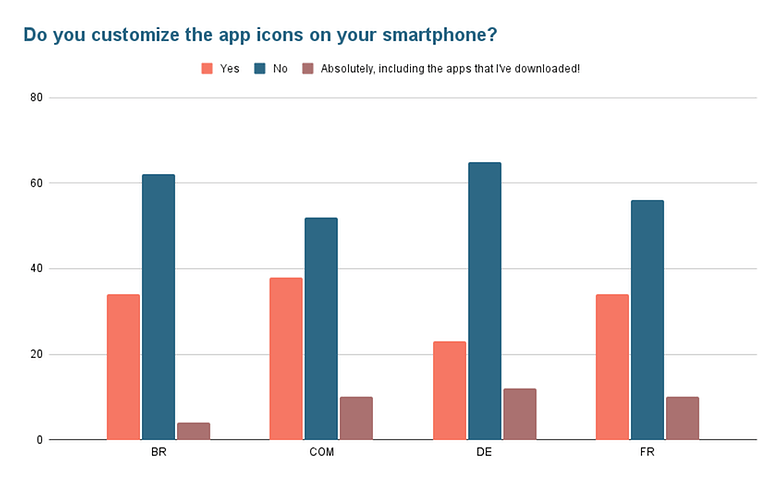 However, that does not mean that there is a great interest in this topic. Inclusively, there are people as minimalist as Douglas Charles Cunha, from our community in Brazil, who creates his own icons:
Actually I create my own totally unique themes. I create the wallpapers, icons and widgets. As what I create I like, so I stay many months, maybe years with one and when I get sick of it, what is difficult, I create another theme or put one that I already have. On my current phone, which will be 2 years old in October, I'm on the third wallpaper, but with the same icons. The widget I changed once.
Conclusion
Overall, the NextPit community customizes their phone by changing wallpaper and icons. Even the people who commented on using a black image do so. Although 10% of our international community claimed to use the wallpaper that came factory with the phone, this type of behavior was less in the other countries.
Black background once and for all and that's it!

Kukrapok, French community
Never [change the wallpaper], always have a black background.

Yiruma, German community
Also, many of you report that even if you don't change your wallpaper often, you do it at least once, making it as nice as possible.
For the first question I choose a background that allows me to highlight as many icons as possible, like starry sky or crescent moon... and when I find something closer to this "need", I don't touch it anymore...

Louis Hory, French community
As I reported in the text of the poll, with the arrival of Android 12 to mobile phones, we will have a greater sense of the impact of Material You on the system and the adaptation of new features by manufacturers in their interfaces. Therefore, in August 2022, I intend to repeat this poll to see if with the arrival of the dynamic theme to Google's operating system, we will indeed have a change in behavior among those who use Android smartphones or not. Mark your calendar!
Once again, many thanks to all the people who participated in the poll, as well as those who developed their answers in the comments. If you have suggestions for new polls, feel free to share them. Next Friday we'll have a new poll of the week!
---
Original Text
That's right: Just how often do you change your smartphone's wallpaper? I'm a big fan of the catchphrase "change the wallpaper of your smartphone, change your life", and I would love to organize my smartphone applications logically without interfering with the background image that I picked. In other words: I'm a control freak!
Last week, we asked the NextPit community what are the most common ways of protecting one's smartphone? The result pointed overwhelmingly in favor of the "smartphone case" across all NextPit domains. I also prefer to believe that the protective cover was chosen with a specific intention, as hardly anyone would place their smartphone in a case that looks pretty but does not offer any degree of protection. This led me to think: Does this mean people also like to customize their smartphones?
However, we're not going to talk about the external aesthetics of your device today, but what you see every single day on your smartphone screen: your wallpaper!
Ever since Google announced Material You, the new design guideline that will arrive with Android 12, it has been on my mind that wallpapers will play a key role in the appearance of the latest operating system's UI across the board.
That's because Android's new dynamic theme engine, codenamed "Monet", will generate color palettes based on the colors of your smartphone's wallpaper. This will go beyond some segments of the UI, but also applies to the apps that support it. 🤯 Take the most recent example of this - the Gboard keyboard.
It is for this very reason that I decided to ask you a very basic question this week:
Right after Google released Android 12 Beta 3, I performed a web search on the topic of "wallpaper" while writing my preview of the new OS. At the point in time, what caught my attention was the sheer volume of search queries for "purple wallpaper," which led me to Suzi Wright's channel on Pinterest. That was the exact moment I understood that I'm not alone in this world, because if there's a market for purple wallpaper downloads, it's because there are other control freaks out there.
---
#PinterestTip: Pinterest is a vast universe for those who enjoy changing their smartphone wallpaper frequently.
---
So, if you're the kind of person who changes your smartphone's wallpaper rather often, let me know if you're used to downloading wallpaper apps from the Play Store or App Store, or if you'd rather scour the internet to find new wallpaper images? By the way, have you downloaded the Google Pixel 6 wallpapers that we mentioned here at NextPit?
Now, because of my really curious nature, I didn't hold back on sharing the third and final poll in this article. Android 12's Material You didn't just deliver a new era of cool to the system. In fact, Google even caused some controversy by removing the advanced theme customization from the next OS version, which allowed you to change system icons, the outline of app icons and fonts.
So, if you're a Pixel phone user like me, or use a Motorola device, perhaps one that runs on Android One or Android Go, you may have to find other options in the Google Play Store to 'relive the past', so to speak. Or perhaps you are already doing that. Tell me: Do you customize your app and system icons?
Thanks for participating in our poll! As always, I would like to invite you to share your opinion about the topic addressed in this article through our comments section. By doing so, you will enrich the analysis of the results that we publish each Monday and, as a bonus, your comment may even be quoted across all four NextPit domains!
Oh, and before I forget, the phrase "change your wallpaper, change your life" I heard from a person I'm a real fan of, and maybe you are too: Marques Brownlee!