Knee deep in the 'droid: weird ways to play DOOM on Android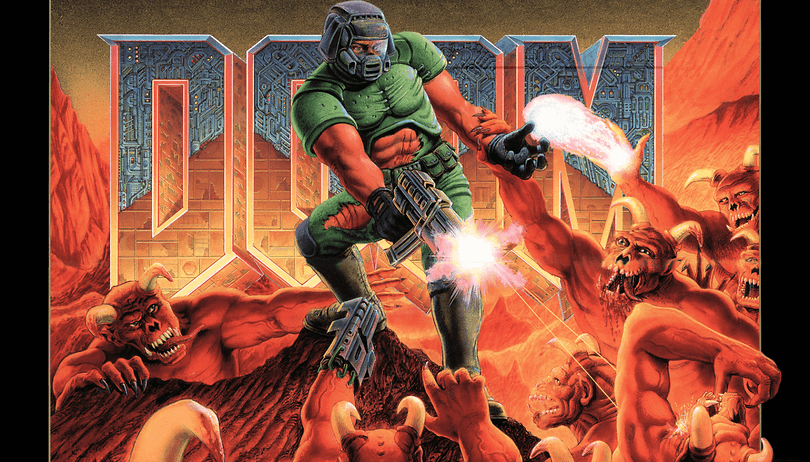 Doom, the bloody first person shooter where you gun down demons in space, launched a cultural phenomenon back in the '90s. Amazingly, despite being superseded by slicker, more modern FPS games in the ensuing decade and Bethesda's excellent reboot in 2016, the original Doom still thrives, with a dedicated modding community keeping the evil fresh and fun. But what about on your phone? That's where things get a little weird.
Even though there are many classic PC games that have been ported to Android, the Play Store lacks an official version of Doom for you to enjoy. However, that hasn't stopped the many Doom obsessives out there from coming up with a way to get their fix. In their enthusiasm, some of these fan games inspired by the classic shooter end up deviating quite far from the original concept, while still having that unmistakable flavor. Let's take a look at the skewed takes on Doom that the Play Store has to offer.
Jump to:
Doom ports
Freedoom
The apple doesn't fall far from the tree for our first entry on this list. Freedoom is effectively a Doom port, which comes with an alternative set of original and open source assets and game levels (as those from the original 1993 game are copyrighted). Freedoom is also compatible with most of the vast collection of fan-made "WADs" (i.e. game levels) that can be found online in the idgames archive, so you can keep adding content to your heart's desire.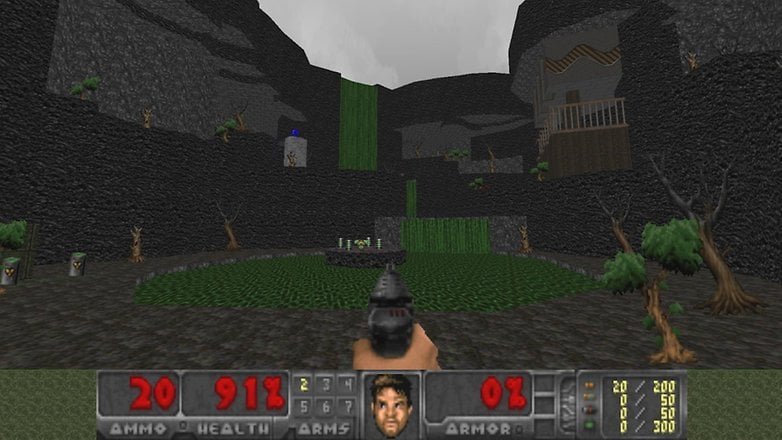 You can play the levels that come with Freedoom on your Android phone without any major issues, and the touch controls are well-implemented and customizable. There's even the option to bring up a virtual keyboard. The original assets don't stray far from the Doom theme, and aren't intended to. You're still blasting ugly creatures in a vaguely-industrial wasteland, but it has more than enough of fun factor to compete with other free Android games on the Play Store.
As an added bonus, you can always load your old (legally owned, of course) original Doom files into the app's config folder, if you want to play the real thing on your phone. Fantastically, this also applies to related games on the same engine, such as Heretic, Hexen, and Strife.
Delta Touch
Touting itself as "THE Doom engine source port", Delta Touch has the same idea as Freedoom, above, but more comprehensive. While Freedoom is a port of the GZDoom engine and is actually included in this paid app, Delta Touch also throws in Chocolate Doom, PrBoom+, and RetroDoom. In practical terms, these will support community-made levels and mods made according to various standards. This means that any of the (thousands of) community-made Doom games and levels can be easily handled.
In addition, with Delta Touch, you get multiplayer launchers, mouse and keyboard support (Oreo only) and gyro aim assist (Gyroscope needed). While it's not free, it's hardly a big splurge either, at $2.50.
D-GLES
D-Gles is another port of Doom, but with a focus on improved graphics. It comes with the Freedoom and Requiem levels, so you can play right away. This is also a way to run your commercial copies of Doom engine games with higher res textures, improved light, shadow, water and particle effects, among other graphical tweaks.
The catch? While you can use it to run your official games, it doesn't run modded games so it's more limited than Freedoom when it comes to community versions.
The price for these improved graphics? 2 bucks. As an interesting option, D-GLES also has an in-app purchase to enable VR mode for cheap cardboard headsets.
Doom-inspired games
Doom Master of Sin
Now for something completely different. Master of Sin is quite a twist on the Doom format. It's not a first-person shooter at all, but rather a kind of strategy/defense game where you control the bad guys. You have the ability to spawn classic Doom enemies such as the fearsome Cyberdemon, Pain Elemental and Arachnodemon, which then advance in waves against the (rather difficult) AI army.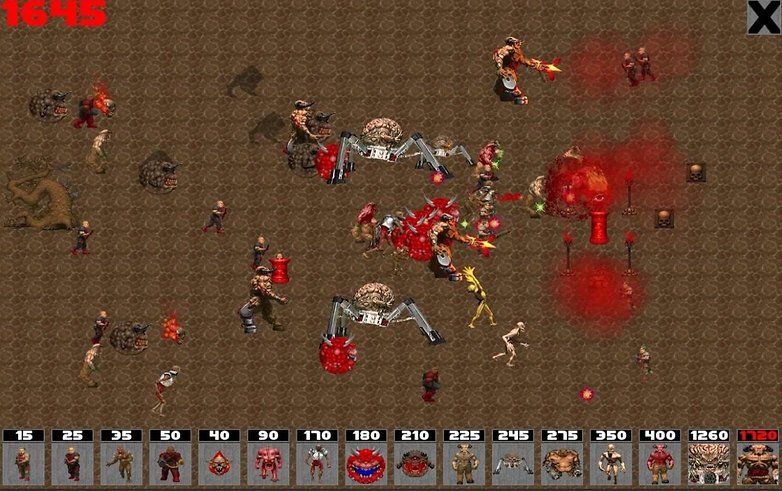 While the game is a simple tower defense and the unit roster is limited, replayability is added by options to mutate your monsters into new versions, and overall, Master of Sin is a fun distraction for short gaming sessions. With classic Doom visuals and music, all completely free, what's not to like? Don't just give in to sin—become the master.
Flappy Doom 2
Love the idea of flappy bird, but it's just too cutesy for someone as hardcore and edgy as yourself? Well, just add a twist of Doom and voila, instant badass. At least, this is the premise behind Flappy Doom. Although the original Flappy Doom disappeared from the Play Store, Flappy Doom 2 has risen from the depths of heck to take its place.
In this game, you have a choice of characters - the Lost Soul, the Cacodemon or even the disembodied head of Doomguy himself. Whichever head you choose, the objective is to fly through 'heck', dodging obstacles along the way.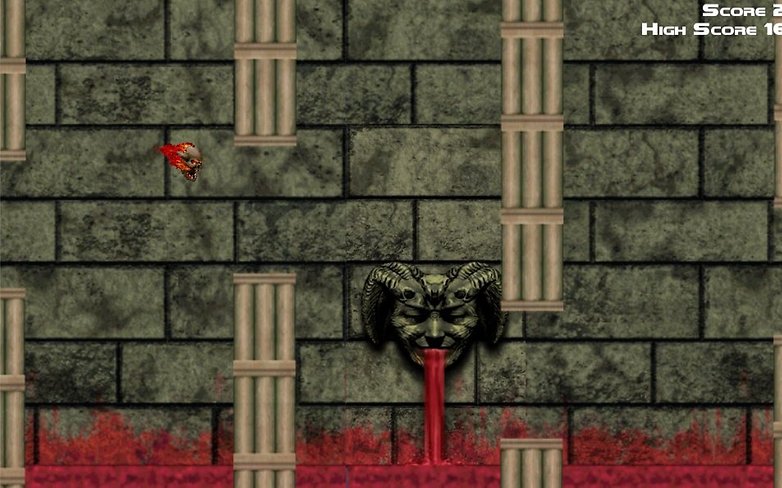 A very casual game for lovers of blood and skulls, Flappy Doom 2 doesn't do too much to hold one's attention in the long term, but if you must have a flappy game, then why not show off your old school gaming cred by grabbing this heavy metal hop-fest.
Doom 200&1
So Doom, uh, two hundred and one, eh? Created as an example to teach students how to make 2D games in Android, this simple version re-imagines Doom as a side-scrolling arcade shooter.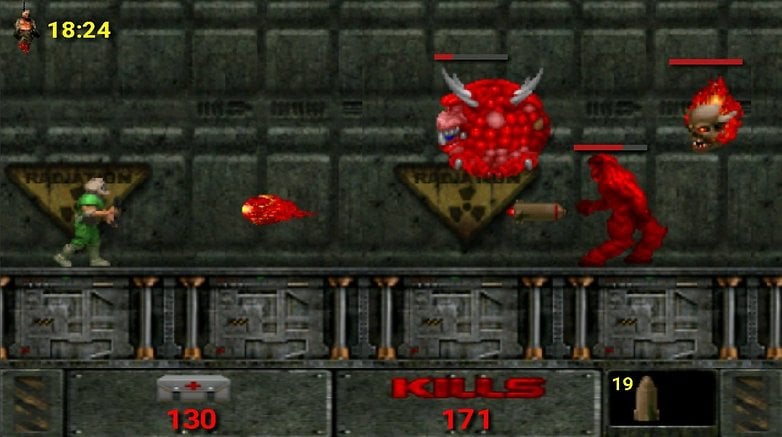 You're back in the green armored boots of the classic Doomguy, who has to face an onslaught of 200 monsters, ending with the fearsome Cyberdemon. As the game progresses, more powerful enemies emerge. To gun down these tough foes, you get powerups granting temporary armor boosts, invisibility, immortality and triple fire.
While nowhere near as advanced as the original first person shooter, Doom 200&1 is still a fun distraction, and popping those nasty Cacodemons with rockets never ceases to be satisfying.
Gloomy Dungeons 2: Blood Honor
The Gloomy Dungeons series of indie games don't feature the monsters from the original Doom like the previous entries, but what it lacks in specific creature references, it makes up for in spirit. As a gritty, old-school first person shooter, it's one of the better classic style Doom clones you can get for your phone.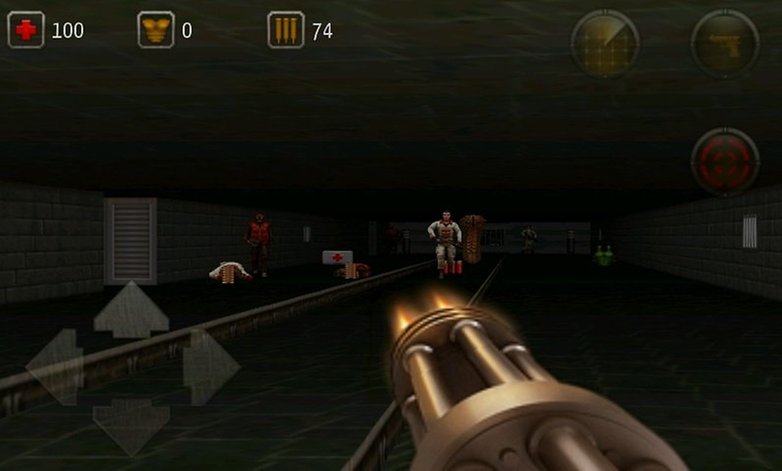 Gloomy Dungeons 2 also has the nice touch of including several weapon set ups that aren't possible in the original Doom, such as dual wielding and sniper rifles. Definitely worth a try for Doom fans, as the game is free and even comes with built-in cheats, if you just want to give yourself all the weapons and powerups and let 'er rip. While it's on the Google Play store, fans of alternative open-source repositories can also find it as one of the few games on F-Droid.
Doom Warriors Tap Crawler
Doom Warriors is a casual game based around quick taps. The theme is Doom, of course. There are mazes, keys, monsters, weapons to collect, etc. The main twist is that this is a roguelike, which means you should expect randomly generated levels and expect to die - over and over again.
The good news is, you play as a clone warrior spawned from a machine, so if you die, a new Doom Warrior is spawned, and you can select and earn different traits and perks to add variety each time. There's a surprising amount of tactical depth involved if you want to progress really far, even if it's a far cry from the first-person shooter style.
Dead Shell: Roguelike RPG
Dead Shell is an entertaining tap game full of sly references to Doom, from the outfits, to the demonic enemies, to the BFGs. You command a squad of mercenaries whose job is to tool up and navigate procedurally generated dungeons to clear them of evil monsters.
While fun and flavorful, Dead Shell isn't exactly free like the others on this list. Instead, the game's difficulty is geared to encourage you to make in-app purchases for advantages in the game. Your mileage may vary depending on how much you enjoy the Dead Shell, or how much you're willing to splash on a 'casual game'.
Bonus: Doom Icon pack
Sure, the above games are great, but don't you wish your phone was a little Doom-ier all the time, even when you're not playing games? Doom Icon pack does just this, wrapping up all your icons in a grim pentagram Doom circle. You're welcome.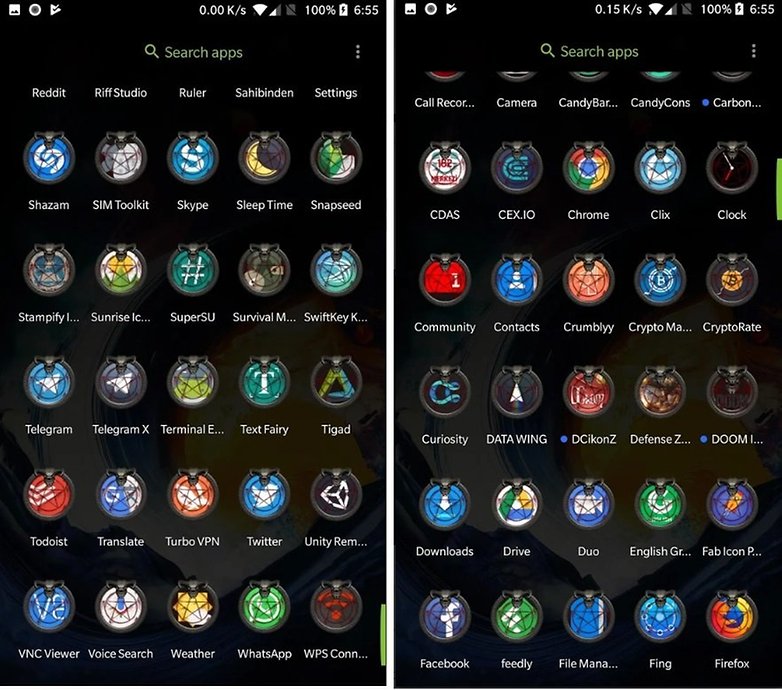 To enjoy these icons, you'll need a launcher app that enables you to customize your phone. Fortunately, Doom Icon Pack is compatible with most of them, including the uber-popular Nova Launcher
Get Doom Icon Pack on the Play Store
If you enjoyed this collection of Doom-tastic titles, you might also like to keep up with what's happening in Android gaming with our monthly review round-up of the best new Android games.
What do you think of these homages to Doom? Do you know of any Doom clones on Android that we missed? Let us know in the comments!