Oukitel WP22 Review: Party Monster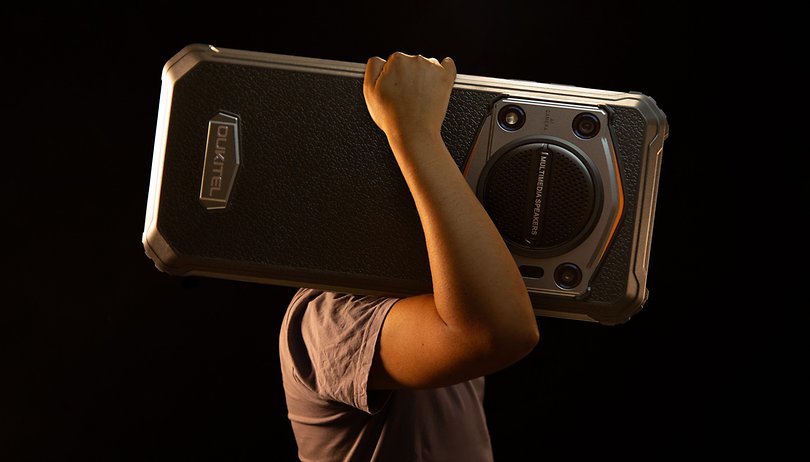 Oukitel was proud to announce that its WP22 smartphone packs the loudest speaker ever used on a smartphone. However, that is not the only highlight of the device, which also features a 10,000 mAh battery. How good is it though? Let's find out in nextpit's review of the phone.
Good
Battery with good runtime

Reverse charging

Really loud speaker

Android 13
Bad
Dated CPU with weak performance

Heavy

Camera performance
Oukitel WP22 in a nutshell
Disclaimer: This review is part of a cooperation with Oukitel. However, this had no effect on our editorial opinion and its content.
With more than 15 years in the market, Oukitel is not really a household brand but may be familiar to longtime nextpit's readers, with some models covered throughout the website's many iterations. Besides traditional phones, Oukitel has a specialized line of rugged mobiles, including today's WP22.
The Chinese company's WP line features not only a rugged build but also large-capacity batteries, with the WP19 model offering up to 21,000 mAh. For the WP22, the main selling point is without a doubt the big speaker on the back, which is specced at 125 dB maximum loudness, and 4 W peak output.
With an MSRP of $399, the Oukitel can be found for a reasonable $279 on the company's online store. For the price, buyers also get an Android 13 IP68/IP69K-certified phone running on a MediaTek Helio P90 SoC, with a beefy 8 GB of RAM, and a 6.58-inch FullHD+ display.
The camera also follows a niche setup, with a triple-lens layout with a 48-megapixel main camera paired with an interesting 20 MP night vision sensor, and a 2 MP macro camera.
Design and display
Just looking at the Oukitel WP22 the first impression is clear: This phone is built like a tank. Not only that, it is heavy as one, thanks to its beefy battery, ruggedness, and oversized speaker on the back. All of these elements combine into a phone that is resistant to water, sand, dust, steam, drops, vibration, and even heat.
---
Pros:
IP68 water and dust resistant.
IP69K certification against pressurized water jets and steam cleaning.
Programmable side key.
Cons:
It's heavy.
Noticeable air gap on the display.
---
The Oukitel WP22 follows the octagonal design used in the company's rugged phones, with rubberized corners on the sides and back. The metal strips on the left and right with exposed screws look tough, following the MIL-STD-810H rating. The overall dimensions were obviously dictated by the display and battery specs, but nonetheless, make the phone heavy, at 14 oz (399 grams).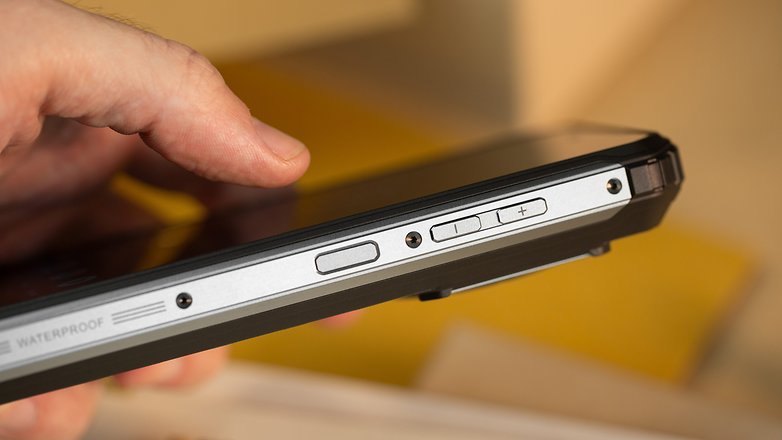 Despite that, holding the phone is fine, at least for my medium-sized hand. The contoured shape on the back sits well on the hand, and all the buttons were placed within reach, including the programmable orange key on the left side that can be customized in the Settings app as a shortcut to a number of features (flashlight, screenshot, SOS, etc.), or to open an application.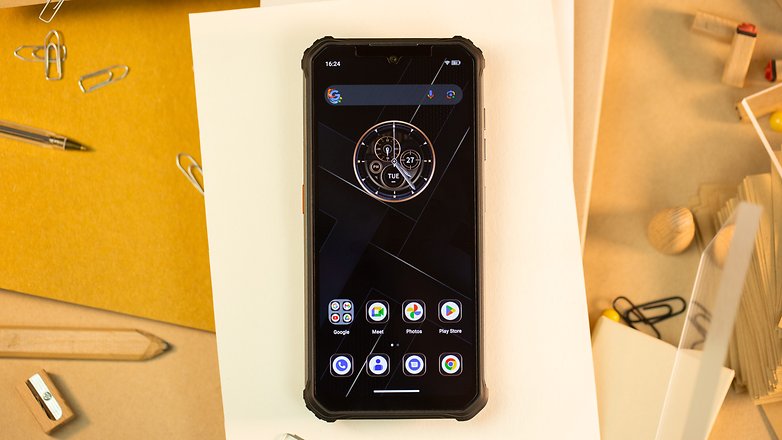 The big 6.58-inch IPS display features a 2408 x 1080 pixels resolution for a nice pixel density. Brightness levels are good enough for outdoor use, but don't expect features like high refresh rates, or super punchy colors found on more expensive phones with AMOLED panels. One noticeable characteristic is the air gap between the screen panel and the glass, but that didn't bother us during the review.
Performance and software
Powered by a MediaTek P90 processor, the Oukitel WP22 performs on par with entry-level phones, but is able to handle most tasks and even some light gaming. The phone comes bundled with the latest Android 13 with a fairly updated security patch.
---
Pros:
Factory installed Android 13.
No bloatware.
Cons:
---
The review unit came with the April 2023 patch, which is better than most phones in its price range. On top of that, Oukitel uses a customized interface that is an acquired taste, with a bronze-like theme. The custom OS comes with a rather complete matching icon pack, but as soon as you start installing third-party apps, the harmony goes away.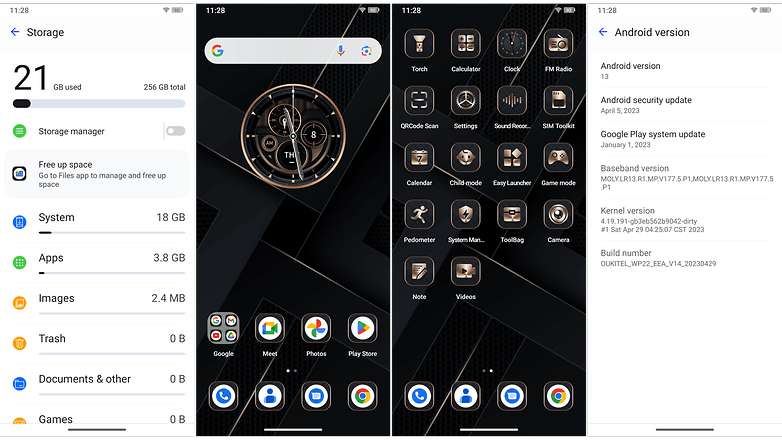 One noticeable advantage for the WP22 in its price range is the surprising lack of bloatware, with no third-party apps from Meta, Microsoft, streaming services, or free-to-play games. That point probably helps explain why the default installation takes only 21 GB of storage.
Performance-wise, the Oukitel WP22 cannot hide the age of its MediaTek Helio P90 processor, originally launched four and a half years ago and built on a 12 nm node. Don't expect to see it besting modern intermediate phones, but it can still rival rugged phones in its price range, such as the Motorola Defy we reviewed more than a year ago or the Samsung Galaxy XCover 5.
Oukitel WP22
(Helio P90)
Galaxy XCover 6 Pro
(Snapdragon 778)
Motorola Defy
(Snapdragon 662)
3DMark Wild Life
3DMark Wild Life Stress Test

Best loop: 2434
Worst loop: 2465

Best loop: 376
Worst loop: 379

Geekbench

GeekBench 6
Single: 307
Multi: 1177

GeekBench 6
Single: 1009
Multi: 2876

GeekBench 5
Single: 314
Multi: 1354
In daily usage, the phone performed fine as long as you settle your expectations accordingly. Interface navigation, browsing, and media consumption did ok, while multitasking was helped by the large 8 GB of RAM.
Games can be a mixed bag on the Oukitel WP22. Call of Duty Mobile on low settings performed surprisingly well on the phone, while Real Racing 3 had some dropped frames during gameplay. And the missing data in the table above for the 3DMark test was due to the integrated PowerVR GPU which is incompatible with the necessary Vulkan API features required by the benchmark.
Loud and clear audio
The main selling point for the Oukitel WP22 is unquestionably its loud speaker on the back. Everybody who saw the phone thought that it looked like overkill, but ended up surprised not only by its loudness but the fact that it remained reasonably clear throughout the volume range.
---
Pros:
Loud audio, very loud.
Clear audio reproduction.
Cable-less FM radio.
Cons:
---
The volume on the WP22 reached ridiculous levels for indoor use and we could imagine using the phone as an impromptu solution for festival goers during the pauses on camping grounds, rivaling most compact Bluetooth speakers—but not as a replacement for Soundboks-level gear, obviously. Indoors, sound simply filled the room, leaving no space (pun intended) to miss having another big speaker for stereo.
Additionally, the oversized speaker when properly set can make sure you will never again miss a notification, wake up late or miss an alarm...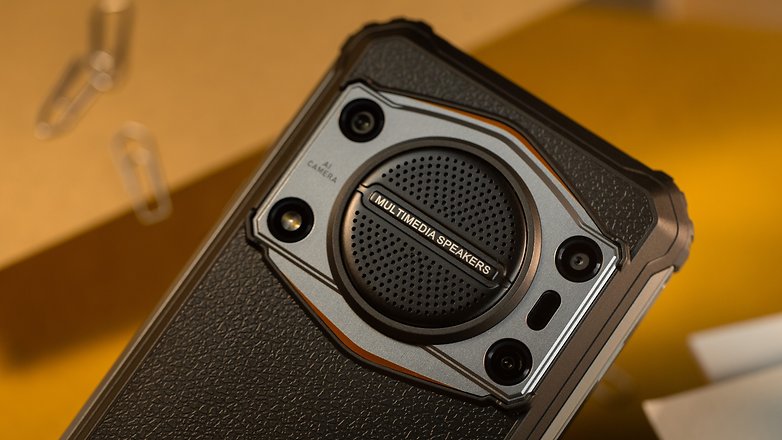 The Oukitel WP22 doesn't have a headphone jack, yet offers an FM radio app that doesn't require any sort of cable. Reception in Berlin's city center was perfectly fine, and tuning can be easily controlled through the notification shade or lock screen.
Oukitel WP22 camera
The triple camera module on the Oukitel WP22 features an unusual configuration, with the main 48 megapixels main camera coupled with a questionable 2 MP macro sensor, and an intriguing 20 megapixels night vision camera.
---
Pros:
Ok results in daylight.
Night vision is more than a gimmick.
Cons:
The colors were a bit muted.
Only 2 megapixels on the macro camera.
The phone's weight requires two hands for steady photos.
---
Before talking about photo quality, it is important to remind that the phone's weight makes the process of taking photos slightly more cumbersome than usual. Taking pictures with one hand is not as easy if you care about getting an exact composition, quick snaps also suffer a bit, as you will need to pause and hold the WP22 steady for usable results.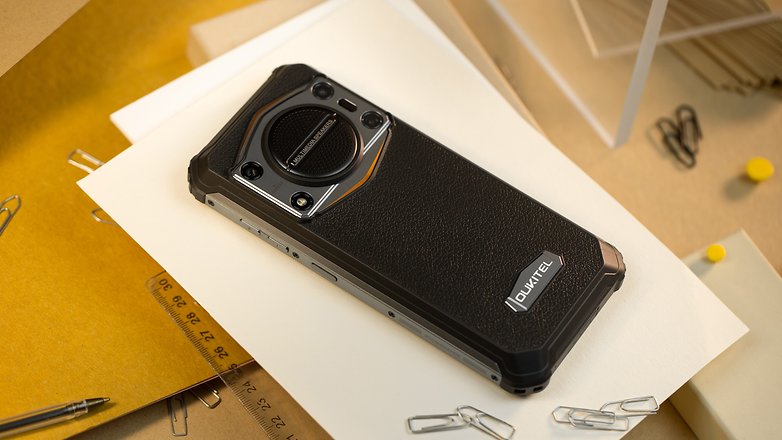 A tripod will always be useful and forget about using selfie sticks while traveling, we haven't tested the WP22 with one of them but can imagine the difficulty in holding it firmly for shots. A tripod thread would be a welcome addition for future versions, in case Oukitel is listening.
Results from the main camera were actually better than the onscreen previews in daylight situations, with only slightly muted colors in the resulting files. Handheld-taken pictures were perfectly fine for sharing on social media or messaging apps, but probably not for big prints.
Night photos with the main camera, on the other hand, were consistently weak, with a lack of details and excessive bright spots from any light sources. For weekend wildlife explorers, the black and white 20 MP night vision camera will be a useful feature—although you may not want to use it for taking family photos in a dark restaurant.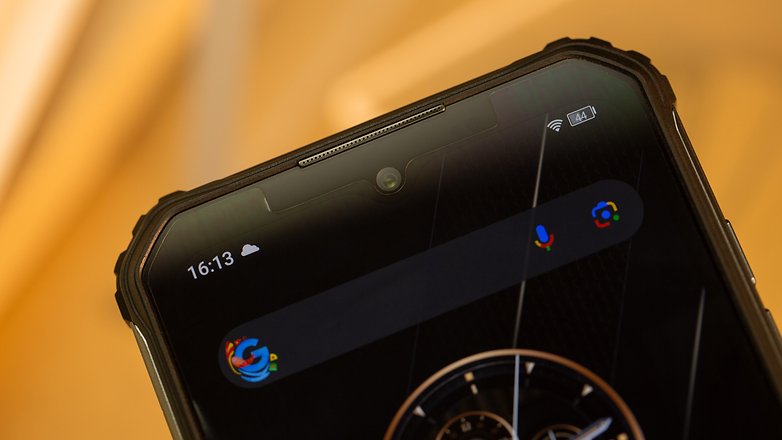 The 2 MP macro camera is as good as we can expect from the resolution, with onscreen previews even giving some hope of good results, which were dashed as soon as we checked the saved files. Selfies, on the other hand, were totally fine under daylight, without overprocessing skin tones. If you like digital makeup, you'll also find the usual beauty mode in the camera settings.
Power to share
After the speaker, the 10,000 mAh battery capacity is the other highlight on the Oukitel WP22's specs sheet. As you can imagine, the component ensures multi-day battery life, and can also work as a power bank for friends and family on a pinch.
---
Pros:
Two Three Four day battery life.
Reverse wired charging.
Cons:
Charging could be faster.
---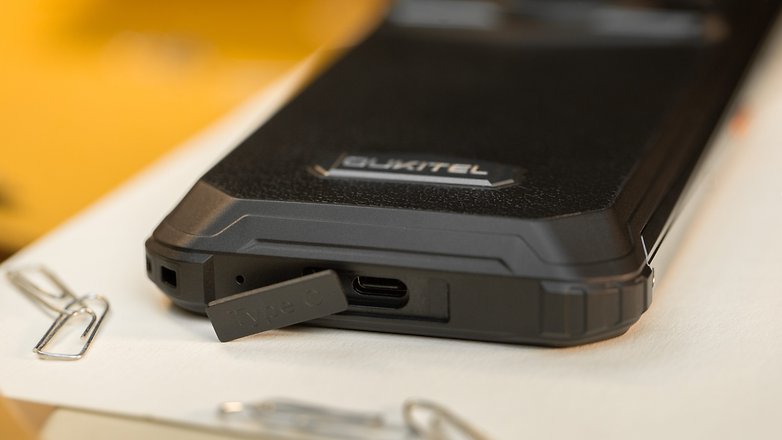 The modest performance level from the Helio P90 chip contributes to the long battery life, of course, but the sheer brute force solution used by Oukitel easily guaranteed that the WP22 was the top scorer in the PC Mark battery life test, at 23h51 minutes. The score is far from double the result from modern 5000 mAh phones but is impressive nonetheless.
Charging
Oukitel WP22
Galaxy XCover 6 Pro
Motorola Defy
5 minutes
20 minutes
1 hour
Full charge
PC Mark Battery test

10h57 (120fps)
17h05 (60fps | adaptive battery | airplane mode)
All that capacity can also be put to good use to power other phones and accessories, with the Oukitel WP22 lending charge similar to a power bank using a standard cable to the other device.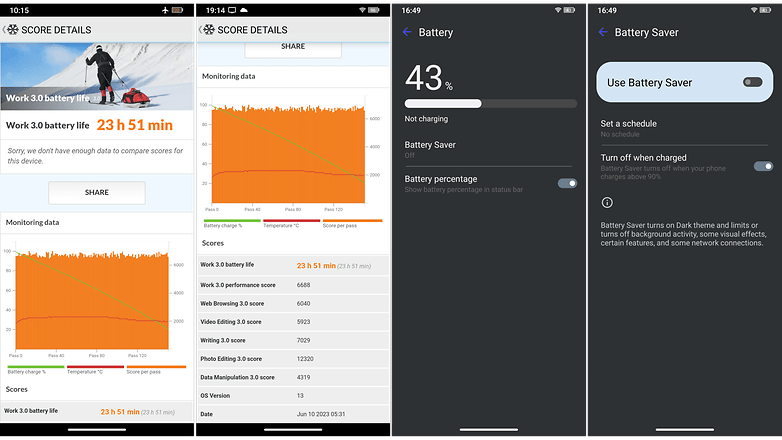 On the charging department, the Oukitel WP22 comes with an 18 W power adapter, that can fully charge the phone in over three hours. Ideally, the phone would be compatible with faster charging, but the specced power should at least make the battery have a longer lifespan.
Oukitel WP22 technical specifications
Oukitel WP22
Display
6.58 inches IPS LCD
1080 x 2408 pixels
Dimensions
6.87 x 3.28 x 0.74 in
174.6 X 83.5 X 19 mm
Weight
14.07 oz | 399 g
Processor
MediaTek Helio P90 (MT6779)
2x Cortex-A75 @ 2.2 GHz
6x Cortex-A55 @ 2.0 GHz
GPU: Imagination PowerVR GM9446
Memory
8 GB RAM
256 GB storage
Software
Android 13
microSD
✔️
Dual-SIM
✔️
eSIM
❌
Camera
Main: 48 MP | f/1.8 | 82.4° FoV
Night vision: 20 MP | f/2.2 | 78° FoV
Macro: 2 MP | f/2.4 | 84° FoV
Selfie
16 MP | f/2.0 | 79.6° FoV
Audio
36 mm mono speaker
125 dB loudness
no headphone jack
Battery
10000 mAh
Charging
Wired: 18 W
IP certification
IP68
Connectivity
Wi-Fi 6 | Wi-Fi Direct | Bluetooth 5.1 | NFC

Other points that may interest the nextpit community:

The Oukitel WP22 includes NFC support and is compatible with Google Pay for contactless payments.
The review unit packaging included a power adapter, USB-A to USB-C charging cable, and a SIM card tray tool.
The software version during the test was WP22_EEA_V14_20230429 (April 2023 security patch).
After resetting the updated handset, the operating system indicated 21 GB of used space.
Oukitel WP22: Tough cookie
It is really hard to score a niche device like the Oukitel WP22. You cannot expect flagship-level performance on any sub $300 phone, let alone one with its big battery or novel speaker. The brand probably had to make tough choices when it came to component selection to pack its special features and reach that price point.
So, if you are looking for a fast smartphone to replace your daily driver, it is not easy to justify going for the Oukitel WP22. But if absolute battery life overshadows snappy performance, and most importantly, having a big handy speaker matters a lot, then the WP22 is probably a match made in heaven for you.