Opinion: The Oppo Find N2 is the foldable we deserve (but won't have)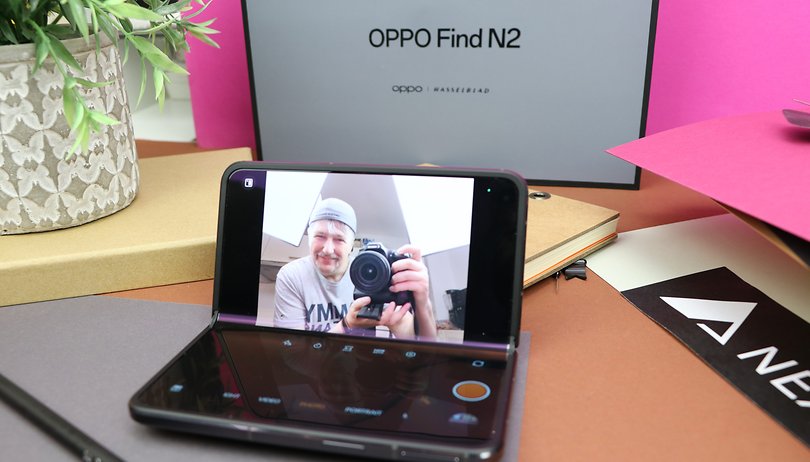 I am angry. Hulk-level angry. Oppo decided to sell its best smartphone of the year within the confines of China only for 2023. While reviewing the Oppo Find N2 for you, I ended up with a mixture of anger and butterflies in the stomach. Argh!
The Oppo Find N2 has finally arrived at the NextPit editorial office
Between New Year and New Year's Eve, the Oppo Find N2 arrived at the NextPit editorial office and for me personally, one of my biggest wishes came true. Even its predecessor, the Oppo Find N with its unique form factor was just right for my pocket and my delicate waif-like hands. However, to my deepest sorrow, it was never to arrive on Global shores.
Hopes quickly arose that Oppo would save this task for its subsidiary OnePlus, so that the Find N would then appear as OnePlus Fold with a Global ROM. But as you already know: I was disappointed by the BBK umbrella organization in this department well. A year has already passed, and Oppo unveiled its Oppo Find N2 and Find N2 Flip at its Inno Days 2022. The Oppo Find N2 Flip—it couldn't come up with a better name?—And of all things, the company now wants to sell the Flip version globally and not the Oppo Find N2 with its unique form factor?
I'd like to repeat this again, in case someone from Oppo should skim the article: UNIQUE FORM FACTOR!
Why do you want to compete with Samsung in the clamshell category, where Motorola with their tried-an-tested Motorola Razr 2022 and even Huawei are still around? I don't get it. You are the only ones with the Oppo Find N2! Okay, I should probably keep my head together since Oppo and OnePlus do not have much skin in the game at the moment due to a lost patent lawsuit against Nokia in Europe. But there is also a very attractive North American market that would do well to have more competitors in this segment.
Be that as it may, I don't let myself get down so quickly and have contacted our contact at TradingShenzen. And since he knows how I feel regarding the Oppo Find N, we at NextPit are one of the first few in the US to already have a review unit on the table. Kudos again to TradingShenzhen at this point. It is Wednesday morning and the Oppo Find N2 is in front of me.
The two displays of the Oppo Find N2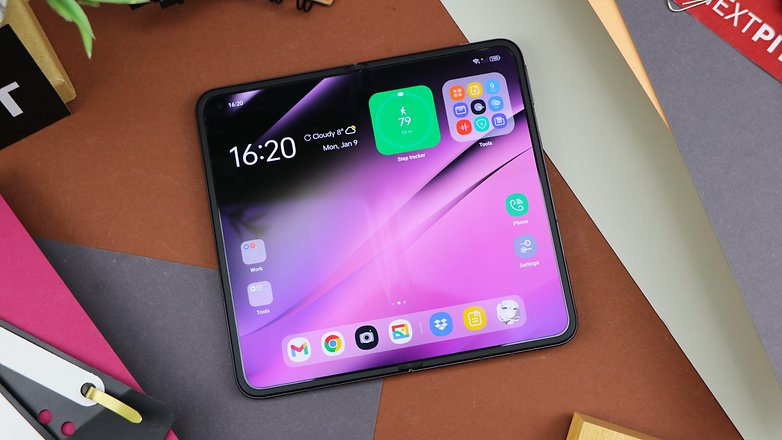 When unfolded, it offers a 7.1-inch LTPO AMOLED display with a resolution of 1,920 x 1,792 pixels. At the top left, invisibly hidden in my discreet wallpaper choice, you will find one of the two 32-megapixel front cameras here. Shocker! What's that severe crease there? It was not that visible in the predecessor.
And it is actually even worse this time around: The hinge is highly noticeable when I stroke the screen with my extremely sensitive index finger. I clearly feel a vertically running edge twice, which can only come from the hinge. Is it a step backwards?
What the heck, just don't let it spoil the good mood now: Let's flip the jaw up and the Oppo Find N2 just closed, and lo and behold—we see a non-foldable and fully functional external AMOLED display that measures 5.54-inches across diagonally while having a resolution of 2,120 x 1,080 pixels.
This is very far removed from a vestigial offering that Samsung dared to serve us as a secondary display on its Galaxy Z Flip 4. Supposedly, both displays are not only protected by Gorilla Glass, but can also be operated using an Oppo stylus. Unfortunately, I did not know that beforehand, otherwise I would have ordered it right away. However, it will arrive in time for our detailed review, this I promise.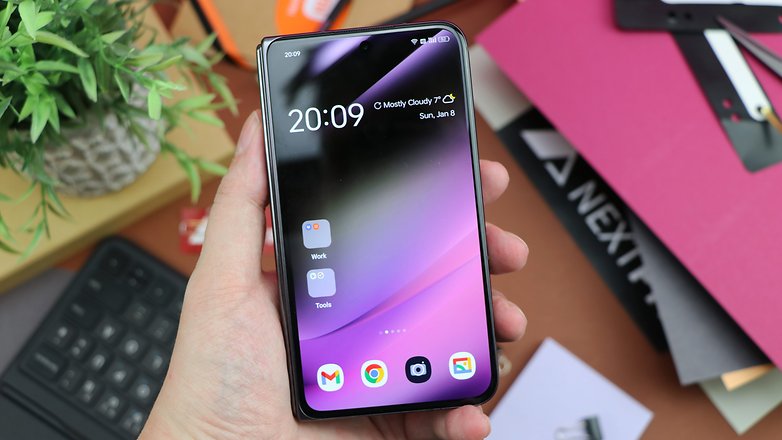 Technical specifications that invite you to play
Other specifications include a Snapdragon 8+ Gen 1 SoC, which is the processor that Qualcomm has once again come to grips with heat-wise, mated to 16 GB of RAM and 512 GB of internal program storage. Boom Chika Wah Wah, and here you come! Let's have a little gamble right away, shall we? Get in the 911, buckle up, and hit the racetrack! And the next bust follows: In full mode, the picture is shifted together on the right and left, so that I can't even return to the race track selection.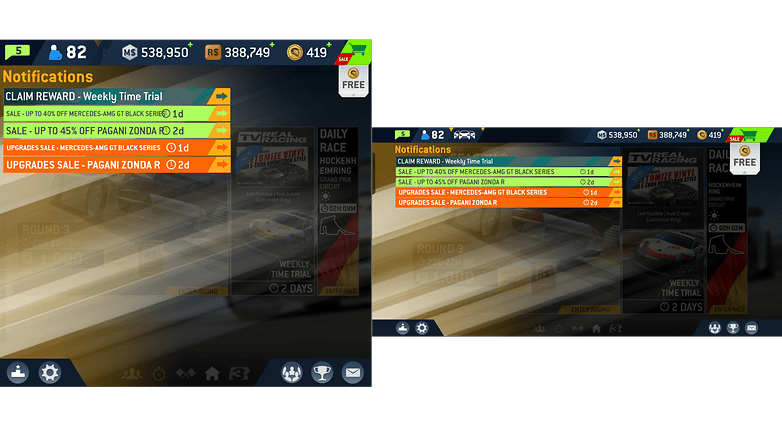 But I would not let that get in my way. Didn't my colleague Edwin Kee have a hot recommendation for anime lovers in his Top 5 Apps over the weekend? Eversoul! Exactly, that's what it was called. So I quickly downloaded the game from the Google Play Store and jumped right into the virtual battle. Lo and behold, it even works in full-screen mode, and the processor doesn't even heat up a bit.
This is a feat to be reckoned with since our black Oppo Find N2 has a kind of imitation leather on the back. But the Snapdragon 8+ Gen 1 SoC also behaved quite frugally in past reviews, such as with Motorola's Edge 40 Ultra. And who would have thought it: I can even use the foldable fully folded out in the best controller for Android smartphones, the GameSir X2. By the way, this is also available from TradingShenzhen* for slightly less than $70.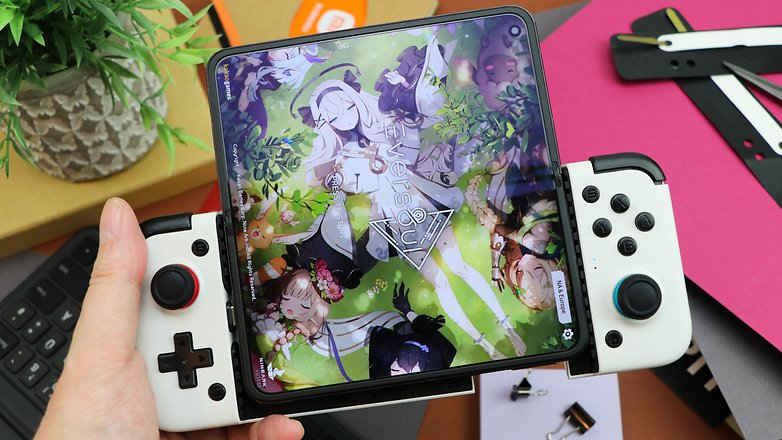 First, take a deep breath and a short checklist to go through:
Picking up the Oppo Find N2 in the NextPit editorial office [x] check
Impatiently unpacking on the way home [x] check
Charging the 4,520 mAh battery within a few minutes thanks to the 67-watt SuperVOOC power supply [x] check
Install important apps and run Geekbench 5, 1.046 single / 3.556 multi [x] check
Play once with and without controller [x] check
Tried out cool features like Air Gestures, Splitscreen, Assistive Ball, Double-Tap, and Smart Sidebar [x] check
Checked out the MariSilicon X and the triple main camera [ ] still missing
The triple camera of the Oppo Find N2
I almost missed out on the most important part of my little first contact with the Oppo Find N2. Why is it the most important part? Quite simply, during my review of the Oppo Find N, I was beyond thrilled with the main camera including the MariSilicon X-NPU, a neural processor manufactured using the 6-nanometer process, which also performs important functions in photography in combination with the image signal processor. Oppo focused particularly on night videos and photography at the time of the presentation.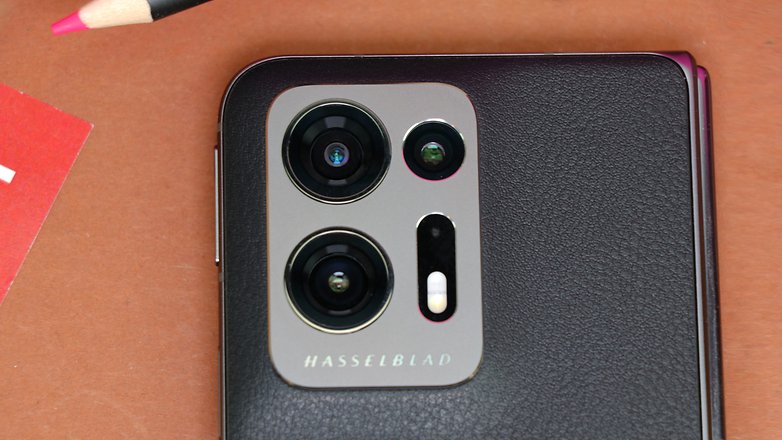 In terms of hardware, Oppo enters the race with a 50 MP main camera in terms of Hasselblad cameras, which offers a focal length of 24 millimeters and an aperture of f/1.8. This is joined by a 32 MP telephoto zoom and a 48 MP ultra-wide angle camera with a 115-degree field of view and a focal length of 14 millimeters. The zoom camera offers a proud focal length of 47 millimeters and can magnify twice without any loss (20x digital).
As expected, the daytime shots were highly successful right away. Colors were not too exaggerated, contrast was good, and there was no other reason to complain at first glance. The photo of the two houses (white facade) showed a lot of detail, even when the image was enlarged on the computer. In the two test photos of the school, no color differences were detected right away between the shot with the main or ultra-wide angle camera. Even towards the edge, the wide angle shot showed no violent bulging or typical fraying of the structure.
Initial night shots were also pleasing, which is possibly due to the MariSilicon X. I'm almost a bit surprised by the good cameras installed in this foldable and look forward to more photos.
My highlight: the form factor
I mentioned it before: the main reason for my enthusiasm is the Oppo Find N2's unique form factor. The smartphone occupies an intermediate size between the Samsung Galaxy Z Fold and the Galaxy Z Flip. It has even become a tad smaller than the first Find N, as the spec sheets document. The Find N2 measures 132.2 x 72.6 x 14.6 millimeters when folded. The predecessor measures 132.6 x 73 x 15.9 millimeters. Thus, the foldable still fits well in the front pocket and carries a minimal bulk. You can still wear your relatively tight jeans and get away with it.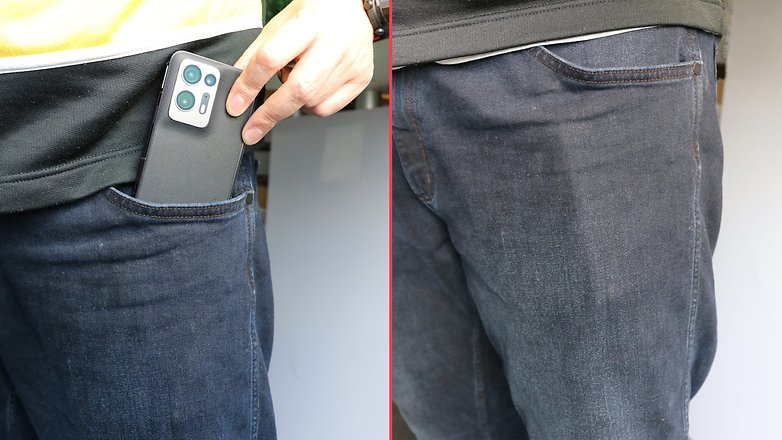 What I noticed that could be improved, however, is the hinge of the Oppo foldable smartphone. Not only is it visible and noticeable on the inner display, but it can also be clearly seen when closing the foldable. While the predecessor could be folded smoothly with one hand, this is completely impossible with the Find N2. What's even worse, you have to press on the display in the center so that it can be folded. This, in turn, can cause it to activate the homescreen's modification mode. Whether this will be put into perspective over time remains to be seen.
On the other hand, here's what I think is cool: When one of the display wings is set to 90 degrees, the splitscreen automatically turns on, but so far only a few apps support it by default. A classic example is when I write a text in "mini laptop" mode with the Notes app.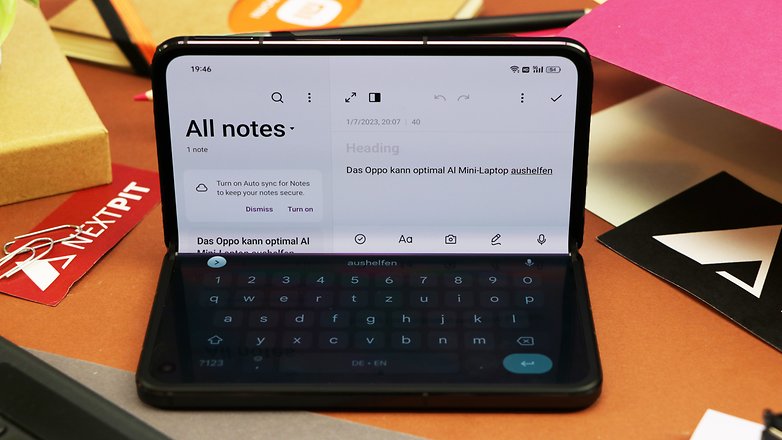 But the almost square display can also be used sensibly in everyday life in other ways. This is especially true for YouTube videos. For example, you can scroll through the comments while the video is running in the upper screen area—see the screenshot on the left. I have also used it a few times: Opening the calendar or email app, as well as Google Maps in parallel to transfer the address directly. In the example below, I opened a conversion app in parallel to Google Maps to convert meters into miles—quite useful while you are on vacation.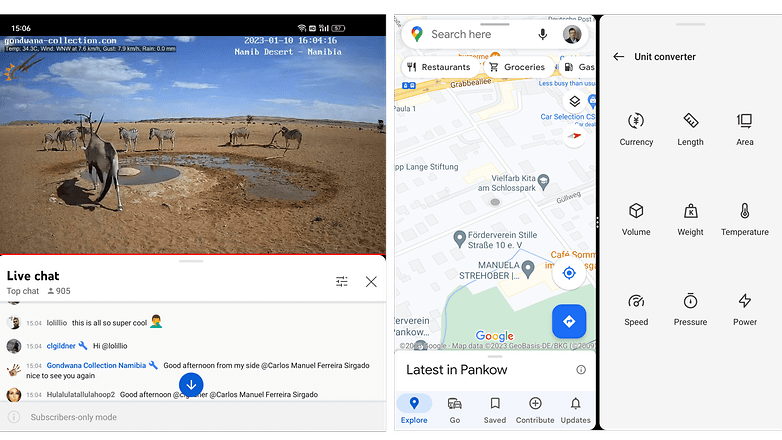 There are many reasons for opening two applications at the same time in the split screen next to or on top of each other, once you get used to the fact that this space is available. And thanks to Oppo, this luxury is also available in a pocket-friendly format.
But. only. in. China. Why?
That should be it for now with my first impressions of the Oppo Find N2. I will use the next few days to extensively review the foldable with the unusual form factor. Besides the square inner display and its suitability for everyday use, I will also focus on the Hasselblad camera and its photo and video capabilities.
What is your opinion of the Oppo Find N2? What should we pay special attention to for you in our detailed review? Feel free to share your recommendations with us in the comments section.