Calm down, the Apple Vision Pro headset isn't that dystopian | Opinion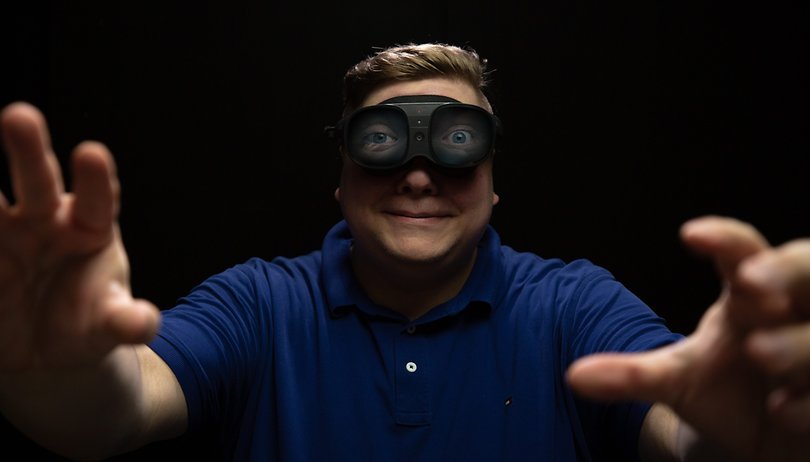 Does Apple Vision Pro, Apple's very first mixed reality headset, mark the advent of a dystopian future? Will we find ourselves trapped in a virtual matrix, totally enslaved to our VR headsets and disconnected from real life? Calm down, it's not going to happen.
After WWDC 2023, we experienced the traditional skin crawling reaction to the Apple Vision Pro's $3,500 price tag. I also saw a fair amount of concern about the invasiveness of such a mixed-reality headset in our daily lives.
On my Twitter feed, I saw several fellow journalists and technophiles rejecting the Vision Pro concept right from the get go. The idea of a Ready Player One-style future, where everyone is stuck in a virtual world while neglecting the more tangible real world, has creeped out many a person.
It's a partly legitimate concern. However, this is absolutely not Apple's goal. Even if it were, the Vision Pro would not—technically speaking, allow such a dark purpose to be realized.
The Apple Vision Pro is a MIXED reality headset, not a virtual one
Words have meaning, especially at Apple, where their words are often taken literally. The Vision Pro is a mixed reality (VR/AR) headset, not a virtual reality headset. Virtual reality is only one component of mixed reality.
The Apple Vision Pro was not designed to totally isolate you from the outside world and plunge you into the Matrix to enslave you. Whether in its language or in the headset's demonstration video, Apple has made it obvious that its primary intention is to keep you grounded in the real world.
Even so, the headset features a 3D screen on the outside that projects an image of your eyes, giving the impression that the surface is transparent. Yes, it's very weird to see. Yes, your children may have nightmares about your bulging eyes peeking out through the helmet.
Yes, even in 2050, you'll still look like an idiot wearing an XR headset in public. And yes, the image of one's eyes being projected through the front of the Vision Pro reminds me of Lensors, those enemies in the film The Chronicles of Riddick.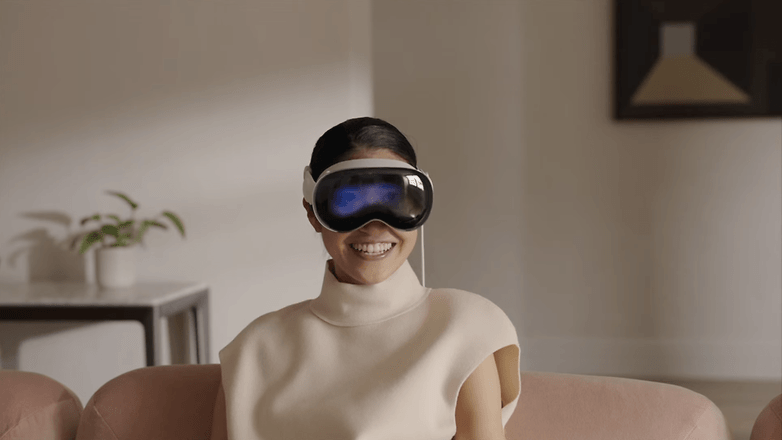 What is clear is how Apple is keen to connect you, even if only visually, to the real world. All current VR/XR headsets have a totally opaque shell that detaches you from those around you.
I know I sound like a silly fanboy for over-interpreting Apple's intentions. But I'm convinced that this design choice was carefully considered.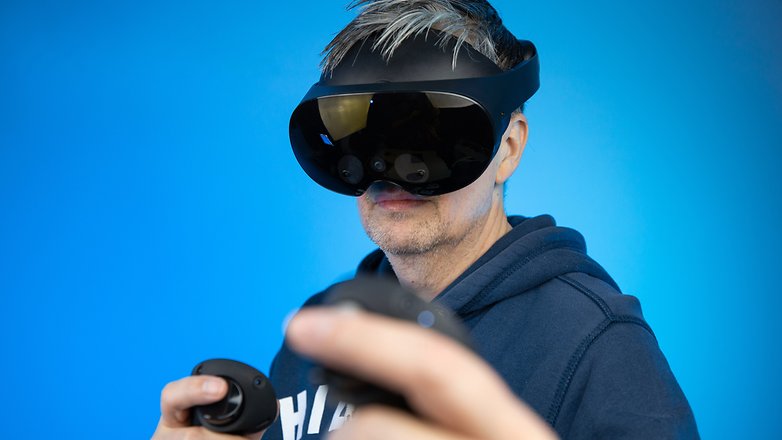 The Apple Vision Pro is a bridge between the virtual and real worlds, not a wall
Apple's commitment to the real world is not only reflected in its design language. From a functional point of view, Apple communicated extensively on the EyeSight function of its Vision Pro headset.
In concrete terms, current VR headsets offer a feature called Passthrough. Using RGB cameras, you can see your surroundings without having to remove your headset.
Apple also included a total of twelve cameras, five sensors, and six microphones in the Vision Pro. On the outside, two cameras face the real world and two others face down to track your hands. There's also a LiDAR scanner and a TrueDepth camera.
Inside, two infrared cameras and a ring of LEDs track your eyes. Thanks to this eye-tracking technology, Apple can display your eyes on the outside of the device courtesy of a 3D screen that makes the device somewhat transparent. Apple dubbed this feature EyeSight.
More importantly, you can see through the headset in a way. This is what MKBHD dubbed as double pass-through mode (check out his hands-on, it's very instructive).
The Vision Pro also has a crown on its edge that lets you intensify or reduce immersion at will. This allows you to be more or less immersed in the virtual interface, or not. The choice is yours.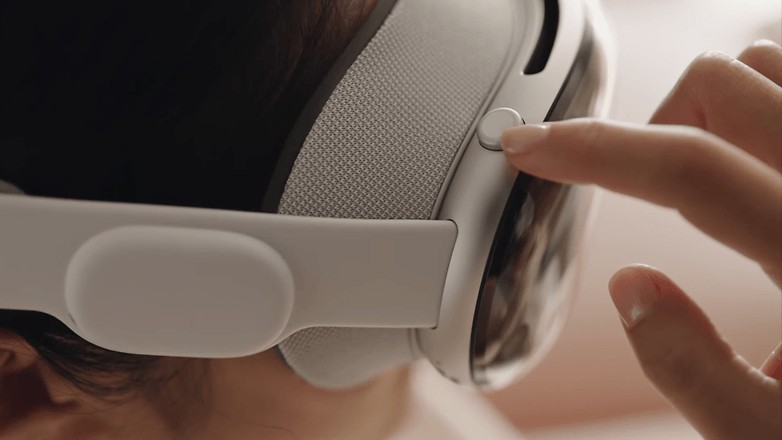 With two hours of battery life, the Matrix makes me laugh.
Okay, I've been playing devil's advocate a lot, and I feel a bit too much like the YouTuber Léo Duff, who always finds a hyper-deep, philosophical twist to Apple's slightest business strategy.
Let us then return to familiar territory: the technical specifications. The Apple Vision Pro is a first-generation product. This is extremely rare for Apple. Worse still, the Apple Vision Pro that we saw at WWDC 2023 is a pre-production model and is not even commercially available in the USA. This means it won't arrive in Europe in the next few years.
In other words, no one is going to use it apart from a select few testers. And the pool of potential buyers of the finished product will surely be just as small, given the price tag of $3,500, let's not forget that.
Let's face the cold, hard facts. Assuming the Apple Vision Pro is released in France in 2024 and people buy it. At what point can we fear any kind of addiction to the virtual world with the two poor hours of battery announced by Apple?
Yes, the headset can be used while it is being charged via a cable. However, good luck getting lost in the matrix without tripping over the cable or getting whiplash when you reach the end of the cord, which will almost certainly be no more than 1.5 m long.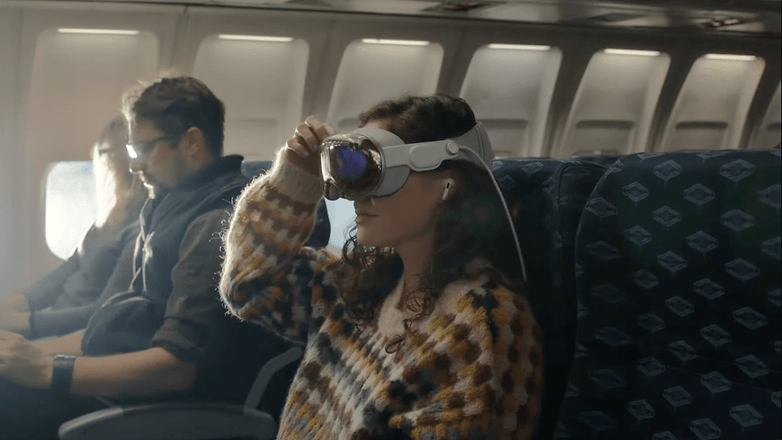 While Apple may make a big deal about the visionOS virtual interface, which looks a lot like iPadOS, people are going to use the headset to consume content.
As good as the image quality from the Zeiss lenses and the two 23-megapixel micro Oled screens may be, I can't see myself working with the Vision Pro on my skull for eight hours. Nor do I see myself lugging it around at a 10-year-old's birthday party, who does not yet exist. Personally, if I see a parent staring at my child (who doesn't exist, did I already mention that?) through his Vision Pro, I will call the cops.
On a more serious note, people will want to use the Apple Vision Pro to watch movies and series, or to play games. But apart from a glimpse of Disney+ during the conference and a few totally pointless games from the Apple Arcade catalog, Apple's proposal lacks appeal on this point.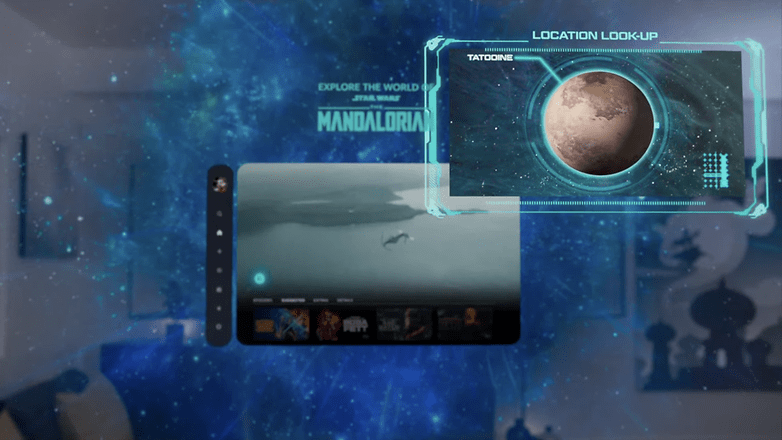 When it concerns gaming, SVOD is already very well taken care of in the Apple TV catalog alone. Apple certainly won't be giving you access to your Steam library. The leading VR games of the moment won't necessarily be available either.
Of course, I don't doubt Apple's ability to offer a catalog of exclusive games. In terms of hardware, the M2 chip integrated into the Vision Pro — which can function as a true stand-alone PC will be more than powerful enough. But that doesn't mean I'm expecting a steady stream of AAA games that will have me totally hooked.
So much for this opinion piece. I could have gone on for 2,000 words about the price of the Apple Vision Pro. However, I've learned the hard way that there's no point in doing so. Apple products are expensive, especially "Pro" products. Also, I feel that bitching about Cupertino's pricing policy has become redundant by now. So I thought I'd take you by surprise and discuss the Apple Vision Pro's other "problem".
What do you think of it? Do you fear that Apple's headset will make us even more disconnected from each other than we already are? Personally, I found the product to be fascinating because it does away with joysticks, making navigation and controls more intuitive, at least on paper.