Here's why this application is the best VPN out there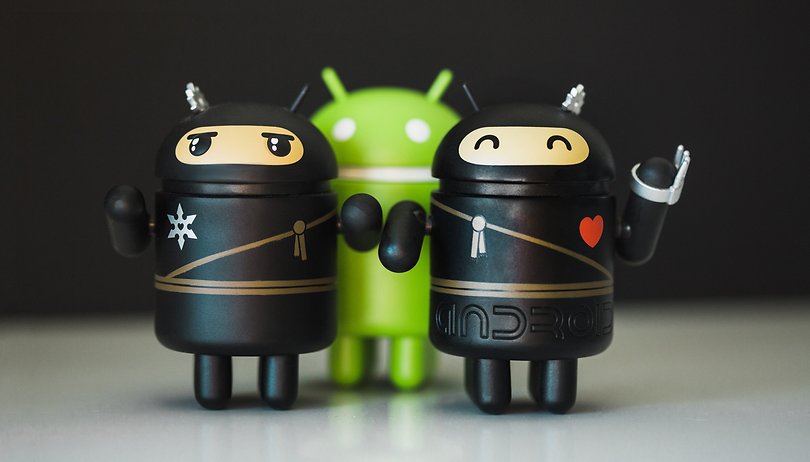 Here at AndroidPIT, we regularly test new apps, whether for work or for pleasure, and sometimes we come across a rare gem. Today I would like to share with you a new favorite I've had in recent weeks: the NordVPN application.
Why bother with a VPN?
VPN is an acronym for virtual private network. The topic can be somewhat difficult to understand for someone new to it, so an analogy may be a better way to describe it. Imagine that user A and user B each live at one end of a city. To get to each other's houses they take their cars and drive down the street. The users represent remote PCs, and the route they take is the network. The VPN is simply a private tunnel under the road that allows you to get directly from A to B without being noticed.
When people think about VPNs, they imagine countless lines of text with error messages, complicated words and so on. But these are just misconceptions, since you can connect to most VPNs in a new taps/clicks.
But let's get back to the concept of a VPN. Why would you want to use one? It's simply better not to take a normal route. That way you can avoid roadside checks and take routes that would otherwise be impossible to take, and above all, in some of these tunnels you can even drive without a licence plate. Needless to say, people love using these secret routes.
In other words, this means that the VPN will give you the IP address of a server located in another country (you can choose which one), and if your VPN is anonymous you can surf the net without your IP being displayed. This means you can use any service/site that analyzes your connection and it will think you're in another country, so it can't track you down.
What makes NordVPN so impressive?
No matter whether you just want to be anonymous on the web, circumvent limitations or access foreign TV channels, you have several possibilities. Going through free proxies is no longer really an option in 2018, since the majority don't work (at least not anonymously) and are extremely slow. NordVPN isn't just fast, but it also offers other advantages.
Simplicity is paramount
As I already explained, using a VPN can sometimes be complicated. Developers are doing everything they can to make things easier for users, and the most famous VPNs offer a click & go system. NordVPN is no exception: you can install an app on your Android, iOS, Windows or MacOS device, and you're done. Whether you're using a map or a list, bookmarking your favorites or not, just tap on the server name to log in.
If you have a problem, you can contact customer service. It's always open, but there's a very slim chance you'll have to contact them anyway. It's easy to create or cancel your subscription, and it can also be done very simply in a few clicks. As far as payment is concerned, you have several options (PayPal, iTunes, Google Play, Bitcoins, etc.)
Big selection of servers
NordVPN doesn't offer IP addresses for every country in the world, but there are still many to choose from. You'll find several servers in many countries on all continents. The US and Europe are very well equipped, but some other regions are lacking.
According to NordVPN, you can access 3,359 servers in 58 countries.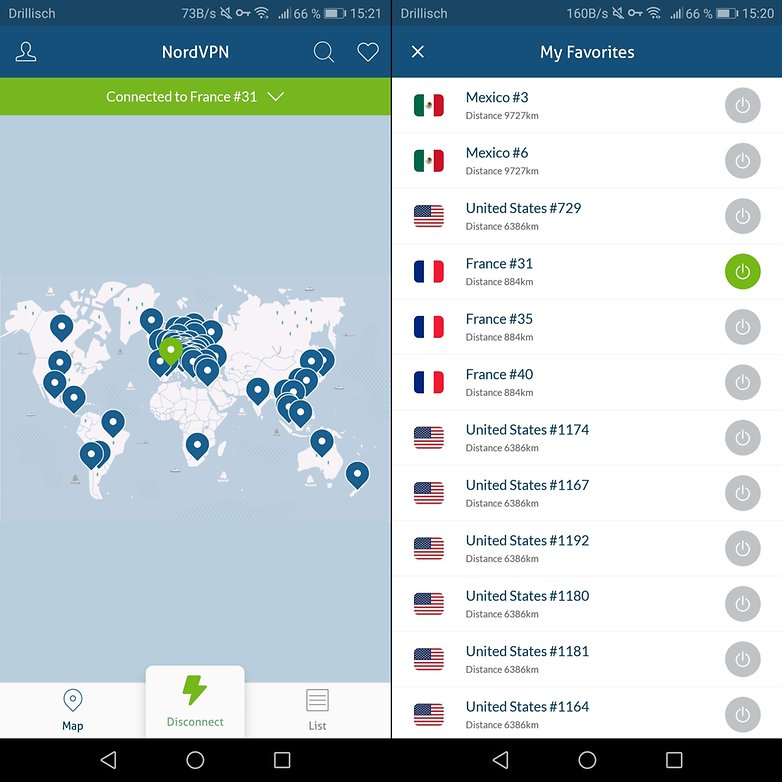 Security and privacy
You may want to be anonymous on the internet for whatever reason. Nowadays you may feel targeted by advertisements, personal data records, etc. With a VPN you can move through the net without sites knowing where you're connecting from. NordVPN doesn't log your connections and its offices are in Panama, so you shouldn't get too annoyed.
Access to geolocation content
Most American television channels are only available in the US. And most TV channels abroad are only in their respective countries. That's why VPNs make sense: if you assign yourself an IP address in another country, you'll unlock loads of content. Although this may not be of interest for everyone, let's move on to a more convincing example: Netflix.
Netflix offers different catalogs in different regions. This mostly has to do with different companies buying the rights to shows and films in different regions. So on the American site you'll find many series you can't find in other countries, but there are also some lacking. You might be surprised to find that Rick and Morty is available on Netflix in 37 countries, but not in the U.S. and Canada (because it's on Hulu).
This is where a VPN comes in handy. A VPN will let you access the Netflix catalog from whatever country you want, but they've been making life hard on VPNs. In recent months, Netflix has refused to work with a large majority of VPNs with a few exceptions. Nord VPN is one of them.
Practical features
Like many VPNs, NordVPN offers you several practical function to use. The most known one is Kill Switch: it is simply intended to force applications (you can choose which ones) to connect to the internet only via the VPN. Another interesting feature is the ability to automatically connect to the VPN when you're using a Wi-Fi network that you don't completely trust (like a hotspot). You can also find a specialized option for 'difficult' networks, like those in China.
If you'd like more information on all the technical features offered by this VPN, I invite you to visit the app's official website where they're all listed.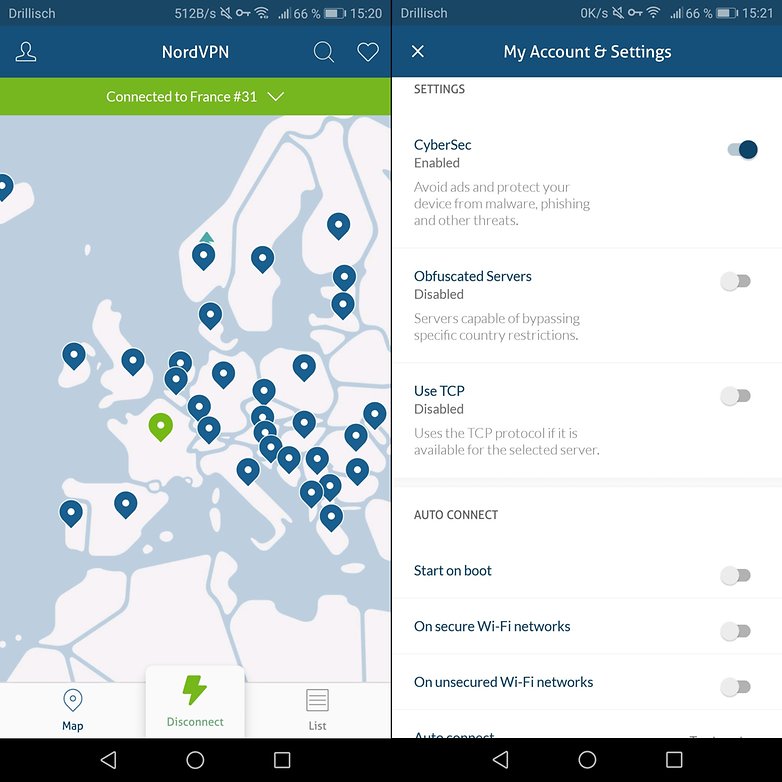 An attractive price (in the long-term)
I wanted to write the NordVPN has very attractive prices, but it's only really true to a certain extent. If you use it in the long-term, you'll get your money's worth, since the subscription is $5.75 for one year or $3.29 for 2 years. Now there is even an offer for $2.75/month for a 3-year subscription.
These are attractive prices, but you have to remain interested in the product for a long time. In the short-term, the subscription costs $11.95 for one month, which is quite a lot. In any case, they offer a free trial for a few days so you can get a taste for what it offers.
If you have any questions (technical or not), don't hesitate to visit the forum.
Did you know about this app beforehand and have you ever tested it? And how do you feel about VPNs in general?