How to show battery percentage on the Nexus 6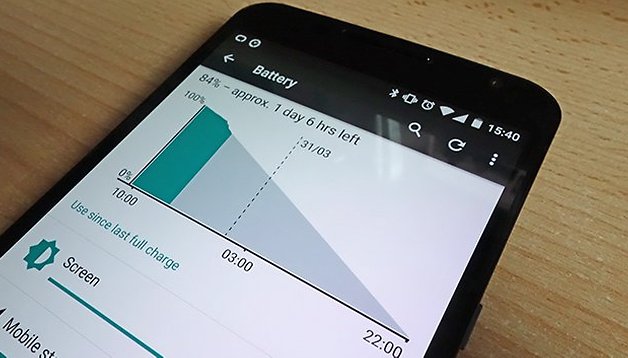 Google's Nexus 6 has got a big battery: it's a 3,220 mAh battery, and it's there because the Nexus 6's big display requires a lot of power to run. By default the Nexus 6 displays your remaining battery life as an icon, and that icon appears to empty over time, but that's hardly the most informative way of presenting battery life and letting you know how long you've got before it's time for charger panic. If you'd like to know exactly how much battery life is left, you can configure your Nexus 6 to show the battery life as a percentage. Here's how to do it.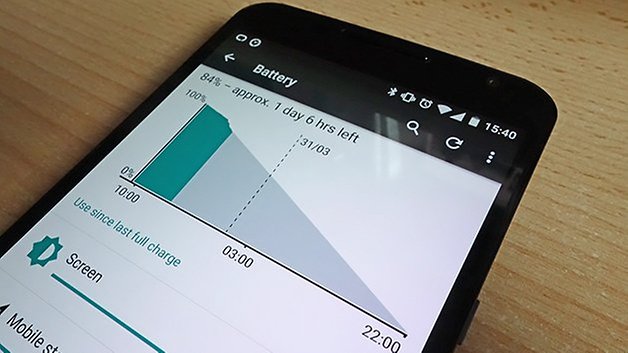 How to show the battery percentage on a Nexus 6 running Lollipop
This couldn't be easier. All you need to do is to bring down Lollipop's Quick Settings panel, which you can do by swiping from the top of the screen with two fingers, swiping with one finger and tapping the grey bar or by sliding down with one finger and then doing it again. You should now see the battery percentage next to the icon at the top right hand corner of your Nexus 6's screen. You can also see the percentage figure in the Battery status page, which you can access from the Settings page.
How to show the battery percentage on a Nexus 6 running KitKat
If you have downgraded your Nexus from Lollipop to KitKat, you'll need to install a third party application in order to keep the battery percentage visible on your device. There are stacks of third party battery apps to choose from in the Google Play Store, and the best known is probably Battery Percent Enabler.
Battery Percent Enabler is very simple to install: just run it, click on Enable Battery Percent and then reboot your Nexus 6. Once you've done that you can uninstall the app and the percentage will still display, because the app actually changes a hidden setting inside Android itself: think of it as flipping a switch that stays flipped. The numbers only appear if the battery is heading towards empty, however, as the text is white and so is the battery level. That's because the color is hard-coded in Android, and to change it would require rooting your device.
If you've uninstalled Battery Percent Enabler and want to revert back to the old way of looking at your battery, just reinstall it, disable the setting and reboot. Your battery icon will be back to normal and you can uninstall the app again.
Battery Percent Enabler isn't the only app that can display the battery life as a percentage. The excitingly named Battery Percentage can do it too, albeit in a slightly different way and with a few potential irritations.
Rather than replace your battery icon, Battery Percentage adds the percentage charge to the top left of the status/notifications bar. It can't be on the right because unlike Battery Percent Enabler, the Battery Percentage App isn't unearthing a hidden Android setting. Third party apps aren't allowed to mess with the icons at the right hand side of the notification area.
It's a similar story with Battery Status Bar, which gives you a choice of icons and which once again displays the percentage at the top left corner of your device. As with Battery Percentage, the Battery Status App is free but ad-funded so you'll need to buy the ad-free version if you can't abide advertising.
There are plenty of battery percentage apps to choose from, but if you're desperate to see the status on your unrooted Nexus 6 we'd recommend either dumping KitKat or using the Battery Percent Enabler app. That's because that particular app is simple, effective and won't put adverts on your device.
How to display the battery percentage on a rooted Nexus 6
If you've rooted your Nexus 6, the MCR Modpack (r11) enables you to display the battery percentage next to the battery icon. Naturally it's capable of a lot more than that too, with options including changing how your device unlocks and how it sleeps, changing various user interfaces and hiding the clock. It requires the Stock LRX22C ROM or, as developer Paul O'Brien says, "bad things will happen."
Have you tried one of the third-party battery percentage apps and if you did, were they worth the install? Have you found a mod that does it better? Do you think anyone who can't be bothered swiping down to see the battery percentage is a little bit lazy? We're all ears. Let us know your own experiences in the comments.