Meta Quest Pro hands-on: VR's priciest standalone glasses!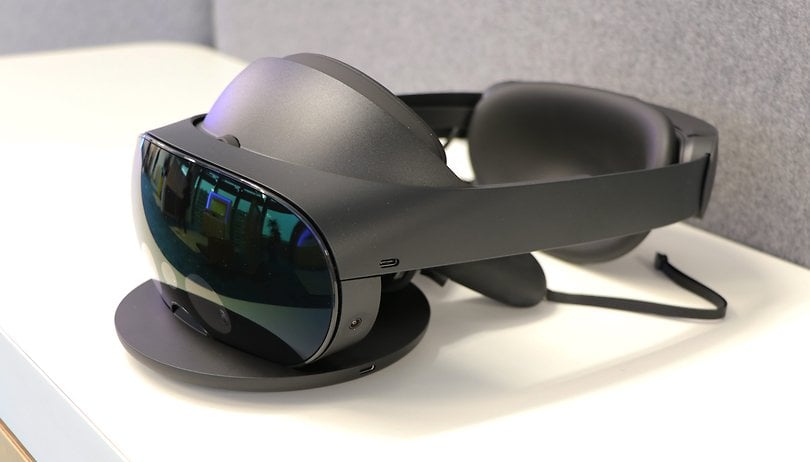 The Meta Quest Pro is currently the most advanced standalone VR glasses on the market, at least until Apple finally makes the "Apple Reality One" or "Apple Reality Pro" mixed reality headsets the official must-have device for every household. Until then, Mark Zuckerberg's all-in-one headset remains the measure of all things, which we were allowed to check out for the first time at Meta's headquarters in Berlin. Here is our first impression!
Good
Very good display due to the pancake lenses

Fastest processor on the market

Face and eye tracking

High wearing comfort

Good memory configuration

Self-locking controller
Bad
Too expensive

RGB passthrough

Battery charging time

Only 72/90 Hz refresh rate
The Meta Quest Pro in a nutshell
With the Oculus Quest and Quest 2 (later renamed as the Meta Quest 2), the former Facebook company gave us the feeling that virtual reality would remain affordable even with all-in-one headsets. However, the Meta Quest Pro, which was announced as much lighter, should already burst this utopian bubble. Since December 9, the "professional" Meta Quest can be purchased worldwide for $1,499.99 (12/256 GB).
Here is some information for you to take note of: The Meta Quest 2 was not available in selected regions outside of the US for a long time due to the Facebook account requirement at the time. A good case study would be Germany. Alongside the presentation of the Pro model, there was the Meta Quest 2 model released with a starting price of $399.99 (128 GB).
Now, Mark Zuckerberg has never made it a secret of the fact that the Meta Quest 2 is more or less subsidized. How? With your data, of course! The company does not provide additional details on this. In other words, no one knows exactly to what extent the information collected by the VR glasses will be evaluated or sold for advertising purposes. However, it would be more exciting to ask what happens with the Meta Quest Pro: Does it still collect data despite the atrociously high price? We are still waiting for the answer to that question, though.
Design and display
Yes—the Meta Quest Pro is significantly slimmer and more ergonomically built compared to the Quest 2 . It looks a bit like a pair of ski goggles and is less boxy around the nose, unlike the Quest 2. However, the scales show a whopping 722 grams compared to the Quest 2's 503 grams when weighed. It must be all the 'muscle', right?
Not really, the additional weight is attributed to the rear "headstrap" where the battery is installed and ensures a much better wearing comfort. I subsequently purchased the same accessory for the Quest 2, which saw the "cheaper" standalone VR glasses increase in weight all the way to 670 grams.
Nevertheless, the holder on the forehead did seem to be a wee bit too narrowly designed to me, with less than adequate padding. I suspect that the forehead is the first to suffer when it comes to intensive gaming sessions. Unfortunately, we were not able to wear the 265 x 127 x 196 mm Quest Pro for a long time at the event, so this assessment will have to be made later.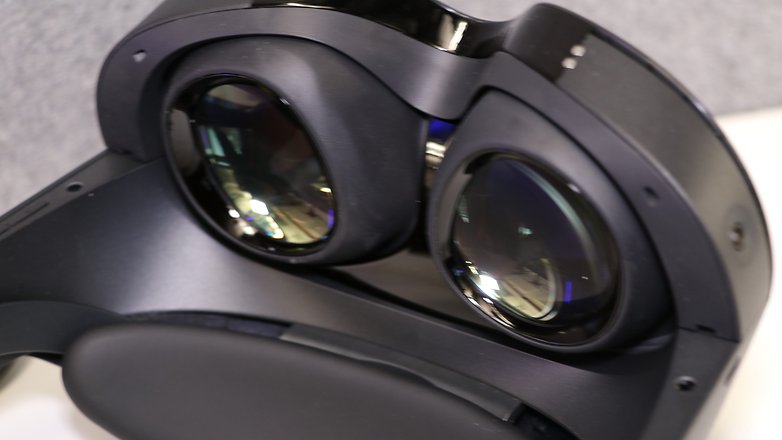 In general, the Pro headset can run for almost two hours on a single battery charge, depending on what you use it for. If you use a lot of mixed reality applications, then it will be considerably less. Once the headset's battery is exhausted, it will have to be charged in the charging cradle, which also does the same for the controllers. The average charging time stands at two hours, resulting in you having to take a forced break. In our review of the Vive XR Elite we show you how HTC solved this conundrum better.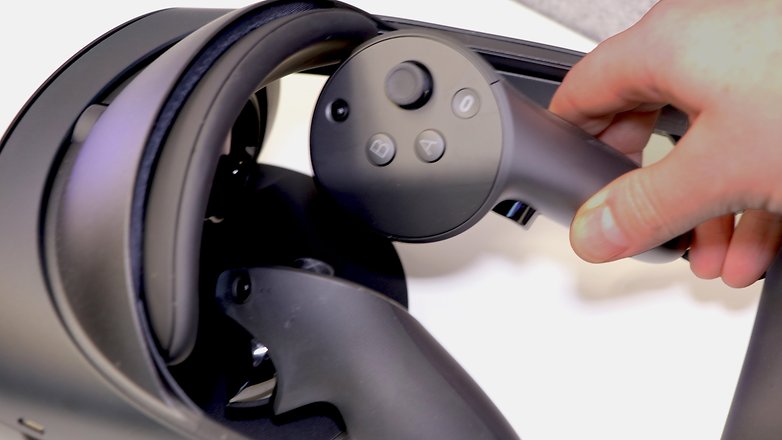 The display
However, things start to look better (heh, heh!) when we put on the VR goggles. Meta installed a pair of pancake lenses, where each of which come with a 1,920 x 1,800 pixels resolution at 72 or 90 Hz refresh rate per eye. Yes, you read it correctly - this is slightly less than the Meta Quest 2 (review) and considerably less than ByteDance's Pico 4 (2,160 x 2,160). But said lenses offer an equally sharp image without a sweet spot across the entire 106-degree field of view horizontally (96° vertically).
If I did not know any better, I would assume it to be an OLED panel due to the good contrast, colors, and black values. However, just like the competition, there are only two LCDs.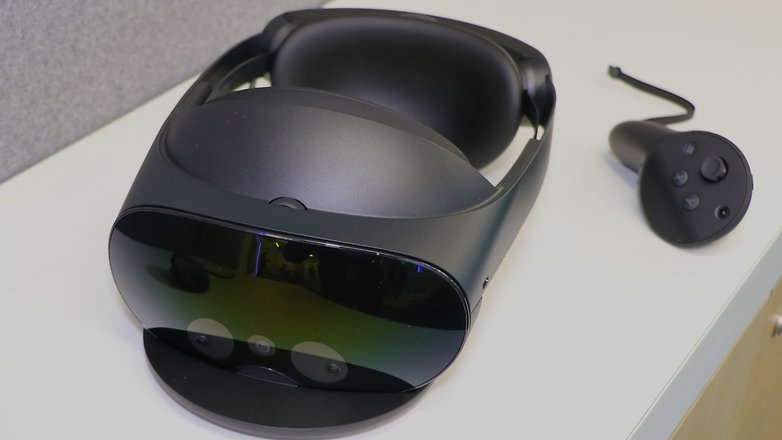 Meta Quest Pro in use
Meta set up several spots for the press at its event in Berlin, where the Meta Quest Pro could be tested out for its respective special capabilities. Among other things include eye and face tracking, mixed reality functions, and the special hand tracking.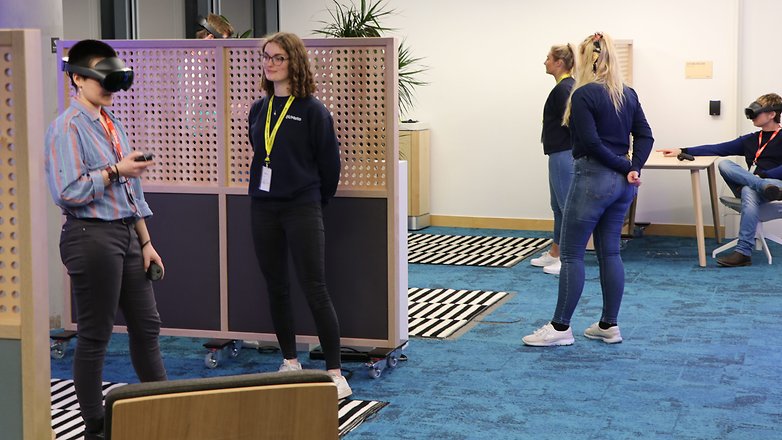 It quickly became clear to me what was later also confirmed in a video call with the team in Menlo Park, California: The Meta Quest Pro is not looking for its target audience among the typical consumer who plays VR games, enjoys fitness programs in the virtual world, or connects to the PC via Link, or Air-Link (WiFi 6E), and gets lost in the Oculus and Steam VR stores.
No, the $1,499.99 Meta Quest Pro is intended for commercial use, even though you can do everything with it that you can with the consumer-friendly Quest 2, and much more. In retrospect, this seemed a bit like an excuse, because hardly anyone who wants to play in virtual reality wants to spend $1,500. They will probably rather try their luck with the PlayStation VR2, which costs $549.99.
However, you should not forget that Mark Zuckerberg has more or less already announced the Meta Quest 3 which is slated for a fall 2023 release. It is likely to take over some of the Quest Pro's features.
With this background knowledge, we were not surprised by the test stations set up at the Meta event. The company practically simulated an architect's office in Mixed Reality, where streets, houses, and rooms could be planned virtually and also experienced in a similar manner. In addition to a virtual DJ booth, an office workstation was also simulated. Here, the primary goal was to experience face and eye tracking with one's own avatar. The Meta Quest Pro is now the first all-in-one VR glasses that can handle such tracking. Vive wants to offer such functionality for its XR Elite (review) as an option in the near future.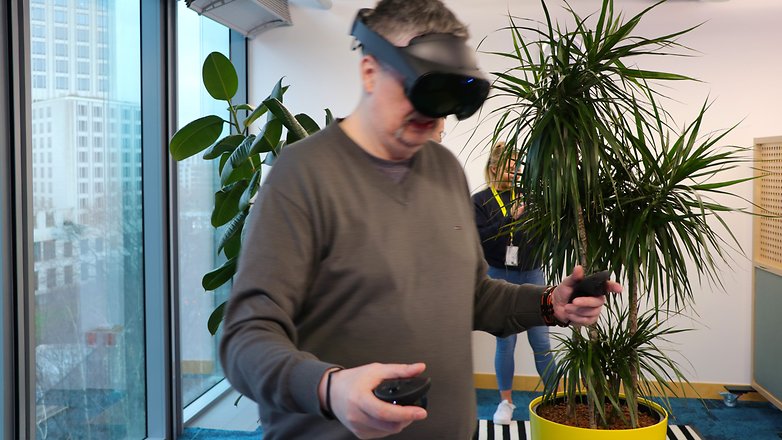 Short question: does it work? Short answer: yes. But it does take significant facial contortions for your counterpart to recognize a semblance of your facial expressions. If you're having a normal conversation, they'll only recognize simple lip twitches. But hey, we're still at the very beginning of the VR revolution. Another station was dedicated to hand tracking, which seems to be much further along in its development than the Quest 2 realizes. But once again, please wait for our detailed review.
Meta Quest Pro performance
Meta is the only manufacturer to install a Snapdragon XR2+ Gen 1 in the Quest Pro. The funny thing is that nobody really wants to reveal what the octa-core processor manufactured using the 7 nm process is capable of.
All that can be heard from Qualcomm is that the Snapdragon XR2+ Gen 1 performs state-of-the-art interactions with 50 percent higher continuous performance compared to the previous generation. Experts suspect a prime core that has an increased clock speed, up from 2.84 GHz to 3.2 GHz, doing all the hard work. Fabian Nappenbach (HTC), on the other hand, claims that it is merely better cooling. Do take note that the Adreno 650 GPU (Graphics Processing Unit) remains the same in both cases.
However, the Meta Quest Pro offers a stark difference when it comes to memory. Here, the former Facebook company begins with a stately 256 GB of internal program memory and 12 GB of LPDDR5 working memory. The extent to which this can be expanded via the second USB Type-C port (Oculus Link) remains to be seen.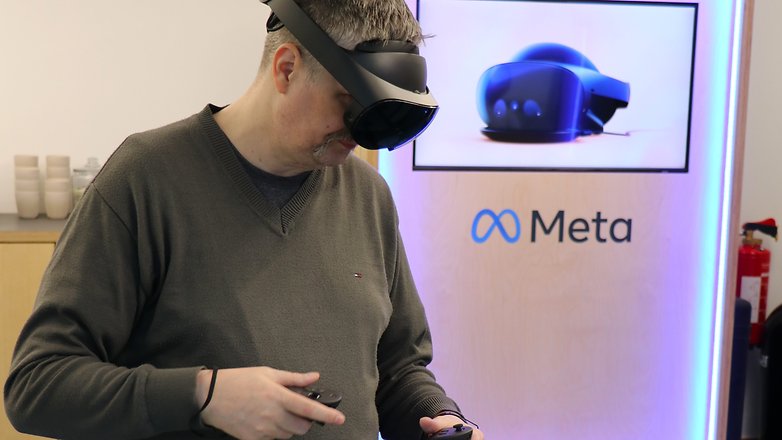 Tracking Cameras & Sensors
The advantage of standalone VR glasses is that they do not require a cable to a computer or a next-generation console, as is the case with the recently revealed PlayStation VR2. So-called base stations don't need to be mounted, either. All the technology is in the goggles and the two hand controllers.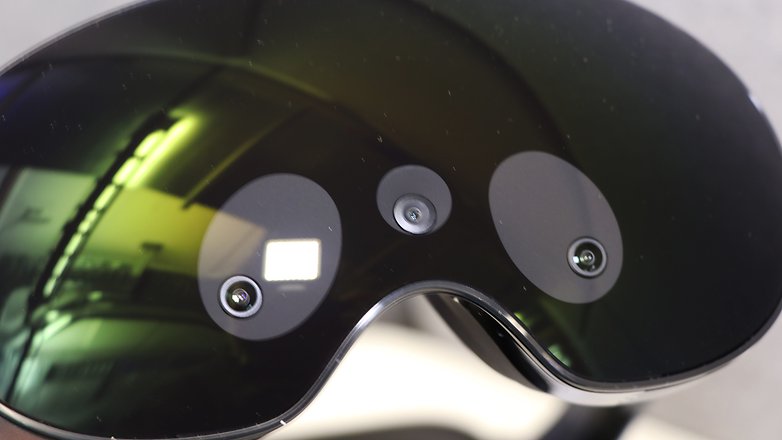 In our case, there were four 6DoF inside-out tracking cameras and one RGB passthrough camera. This one caught our attention in our first on-site hands-on. Those who read our "heads-on" of the HTC Vive XR Elite may remember my excitement concerning the Mixed Reality as well as what the "overlaid" color camera offered.
It worked so well for HTC that we could both read and operate a smartphone or notebook without any hassle. This was not really possible with the Quest Pro. On the other hand, the depth sensor was quite impressive. It seemed to be a bit more precise than the $1,099 Vive XR Elite.
The Meta Quest Pro comes with two new "Pro Controllers" which are visually striking due to the missing tracking ring. They now have three 6DoF tracking cameras per controller and their own Snapdragon 662 SoCs. Their own tracking capability now allows them to practically track 360 degrees, doing so behind your back even. This means a far more precise tracking capability that showcases its strengths, especially in fast games.
Meta Quest Pro battery
The topic of battery life is a real pivotal point when it comes to one-in-all headsets . After all, the self-sufficient form factor is what made it an all-in-one headset in the first place. It is therefore almost a bit disappointing that the runtime of the unknown large and permanently installed battery is only specified at two hours according to the technical specifications. The same applies after a full charge at the charging cradle.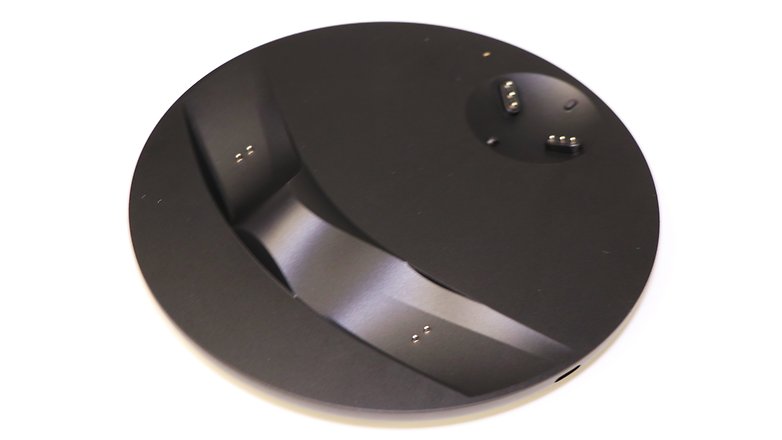 Here, the HTC Vive XR Elite once again exhibits a clear advantage as its battery can be changed during operation (via hotswapping). Of course, the Meta Quest Pro can be powered by an external battery via the USB Type-C port, which would theoretically extend the runtime.
We were a bit disappointed to learn that the controller's batteries are not replaceable. Presumably, they comfort themselves that with an average runtime of 8 hours, they will automatically store more than enough juice more often than not due to the forced charging of the VR goggles.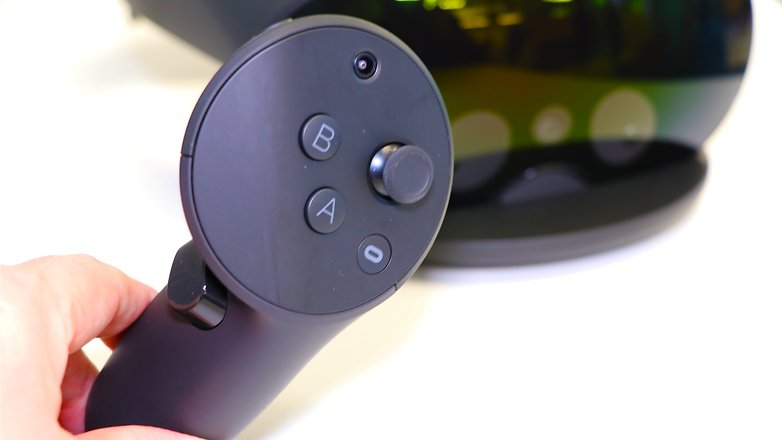 That is also true so far, as long as you do not use the new 164 g controllers elsewhere in the meantime. This is because they are also compatible with the Quest 2 and could definitely offer advantages in a "Beat Saber" battle.
Meta Quest Pro technical specifications
Technical specifications
Device
Image

Display and optics
2x 1,800 x 1,920 (3,600 x 1,920) pixels
72/90 Hz refresh rate
106° horizontal field of view
96° vertical field of view
Pancake Glass Lens
55 - 75 mm (IPD)
Dimensions
265 x 127 x 196 mm (H x W x D)
Weight
722 g (incl. battery)
SoC
Qualcomm Snapdragon XR2+ Gen 1
7 nm structure width
Octa-Core
max. 3.2 GHz
Adreno 650 GPU
Memory
12 GB LPDDR5
256 GB ROM
Expandable memory
Unknown
Camera / Tracking
4x 6DoF inside-out tracking camera
1x RGB camera
IR eye tracking
IR face tracking
Battery / Runtime
mAh unknown
1-2 hours runtime
Charging Dock (48W)
Connectivity
Wi-Fi 6E - 2.4 GHz - 5 GHz - 6 GHz
Bluetooth 5.2
Sound
Stereo speakers
3D Spatial Sound
3x microphones
Other
USB Type-C port
2x 3.5 mm (R/L) jack connection
Air Link connection to PC
Link cable connection to PC (USB-C to USB-A)
RGB passthrough
Controller
Specifications per controller:
Qualcomm Snapdragon 662
3x 6DoF
Joystick and buttons
6-axis sensor (gyroscope)
HyperSense vibration motor
Rechargeable battery
10 hours runtime
Operating system
Android
Price
October 25, 2022 (USA)
MSRP US$1,500
December 9, 2022 (GER)
RRP 1,799.99 Euros
Early Verdict
The Meta Quest Pro costs $1,499.99 in the US and a whopping 1,800 Euros in Germany, which is a damning verdict in itself. I am sure that the former Facebook company is aware of this fact and wishes that Apple will launch the Reality One or Reality Pro soon. After all, only Apple is capable of beating this price.
It is understandable that Meta has classified the Quest Pro as a pure B2B device (business to business) and would rather enter the consumer market with the Meta Quest 3. Regardless of the price, what else can I summarize from my little trip to Meta's Berlin headquarters?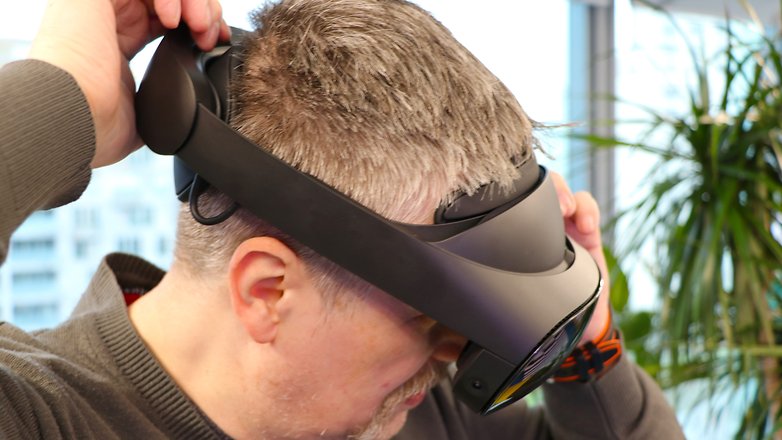 The VR goggles do many things better than their predecessor, although I expected more in terms of RGB passthrough. The Quest Pro has shed the bulky design of the Quest 2. The pancake lenses offer a much better look, even for those of us who wear eyeglasses. The stereo sound does work and if required, stereo headphones with a corresponding jack can be plugged in.
The new and revised controllers are noticeably better than in the predecessor and the eye and face tracking also seems to be on the right track. In this respect, it remains a bit of a surprise what Meta has to offer us with the Quest 3, which will then also land in affordable regions again (hopefully!). Nevertheless, we are more than excited when the standalone VR glasses finally arrive in the NextPit editorial office to catch up on all the things we missed.