Meta Quest 2 review: Two years on and still fresh as a daisy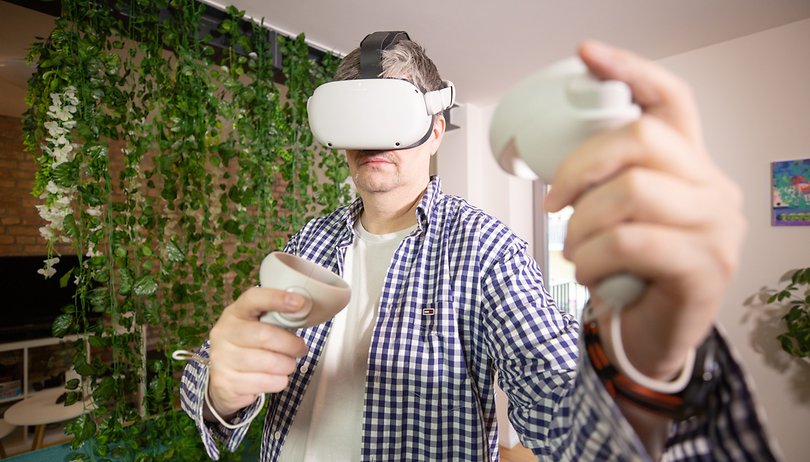 We finally got the Meta Quest 2 in our office and this is reason enough for us to put the standalone VR glasses through test right before the presentation of Meta Quest 3 that is slated to happen this fall 2023.
Good
"Inexpensive" VR entry

Up-to-date processor

Large VR app offer

Access to the Oculus and Steam VR store via link technology

Surprisingly good sound quality
Bad
Successor is coming this fall

Motion sickness risk

Poor battery life

Grayscale passthrough
The Meta Quest 2 in a nutshell
The all-in-one VR headset, which has now been renamed from Oculus Quest 2 to Meta Quest 2 is available officially since October 13, 2020. Account-wise, it is possible to link to an existing Facebook account or with a Meta account.
Back to the availability and pricing of the Meta Quest 2. The VR headset comes in two storage configurations: 128 and 256 GB of internal program storage. At launch, the Meta Quest 2 also came in a 64 GB version priced at $299, but that has since been discontinued. There is no optional memory expansion via microSD card.
The current recommended retail price for the smallest model (128 GB) is $399. The 256 GB model costs $499.00.
Display & Design
Let's not kid ourselves: The Meta Quest 2 is also a rather less discreet pair of VR goggles that you wear. Meta stated its dimensions of 191.5 x 102 x 142.5 millimeters. However, the apparatus in front of your eyes should be decisive.
The white "box" on the nose with its 2.73-inch LCD panels (1,832 x 1,920 pixels per eye), complete with Fresnel lenses with a 104-degree horizontal and 98-degree vertical field of view, measures 16 x 10 centimeters (width x depth). The refresh rate of the panels stands at 60, 72, or 90 hertz. After a recent update, 120 hertz is also supported as part of an experiment for some games.
The entire standalone VR glasses tip the scales at 670 grams. However, I also subsequently purchased a padded "Elite Strap". This purchase offers better wearing comfort, a rear adjustment wheel, and two hinges on the side also make it easier to put on and off. What is standard here is a strap that must be tightened on the right, left, and over on the head. Thus, the overall weight ends up at only 503 grams, but it is not recommended.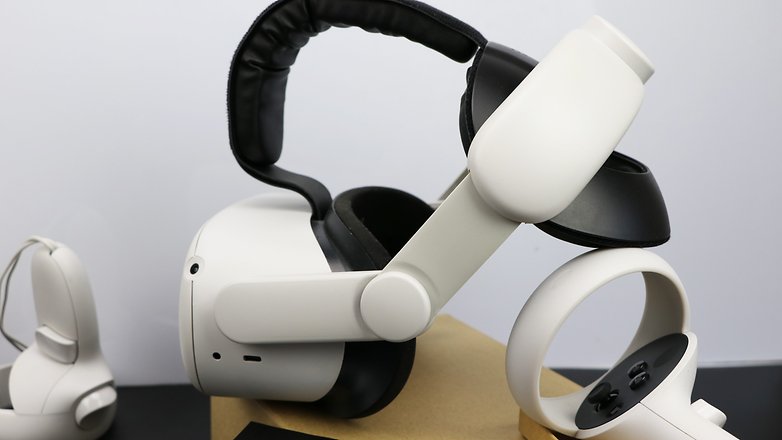 With a corresponding attachment, the Meta Quest 2 can also be used optimally by eyeglass wearers. The lenses offer three IPD settings (interpupillary distance), which have to be adjusted to your pupil distance so that the VR image remains sharp. Three distances are available for adjustment: 58, 63 and 68 millimeters. In newer VR glasses like the Pico 4 from DreamDance, the distance of the lenses can be adjusted electrically. In the Meta Quest 2, this is done mechanically.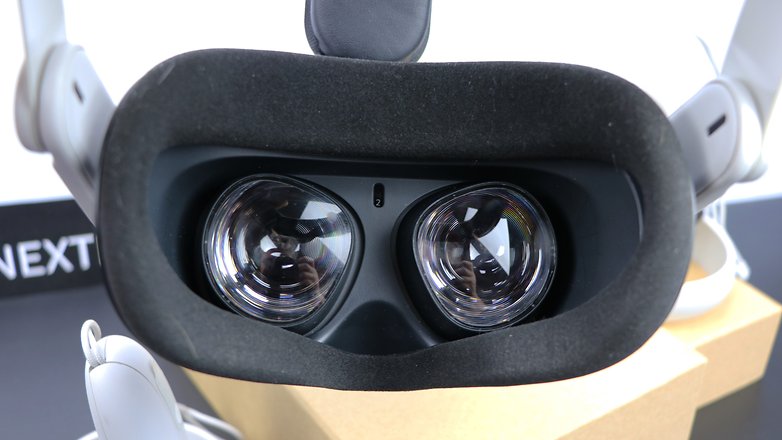 The all-in-one VR headset has a very solid build and all components are made of plastic. There is a 3.5 millimeter jack socket on the left side of the case (starting from the wearer) to connect to an analog headphone. However, there are also two speakers installed out of the box, whose sound is naturally quite treble-heavy, but still surprised with the 3D sound performance.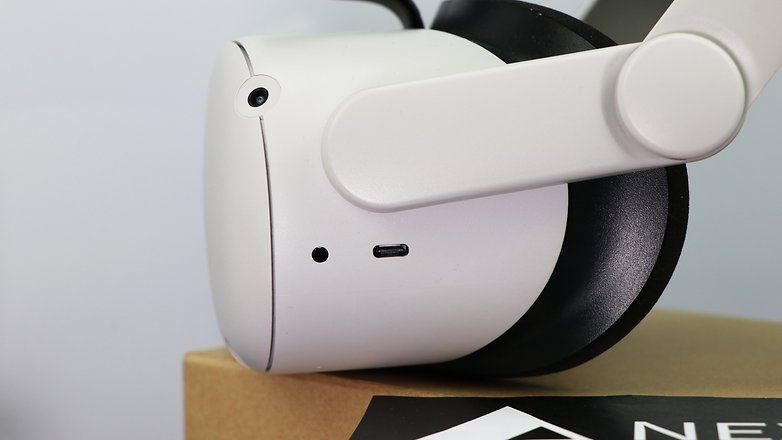 Next to the audio jack sits a USB Type-C port, which can alternatively be used for charging, as an external battery pack, or a link connection to the PC. On the right side sits an LED and the power and standby buttons. There is a volume button located at the bottom of the entire unit.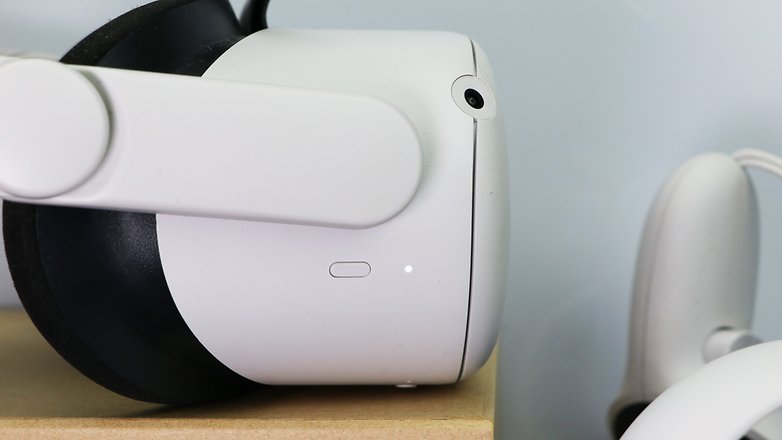 Additionally, there are two controllers from Meta, which have a wrist strap so that at your next virtual tennis tournament, the precious controllers don't get lost and end up directly embedded in your 65-inch TV. They are equipped with 5 buttons and a joystick per hand. Two trigger buttons, one of which is positioned as a kind of pistol trigger for the index finger in front and the other for the middle finger on the grip.
The thumb gets a wider resting area for the Oculus Quest and right next to it are the A and B, or X and Y buttons, as well as a joystick (which also has a pressure mechanism) and the Oculus, or menu button.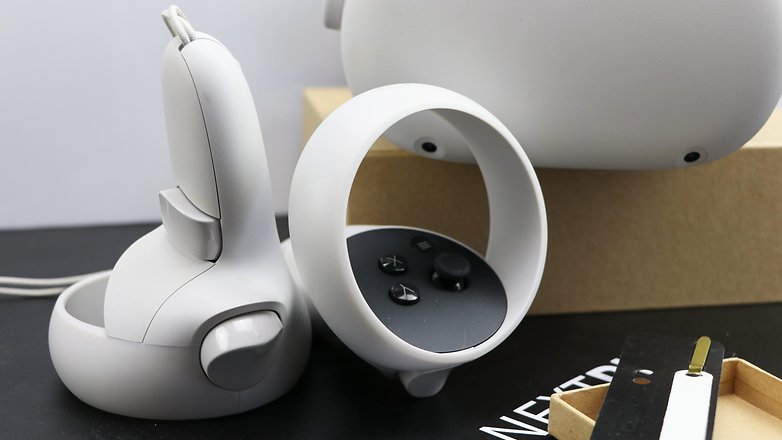 Meta Quest 2 in use
After talking a lot about the hardware and its nature of the Meta Quest 2, I would like to share a few thoughts about the application. First of all, we need to realize that the Meta Quest 2 is one of the few standalone VR glasses .Such a headset is defined by the unique feature that it does not require a wired connection to a gaming PC or a gaming console like the PlayStation 5.
Nor is there a smartphone strapped in front of the eyes, as was once the case with the Google Cardboard or Samsung Gear VR. Rather, the Meta Quest 2 is a so-called all-in-one headset, of which there are not really many on the market. The Meta Quest 2 is probably the most popular VR goggles in this category, since it was and still is heavily subsidized and affordable for the average user.
Last year, the TikTok company ByteDance attracted attention with the Pico 4, as this model is even cheaper and far better equipped. However, there are also drawbacks in the Pico 4, which we will talk about in a corresponding review. Just this much: The app offering is still quite modest, but it is growing steadily.
At CES 2023, the veteran HTC officially presented the Vive XR Elite. According to its own statement, this is an all-in-one flagship that combines Mixed Reality (MR) and Virtual Reality (VR). Unfortunately, it is not quite cheap with an MSRP of $1,099.
The Meta Quest Pro, which costs a whopping $1,500, is also a so-called Mixed Reality goggle. But what exactly is the difference between mixed and virtual reality? All mentioned headsets are from the same VR product family, but MR focuses on the so-called passthrough function.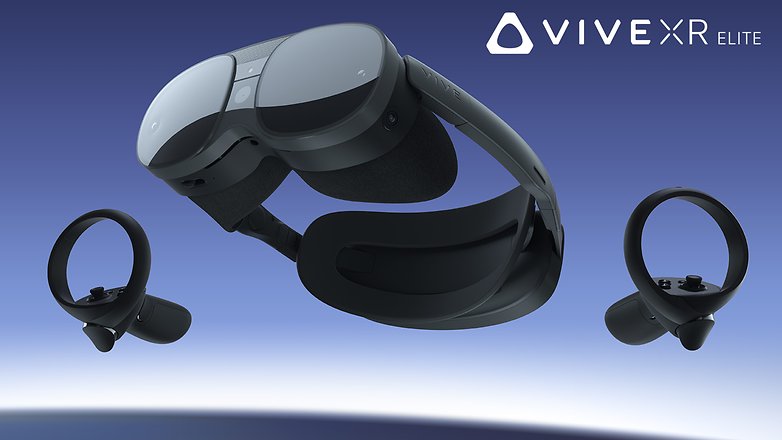 This refers to a function that is switched on and off by "knocking" on the casing twice and shows you the real environment on the display, from which you are usually isolated. In the case of the Meta Quest 2, it is only a "grayscale passthrough" function. So probably due to the age, you get a heavily pixelated black-and-white view. So much so that the letters on your real keyboard cannot be recognized when using an office VR app with the passthrough function cut out. Newer VR glasses with RGB passthrough (in color) do that better.
Who is the Meta Quest 2 for?
And at this point, we already come to our next topic: Who is the Meta Quest 2 for anyway? In my opinion, it paves the way for VR at a reasonable price, which will sooner or later end up in Augmented Reality (AR) - that is, virtual and real worlds combined. But that's another topic to explore yet again.
The Meta Quest 2 can be used as a pair of standalone goggles or as a wired or WLAN-connected headset on a high-performance PC. In standalone mode, you can access the Meta Quest Store, which already has a very large assortment of apps and games. Classics like Les Mills Bodycombat, FitXR, Beat Saber, Pistol Whip, Vader Immorta, l or Echo VR are worthy mentions here.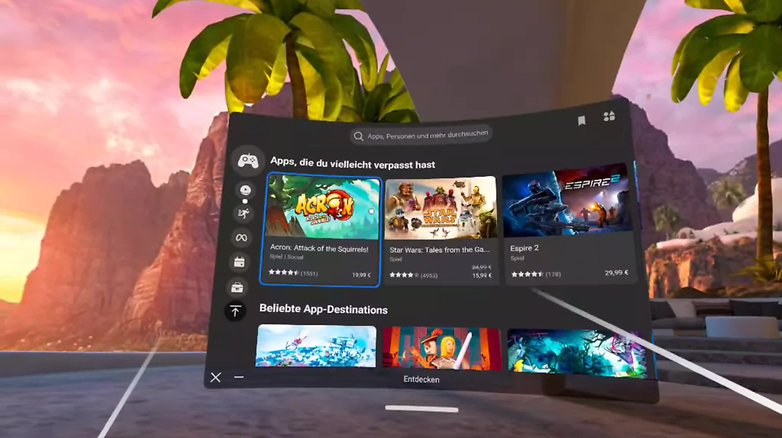 Productive apps like Horizon Workrooms or Immersed should also be mentioned here, which in my opinion only make sense with the Quest 2 for meetings with a whiteboard and access to corresponding documents. Virtual PC work on several monitors at the same time is not really recommended due to the poor passthrough.
The Meta Quest 2 in mutation mode
And here we are already at the "second world" of the Quest 2. Namely, when you connect to your PC or laptop via cable or Air Link (WLAN). Don't be surprised: You then have a second base station (Home). Here, you will rely on the capability of your computer, which gives you access to its documents via VR goggles and can also access the Oculus and Steam VR Store. And with that, you open the Pandora's box and really fierce immersive games like Half-Life: Alyx or Resident Evil 4 VR.
Motion Sickness
This will, of course, require a high degree of resolution on your side. It is said that VR users tend to get motion sickness from using it, but not everyone will. Different factors can lead to such a situation. One example would be too much latency between the sensors of the glasses and the displayed image. However, I did not suffer from this problem with the Quest 2 due to the high frame rate.
Another conflict can arise when the sensory organs in the ear notice a lack of feedback. For example, in car racing games, the missing G-forces during braking or cornering might work against your favor. Through this experience, cold sweat on the forehead, headaches, and even nausea can quickly develop. Some people can train themselves away from this characteristic, while others cannot.
Meta Quest 2 performance
Like DreamDance with their Pico 4, Meta installed a Snapdragon XR2 Gen 1 in the Quest 2. This is an octa-core processor that was manufactured using the 7 nanometer process. The maximum clock rate of the prime core stands at 2.84 GHz, while there are three additional performance cores clock at 2.42 GHz, and the four energy-efficient cryo-585 cores are content with a clock rate of 1.8 GHz. On board is a 5G modem and an Adreno 650 GPU (Graphics Processing Unit).
Bluetooth 5.0 and WiFi 6 are supported. However, this is not Qualcomm's latest Mixed and Virtual Reality processor. That would be the Snapdragon XR2+ Gen 1, which is already installed in the Meta Quest Pro, for example. The California company did not reveal any other technical specifications besides the typical marketing phrases, such as 50 percent more performance and a 30 percent improved heat dissipation.
Nevertheless, I think the Meta Quest 3, which we expect in fall 2023, will have a Snapdragon XE2 Gen 2 installed, which will probably be based on the Snapdragon 8 Gen 2. This is just my guess.
The Quest 2, on the other hand, currently has a choice of 128 or 256 GB of internal program storage after the stepped-down 64 GB version 6 GB LPDDR4X RAM. Optional expansion via microSD card is not offered here. We do not need to report about the performance in general since all applications were practically written for the processor, offering optimal performance. Consequently, there is no reason for criticism.
Tracking Cameras & Sensors
The Meta Quest 2 is blessed with ample cameras and sensors. Unlike an HTC Vive or Vive Pro 2, it does not require separate base stations to track you. Four 6DoF tracking cameras are installed in the headset. The controllers also have two 6DoF tracking sensors and one 6-axis gyroscope each.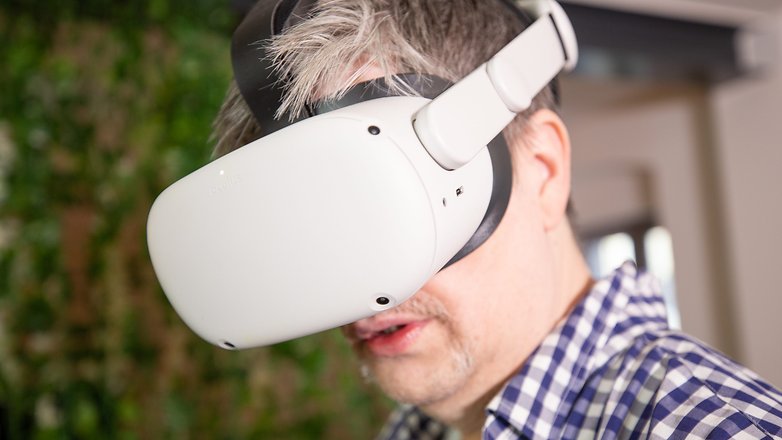 The tracking works reliably and fast at all times. If the controllers disappear from the field of view of the VR goggles' four cameras, such as at the back for example, then the connection and consequently, the display breaks down.
With the latest update, however, hand tracking is possible without controllers for some applications. You can see your hands in the VR, grab things, throw things, and the like. Finger gestures are also used to access the meta menu. This is pretty cool already, and we are still at the beginning of the journey without knowing where the final destination will land us at.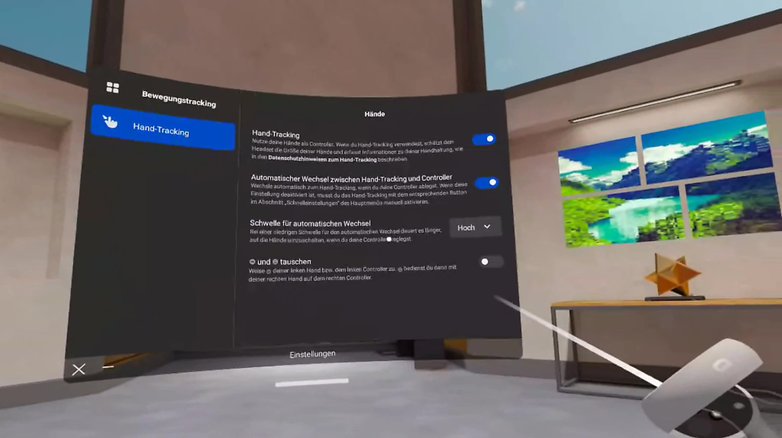 Meta Quest 2 battery
The Meta Quest 2 has a 3,640 mAh battery installed underneath the hood. The 5,300 mAh battery of the Pico 4 can be mentioned as a comparison. The big advantage of all-in-one VR glasses is unfortunately also the biggest disadvantage. You have to rely on the battery capacity unless you maintain a link connection to your PC via cable.
To my surprise, in our example of the Meta Quest 2 and the Pico 4, the two glasses only slightly differ in their maximum runtime. While the former Oculus glasses usually stop at two hours of standalone use, the Pico 4 only lasted for a maximum of 2.5 hours despite its far larger capacity.
A headband with an additional battery or a separate battery pack is available, which you connect to the glasses via cable and store in your pants pocket, and those can help. However, I still have one gripe: If you think you can move around in VR forever with a link connection, you're dead wrong: The headset also loses its charge here and has to be plugged in at some point.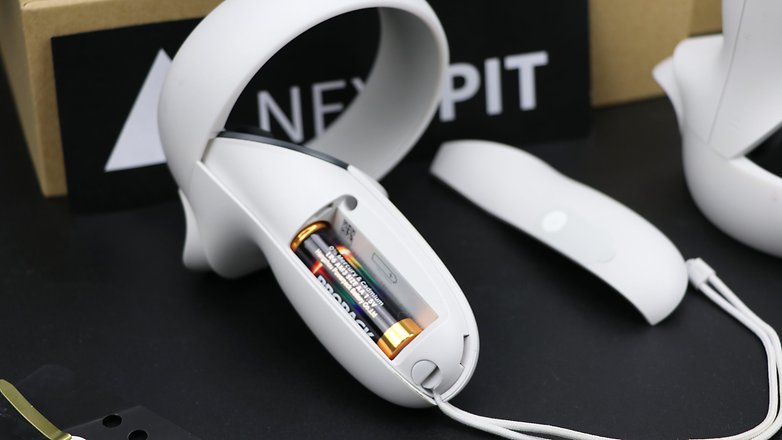 The controllers, on the other hand, draw their power from the humble 1.5V AA battery. Here, you can also explore the use of a rechargeable battery, but the runtime of a single battery is up to 100 hours. I haven't had to swap out my battery until today, so using disposables might make sense.
For the sake of completeness: The charging time from 0 to 100 percent normally stands at around 2 hours at 5 volts and 3 amps (more is not possible).
Meta Quest 2 technical specifications
Technical data
Name of the Product
Image

Display and optics

2x 2.73 inch LCD panel
2 x 1,832 x 1,920 (3,664 x 1,920) pixels
60/72/90 Hz refresh rate (120 Hz experimental)
104° horizontal field of view
98° vertical field of view
Fresnel Lens
58 - 68 mm (IPD)

Dimensions

191.5 x 102 x 142.5 mm (H x W x D)

Weight

503 g (incl. battery)

SoC

Qualcomm Snapdragon XR2 Gen 1
7 nm structure width
Octa-core processor
max. 2.84 GHz
Adreno 650 GPU

Memory

6 GB RAM
128/256 GB ROM

Expandable memory
Not available
Camera / Tracking

4x 6DoF tracking camera

Battery / Runtime
3,640 mAh
2 hours runtime
Connectivity

WiFi 6 - 2.4 GHz - 5 GHz
Bluetooth 5.0 LE

Sound

Stereo speakers
3D sound
2x microphones

Other

USB Type-C port
1x 3.5 mm jack connection
Air Link connection to PC
Link cable connection to PC (USB-C to USB-A)
Grayscale passthrough

Controller

Specifications per controller:
2x 6DoF
Joystick and buttons
6-axis sensor (gyroscope)
HyperSense vibration motor
2x 2 AA batteries 1.5 V
30 hours runtime

Operating system

Android

Price

October 13, 2020 (USA)
$399 (128 GB)
$499 (256 GB)
Final verdict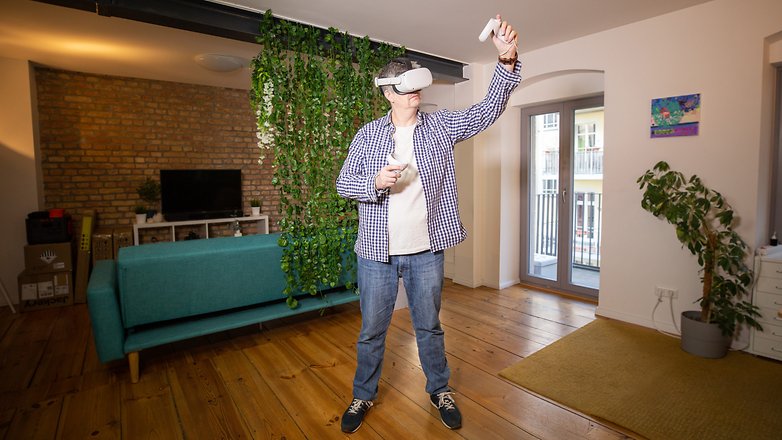 Admittedly, it's a bit strange to give a review verdict for a product that has basically been on the market for two years. But on the one hand, the Meta Quest 2 is still relatively unique on the market as standalone VR glasses, and on the other hand, the Meta Quest 3 will probably only grace us in the fall. Not only that, according to initial rumors, it could become significantly more expensive again.
In view of the much more expensive and wired VR glasses from HTC Vive, Sony and other competitors like Primax or Valve, the Meta Quest 2 with its $399 (128 GB) price tag is a really cheap entry into the world of virtual reality. And this is exactly where I see the Meta Quest 2 positioned: A "cheap" entry into virtual reality with a very large app selection, up to the optional connection to the PC and access to the Oculus and Steam VR Store.
Technically it still remains up-to-date, although the Quest 2 has lost a bit of ground to the ByteDance Pico 4, the HTC VIVE XR Elite, or the Meta Quest Pro on some levels like the passthrough technology. Let's just say that it is still sufficient for VR gaming and leave it at that.