Huawei P40 Pro review: brilliant hardware, confusing software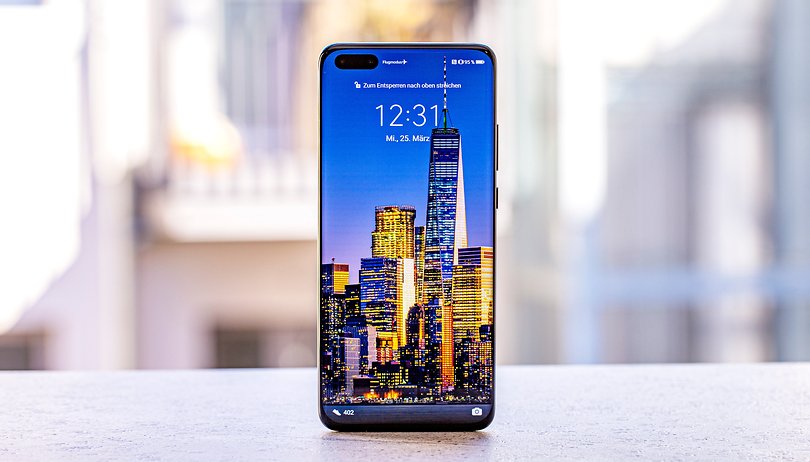 Huawei's P series has always stood for superb smartphone photography and elegant design. This year's model, the P40 Pro, is once again very impressive in terms of hardware. But using it in everyday life shows that Huawei is still in its infancy in terms of software and ecosystem.
Good
Beautiful design

Great 90 Hz display

Current Android

Very good camera

Long battery life
Bad
Huawei Mobile Services is not yet a full replacement for Google Mobile Services

App library still limited and confusing
Huawei P40 Pro release date and price
Both the Huawei P40 and the P40 Pro will be available in three high-gloss color variants: Ice White, Black, and Deep Sea Blue. Additionally, there will be two matte color versions called Silver Frost and Blush Gold. In some regions, Huawei has decided to offer only three of the five color versions. The P40 Pro starts at £899/€999 (around $1,090). The Huawei P40 with its flat 6.1-inch display costs £699€799 ($870).
In the second half of the year, Huawei will push the P40 Pro+, the non-plus-ultra camera smartphone into the race, which is identical to the P40 Pro tested here except for the camera on the back. Like Samsung's S10+ last year, the Huawei P40 Pro+ has a scratch-resistant ceramic back and Huawei has also added a second telephoto unit to the P40 Pro+, allowing two fixed focal length cameras, one with 3x optical magnification and one with a periscope lens with 10x optical zoom. Huawei calls this double telephoto unit SuperZoom Array, but has not yet given us an exact date and price for the phone.
Huawei P40 Pro design and build quality
Huawei has always attached great importance to a chic case for his P-Series and the P40 Pro also has a very nice design. On the back, the camera hump has unmistakably grown to a real island. But just this island and the landscape-aligned lettering reminds me very much of old Sony compact cameras like the Cyber-shot DSC-TX30. This is intentional, because smartphones have almost replaced compact cameras.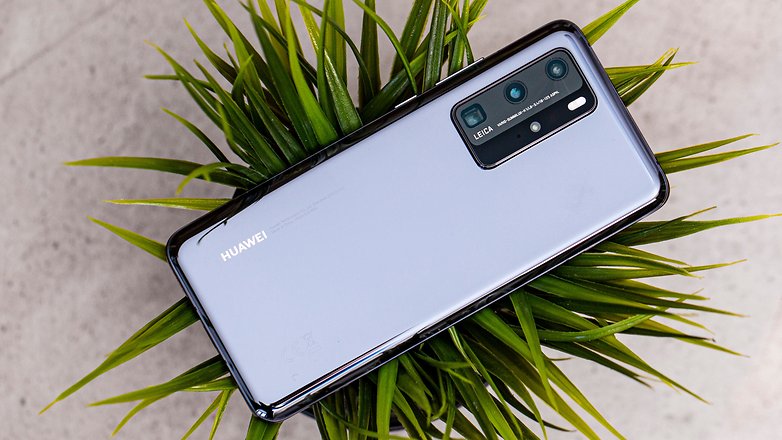 The layout of the entire smartphone is strongly geared towards using it as a camera. All buttons are located on the right side, so that they are on top when taking photos or shooting videos. Huawei said that all of this has been designed so that the smartphone is always secure and grippy in the hand. Especially when you hold it in your hands the way you do when taking pictures.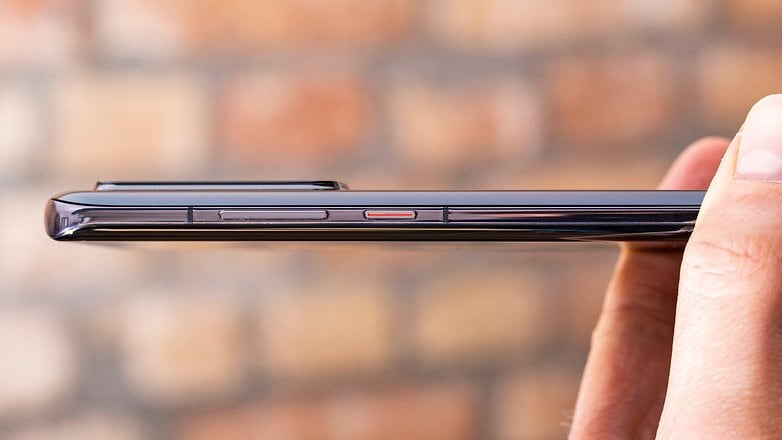 In fact, the Huawei P40 Pro sits beautifully in the hand and is easy to hold. Too bad we only got the high gloss P40 Pro in black. Due to the matte finish, the gold and silver color variations could be even more grippy and feel better in your hand. In addition, they would not be covered with fingerprints as quickly as the black model.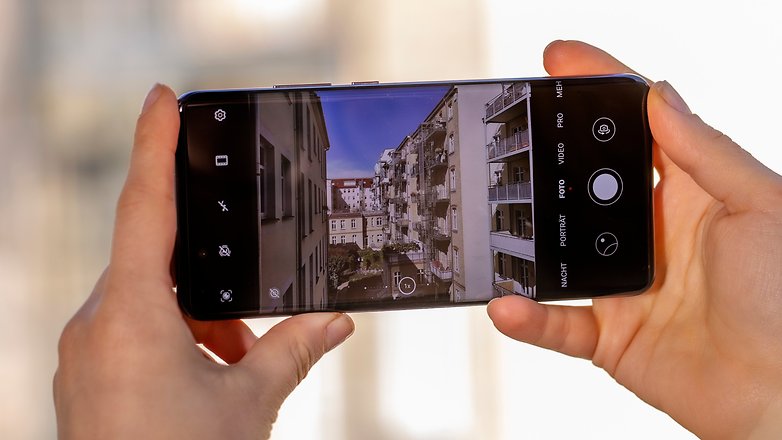 The curved overflow display is unusual, in which not only the two side display edges are rounded, but also the top and bottom edges. What I initially dismissed as bells and whistles turned out to be a kind of refinement of the whole haptic experience in everyday life. Why? If you have activated the gesture control, the fingers don't bump into a hard one anymore when you swipe up and down, but glide smoothly from the curved edge over the display. It's a great feeling and I dare to predict that this feature will soon be adopted in other high-priced smartphones from other manufacturers.
The four-sided Edge Display
The new display design of a smartphone now includes a new hole-punch for the integration of the selfie camera. Huawei's P40 Pro comes with a pill-shaped cutout this year. This not only contains the two front cameras, but also an IR Blaster, which supports the 2D face unlocking in low light conditions.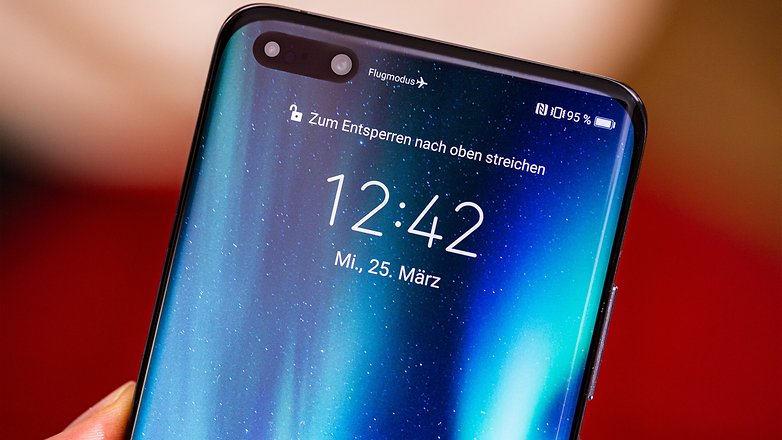 But the edges at the upper and lower edge of the display of the Huawei P40 Pro are noticeable. Until now, these were flat and straight on all smartphones, whether with edges bent over the sides or not. The Huawei P40 Pro has a small radius that bends towards the frame of the housing. Huawei's beautiful marketing name for the display is 'Quad Over Flow Display'. A small bend in the display I can see, but it is not as pronounced as on the sides.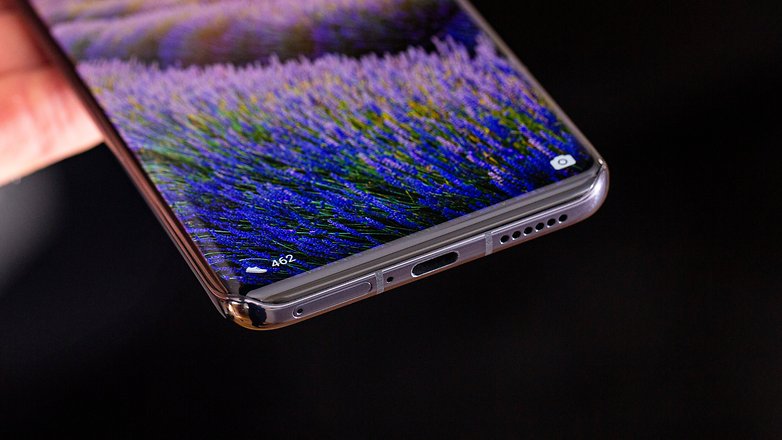 Technically, Huawei uses a 6.58-inch AMOLED panel with a resolution of 2,640 x 1,200 pixels in the P40 Pro. The panel is also able to output both 60 and 90 Hertz refresh rates. Throughout my test, the display has proven to be a very nice, bright, and color-true display. But you have to get used to the four luminous edges on the curved displays.
The fingerprint sensor on the Huawei P40 Pro has been moved unusually far towards the center of the display, which I initially found to be impractical. But in reality, the chosen placement is ideal, because you don't always have the feeling that the smartphone wants to tip out of your hand when unlocking via fingerprint.
Android 10 without Google apps and services
Huawei uses EMUI 10.1 based on Android 10 for the P40 Pro, as it did for the Mate 30 Pro and Huawei Mate Xs, so updates and security patches won't cause any problems. Huawei Mobile Services, which run entirely on the P40 Pro instead of Google Mobile Services, looks somewhat different. At first, you can give the all-clear: WhatsApp, Facebook, and Twitter all run on the Huawei P40 Pro. You can simply download the apps either the Huawei App Gallery, as in the case of Facebook and WhatsApp, or refer to the manufacturer's pages and download the APKs there. A third way, as is the case with Twitter, is quite clever and stores the mobile websites as quasi HTML5 apps that can then be used via the Quick Apps feature.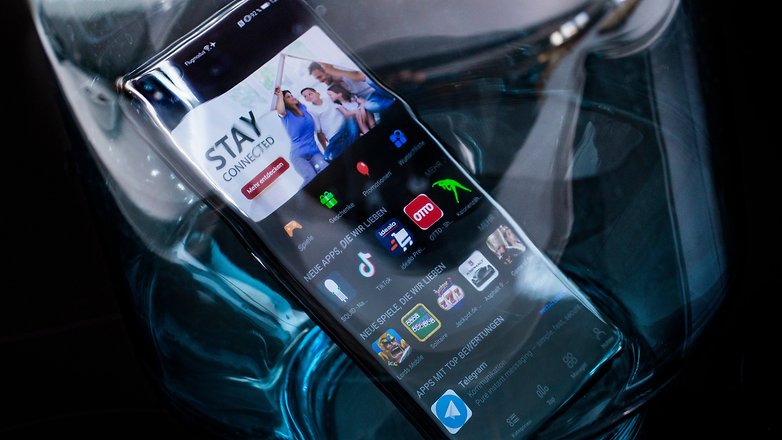 Huawei Mobile Services lagging behind
Huawei Mobile Services, which is only a few weeks old outside of China, is not yet running smoothly. Making the move via the Phone Clone App, which according to Huawei can also transport data like WhatsApp chat histories to your new P40 Pro, failed completely. Also I can't play my current favorite games like Star Trek Fleet Command and Shadowgun War Games on the P40 Pro, because they are not available in the App Gallery and are also synchronized via Google Play Services. But it is also a huge task for Huawei to convince the developers of HMS Core and its SDKs and APIs. Whether Huawei will be successful here, time will tell.
In order to understand why it is not so easy for Huawei to bring all developers from Google Mobile Services over to Huawei Mobile Services, you first have to understand that Google's services do not only come from apps such as Gmail, YouTube, Google Maps and the Google Play Store directly. There are also interfaces and background services that make Google's platform work so seamlessly. Huawei already offers a wide portfolio with HMS (Huawei Mobile Services), HMS Core, the App Gallery, and numerous services such as Huawei ID, Huawei Mobile Cloud, and Huawei's own apps. You would actually think that Huawei could now offer the same apps in the App Gallery that we are used to from the Play Store over the years. Theoretically, yes, if Google hadn't offered more and more services to app developers over the years.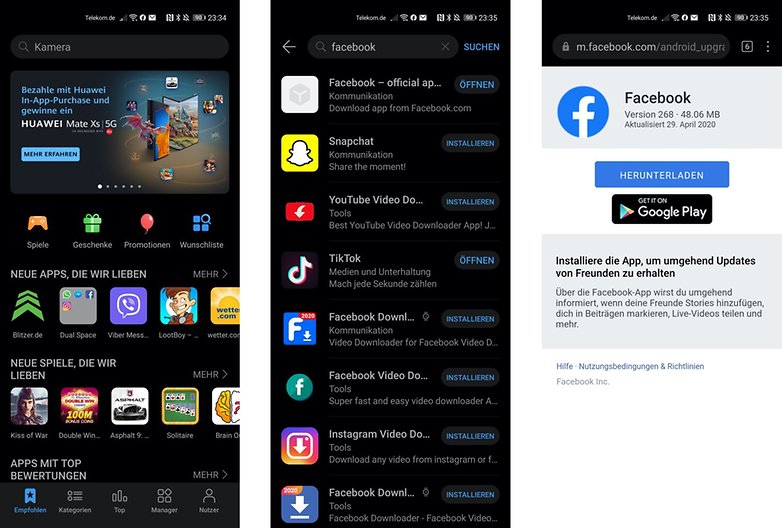 So if you buy a P40 Pro, you should first install the Phone Clone app during setup to transfer the apps installed on your old smartphone and the associated app data to the P40 Pro. After that, you have to get rid of the apps that won't work without Google Mobile Services. These are mostly game apps and all apps that allow in-app purchases and also the apps that use Google Location Services. Unfortunately, almost all are mobility apps. Ordering car sharing, e-scooters or even a ride-sharing service is unfortunately not possible. Not yet, because Huawei is working flat out to fill the gaps in the App Gallery and really grow into an alternative to Google Mobile Services.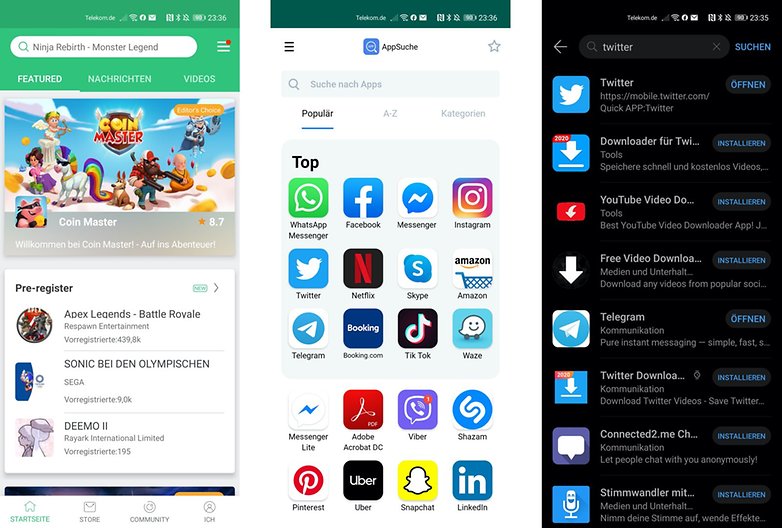 Until then you have to use so-called quick apps in addition to the App Gallery. Such apps can also be "installed" from the App Gallery, but usually only cover the basic functions. Twitter is one of the prominent quick apps. Huawei also recommends a third-party app search application. This app searches the directories of known APK and app sources for the app you are looking for. So it can happen that several download sources are offered for one app, and this a normal consumer can be overwhelmed. After all, they are used to being able to install everything from one place with one click with Google's Play Store. It gets even more creepy when you think about updates to the apps because these are not officially downloaded and installed from the App Gallery, they cannot be automated. You have to update your quasi "unofficial apps" yourself.
The fact that Huawei is working hard to become a real alternative to Google has already been shown in the course of my test. There is now a Google Maps alternative with HereWeGo and the French search engine Qwant including a browser that is quite impressive. Despite the bright spots and the alternative ways to install apps, Huawei must quickly manage to convince developers of HMS Core and its SDKs and APIs to quickly fill the App Gallery with the most popular apps such as Netflix, Disney +, Facebook, WhatsApp, and others.
Fast chip with integrated 5G modem
Inside the Huawei P40 Pro, the in-house Kirin 990 5G SoC is used. This is already used in the Huawei Mate Xs and Huawei Mate 30 Pro. There is also 8GB of RAM and 256GB of internal storage, which can be expanded with the help of a Huawei Nano Memory Card. With this combination of powerful hardware, the Huawei P40 Pro should be more than ready for all everyday smartphone tasks.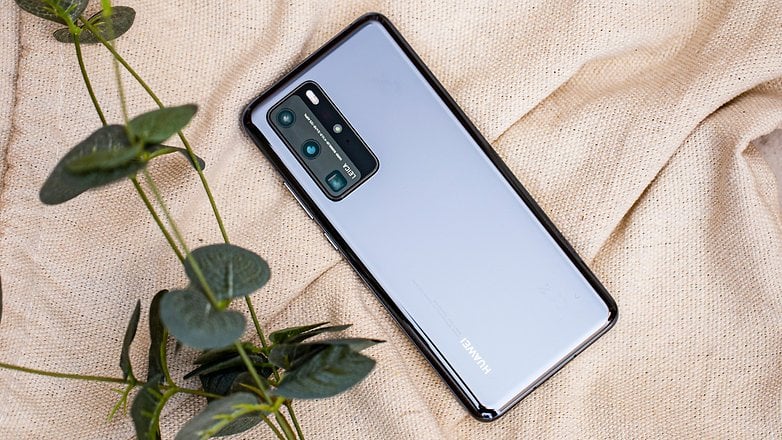 However, a small hidden feature is interesting: the P40 Pro's dual SIM feature. You have the choice of whether to use a physical SIM card instead of a Nano Memory Card, or you can use an eSIM if you want to keep your expandable storage. That's right, also Huawei finally gives you the option to use an eSIM in 2020. Great!
Huawei P40 Pro Benchmark Comparison
| | Huawei P40 Pro | OnePlus 8 Pro | Samsung Galaxy S20 Ultra |
| --- | --- | --- | --- |
| 3D Mark Sling Shot Extreme ES 3.1 | 6073 | 7122 | 6020 |
| 3D Mark Sling Shot Vulkan | 5427 | 6613 | 5245 |
| 3D Mark Sling Shot ES 3.0 | 3965 | 8864 | 6649 |
| Geekbench 5 (Single / Multi) | 754 / 2992 | 887 / 3313 | 786 / 2825 |
| PassMark Memory | 27705 | 27118 | 32960 |
| PassMark Disk | 41757 | 50083 | 50068 |
Even if the Huawei P40 Pro hardly comes close to the OnePlus 8 Pro with the Qualcomm Snapdragon 865 and sometimes not to the Samsung Galaxy S20 Ultra with the Exynos 990 in a direct comparison, this does not mean that the P40 Pro is a slow smartphone.
A technically complex camera
Huawei pursues a single goal with its smartphone cameras: best-in-class quality for everyone. Everyone who has a Huawei P-series smartphone should be able to get the best possible results in the simplest possible way. Therefore Huawei pushes the camera setup of the P40 Pro even further and calls it UltraVision Quad Camera. This consists of the following components:
Main camera with a 50-megapixel image sensor, f/1.9, optical image stabilizer
Ultra-wide-angle camera with a 40-megapixel sensor, f/1.8, optical image stabilizer
Periscope telephoto camera with a 12-megapixel image sensor, 5x optical zoom, f/3.4, optical image stabilizer
ToF camera for 3D depth information
Huawei does not use an RGB mask for all three image sensors, but the in-house RYYB mask. By exchanging the green pixel for yellow, better light sensitivity is available. It is also interesting that Huawei has an optical image stabilizer in all three lenses. These can not only help with photos, but also with videos. Especially in the video area, Huawei wants the P40 Pro to have more quality than the P30 Pro, which is heavily trimmed for photography.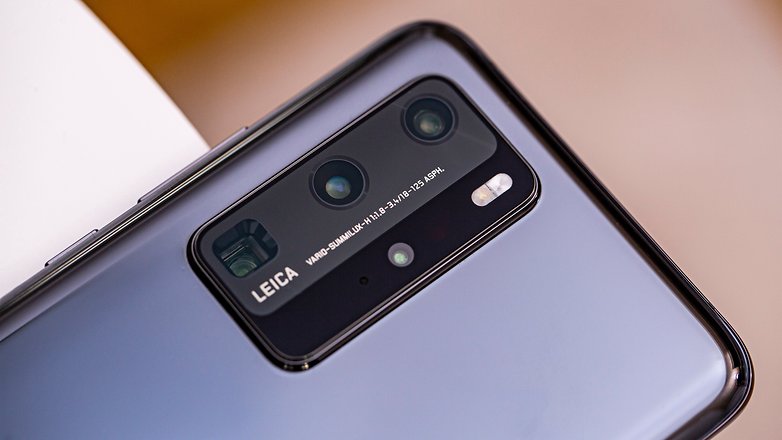 At first glance, Huawei's camera made a very good impression in my test. But as with the test of the Oppo Find X2 Pro, I prefer to leave the evaluation of the camera to my colleague and camera professional Stefan in a separate camera test. In the meantime, you can view my test photos taken with the Huawei P40 Pro.
The P40 Pro runs and runs and runs...
Huawei uses a cell with 4,200 mAh capacity for the battery. Should the juice run out, you can either charge via cable with Huawei's 40W SuperCharge power supply, or charge the P40 Pro wirelessly with 27W. The Huawei P40 Pro can also deliver power via reverse wireless charging; wireless headphones like the Galaxy Buds+ can be quickly recharged on the go.
First, the Huawei P40 Pro had to demonstrate in a synthetic benchmark test how well Huawei hardware and software matched. The P40 Pro lasts a full 12 hours and 10 minutes on a single charge if you leave the system in control of the resolution and refresh rate. But we also wanted to know how long the P40 Pro lasts if you operate the display in the minimum resolution (1,760 x 800 pixels) and the lowest refresh rate (60 Hz). In our benchmark test, the Huawei P40 Pro manages an incredible 16 hours and 5 minutes.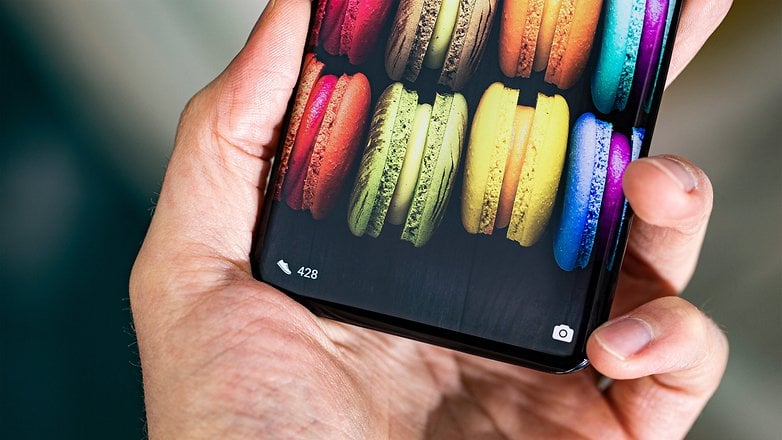 In everyday life, the Huawei P40 Pro easily managed a whole day of intensive use. At the end of the day, I usually had a remaining battery capacity of 25 to 30 percent. When charging, the Huawei P40 Pro shows its rapid side. With the Huawei 40W SuperCharge power supply, 80 percent of the battery capacity is restored within 30 minutes. For a full charge, the Huawei P40 Pro requires 50 minutes via cable. Unfortunately, I haven't had a wireless charging pad from Huawei for the test yet, but I'll do that later.
Huawei P40 Pro technical specifications
Final verdict
When it came to hardware, Huawei was not stingy and has put everything that the company had on its shelves or could develop from scratch into this device. Also in terms of the operating system, EMUI 10.1, you get a package that has already been evaluated a million times. But Huawei is breaking new ground with Huawei Mobile Services. This combination of the App Gallery, Cloud Services, the Core System and other services like Huawei Music and Video, has to prove itself over the next few months and become a comprehensive and strong alternative to Google services as soon as possible. The patchwork of various app download options and sources is not intended for everyday users, such as he who wants a simple solution with a complete app catalog on his smartphone. Huawei cannot offer this at the moment.
The success of Huawei's P40 Pro and all other smartphones from the Huawei and Honor network thus depend heavily on the ecosystem that the Chinese manufacturer must now also build outside of China in the form of HMS.