Huawei Matebook X Pro: a dreamy ultrabook you won't purchase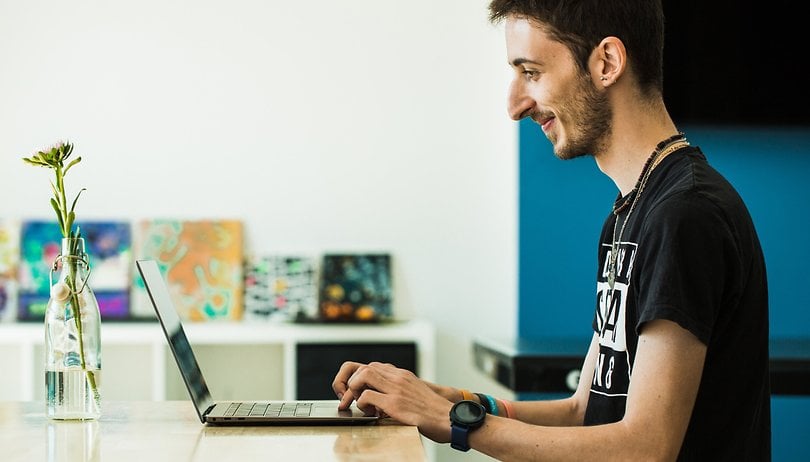 The Matebook X Pro represents Huawei's next step towards diversifying its products, and the new ultrabook from the Chinese manufacturer recently arrived at our editorial office. During our time with the device, it really showed that Huawei knows what it's doing. Is it a threat to Apple's Macbook Pro? Find out in our complete review!
Good
Slim, modern and elegant design

Borderless display with high resolution and touch

Optimal performance and dedicated GPU

Fingerprint reader integrated in the power key

Long-lasting battery

User-friendly keypad

Huge precision keypad

Well though out and distributed I/O

Windows Signature Edition (no bloatware)
Bad
Brightness sensor in the wrong place

No SD player

Strange angled webcams

Poor VRAM (not suitable for gaming)

Keypad is only backlit a few seconds

Slight overheating under stress

Price of ultabook
Huawei MateBook X Pro: All deals
Very high prices, at least in appearance
Our trial version of the Huawei Matebook X Pro is the most expensive variant: its retail price is $1,499 for an i7 processor, 16GB of RAM and 512GB of SSD. It's available on Amazon and the online Microsoft store. There is also a somewhat more affordable variant (although it isn't as well equipped):
i5, 8GB of RAM and 256GB of SSD: $1,199 dollars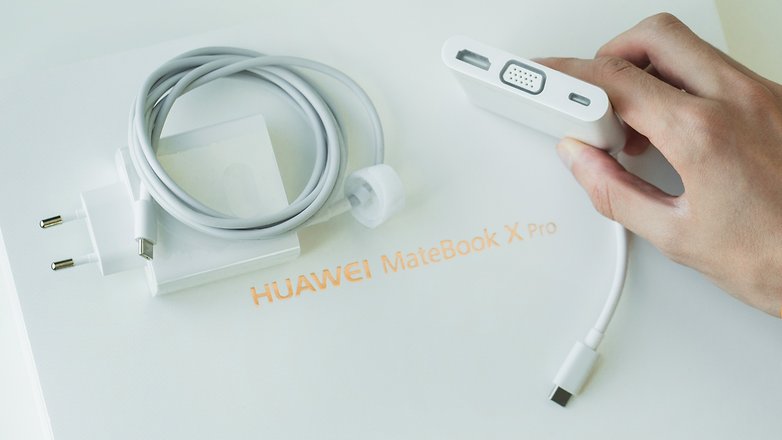 The two variants available are both available in Space Grey and Mystic Silver. Our version had the darker coloring. All versions of the device feature a Nvidia MX150 GPU.
If at first glance the prices seem a bit steep to you, compare them to the other prices of laptops in the same price range. Almost no computer can offer equal specifications for the same price. Or if you want to look at it from another angle, nobody can offer a laptop at the same price with equal features. True, there are gaming laptops with the same or better specifications, but they belong in another category (they are also much larger and heavier).
If it weren't for the logo you might think it's an Apple product
The design is definitely one of the Matebook X Pro's strengths. With a weight of only 1.33 Kg and a size of 304x217x14.6mm, you can slip it into any backpack or bag and almost forget it. The ultrabook is made entirely of aluminum with a huge Huawei logo on the back of the display, and at first glance it resembles an Apple product , which isn't a criticism.
The quality, construction and strength of the materials are undeniable: even the color gives a hint of Apple design. Huawei has somewhat fallen astray in this regard, so why shouldn't it imitate one of the best designs on the market if the results are phenomenal?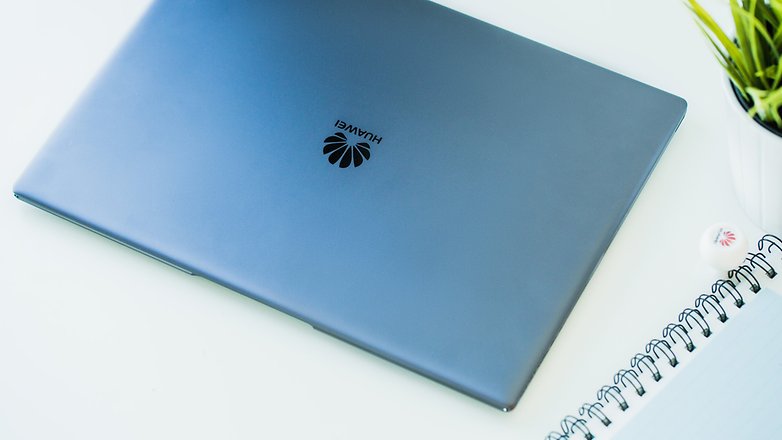 Unlike Macbooks, the Matebook X Pro comes with several well diversified I/Os that will please every user. There's a USB 3.0 Type-A port on one side (which is almost as thick as the laptop itself), along with two USB Type-C ports on the other side, which are flanked by a headphone jack.
Only one of these port is a Thunderbolt 3. The other is "just" a USB 3.1. It's a shame that there's no SD card reader, which keeps me from calling the Matebook "perfect".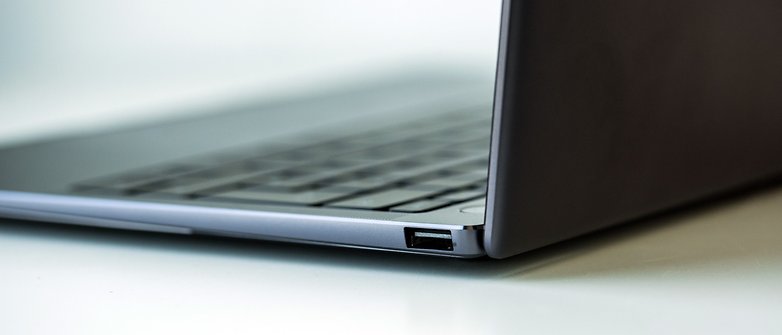 The huge 12x8 touchpad is also reminiscent of Apple products, and the windows precision driver allow for the fast and responsive use of many gestures with 2, 3, or 4 fingers. Unlike Macbooks, this device comes with a real button, so the "click" isn't simulated, although you can't press the touchpad at the top.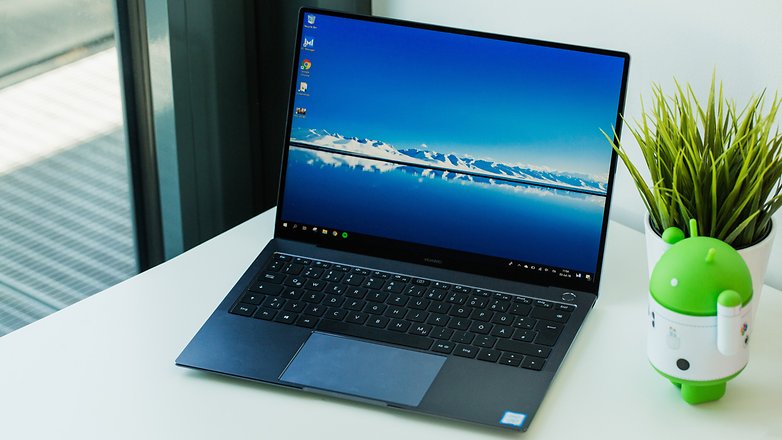 It's also worth mentioning the power button, which incorporates a fingerprint reader into the UEFI system of the PC. This allows the Matebook to read your fingerprint and start your already unlocked laptop without you having to type your password: a nice alternative to the Windows Hello webcam.
The keyboard goes one step further
Typing on the Matebook X Pro is a real pleasure. These days I've stopped working on my desktop workstation and have instead been working on my Huawei ultrabook, and I have to admit I don't miss it. It's true, the keys are a bit smaller (1.5mm), but they're still larger than the much-criticized keyboards on Apple's new Macbooks.
Furthermore, the feedback on the Matebook X Pro is smoother. You can also hear a slight "click" each time you press a key, which will help you use realize if you missed a letter. This helps to prevent typing errors, at least for me personally. Even better, the Matebook keyboard is still quieter than any desktop keyboard.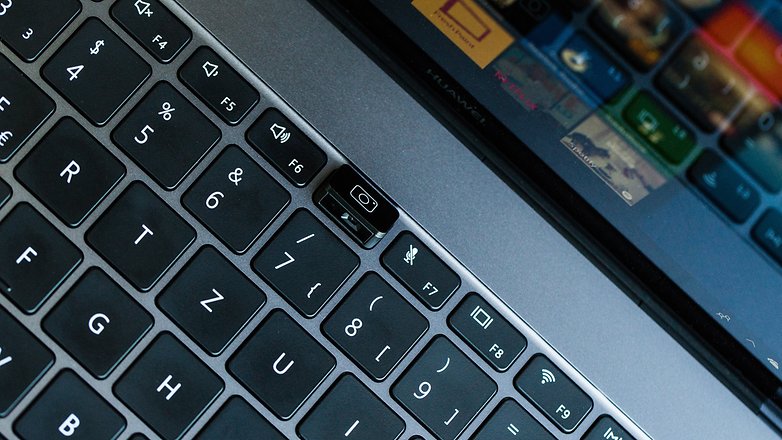 I do have one slight criticism of Huawei: the keyboard backlight only stays on for a few seconds when you finish typing. This is annoying if you're working in a dim environment, since you'll constantly find yourself straining your eyes to find the right key to press to light up the keyboard again. This problem is solvable via software, so hopefully the company will listen to my grievance!
One of the unique features of the Matebook X Pro is its extra button. The webcam button is located between the F6 and F7 buttons. Once you press it, you'll see a cute 1 megapixel camera pop up with LEDs to show you how it works. That's a unique solution to minimize the edges of the display!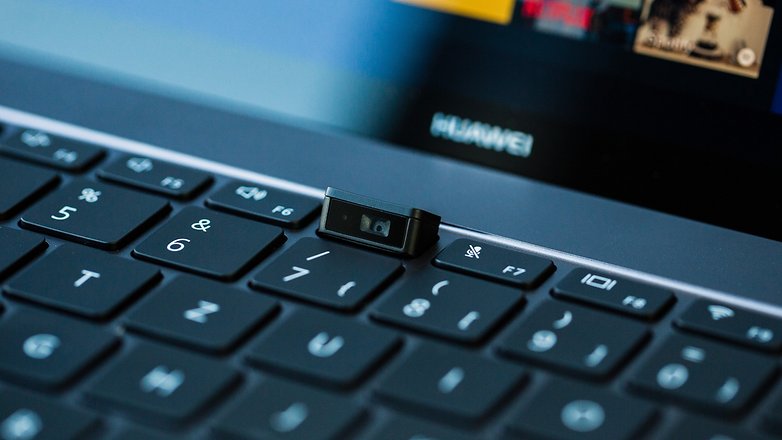 The location of the webcam doesn't help the already poor image quality, but if you're anything like me, you'll probably only use it twice a year and could happily live without it. If you have a lot of video conferences for business, the Matebook probably isn't the laptop for you. The webcam can still record 720p video and has an array of 4 microphones (located at the bottom of the ultrabook in the touchpad area) that are capable of recording sounds from quite a distance.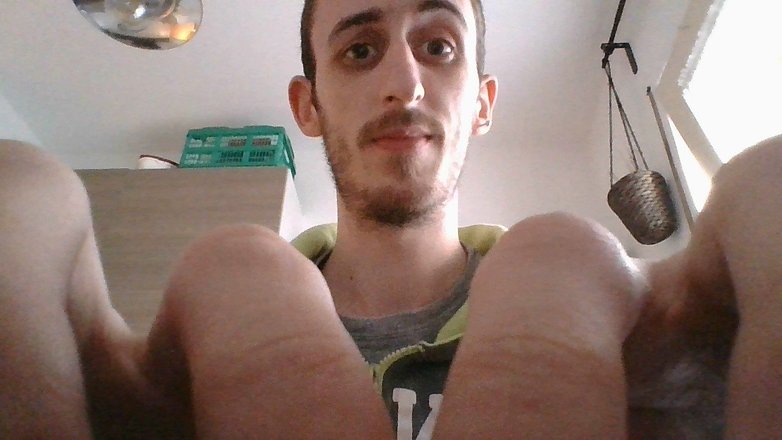 Life is better without borders
The first thing you'll notice when turning on the Huawei Matebook X Pro is the beautiful display, which covers as much as 91% of the top half of the laptop . The slim edges make using the Matebook X Pro really enjoyable and won't leave you wishing you had a Dell XPS.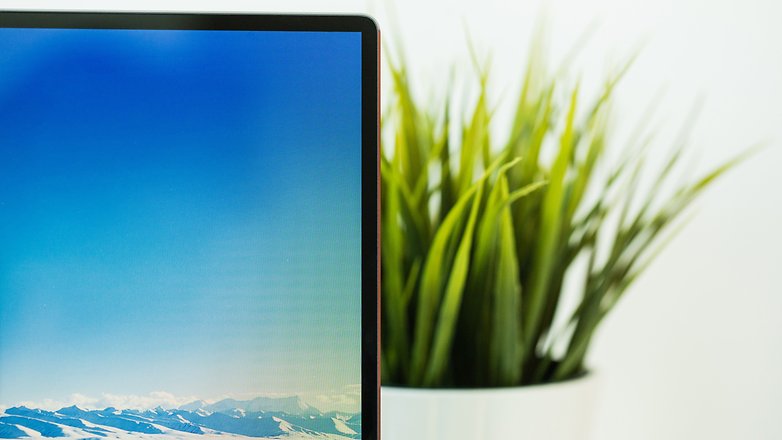 The panel is 13.9 inches with a resolution of 3000x2000 pixels (260 ppi) and a 178° viewing angle. The quality of the screen surprised me so much that I thought it was an OLED display, and then only later did I realize that it was an LTPS panel after I read the technical data sheet.
Huawei indicates that the contrast is 1500:1 and covers 100% of the sRGB color space. The maximum brightness of 450 nits makes it pleasant to use the laptop outdoors, and the Huawei Matebook X Pro is second to only Apple MacBooks in this respect.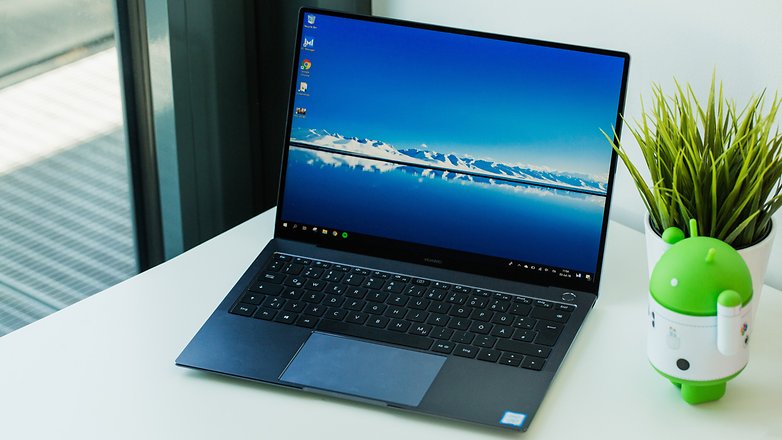 The Huawei laptop also has a sensor for automatic brightness. Windows is able to read the brightness values and adjust according to the light intensity of the display. Unfortunately, the sensor is located in an unfortunate area near the hinge, which often leads the sensor to measure ambient brightness as lower than it actually is, which leads the screen to be too dark. So you won't miss the automatic brightness feature when it's turned off.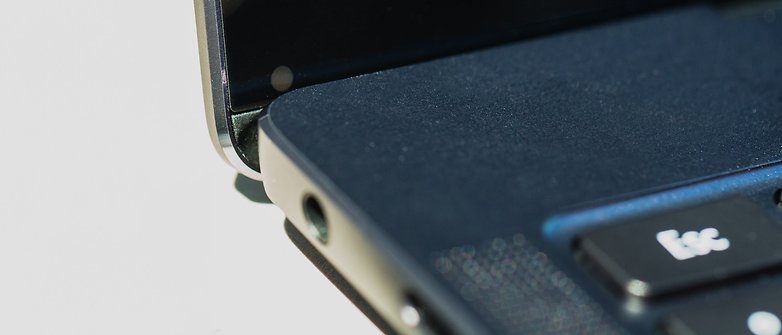 I almost forgot: the screen also supports 10-point multitouch, which can be convenient from time to time. Personally, I don't use it very much, since the touchpad is pleasant enough to use and does everything I need it to. The screen wobbles a bit when you touch it and will also easily accumulate fingerprints, but it's nice to know you have touch support, although it's not the Matebook's best feature.
Bloatware? None at all
Moving on, the Matebook comes with Windows, the most popular desktop operating system and a great counterpart for Android. On our model, the version is 1803 and the installed build is 17134.165.
Windows 10 Home is included in the Signature Edition, a version that is almost entirely free of bloatware and that is distributed by Microsoft. It can be compared to Android stock. Everything that seems extra to you or might look like bloatware comes from Microsoft and resides in the start menu. There's nothing more.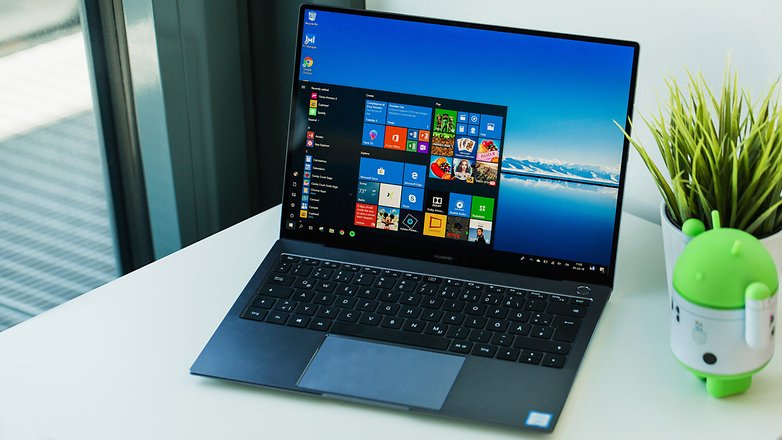 The only program added by Huawei is called PC Manager and allows you to connect your PC to a smartphone in your home. You can browse your image gallery from your PC, quickly share files with Huawei Share or via Bluetooth, and you can activate hotspot mode on your smartphone from your PC so you can quickly connect online. You can also use the program to check for updates, which should also come via Windows Update.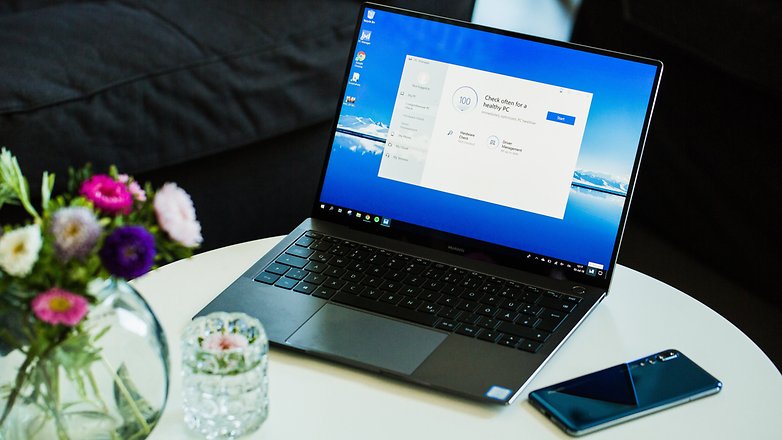 My experiences with this software have not always been the best, but with a little patience, it can make life easier if you also have a Huawei smartphone.
All the power you need... more or less
The Matebook X offers great overall performance, but that's to be expected, since we're talking about a high-end ultrabook. The heart of Huawei's laptop is an Intel Core i7/8550U CPU: it's certainly not the first laptop to mount a CPU in the i7 range, although it's great to find a Kaby Lake R processor capable of reaching a maximum frequency of 4.0 GHz with Turbo Boost on such a thin device. The nominal frequency, which the Matebook uses most of the time, is 1.8 GHz and the L3 cache is 8MB.
The eighth generation of the Intel Core processor also brings a welcome innovation for i7 TDP CPUs, with four physical cores present (and eight logic processors, also known as threads) that certainly facilitate the use of professional programs that can require a greater number of computing units, such as the Adobe Creative Suite.
As far as RAM is concerned, the device has 16GB LPDDR3, the same used by the 2017 version of the Macbook Pro, with a frequency of 2133 MHz and in Dual Channel configuration. Unfortunately, Huawei doesn't let you choose an option with more memory, but you should bear in mind that the device isn't targeted for very demanding users who will likely be in the market for other devices (like Dell Precision workstations).
The laptop has two GPUs: one that's integrated into the processor, the Intel UHD Graphics 620, along with a discrete one, the Nvidia MX150. The first of the two units has access to 4GB of shared memory, which the second only has 2GB of fast memory type GDRR5. This limitation on the discrete GPU has heavy effects on performance, especially on the graphics side. The two GPUs are now managed by the now famous Nvidia Optimus that activates the discrete GPU only when using programs that require more graphics power.
Excellent SSD but not partitioned well
Toshiba supplied the 512GB NVme PCle SSD installed on the Matebook X Pro. The solid state disk had sequential read rates of 3GB/s and over 1GB/s writing rates in my tests. That's not the fastest NVMe SSD In the world, but the performance is more than excellent, and thanks to these speeds on the internal disk, the PC is able to turn on or awaken from Sleep in a few seconds, which effectively minimizes the waiting times to launch certain software.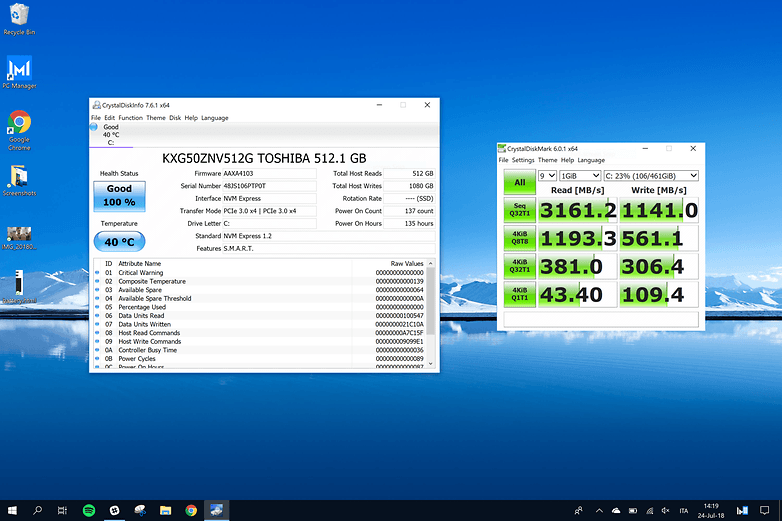 Unfortunately, the initial partitioning of the SSD is very bad. I don't understand why, but Huawei left just a mere 80GB for the main partition (C:\ disk), which is quickly filled with drivers, OS updates and applications. The rest of the space is occupied by a second data partition (disk D:\) and other hidden partitions needed by Windows for proper operation and recovery. The good thing is that if you know what you're doing, it just takes a few minutes to delete the D:\ partition and use the C:\ to take up all the available space.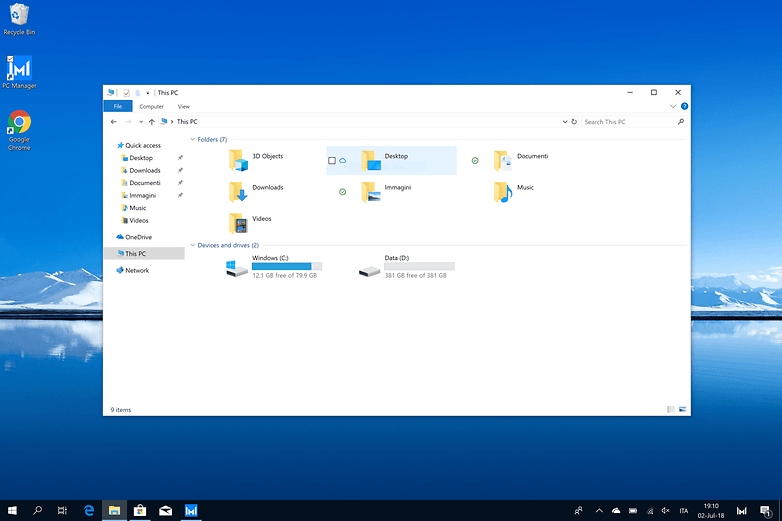 Benchmarks, benchmarks, benchmarks!
If you've gotten to this section of the review, it means you're interested in seeing a glimpse of how the Matebook X Pro works in practice. The following benchmarks were performed on the Huawei ultrabook:
Unigine Heaven
Unigine Valley
Unigine SuperPosition
3DMark
Geekbench
All the tests were performed multiple times, with the device both plugged into a power outlet and powered by battery. The Windows Power Saving settings were set to "Better Performance", which is a middle ground between maximum performance and power saving to better represent the PC's behavior when running on battery power. The "Highest Performance" setting was used to find the benchmarks with the power supply connected. Of course, the tests were run with the Nvidia MX150 GPU active and not the Intel GPU.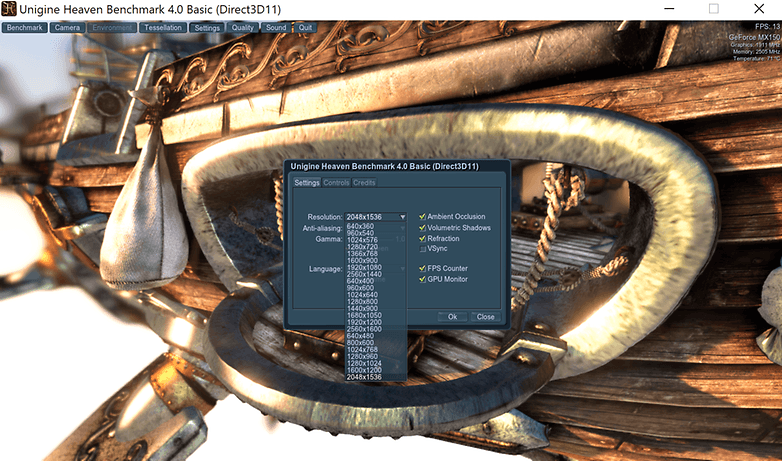 Unigine Heaven
This was quite an interesting test. The test was performed in Ultra/Extreme, Ansi-Aliasing 8x, DirectX 11 and the highest available resolution (2048x1536). With a benchmark from 2009, and without even using the highest possible resolution for the Matebook, I expected everything to run flawlessly. But as you can see from the results, I was very disappointed.
Unigine Heaven
| | Fps (min / avg / max) | Points |
| --- | --- | --- |
| Battery | 4.0 / 7.9 / 17.1 fps | 200 |
| Power supply | 5.3 / 8.0 / 17.1 fps | 203 |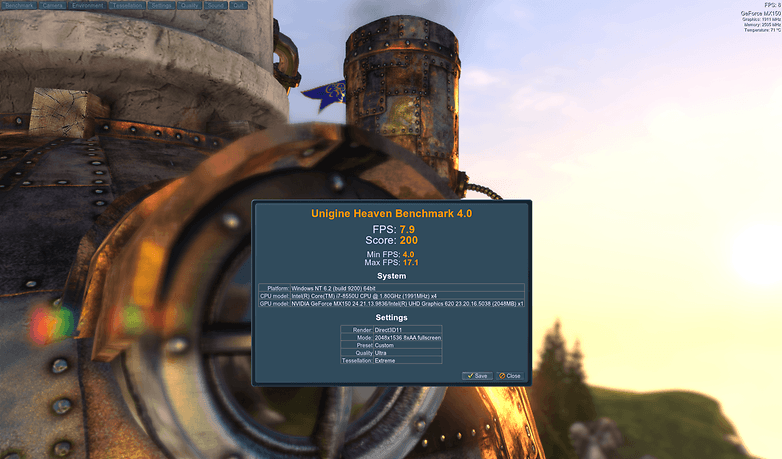 Unigine Valley
The settings were the same for this benchmark as they were for the previous test. The benchmark is more recent (2013) and the results are slightly better, but they're still far from acceptable. The difference between using your PC with a battery or a power supply becomes really noticeable.
Unigine Valley
| | Fps (min / avg / max) | Points |
| --- | --- | --- |
| Battery | 5.5 / 9.6 / 18.2 fps | 400 |
| Power supply | 8.4 / 13.4 / 24.7 fps | 562 |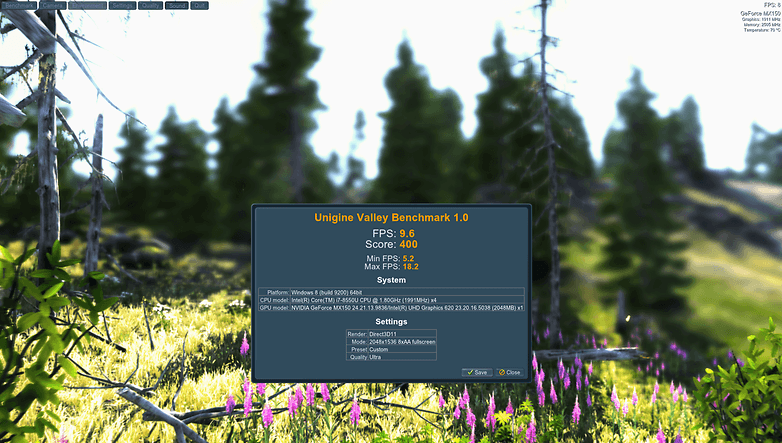 Unigine SuperPosition
Unigine's latest benchmark allows you to test the power of the latest devices with up to 8K resolution as well as verify compatibility with some of the most popular VR technologies. We did several tests at different resolution to evaluate the behavior of the Huawei Matebook X Pro.
Unigine SuperPosition - Battery
| Resolution | Estimated VRAM utilization | Fps (min / avg / max) | Points |
| --- | --- | --- | --- |
| 8K | 6241MB / 2048MB (OOM*) | - | - |
| 4K | 4193MB / 2018 MB (OOM*) | 3.87 / 5.19 / 7.02 fps | 693 |
| 1080p Extreme | 3322MB / 2048MB (OOM*) | 2.54 / 2.91 / 3.19 fps | 388 |
| 1080p High | 3320MB / 2048MB (OOM*) | 7.65 / 9.63 / 12.25 fps | 1287 |
| 1080p medium | 1299MB / 2048MB | 11.63 / 14.55 / 18.69 fps | 1945 |
*Out of memory
Unigine SuperPosition - Power supply
| Resolution | Estimated VRAM Utilization | Fps (min / avg / max) | Points |
| --- | --- | --- | --- |
| 8K | 6241MB / 2048MB (OOM*) | - | - |
| 4K | 4193MB / 2048 MB (OOM*) | 3.99 / 5.14 / 6.83 fps | 687 |
| 1080p Extreme | 3322MB / 2048MB (OOM*) | 2.49 / 2.83 / 3.15 fps | 378 |
| 1080p High | 3320MB / 2048MB (OOM*) | 7.43 / 9.21 / 11.98 fps | 1233 |
| 1080p medium | 1299MB / 2048MB | 11.34 / 14.01 / 17.23 fps | 1940 |
*Out of memory
You can see from the scores that not only does the MX150 run out of available video memory very quickly, but even if there is enough memory, it can't cope with demanding tasks (such as the latest generation of games).
If you're going to do some light gaming such as Fortnite, Cuphead, Rocket League or League of Legends, you should be able to run these titles in medium detail and 1080p resolution. But don't expect to play with the full high resolution on a Matebook.
We didn't perform the 8K resolution and the VR test: the former always crashed while it was loading, and the latter didn't know how to run. If you're looking for a PC for your Oculus Rift, you better invest in a desktop.
3DMark and Geekbench
The two popular benchmarks we use for smartphones are also available for PCs. We performed both tests with free versions of the software and in the case of 3DMark, this didn't allow us to select the resolution and level of detail. Thanks to these tests, we can see that the PC is physically capable with more than sufficient computing power in the CPU. From a graphics point of view, however, the GPU has much more difficulty.
3DMark
Fire Strike
Sky Diver
Graphics
(fps / points)
12.6 fps / 2768
38.55 fps / 8538
Physics
(fps / points)
23.51 fps / 7404
59.96 fps / 5972
Combined
(fps / points)
4.30 fps / 925
37.76 fps / 9174
Total points
2504
8073
Geekbench 4
| | Single core | Multi core |
| --- | --- | --- |
| Battery | 3031 | 11560 |
| Power supply | 4867 | 14281 |
The MacBook Pro isn't the only overheating device
A problem that comes to light thanks to these benchmarks is the throttling due to the high temperatures reached by the laptop. The benchmarks achieved by the PC when connected with the power supply return lower scores due to the increased power used by the CPU and GPU. When plugged in, devices tend to overheat more than normal and decrease in speed to keep everything under control, which causes a decrease in the overall score (although just a slight decrease).
When the device is battery powered, the CPU os the Matebook X Pro never exceeded 70°C during our benchmark tests and reached almost 90°C in our tests when it was connected to a power supply. The device tends to overheat on the top left of keyboard, right above the ESC key. In some situations you should be careful not to rest your hands in this area since it gets scalding hot.

In normal everyday use overheating isn't a problem , and the two fans installed above the heatpipe do a good job of keeping everything cool without making too much noise.
Beware of high volume levels...
This device has perhaps the best speakers in its class , or at least that's what it feels like. The Matebook X Pro has four strategically placed speakers (two used for treble and two for bass): the two "tweeters" shoot music up to the sides of the keyboard, while the "woofers" are oriented downwards, but are in the same position as the other speakers.
The result is a full-bodied, above-average volume sound. Well done, Huawei!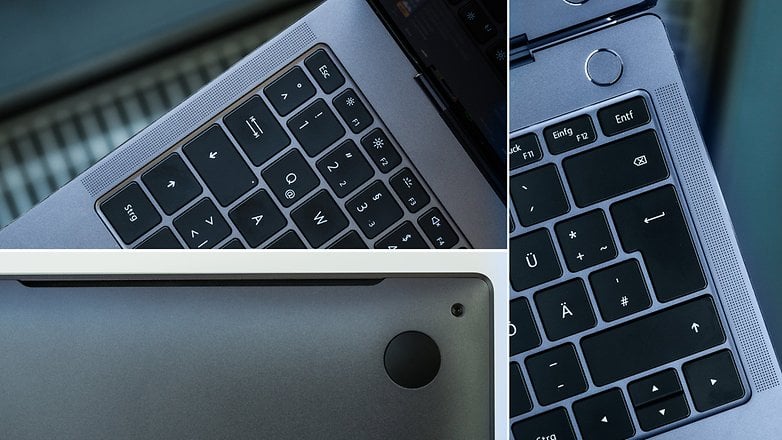 Long working days without a charger
The Matebook's battery is 57.4 Wh, a high value compared to its main 13/14" competitors (MacBook, Surface Laptop, Acer Swift 7, Dell XPS…). A high specification value isn't always indicative of good battery life, but in this case, Huawei is able to deliver on its promises. The Matebook X Pro has never left me hanging , ever after intense 8-hour working days, and I've even managed to reach 10 hours of average use without using the 65W USB Type-C charger.
When using heavier programs such as Adobe Creative Suite, 3D CAD or when playing games, the battery will drain in less than half the time, but that's normal. During some light video editing (without final rendering) the ultrabook can reach up to 6 hours of autonomy (but don't overdo special effects or color correction).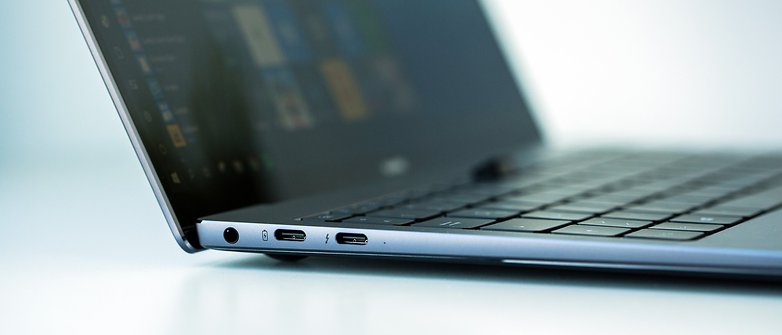 Expansions and upgrades aren't easy
Think carefully about which Matebook X Pro you'd buy. RAM, CPU and GPU are soldered to the motherboard and aren't replaceable. The only possible future upgrade is the NVMe SSD, which can be changed and upgraded at a later date, but there isn't space for a second disc on this device.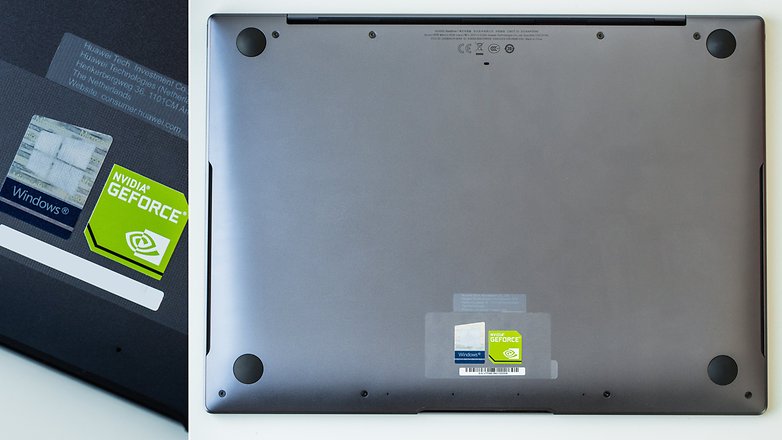 It's also not easy to repair the device. If the SSD fails you can replace it yourself, but for other kinds of issues you'll need to send your Matebook to Huawei for a replacement of the motherboard.
The ultrabook of your dreams that you probably won't buy
But let's get straight to the point: $1,500 isn't a number you can afford to joke about. Very few people are willing to spend that much money on a laptop, and within this niche of people, there are even fewer people who would spend this on something that isn't a Macbook (for most people, the Apple logo justifies this expenditure, and in some cases I agree on this point).
So the Huawei Matebook X Pro is trapped in limbo. It's not a cheap laptop, although it's not the most expensive in its class. It's not a gaming laptop despite its high power. The benchmarks speak for themselves and the device is very portable, but it's not a portable workstation, since it can't handle large workloads for a sustained time without beginning to throttle due to its slim and sophisticated design.
The Matebook X Pro is a phenomenal laptop that's able to survive without batting an eye to the workload that most people would put on it and has no real weaknesses (except the gaming performance). Unfortunately, most of the people who would find this laptop as phenomenal as I do likely would never buy it because of the budget required to purchase it.
It might be suitable for people who already have a powerful console or workstation and would use the laptop as a secondary machine: it's a beautiful, exaggerated, powerful, light, expensive and above all unnecessary secondary machine, but it's absurdly beautiful and it's a pleasure to use it every day.
The Huawei Matebook X Pro is a dream ultrabook, and for many of us, it will remain buried in our dreams.