Huawei Mate 50 Pro review: Impossible to recommend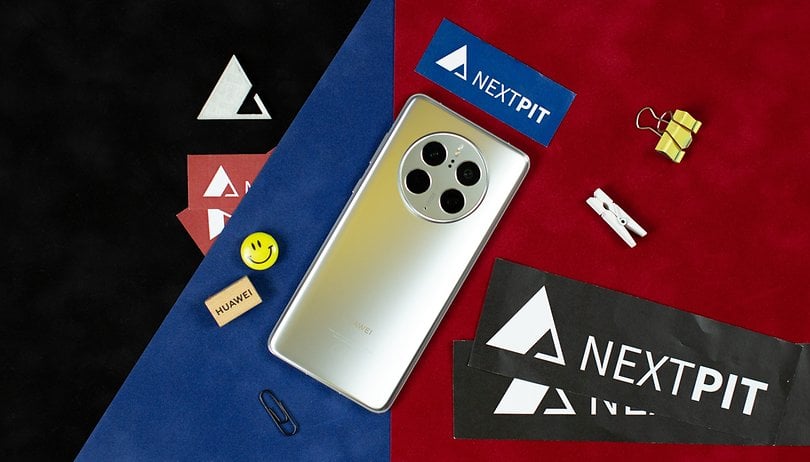 The Huawei Mate 50 Pro that I tested is the latest high-end smartphone from the Chinese manufacturer. It is still expensive as it costs more than 1000 euros in Europe. It is still limited by the absence of Google Mobile Services (GMS). Can we really recommend buying it in 2023?
Good
High-quality 120 Hz AMOLED display

Excellent triple camera module

Effective 3.5x optical zoom

Solid battery life

Expandable storage (proprietary NM format)

Fast and efficient proprietary charging
Bad
No Google mobile services (GMS)

No 5G

Unclear update policy

Unstable performance

Price too high
The Huawei Mate 50 Pro in brief
The Huawei Mate 50 Pro is available in Europe since November 2022. It comes in two memory configurations of 8/256 GB and 8/512 GB respectively sold for €1199 and €1399 euros at their release (approximately 1300 and 1500 dollars). At Amazon, only marketplace sellers offer the basic model for around 900 euros ($975).
Like the Huawei P50 Pro I tested last year, the Huawei Mate 50 Pro offers an experience that's too incomplete to justify its very high price. The manufacturer still hasn't found a solution for the absence of Google services. It still imposes software tweaks on its users while making them pay a high price.
Desig and build quality
The Huawei Mate 50 Pro brings once again the classic codes of the Mate range design language: Curved edges, smooth glass back, and a circular camera module. A look that is still very neat, but has aged a little badly.
---
What I liked:
Very nice silver and orange colors.
Nice overall finish.
IP68 certified.
Expandable storage (but proprietary format).
What I disliked:
Big notch at the top of the screen.
No 3.5mm jack.
---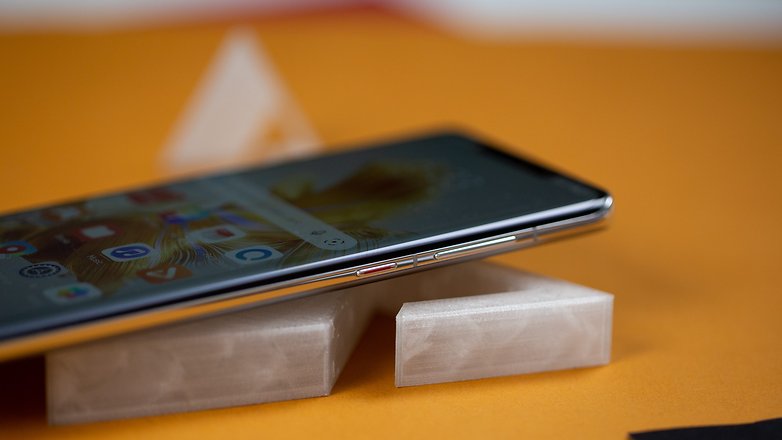 The Huawei Mate 50 Pro comes in three colors: Black, Orange, and Silver. The latter is what I got for my test model and I found it very nice. The smooth finish with its metallic reflections is pleasant to the touch.
No Gorilla Glass on the front or back, however. The American manufacturer (Corning) cannot supply Huawei. The in-house solution was developed by Kunlun Glass. I did not find much about this company. Huawei says that this protective glass has been certified by SGS (Société Générale de Surveillance), a reputable and specialized Swiss company.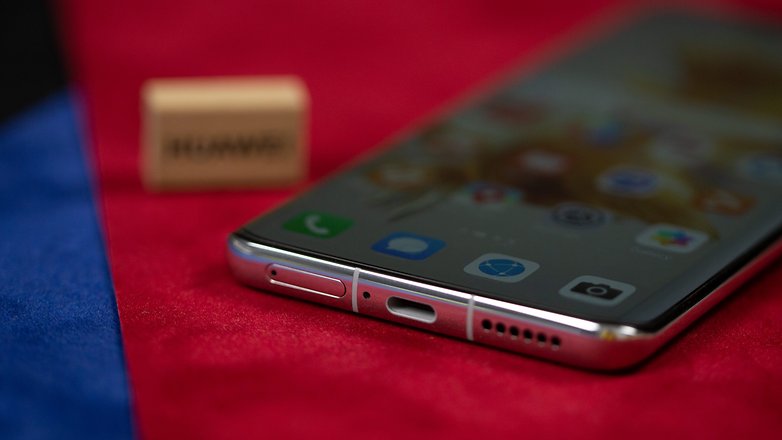 On the back of the Huawei Mate 50 Pro, we find the camera module arranged in a circular island that has become the trademark of the Mate range. Again, I find that this look remains quite classy.
But when we move to the front of the Huawei Mate 50 Pro, I find that the design language has aged rather badly. The notch at the top of the screen is way too big. Even Apple has stopped doing that, at least on its most premium flagships. And the curved edges are starting to bore me a bit, whereas I was maybe one of the last defenders of this design a year ago.
As for the rest, the Huawei Mate 50 Pro is IP68 certified for water and dust resistance. It has no jack and still imposes the proprietary Nano Memory (NM) format to expand storage (which occupies one of the two Nano SIM slots). Its weight between 205 and 209 g is not light but remains reasonable for this price range.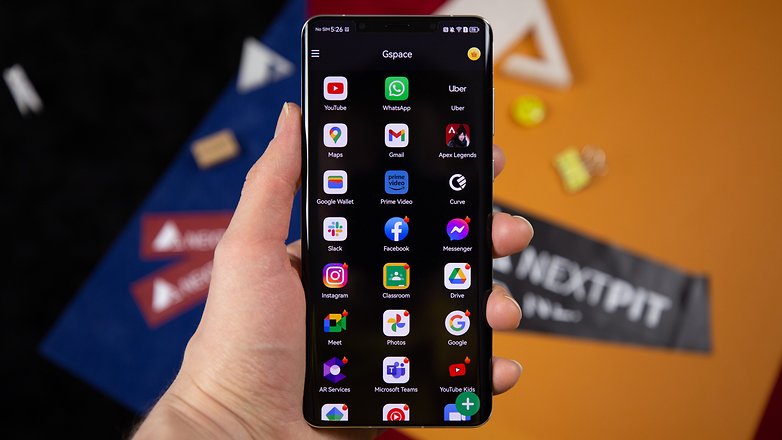 Display
The Huawei Mate 50 Pro features a 6.74-inch OLED display with a resolution of 1212 x 2616 pixels and a 120 Hz refresh rate.
---
What I liked:
Very good brightness.
Many settings for colorimetry.
The QHD + 120 Hz combo is coherent for this price range.
What I disliked:
The refresh rate is not adaptive enough.
The notch is too wide.
---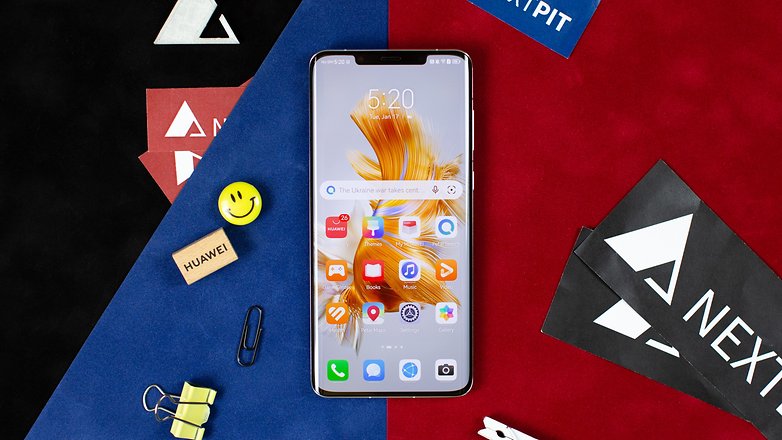 The screen of the Huawei Mate 50 Pro is excellent. The resolution between Full HD and QuadHD is more than enough to view any type of multimedia content in the best conditions.
The colorimetry is a little cold with the Vivid mode and therefore pulls towards the blue tones. It is a little too warm when you switch to Natural mode. But this is easily adjustable via the generous screen settings in the parameters.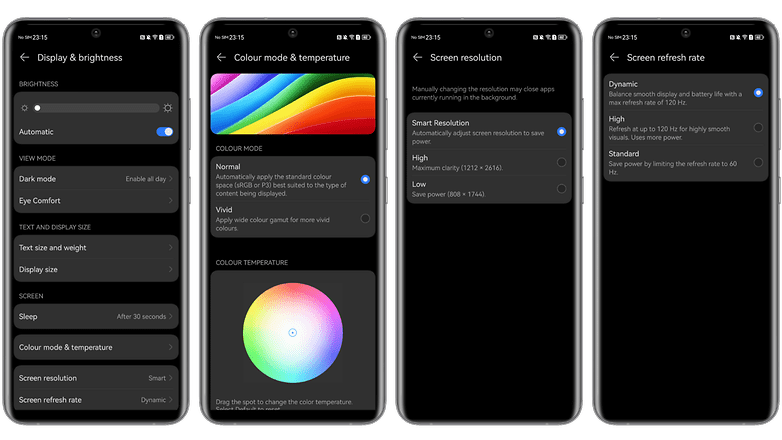 The refresh rate is not as variable as on screens with integrated LTPO technology. It can simply switch from 60 to 120 Hz in dynamic mode. Or you can lock it on one of these two values. Nothing extraordinary.
Brightness is very good with an average of 560 nits found in typical and can go up to 1000 nits in HDR mode. The touch sampling rate is quite low for my taste with a maximum of 300 Hz.
What really bothers me with the Huawei Mate 50 Pro screen is the big notch. Huawei sticks to a 3D facial recognition system, abandoned by all Android manufacturers. It is more reliable and secure, but the necessary sensors have to be installed somewhere. Personally, I think it gives the smartphone an old-fashioned look.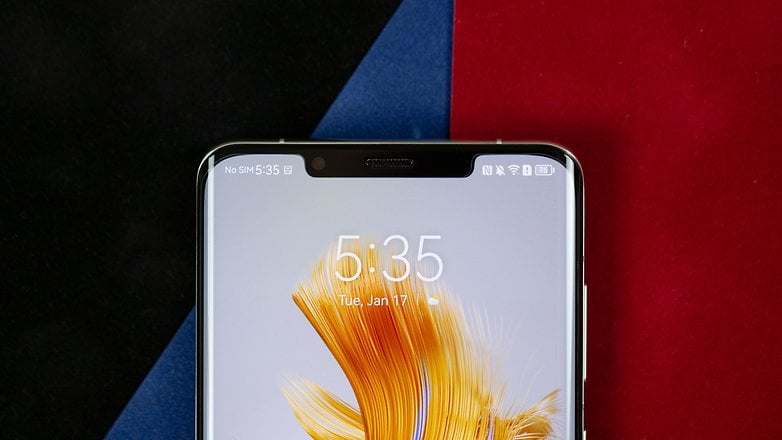 Interface/OS
The Huawei Mate 50 Pro runs on EMUI 13 outside China, an overlay based on Android AOSP, and lacking Google Mobile Services (GMS). This is THE big flaw of this smartphone and Huawei still doesn't seem to be close to finding a convincing solution.
---
What I liked:
Huawei tries as best it can to accompany its users to tinker with solutions.
Many mainstream apps are usable (if you tinker, again).
The SuperHub feature is very useful.
What I disliked:
The unclear update policy.
Still no TOTALLY functional alternative to Android.
The solutions to get around the lack of GMS are imperfect.
---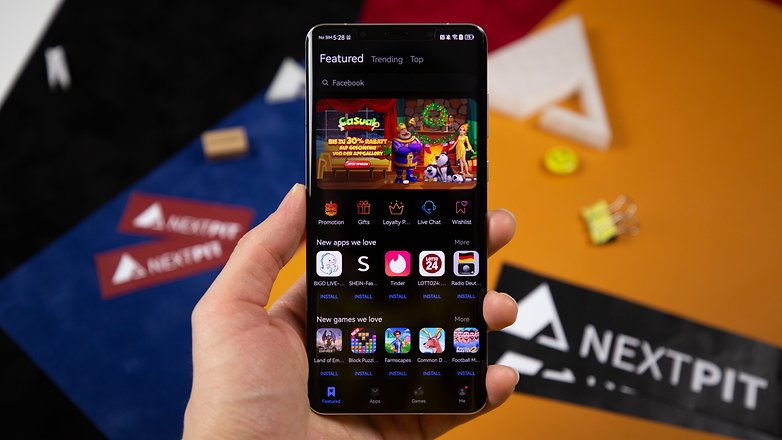 I devoted an entire article to Huawei's software experience without Google in 2023. And I also did one in 2022 but very little has changed since then. I really invite you to check out the article below for my detailed opinion which I won't elaborate here.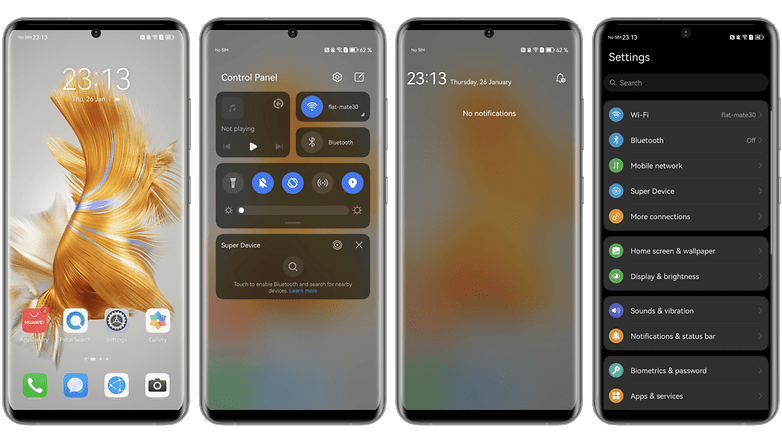 In terms of Android updates, it seems to me that Huawei is no longer making promises. Currently (as of January 2023), I'm still on the October 2022 patch. In terms of design and usability, I find that the EMUI 13 interface still holds up well. Huawei offers quite a few customization options for the home screen, Always-on display, etc.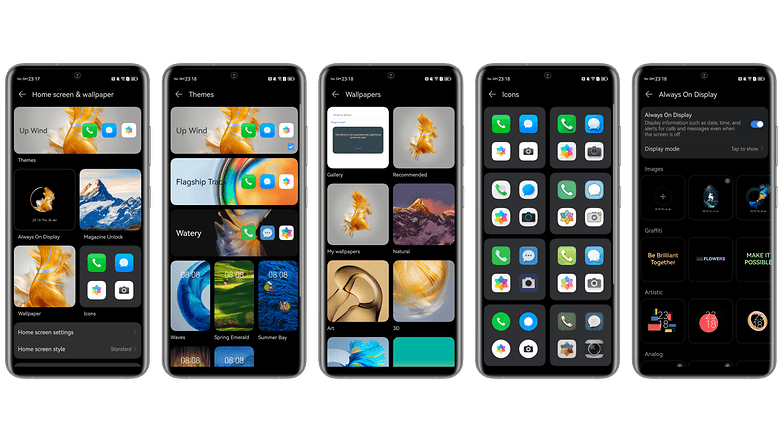 On the functionality side, the new feature is the SuperHub. It works like a clipboard in a floating window that can be hidden/opened from the edges of the screen.
The nice thing is that you can simply drag and drop images, links, or files into it to store them temporarily. You can then copy/paste them into a note, email, or any other text and content editor.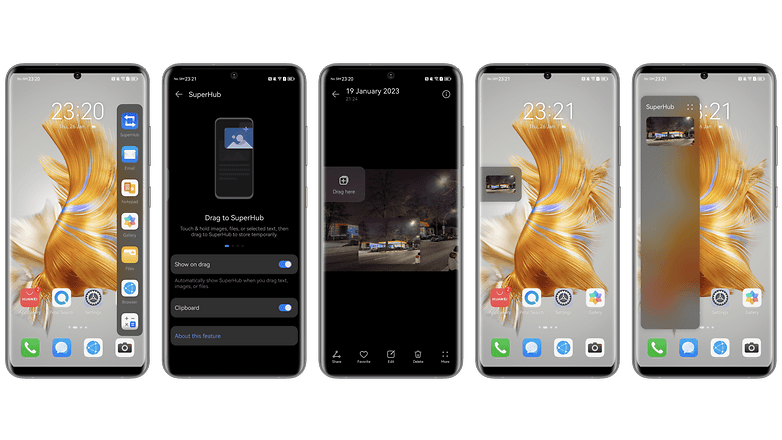 But other than that, the Huawei Mate 50 Pro's software proposition is too shaky in my eyes. The AppGallery's catalog is too poor and its interface is not very ergonomic for searching apps.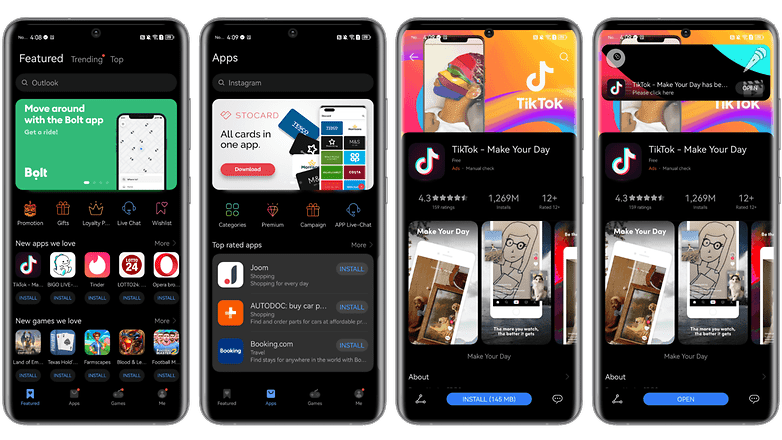 And the tinkering that can be done with Petal Search, Aurora Store, and GSpace (or its alternative GBox) is flawed at best. The inability to use GooglePay, for example, is a big deal breaker for me.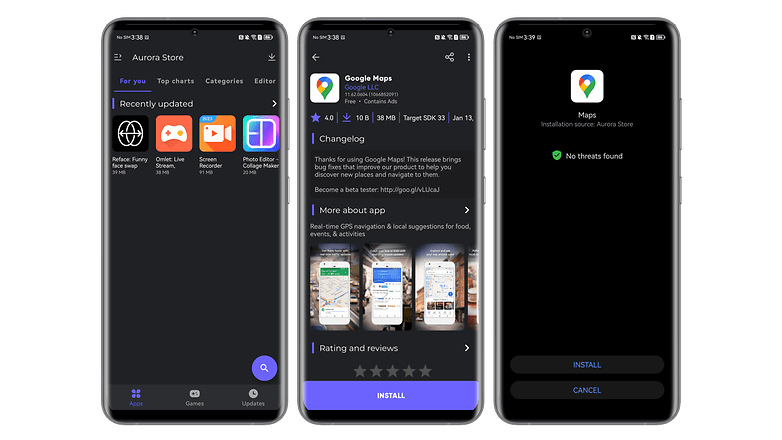 So sure, you can use Google Maps, Gmail, Google Drive, and a lot of other mainstream apps like WhatsApp, Netflix, Youtube, etc. Even Uber and Uber Eats work and managed to geolocate me correctly. Basically, if you install all your apps via the Aurora Store (an alternative Play Store client) and clone them into GSpace, most of them will work. But not all of them.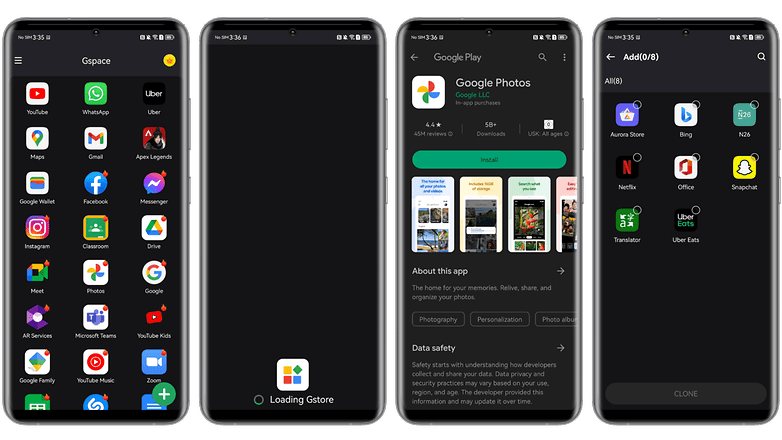 The DRM Info app even says that the Huawei Mate 50 Pro I'm testing has Widevine L1 DRM to watch streaming content in HD, which shouldn't be the case. Good news, I guess?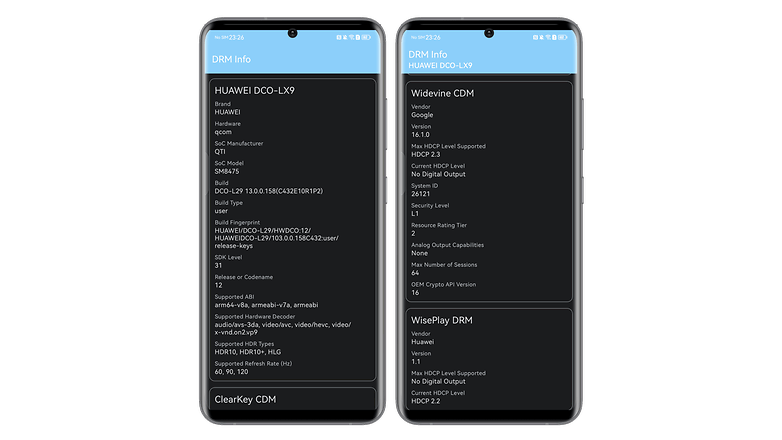 A NextPit reader had also recommended me the Lighthouse app. According to him, it allows installing the GMS on Huawei phones and even installing the Play Store. Except that this application is only available in Malaysia. You can install it by changing the region in the AppGallery. But it uses geo-blocking and will not work on a European model.
Besides, the few "tests" I could find online did not mention at all the possibility to install the Play Store. Basically, the solution is just like what we already have with GSpace or GBox. So it's not a miracle cure.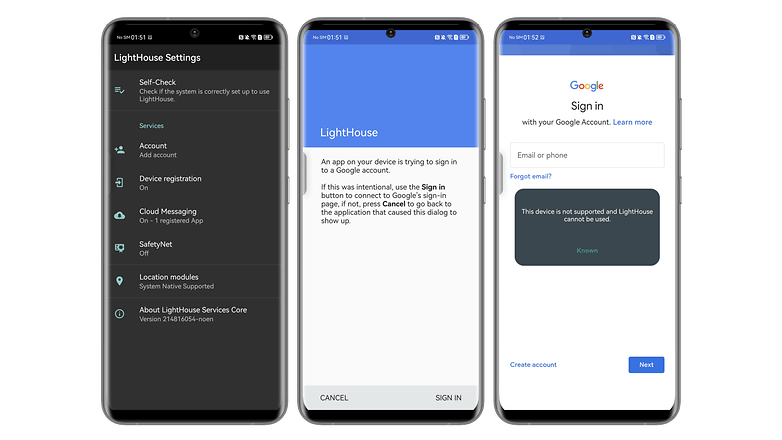 Performance
The Huawei Mate 50 Pro packs a Snapdragon 8+ Gen 1 SoC but without its usual 5G modem. We get 8 GB of LPDDR5 RAM and up to 512 GB of UFS 3.1 storage.
---
What I liked:
Proper temperature control.
Solid raw performance for 60 FPS gaming.
What I disliked:
Still no 5G.
Unstable performance.
---
In terms of raw performance, the Huawei Mate 50 Pro delivers consistent results compared to other Android smartphones with the same SoC.
Huawei Mate 50 Pro
Xiaomi 12S Ultra
Xiaomi Mix Fold
Xiaomi 12T Pro
Asus ROG Phone 6 Pro
3DMark Wild Life
Too powerful
Too powerful
Too powerful
Too powerful
Too powerful
3DMark Wild Life Stress Test

Best loop: 10359

Worst loop: 3843

Best loop: 8896

Worst loop: 3958

Best loop: 10618

Worst loop: 9892

Blocked

Best loop: 10477

Worst loop: 7206

Geekbench 5

Single: 909

Multi: 3985

Single: 1322

Multi: 4303

Single: 1307

Multi: 4119

Single: 782

Multi: 2967

Single: 1313

Multi: 4147
But the Huawei Mate 50 Pro suffers from stability issues on extended sessions. On 3DMark's Wild Life Stress Test benchmark, the average stability rate between the first and last loop was 34%. For me to consider stability good, this value needs to be at least around 70%.
The temperature did not exceed 42°C, so there was no serious overheating. But Huawei surely operates a very aggressive thermal throttle. We can see it in the second graph below. Halfway through the test, we can see big FPS losses.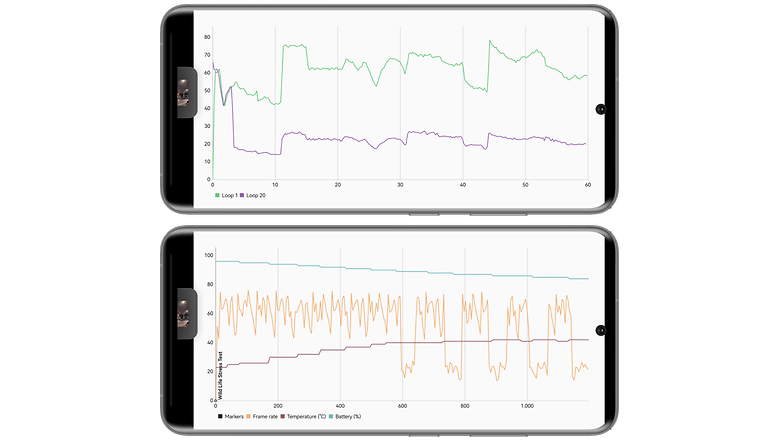 In actual use, we can run all the most demanding mobile games without worries. Most of them work quite normally like Genshin Impact, PUBG Mobile, CoD Mobile, or Apex Legends Mobile. But if you use a Google account on these games, you might not be able to log in and continue your progress.
Apex Legends worked when I installed it via the Aurora Store and cloned it into GSpace. But I couldn't log in to my Google account and therefore couldn't retrieve my progress and my (too many) in-app purchases.
On Call of Duty Mobile, my account was linked to my Facebook profile and everything worked fine.
Photo quality
The Huawei Mate 50 Pro features a triple camera module with a 50 MP main lens coupled with a 13 MP ultra-wide-angle lens and a 64 MP telephoto lens capable of 3.5x optical zoom. The selfie camera offers a resolution of 13 MP with a ToF sensor.
---
What I liked:
The excellent 50 MP variable aperture main lens.
The best portrait mode on the market.
Very good night photos (with the main lens).
Effective 3.5x and 10x zoom.
4K video at 60 FPS with all lenses + OIS.
What I disliked:
Ultra wide angle and telephoto night shots lag behind.
---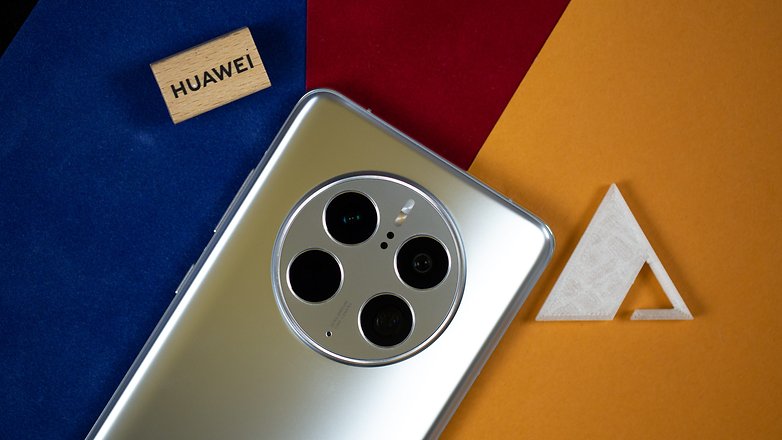 The main lens of the Huawei Mate 50 Pro has the distinction of offering a variable aperture between f/1.4 and f/4.0. The sensor is the well-known Sony IMX766.
The interest of this variable aperture is to allow the lens to capture more or less light depending on the lighting conditions. Other manufacturers offered this technology, but they usually offer only two modes, either f/1.4 or f/4.0. Huawei offers ten steps between f/1.4 and f/4.0.
Basically, when you capture at f/1.4, you can make very nice bokeh photos and when you switch to f/4.0, you have much more depth of field and the elements in the background are more detailed. The daytime photos have a very nice sharpness and the colorimetry seemed very natural to me. It is certainly one of the best photo renderings on the market.
The 2x zoom of the main lens is very good as is the portrait mode which works in 1x, 2x, and 3x. I was impressed with the quality of the crop of the subject in the foreground.
The 13 MP ultra wide angle lens left me wanting more. The level of detail and dynamic range are good even if they are not necessarily 100% consistent with the main lens. But the autofocus is too temperamental and you end up with a lot of blurry pictures if you are not careful.
The 64 MP telephoto lens offers two fixed zoom levels of 3.5x and 10x. I found the rendering very good. You can also push the digital zoom to 100x but it's not worth it. I did not notice too much digital noise, even at 10x. And this, even though the software processing seems quite light.
At night, the main lens does very well and Huawei's software processing manages to handle the exposure correctly. You almost don't need the dedicated night mode when shooting at f/1.4, which is pretty impressive. But it gets worse with other lenses although the night mode makes up for it a bit.
On the video side, the Huawei Mate 50 Pro can shoot 4K at 60 FPS with all its lenses. We have optical stabilization (OIS) on the main lens and the telephoto lens, and electronic stabilization (EIS) on the ultra-wide-angle lens.
Battery life and fast charging
The Huawei Mate 50 Pro features a 4700 mAh battery that accepts wired fast charging up to 66 watts, wireless charging up to 50 watts, and allows for 5-watt reverse wireless charging.
---
What I liked:
Solid battery life.
Efficient fast charging (with the official charger).
Reverse wireless charging.
Charger is included in the box.
What I disliked:
Proprietary charging technology (USB-PD not fully exploited).
---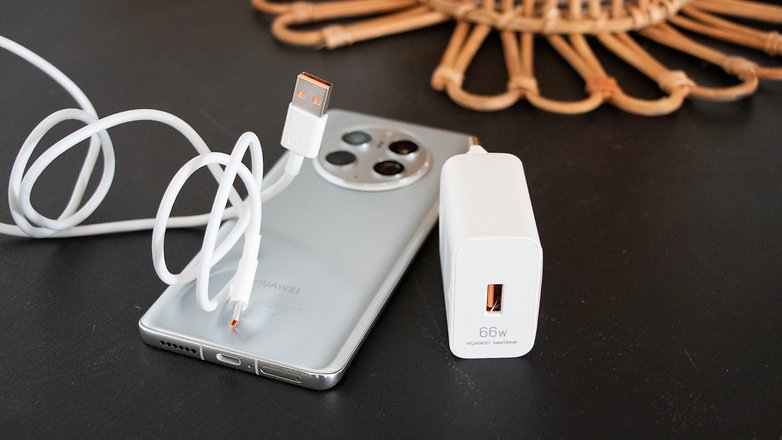 On the PCMark Work 3.0 battery life benchmark, the Huawei Mate 50 Pro lasted for 12:33 hours before dropping below 20% battery remaining. That's a decent score. I consider a smartphone's battery life to be "good" above 13 hours and very good above 15-16 hours (and bad below 10 hours).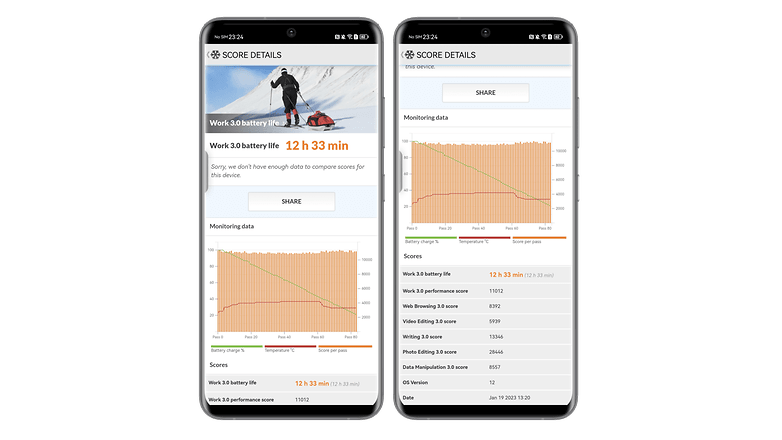 In actual use, you can easily last a day of use. On the other hand, the charging technology is proprietary. And Huawei does not seem to fully support the latest universal USB Power Delivery protocol.
When I tried to charge the Huawei Mate 50 Pro without the official charger with my Ugreen Nexode 140W, it took me almost an hour to go from 0 to 100%. With the official charger and cable, it took me 40 minutes on average for a full charge. The charger is included in the box.
Our first impressions
The Huawei Mate 50 Pro is an excellent camera smartphone, most certainly among the best on the market in 2023. But I really can't recommend buying it.
It would be dishonest to sequence my user experience like that. A smartphone is not just a camera device. So okay, we can't blame Huawei for not having Google apps. But we can blame it for continuing to sell its 4G smartphones with a truncated software experience at more than 1000 euros/dollars.
I understand the desire of some of you to live without Google. But I really think that in this perspective, Huawei is a false idol, a golden calf.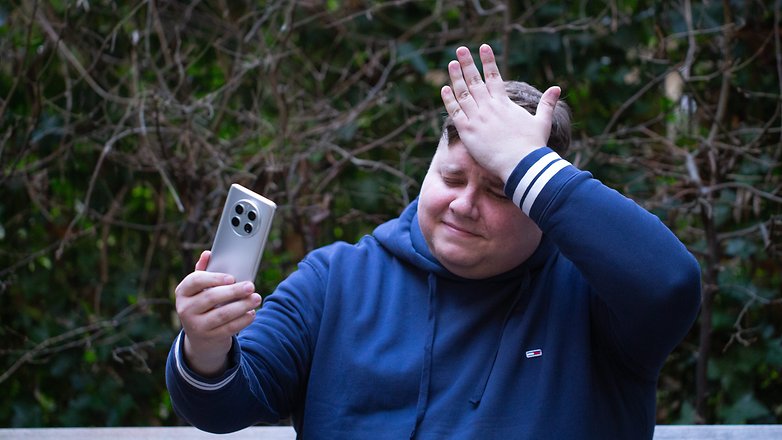 Do you think the Mate sacrifices are worth the asking price? Or do you think the workarounds necessary to have a basic user experience deserve a price cut? Share your thoughts in the comments below!