How to use Snapchat: share faster and with more friends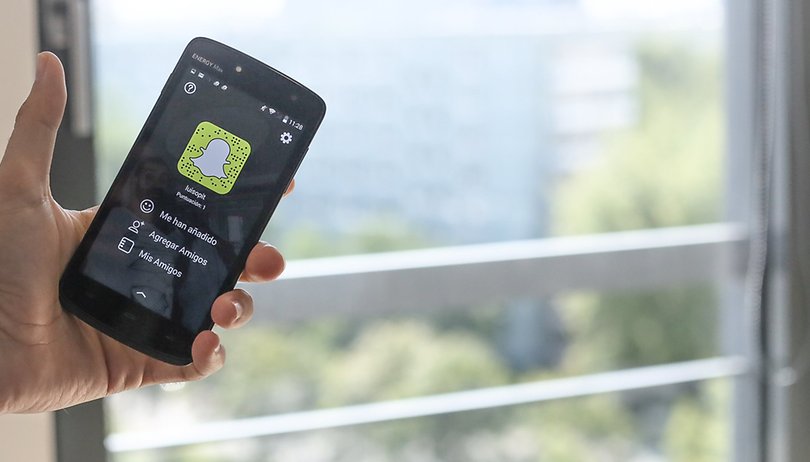 Snapchat is the messaging app that's taken smartphones by storm and when you see what it can do, you'll understand why. It's a chat app, a photo sharing app and a video sharing app all in one, and it's a great way to stay in touch with groups of friends. If you've yet to share a Snap or a Story, read on to find out how to use Snapchat.
Up-and-coming Snapchat alternatives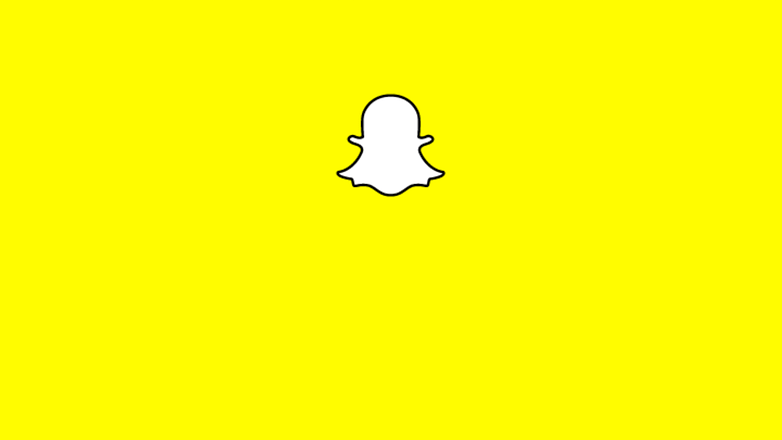 How to get started with Snapchat
You'll need to install the Snapchat app from the Google Play Store. Once you've done that, tap on Sign Up from the welcome screen (assuming you don't already have a Snapchat account; if you do, sign in with your username and password).
You'll need to provide your email address and a password and choose a username. The username is what people will use to contact you and can't be changed later, so choose wisely. Once you've signed in, tap on the ghost icon to bring up the settings and friends options.
How to find friends on Snapchat
There are several ways to add your friends on Snapchat. The program can access your contacts if you give it permission, and use them to find any of your friends who have a Snapchat account. You can also search for usernames by tapping Add Friends, or you can use the handy Add Nearby feature.
That last one's great for adding a group of people while you're with them: get everybody to open Snapchat and tap Add Friends > Add Nearby and you'll all see a list of each other's usernames. Just tap each name to add them.
As you use Snapchat, its algorithm will help it decide who your best friends are. They'll then be displayed with a white star in a gold box, visible only to you.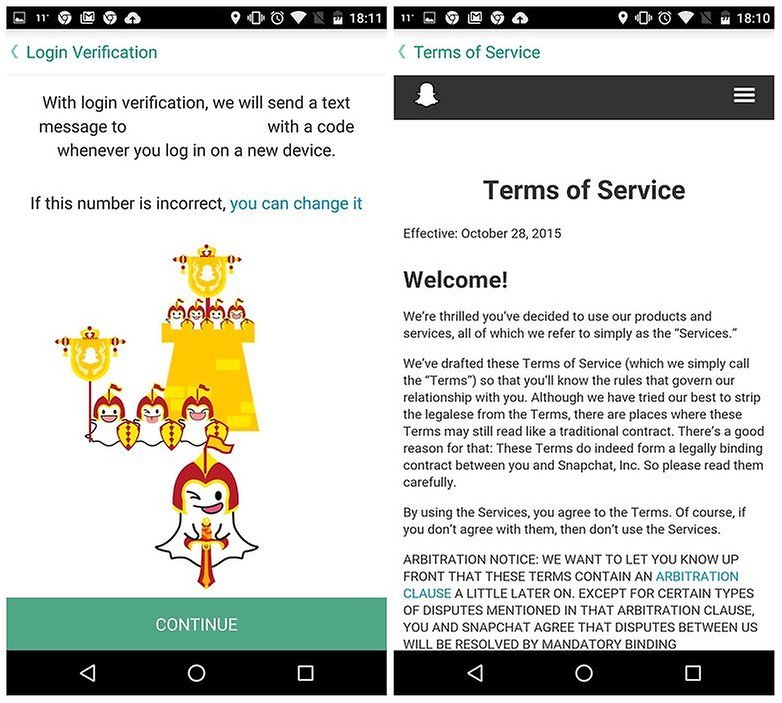 How to block people in Snapchat
Getting messages you don't want or just regretting adding Boring Dave to your friends list? Bring up your profile and tap on Added Me. You'll now see a list of names along with options to block and ignore. Tapping Block will stop them seeing anything you post and prevent them from sending your snaps or chats.
If the person you want to blocking is in your friends list, the process is similar: Go into My Friends, tap on the name and then tap on the gear icon. You should now see the option to block that person.
There's another type of blocking, which is blocking somebody who isn't in your friends list, but who you've Snapchatted with. To do that, swipe left on their name, tap the three-line hamburger menu icon and tap Block.
How to send Snaps in Snapchat
Snaps are Snapchat messages that can be viewed for up to 10 seconds, and disappear once they've been looked at. To take one, just tap the circle icon once or press and hold to record video.
You can then add a caption by tapping in the middle of the screen to enter text.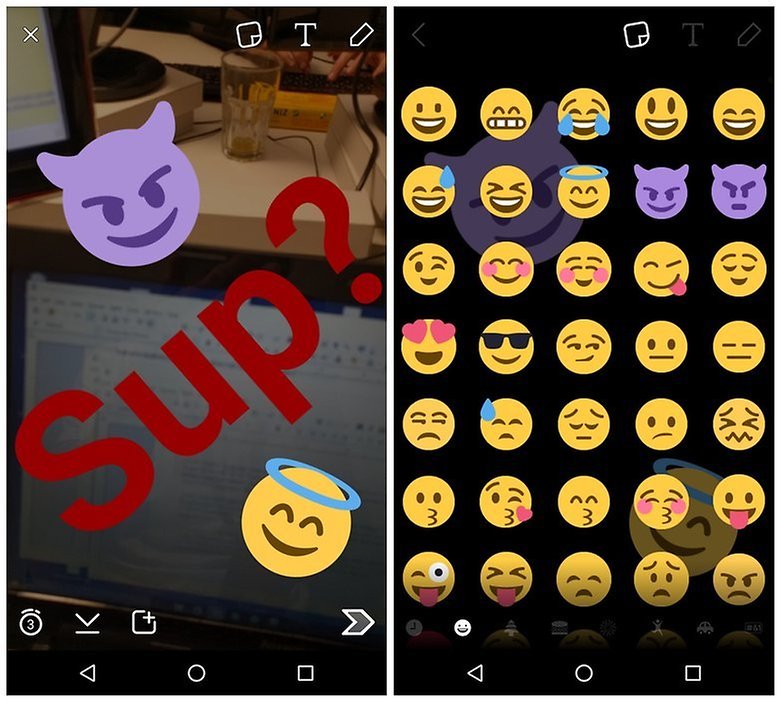 How to screenshot on Snapchat
Just because your Snap is due to expire doesn't mean it can't be saved for later. It's possible for someone to take a screenshot of your Snap and even to do so without you knowing.
Normally you'll be notified when someone screenshots your Snap, but if they open your Snap or story and turn on Airplane Mode, they'll be able to take a screenshot in the normal way by holding the power and home buttons simultaneously until they hear the shutter sound. Because they're offline, Snapchat can't send you a notification.
How to turn Snaps into stories on Snapchat
A story is a collection of Snaps, and creating one couldn't be simpler: take a Snap as normal and then tap on the Add icon, which is a rectangle with a cross in the upper right-hand corner.
Your story will appear under Stories > Recent Updates (swipe left on the camera screen to see the options) and it can be viewed by tapping your name. You can view your friends' stories in the same way.
How to enable filters in Snapchat
Filters enable you to change the way your Snaps look, so, for example, you can add colors, the weather and all kinds of other goodies. The feature is switched off by default, though.
To enable it you'll need to bring up the profile screen, tap on the gear icon and look for Additional Services > Manage. In here you'll see the option to enable filters.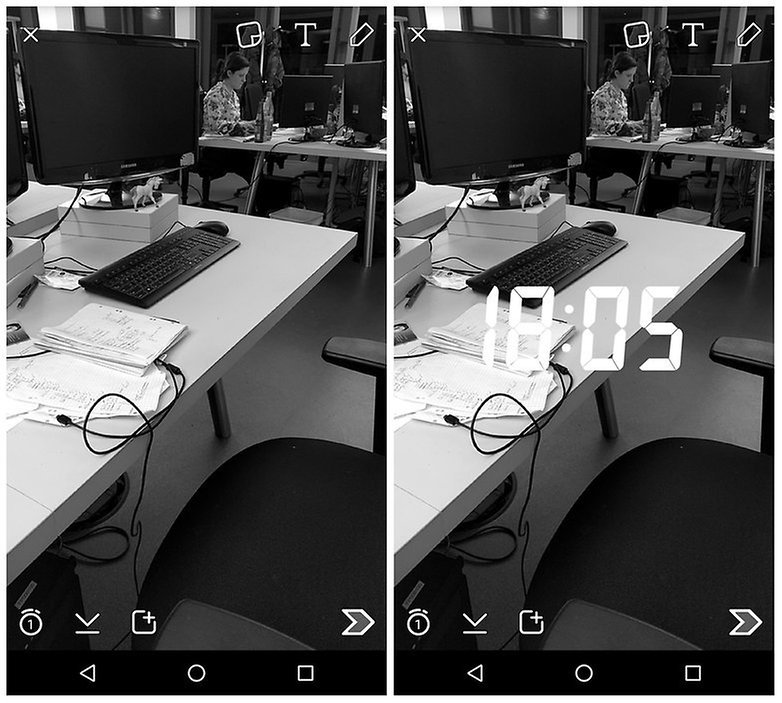 How to update Snapchat
Snapchat should update automatically on your device, but if it doesn't, you can check manually by heading over to the Google Play Store.
Don't be fooled by third-party websites promising Snapchat downloads; that way malware lies.
How to delete Snapchat
You can delete the Snapchat app just like any other app, by long-pressing the app icon and choosing Remove.
That doesn't remove your Snapchat account, however. If you want to do that, you need to log in at accounts.snapchat.com to pull the pin on your Snapchat account. Once you've done that, everything you've ever posted will be gone (unless someone else took a copy).
Have we covered everything you need to know about how to use Snapchat? Is there anything else you want to know about? Let us know in the comments.