Continuity Camera: Use your iPhone camera as your Mac webcam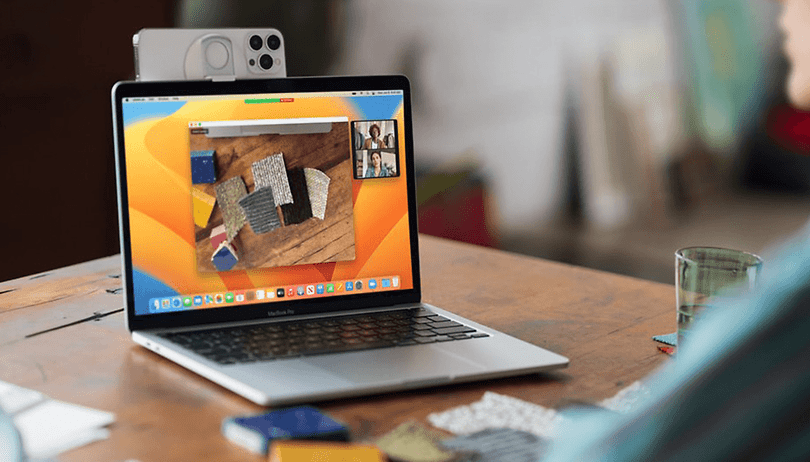 One of the new features coming with iOS 16 and macOS Ventura is Apple's Continuity Camera. The feature turns your iPhone into a dedicated MacBook webcam and offers superior image quality and more effects options for your video calls. In this article, NextPit shows you how to enable Continuity Camera on Mac, and all the advantages of using it.
First, I have been using the Continuity Camera feature for a few weeks, and from launch to now, I can assure you that we have had a consistent evolution of the feature. In addition to the image quality of the iPhone's camera, we have effects like Centre Stage and Desk View that offer a more professional experience to video calls.
Without further ado, check out how to enable and use the Continuity Camera feature below, as well as what are the advantages of using your iPhone camera as a webcam for your MacBook.
How to enable Continuity Camera
Continuity Camera is a standard system function and is available from the settings of both the iOS 16 and macOS ventura operating systems. So all you need to do is enable the feature from your iPhone and keep both Bluetooth and Wi-Fi enabled on both devices—iPhone and Mac.
On your iPhone, open Settings and browse to General.
Click on AirPlay & Handoff.
Enable Continuity Camera option.
Note: To disable the Continuity Camera function on the iPhone simply follow the same steps.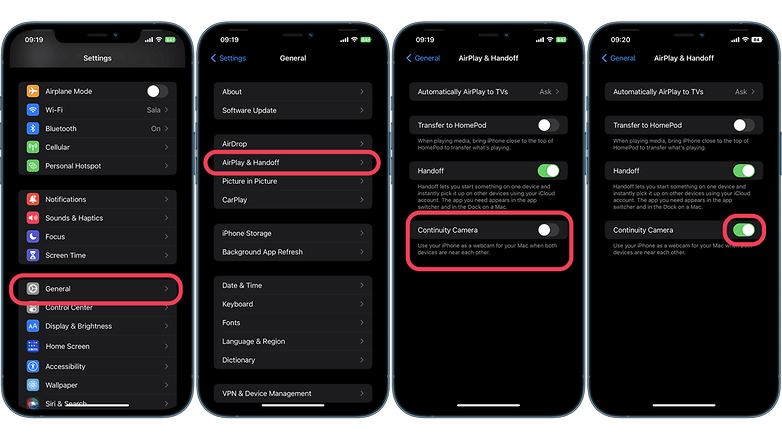 How to use Continuity Camera on macOS
Once the function is enabled, now all you need to do is to attach the iPhone on top of the MacBook's screen—you will probably need a custom clip or stand for it. Here wireless and wired connection are supported.
Once the iPhone is in position, your MacBook automatically detects the device without the user even having to unlock it. But in case you don't want to use the iPhone camera, Apple allows you to disconnect the camera from your iPhone screen with a click.
If the iPhone camera is not automatically recognized, go to the video preferences of any application that uses your Mac camera and select the option to use the iPhone camera.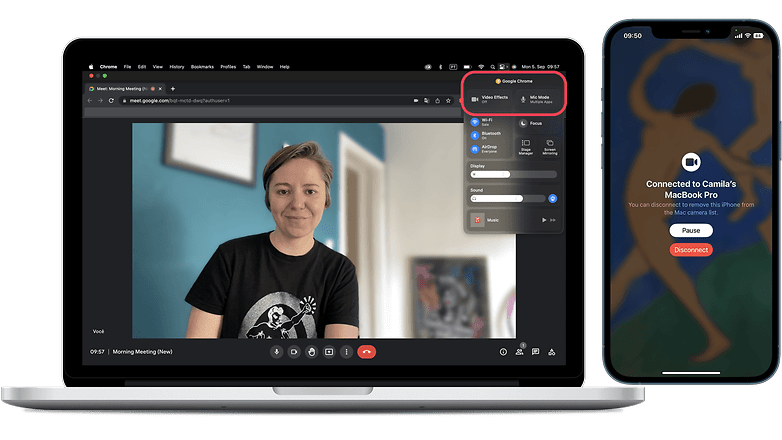 As the iPhone is now recognized as a system camera, Continuity Camera appears everywhere in macOS where cameras can be selected. We use the "extended camera" together with Google Meeting, but the feature can also be used in conjunction with FaceTime, Zoom and Microsoft Teams among other video conferencing apps.
The camera options for activating studio lighting effects, the aforementioned desk mode or sound isolation for the microphone can be accessed through the Control Center on your Mac.
Finally, only compatible iPhone devices running iOS 16 and any MacBook on macOS Ventura can run the continuity camera. This means that the iPhone 7, iPhone SE (2020) and older models will not work with this feature.
Advantages of using Apple's Continuity Camera on your Mac
The obvious benefit of utilizing your iPhone as a webcam for your MacBook is the image quality. Your iPhone's ultra-wide sensor is better than the tiny module just above your MacBook's screen. You can also use with different effects in conjunction with Center Stage, where the software tracks you and keeps you in the center by cropping the frame. This gives an illusion of a camera panning from side-to-side.
Apple also enables the studio lightning feature known from their camera app with Continuity Camera supporting both landscape and portrait orientation. Other video effects are also possible as Apple has offered the necessary APIs for developers. And then there's Desk View, that will intelligently crop the image created by the ultra-wide camera and show what's on your desk in a separate window.
In addition, capturing both video and still images using the attached iPhone are also enabled. The maximum resolution for the video is 1920 x 1440 at 30/60 fps depending on the effects.
What do you think of Apple Continuity Camera? Do you think it is necessary within Apple's ecosystems? Hit us up in the comment section.
---
This article was written in partnership with Jade Bryan and updated in September 2022.