How to turn the Samsung Galaxy S6 or S6 Edge into a Nexus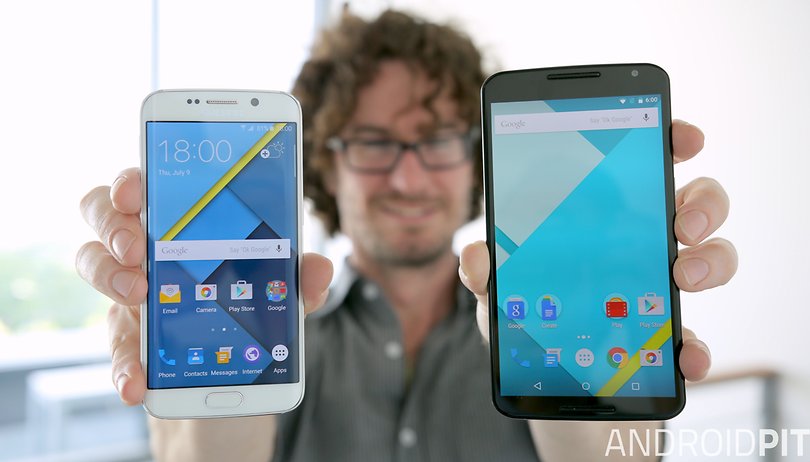 We love the Samsung Galaxy S6 and Galaxy S6 Edge, but like many people we're not completely sold on Samsung's TouchWiz interface. Wouldn't it be great if you could make your S6 or S6 Edge more like Stock Android? Here's how to turn the Samsung Galaxy S6 or S6 Edge into a Nexus.
Common Samsung Galaxy S6 problems and how to fix them
Samsung Galaxy S6: it's better than before, but it's still got TouchWiz
In recent years Samsung's smartphones have been widely praised for their hardware, with good reason: they're great. But sometimes the software has spoiled the experience, usually for one of two reasons: Samsung has been quite keen on pre-loading all kinds of apps whether you want them or not, and it puts its own TouchWiz interface on top of Android.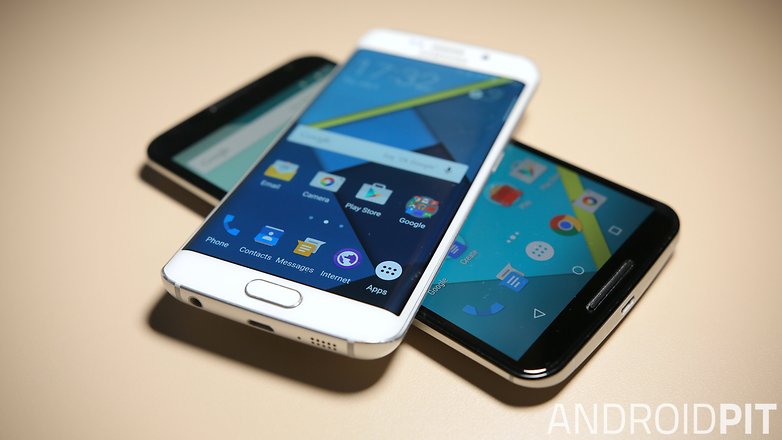 As interfaces go TouchWiz isn't bad, but it's fairly divisive: if you sit a bunch of Android fans down to debate TouchWiz vs stock Android, things are gonna get ugly. Just like TouchWiz. Ho ho!
The good news is that with the S6, Samsung calmed down on the apps front - and it has also approved a theme that makes the S6 and S6 Edge less TouchWizzy and more Androidy. Here's how to get it without rooting your device or doing anything remotely difficult.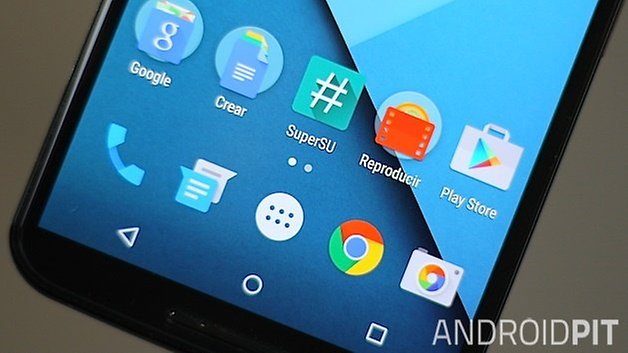 Samsung Galaxy S6: how to turn it into a Nexus
If you've used or seen a recent Nexus you'll know that its stock Android interface looks quite different to TouchWiz. That's because it's pure Android the way Google intends it to look, and it uses an interface called Material Design. And now, you can get a Material Design theme for your Samsung.
This is probably as close as we'll ever get to a Google Play Edition version of the Galaxy S6 without having to root the device and get jiggy with its guts. Here's how to get the material theme and turn your Samsung Galaxy S6 into a Nexus.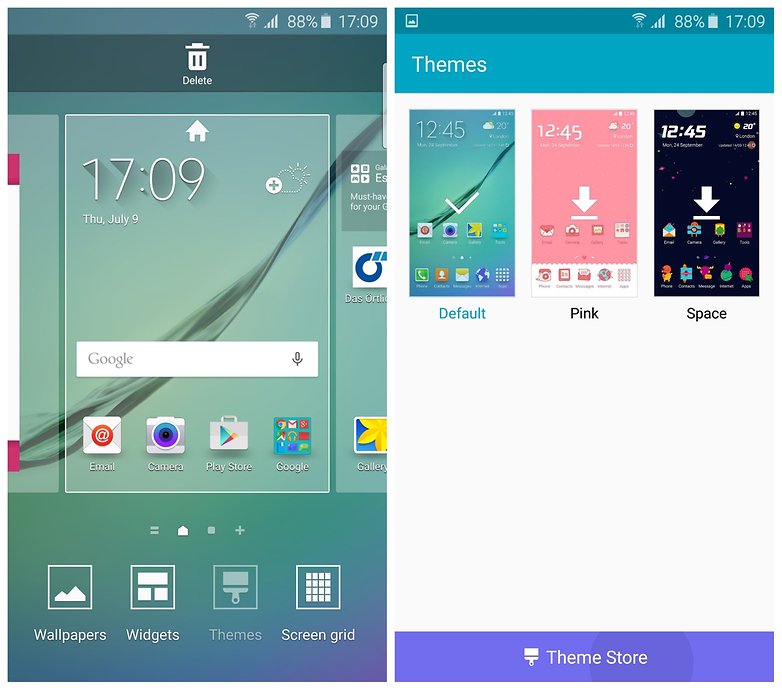 How to get Material Design on the Samsung Galaxy S6
In order to turn the Samsung Galaxy S6 into a Nexus, you'll need to visit Samsung's Theme Store. To do that, press and hold on the home screen and then tap on the Themes icon that appears. You should now see a Theme Store icon at the bottom. Tap that.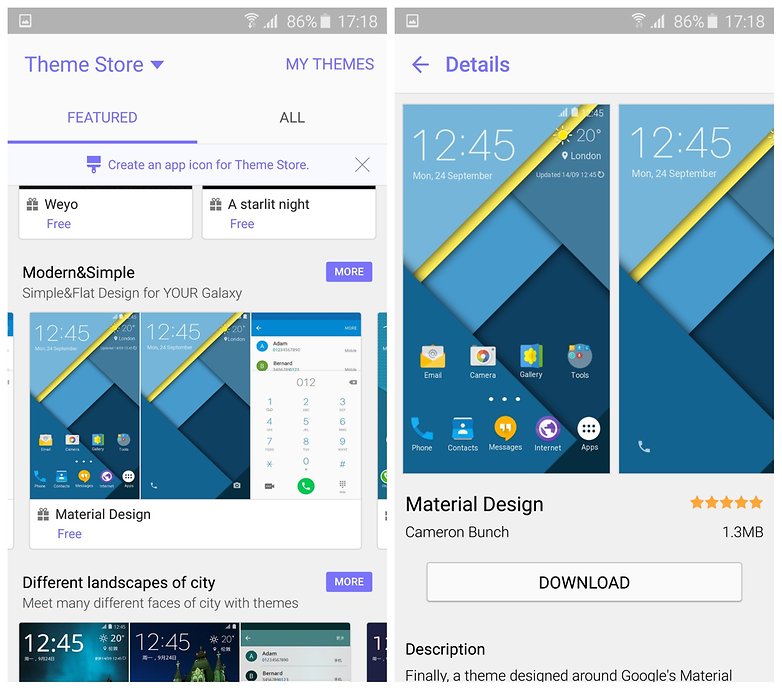 In the theme store, scroll down to the Modern and Simple section and swipe left until you see Material Design. This theme was previously in the Themes for Man section, but it would appear Samsung realized how silly this was and relocated it. Once you've found it, it's just a matter of selecting the theme and installing it.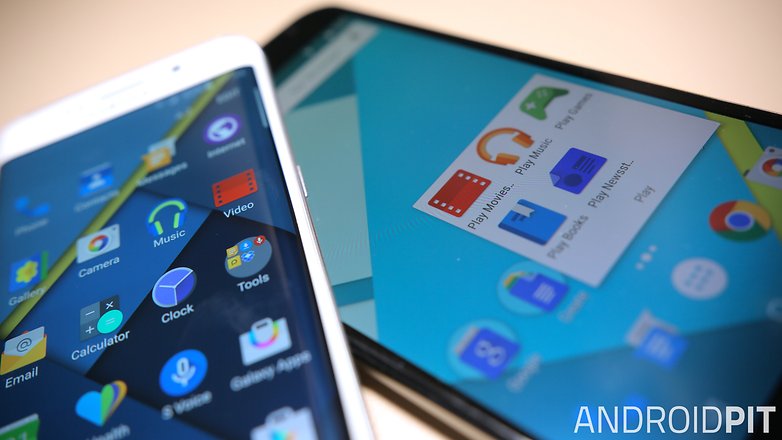 Material Design on the Samsung Galaxy S6: why it's not quite perfect
If you were to put your Samsung Galaxy S6 with the Material Design theme next to a Nexus running Lollipop, you'd soon notice that while the Material Design theme is pretty close to Google's design, but it isn't an exact copy.
That's because some of the elements of the real Material Design interface such as wallpapers and icons are copyrighted, and when developer Samer Zayer first submitted his theme to the Theme Store, Samsung booted it off again citing copyright concerns.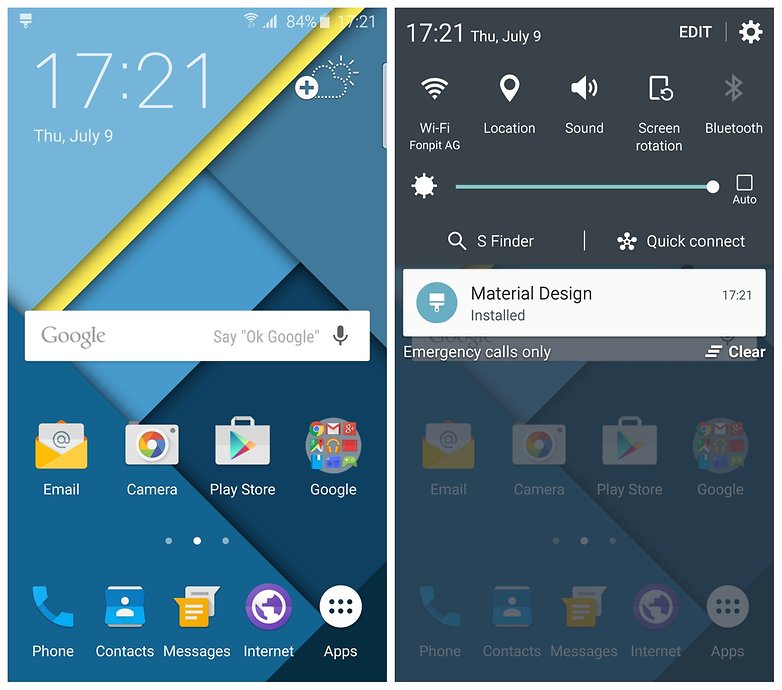 As a result, what you actually end up with on your Samsung Galaxy S6 is a kind of cross between TouchWiz and stock Lollipop: it looks almost but not entirely like a Nexus, and wherever something is copyrighted the developer has created a convincing alternative that shouldn't get him sued. The theme should offer the best of both worlds, with Samsung's features and a close approximation of Google's graphic design.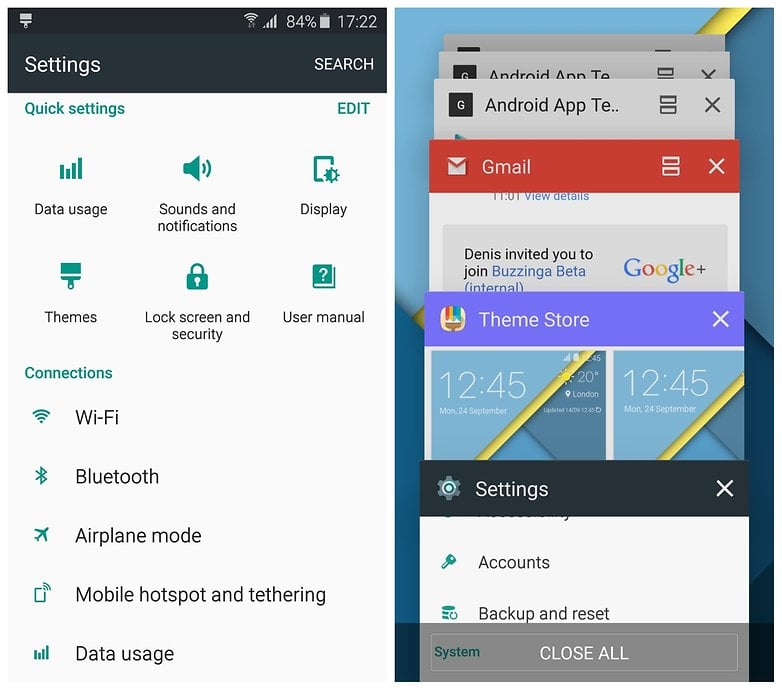 How to turn your Samsung Galaxy S6 into a Nexus with the Google Now Launcher
If you don't like the Material Design theme, there's another option: the Google Now Launcher app.
The Google Now Launcher is a replacement app launcher for your Android device, and as it comes straight from Google it doesn't have any of the - ahem - enhancements that the phone or tablet manufacturer might have foisted on your operating system.
Previous versions attempted to stick with the version of Android you were running, but whatever device you've got the current version gives you the same look and feel as Lollipop and Android M. Between it and the Google Search app you can have Material Design on your S6 for most of the things you do.
What do you think? Has Samsung toned down TouchWiz, or do you wish it'd just give you stock Lollipop and let you customize it yourself? Are you a fan of Material Design, or do you think Samsung's got the - wait for it - Edge? Let us know in the comments!