Honor shows us how to get rid of its bloatware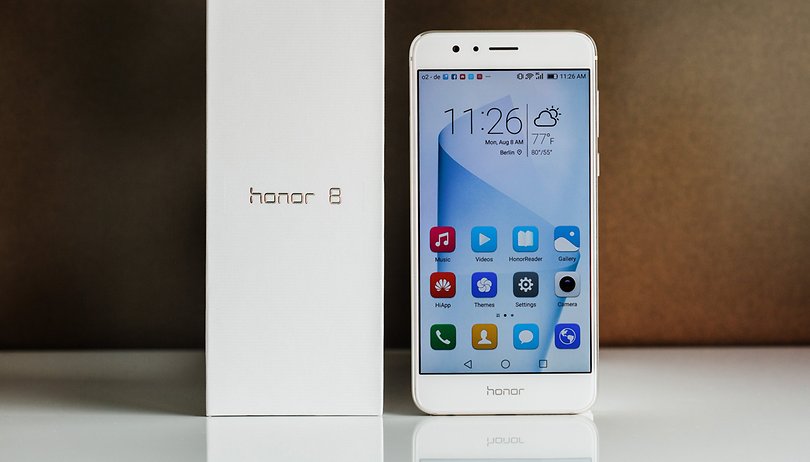 After a first quick test with the European version of the Honor 8 and a short review, we made a pleasing discovery. They do it in a way that should done by more phone makers. Here's how you can quickly remove bloatware on this device.
Bloatware is a problem that affects many smartphones. These are third-party apps that are pre-installed on new smartphones. Often, these apps cannot be uninstalled. Thus, they take up space, which the user would prefer to use for their own apps, photos or music.
On the other hand, they can reduce equipment prices for manufacturers with bloatware. The manufacturers get marketing money for pre-installing those apps and a portion of which reduces the final price of each smartphone. Each pre-installed app on the smartphone reduces the price of that model.
Thus, we as customers are faced with a dilemma: we want to have a lot of free space and less app-waste. But we also need to have a good smartphone for little money. How can we solve this problem most fairly then? It's simple: give us the apps, but also the ability to remove them. And here the Honor 8 comes through for everyone.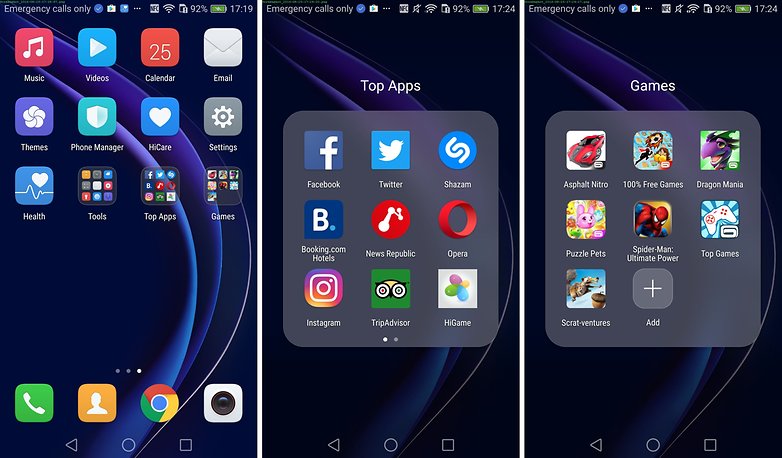 When I held the European version of Honor 8 for the first time in my hands, I was initially a little sour. On the start screen icons of various third-party apps are there. There were even two folders full of apps that I never want to use. There is about 300 MB of bloatware I don't need:
Facebook
Twitter
Shazam
Booking.com Hotels
News Republic
Opera
Instagram
TripAdvisor
HiGame
Asphalt Nitro
100% Free Games
Dragon Mania
Puzzle Pets
Spider-Man Ultimate Power
Top Games
Scrat-ventures
But my mood brightened quickly when I moved one of the symbols to the top of the screen; and then another and then another. Normally, to uninstall them, you can move the apps to the garbage can symbol. But what's so good about the Honor 8 is you can uninstall properly and quickly. That should mean that they and their data is actually deleted from the relevant user you partition and create space for your desired apps, photos and music.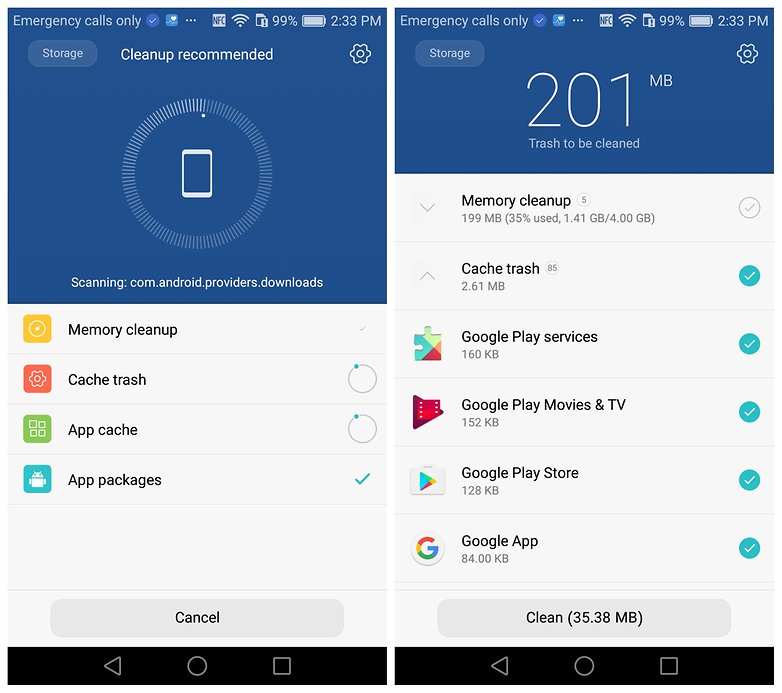 Honor has a tool to mass delete these preinstalled apps when you're ready. Do it either via Settings> Advanced Settings> work and data storage> garbage> memory or on the App Phone Manager and then in a System Optimization> Memory> Pre-installed Apps.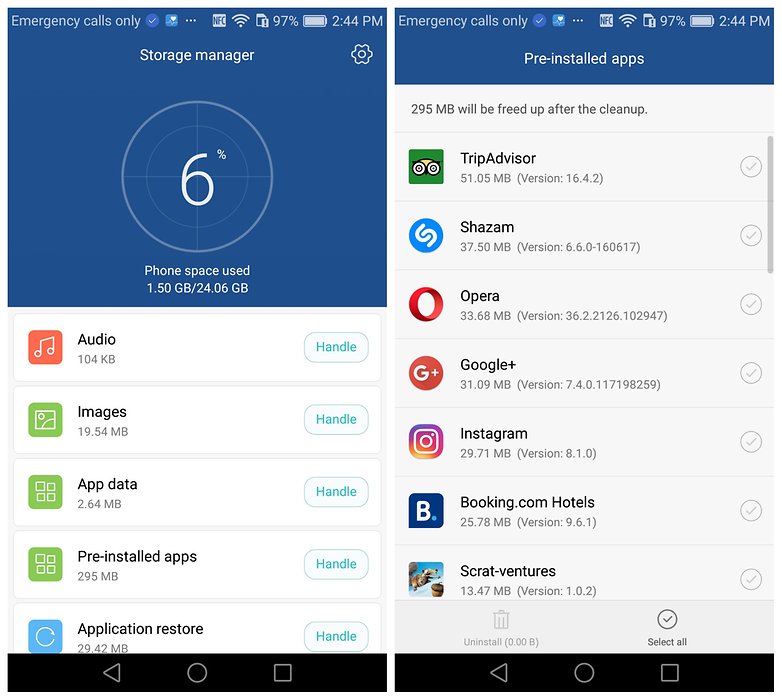 In the list of selectable apps are, with two exceptions (100% Free Games and HiGames), are some Huawei / Honor and Google Apps. So if you want to use Huawei Backup, Smart Controller or Facebook, you should not blindly select all and uninstall. Instead, you can select the ones you want to delete individually.
Cleanup is little free memory
Unfortunately, the measurable effect on the free space is much smaller than one might suppose. Only 0.04 GB more free space is uninstalled from the bloatware (including 100% Free Games and HiGames). Nor had use of cleaning tools and an additional restart brought any improvement.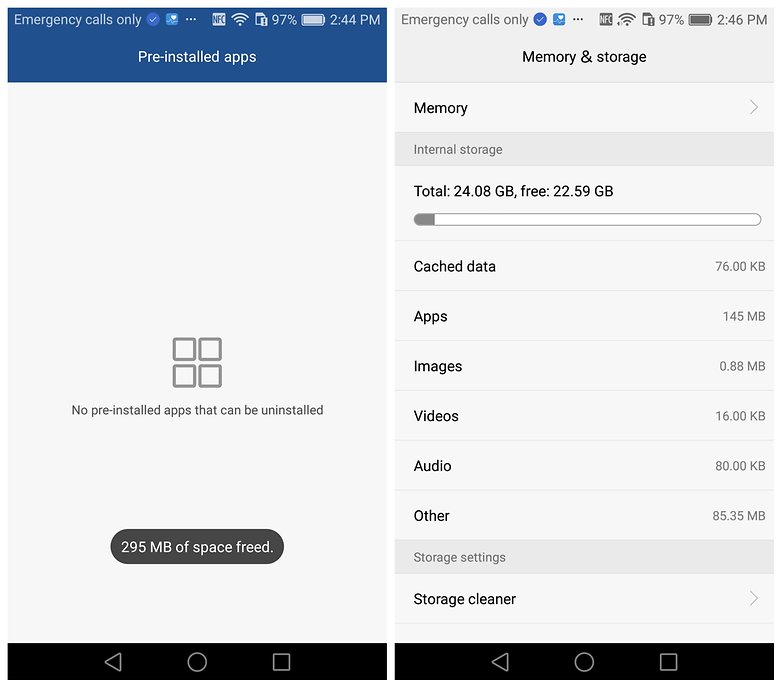 Honor 8 and bloatware - not so praiseworthy?
The Honor 8 shows in approaches that bloatware in a way that's bearable for the user. It gives them the lower cost for the phone by offering it with bloatware but gives them an option to quickly remove this stuff. However, this bloatware might but cluttering but it's bearable in terms of data. Since the usable internal memory of Honor 8 with 22.5 GB is not scarce, and you can also expand it via microSD card, bloatware will not immediately become a problem for you.
What do think about this bloatware compromise? Let us know in the comments.