Honor Magic Vs hands-on: Going global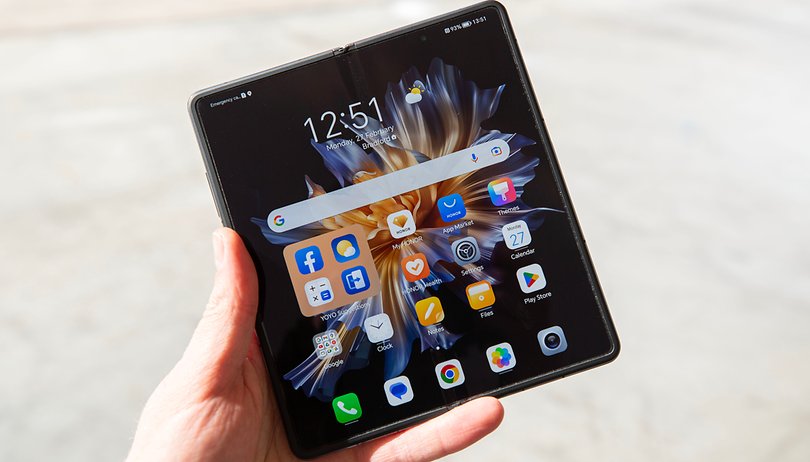 Honor has just launched its new foldable smartphone in Europe, the Honor Magic Vs. This is the first foldable of the manufacturer in Europe. I was able to test the smartphone at MWC 2023 in Barcelona and I give you my first impressions.
My opinion on the Honor Magic Vs in brief
The Honor Magic Vs is available in Europe since February 27, 2023. It comes in a single memory configuration of 12/256 GB sold for 1599 euros and the foldable phone currently is not expected to launch in the US.
Its predecessor, the Honor Magic V tested by my colleague Camila last year, was never released in the West. This year, the foldable smartphone arrives on the European market alongside the Honor Magic 5 Pro. Both models are part of the manufacturer's "dual flagship" strategy.
The Honor Magic 5 Pro is a "main" flagship with a Snapdragon 8 Gen 2 SoC, a triple camera module with 50 MP on all sensors, etc. The Honor Magic Vs, on the other hand, has a slightly less advanced spec sheet with a Snapdragon 8+ Gen 1, for example. But it makes up for it with its foldable form factor.
But can it compete with a Galaxy Z Fold 4? Or, failing that, be a credible alternative?
Design
The Honor Magic Vs boasts of being particularly compact thanks to a new hinge technology called "gearless". According to the manufacturer, this novel hinge is cut from a single piece and has reduced the number of components in its structure from 92 on the Magic V to just 4 on the Magic Vs.
---
Pros
The screen folds completely flat.
Hinge is supposed to be stronger (400,000 openings).
Relatively lightweight for a foldable smartphone.
21:9 ratio for the cover screen (like a Sony smartphone so "almost normal").
Cons
No IP rating.
No data (yet) on the protection on the back and on the screen.
No micro SD port or jack.
---
We'll start with the gearless hinge story because it's a lot of blah, blah, blah to take in at once. Basically, this hinge is composed of two plastic panels with a rod in the middle to which metal mechanisms are attached. The two parallel panels are like the cover of a book for the folding screen, and the rod is the back.
Here are the four components: 2 plastic panels, a plastic rod, and the metal mechanisms. The panels and the rod are directly molded to perfectly accept the mechanisms without needing other components to stabilize or set the whole thing in motion.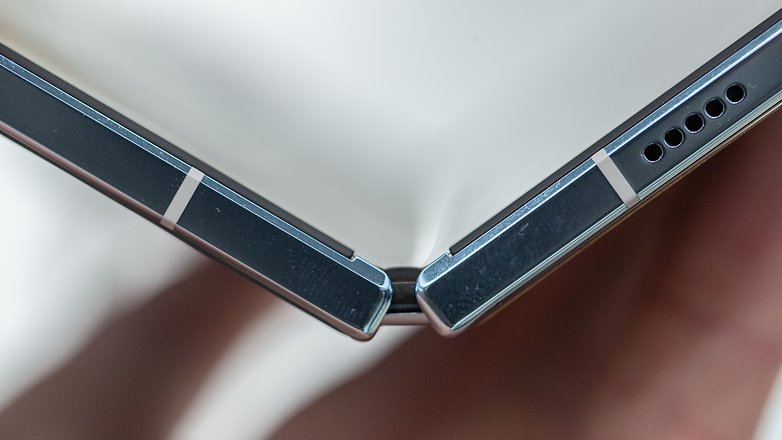 If my explanations are too convoluted, I suggest you check out the video JerryRigEverything made on the subject, it's very well illustrated.
This design for the hinge takes up less space and is supposed to be stronger. Take a house of cards, the more pieces you add to it, the more likely it is to collapse. Honor guarantees 400,000 openings without any problem against 200,000 for Samsung and its Z Fold 4.
This technology, therefore, allows both to make some space inside the chassis, for the large battery of 5000 mAh, for example. The Honor Magic Vs weighs "only" 267 g (heavier than the Galaxy Z Fold 4 and its 263 g). Its dimensions are 160.3 × 72.6 × 12.9 mm folded and 160.3 × 141.5 × 6.1 mm unfolded.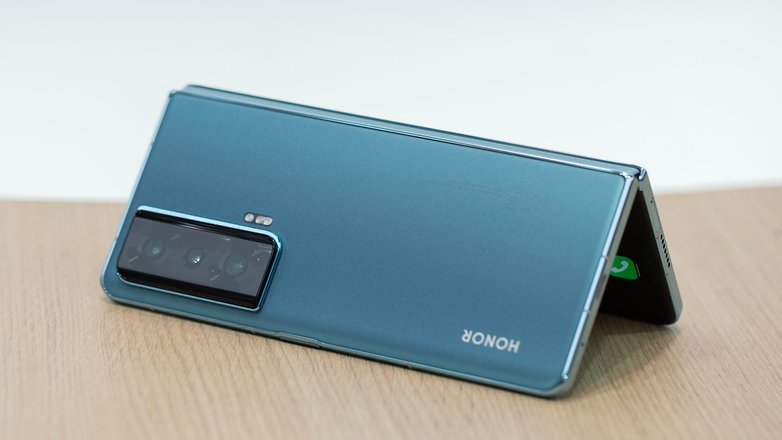 But this hinge also allows the Honor Magic Vs to fold almost without any gap between the two screen flaps. When unfolded, the crease in the middle of the screen is supposed to be almost non-existent. And we know how much foldable smartphones suffer from this technological limitation related to their form factor.
The smartphone comes in two colors: cyan blue and black. No IP rating or information on the type of protection on the back and screen.
Screen
Honor believes that the inner and outer screens of the Magic Vs cater to two different types of use. Everyday tasks are reserved for the outdoor screen while the entertainment/media part is designed for the indoor screen. And the technical specifications of the two screens of the Honor Magic Vs are adapted accordingly.
---
Pros
The very large 7.9-inch tablet size of the opened screen.
The top cover screen (on paper) with 120 Hz and 1200 nits.
A selfie camera on the screen inside and outside.
Cons
No data (yet) on the protection on the back and on the screen.
The risk of shocks between the two screens in folded mode.
---
Unfolded, the Honor Magic Vs' screen is 7.9 inches diagonally and its cover screen measures 6.45 inches when folded. That's more than on the Galaxy Z Fold 4 (7.6 inches unfolded, 6.2 inches folded).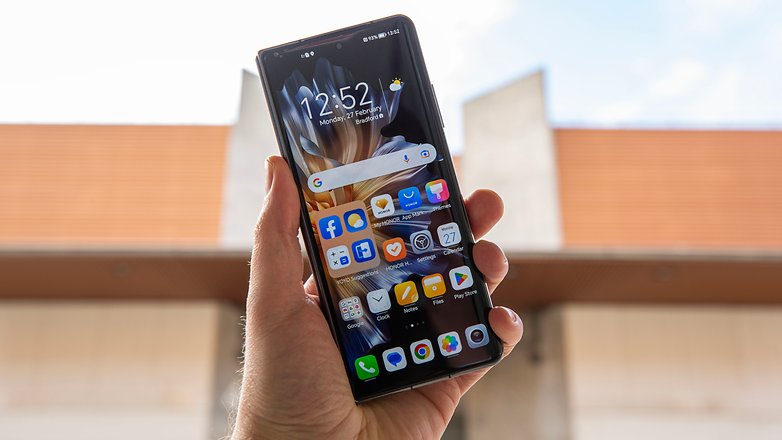 The inner screen is an OLED panel with a refresh rate of 90 Hz, a resolution of 2272 x 1984 pixels, and a maximum brightness of 800 nits. The cover screen is also an OLED panel with a resolution of 2560 x 1080 pixels, but with a refresh rate of 120 Hz and a maximum brightness of 1200 nits.
A technically better cover display than the main display is pretty counterintuitive but the more I think about it, the more I think it makes sense.
The 120 Hz makes more sense on the outer screen. That's the one we're most likely to use to scroll through our news feeds, navigate between different apps. The inner screen will generally be used for watching video content, gaming, etc. No need for 120 Hz since these contents are often limited to 60 FPS.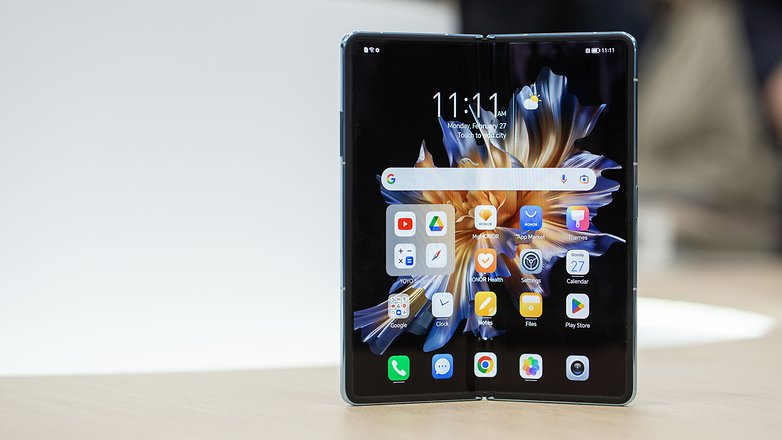 On the other hand, I find that the crease in the middle of the inner screen is still very visible to the naked eye. And the 21:9 aspect ratio of the cover screen is certainly close to a classic smartphone, but it's not quite that. If you've had a Sony Xperia, you won't be out of place. But for a 20:9 worshiping barbarian like me, the screen is a hair too long and too narrow.
Interface/OS
The Honor Magic Vs runs on MagicOS 7.1 based on Android 13. I didn't get any official info on the number of updates. But Honor's software maintenance policy on its latest flagship, the Magic 4 Pro, offered two Android updates and four years of security updates.
I'm really not going to say anything in this section. And for once, it's true. I'm very unfamiliar with the MagicOS interface and I wasn't able to test previous versions, so I'll update this section in my full test.
Performance
The Honor Magic Vs packs the Snapdragon 8+ Gen 1 SoC clocked up to 3 GHz with its Adreno 730 GPU coupled with 12 GB of RAM and 256 GB of storage.
Again, I'll reserve my opinion for my full test, once I've run enough benchmarks and games for long enough. I just think it's a shame that Honor's first foldable smartphone doesn't feature the latest high-end SoC like other Android flagships recently launched this year.
Photo quality
The Honor Magic Vs comes with a triple camera module. There is a 54 MP main lens, a 50 MP ultra-wide angle lens, and an 8 MP telephoto lens. As for the selfie camera, it offers a resolution of 16 MP.
In the main lens, we find a Sony IMX800 sensor with an f/1.9 aperture. I've never seen this sensor on any of the latest smartphones I've tested.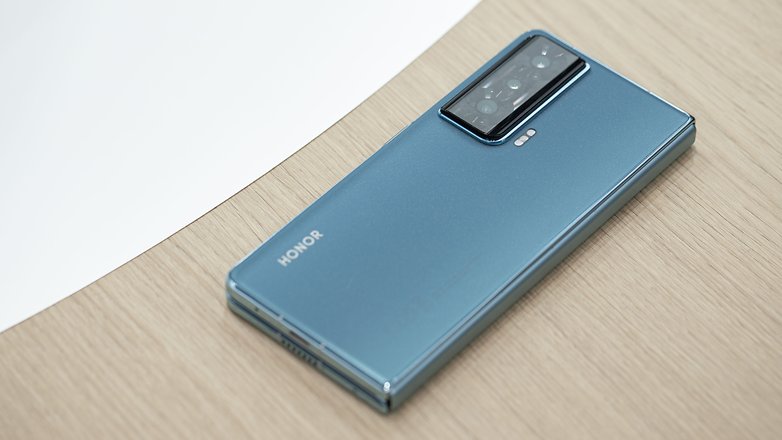 The ultra-wide angle lens has an f/2.0 aperture and also acts as a macro sensor, and the telephoto lens offers a native x3 zoom with an f/2.4 aperture. But I find the 8 MP resolution very low for a smartphone of this caliber.
I like the fact that Honor has integrated two selfie cameras in its Honor Magic Vs, on the outer screen and the inner screen.
Honor Magic Vs battery
The Honor Magic Vs features a 5000 mAh battery that accepts 66 W of wired charging. Honor's foldable smartphone does not accept wireless charging or reverse wireless charging.
---
Pros
A big battery for a big smartphone.
The 66 W fast charging is correct, on paper.
Cons
---
Once again (I know, it's tiresome), we'll have to wait for my full test to get some concrete info. On paper, the 5000 mAh battery should allow you to be quite serene despite the two OLED screens and the very greedy Qualcomm SoC.
The 66 watt wired charging is also very good and much faster than the Galaxy Z Fold 4 and its poor 25 watts. Too bad it doesn't have the wireless charging that its Samsung competitor offers (as well as the reverse wireless charging).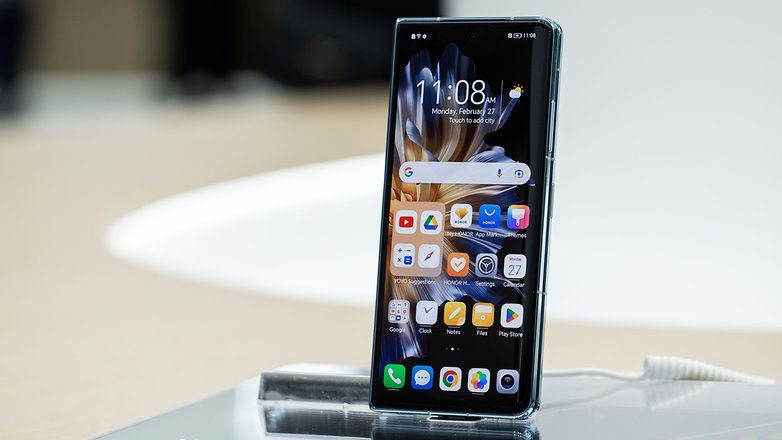 I'll tell you more about the battery life once I've been able to use the smartphone in daily use and submitted it to the PCMark benchmark.
Technical data
Device
Picture
Screen
Internal
OLED 6.45 inches
Full HD+ (2560 x 1080 pixels)
Refresh rate 120 Hz
Brightness 1200 nits
External
OLED 7.9 inch
QHD (2272 x 1984 pixels)
Refresh rate 90 Hz
Brightness 800 nits
Memory
12 GB RAM
256 GB ROM
CPU / GPU
Snapdragon 8+ Gen 1 (4 nm)
GPU: Adreno 730
Photo Module
Main Lens: 54 MP | f/1.9
Ultra-wide angle: 50 MP | f/2.0
Telephoto lens x3,2: 8 MP | f/2.4
Selfie: 16 MP | f/2.45
Video
4K at 60 FPS
OS
MagicOS 7.1 on Android 13
2 years of Android updates
4 years of security patches
Battery
5000 mAh
66W wired charging
Dimensions and weight
Folded
160.3 × 72.6 × 12.9 mm
267 g
Unfolded
160.3 × 141.5 × 6.1 mm
267 g
Connectivity
5G, Wi-Fi 6E, Bluetooth 5.3
First impressions
On paper, the Honor Magic Vs has serious features to seriously compete with Samsung and its Galaxy Z Fold 4. The simple fact that it can fold completely flat gives it a head start in terms of form factor.
Ditto at the level of fast charging which is far, far ahead of what Samsung offers. And the quality of the displays of the Magic Vs is not left out either. I found them both very bright. But I regret that we can not really bend it at 90 ° to make a mini-laptop.
The main lens of the photo module looks decent just like the selfie camera, but the 8 MP telephoto lens does not necessarily excite me. In any case, I find Honor's philosophy quite interesting with this dual approach to the use of its screens. A screen for business and everyday outdoors and a screen for games and multimedia indoors. I've never seen Samsung talk or consider its Galaxy Z Fold like this.