Google Home Mini vs Amazon Echo Dot: It's the little things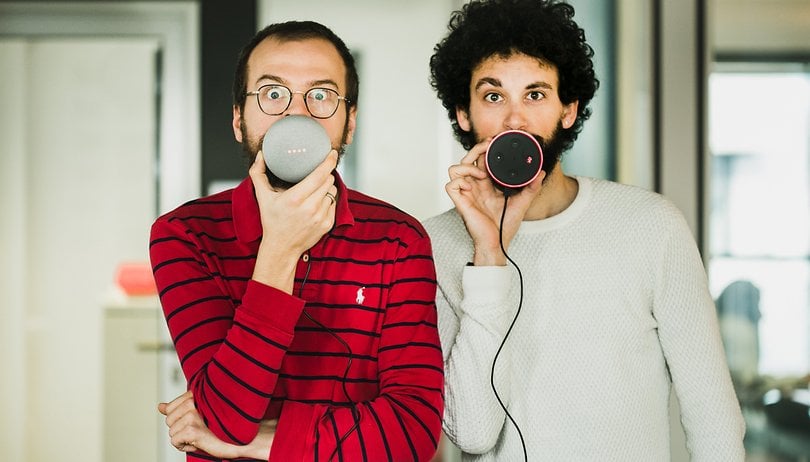 Christmas is approaching and the time for gifts is upon us. The two small connected speakers by Google and Amazon are the perfect presents for the special geeks in your life, notably because of their price. But which one to choose? Let's look into the differences.
Google Home Mini vs. Amazon Echo: The price war
Amazon Echo Dot (Pierre)
Let's start with the good points about these smart-home speakers. Like the Google Home Mini, the Amazon Echo Dot is very affordable with a price of $29.99. The Echo Dot is Amazon's smallest connected loudspeaker, which also markets other larger models: Echo ($99,99), Echo Plus ($149.99) and Echo Show ($229.99).
Google Home Mini (Eric)
The Assistant itself is free, and any smartphone with Android 6.0 or later can activate it with the words "OK Google", a voice feature that launches the Assistant. On Google Home and Google Home Mini, it's also possible to launch the Assistant without using a button. These devices cost $79 and $29 respectively.
You can also opt for speakers from other manufacturers that are still compatible with Google Assistant. Their number is constantly increasing, with brands such as JBL, Sony and Marshall offering better results in terms of sound.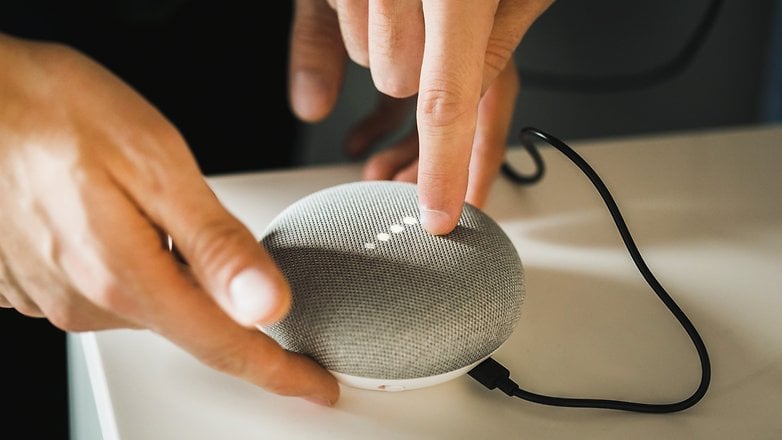 Google Home Mini vs Amazon Echo: Setup and configuration
Amazon Echo Dot (Pierre)
As is often the case with smart-home objects, it's necessary to use an app after connecting your device. Since the Echo Dot doesn't have a screen, you'll have to continue the configuration on your phone. In order to use the Echo Dot, you must download the Amazon Alexa home app. The rest is pretty straight forward, just follow the instructions and you'll be done in a few minutes.
Once the Echo Dot is activated, you won't be able to control it via the app, but via your voice. To "wake it up", you'll have to use the Alexa password (but alternatively, you can select Amazon or Echo).
Unlike the Home Mini, the Echo Dot can connect to other existing speakers via the mini jack on the Echo Dot, or via Bluetooth. This is a significant advantage, as it allows you to enjoy better audio quality with a multi-room sound.
Additionally, it has also recently been possible for Alexa to recognize several voices, giving it an advantage over Google Assistant. Alexa can recognize voices in order to read messages and calls, allow access to shopping without the need for a confirmation code, read news flashes and access Amazon Music Unlimited Family, a plan based on the person speaking.
Lastly, if you have a few Amazon Echo speakers, only one setup is required with Alexa as it'll be applied to all compatible devices.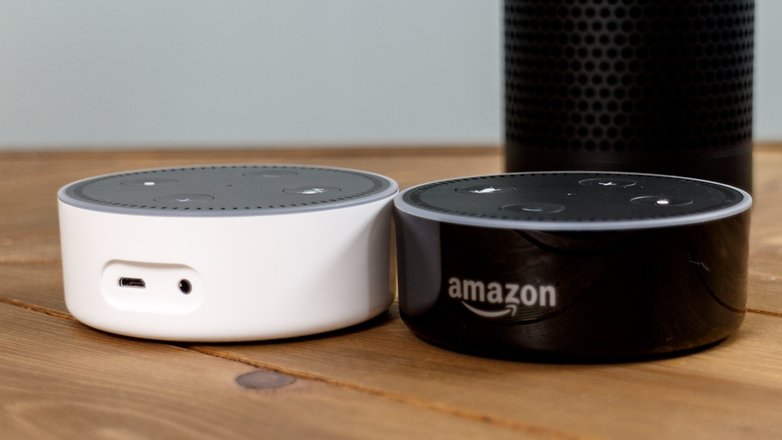 Google Home Mini (Eric)
What Pierre explained about the Echo Dot is also largely true for the Google Home Mini. The Assistant is configured on your smartphone and it's totally possible that you have already done so. The Assistant accesses your Google account information, so it already knows quite a few things about you...
It's very unfortunate that the Google Home Mini can't be connected to another speaker. Google assumes that your other stereo speaker will be compatible with Google Home or another Assistant in order to be able to connect via Chromecast. You can connect multiple speakers to multiple rooms and play music using commands such as "Play Johnny be Goode throughout the house".
Once the configuration is complete, things become a lot simpler since Google Assistant is the same across all your devices. Another minor addition is that several different individuals can use it, the device can accommodate up to 6 users.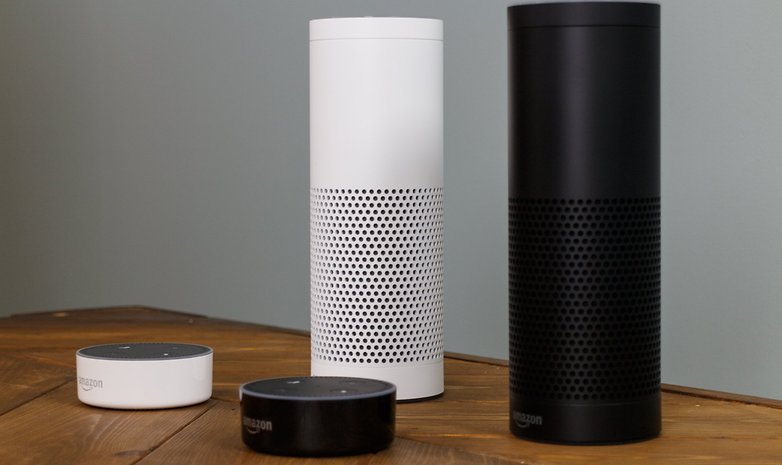 Google Home Mini vs Amazon Echo: What can it do?
Amazon Echo Dot (Pierre)
Despite its small size, Amazon Echo Dot has a rich array of features thanks to the voice assistant Alexa. Alexa is far from being second to Google Assistant, quite the contrary. You can use the Echo Dot to check the weather forecast, create shopping lists, manage your calendar (Google, Microsoft...), manage your smart-home (H Philips Hue lights) and play music (Amazon Music, Spotify, Pandora, iHeartRadio, TuneIn Radio, Sirius XM...). But Apple Music or Google Play Music? Nope.
We must also bare in mind that Alexa is constantly improving. For example, it's now debuting in cars. The Echo Dot can be used to set parameters inside your compatible vehicle (alter heating, entering a destination...). Of course, Amazon is committed to protecting your privacy, and you'll have the option of deleting voice commands later.
Non-native English speakers should note that iso far, Alexa only speaks two languages: English and German.
Google Home Mini (Eric)
To be honest, Google Home doesn't do much more than that. With its many possibilities, Alexa is ahead of the curb, and the many vocal possibilities even enable the option of obtaining bedtime stories for children.
The integration of connected devices is different. There are products from varying manufacturers, but all the controls are still the same: say "lower the brightness in the living room" and it'll obey, whether you bought the equipment from Osram, Philips or IKEA. The same obviously goes for loudspeakers in multi-room systems.
Google Home Mini vs Amazon Echo: designs and formats
Amazon Echo Dot (Pierre)
Available in two colours (black or white), the Echo Dot is a relatively discreet loudspeaker with a much higher manufacturing quality than one might think for a device of this price. Its compact size is ideal for all types of rooms.
In terms of design, the Echo Dot proves to be simpler than the Home Mini. It benefits from a blue and orange LED light all around the device, that distinguishes it from other more classic speakers. There's no touch button, but there are four physical buttons, including a mute button to disable speech recognition.
On the audio side, the Echo Dot obviously doesn't work miracles given its size. It's not bad, but the bass is rather limited and the treble is quite harsh. Amazon has treated this speaker as a small add-on speaker that is connectable to another speaker or Echo. For example, the sound is less powerful than the Home Mini.
Comparison
| Echo Dot | Home Mini |
| --- | --- |
| Available in different sizes | Available in different sizes |
| Bluetooth for music, jack input | Cheaper, integrated free of charge in many smartphones |
| Physical mute switch | Physical mute switch |
Google Home Mini (Eric)
Google's Home Mini seems to be a little more mellow, giving a more modern look with its invisible control panel (which is very easy to use) than what you can see on the Echo Dot, which has a little too much of a "hockey puck" design.
Conclusion: Which one to choose?
Amazon Echo Dot (Pierre)
There aren't any major differences, but the Echo Dot is a more complete product than the Google Home Mini. It allows you to benefit from (almost) all the advantages of its sibling products, but at a much more affordable price, making it easier to familiarize yourself with the world of connected speakers. In addition to Alexa's qualities, Amazon's small speaker can be used to create a more sophisticated audio system with better connectivity. Ultimately, Alexa's single biggest weakness when compared to Google's Assistant is its linguistic limitations.
Google Home Mini (Eric)
At first, Amazon was in the lead, but Google caught up. Unfortunately, the Home and Home Mini aren't as interesting as the Home Plus with its smart-home antenna, or even the Echo Dot with its potential for multi-speaker connectivity. That being said, Google Assistant will soon be available on many other types of connected speakers, so you won't have to worry anymore.
Personally, I'm more comfortable with the Assistant because I use a lot of Google services. The Assistant can use them and answer my voice commands in order to interact with these services. On Amazon, I had to make a massive amount of changes to the settings, then hope that everything would work.
The area where the Google system really shines is at the cast system level, that allows streams to be launched on specific devices. By just saying "Play Game of Thrones in the living room", the series will appear on the TV. It's either compatible with Google Cast or can be coupled with Chromecast.
Have you had the opportunity to test Google Home Mini?