Google Daydream View: the VR dream begins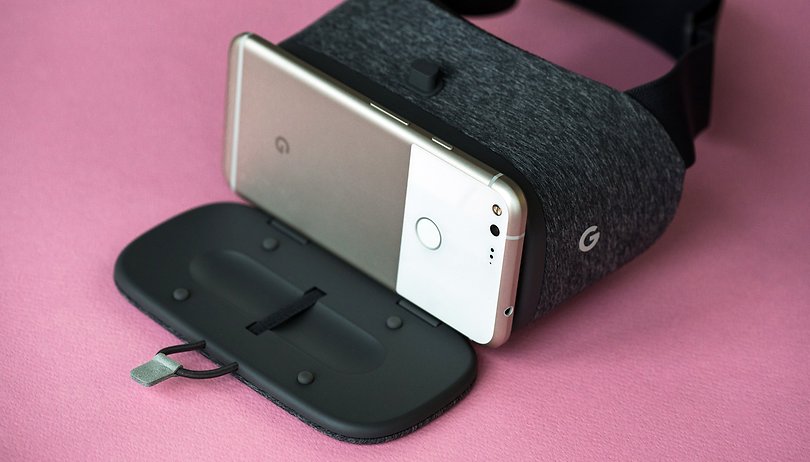 Google has built a successful, low-cost platform for Virtual Reality with Cardboard. Daydream is the logical successor: Google has stepped out of cheap territory and into high-end hardware on a specified platform. We have Google's own VR headset Daydream View with the Pixel XL - here's our review.
For this review, we used the Google Pixel XL and the Daydream View VR headset. If you're wondering why, it's because at the time this review was done, some content was already available but the Daydream platform was still in its infancy. There simply was no other smartphone we could use to do test Daydream.
Daydream: Google's VR platform specifications
Daydream-enabled smartphones are not yet available outside of the two Pixel smartphones from Google. Google outlines the exact conditions for Daydream certification from external manufacturers. You can find some requirements for the in the "Compatibility Definition Document" for Android 7.0.
At least two physical CPU cores
Display between 4.7 and 6 inches
At least Full-HD display resolution is required and Quad-HD is recommended
60 Hz image rate in VR mode
Response rate of the display (gray-to-gray and black-to-white) under 3 milliseconds
Displays must support a mode in which pixels output a maximum 5 milliseconds of light
Support OpenGL 3.2 and Vulkan
A mode for constant performance
Bluetooth 4.2 must be supported
The Daydream package includes the headset and a remote control. Daydream View is now the first VR headset from Google and is also the first VR set for Daydream. Here's how it looks: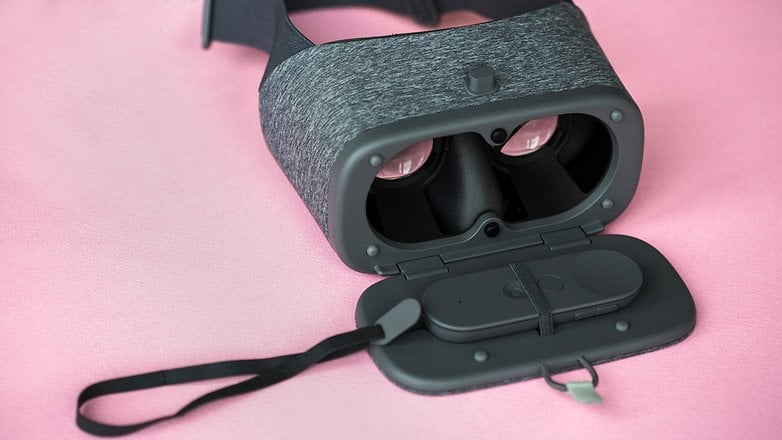 The headset is cased in a gray fabric. In the first few hours, the VR glasses gave off a chemical smell but it went away after a while. At the front of the device is a slot to insert a smartphone, which doubles as a carrier for the remote control.
You don't need an outlet or cords for Daydream. The controller is connected via Bluetooth to the Pixel XL and has a USB-C plug to charge the battery.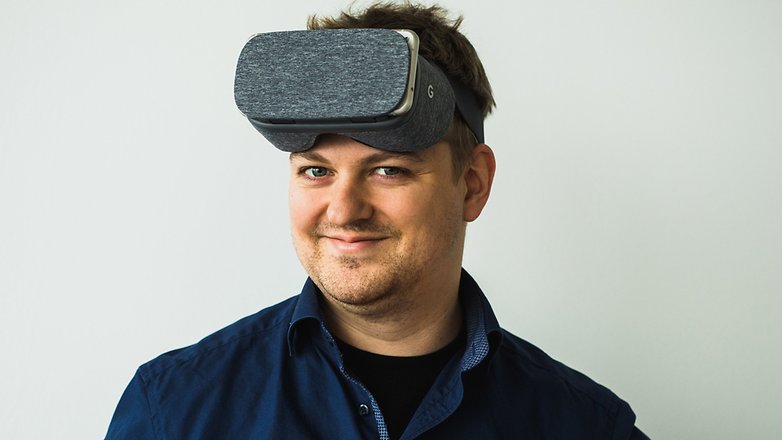 Now all you need to do is pop the smartphone in the flap and you're all set.
Daydream View: set-up and first use
With a Daydream-enabled smartphone, you will need to download the Daydream app and Google VR services. After loading the Daydream app, we had to login again – if Daydream is released for all users, this will no longer be necessary. As soon as the remote control firmware is updated, you can get started.
Once you're in, a tutorial will show you how to use Daydream. You will learn how to calibrate the controller and navigate through the Daydream user guide. A long press on the controller's home button centers the view again, which also works within games and is necessary in order to play.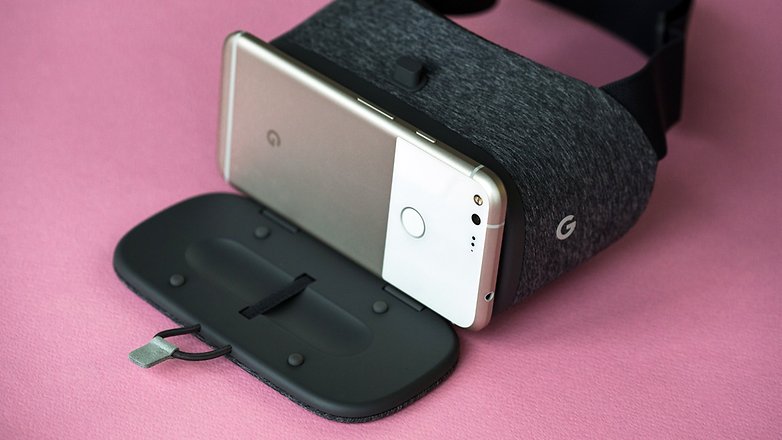 In some games, the controller is visible within the user view. The virtual user interface usually incorporates spaces, landscapes or even caves into the menus.
Daydream View: the visuals and field of view
The narrow view of Daydream View, especially in the main menu, is problematic. You only get about a 90 degree field of vision, which is hardly enough for a really immersive experience because the human eye has a field of vision of about 180 degrees. It feels like you're looking out of a small window, particularly in the menus.
This effect is hardly noticeable when playing games as there is so much movement that the restricted field of view does not seem obstructive. Once you start a game, the deep immersion into the VR environment really begins.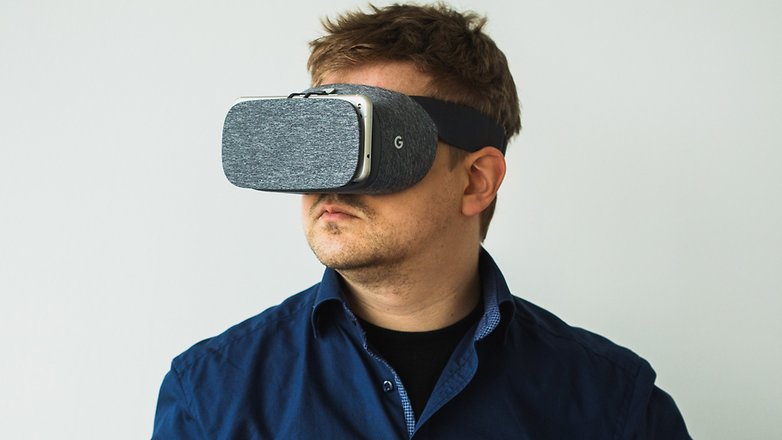 The VR graphics are problematic. Daydream View also has the issue that due to the lenses, you can see the subpixel matrix. When you compare this with the Samsung Gear VR, however, this appears to be less pronounced. Nevertheless, this means that you don't see a continuous, colored surface. Instead there is a black color matrix, which depicts the environment but with a distinct lack of detail. The non-moving white surfaces clearly show the subpixel matrix of the display.
Daydream View: comfortable wear
Daydream View weighs 220 grams. There is only one elastic band strapping the headset to your head. In the short time we had to review the device, it was not possible to judge whether the band would pop off. In any case, the size adjustment is so sensitive that it usually has to be fixed again during the initial set-up.
Depending on your facial shape, some light may shine through, which is not good for an immersive VR experience. Additionally, dust is is more easily noticeable on the display so before each session, make sure you wipe your smartphone screen.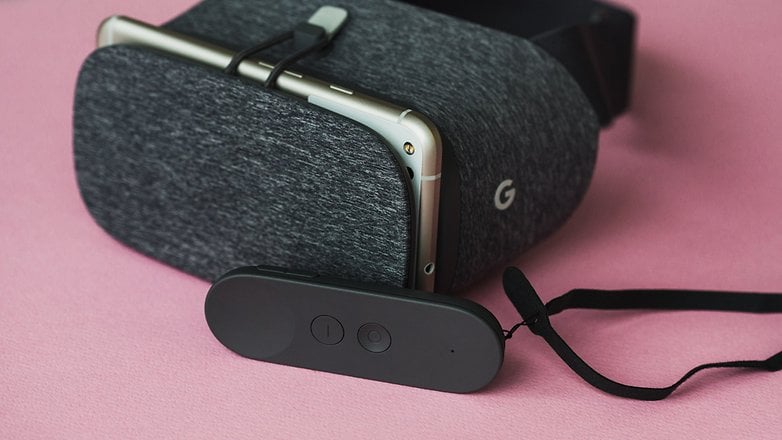 You can wear glasses with the Daydream View – as long as your glasses aren't too big. My colleague Eric Herrmann, who wears glasses, tested the Daydream View and was satisfied with the picture quality of the VR experience with his glasses. However, he did encounter the aforementioned problems with the display matrix.
Daydream View: apps and games
The dedicated section for Daydream games and content is still very thin. There are only a few games and a few apps available at the moment. In VR mode, the Pixel XL switches to a special mode for optimized performance. As a result, the metal housing heats up considerably – nevertheless, the processor does not slow down so much that performance is effected. On the contrary, even after half an hour's use (and a very warm Pixel XL) it performed just as well as at the beginning of the game.
Apps and video content
YouTube, Google Photos and some other apps are available in the Daydream section of the Play Store. This can be accessed via the Daydream app in normal and VR mode.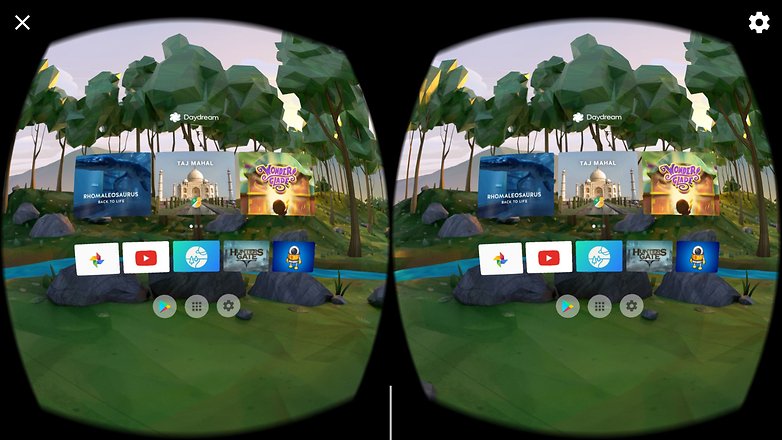 YouTube allows access to some 360-degree videos. For example, you can follow a shark on the hunt. This VR headset shows this in life-size – goosebumps guaranteed.
Google Photos is available as an app. Here you can access your own 360-degree shots though not all pictures will be shown. In my account, I have at least a hundred 360-degree photos but in the Daydream app I could only see seven. Too bad there isn't an option to scroll through photos.
Even Google Play Movies is on board. Here you can watch movies or TV shows in a virtual open-air movie theater. However, this is where VR optics falls short. The narrow field of view restricts you a bit, and there is visibly lower picture quality for our Blu-ray spoiled eyes. With headphones and the comparatively small dimensions of Daydream View, a mobile cinema is still possible – provided you use Google Play Movies.
Daydream games
Undoubtedly, Daydream is meant for gaming. Many are already available and show what Daydream is capable of.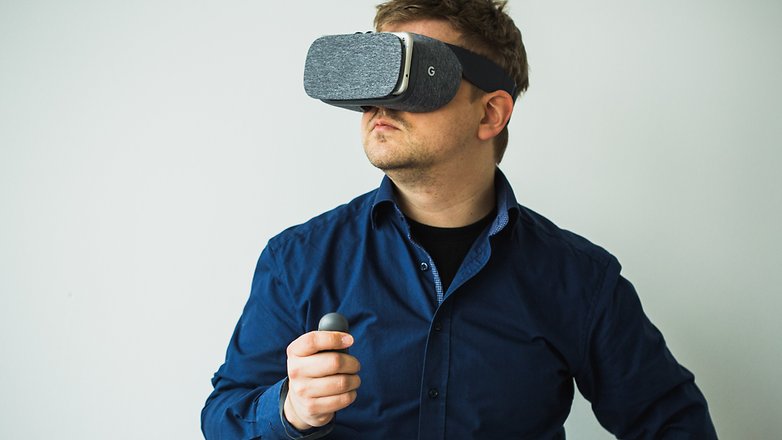 One of the available Daydream games is Mekorama VR. It isn't a direct replica of the puzzle game, as there are new levels to discover. The main character is controlled with the Daydream remote, which is a kind of pointer in the game. So you can rotate the scenery or tell the robot where to go. Mekorama VR is fun, but costs $4.67.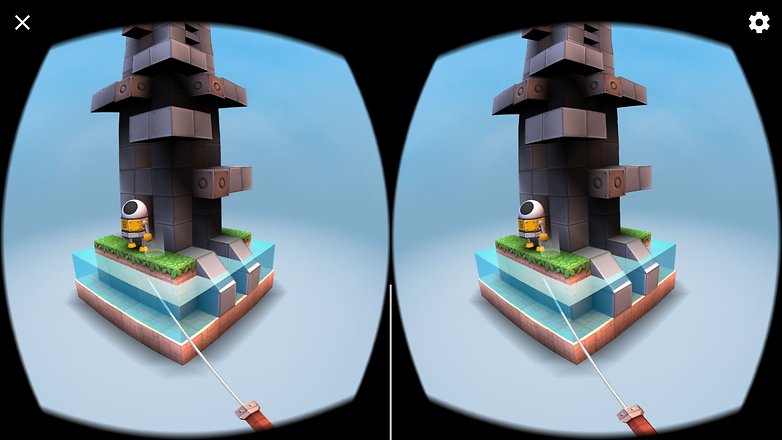 Another game is Hunters Gate. Here you have to navigate a world overrun by demons. Rolling game elements help you improve your character and increase your damage potential. The environment is gloomy but impressive and the controls are intuitive due to the remote control. The fun costs $7.07.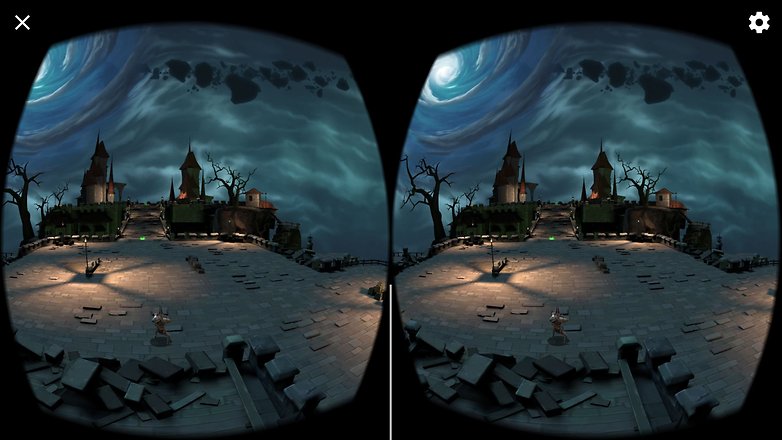 Cardboard games
Daydream games appear in the classic app drawer and can be started directly from here. But what about Cardboard-optimized apps? These also work but there are some restrictions. For example, there are differences in Lamper VR. In the Daydream Launcher, Lamper VR, does not appear immediately.
To start the game, I had to launch Daydream then quit and re-open Lamper VR. Then the tutorial started. Lamper VR, however, requires an input that can only be done with the Pixel as the controller is not initially recognized by Lamper VR.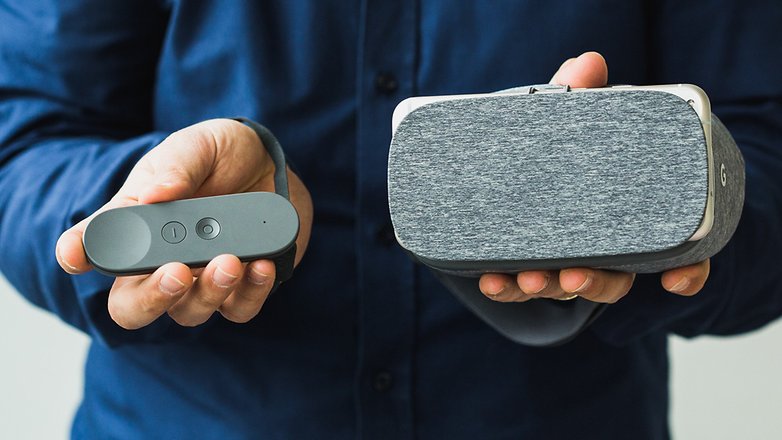 In a nutshell: Cardboard games work with Daydream View in principle but in many cases, they are difficult to use. We'll have to wait and see whether there will be workarounds for these issues.
Daydream View: battery consumption
When operating the Daydream VR, the Pixel XL gets quite warm. Is battery consumption too high? Yes. Within a short period of time, the battery level drops rapidly. In view of the necessary computing power, this is hardly surprising. However, the battery managed to get through two full hours of continuous VR.
Daydream View: price and availability
Daydream View is available in the US at the Google Store for $79. Follow the link below to pick one up.
Daydream View: final verdict
A final verdict on Daydream and Daydream View is currently impossible. The platform is still in its infancy and there is still too little content available. What makes Daydream special is the hardware offered by different manufacturers – but we still have to wait for alternative devices. In addition, Daydream-enabled smartphones are not yet widely available.
Overall, Google has made some good decisions in many places. In particular, the specifications for fast displays and the permanent performance mode are praiseworthy. As a result, the good quality visual experience is possible. It is a pity though that it is not fully compatible with Cardboard.
There are other weaknesses with Daydream. The space in front of the eyes is not sufficiently protected against penetrating light, which diminishes the immersion into virtual reality. A wider field of view would definitely be necessary. The pixel density of the display matrix has to be higher, more so on a smartphone than on Daydream View.
A VR revolution is not yet likely with Google Daydream. The platform is still in the early stages of development and has considerable room to improve itself. VR-interested Pixel owners will be able to venture out with the Daydream View headset but it will take at least several hardware generations for it to reach a quality that will make it a truly engaging VR experience.
What do you think of Daydream View? Will this motivate you to get a Pixel device? Let us know in the comments.
Where to buy the Google Pixel XL