A year of Google Allo and Duo: what's the status?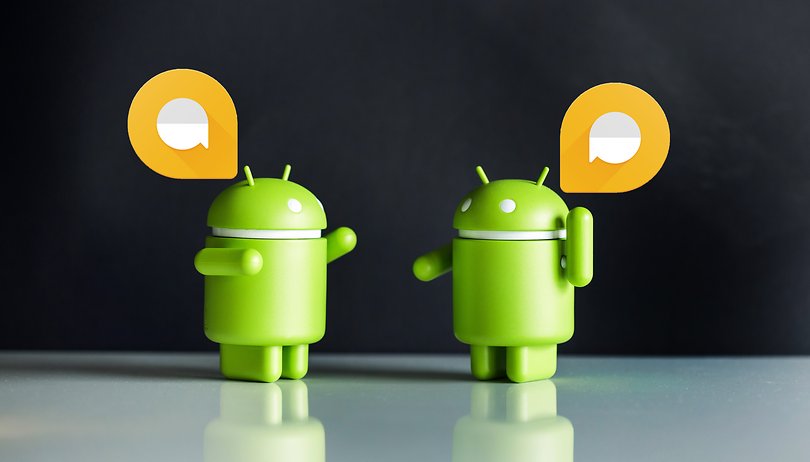 It's already been a year since Google announced Allo and Duo. These apps arrived on Android as an alternative to services like Hangouts, and to a certain extent as competitors to Apple's iMessage and Facetime. Did the Mountain View company deliver on its design? Lets have a look back that the previous year and see how both apps have faired.
Google Allo
Stickers, Shout and smart responses
Google invested a lot into its stickers for Allo. They set up partnerships with local developers and businesses to create personalized images. There were improvements to GIF support and the Big G brought back a few old-school things from the time of MSN Messenger, like "Shout," which is a nicer version of the famous "nudge," where you don't shake the whole channel or play a noise.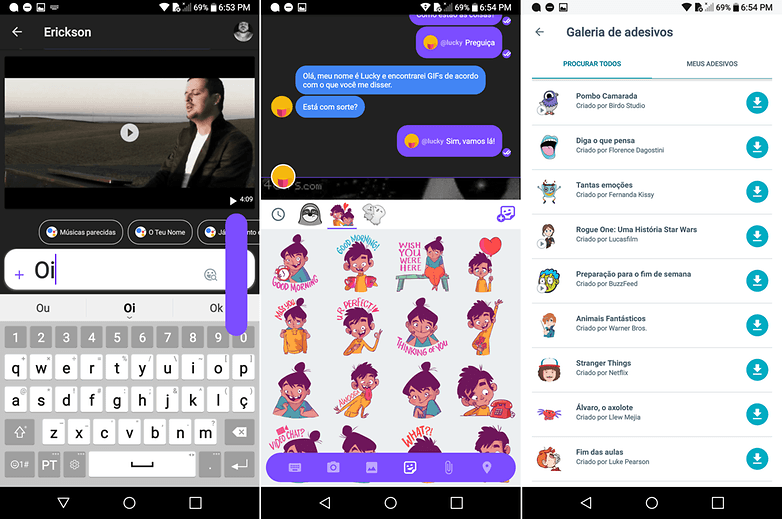 Along with these updates, the company also streamlined their smart response resource, which anticipates somewhat generic expressions that the user could use to formulate questions or answers, like "How sweet" or "hahaha."
A lack of bots
It's obvious that Google Allo needs to catch up on some different aspects, seeing as how throughout the last two months it's received quite a few updates, like new customization tools (a brush for images and a cut tool similar to WhatsApp). Still, Allo is lagging behind Telegram with respect to bots, which is the system of the future for more evolved messengers. Facebook Messenger also has them.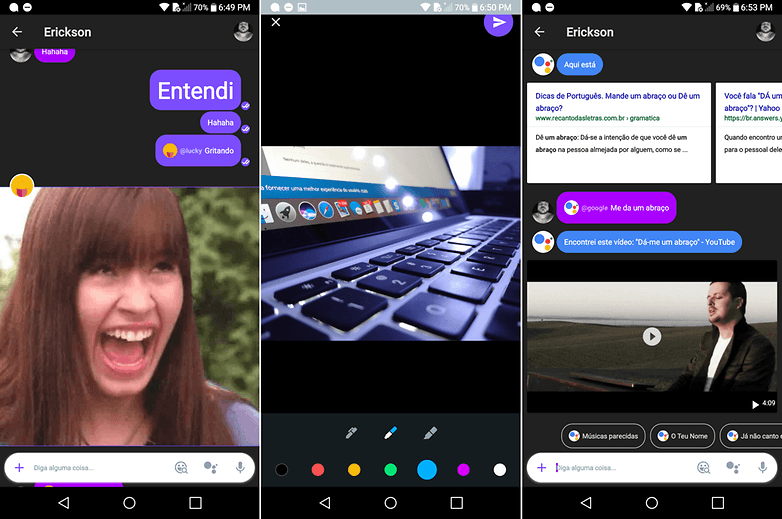 Assistant is the main bot on Allo, and it's responsible for its entire ecosystem. However, it's not quite enough to expand the possibilities of the app, and also, in some cases, it doesn't convince many users. The second bot that Allo got was @lucky. It sent animated GIFs according to what the user says. For example, if the user wrote "I'm nervous," the result would be a funny image of someone making a nervous face. It's an entertaining bot, but it shouldn't be the only one.
Google Duo
The arrival of voice calls
Duo's main competition is Apple's Facetime app, which is also dedicated to video calling. Now, Duo is catching up to Facetime in terms of features, since it can make voice calls as well. This will help out users who want to save a bit of data by going voice-only.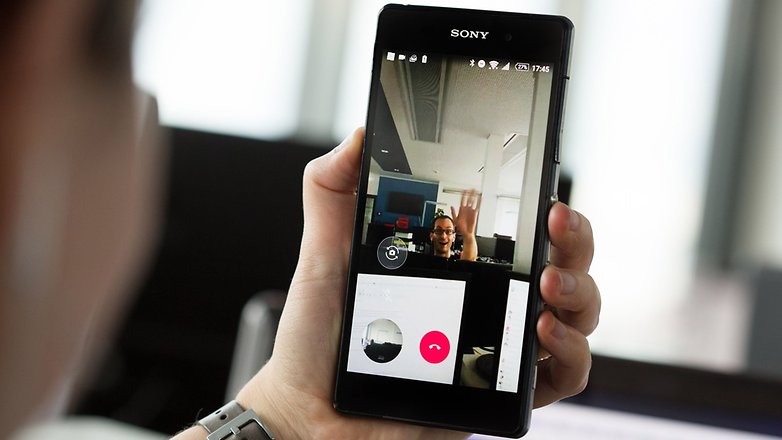 Picture in Picture
Besides voice and video calls, there weren't many updates to Duo in the last few months. Although recently, the app has gotten a Picture in Picture feature (PiP or PIP), which only works with Android O. Using this feature, the user can display a floating miniature of their in-progress video call on top of the rest of their open apps. Restricted to just a few beta testers, Google still hasn't announced when this feature will be available for other OS versions.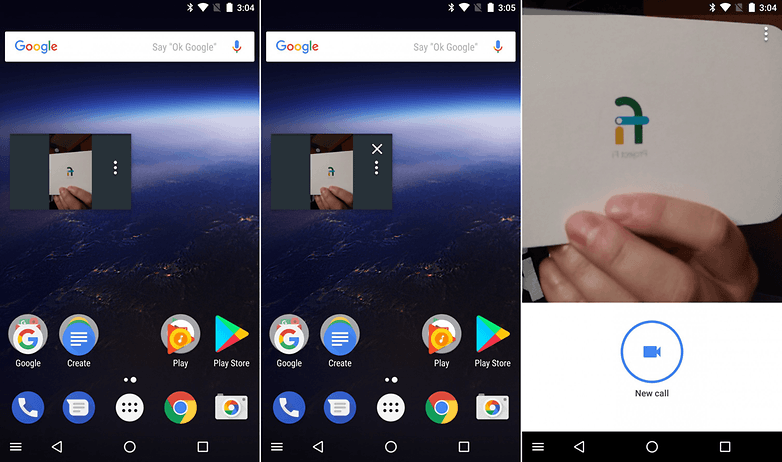 What's to come?
A more integrated Allo and Duo
New versions of Google Allo (11.0+) suggest that it could be possible to make a video call from Allo or send texts with Duo. Within a messaging chat, you'll be able to click on the video call button to jump to that contact in Duo. The call won't happen in Allo itself - the user will be redirected to Duo.
Allo web
According to Google Vice President of Communications Products Nick Fox, within two months, the web version for Google Allo should be released to all users. This will add a new dimension to the messenger, and make it even more practical and useful.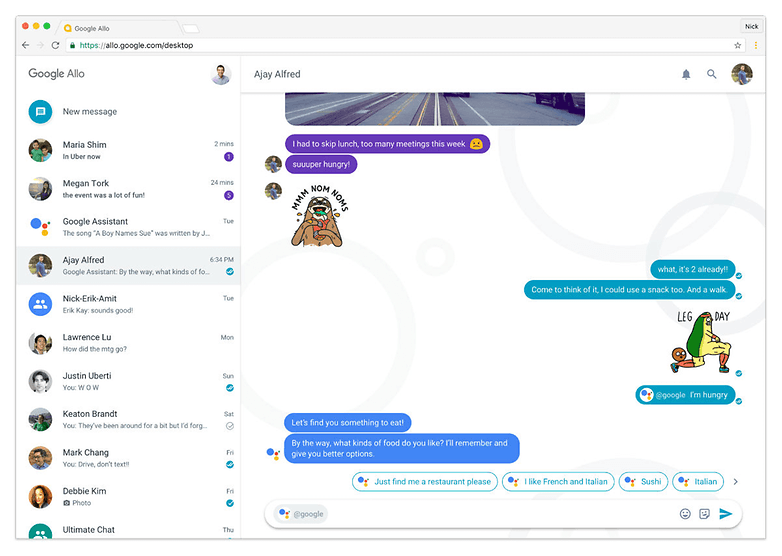 Finally, I'd like to leave you with my opinion regarding the usability of both apps, but mainly Allo. You could say that I'm #teamallo since I've been using the app since December, even though it's not my main messenger. In fact, the app has evolved quite a bit, but it's still overshadowed by others on Android.

Google needs to take away the option of Hangouts from the everyday user to try to make Allo more visible. Even then, it still might not succeed. The simple fact that it's a native app won't make it successful, considering that this type of app depends on a large user base to make it work. However, as interesting as it is that Google Assistant is inside Allo, I don't think it'll be enough to guarantee its well-deserved place in the sun. Assistant would probably have more success as an independent virtual assistant, rather than integrated with Allo.
Something else that catches my attention is Google's publicity. Most of the time it's limited to the existence of stickers, as if users are only looking for this type of "communication." There weren't any announcements about Allo or Duo at Google I/O 2017, although they did appear as accessories for other new features. This was a bit strange considering that last year they were two of the conference's main announcements.
What do you think about Allo and Duo? Have you or do you use either app?