Geekom Mini IT 13 Review: Efficient PC Powerhouse for the Home Office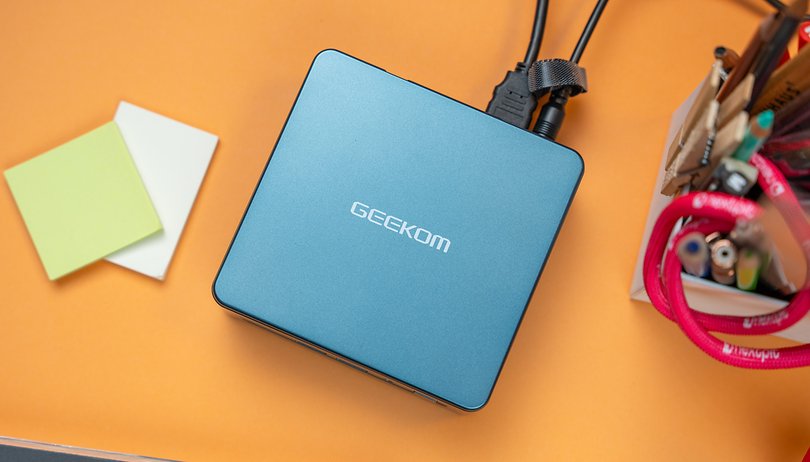 A cutting-edge Intel processor, a whopping 2 TB SSD storage, and 32 GB RAM. With the Mini IT 13, Geekom offers its most powerful Intel-based mini PC to date. In the test, we want to find out how well the portable PC performs in everyday use and whether the case can handle the powerful components.
Good
High-performance level with i9 processor

Good repairability

Compatible with eGPUs for more graphics performance

Finally faster SSDs than in other Geekom models
Bad
Processor cannot develop its full potential

No dedicated graphics card

Fan very active and clearly audible

No USB-C port on the front, no HDMI 2.1
Geekom Mini IT 13: All deals
Short conclusion & buy
Geekom installs Intel's fastest processor with 45 W power consumption in the Mini IT 13 in maximum configuration. Thus, the performance of the mini-PC can definitely be called high-performance for its product class. Unfortunately, Geekom limits the processor's full potential a bit. The otherwise very good connectivity is also marred by the lack of HDMI 2.1. I would also wish for a USB-C port on the front next time.
Apart from that, the Mini IT 13 is a very good mini PC that is also suitable for uncomplicated video editing and image processing. However, with an MSRP of $889.00, the tested configuration is quite expensive. However, Geekom always offers nice discounts on its mini-PCs. In October 2023, you can save another $40 on the already discounted Mini IT 13 with the code IT13I9I7CODE40. The price thus drops to only $749.
---
This article was written in cooperation with the manufacturer Geekom. This had no influence on the exact content or the editorial opinion.
Design and build-quality
You've seen one, you've seen them all-Geekom doesn't take any big leaps with the design of the Mini IT 13. The small computer comes in compact dimensions of 11.7 x 11.2 x 5 cm and weighs just 652 grams. Unlike the A5 that we tested shortly before, however, Geekom relies on a plain, dark blue color scheme here. The connectivity is once again solid, and we also find an SD card reader built into the side.
---
Pros:
Beautifully compact and simple.
High connectivity, now with USB 4.0.
VESA mount included in the box.
Cons:
Comes only with HDMI 2.0 and without DisplayPort.
No USB-C port on the front.
Fan runs permanently and is clearly audible.
---
Manufacturers have to create a balancing act between desktop PC and notebook in a mini-PC. The advantage is that the device is easy to take along and hardly takes up any space on the desk. At the same time, more ports should be available compared to a notebook. And the repairability and upgradeability should also be better.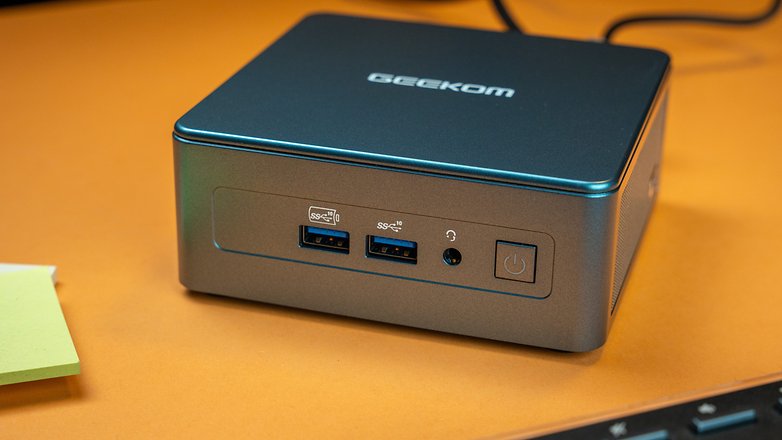 Once again, Geekom manages this balancing act very well. We find a simple and high-quality case that consists of a metal frame at its core. On top of that, Geekom puts a dark blue plastic case, which shows a slight glitter effect in the right light. I personally like the design very much, even though I liked the Geekom A5 a bit better.
Unfortunately, Geekom also borrows a shortcoming from the cheaper AMD variant. In terms of connectivity, we only find HDMI 2.0. Users who want to connect displays with a particularly high resolution have to use Thunderbolt via USB-C. I am surprised that Geekom uses an outdated HDMI standard. It is also surprising that there is still a USB 2.0 port in USB-A format. Here are all ports at a glance:
Front

2x USB 3.2 Gen 2 in USB-A format
1 x 3.5mm headphone jack
Button for switching on

Left side
Right side
Rear side

2 x USB 4 Gen 2 in USB-C format
1 x USB 3.2 Gen 2 in USB-A format
1 x USB 2.0 in USB-A format
1 x RJ45 Ethernet port
1 x HDMI 2.0 port
1 x DC jack
We also do not find a USB-C port on the front of the mini-PC. Since more and more peripherals are converted to the modern USB standard, you will therefore have to turn the PC over frequently for everyday use. If you also want to use multiple displays, the rear ports might be occupied quickly. A tip here would be to connect several monitors in series via "daisy chaining" via USB 4.0.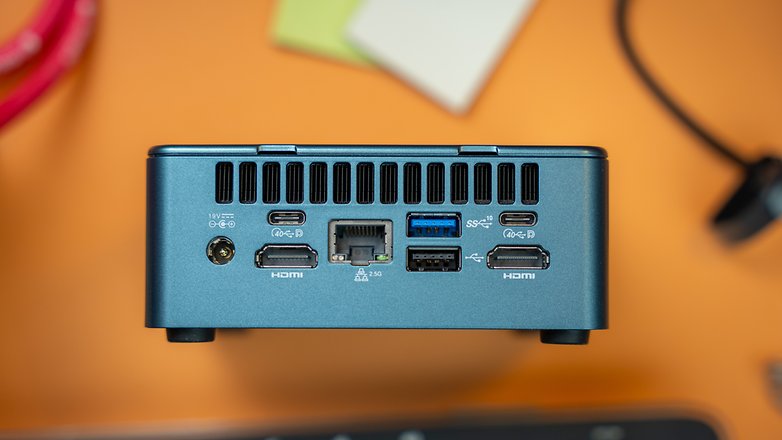 The repairability of the Geekom Mini IT 13 is solid, as with all other models. If you unscrew the mini PC via four screws underneath the case, you can replace the RAM and the hard disk in M.2 PCIe Gen 4 format. You can also install another hard drive or SSD in 2.5-inch SATA format as well as one in M.2 SSD format.
According to the manufacturer, the maximum pre-configured configuration is 2 TB, the M.2-2242 SSD can bring a maximum of 1 TB, and a maximum of 2 TB is allowed in the small case via a 2.5-inch SATA. This results in a maximum of 5 TB—the DDR4 RAM has a maximum of 64 GB.
Another thing I noticed in the test, or rather could hardly ignore, is the integrated fan. It is not excessively loud—I would compare it to a running notebook fan—but it runs continuously even under low load. The small PC is not whisper-quiet like other mini PCs from Geekom. However, this is almost certainly due to the high-performance processor, which produces more heat.
Software and drivers
Windows 11 Pro welcomes you when you use the Geekom Mini IT 13 for the first time. Of course, the manufacturer includes a license, so you have all the options of a current Windows installation. You cannot transfer the license to other devices, but you have the option to install other operating systems via dual-boot or standalone.
---
Pros:
Ready-to-use thanks to pre-installed Windows 11 Pro.
You don't have to install any drivers afterwards.
Cons:
Product key not transferable.
---
The fact that you can start right away with the Geekom Mini IT 13 is very welcome. For most users, Windows 11 Pro is perfectly sufficient as an operating system. In my opinion, Windows has also been able to improve the operating system's user-friendliness in recent years. Therefore, Windows 11 Pro often feels as intuitive as macOS or even Android on the smartphone.
As always, however, I must point out that you cannot transfer the preinstalled operating system to other devices. If you are not interested in Windows 11 Pro, you will have to buy it anyway. It is therefore more advisable to install other operating systems, such as Linux, as a dual-boot. Geekom opens its BIOS for this, so that this isn't a problem either.
That's all there is to report here—continue with the text!
Performance and components
The Mini IT 13 is the most powerful mini PC from Geekom so far, because it is equipped with Intel's latest processor generation. Fortunately, Geekom also sent us the flagship with 32 GB of RAM, 2 TB of storage space, and an Intel i9-13900H. However, the processor cannot use its full power in the mini-PC. And the RAM also makes us frown when we look at the spec sheet.
---
Pros:
High-performance level, especially in image editing and video editing.
Compatible with three storage standards in the mass storage device.
Cons:
No DDR5 RAM installed.
Processor performance limited.
---
Before we venture into benchmark results and my impressions from the test, a bit of classification: The Intel i9-13900H only came onto the market this year and represents Intel's fastest CPU with 45-watt power consumption. However, it stands alone in the Mini IT 13 since no dedicated GPU is installed.
Even so, you can connect an external GPU (eGPU) via USB-C. However, such systems are still very expensive in combination with a correspondingly powerful graphics card. Most users will therefore use the Mini IT 13 standalone.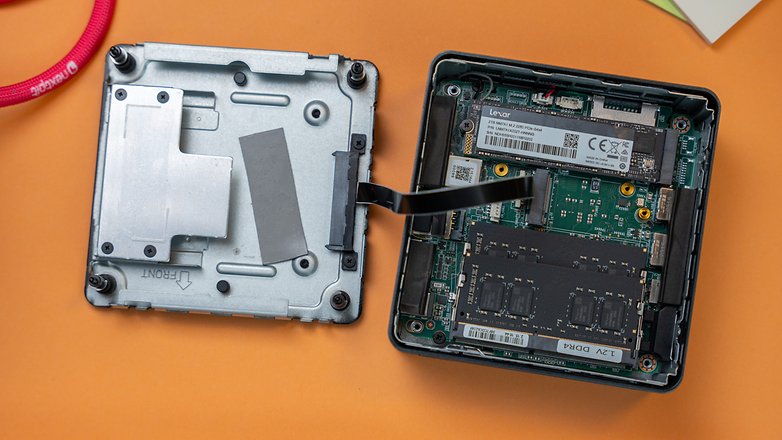 The Iris XE onboard graphics in the i9-13900H is also quite fast on its own and managed to render current games in Full HD on medium graphics settings in the test. However, I find it annoying that Geekom relies on DDR4 memory and not the newer DDR5 standard. This is already the case with the Geekom AS6 (review), the equivalent AMD version of the Mini IT 13.
Despite these minor drawbacks, the Geekom Mini IT 13 delivered a very satisfactory performance in the test. I used it for regular work with Google Chrome as well as for image editing and video editing. The Intel i9-13900H is particularly well suited for such tasks. Processors of the i9 class have a lot of cores and can thus perform many calculations at the same time. And that is an advantage when rendering pictures or videos.
However, the CPU cannot tap its full performance in the Mini IT 13. This is because Geekom installs a TPD (Thermal Design Power) with a maximum of 45 W, although the i9-13900H can consume up to 115 W in Turbo power consumption according to the manufacturer. Thus, more would have been possible here if Geekom had created the corresponding conditions. However, since the fan is already heavily stressed, we might see a limit in the well-known Geekom case design here.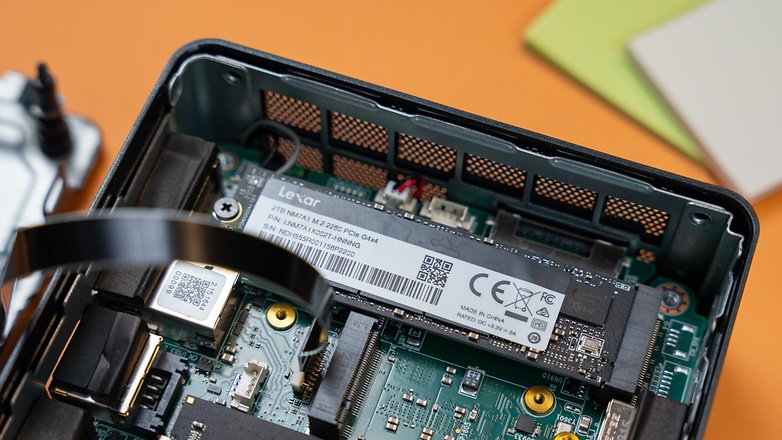 It is less of an advantage when it comes to video games, whereby I see the lack of a dedicated GPU as a bigger disadvantage here. Nevertheless, the mini-PC convinces in the benchmarks.
Benchmark table
| Test | Geekom Mini IT 13 | Geekom A5 | Geekom AS 6 | Geekom Mini IT 11 |
| --- | --- | --- | --- | --- |
| Geekbench 6 | 20.600 | 16.783 | 26.376 | 17.434 |
| AS SSD Benchmark 2.0 reading | 3,826.72 MB/s | 3,044.12 MB/s | 3,068.19 MB/s | 2,799.02 MB/s |
| AS SSD Benchmark 2.0 write | 3,905.83 MB/s | 2,673.83 MB/s | 1,787.49 MB/s | 2,238.32 MB/s |
| Copy speed SD reader with SanDisk SD | up to 90 MB/s | up to 90 MB/s | - | up to 90 MB/s |
It is also evident here that Geekom finally installs a faster SSD than in older models. However, I could not quite replicate the top speeds, which can be up to 4,500 MB/s for reading and writing according to the manufacturer, in the benchmark.
By the way, the Mini IT 13 connects wirelessly via Wi-Fi 6E and Bluetooth 5.2 with your router or corresponding devices. Solid, but nothing special.
Power supply
Geekom supplies a 120 W power supply for the Mini IT 13. This uses a proprietary connector, which I do not like as much in everyday use. The installed hardware is basically on par with powerful notebooks, and I would still like to see a USB-C power supply from Geekom. Because connected to a compatible monitor, that would be a bit more convenient and tidy on the desk.
---
Pros::
More power efficient than traditional desktop PCs.
Cons:
No power supply via USB-C.
---
Another advantage of mini PCs is their comparatively low power consumption. The Mini IT 13 comes with an external power adapter that can output a maximum of 120 W. During normal operation, i.e. surfing and light office tasks, the power consumption leveled off at 16 W when measured at the power socket. Under full load, in this case, a video game, the consumption never increased to more than 60 W.
Thus, even the most powerful Intel-based Geekom PC is extremely frugal. At the same time, the power consumption remains low enough that the PC could be powered via USB-C. My Huawei monitor offers power delivery of up to 65 W. Unfortunately, the computer cannot be supplied with power via USB-C. That would make my desk at home a bit tidier.
Final verdict
While hardly anything has changed on the outside of the Mini IT 13, Geekom upgrades the Mini PC on the inside. We now find the latest processor generation from Intel and can optionally configure the currently most powerful Intel processor with 45 W power consumption. This makes a really good impression in everyday use, but Geekom restricts the performance in interaction with other components.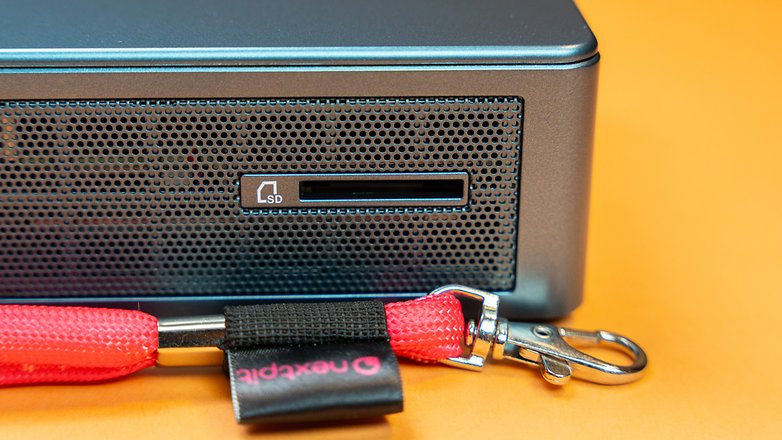 The somewhat outdated memory standard for the RAM also left a bad taste in the test, especially since other Geekom models already work with DDR5 RAM. However, the upgradeability is even better thanks to a total of three memory standards for mass storage. The connectivity is also impressive, although a USB-C port at the front and HDMI 2.1 would have been desirable.
Those looking for the smallest possible mini-PC with a lot of performance will still be very well advised with the Mini IT 13. In terms of price, it is especially worth it when Geekom offers discount promotions. If you have a bit more space on your desk, you can alternatively go for models with a Micro-ATX case. These are also compact but offer enough space for a dedicated graphics card.