Geekom AS 6 Review: Does the AMD Model Beat the Intel Variant?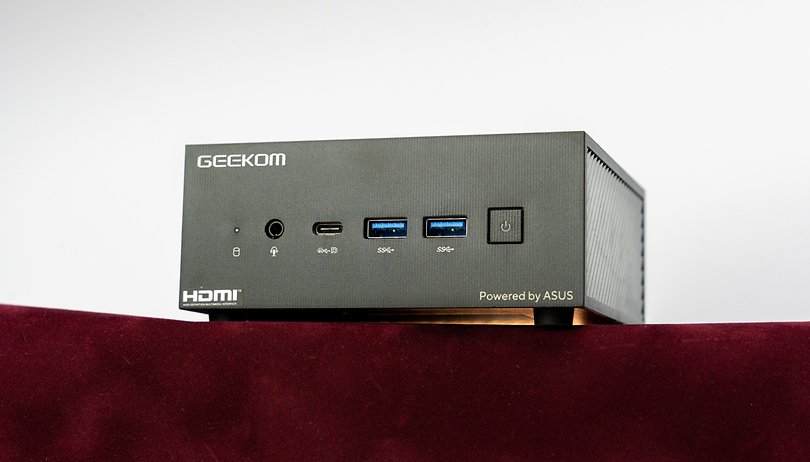 With the AS 6, Geekom launched a new mini PC with Asus. The model we reviewed is particularly powerful with a Ryzen 9 processor, 1 TB of storage space, and 32 GB of RAM. However, does this little powerhouse impress in everyday use? Can it be considered a good Mac Mini alternative with prices starting from $659? We will find out in the nextpit review.
Good
Very good performance level

1 TB of storage space

Many modern connectivity options

Intelligent VESA mount
Bad
No SD card reader

Limited upgradeability

Built-in SSD would have been better

No carrying bag included (Geekom normally includes one)
The Geekom AS 6 in a nutshell
With the AS 6, you end up with a powerful mini PC that can also handle demanding tasks such as video editing with aplomb. Performance remains stable over a long period of time without the tiny PC overheating or getting excessively warm. However, the limited expandability, missing SD card reader, as well as proprietary power supply are drawbacks that you should be aware of before buying.
If that doesn't scare you away, you can order the AS 6 here in two configurations—armed with the Ryzen 9 or Ryzen 7 processor as well as 32 GB RAM and 1 TB SSD each. You will have to pay $659 or $749, respectively, and we reviewed the more expensive variant here, for which you can get an exclusive $40 discount with the coupon code above until July 9th.
---
This article was written in partnership with Geekom. The partnership has no influence on the content or the editorial opinion.
Geekom AS 6 design and build quality
Compared to Geekom's other mini PCs, the AS 6 is a tad bigger. With its dimensions measuring 120 x 130 x 58 mm and its weight tipping the scales at 0.9 kg, it is still extremely compact. The manufacturer was able to improve the connectivity once again. Unfortunately, this was at the expense of the integrated SD card reader. A clever VESA mount to attach it to screens is also present.
---
What I liked:
Extremely compact and handy.
Many connectivity options.
VESA mount is included.
What I disliked:
No SD card reader.
Cooling fan tends to work all the time even if it is quiet.
---
If you decide to buy a mini PC, you would most probably be looking might want a portable, upgradeable, and numerous connectivity options in your purchase. This is where the Geekom AS 6 shines, just like other Geekom models we reviewed before. Compared to the Mini Air 11, the AS 6 is a bit bigger, but it should still fit in handbags or backpacks without too much fuss. It is a pity that Geekom no longer includes a carrying bag with each purchase.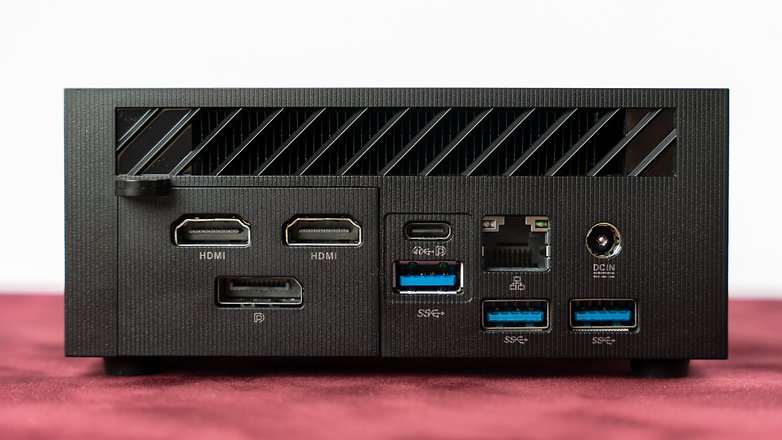 Despite the compact form factor, the Geekom AS 6 shines with its numerous connectivity options. While my MacBook Air only offers two USB-C ports and a 3.5 mm jack, I felt well served with the following ports on the Geekom PC:
Front (left to right)

1 x 3.5mm headphone jack
1 x USB 4 Type C with DP 1.4
2 x USB 3.2 Gen 1
Power button

Left side
Right side
Rear (left to right)

2 x HDMI 2.1
1 x Display Port 1.4
1 x USB 4 Type C with DP 1.4
3 x USB 3.2 Gen 1
1 x RJ45 LAN with 2.5 Gbit
Power port
Thanks to HDMI 2.1 and Display Port 1.4, you can hook up multiple 4K displays to the Geekom AS 6. DP 1.4 even supports 8K video output. If the PC is in front of you on the table, three fast USB ports are easily accessible on the front. The fact that both Type-A and Type-C are located in front makes it very convenient for everyday use.
However, it is very annoying that Geekom ditched the integrated SD card reader found in other models. This is even found in inexpensive models like the Geekom Mini Air 11 nextpit reviewed previously. Apart from the wired interfaces, the Geekom AS 6 also supports Wi-Fi 6E and Bluetooth 5.2.
If you want to upgrade the mini-PC, this is possible when it comes to both the RAM and mass storage. The RAM slots are already exhausted at 32 GB in our review unit. Geekom uses two dual-channel DDR5-4800 SODIMM modules here. As for mass storage, it can be combined from two M.2 PCIe SSDs and a 2.5-inch SATA HDD. A maximum of 4 TB of storage space is possible—but our model was equipped with 1 TB of SSD storage.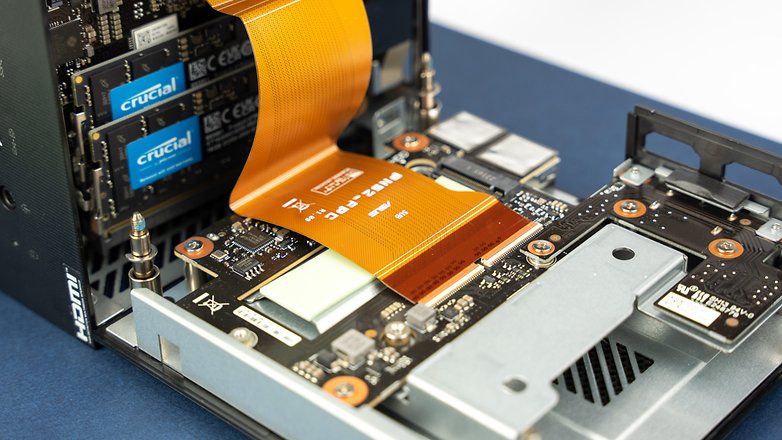 Last but not least: You can equip the Geekom AS 6 with a Ryzen 9 6900 HX (our configuration) and a Ryzen 7 6800 H processor. In each case, there is no option to use dedicated graphics cards, thus you will have to be satisfied with the Vega 8 onboard graphics. No Diablo 4 on this bad boy, then!
Software & drivers
Geekom ships its mini PC with Windows 11 in the Pro version. As usual, when it comes to Geekom, the manufacturer advertised a dual-boot option for Linux. Fortunately, there is no preinstalled software or special drivers to tinker with.
---
What I liked:
Windows 11 Pro preinstalled and without any bloatware.
You don't have to install any drivers.
What I disliked:
Product key is not transferable due to the OEM installation.
---
Nothing has changed in the operating system compared to the other Geekom models. You still get Windows 11 in the Pro version and do not have to delete bloatware or reinstall any drivers. Thus, the system is ready to use right after the setup process and does not need to be personalized further except apart from your own preferences, if any.
One major disadvantage is still that you can't transfer the purchased Windows license to other systems, since it's an OEM installation. This would be practical, for example, if you prefer to run the PC with Linux and want to install Windows on another computer. In this case, the dual-boot installation as suggested by Geekom is recommended, where you can switch between Windows and Linux when booting up the PC.
Performance & Components
In cooperation with Asus, Geekom offers a mini PC with Ryzen architecture for the first time. Until now, you could only choose between different Intel processors. Let's take a closer look at the other components.
---
What I liked:
Now comes with Ryzen architecture.
Good benchmark results.
Surprisingly good gaming performance.
What I disliked:
Restrictions due to onboard graphics.
SSD performance is not quite impressive in the speed test.
---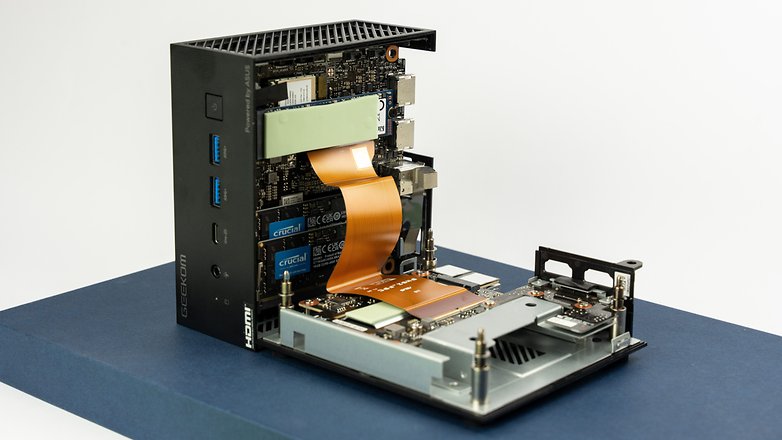 Admittedly, I was really surprised by the performance of the Geekom AS 6, especially when it concerned gaming. I was able to play both Counter-Strike: Global Offense and Planet Coaster, older gems in my Steam library, on the highest settings in Full-HD resolution without any hiccups.
Since the titles are quite old, I also installed the demo of Ghostrunner and the latest Resident Evil—one 2020 game and the other a cutting-edge title from 2023. With Ghostrunner, the PC failed at 4K resolution but still managed Full HD resolution on the highest graphics settings. Resident Evil could be rendered in Full HD with medium settings, but 4K resolution is out of the question.
However, hardly anyone who likes to play computer games will buy a mini PC to scratch their gaming itch. However, this short bit should illustrate that the AS 6 packs a lot of punch. At the same time, the compact computer remained cool during these demanding tasks, which means the integrated cooling system does its job really well. By the way, the manufacturer claimed that the cooling system should not be left to collect dust in order to deliver optimal cooling,
In daily use, you quickly forget that you are actually working with a chipset that was designed for notebooks. The installed operating system hardly has any loading times, image editing with Photoshop and Lightroom performed smoothly, and the waiting times during export felt a bit shorter than on my MacBook Air with an M1 processor.
The same applied to video editing with Davinci Resolve. Here, I captured several test shots in 4K at 30 frames per second and processed them in the video editing program. With video previews in Full HD, the files could be edited comfortably and smoothly without creating proxy files, i.e. creating smaller placeholders to ease the hardware's burden. The roughly one-minute video was then rendered in 2:30 minutes.
However, to give you a bit more context when describing the performance, I ran some benchmark tests on the Geekom AS 6. You can see the results, compared to another tested Geekom model, in the following table.
Benchmark table
| Test | Geekom AS 6 | Geekom Mini IT 11 |
| --- | --- | --- |
| Geekbench 5 | 26.376 | 17.434 |
| AS SSD Benchmark 2.0 reading | 3,068.19 Mb/s | 2,799.02 Mb/s |
| AS SSD Benchmark 2.0 write | 1,787.49 Mb/s | 2,238.32 Mb/s |
| Copy speed SD reader with SanDisk SD | - | up to 90 Mb/s |
The significantly higher graphics performance in the Geekbench benchmark is especially noticeable here. The built-in SSD is a bit faster in reading, but it delivered slower transfer rates when writing. However, this was not noticeable in everyday use, such as when copying files. As mentioned earlier, the missing SD card reader is one of the biggest omissions of the AS 6. I hope that it will return in future models, although this can be fixed with a USB hub.
By the way, Geekom installed a 1 TB SSD from Kingston in the AS 6, or the "Kingston SNV2S1000G" to be more precise. The manufacturer still used a Lexar component in the Mini IT 11, which does not differ much in price from the variant in the AS 6. Both SSDs result in a fast work speed in use. However, they are also components that I would most likely replace when considering an upgrade.
Power supply
Geekom also powers this mini PC via a proprietary power supply. Unlike the Mini IT 11, however, this one runs at 100 W instead of 60 W. This makes the AS 6 a bit more power hungry. Compared to desktop PCs, however, the mini variants are still power-saving alternatives.
---
What I liked:
More power-saving than many desktop PCs.
What I disliked:
Proprietary power supply instead of USB-C.
---
While many notebooks already feature a USB-C power supply, Geekom relies on a proprietary solution for its mini PCs. This means you always have to take the power adapter with you, which can be impractical at times. With my notebook, for instance, I find it convenient that I can grab any (sufficiently powerful) USB-C charger in the office if I forget mine. Or the fact that I can connect my monitor directly via USB-C and it will also provide enough power to charge.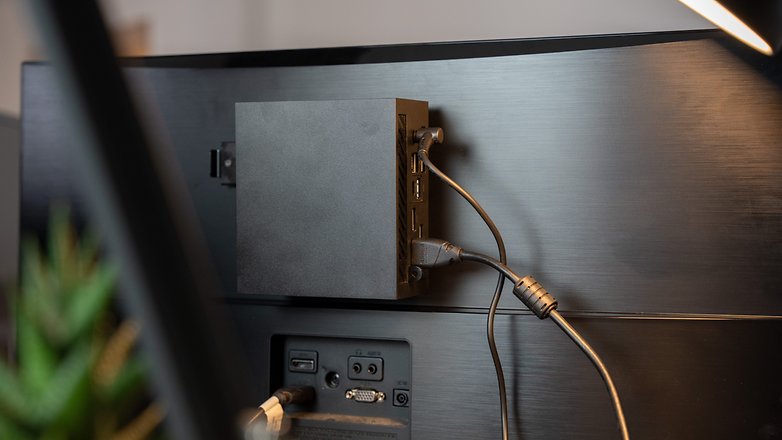 You have to think of a suitable charger for the AS 6 if you tend to be mobile with your work. A power supply via the various USB-C ports is not possible. Admittedly, you wouldn't necessarily expect that for a PC. However, since the AS 6 mainly runs with energy-saving notebook components, it is still a negative point in comparison.
Conclusion
Geekom finally offers an alternative to the previous Intel models with the AS 6. The review unit is more powerful than the Intel i7-based Geekom Mini IT 11 in terms of CPU and GPU performance (read review). The slightly larger and modern case impressed with fantastic connectivity options and stayed cool even when it was under maximum load, with a quiet-running fan as well.
The biggest drawback of the AS 6 compared to its siblings—and also to its competition—is the missing SD card reader. Geekom also left out the handy carrying case that protected the other models from scratches during transport.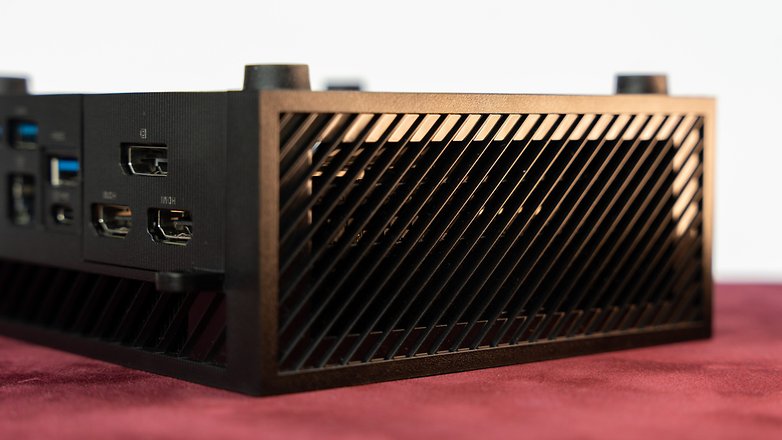 Priced at a shade less than $710, the AS 6 armed with a Ryzen 9 processor, 32 GB of DDR5 RAM, and a 1 TB SSD is a fantastic proposition. Not only as a desktop PC but also for photo and video editing, the mini PC impressed with fast working speeds and high system stability. The AS 6 is even suitable for moderately demanding computer games.
Once again, the question remains whether a mini PC is the right choice for you. When you compare it to compact desktop PCs, the expandability is limited to just its mass storage options due to the already maximized RAM configuration. Cases with Micro ATX motherboards offer the advantage of upgrading your machine's graphics performance by purchasing more powerful dedicated GPUs.