Galaxy S6 vs LG G3 comparison: has Samsung leapfrogged LG?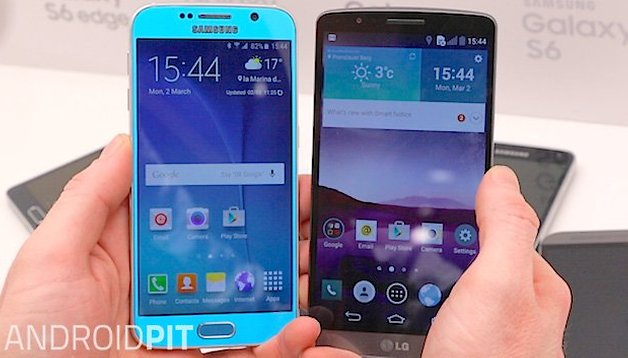 The Galaxy S6 has launched and it's arguably Samsung's most important phone ever. With sales of the S5 less than stellar, the pressure is on the S6 to restore Samsung's reputation. That won't be easy with rivals such as LG's excellent G3. So how does it compare? Our Galaxy S6 vs LG G3 comparison delves into which firms' flagship is likely to delight you most.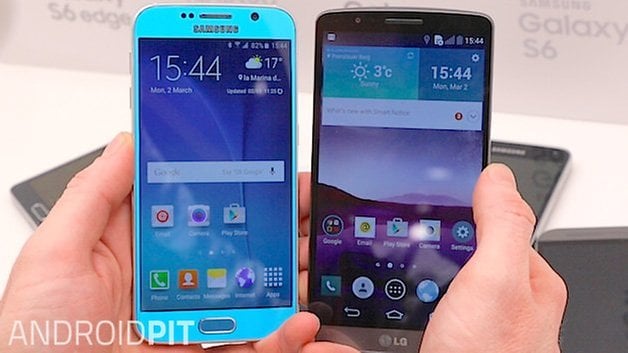 Samsung Galaxy S6 vs LG G3: design
The Galaxy S6 shows that Samsung has gone for more a premium feel than the S5. It has a glass front and back, with a metal frame, and while the bottom of it really looks like an iPhone, the rest of the design looks pretty much like any other Galaxy.
The LG G3 is a beautiful device, with a great screen-to-body ratio, but the brushed-metal effect plastic feels cheaper than the glass behind of the S6. The LG G3's design isn't bad by any means, but Samsung has really upped the ante with its S6.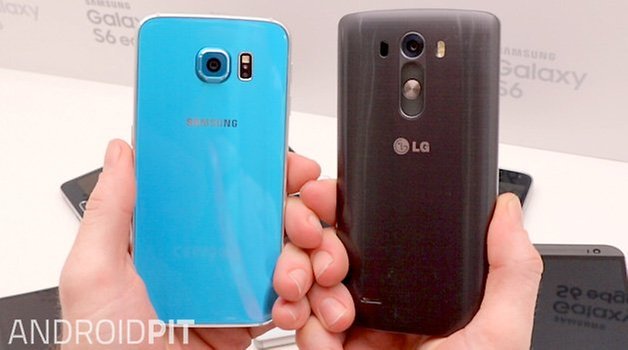 Samsung Galaxy S6 vs LG G3: display
With the Samsung you'll be looking at a 5.1-inch QHD display delivering 2560 x 1440 resolution. This is the same resolution as the LG G3 but in a smaller frame, with the G3 display stretching to 5.5-inches. There's no doubt that the screens in both phones look fantastic, and which you prefer will depend on your own tastes. The LG G3 display is bigger, but Samsung's Super AMOLED display has superior brightness, contrast and pixel density.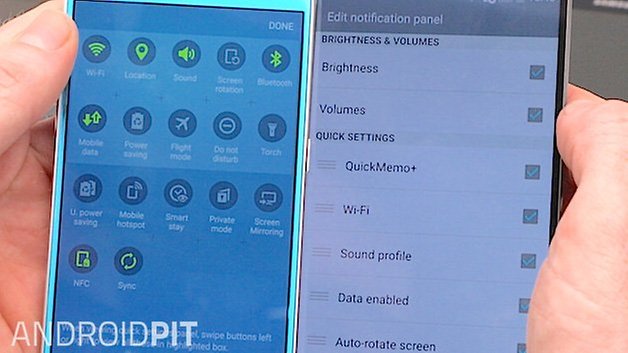 Samsung Galaxy S6 vs LG G3: processor
The Samsung Galaxy S6 runs Samsung's own Exynos 7 series processor, which is an eight-core, 64-bit chipset. The LG runs on a Snapdragon 801 with four cores clocked at 2.5 GHz. The Samsung has 3 GB of RAM and the LG G3 has 2 GB or 3 GB depending on which model you buy.
Early tests show that the Galaxy S6 chipset is even more powerful than Qualcomm's Snapdragon 810 processor, which in turn is a serious step up from the Snapdragon 801 powering the G3. Because of this, performance-wise, the Galaxy S6 is technically far superior.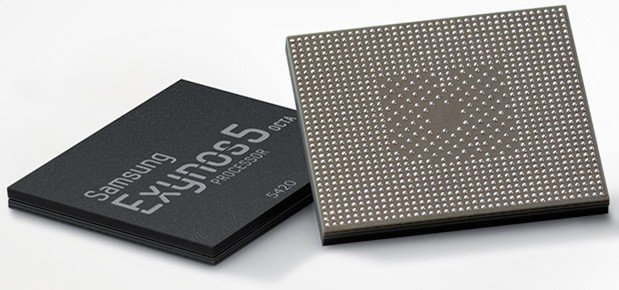 Samsung Galaxy S6 vs LG G3: storage
The LG G3 comes in 16 GB and 32 GB variants, both of which have the ability to expand via microSD cards. The Galaxy S6 comes in 32 GB, 64 GB and 128 GB variants, but there is no microSD card support. With 128GB microSD cards being commonplace these days, you can expand your LG G3's storage capacity to outdo even the pricey 128GB Galaxy S6.
Samsung Galaxy S6 vs LG G3: cameras
The Galaxy S6's rear camera is a massive 20 MP snapper with optical image stabilization, while the front camera is 5 MP. Like the quality found in Samsung's display, the Galaxy S6 camera is a real beauty, and probably the best on Android. Check its low-light capabilities in our Galaxy S6 vs iPhone 6 camera comparison.
The LG G3 rear camera is 13 MP with OIS, and the front one is 2.1 MP. It's a fast and accurate performer - with record-breaking auto-focus speeds. Capable though it may be (you can view some LG G3 comparison pics here), the Galaxy S6 really is a world beater.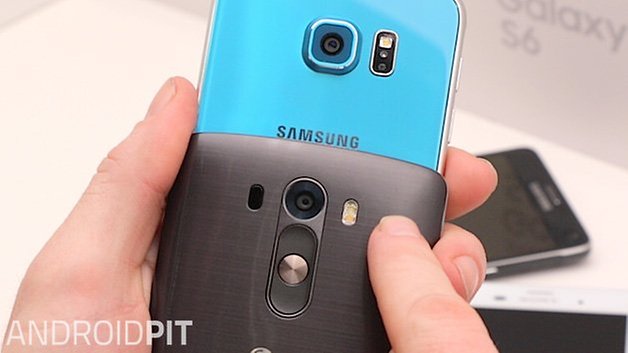 Samsung Galaxy S6 vs LG G3: battery life
The Samsung Galaxy S6 has a 2,550 mAh battery. It sounds small - and it's smaller than the one in the S5 (2800 mAh) - but apparently Samsung has optimized its 64-bit processors to the point that the smaller battery should deliver the same battery life. The Galaxy S6 can also charge wirelessly, and is said to add 4 hours of battery life in just a 10 minute (wired) charge. We're keeping our fingers crossed on that one, but we won't know how it performs for sure until our final review.
The LG G3's battery is larger at 3000 mAh, and it's a strong performer, given the QHD screen it powers. The elusive "two-day" benchmark is definitely achievable with the G3, and it sits in our best Android smartphone battery list. LG's battery might last longer than the Galaxy S6 in a straight head-to-head, but it will be interesting to see if Samsung's quick-charge claims hold up when tested fully.
Samsung Galaxy S6 vs LG G3: software
As you'd expect from a brand new flagship the Samsung Galaxy S6 will run Android Lollipop. The LG G3 shipped with KitKat, but its Lollipop update is currently rolling out across the world.
The software in the S6 has been slimmed down somewhat, but it still comes bundled with a whole bunch of stuff: S Voice, S Health, Facebook, WhatsApp (via a download link), Microsoft OneDrive, Microsoft OneNote, Skype, all the Google Apps and Samsung's own Galaxy Apps. We guess that's great if you want them, but it's hardly the bare-bones, stripped-back software offering we were led to expect.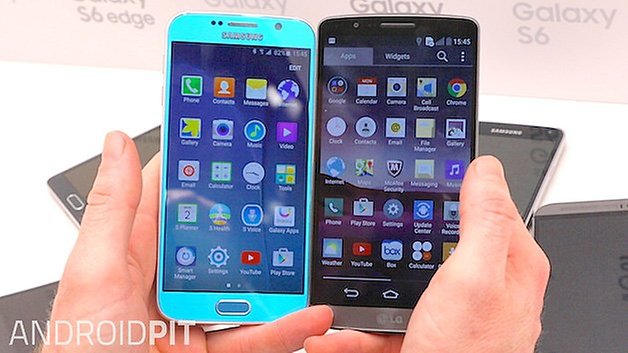 Samsung Galaxy S6 vs LG G3: price
The LG G3 starts at 385 USD for the 16 GB carrier-unlocked version. We don't know the official Galaxy S6 US pricing details yet, but in Europe it will be 699 euros for 32 GB, 799 euros for 64 GB, and 899 euros for 128 GB.
Galaxy S6 vs LG G3: specs
| | Samsung Galaxy S6 | LG G3 |
| --- | --- | --- |
| System | Android 5.0.2 Lollipop, TouchWiz | Android 4.4.2 KitKat, Optimus UI |
| Display | 5.1-inch, Super-AMOLED, QHD 2560 x 1440 Pixel (577 ppi) | 5.5-inch LCD, 2560 x 1440 pixels (534 ppi) |
| Processor | Octa-Core, 64 Bit (4 x 2.1 GHz + 4 x 1.5 Ghz) | Qualcomm Snapdragon 801 quad-core 2.5 GHz |
| RAM | 3 GB | 2 / 3GB |
| Internal memory | 32/64/128 GB (non-expandable) | 16 / 32 GB (+microSD) |
| Battery | 2.550 mAh (non-removable) | 3000 mAh (removable) |
| Camera | 16 MP (rear), 5 MP (front) | 13 MP OIS + (back), 2.1 MP (front) |
| Dimensions | 143,4 x 70,5 x 6,8 mm | 146.3 x 74.6 x 8.9 mm |
| Weight | 138 g | 149 g |
| Connectivity | WLAN, HSPA, LTE Cat.6, NFC, Bluetooth 4.1, USB 2.0, Infrared | HSPA, LTE, NFC, Bluetooth 4.0 |
| Price | 699 USD (32 GB), 799 USD (64 GB), 899 USD (128 GB) (estimates) | 385 USD (16 GB) |
Samsung Galaxy S6 vs LG G3: early verdict
If you like to buy on specs then there's a clear winner here in the form of the Samsung Galaxy S6. It's more powerful, more efficient and has better cameras. But it'll also cost a lot more, so you'll pay a premium if you rush to buy it when it ships on April 10. If you're looking to save some cash and get a bigger - albeit marginally less clear - screen in the bargain, then the LG G3 remains a great high-end option.
What do you think of our Galaxy S6 vs LG G3 comparison? Is the S6 worth ordering straight away?