Samsung Galaxy Note 4 vs Galaxy Note 3 comparison: how much better is the new flagship?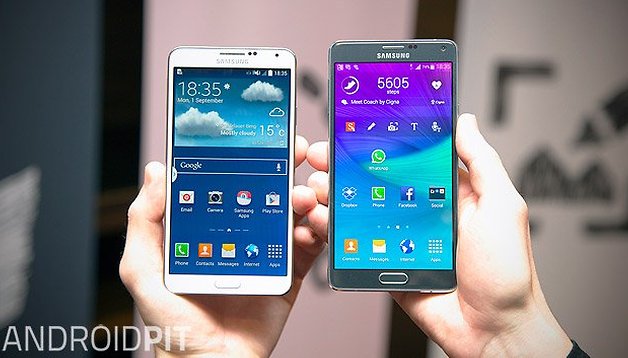 I hope I'm not spoiling anything by telling you that the Galaxy Note 4 is better than the Galaxy Note 3. It's better. It really is. Good, now that's out of the way I'm going to try and tell you the lengths to which it is a greater handset, and what you'll be missing out on if you stick with the previous device in the series. Here's our Galaxy Note 4 vs Galaxy Note 3 comparison. NEXTPITTV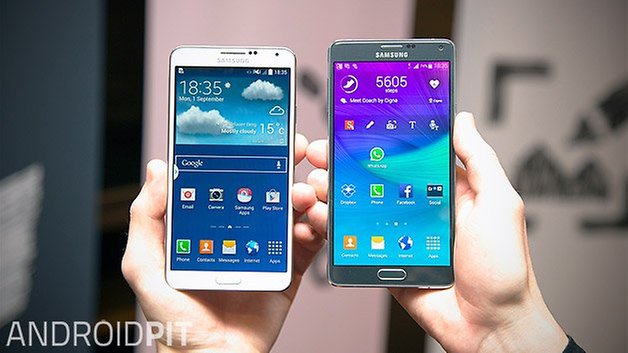 Galaxy Note 4 vs Galaxy Note 3: Design and build quality
The Galaxy Note 4 doesn't differ from its predecessor too much in terms of design. When viewed from the front, it's mostly the same as the Note 3 (albeit a little less rounded) in comparison, but on the reverse things have changed more noticeably, with the Note 4 sporting a slightly different textured, faux-leather back panel, this time without the fake stitching.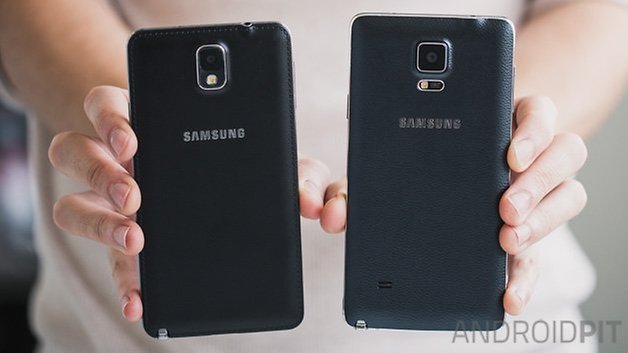 Samsung has often been criticized for the plastic feel of its flagship phones, so this time the Note 4 is supported by a metal frame, following a similar design aesthetic to the Galaxy Alpha. Because of this, the Note 4 feels a little sweeter in the hand, despite it being slightly larger in comparison to the Note 3. There isn't much between the weight and dimensions otherwise and the Note 4's better feel is largely down to the materials.
Why you should buy a Galaxy Note 4 instead of a Nexus 6
It may or may not be worth noting that the Note 4 has a total of three microphones to assist with noise cancellation on calls and that these can also be used to lower the volume of background noise during voice recording. These multiple microphones help to distinguish sounds which are close to background noise. This also lets you alter audio recordings to give a clearer sound image.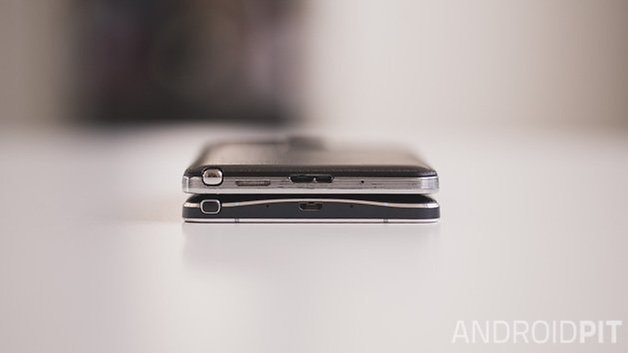 Galaxy Note 4 vs Galaxy Note 3 comparison: Display
Both devices have a 5.7-inch, Super AMOLED display. The screen is really quite impressive on either device, but the Note 4's is slightly higher quality in comparison. With QHD (2560 x 1440) resolution, the Note 4's display is one of the best currently on Android, but with the number of pixels being its only advantage over its Full-HD (1,920 x 1,080 pixels) cousin, it's not going to be immediately apparent to most users. In most applications, the displays are going to look pretty similar: vibrant and crisp.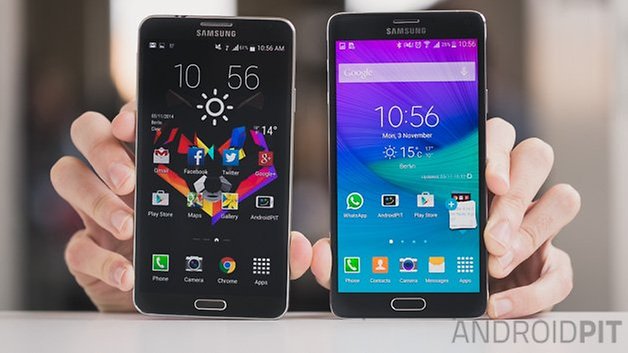 Galaxy Note 4 vs Galaxy Note 3: Software
Here is where we glimpse one of the most noticeable differences between these handsets. While the Note 4 and Note 3 both run Samsung's TouchWiz version of Android (the Note 4 arriving with Android 4.4.4 KitKat, and the Note 3 being upgradable to 4.4.3 or 4.4.4 depending on the region), the Air Command software has seen some changes.
S-Finder was one of the lesser-used Air Command functions and is now accessible via the notifications shade, whereas Pen Window and Scrapbooker are sort of there but in a different guise. Action Memo and Screen Write make a welcome return, while the Note 4 adds two new functions to Air Command: Image Clip and Smart Select.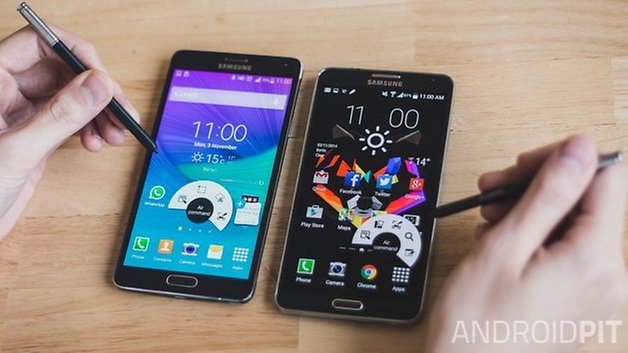 Why you should buy a Nexus 6 instead of the Galaxy Note 4
Image Clip is a slightly more advanced version of Scrapbooker, letting you select parts of images on screen for editing. It can recognize different shapes within the image you use, sort of like a limited magic wand tool, letting you extract particular items. It's pretty cool and sure to please more serious photo editing fans. While Image Clip is a new option in the Air Command menu, it's not actually a new feature - the same option was available on the Note 3 by pressing the S Pen's button and selecting an area on the screen. On the Note 4 it functions the same in comparison, but has a slightly updated user interface. What this means is that holding down the button can now be used to highlight text and multiple items, like dragging over a number of images to send or delete them etc. This is extremely useful, and it was smart of Samsung to reorganize things in this way.
Smart Select, however, is by far the most impressive new addition to Air Command. This is used for saving or sharing certain on-screen items - just draw a box around that which you wish to interact with and it will pop out of the screen. From here you can save or share it, and with online items the meta data will even be analysed, extracting the URL or website information for you. Check the picture below.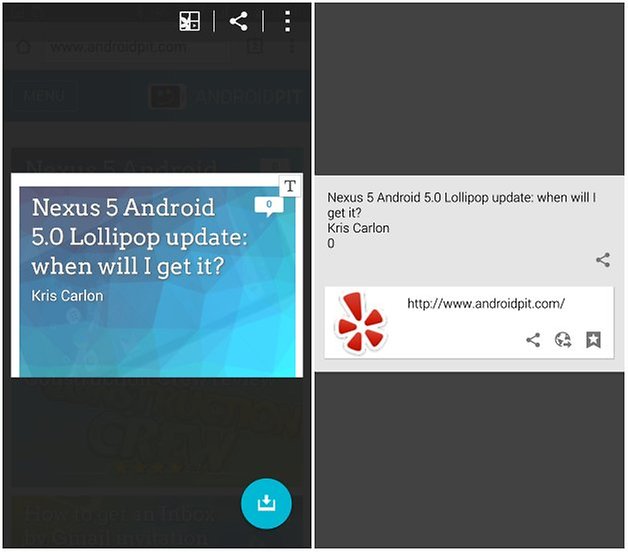 I didn't even need to copy the whole "Nexus 5 Android Update" box from on our website, but the Note 4 has attached the website link and the title. It's super clever technology and quick and easy to use.
The fantastic Action Memo has stayed across both handsets, though it's arguably performing better on the Note 4, with its improved S Pen handling (said to be twice as responsive than on the Note 3), and Screen Write is also present again with the same set of features.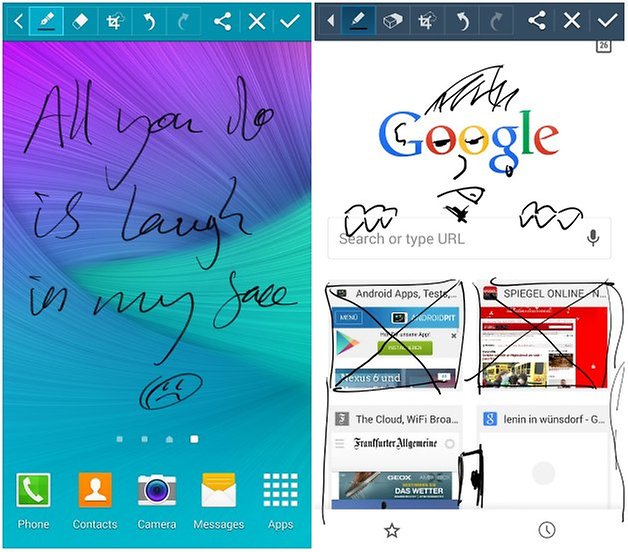 Multi-window on the Galaxy Note 4 has been improved, with several new options available. It's like the Pen window option from the Note 3, except you no longer access it from Air Command. You can get to it from your recent apps menu (just look for the Multi-window icon in the top right hand corner of compatible apps), to let you combine several windows together. Alternatively, just dragging from the top left corner of compatible apps will resize them, so ultimately the Pen window option was no longer necessary.
The Note 4 also features a new Flipboard-powered "Briefing" section on the left side of the home screen which acts a news reader. It's not really something I find particularly interesting but thankfully it can be easily disabled from the home screen settings.
Galaxy Note 4 vs Galaxy Note 3: Camera
The Note 3 camera has 13 MP resolution while the Note 4 houses a 16 MP camera with optical image stabilization and single-LED flash. The Note 4's camera, like its screen, is improved over the previous device in terms of the resolution. The Note 4's camera is also a little quicker to take snaps, and they have less chance of going awry with the added OIS, but once again, last year's Note 3 is still an impressive performer, and the camera quality between the handsets isn't all that dissimilar.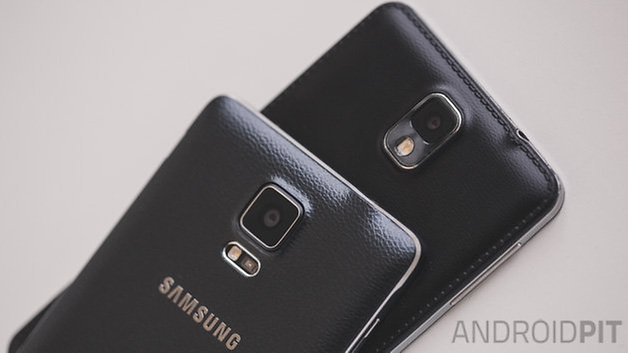 Galaxy Note 4 vs Galaxy Note 3: Battery
There hasn't been a big change in terms of battery capacity, the Note 4 has received a minute upgrade from 3,200 mAh to 3,220 mAh capacity. This isn't even a 1% increase in size, but overall battery life on the Note 4 is improved thanks to its new battery saving settings. Additionally, the Note 4 can take advantage of Samsung's turbo-charging functionality giving it an estimated 50% battery life increase in just 30 minutes.
Galaxy Note 4 vs Galaxy Note 3: Specs
| | | |
| --- | --- | --- |
| | Galaxy Note 4 | Galaxy Note 3 |
| Display | 5.7-inch (2560x1440), 515ppi | 5.7-inch (1920x1080), 386ppi |
| OS | Android 4.4.4 | Android 4.3 (updated to 4.4.2) |
| CPU | Qualcomm Snapdragon 805 (N910S), Exynos 5433 (N910C) | Qualcomm Snapdragon 800 (N9005), Exynos 5 Octa (N9000) |
| RAM | 3 GB | 3 GB |
| Internal Memory | 32 GB + microSD | 32 / 64 GB + microSD |
| Camera | 16 MP (rear), 3.7 MP (front) with optical image stabilization | 13 MP (rear), 2 MP (front) |
| Battery | 3220 mAh, turbo-charging | 3200 mAh |
| Extras | Fingerprint scanner, heart rate-monitor, stylus | Stylus |
| Dimensions / Weight | 153.5 x 78.6 x 8.5 mm / 176g | 151.2 x 79.2 x 8.3 mm / 168g |
| Price | 749 USD | Currently 599 USD for 32 GB variant |
Conclusion
The Galaxy Note 4 technically doesn't make any big leaps, but it improves upon most of what consumers have asked for: upgraded hardware, better S Pen functionality and premium feel. The added sensitivity of the S Pen, faster performance and the better display of the Note 4 aren't going to be noticeable to most users (though side by side the display quality can be seen), but the S Pen has been tangibly improved, and you may just find the best Android camera currently available on the Note 4 too.
What do you think? Is the Note 4 a far superior device than the Note 3?