Fortnite Mobile: tips and tricks for the victory royale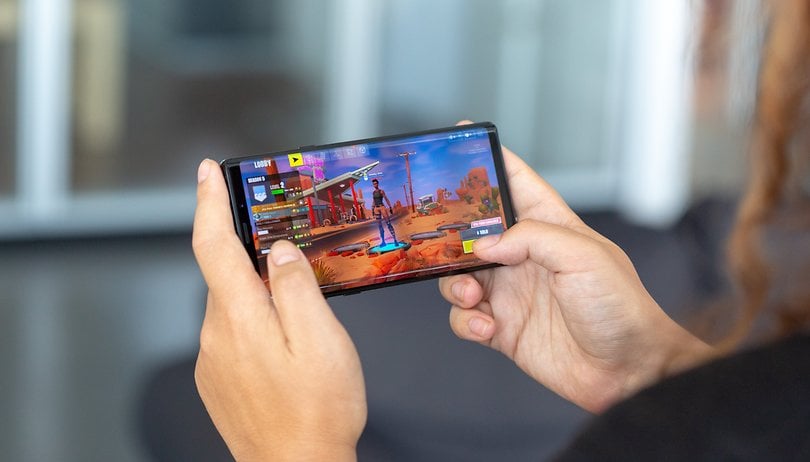 Fortnite Mobile is available for Android and iOS and everyone can enjoy the popular battle royale game on their smartphone. But surviving and being one of the last players left in the circle is not easy. In Fortnite you have to combine several skills to win because besides shooting you're going to have to build—a lot.
Jump to:
Set yourself up for victory
Before you start playing, there are a few settings you can customize. As a first step, it is good to adjust the sensitivity of the screen and change it according to your taste and experience in the game. Personally, I prefer to have all three sensitivities high enough so I don't have to move my finger too much if I want to turn around.
There are also a couple of parameters that I like to deactivate when building, such as turbo building and automatic material change. I prefer to choose at all times what to put in and not spend resources automatically.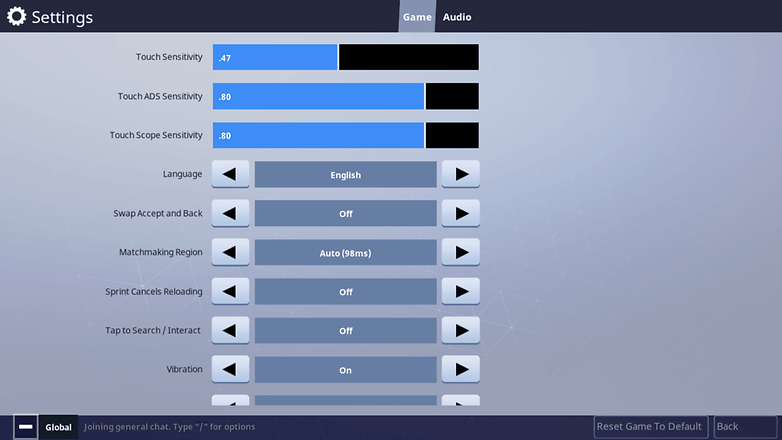 Choose where to land and do it close to your crew
If you play as a couple or in a team, look at the map before jumping to see where others want to go. Staying together is the key to success. Fly fast and head for the area where you agreed to land.
When you're getting to the ground, the glider opens in proportion to the surface underneath you, so if you fly over a mountain it opens up sooner than if you fly over a river. It sounds silly, but this trick will help you get to the ground faster.
Choose well where you land. Don't go in a building where there's already someone inside. Try to do it directly in a window. If you don't have much skill with the glider yet, you can always land on the roof. There are no stairs but you can chop the roof, so you can enter the building and take the materials with you to build.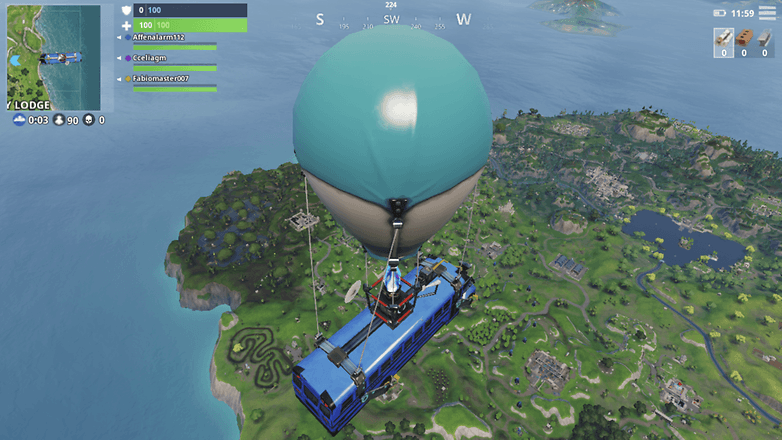 Learn to run
Running is fundamental. A moving target is very difficult to hit. So when you go from one building to another or when you run from the storm, you'd better get up to speed. Just double-tap on the virtual thumbstick to lock yourself into run mode, and repeat to change back to normal speed when you're safe.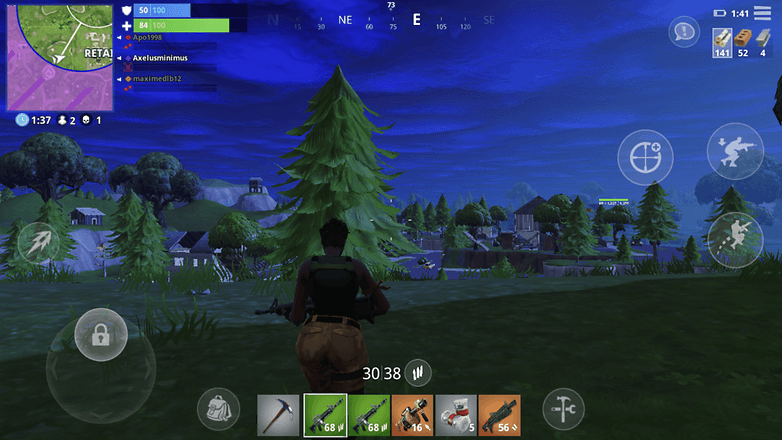 If they shoot, you jump
When you jump, it's harder for others to catch up with you, and, it bears repeating, a moving target is harder to hit. The kind of frogging around as a form of location is already a well-known joke about Fortnite, but it's widely-used for a reason. If you're running and you hear or see bullets whistling around you, jump to save your life. Movement is essential to stay alive as long as possible.
Loot everything, not just weapons
Looting is the key. There are 5 grades of weapons, from normal to legendary. Of course, you should keep the best ones. You'll be able to recognize them quickly by the colors. From worse to better: grey, green, blue, purple and yellow. Of course, other players are the best source of weapons. Remember also that you can shoot with your left finger.
You usually find enough ammunition, but it's always good to save just in case. If you have a knocked out enemy and want to kill him to get their items, shoot with a weapon that you don't use much so you don't waste ammunition from good weapons.
Always carry a long-range weapon, as in the last part of the game when everyone is hiding in a tower a powerful weapon can make all the difference.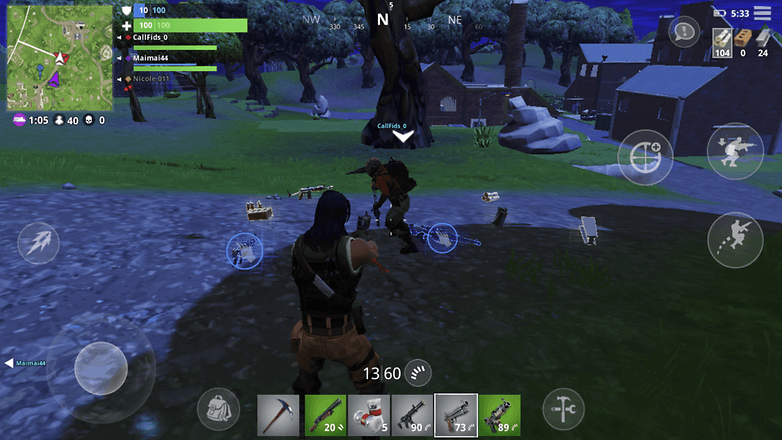 Destroy and dismantle
Every Fortnite player starts off with a pick which can be used to 'attack' the environment and harvest materials like wood and stone. Similar to Minecraft, the world of Fortnite is comprised of invisible blocks, many of which contain resources.
Almost anything can be hit with a pick and mined...buildings, vehicles, trees, mountains - you name it. And, unless you really need to use an environmental feature, it's best to chop everything down and take the materials to use when you need them, but be careful to check that you're alone first, as nearby enemies will be drawn to the noise. To survive in late game you'll need to build, and you don't want to be lacking in materials.
Building can save your life
This is one of the most difficult aspects of Fortnite in mobile due to the precision of the touch controls; doing it fast requires a lot of practice.
When building, use stronger materials on the outside and wood on the inside to save hard materials. Build walls to defend yourself and place a ramp to shoot over. In the last circle, it is normal to find towers. If you're playing in a group, it's best to work together: the best shot keeps firing at the enemy while the rest try to dismantle the fortress. You can also build to trap an enemy.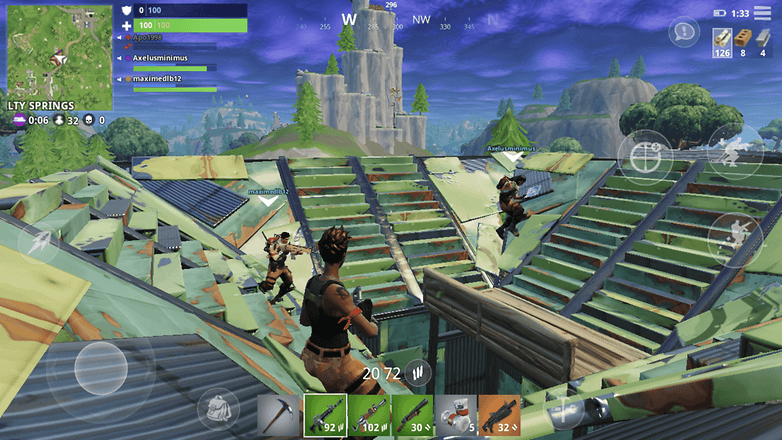 Sort your weapons close to your fingers
We've got five spots to organize weapons, health items and shield items. The first hole on the left is always occupied by the pickaxe but the one on the right is usually freer. Touch the button on your backpack to open the right panel. At the bottom, you have the five holes that you see on the screen of the normal game. Place your favorite weapon on the right to activate it right after you finish building. During a game I change the order of things several times so that I can pull out my favorite weapon as fast as possible - a fraction of a second can mean life and death!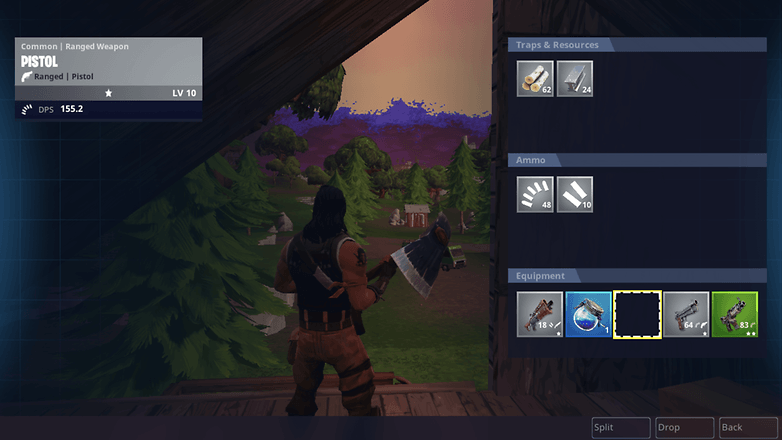 Medkits are better than bandages
Bandages are fine if the storm has caught you and the acid rain has weakened you, but to survive to the endgame it is much better to carry a Medkit. Slurp Juice cans are best used as soon as possible so that they don't take up space, and if you don't have any free space, you can always throw something away or drink something and then pick up what you dropped.
Use headphones and watch the display
Hearing where the shots come from is the first thing you need to do to react in time. With a stereo headset, you'll recognize in a thousandth of a second where the shot was fired from. In addition, the display will warn you where the noise is coming from in case you still had any doubts. There are even times when I was hearing a gunshot on one side but on the screen I saw that someone was moving on the other side, so pay attention to both.
Use Playground Mode to train
One of the great things about Fortnite is that when you play the regular modes, it's often still quite fun to fail. After all, you never have to wait too long to try again, and we learn from our mistakes. But if you find that you keep being eliminated before you can really learn the ropes, try out new tactics, or practice your building skills - then it's time to drop out of the competition and try Playground Mode.
Playground Mode takes place on the battle royale map, but players have infinite respawns after dying and there's loads more loot around. You have a whole hour to play around consequence-free before the storm finally closes in. It's the perfect place to familiarize yourself with different weapons, experiment with new strategies.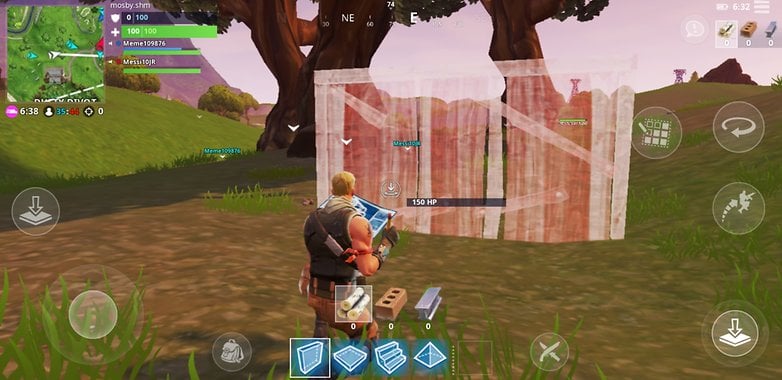 The best use of Playground Mode in my opinion? Practice your building until you can quickly throw up ramps and forts under pressure, since it's the hardest thing to master when you're under fire.
Keep an eye on updates
Epic Games does its best to keep Fortnite fresh with regular updates, which include new outfits and Limited Time Modes but also the introduction of new weapons and items that can significantly change the game balance. Some weapons may be removed, others nerfed or buffed, the damage or resistance of certain environmental effects can be changed.
While the above tips will always be helpful throughout Fortnite's lifespan, once you've mastered the fundamentals, you should keep up with new changes so you know in advance what weapons have become better, or new kinds of attacks or items to look out for. When Epic Games introduces a new patch, we always highlight the important changes in this article.
In the meantime, eager gamers should check the following articles for the best games on the Play Store right now.
What platform are you playing Fortnite on? Do you have any tips of your own you'd like to share with us?