Fortnite for Android review: worth the wait?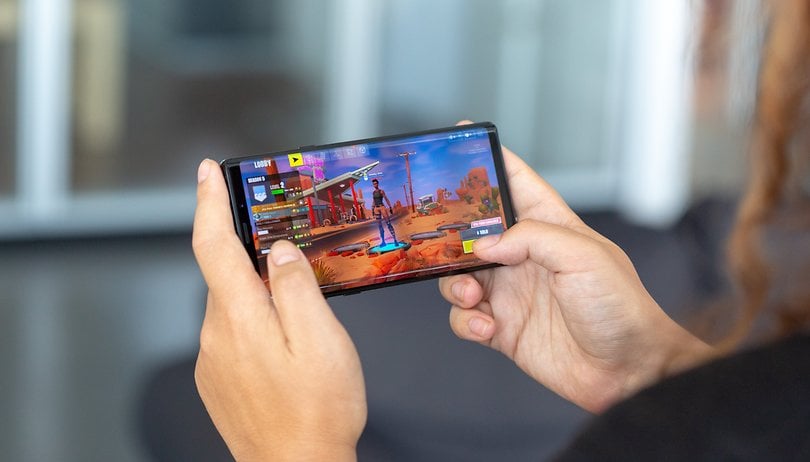 Well, it's about time. Fortnite Battle Royale is dominating the gaming world, but vast unconquered territory remained in the form of Android devices. But the wait is over, and Fortnite is right here at our fingertips. We picked it up to see how gaming's biggest phenomenon plays on Android.
Obviously, Fortnite isn't a new game. In fact, it recently celebrated its first birthday and has been out on iOS for months. But that doesn't change the fact that its arrival on the Android platform is going to make many people happy, even if some may have been upset that Samsung users got to try it first.
As we suspected, Fortnite for Android isn't on the Play Store, but accessed via Epic Games' dedicated app, which is also available on Samsung's own app store, if you prefer to have it managed through Samsung. My test device (S9+) was able to comfortably run the game at its "Epic" max settings, although the choice of framerate maxes out at 30 FPS.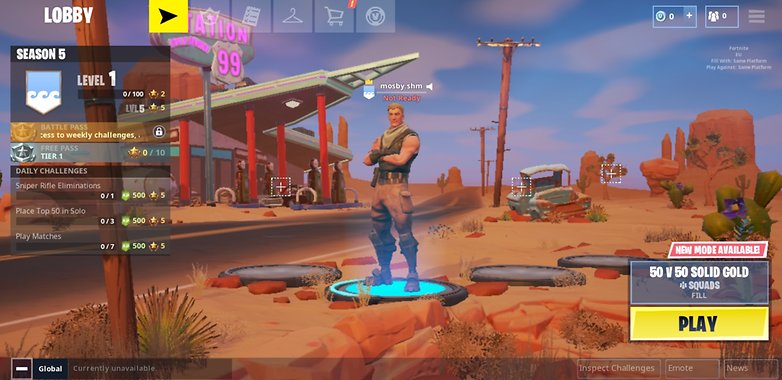 At the moment Fortnite is still in its beta period, so what we're looking at here isn't the final product. Nonetheless, the beta is packed full of features and extending to a wider range of Android phones. Want to get in on the action? Here's how to sign up for the beta for free and try it for yourself.
Nothing quite beats the thrilling all-against-all of the classic battle royale.
If you only know Fortnite from celebrity or media references, here's the skinny. Fortnite Battle Royale (distinct from the original, less popular version of Fortnite) throws 100 players on large island maps and pits them against each other in a free-for-all battle for supremacy. Yes, it sounds like PUBG, but there are many reasons why Fortnite eclipsed PUBG in popularity. Finally, PUBG Mobile on Android faces its rival. So let's jump in.
It's full-fat Fortnite for your phone
It's the battle royale we all know and love. After a brief waiting period, your avatar is loaded onto the balloon-powered battle bus with nothing but a pickaxe and a glider, along with 99 other similarly equipped players. Then it's time to drop onto an island, scavenge for weapons, materials and powerups, and take out your rivals one by one until you're (hopefully) the last player standing. All the while a deadly storm closes in, shrinking the battleground and forcing contenders ever closer together.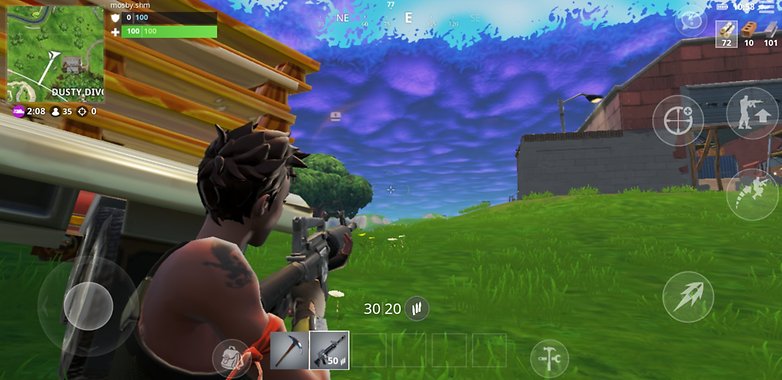 You don't have to play a brutal free-for-all if you don't want to though. You can also team up in squads or duos, play 50 v 50 battles, or fool around with infinite respawns in the popular Playground mode. Epic Games knows that in order to keep it fresh, they need to keep adding new game modes to change up the familiar formula, usually for a limited time. For my money though, nothing quite beats the thrilling all-against-all of the classic battle royale.
Epic Games' take on the battle royale is a different kettle of fish to PUBG. Fortnite is quirkier, more cartoonish and generally wackier than PUBG's grim and gritty style. Fortnite's environments and player avatars pop with color and character, and it's easy to see how Fortnite won over millions with its charms. Whether you prefer Fortnite's visuals to PUBG is a matter of taste but, personally, I find Fortnite's style less generic.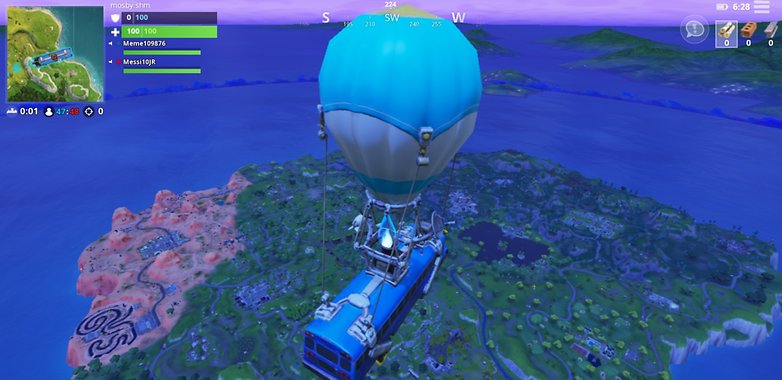 Although many smartphones are now more than capable of delivering the graphics and performance for Fortnite Battle Royale, the game is a drain on the battery for sure, but not as much as I expected. Your mileage may vary on this depending on your device and use but I could spend a few hours gaming without worrying about charging, although the issue does make me wish for more side-charging options, such as the Asus ROG Phone has.
How fast are your fingers?
Epic Games made a big deal about cross-platform play when Fortnite Mobile was originally announced, but as the initial matches of iPhone users against PC users quickly demonstrated, mobile touchscreen controls just aren't as fast or accurate as those on home platforms. During the review period, my game was set to play against others on the same platform, so I really had no excuse for my suckitude.
The HUD lays out the touch controls in a reasonably intuitive way, and in the game settings the positioning of buttons and menus in the touchscreen overlay can be moved and changed to your preferences, so if you find the initial layout awkward, you can tweak it to suit your needs and improve your performance.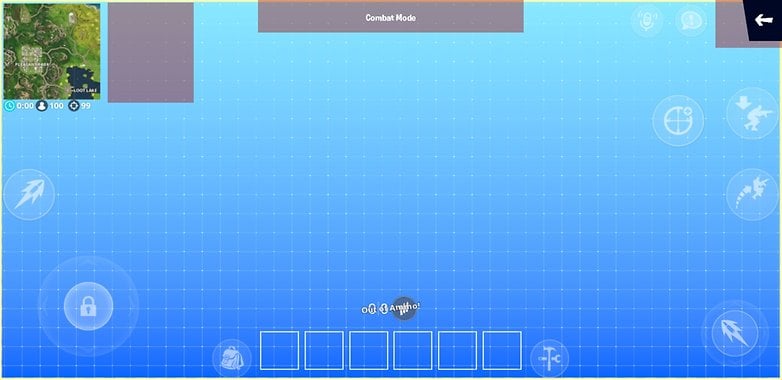 Fortnite Battle Royale is basically extreme hide-and-seek punctuated by brief explosive moments of violence when players encounter each other (don't expect to soak up hits), and it's in these fast, tense shootouts where I felt frustrated with the touch controls lack of fluidity compared to what I'm used to on PC. I'd get smoked from behind over and over again because I couldn't react in time when it came to aiming, dodging, or building in a hurry.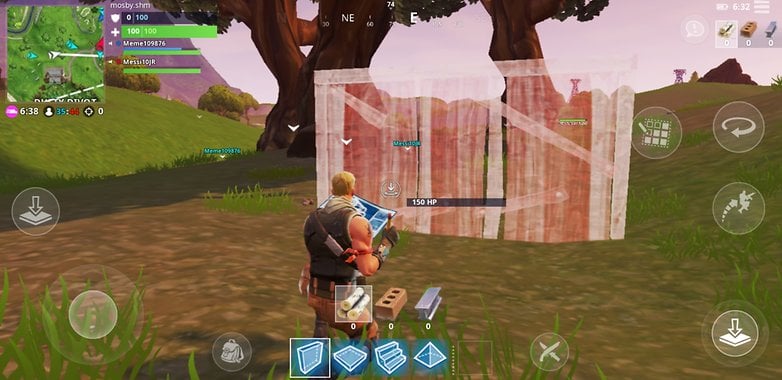 But if you're playing others on the same platform, you just have to be better than your immediate opponent. With enough practice, the playing the game on mobile is as challenging and exciting as the original. I still haven't managed to win, but I must tip my hat to some of my opponents who I've seen demonstrate mad skills, especially when it comes to erecting complex defenses in seconds.
Free-to-play, pay-to-look-cool
Like PUBG and many competitive mobile titles, Fortnite is free to download and play, but it has plenty of things for you to spend money on. To its credit, nothing that you can purchase actually gives you an advantage over your opponents in-game. Instead, Fortnite's paid extras will get you cosmetic items to pimp your character, with a variety of cool (and silly) items including headgear, clothing, back swag and custom gliders. You can even buy different dance moves to show off with.
Most players will get these goodies by purchasing "battle passes", essentially paying for opportunities to earn different rewards through in-game challenges. It's an ingenious monetization method that works in tandem with engaging players in the game, instead of punishing players who don't pay up with disadvantages. Ultimately, you can enjoy Fortnite fully without paying a dime, but there's a real sense of reward for those who want to invest in it.
All the fun of Fortnite the palm of your hand
There's no doubt about it though, is that regardless of your skills, Fortnite is just plain fun. Everything that made the game a phenomenon is present: the tension of scavenging, the satisfaction of master the building mechanics, and of course the thrill of the intense, deadly moments of combat.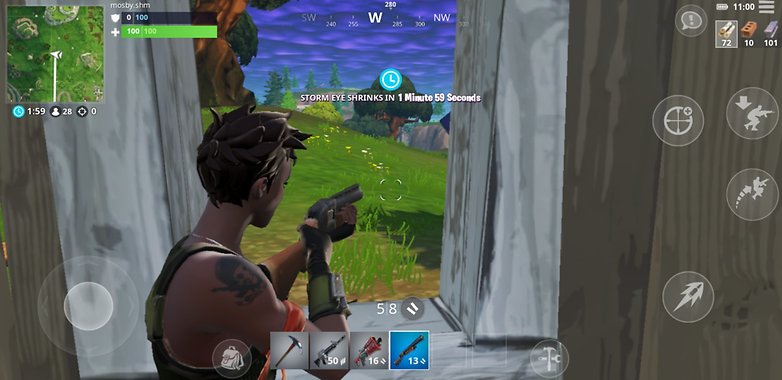 Then there's the dress-up part, where players can express their style with tons of outfits and accessories to be won or bought. If you've already racked up rewards from battle passes, you can pick up the game on mobile and keep all your snazzy outfits and goodies.
Still best on PC, but the option to play on mobile comes in handy
Thanks to its arrival on Android, Fortnite fans can always have their beloved battle royale within reach, even when traveling away from home. Honestly, the overall experience is still best on PC, but there are many occasions, such as if someone else in your household needs to use the computer, or you just want to lie in bed and play, or on the balcony, on vacation or whatever, where the option to play on mobile comes in handy.
And those who made the choice to invest more in their smartphone than a home PC or console won't have to miss out. If anything, the presence of a full-featured Fortnite on Android further legitimizes Android as a gaming platform in its own right, so let's hope that other game studios take note. In the meantime, expect to see Fortnite close the deal on world domination thanks to its presence on the most popular global mobile platform.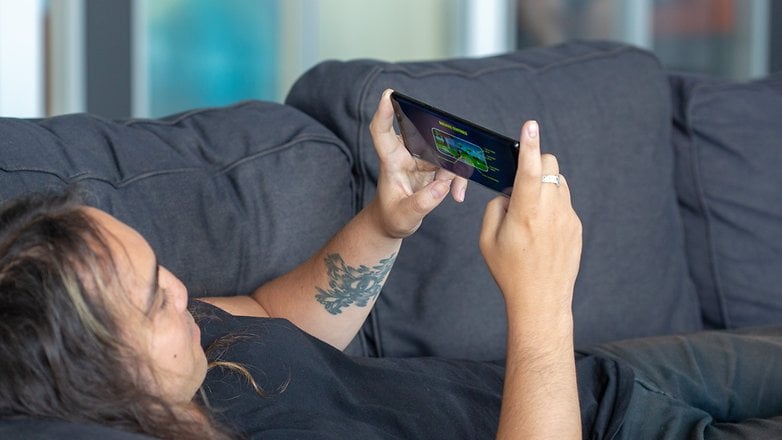 Have you been waiting to play Fortnite Battle Royale on Android? Which phone will you play on?