Fitbit Sense 2 review: Elegant fitness smartwatch foiled by subscription model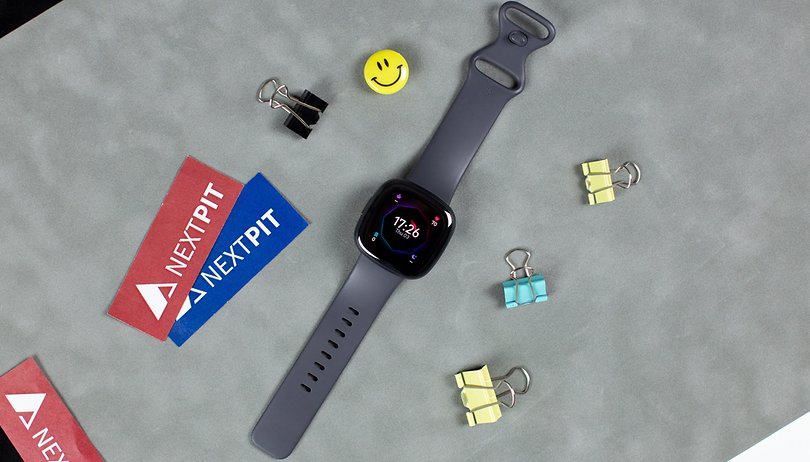 The Fitbit Sense 2 lives up to its name and is supposed to be like second nature for the wearer. For this purpose, the fitness watch offers the numerous mindfulness features found in its predecessor. There is an important design change compared to the first Sense though. Read on to find out how the Fitbit Sense 2 performs in the review!
Good
Haptic button is vastly improved

Still chic looking and very light

Simple and snappy operation

Google Wallet available via an update
Bad
Many features are hidden behind a paywall

Moderately accurate sensors for pulse measurement and GPS

Closed ecosystem

Only one model available for all wrist sizes

Still no Google Maps support
The Fitbit Sense 2 in a nutshell
The bottom line is this: the Fitbit Sense 2 is an excellent fitness watch for those who want to work on their physical as well as mental health. There are numerous sensors available that cater to GPS, pulse, stress, sleep, and even ECG readings, and the Fitbit app continues to convince with a successful user interface albeit having a relatively closed Fitbit ecosystem.
Compared to its predecessor, the hardware button on the left side proved to be a particularly important change. Unlike the capacitive button that is found in the first Sense, there is neither accidental input nor frustration due to poor reactivity. Speaking of frustration, many features remain hidden behind a paywall on the Fitbit Sense 2. In other words, without a subscription, you will miss out on numerous beneficial functions.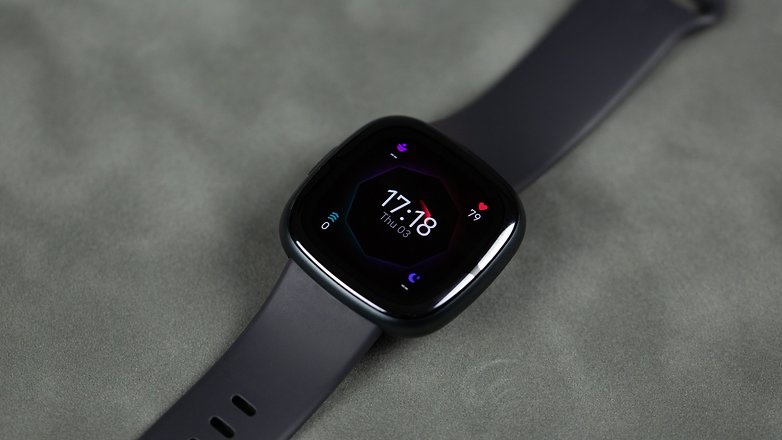 The new Fitbit Sense 2 is available in stores with a recommended retail price of $299.95, although its price has been slashed to $229.95 for a limited time now. You can choose from colors such as night gray, moon white, and noble blue. In addition to the smartwatch, we also recommend subscribing to Fitbit Premium, because this is the only way to get access to all the smartwatch's features. However, the subscription costs $9.99 per month or $79.99 annually.
Design & Display
The Fitbit Sense 2 looks like the first Sense with its chic, flat, rounded case albeit with one elementary difference. There is now a mechanical button on the left side of the case instead of the much maligned capacitive button. Very nice!
---
Pros
Chic and very light design.
Mechanical button on the left side.
Bright AMOLED display.
Cons
Only one case size is available.
---
If Fitbit has its way, you'll want to wear the Sense 2 day and night, and that's exactly how it's built. With its rounded, soft shape, the smartwatch feels so good on your wrist that you'll quickly forget about it. Compared to the Apple Watch Ultra that I reviewed recently, the Fitbit Sense 2 feels almost as light as a feather with its weight of 38.2 or 40.6 grams, depending on the strap size (S or L).
While there are two size options for the strap, whereas you only get the case in 4.05 × 4.05 cm size and a thickness of 1.23 cm. The Sense 2 does not have an IP rating, but according to Fitbit, it is waterproof up to a depth of 50 meters. In reality, this means that washing hands, showering, and swimming work well with the Sense 2, but you should avoid water sports at high speeds due to the higher partial pressures that might occur here.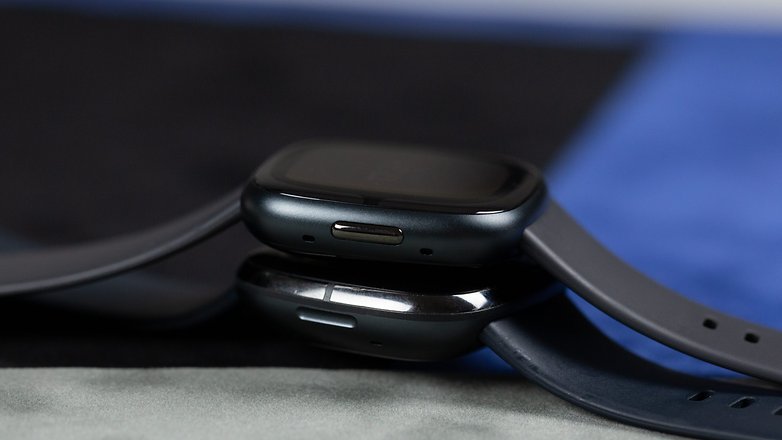 On the left side of the case, you will find the mechanical button which replaces the capacitive button on the predecessor. In contrast to the first Sense (review), the Sense 2 did not have any problems with accidental inputs during the entire review duration. Even with extremely angled wrists that commonly occur during push-ups, there were no accidental presses. However, the mechanical button also has a very short stroke and a less than satisfying feeling when pressed.
As with its predecessor, the AMOLED display is bright, sharp, and looks great under all lighting conditions. The touchscreen responds to inputs largely without delays, and the interface using swipe gestures is fun to use, assuming you are purely a touchscreen person and do not necessarily want to operate the watch with thick gloves all the time during ski tours. In that case, a Garmin sports watch with buttons for operation is the better choice.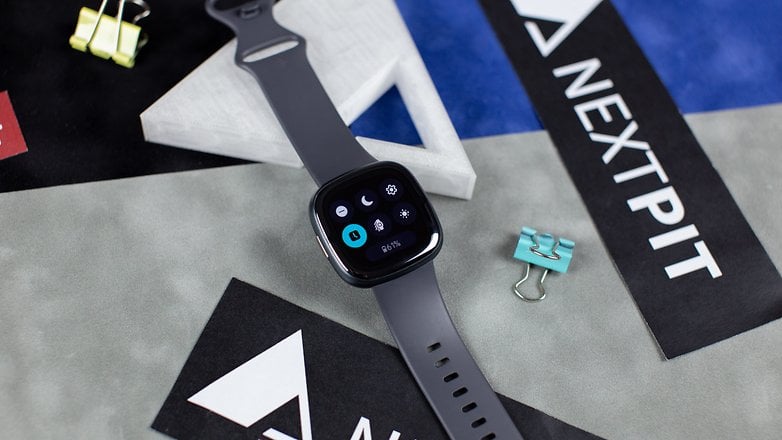 Smart features
The Sense 2 is more of a fitness tracker than a smartwatch. There is Google Wallet, and you can install a handful of apps, but that's about it. Despite being a subsidiary of Google, the watch still doesn't run on WatchOS 3.0, but rather relies on Fitbit's proprietary operating system.
---
Pros
Google Wallet now works on the Fitbit Sense 2.
Cons
Just eleven apps in the app store.
Still no Google Maps.
---
Like the Versa 4 (review), the Fitbit Sense 2 is more of a fitness tracker than a smartwatch. Sure, there are notifications that arrive on your wrist, Alexa voice support, and even a hands-free function. But the app store is hardly worth mentioning with just eleven Fitbit-owned apps that can be installed later, especially since all apps come from Fitbit and are partly installed already.
However, unlike the apps, third-party providers are also allowed to offer a range of watchfaces, of which there is a considerable selection. Fitbit has now also added the option to use Google Wallet for the Sense 2 via a firmware update. The setup works smoothly via the Fitbit app, but beware, long-time Fitbit users. Once you switch from Fitbit Pay to Google Wallet, there's no going back.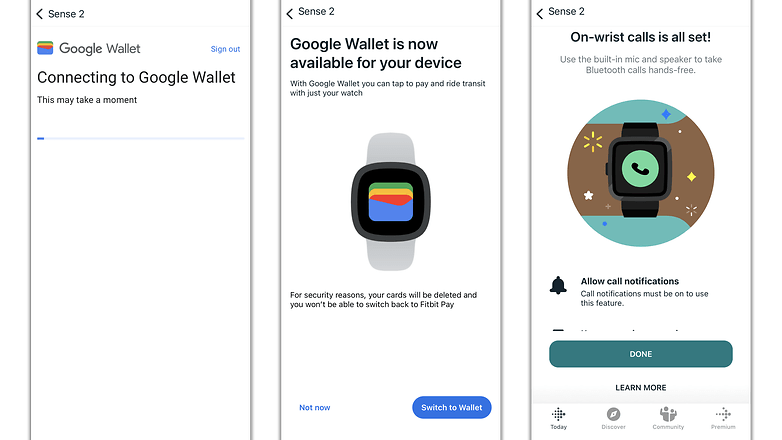 By the way, Fitbit and Google have not yet delivered Google Maps, which was promised at the launch of the Sense 2 in September 2022. That's pretty sad, since Fitbit even proudly shows Google Maps on the fitness watch in its September launch teaser last year. Google Assistant is also not available, but Alexa voice control is.
If you want the Fitbit features to work in tandem with a real smartwatch, you will have to go for the Google Pixel Watch. However, the Sense 2's alertness features are left out: The Pixel Watch is basically a Fitbit Versa 4 with WatchOS 3.0. You can find all differences between the three models in our article where the Google Pixel Watch, Fitbit Sense 2, and Fitbit Versa 4 are compared.
Tracking and fitness
The Fitbit Sense 2 offers a wide range of sensors and measures numerous body parameters, from pulse and sleep quality to GPS, stress, and electrocardiogram readings. However, most of the readings are not really that accurate.
---
Pros
PPG sensor measures pulse, SpO2.
Integrated GPS sensor.
cEDA sensor for stress measurement.
ECG function.
Cons
Pulse and GPS are rather inaccurate.
No connection possibility for external sensors.
Many of the measured values make little sense.
---
Considering the compact format, the Fitbit Sense 2 offers a wide range of sensors for various applications, from outdoor sports to stress. However, many features are only available with a premium subscription.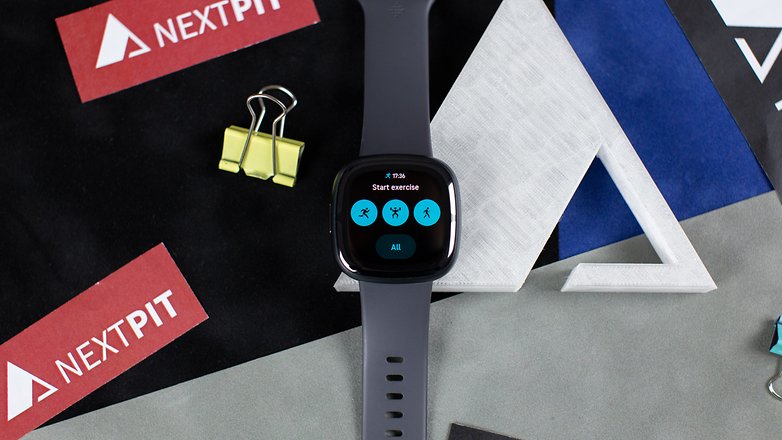 GPS & outdoor sports
When you go running with the Fitbit Sense 2, you can safely leave your smartphone at home. Not only can you buy your breakfast rolls afterward thanks to Google Wallet, but you can also record your running route via GPS on the way. However, the accuracy level is only moderate. Compared to the Amazfit GTR 4 (review) which boasts an extremely precise dual-band GPS, we observed deviations of about 4 to 5 percent. If you do not want to train for specific times based on the number of kilometers, but only want to roughly track your run in terms of mileage, the accuracy level is completely sufficient.
Speaking of professional features: You will not find advanced running metrics like your cadence or even ground contact time and vertical movement or the like on the Fitbit Sense 2. Apart from the steps taken and the distance covered, the Fitbit watch only records your pulse and the time spent in the different heart rate zones. The pulse measurement during jogging is quite accurate though. Compared with a chest strap system, the average pulse (160 vs 165 beats per minute) and the maximum pulse (175 vs 179 beats per minute) experience some degree of deviation.
Fitness & Indoor Sports
The heart rate measurement is somewhat different for sports with heavily stressed or angled wrists. Like almost all smartwatches with optical heart rate sensors, the Sense 2 measures values that are clearly too low to reflect reality. During an upper-body workout with a focus on the chest muscles, for example with push-ups and bench presses, the average pulse of 102 versus 112 beats is significantly lower than with a chest strap system. Maximum heart rate also differs significantly at 130 versus 157 beats per minute.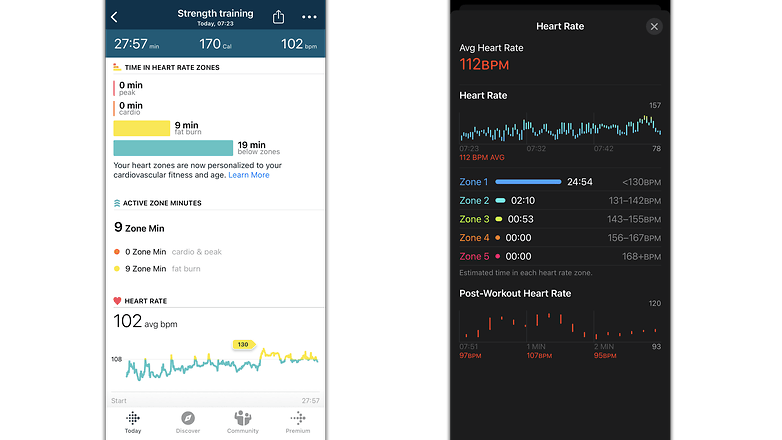 You will also look in vain for advanced training options here. For instance, exercise recognition which can be found on many Garmin and Amazfit models. Creating user-defined workouts is also only possible to a very limited extent. Setting goals for the individual workouts is possible though, and the highest of feelings is to bunch together a rudimentary HIIT workout with intervals of active and rest phases. However, there are no options to add warm-up and cool-down times or to save different presets.
Finally, Fitbit offers a number of video workouts to follow along with. Those who have had their fill of the 20 free workouts, ranging from 7 to 35 minutes in duration, will need a premium subscription to access more videos. The videos are basically well-made, but do not follow a specific training plan. That's just too bad!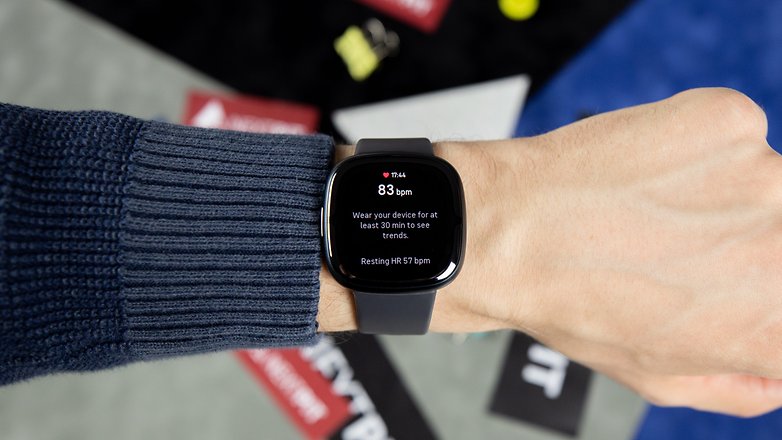 Sleep and recovery
The Fitbit Sense 2 is able to record your sleep. The measured falling asleep and wake-up times are as equally as precise as what the Apple Watch Ultra would record when word in parallel. Due to the lack of a sleep lab, unfortunately, we have no way of assessing the recorded sleep phases. However, the basic sleep duration is the more important measurement anyway. Finally, Fitbit assigns premium users a sleep animal that matches their individual sleep behavior—for example, a bear or a turtle.
In addition, the Fitbit Sense 2 records various other metrics during sleep. The heart rate variability, for example, indicates how well rested you are. The resting pulse rate allows you to draw conclusions about your cardio fitness. With the help of the oxygen saturation in the blood, you can determine whether you suffer from nocturnal breathing pauses, so-called sleep apnea. The Fitbit Sense 2 also measures skin temperature - but unlike the Apple Watch Series 8, the watch does not offer a direct option to track your menstrual cycle.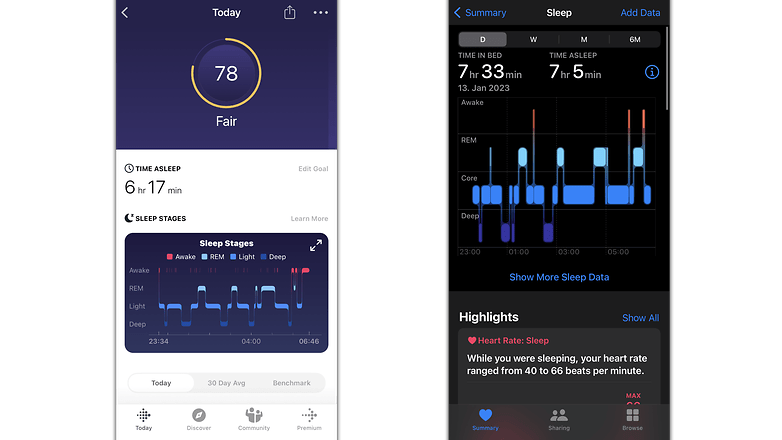 If you don't have a Fitbit Premium subscription, you'll only see values from the past seven days here. Fitbit and Google want to see money from you before they release any meaningful long-term statistics and trends. With an active Fitbit Premium subscription, you also get access to the Daily Fitness Index, which uses various measurements to determine your current fitness and should tell you, for example, how hard you can train today.
Stress and other
A final major point of the Fitbit Sense 2 is the topic of mindfulness. For this, the manufacturer installs a so-called cEDA sensor, which is also one of the main differences compared to the Fitbit Versa 4. This is a "continuous" EDA sensor for measuring electro-dermal activity.
Fitbit uses the measured values to create a stress management score that gives you an indication of your current stress level. An optional stress monitor also sends a notification to your wrist if you are currently suffering from stress and reminds you to take a deep breath.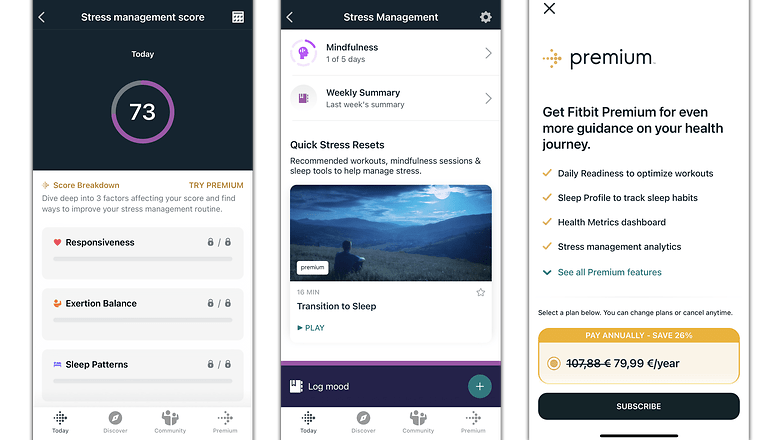 Without a Fitbit Premium subscription, however, you will quickly come up against a paywall and only see the absolute stress score, but not its composition. The meditations and mindfulness exercises are also only available to subscribers. At least there are guided breathing exercises available on the wrist for free, which are well implemented and do not require a permanent stare at the display thanks to the haptic indicator.
Last but not least, the Fitbit Sense 2 offers an ECG function. You can begin the electrocardiograms directly on the watch and see the results right away. The detailed report is somewhat hidden between the Mindfulness exercises for Premium users in the app—but it is still free.
Battery life and charging
The Fitbit Sense 2 offers a decent battery amount of life. Thanks to improved Quick-Charging, charging is also relatively fast - but only when used with the proprietary charging cable.
---
Pros
Decent battery life.
Fast charging.
Cons
Proprietary charging cable.
No wireless charging support.
---
According to the manufacturer, the Fitbit Sense 2 lasts up to six days. Of course, this also depends on your usage pattern. During intensive use in the practical review, we consumed about 25 percent battery capacity per day and thus had to connect the watch to the charger about twice a week.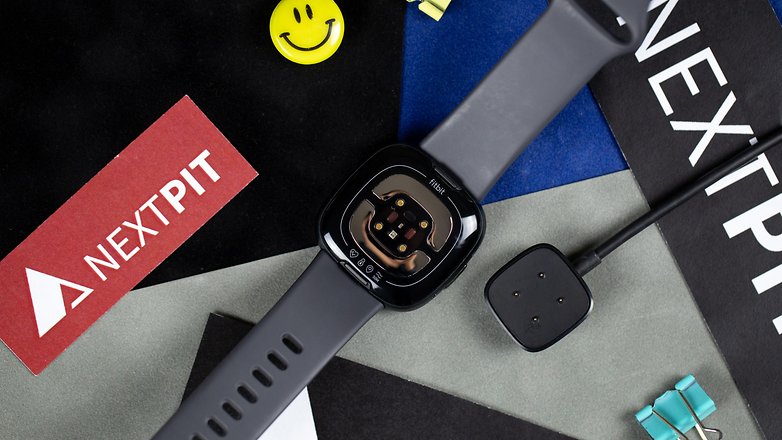 Thanks to quick charging, you have enough capacity for an intensive day in about 15 to 20 minutes. It is therefore sufficient to briefly connect the watch to the cable in the morning while showering, while brushing your teeth, and getting dressed. However, you will also need this proprietary cable. The smartwatch does not offer wireless charging support. A full charging process from 0 to 99 percent takes 76 minutes in the review.
Final verdict
The Fitbit Sense 2 is a lightweight, chic, and practical fitness watch, but it is more of a big fitness tracker than a smartwatch, really. There are virtually no apps, and the smart features are very limited, especially since we are still waiting for the Google Maps update that was promised in September 2022.
In terms of sensors, the Fitbit Sense 2 is really well positioned and offers plenty of options with pulse measurement, GPS, SpO2, HRV, EDA, or ECG. While the accuracy levels here are often not particularly good, it should be sufficient for many users in everyday life. However, I find it a shame that the closed Fitbit ecosystem does not allow for the pairing of external sensors, and am also bitter at the fact that the user requires a subscription to gain access to many features.
The bottom line is, the Fitbit Sense 2 offers very little that is new compared to its predecessor. The biggest upgrade concerns the button and it really makes a big difference in usability in the review. So, if you are deciding between the old and the new Sense, I would clearly recommend the new model due to the mechanical button, even if it is a bit more expensive.