Tutorial - Facebook Privacy Settings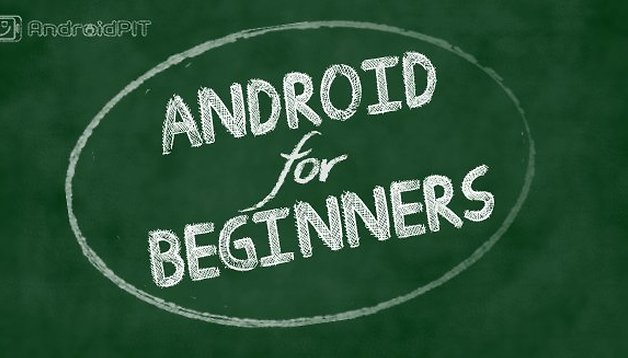 Facebook has, by far, become the way we present our image to the world, at least to the online world. However, if our privacy settings are not configured well, this network can offer public access to intimate details we'd rather not share. Recent news that 13-17 year olds will now be able to post publicly on the social network put Facebook privacy back in our minds. Surely all Android users of the Facebook application have been reminded more than once how to set your profile up to protect your privacy, but in case you've neglected those reminders or aren't aware of new settings in the app, our Android for Beginners tutorial offers a complete walkthrough to help you enhance your privacy on Facebook. NEXTPITTV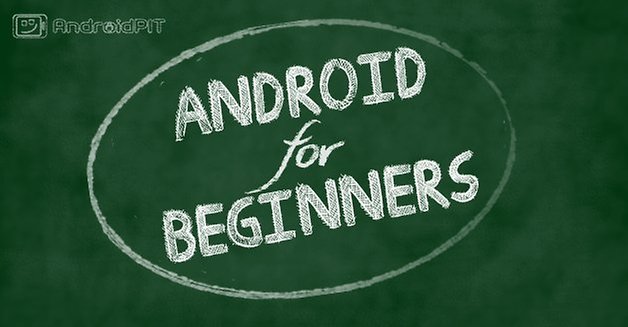 Understand your Privacy Settings
Those who use Facebook regularly know that not all friends are equally important to us, however, quite often we make no distinction between the level of access they have to what we post. We should all be more selective about the people we offer our personal information to. To do this, we can use a very useful function which provides the ability to create lists of friends with which to share content, for example, friends and coworkers. From within the Facebook application for Android, we can manage our existing friends lists, but not create new ones. In the browser, however, simply click on "New List" to get started.

The "public" setting means that our posts will be visible to everyone, including users who visit our profile that are not our friends. In general, it is always advisable to select a specific contact list or include just friends.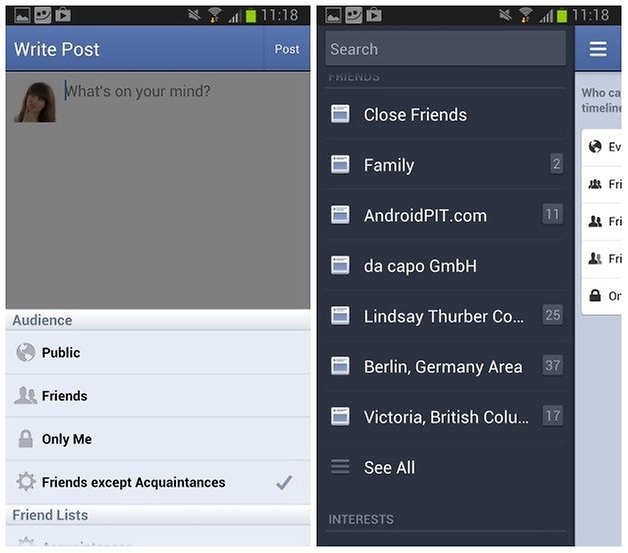 To further customize your privacy you can choose the option "Custom Privacy Settings" in the browser in the "Who can see your future posts?" section. Just select "Custom" from the drop-down box to add persons or groups to which to show your messages. It is important to uncheck the "Friends of those tagged" box, otherwise people that are not your friends will see your posts.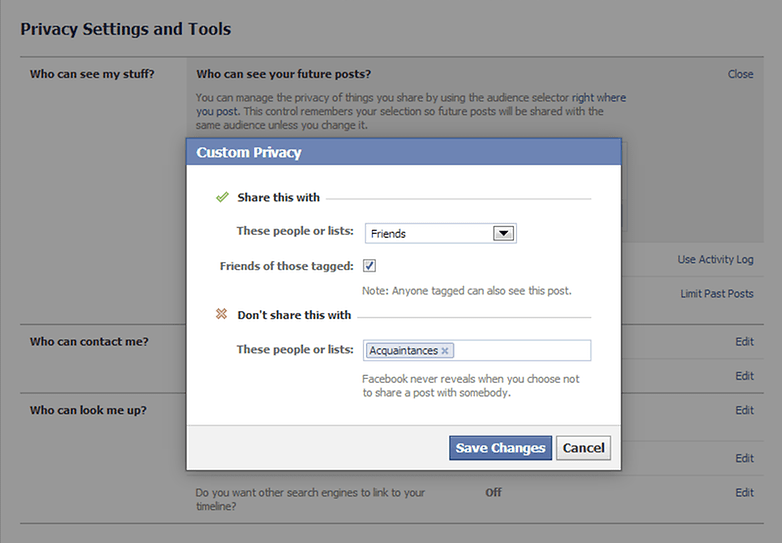 Review Settings
Another aspect that can be controlled by the browser only is the opportunity to ''Review all your posts and things you're tagged in,'' in order to manage the image of you that is broadcast on the social network. You can see this section in the image below, just underneath the expanded ''Who can see my stuff?'' section. The official Facebook application still does not offer this feature.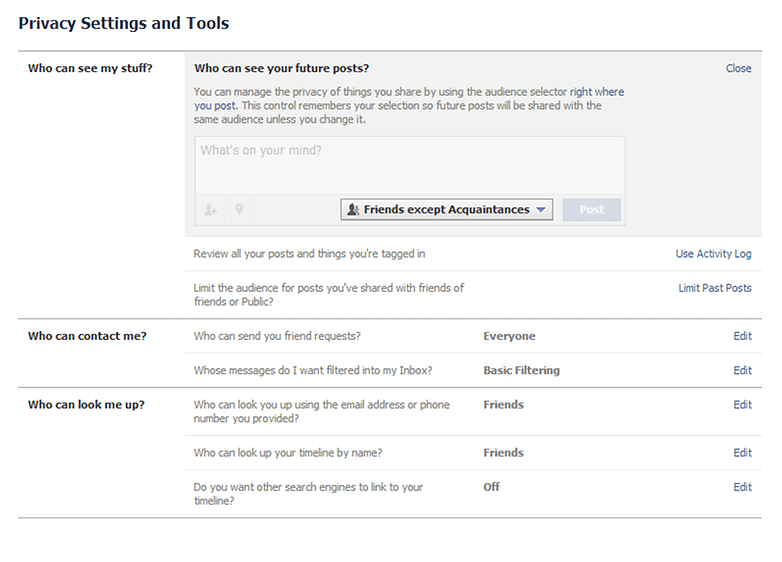 Within the mobile application, the visibility of older posts and future posts can be changed from the Privacy setting "Who can see my stuff?" that you can see in the image below.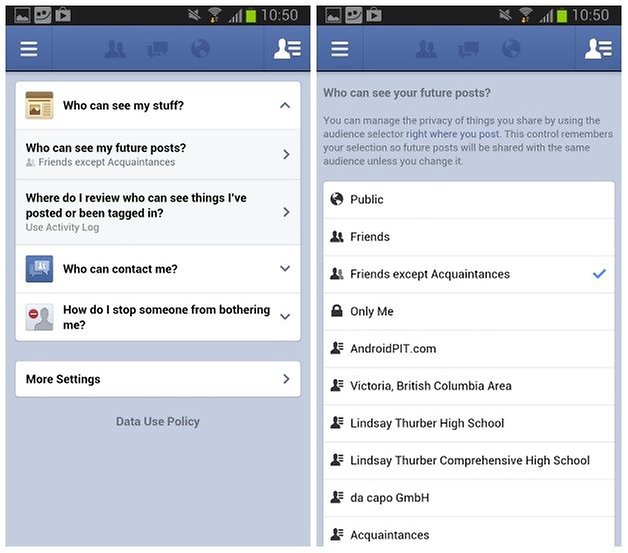 Discoverability and Search Results
Another key point regarding your privacy management is the establishment of contacts via the email address or mobile phone number linked to your Facebook account: it is advisable to set this section to "just friends" or "friends of friends." Otherwise, anyone can look up your Facebook profile based on your email or number.
On the other hand, you also have to take into account the effect of only sharing contact information with a selected audience. Perhaps you want to expand your network by making it easier to look you up via your email address or phone number. Likewise, it could be better for you to simply limit the content on you profile – it is really up to personal preference and your situation.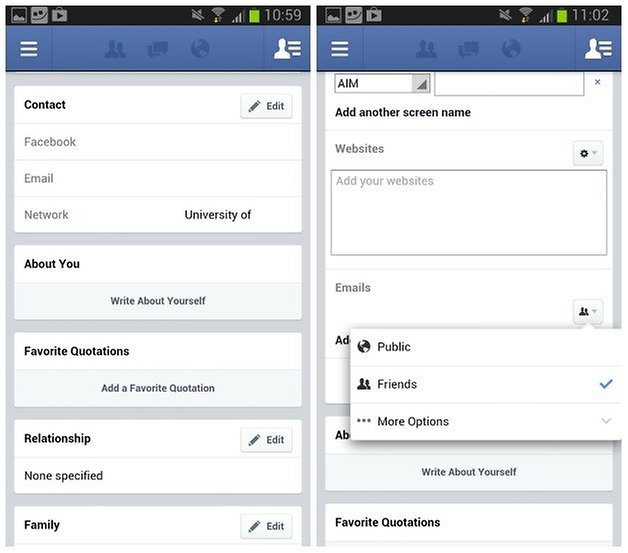 Anyone who would prefer not to see their Facebook page pop up in search engine results can set this option in the Privacy menu too. To get in-depth guidelines about the protection of your privacy on Facebook, the application also allows you to thoroughly examine the fundamentals. Just refer to "Policy and Terms of Use" and "Data Usage Policy". It may not be fun reading, but it is important.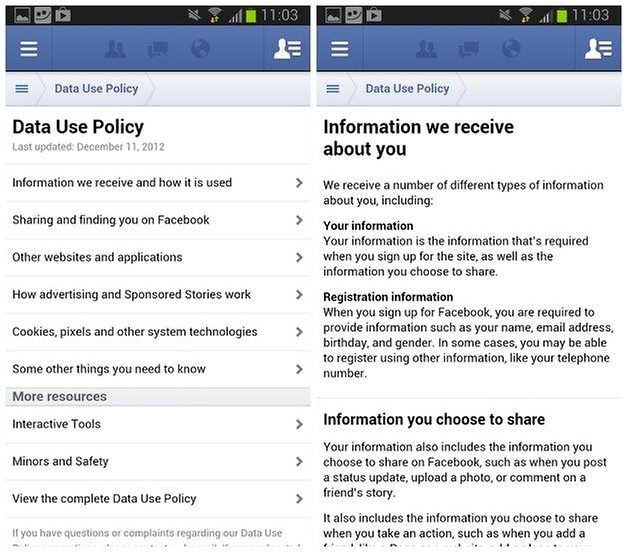 Timeline and Tag Settings
To control who can post to your timeline, enter "Who can add things to my timeline?" and select "Friends" or ''Only Me.'' This is useful if you have Facebook friends that occasionally spam your timeline.

Another thorny issue is being tagged by friends in photos and posts. Currently you can not prevent other users from tagging you and that content appearing on their timeline, but you can review the photos and posts that are tagged with your name before they appear in your timeline. Just activate ''Review posts friends tag you in before they appear on your timeline?'' on the web, or on the mobile app: "Privacy Settings" > "More Settings" > "Timeline and Tagging" > ''Timeline Review.''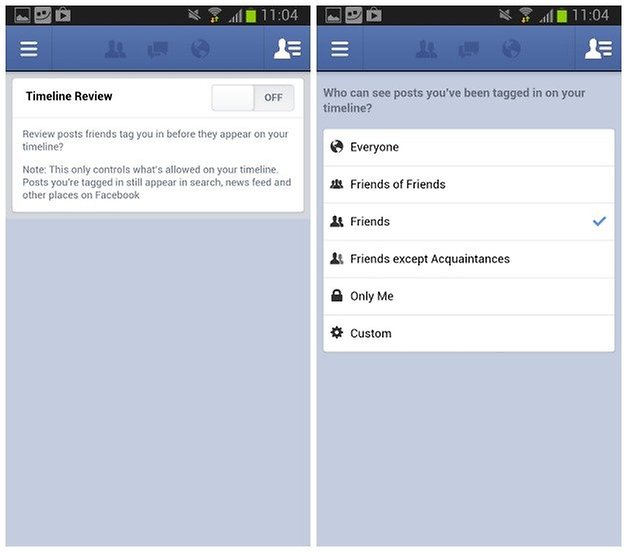 With "Who can see posts you've been tagged in on your timeline?" and "Who can see what others post on your timeline" you will have more detailed control over the audience of all content in your timeline. You can also activate the "Review tags people add to your own posts before the tags appear on Facebook" which allows you to verify tags added by others to them before publication. This may all sound confusing and overlapping, and it is to a degree, but it's worth getting your head around.
Facebook and Advertising
If you are a member of Facebook, you would know that the social network uses your personal data for advertising purposes and exchange with partner companies. This can not be changed as it is how the company keeps the service ''free,'' but it can be limited and managed. To do this, in "Account Settings," go to the "Ads" tab and under "Third Party Sites" and select "No one," as shown in the following image. This will help you keep your data a bit safer.

What can not be managed from the Facebook app?
There are several privacy options that are not yet in the Android app, so you will need to visit your Facebook profile on the PC to configure them. They are:
Creating lists of friends
Customizing the audience for all existing posts
Choosing and customizing the circles that can see my posts
Configuring ad preferences
Blocking invitations to events
Blocking invitations to use applications
In conclusion, we can simply say that all users of the social network should be well aware that Facebook stores each and every piece of information they place on their profile and new settings are introduced regularly that need to be kept abreast of. It is always advisable to avoid providing too much personal information and to constantly adjust privacy settings. Likewise it is always better to choose judiciously what is said and done, online as well as in real life. If you handle your online image as well as your real world image, you have nothing to worry about, but in this day and age where your online presence may be the only image someone has of you, it is important to ensure you are putting your best foot forward.
Are you aware of your privacy settings and what they mean? How do you protect your privacy online?