Facebook Messenger: latest Android update brings group payment support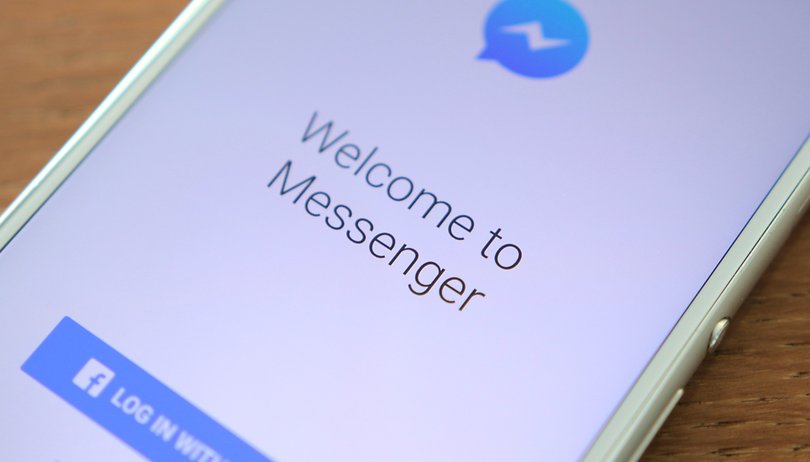 Facebook's Messenger app has slowly evolved out of Facebook chat into its own independent beast. We've got details below on new features that are being added to keep you up to date. The latest Facebook Messenger update is that the popular messaging app will now allow you send and receive group payments.
Group payment support
Facebook Messenger had already given its users the ability to send and receive money though the person-to-person payments. The popular messaging app is taking things a step further and is now rolling out an update to its Messenger app, which will give users the ability to send and receive money between groups of people.
To get started, open the Messenger app, open a group chat, then tap the plus sign button in the bottom left corner of the conversation. Find the payment icon ($), and then tap on it. After that, you can then choose who to send or request money from. You can easily select everyone in the group, or just a few members. Then enter the amount of money you'd like to send or request, specify what the money is for, then tap Request.
A message will then appear in the group conversation showing which of your friends have paid in - or who you're still owing money to. There's also a handy Request Details option if you'd like to see more information on a particular payment.
Messenger tests end-to-end encryption
Messenger will soon have end-to-end encryption similar to that of WhatsApp, after Facebook announced it was testing the service. In a post published by its newsroom, details of the tests included one-to-one 'secret' conversations that can only be read on the devices they're sent between. These messages will be stored on the devices and not on Facebook's servers.
Another feature of secret conversations is its ability to set a timer that will automatically delete messages, a feature popularized by Snapchat. Facebook said that secret conversations will be an optional feature that can only be viewed on the device that received the message; this is a limitation of the encryption and the only way to ensure absolute privacy. A broader release is planned for sometime in late 2016.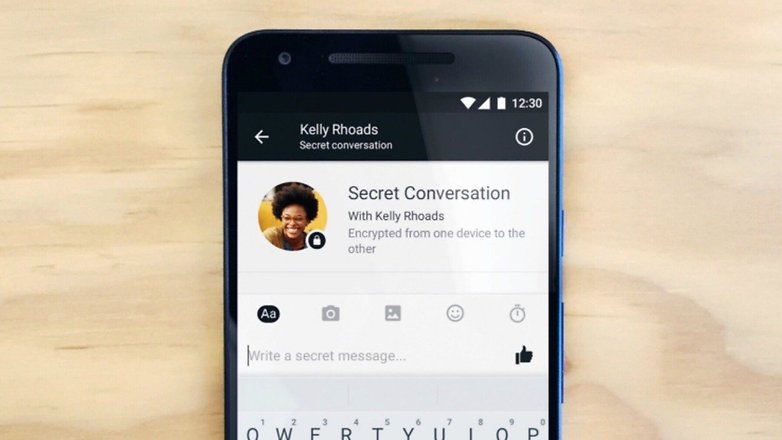 Integrated SMS messages
SMS messages are now being integrated into the Facebook Messenger app, Facebook announced on its website. Instead of using a separate messaging app, users now have the option of including these texts in the Messenger app. SMS messages will appear in purple while Facebook messages will appear in the traditional blue. In addition, SMS in messenger supports rich content such as stickers, emojis, GIFS and more.
"We hope that this new choice will bring the convenience of being able to access all your messages in one place, making your messaging a lot simpler and helping you stay on top of your conversations," said Facebook.
This feature isn't enabled by default, you must go to the settings menu in the Facebook Messenger app, tap SMS and then enable Default SMS app.
Responding to why this feature wasn't in place on iOS, Facebook said, "iOS doesn't currently support app permissions for accessing text messages/SMS." Another win for Android.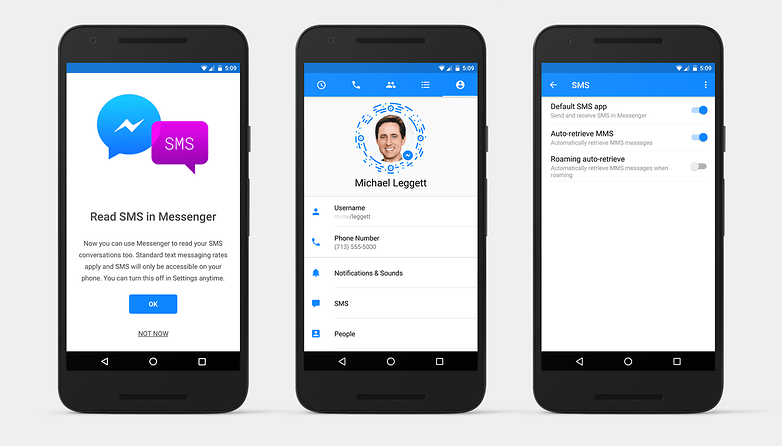 Group calling with Facebook Messenger
Facebook announced that you can now carry out group calls on Facebook Messenger. Within any group conversation, just press on the phone icon to initiate a group call. The service is currently equipped to handle up to 50 people, suggesting a clear line of sight on this being used in the workplace. No word yet on whether this feature will be expanded to provide a video service, but with the feature in the works for WhatsApp, it seems safe to assume it will arrive sooner or later.
A series of business-friendly updates are rolling out to Facebook Messenger over the next few weeks, the company announced, preparing the app for its dream of providing a cohesive way for businesses and their clients to communicate.
These changes amount to more visible page usernames, shortened Messenger links and Messenger codes (like QR codes) that open chats with a business, and preset Messenger greetings that appear when a chat window is opened.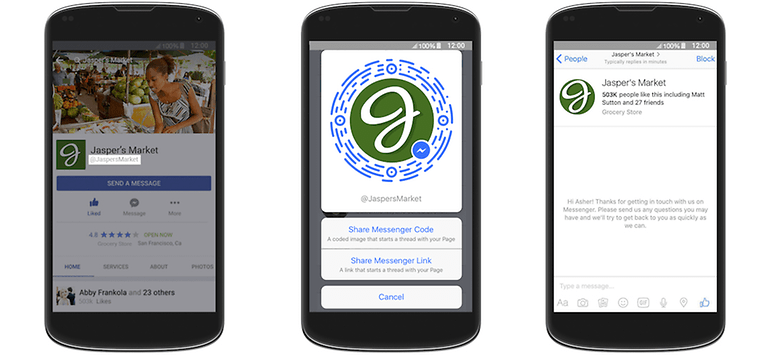 Facebook Messenger receives Material Design
Facebook Messenger has received Material Design, first introduced with Android Lollipop. This comes from a Tweet from David Marcus, the head of Facebook Messenger.
The user experience will not be affected as this is a purely cosmetic update. The blue bars at the top of the screen have a cleaner look. There is more space in the app which gives it a roomier feel. There is a new blue plus button that will serve as a way to start a new conversation. You can see the new design below.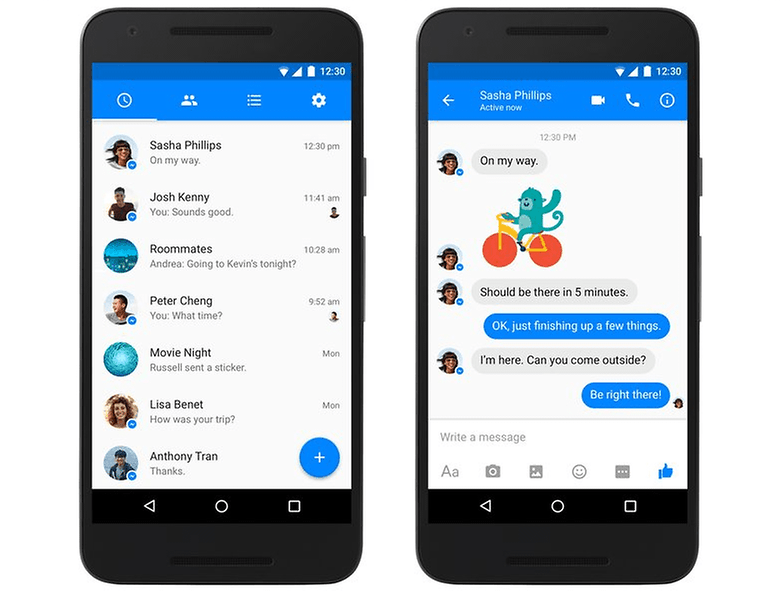 New messaging features
Facebook has begun testing some very notable new additions to Facebook Messenger, the first in some time.
The first new feature follows closely in the footsteps of Messenger's photo-sharing sister, Instagram. Multiple account support means that your friends can use your phone to check their Facebook messages, and people who use the social networking platform for work purposes will be able to switch between professional and personal accounts with much greater ease.
The other big change is SMS integration. This feature appeared on the Messenger app in 2012 but was removed after about a year due to low user take-up. Well, now it's back, in a testing phase, at least.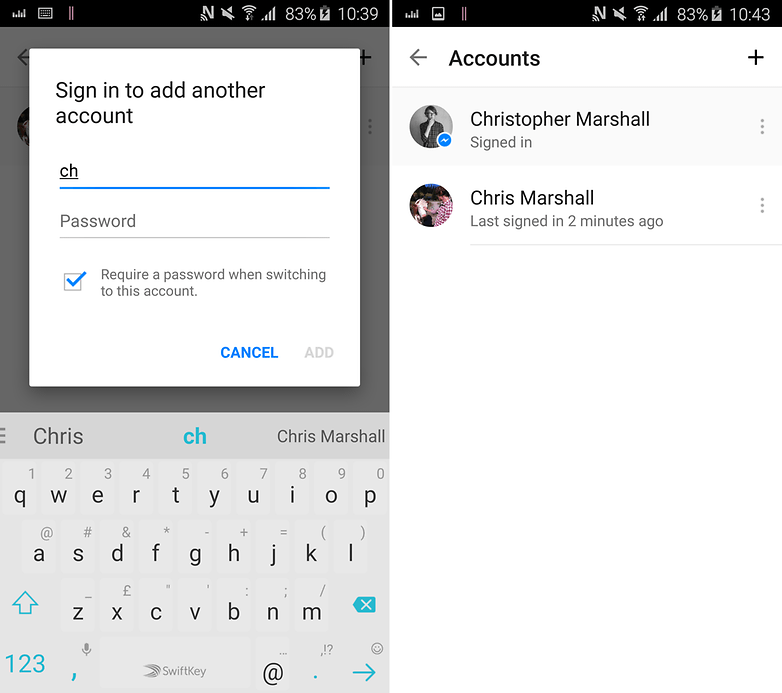 Facebook is testing these new features on an undisclosed number of devices, and there's no word on when or even whether we can expect to see a full roll out.
You can find out if you're one of the lucky ones by going to Settings > Accounts and seeing if there's a plus button at the top right of the screen that'll let you add extra accounts. If you've been gifted with SMS support, there should be an SMS option in the Settings menu.
Messenger without a Facebook account
You can now sign up for Messenger without a Facebook account. To do so, you simply have to tap the 'Not on Facebook?' option on the welcome screen. All you need to enter is your name and phone number and add a picture. The option opens up the world of Messenger to people who don't use Facebook, which seems like a sensible addition for Facebook to have made at this point in time.
The benefits of using the service with a Facebook account are still evident, however, as it allows instant access to all your Facebook friends and messages and it allows cross-device access. If you only have a Messenger account, the app works more like WhatsApp.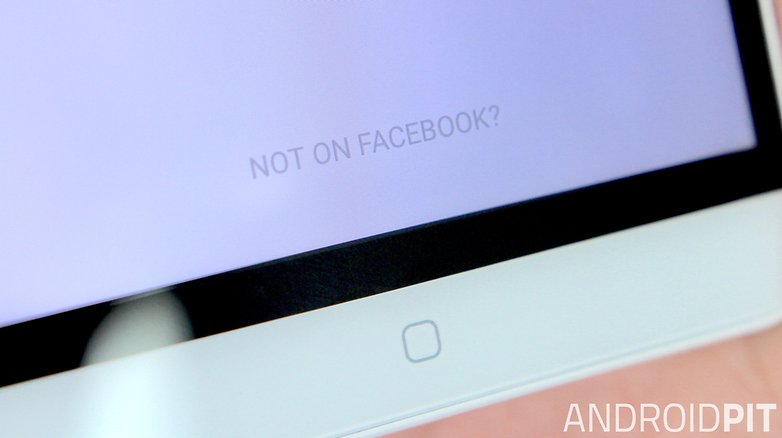 So, what do you think of the new Facebook Messenger? Tell us in the comments.