Facebook Messenger tips and tricks: from notifications to locations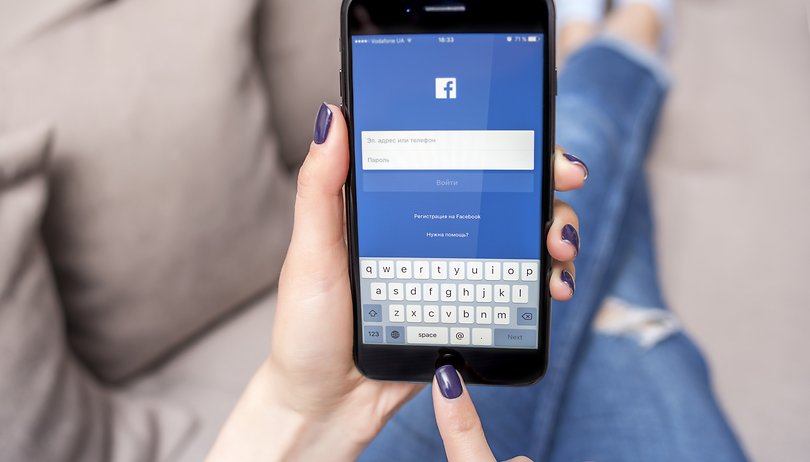 The Facebook Messenger app for Android provides far more than just a simple messaging service. Today we're going to look at some of the cool things you can do with Facebook Messenger, as well as how to remove some of the more annoying aspects of it. Here are our best Facebook Messenger tips and tricks for Android.
You can find more videos on current tech topics on our video page.
Jump to a section:
Turn off notification alerts for Facebook Messenger
You know how it is: someone starts a group conversation asking if anybody wants to buy their leather sofa, and before you know it you're getting non-stop buzzes about upholstery. If you've ever found yourself in a similar situation, here's a couple of tips for how to stop receiving those notifications without actually leaving the conversation.
How to turn off Facebook Messenger notifications for a single conversation:
Launch the Facebook Messenger app
In your conversations tab (the far left tab), tap and hold on the conversation you wish to mute
Tap Mute notifications
Select the length of time you want the notifications to be muted for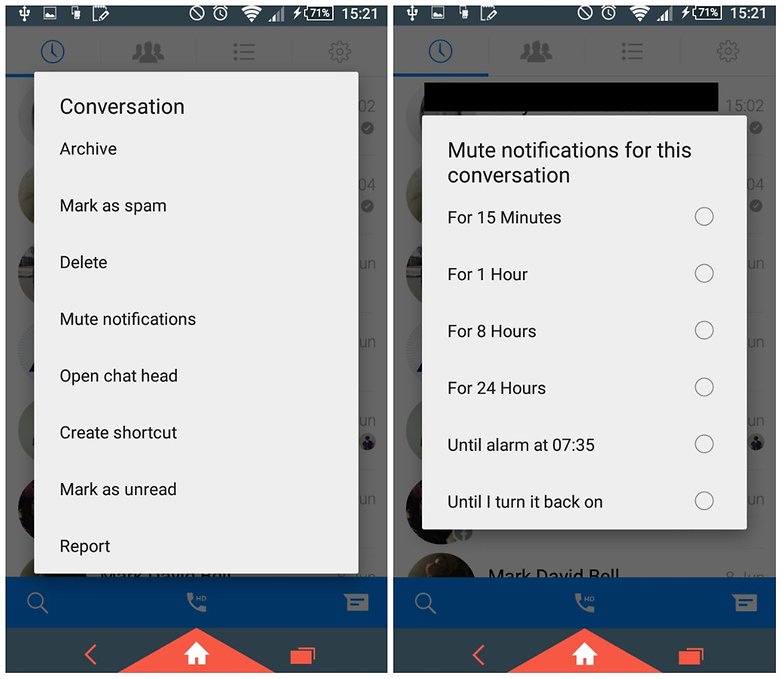 How to turn off Facebook Messenger notifications for all conversations on Android:
Launch the Facebook Messenger app
Tap the settings menu (the cog wheel)
Tap Notifications & Sounds
Tap the toggle at the top of the page to turn notifications On or Off
Select the length of time you want the notifications to remain muted for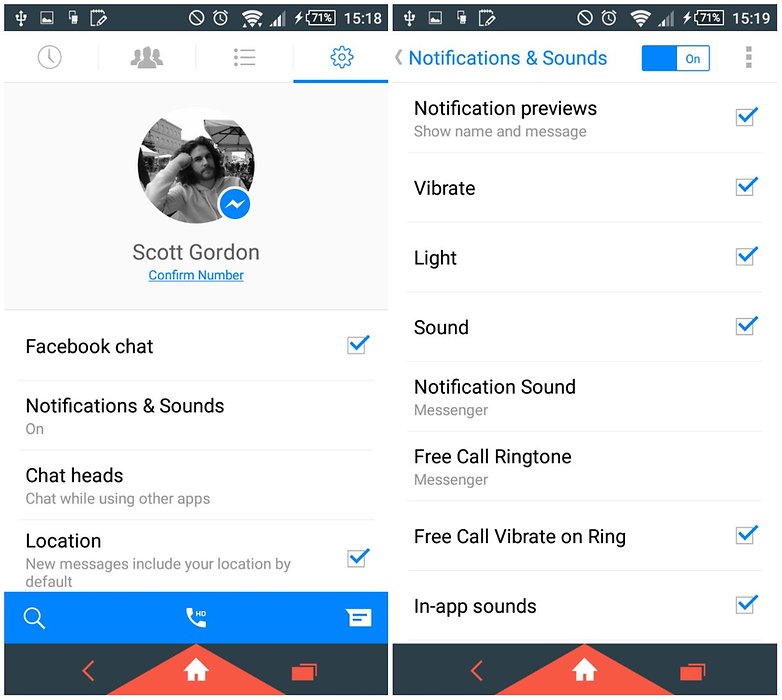 Start an Encrypted Secret Conversation
In 2016, Facebook rolled out one-to-one encrypted communications via Facebook Messenger, AKA "Secret Conversations." Here it is using the Signal Protocol, which is specifically designed for just you and one other person.
First, you will need to enable Secret Conversations on your device (it can only be active on one device at a time). After this, hit the chat head icon on the top right, scroll to Secret Conversations, and toggle it on. Once you've done this, open a chat with any of your contacts and click on the little "i" icon in the top-right corner. After this, just select "Secret Conversation."
As a timely reminder, the Secret Conversation mode is not to everyone's taste as end-to-end encryption breaks some features in Messenger, like using it across multiple devices, archiving past conversations, and sending things like animated GIFs.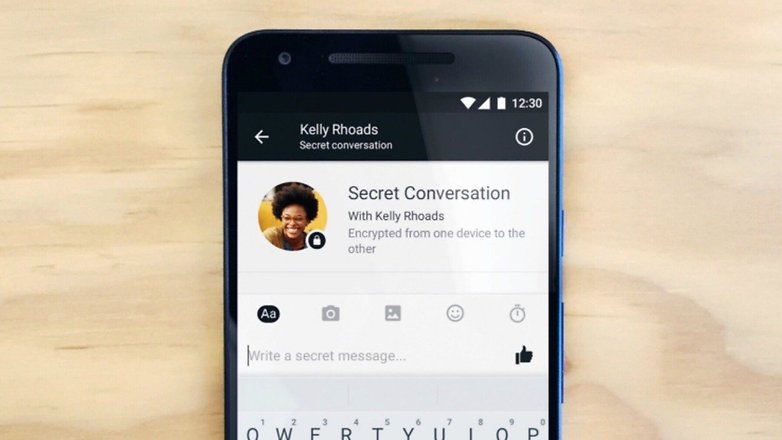 Make a voice call or video call in Facebook Messenger
Did you know that Facebook Messenger allows you to make free calls? Well, you probably did. But are you taking advantage of it? Simply tap on the call button (highlighted below) in one of your conversation windows and you will begin calling the person in that conversation.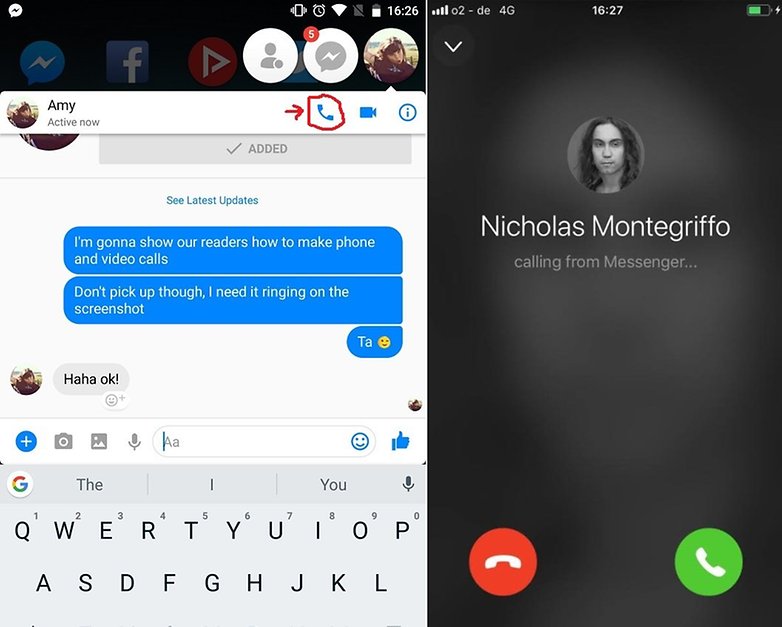 Similarly, Facebook Messenger now allows video calling. Simply press the video camera icon in the top right to invite your contact to a video conversation!
Send a picture with Facebook Messenger
Did you know you can take a photo directly from the keyboard in Messenger? See that little camera icon? Tap that to turn your keyboard space into a mini viewfinder (which you can also expand). You can switch between the front or back-mounted cameras and snap a quick pic with the vertical send button rather oddly placed right in the middle of the viewfinder. Tap the little image icon next to the camera to choose from previously taken pics.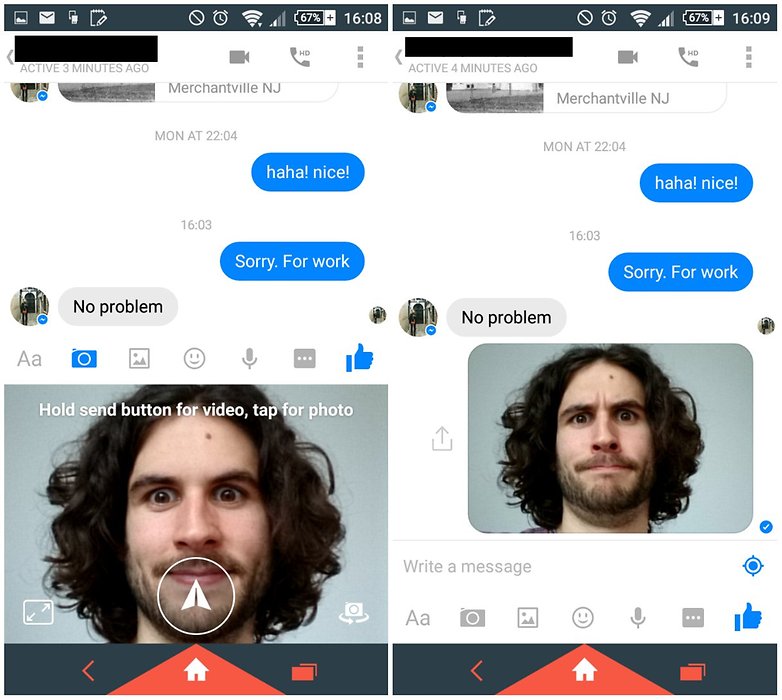 Send a big thumbs up with Facebook Messenger
If you're feeling a little like Miley Cyrus and have a need for a particularly big thumbs up, then just press and hold the Like button to inflate the size of your thumb. If a simple Like won't do the trick then hit that little emoji button at the end of the text entry field, hit your sticker collection or revert to your device's emoji supported keyboard for a bit more expressive flair.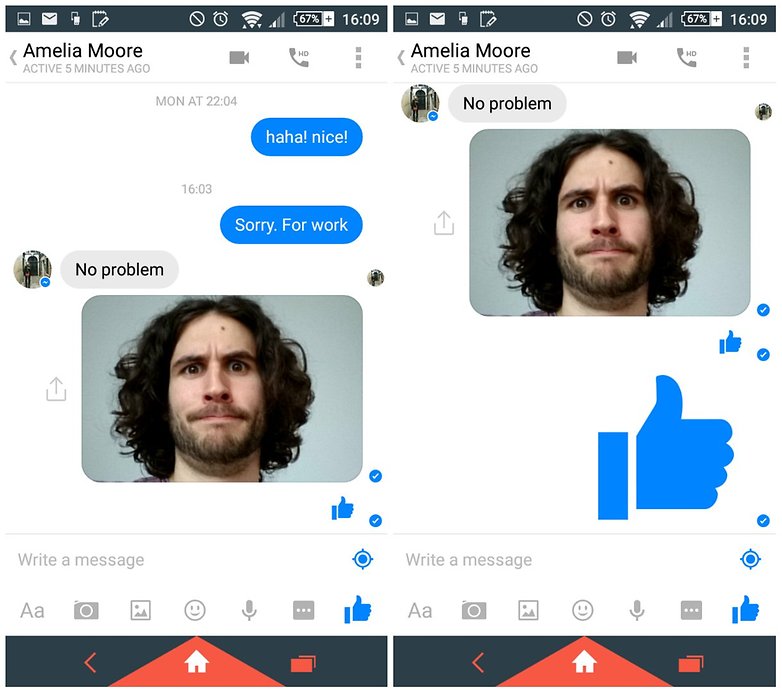 Send or view a location with Facebook Messenger
If you want a super-easy way to let your friends know where you are Facebook, tap the + sign on the left of your text box. One of the options you see there should be to send your location, so long as you have Live Location enabled.
Similarly, if your friend has it enabled, simply tap on a message to bring up the location from which it was sent. If you don't want to share your location at all, head to your settings and uncheck that "location" box.
Find friend suggestions
Facebook Messenger helps you connect with people by providing friend suggestions based on mutual connections. You can even add a contact in Messenger without having to set things up with a new friend request.
Open Messenger and tap on the people symbol
Scroll down to see which new friends have been suggested for you
Tap the add button to include the person in your Messenger contacts, or hide button not to see the suggestion
You'll now be able to chat with your new contact via Facebook Messenger. In the buttons above, you should also see options to access your message requests (from people who you haven't been in touch with previously) and invite your other phone or Facebook contacts to join Messenger.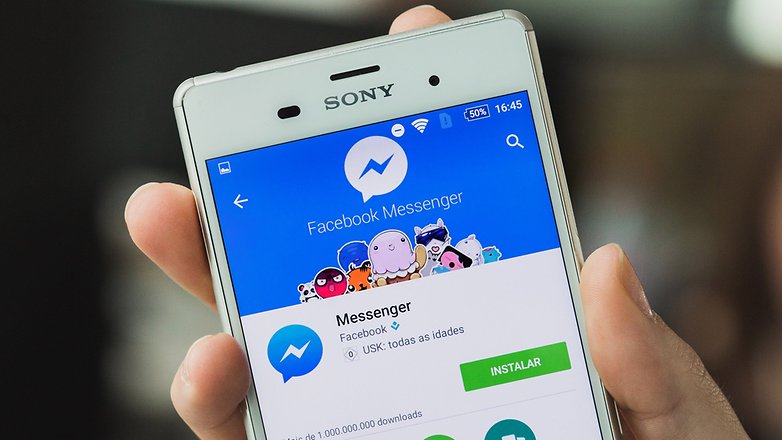 Create a group shortcut for Facebook Messenger
If there's a crew you talk to all the time, then why not bypass the app launching altogether and pin a group chat shortcut to your home screen? Just go to your Groups tab where you can select an existing group or create a new one and tap the little menu button on the top right of the Group tile. From here simply select ''Create shortcut'' to have a chat group shortcut added to your home screen.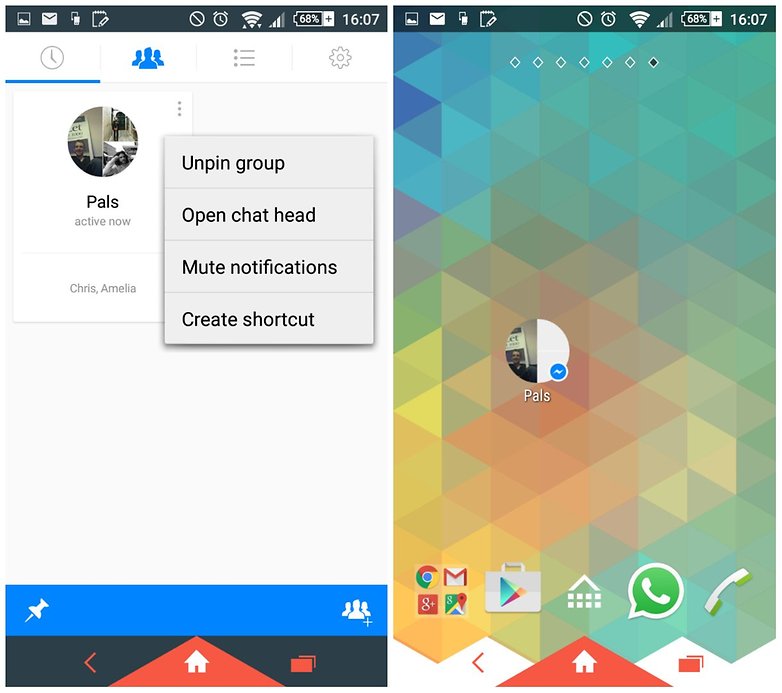 Poll Your Friends
Getting a group - any group - to come to a decision on anything can be a frustrating process. Facebook Messenger now allows you to poll your friends when they're in a group chat.
At the bottom of the group chat window, go to the "+" icon. Select the "Polls" option to create your own poll, and then add in your own polling selections. All you need to do then is sit back and wait for the tyranny of the majority to do the thinking for you.
Send a GIF in Facebook Messenger
For a while now Facebook Messenger has had a dedicated GIF button in the Facebook Messenger app, which allows you to use images from outlets like Giphy and Riffsy.
Open a Facebook Messenger chat and tap the smiley icon
Select GIFs and enter your search terms
Tap on the image you want to send
The GIF will appear in the chat and automatically play on a loop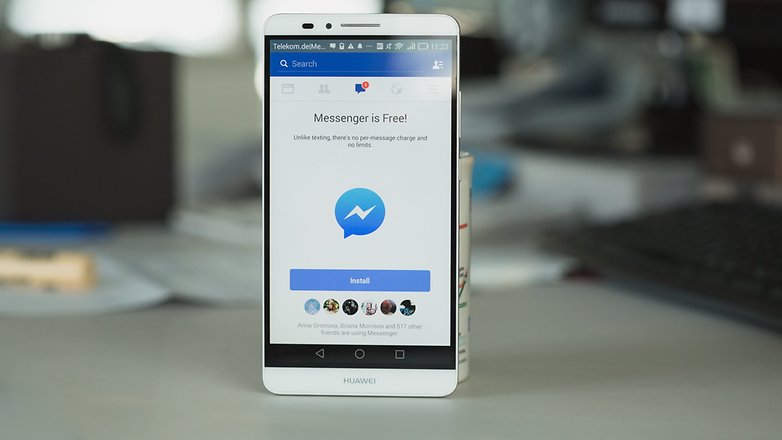 Share your music with Spotify
We all love to share things with our friends, and sometimes there's that thumping new track that you just have to get out there for all your nearest and dearest to enjoy. Facebook and Spotify have joined forces to help make this easier for you. The people you share a song with will be able to listen to a 30-second clip directly within Messenger but will have to open up Spotify in order to listen to it in full. Due to this you'll need a Spotify app, but after that, it's all smooth sailing:
Select a contact
Tap on the "Plus" symbol
Open the Spotify extension. This will open Spotify within Facebook Messenger, and allow you to type the name of the song, artist or playlist you are wanting to send
Select your music. It will then be automatically be sent to your contact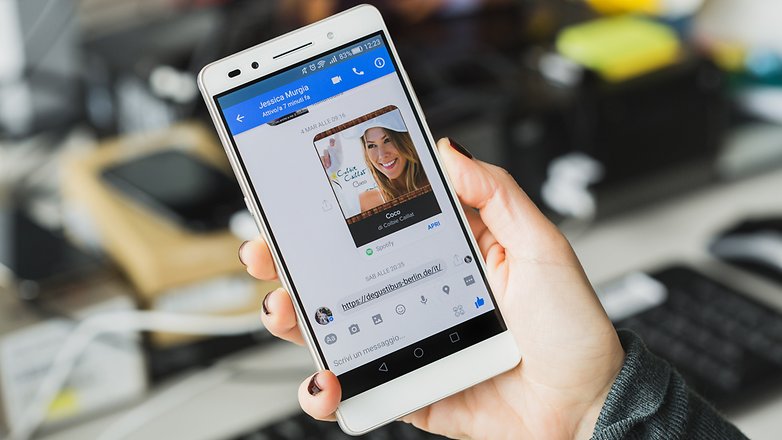 Turn Facebook Messenger into Snapchat
Who says you need Snapchat? Last year, the Facebook-owned social media site Instagram introduced a "Story" feature - which for all intents and purposes looked and acted a lot like Snapchat. Facebook Messenger has gotten on board with this idea and introduced "Messenger Day."

Messenger Day allows you to share updates about your day with either all your friends or just a few specific contacts. Don't worry, you don't have to concern yourself with selecting the perfect filter or best angle; all of these messages disappear after 24 hours.
That said, you can do something to make your posts standout with the artsy selfie filters that were released in December. Begin your "Day" by hitting the photo icon at the bottom of your home screen and start recording.
Send money through Facebook Messenger
One of the many things you can now do with Facebook Messenger is send money via the app. First thing's first, you'll need to set things up. To add a card to Facebook Messenger, select your Facebook icon on the top of the app. Then go Payments > Add New Debit Card. After this, you're ready to go.
To transfer funds in the app, tap on the "+" option and then select "Payment." Select who will receive the money, enter the amount, and then add your payment information.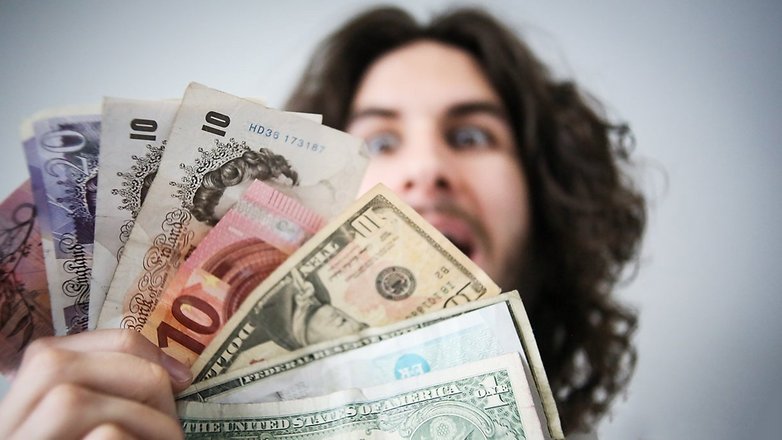 Ask for a ride using Facebook Messenger
Back in 2015, Facebook started to entered into partnerships with ride-sharing companies Uber and Lyft to allow users to order up a ride without leaving the Messenger app on smartphones. To access it, just click the little car icon in the bottom of your screen. In the pop-up at the bottom of the screen, pick which service you'd like to use.

Obviously, this feature is only available in cities where those services are also available. Never used Uber or Lyft? No problem. You can sign up for a new Uber or Lyft account within Messenger in a matter of seconds and start riding.
Interact with a bot
Facebook is jumping headfirst into the chatbotosphere. Bots developed by news organizations like CNN or the Wall Street Journal, for example, deliver news links to your Messenger conversation based on your interests or queries; some allow you to place an order for something directly through Messenger, like for pizza orders or a bouquet of flowers.

Want to talk to an algorithm? Open the app, tap that lightning bolt sign on the bottom right and start chatting or subscribe to regular updates. A list of available bots can be found on botlist.co, catering to all your information needs.
Play the hidden basketball game on Facebook Messenger
You can play several different games on Facebook Messenger using the gamepad icon on the bottom menu, but did you know there is also a secret game hidden in your emoji? This cool feature allows you to play a game of basketball during a chat. The game is free, but it's hidden. Read below for how to access it.
How to play Facebook Messenger hidden basketball game:
Open a chat with one of your contacts
Send the basketball emoji to them. It's circled in red in the left-side screenshot below
Once the emoji has been sent, simply tap on it to start the game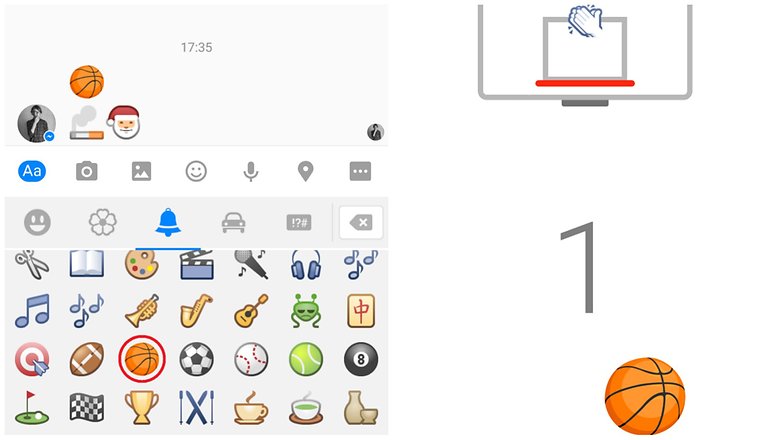 Are there any other Facebook Messenger tips or help you need? Let us know in the comments below.