We interviewed Cheetah Mobile to ask if Clean Master actually works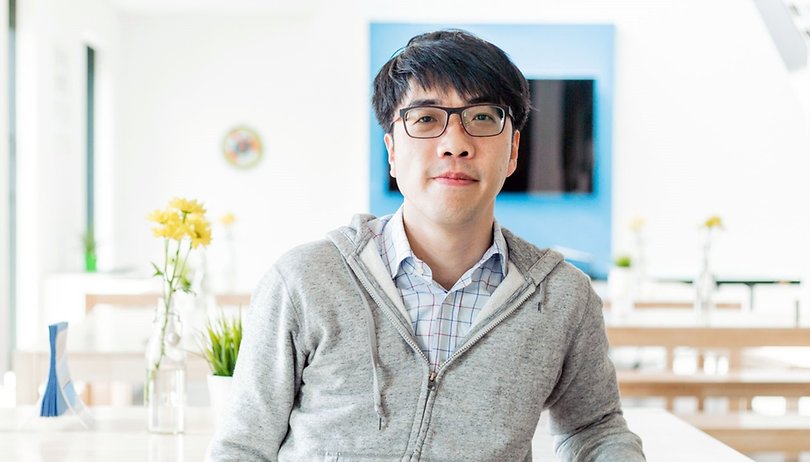 Question number one: "Does Clean Master Boost and Applock work?" And so began my interview with the Cheetah Mobile team, developer of the ever-popular Clean Master app. Said to be able to "boost phone speed by 80 percent," Clean Master has had more than 660 million global downloads, but many in the Android community believe its benefits are overstated. This is what I wanted to investigate.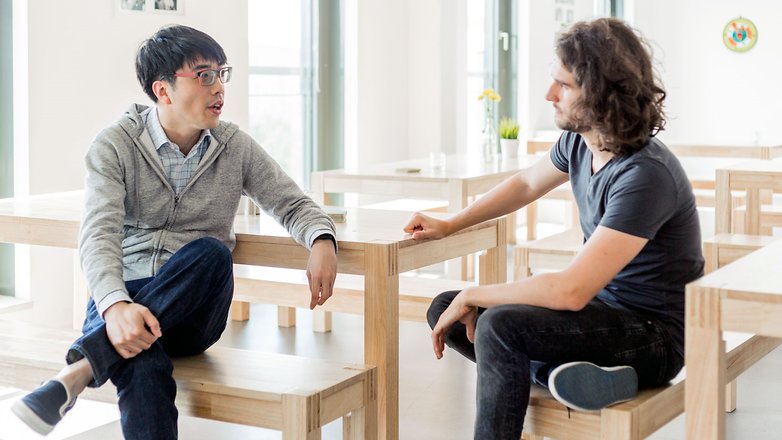 How it works
"We work with over 100 OEMs today including Samsung, Sony, HTC, Acer Asus, Huawei, ZTE...all the tier-one brands you can think of," said David Wu, Chairman of Leopard Mobile, Cheetah Mobile's marketing partner. According to Mr Wu, Clean Master is the fifth-most popular app in the world of Android, only Facebook, Instagram, Facebook Messenger and WhatsApp have more downloads.
How could there be such vast support for this app if it doesn't work? Difficult as is to believe, I still wanted tangible proof of Clean Master's capabilities. To help me ascertain this, Mr Wu was joined by Regina Lin, working on Global Brand Communications at Leopard Mobile, and Kangzong Zhang, the R&D Director for Cheetah Mobile.
Mr Zhang dialed in from Cheetah Mobile's Beijing headquarters and Ms Lin and Mr Wu translated for him. Despite difficulties concerning language barriers and call connections, the team was very patient and understanding with my questions.
For those who aren't aware, RAM (random access memory) is a limited storage space where app content is loaded temporarily for quick access. 'RAM cleaner' apps, like Clean Master, are said to be able to manually or automatically clear or manage smartphone RAM to increase the speed of devices (though this is just one of Clean Master's numerous features).
That's the basic idea, but the counter-argument is that the Android system manages RAM effectively already and that these 'boosters' don't really change anything.
I asked how Clean Master's performance booster works and Mr Wu translated for Mr Zhang. "For Android, the system will not automatically clear out the processes until the system has a warning that it's going to fail. Then, the Android system mechanism will activate. But Clean Master is lessening the process all the time," Mr Wu said. "If you kill [a process] it will reactivate itself – so we proactively monitor the process that is going to have a problem."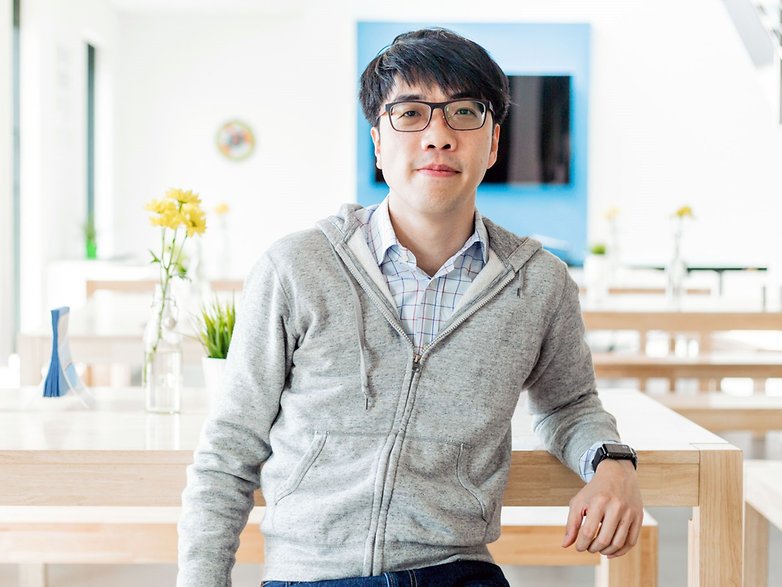 In essence, Clean Master is better at managing background processes than Android itself. I asked Mr Wu if he could demonstrate the effect of this on my phone. He installed the Facebook app and showed me how it performed before and after using Clean Master's boost function. I didn't see a difference in speed and said it looked just the same as before.
"If you play multiple games and play YouTube at the same time, having all this heavy processing running, and at this time you do Facebook chatting...use Clean Master and then chat, the whole experience will be smoother," Mr Wu said.
The recent apps menu
Mr Wu said that with Clean Master, you don't need to manually remove items from the recent apps menu because Clean Master does something similar, but more effectively. Personally, I don't believe it's necessary to remove items from the recent apps menu. I told Mr Wu that apps loaded there meant that the system was faster rather than slower.
"But you have to clear [these processes] otherwise you will keep accumulating like PC RAM. You can not have 30 windows open," Mr Wu said.
This may be true of browser tabs on PC systems: it may even be true of tabs in Chrome for Android. But as for apps in this menu – I never clear them. Nor do I ever manually delete cached data (unless it's to fix an uncommon app error or bug). Until Mr Wu did it on my device, I hadn't in more than a year.
I haven't cleared the recent apps menu in more than a year
"That's probably why the phone is slow," he said. It didn't seem slow to me.
In the end, Mr Wu said that it comes down to habits: he kills tasks on his PC and he does it on his phone. I asked if "users who are doing lots of multitasking" are more likely to see the benefits of Clean Master than those who multitask less. Mr Wu said yes.
Overheating and scaremongering
Aside from performance matters, there are several other aspects of the Clean Master app which I wanted to address. I had concerns about the 'CPU Cooler' function of the app. Clean Master claims it can cool down your smartphone to prevent the processor overheating. I said modern smartphones don't overheat (with some exceptions) and that it's not necessary to have this.
David said it's there so that users can visualize the RAM cleaning process, but told me "some OEMs requested to turn it off," adding, "you have a right to complain."
I then discussed some of Clean Master's security notifications. The Clean Master app warned me of "monetary loss" and recommended I install the CM Security app (another Cheetah Mobile product) to fix this. Apps at risk included Chrome and other seemingly safe products.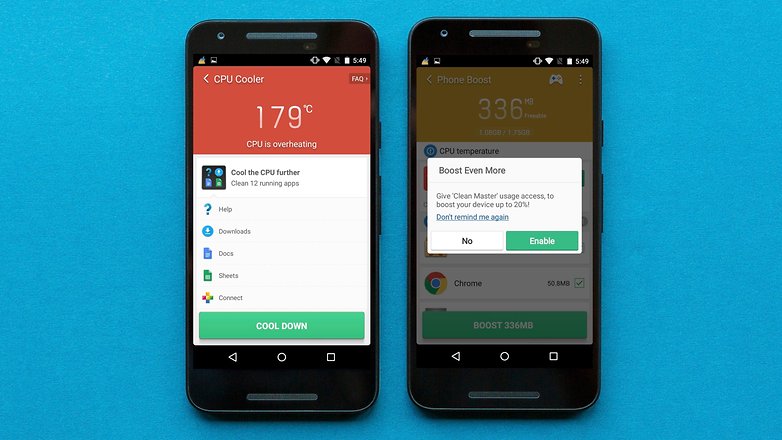 Scammers often target websites and emails, it's not that these spaces can't cause a risk to the user. But, to suggest that Clean Master had the solution to this, I believe, is unnecessary: we can be safe online ourselves. I asked how Cheetah Mobile was responding to criticisms that it was scaremongering.
"You have a right to complain," David Wu said of Clean Master's CPU Cooler feature.
"You can turn [these notifications] off, but as long as you do something that has a security risk, or privacy risk...Clean Master has a responsibility to remind the user," Mr Wu said. However, he told me that some OEMs had requested the function be disabled on their phones because it suggests the handset has security problems out of the box. "Samsung complained, HTC complained," Mr Wu said. Ms Lin added: "It's a legit question."
Finally, I reiterated my concerns with the app and asked what they would say to a user like me, to put my mind at ease. Mr Wu said that most of the app's functions could be turned off.
Ms Lin added that you can customize the app, that it can be altered to suit the tastes of users. CM Lite, a slimmer version of the app, was also mentioned for giving users just the "core features".
Final thoughts
One instance where Clean Master does appear to be effective is when launching games; I tested this after the interview. Using Clean Master's game boosting functionality, a game which normally took 25 seconds to load before running Clean Master took only 21 seconds after running it. I ran this test numerous times.
So then, Clean Master may be enjoyable for a certain kind of user: if you're a serious gamer, perhaps, or the kind who likes to clear RAM or running processes regularly (whether it's necessary or not).
Are Clean Master's security warnings necessary? Do we need its CPU Cooler? And is it guaranteed to make your phone visibly faster? No, I don't think so. But 660 million people and 100 OEMs might disagree with me.
Do you use Clean Master? Let me know what you think of it in the comments.